The ultimate baby shower planning, the gender reveal party, and the overwhelming-to-be parent days are coming ahead. This excitement is always wrapped with ongoing dread. Don't worry; we've got you! Let's lay off the new parent anxiety with 15 nursery ideas to brighten up the first days of your little bundle of joy!
A nursery isn't just your child's first exposure to the world but also where your best memories are made, making it an engaging and wholesome place for both you and your child. It becomes extremely crucial to understand space and create a world of fantasy that comforts them, engages them, and enlightens their days as you record their very first!
Nursery Ideas for New Parents to Be
1. The Cozy Cuddler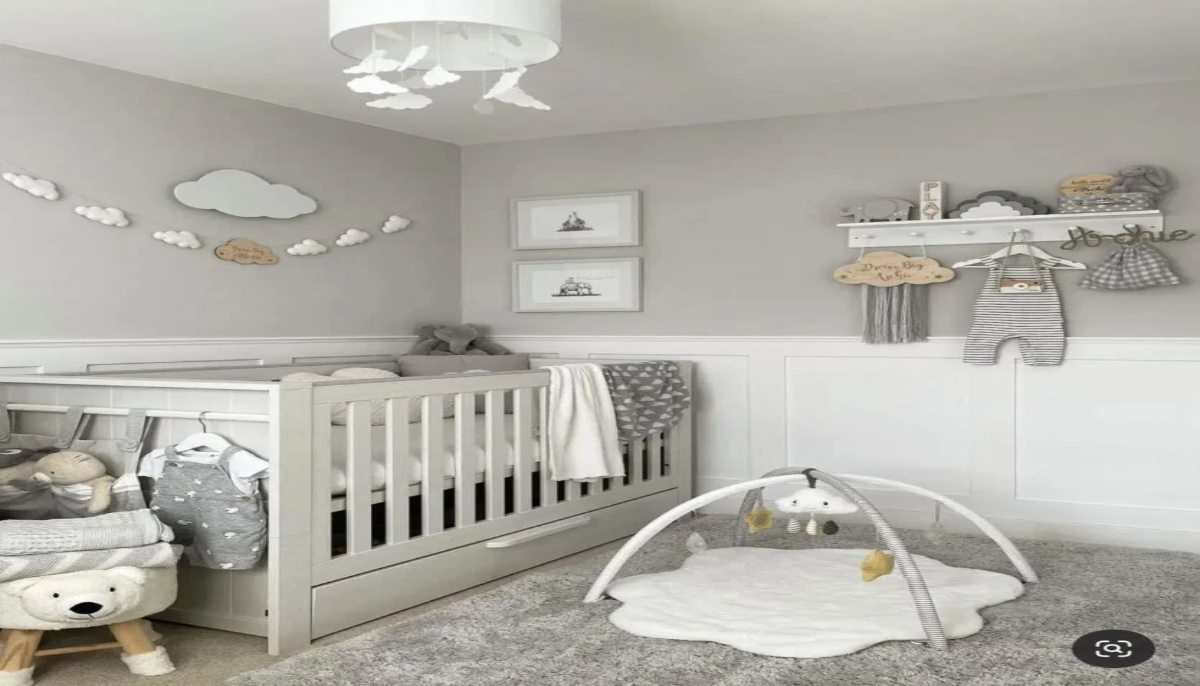 While going for a room that is furry, fluffy, and cozy for you and your newborn, this theme can be a great idea to start off with! Going for comfortable yet simple color tones, like gray and white, with some lighthearted colors can add to the vibe you're going for.
Following that, simple and utility-based items like frames, simple shelves, and cribs can add structure to your nursery. Using accessories and decors like cozy grey play rugs as well as comforting. Moon painting decors can be a great addition to the aesthetics of the room. You can always use furry long white, off-white, or grey blankets as well as safety blankets if you're looking for a long-term solution that includes your baby sleeping in their rooms.
2. The Ultimate Safari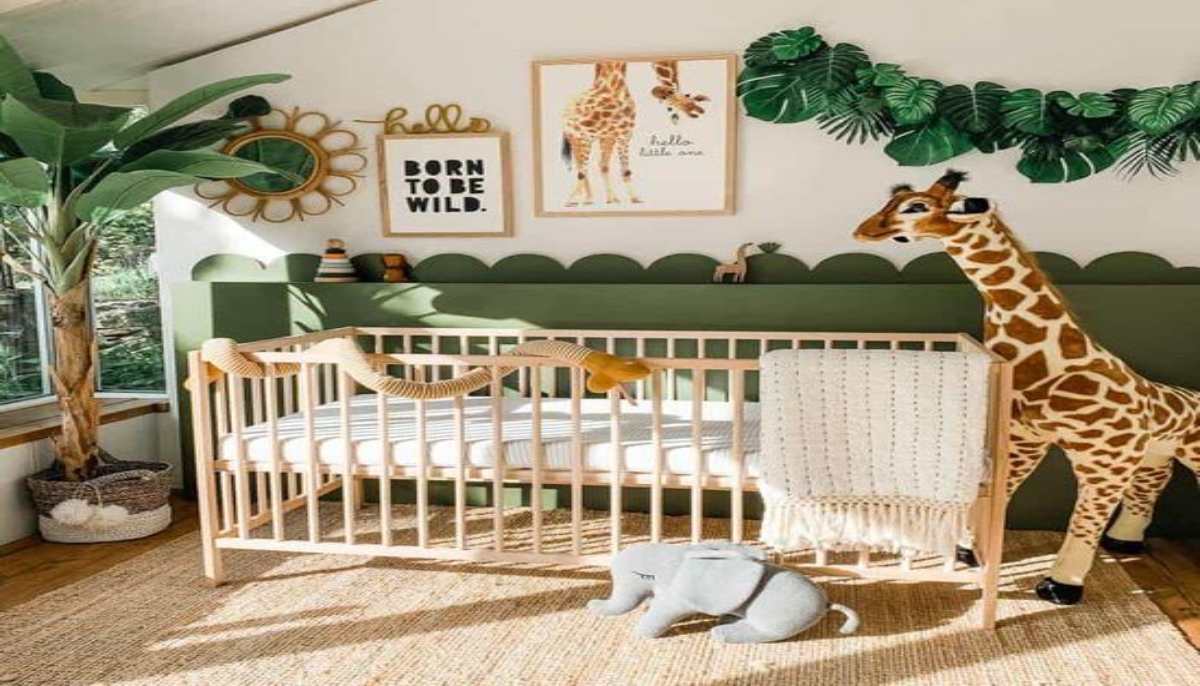 One of the most engaging and famous looks for nursery ideas is the ultimate safari experience. It introduces your child to a wide range of species, a splash of colors, and forms and becomes a learning experience for your growing toddler. This can be an engaging and wholesome experience for both you and your child! You can choose between a subtle artsy yet modern safari look, but the most engaging theme would be an all-out wondrous safari experience.
Using up all the greens you can find will provide a great backstory for all the animal wonders that you'll weave stories of. Pieces of Furniture that are elegant will give your nursery the exact splash of colors you're going for.
Now for the introduction of the animals that are going to be their new besties, you can either go for engaging wall stickers to furry giraffes and elephants. If you want to add the extra sparkle, you can totally go for the safari-embedded rugs or pillows that your young one can cuddle to sleep.
3. The Abstract Beauty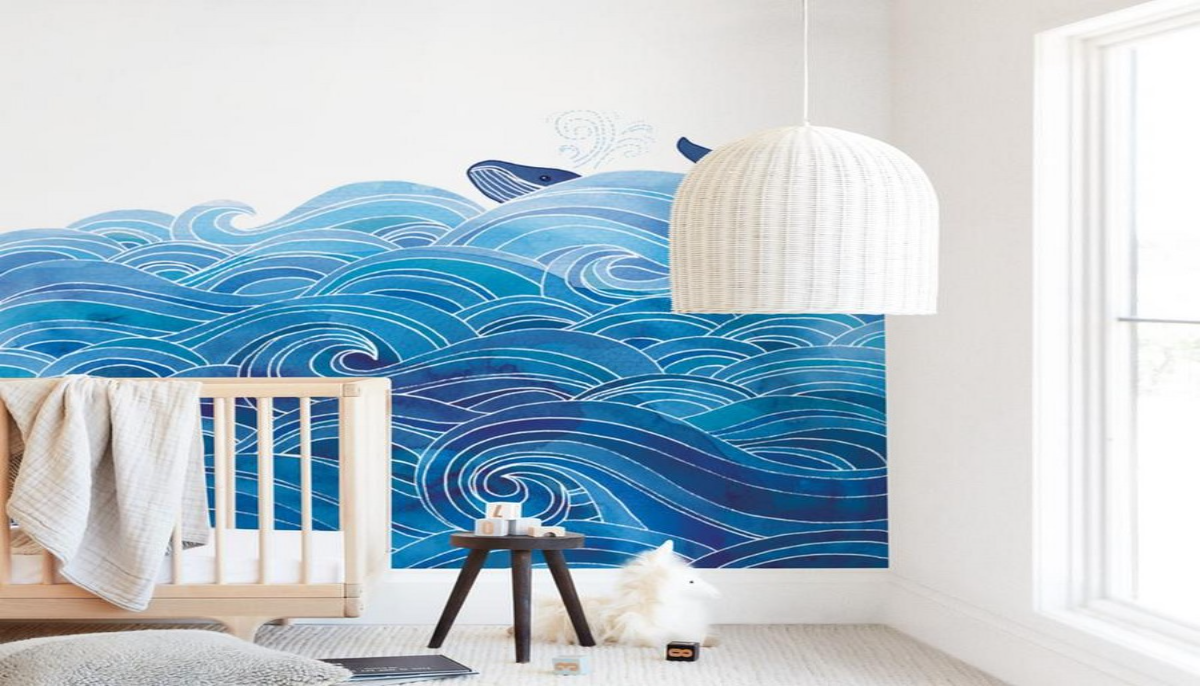 This abstract, creative, and enlightening theme not only inspires and engages you but also expands a newborn's idea of reality. Not only that but for all artist parents, this could be a great idea to explore and design their own idea of abstracts and find a way to unwind. For this theme, the world is your oyster; finding minimalistic yet chic furniture and combing them with artsy and engaging wall designs or murals could be a great idea!
Using white rugs, lamps, or enlightening yet subtle bedside lamps will create a subtle effect that will allow the background to shine through!
If going through all that trouble of creating the wall murals and designs isn't your idea, then going forward with abstract yet light paintings like that of paintings depicting nature in depth or aesthetic stickers that liven up the room can also help! Mixing and matching that with light-dotted or patterned curtains will also add some structure to the room!
4. The Beach Baby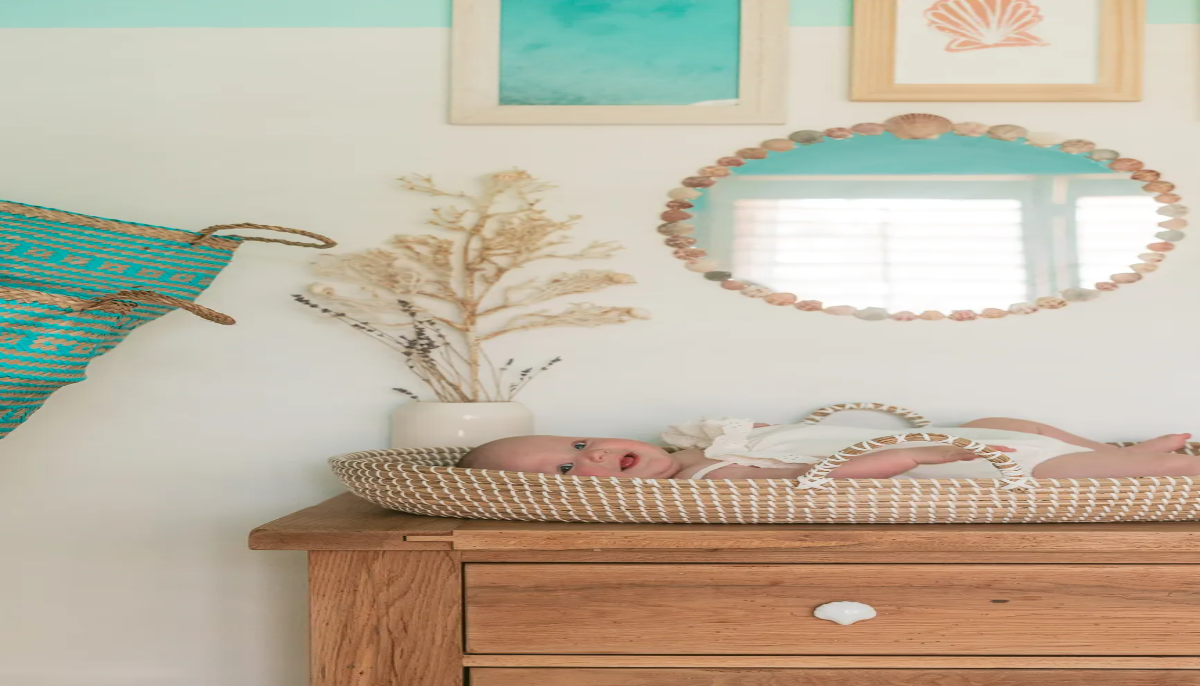 If the sandy, sunny, and lighthearted subtle vibe is the one you're going for, then this theme is the one for you! Rise the beach baby in you and create a room of wonders that will have subtle light-themed furniture combined with detailed sea structures. To start off, using aesthetic wave-based wall designs or murals can be your go-to to inspire the vibe you're going for. Yet, you can also go for a simple, soothing color wall like beige, light blue, or faded sand yellow.
If you're going for a wavy and heavy wall design, following that with simple decor would be a great idea, like simple wooden structural art pieces and shelves and a white wooden crib.
Whereas, if you're going for a simple backdrop, this creates a huge room for all beach-based furniture and accessories. Aquatic life-based frames or artifacts like fish like chandeliers, stickers, steering wheel artifacts or baskets like changing spaces, and some shell artifacts. Playing with the mirrors or wardrobes using different stone-like or shell-like textures could also be on your sea nursery ideas checklist.
5. Welcome to Fantasy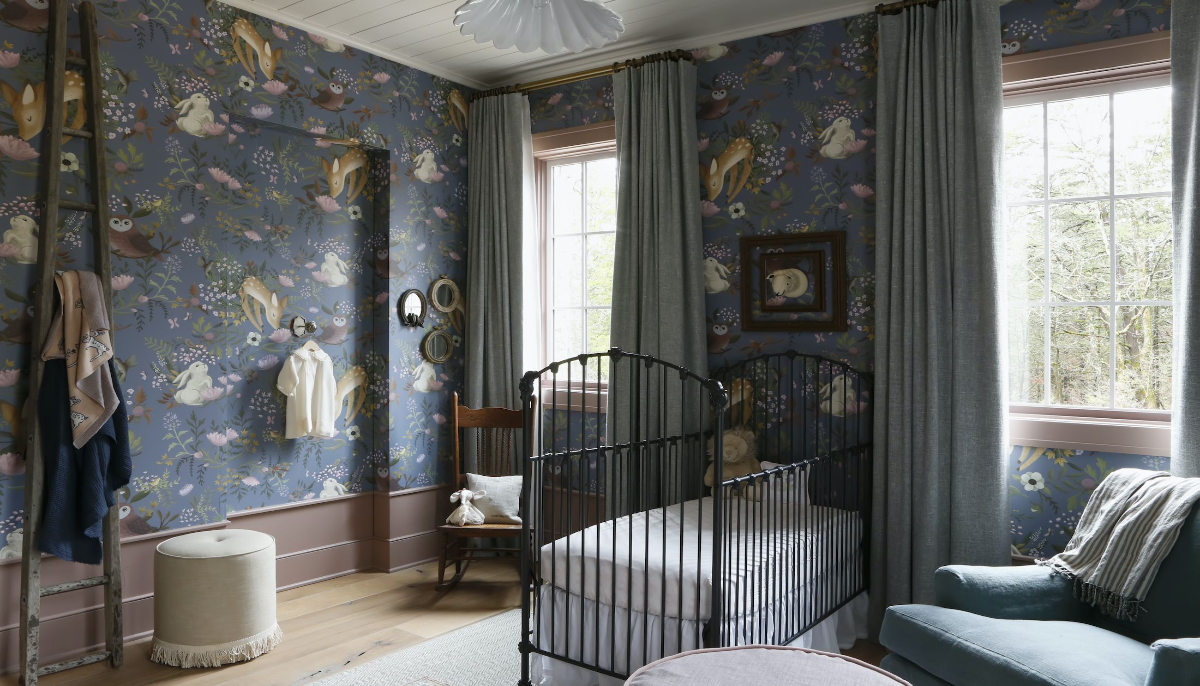 Reading bedtime stories to your kids will be a one-time experience in your new parent journey, but what if you can convert your whole room into a story tale? To soothe and inspire the storyteller in you, finding fantasy or classic book ideas can be a great start! Follow your instincts and always go for the most inspiring and simplest stories of the decade, the extraordinary fables!
The highlight of this theme will always be the wall designs, colors, and murals. One hands-on piece of advice, go crazy and theatrical with your wall. You can surely go for the plain small patterned background with heavy art on furniture, but going for the former way can lead to an ideal nursery experience for your child and maybe lighter on your budget!
6. The Ultimate Fairytale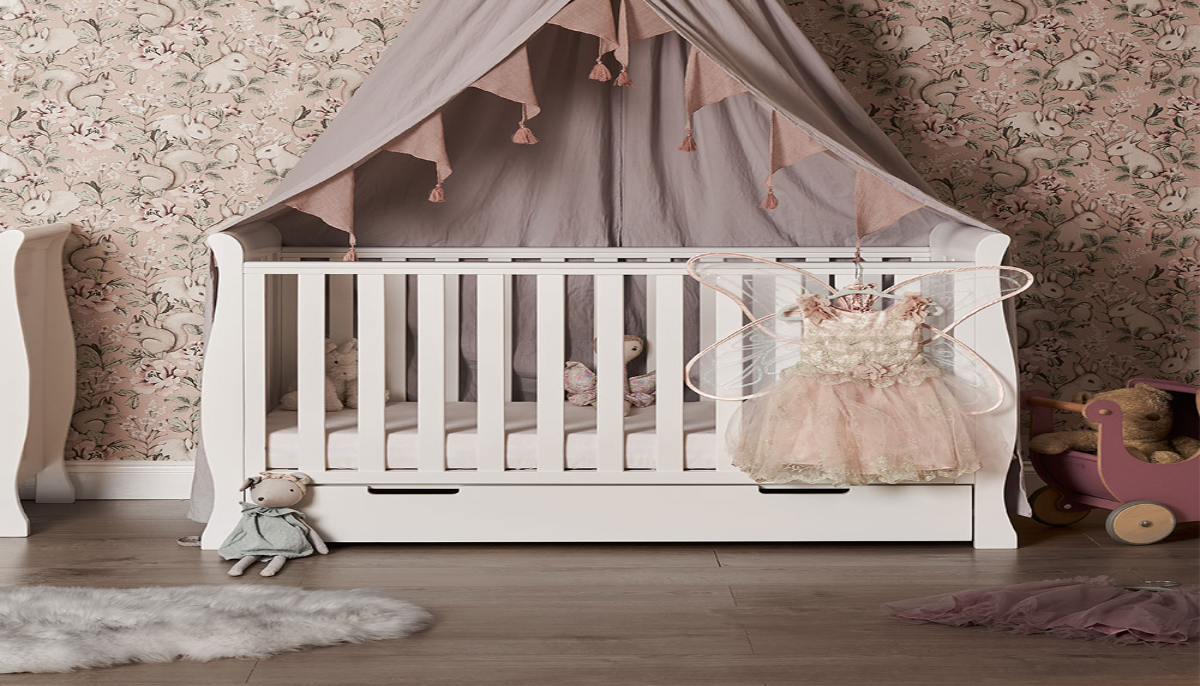 While we are on the idea of fantasies, going ahead with the ultimate fairy or princess would be a great idea! For the color tones, instead of going with bright pink, you can try subtle pinks, pastel greens, yellow, and blues, which also add to the royal yet subtle and soothing color tones. You can add damask, matelasse, and quatrefoil patterns to add to the royal idea of the nursery or add shimmers and glitters if you want a more princess vibe. This will add the needed color, sparkle, and dreamy nature to your nursery! This is exactly the theme that will allow you to go all grand, fancy, and theatrical for your little children!
From chandeliers to well-needed princess canopies, this is your time to let your princess have the fantasy she deserves. Pink pastel curtains, large pink royal couches as well as royal cribs can be just the touch of 'extra' you need!
7. The Art of Space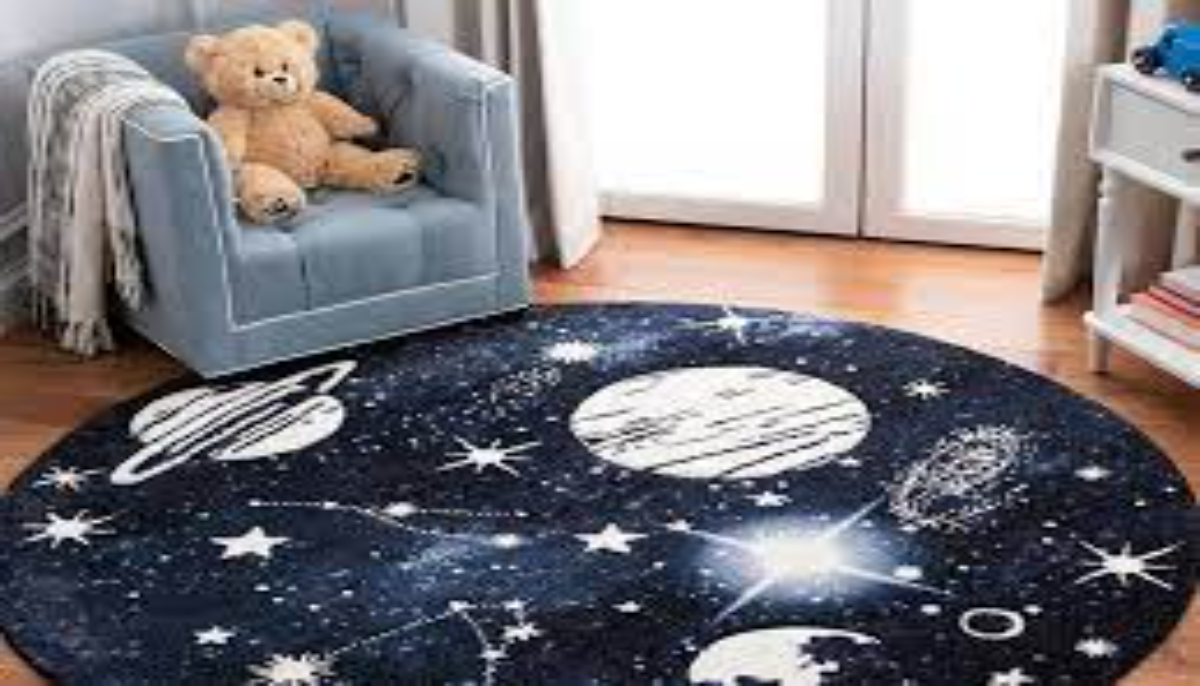 Following the world of whimsy and fantasy but with the wonders of our world, the space theme will give you the exact dreamy yet 'what a wonderful world' vibe! To start off, decide your idea of space, like the expanse of the moon, the indulging stars, or the ever-revolving planets and the sun.
Once you know the exact idea, you're going to follow them with either a splash of intensity on the wall or use the space in the furniture and rugs to add the element of space but not be overwhelmed by it. Follow these with either black or light blue to white furniture, which will add spark and a tinge of a standout in your room! After that, just fly away!
8. A Splash – The Rainbow World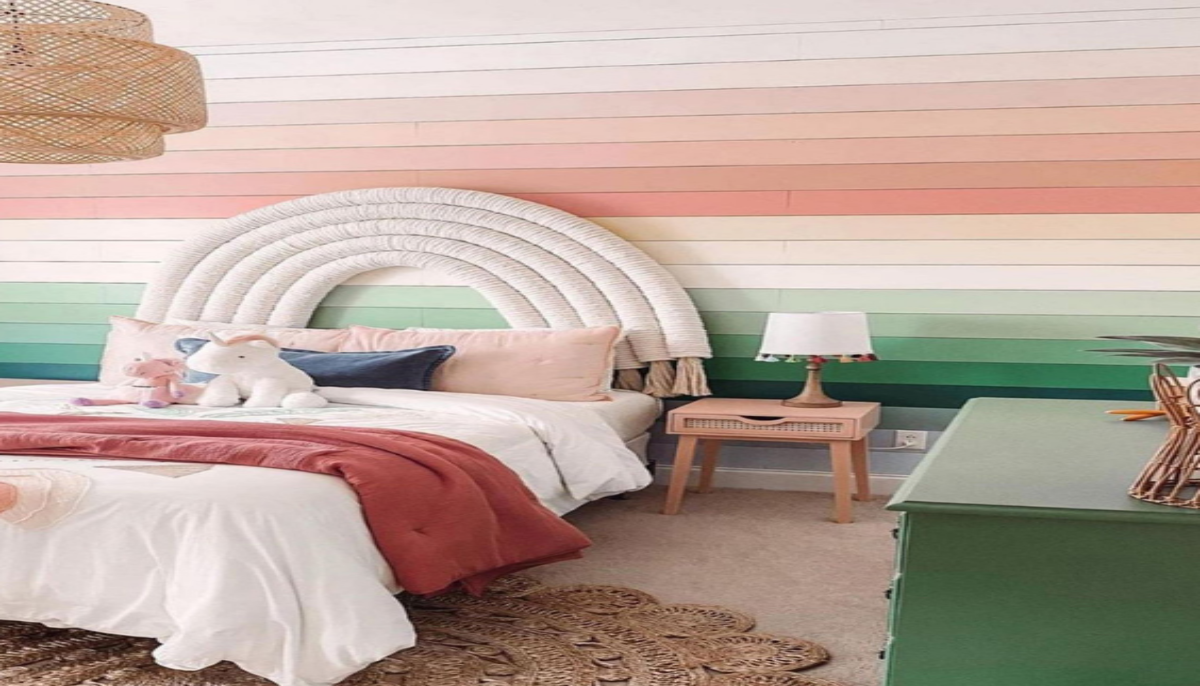 To excite, inspire and engage your little ones, the rainbow theme is a perfect idea! Now, to start off, it is crucial to decide your vibe. You can approach this theme either by using rainbows all around or using rainbow color schemes to mix and match. This will give you a sense of soothing spirit, lively spirit, and a splash of brightness and positivity to your nursery. It is perfect if you want these combinations of emotions but not dramatic decor or over-stimulating color schemes.
You can either pair rainbow-based backgrounds with subtle or pastel furniture, or you can go ahead with a subtle background followed by bright-colored furniture.
9. The World of Dinosaurs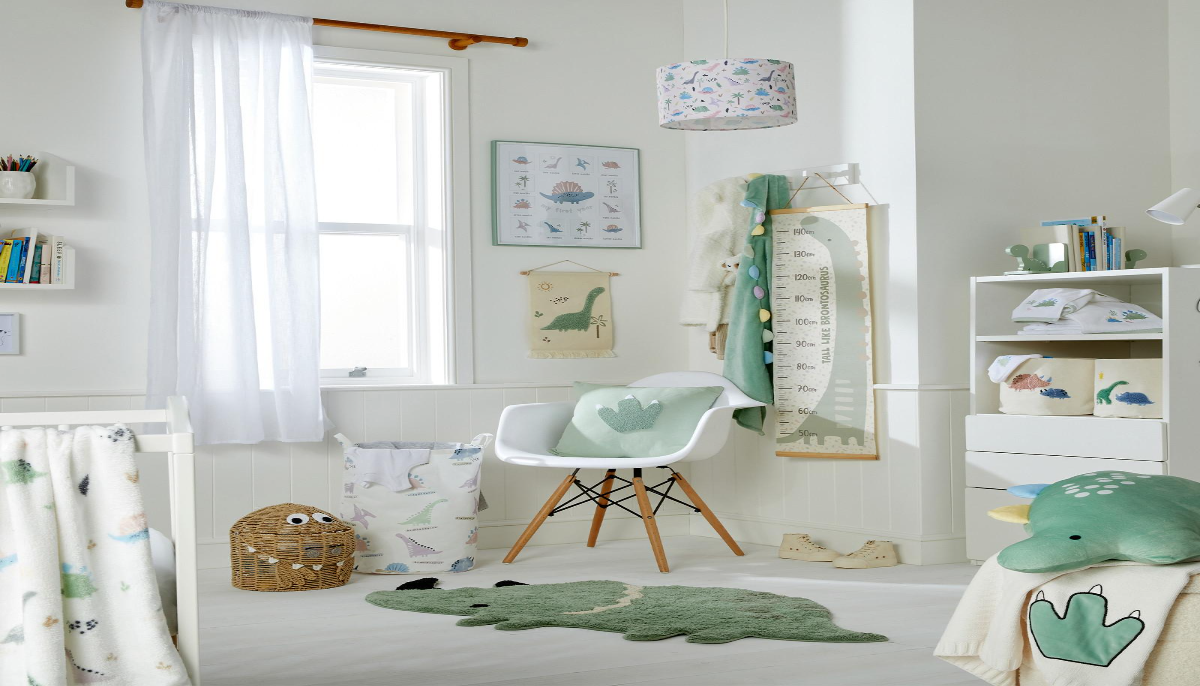 Dinosaurs might've died centuries ago as the most crucial life-changing history, yet they live in the hearts of youngsters like a fantasy or dream! Using dinosaur themes can add whimsy, silliness, and a splash of subtlety as well as colors to your nursery.
Finding a subtle and plain wall background and adorning them with massive or numerous frames and paintings could be a great start. If you want to go ahead with a more forest or more century look, you can use dark green or green hues and shades. You can let your imagination style the whole nursery, but make sure you have crucial identifiers like dinosaur plushies or Dinosaur decorative stickers.
10. The Mid-Century Spark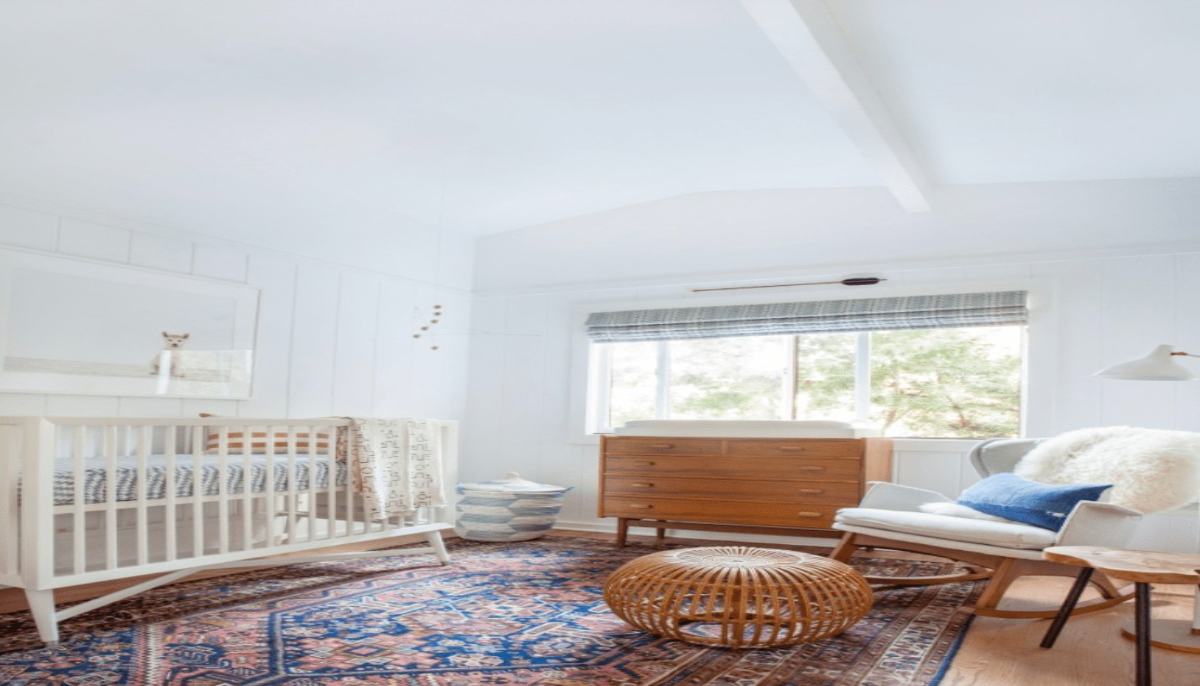 If the world of whimsy and fancy isn't your style, then this historical and chic vibe is yours to explore! This theme isn't necessarily the most engaging or bright vibe, but it does give an edgy yet soothing look! Popular themes or overdone themes can never take over the mid-century look because it provides a vintage yet boho look combined with a neutral aesthetic that is calming, soothing, and artistic at the same time.
Using wooden structures, heavily designed rugs, and simple yet elegant furniture can be just the idea you need! Natural light will do all your work for you if you combine it with simple designs all around and let it work its wonders.
11. The Modern Chic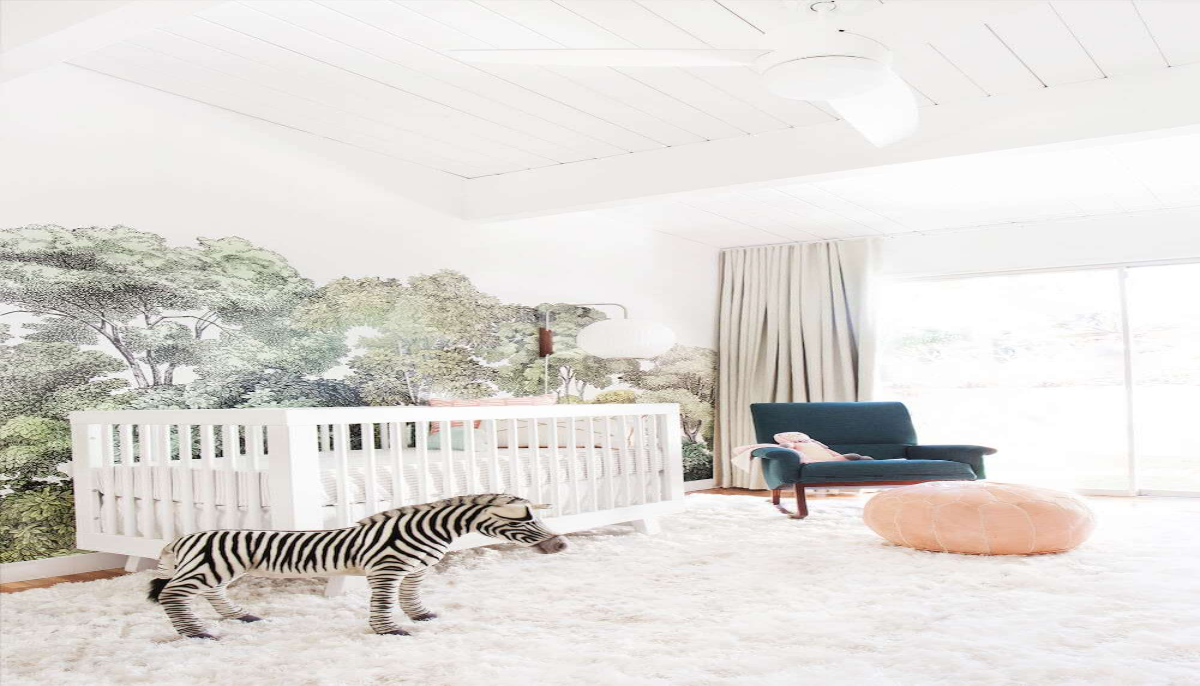 If the classic and beige flagged mother in your needs comfort as well as style, this theme is the one for you! If flashy colors and themes are not for you, following a simple and subtle themed background can be followed with simple brown shelves, minimalist decor, and white or pastel cribs with some wooden or marble structures.
Using simple yet detailed rugs and cushions would surely add style to your light shine of greenery. Classy yet edgy furniture can be used to uplift the vibe of the room as well as add an extra element to your conversations.
12. Can't Go Wrong with Neutrals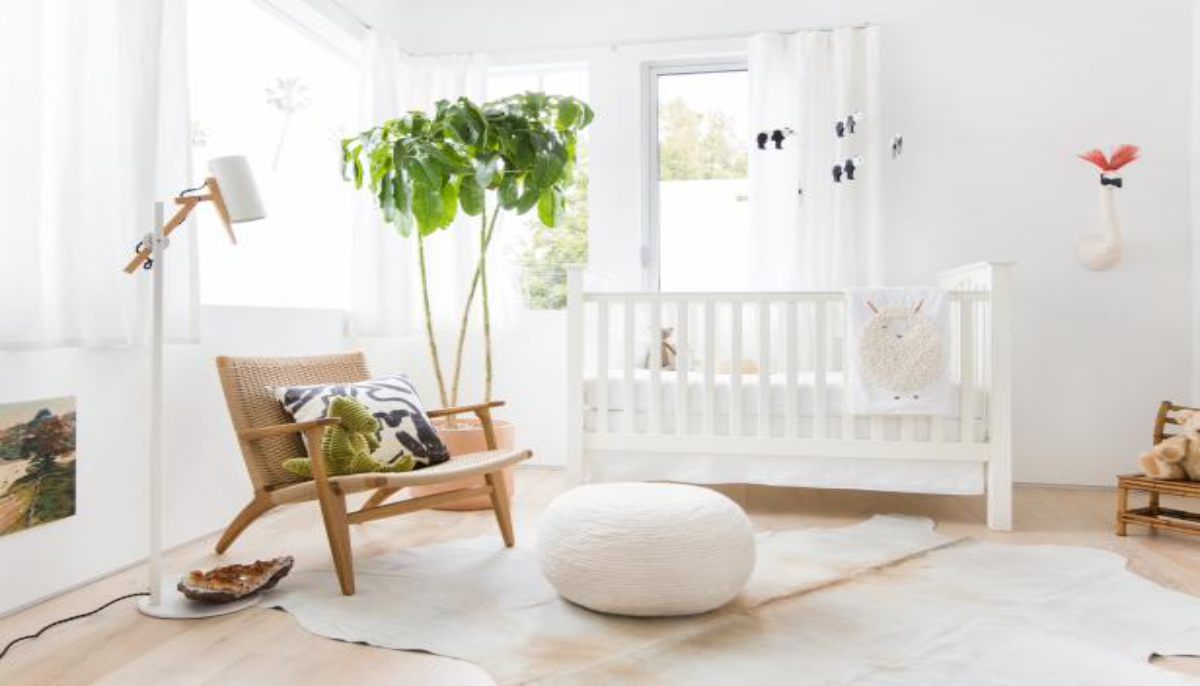 If you're not feeling too crazy or stylish today, then go for neutral themes. Neutral colors are basic, soothing, minimalistic, yet beautiful. They add a sense of well-needed warmth and comfort, which is why you can never go wrong with neutrals. A basic structure of crib, seating, and shelves can do wonders with this theme, followed by natural or light mood lighting! Yet, there are a variety of times you can try within the neutral tones.
Neutral-colored yet patterned walls can add a little volume to the subtlety, yet if you want, or on a contrasting note, you can go for an all-white and neutral decor theme (if you're feeling bold and gutsy). Neutrals are also the best to create a 70s vibe or a light and breezy vibe. To create a 70s vibe, you can combine these warm natural tones with plants, mirrors, or other props like guitars that will make the colors pop. For a light and breezy look, you can add beachy and sandy textures with photos that go with it. In addition to this, add light woody and wool-based textures.
13. The Boho to Go Gaga Over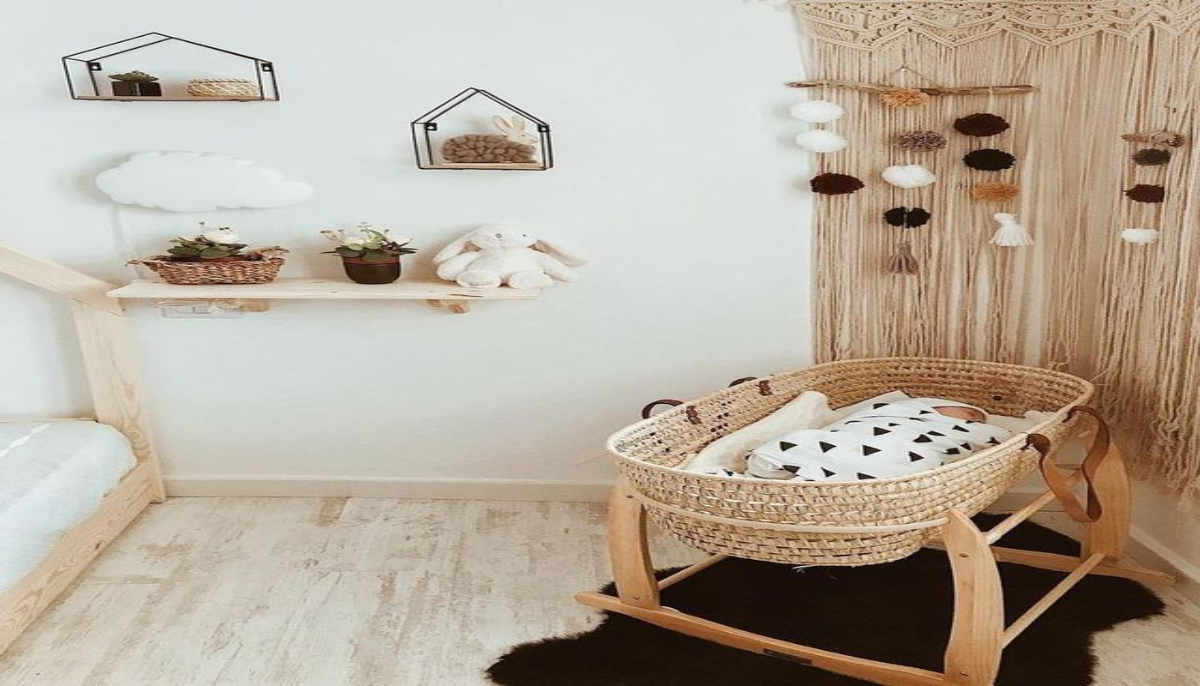 Going through similar themes of neutrals and subtle themes, the boho idea of the nursery is one of the many classy classics that you can't g wrong with. Boho, at its core, is defined by its free spirit and the additional tint of the organic vibe or the inclusion of nature-based decor and materials. It doesn't necessarily have a type; hence you can play with different cultures and aesthetics.
To start off, a plain background can give you the base you're going for, which can be followed by boho themed changing basket, a white bassinet or crib, and boho storage and plushies. Ditching the plain background for a boho-themed dotted background or simple patterned wallpaper can add a tinge of color as well, which you can combine with brown or black decors with a mix and match of textures. You can try some general boho textures like wood, jute, leather, or stones, or you can also try different, smoother textures like linen or silk-based objects or sheets.
14. The Monochromatic Classic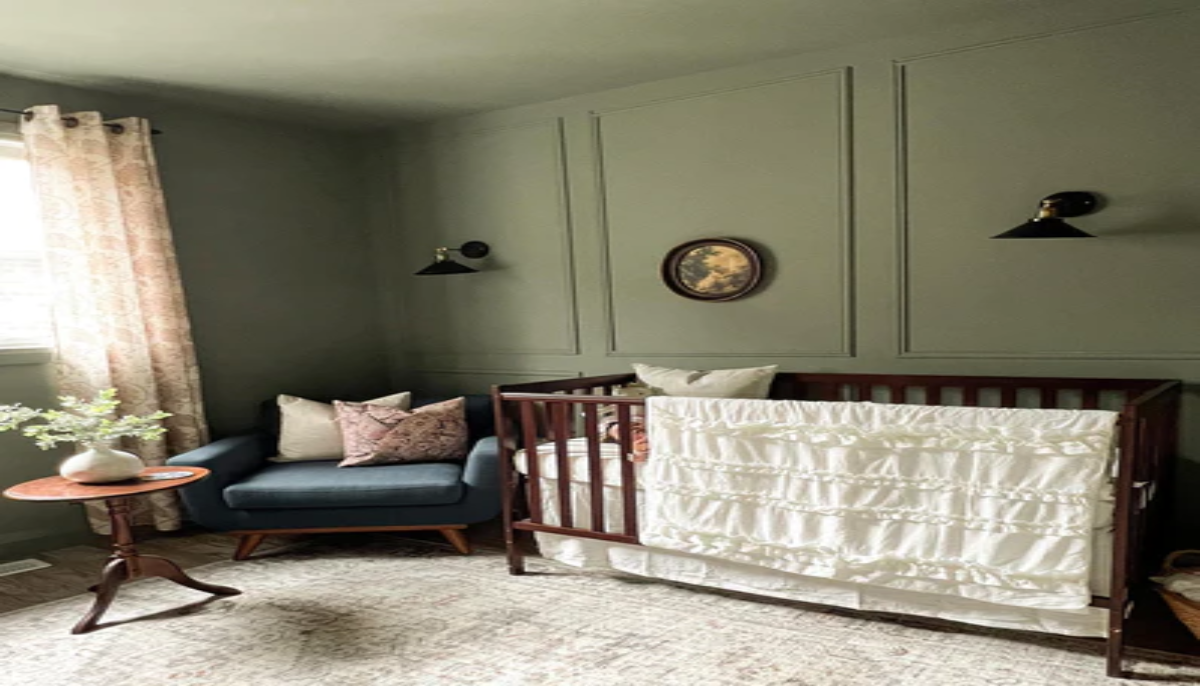 In continuation to the classic vibe, if you're not feeling too neutral yet not too flashy or engaging, monochromatic-themed nursery ideas can be the ideal choice! Monochromatic combinations can go two different ways. You can either go for a darker or bolder aesthetic (violet, dark blue, dark greens or brighter and lighter colors (yellow, oranges, reds, etc). This will help turn your nursery into the 'main character' vibe and would radiate either a soothing or exciting vibe (depending on the colors you decide).
Now that the walls define subtlety or simplicity, you can find the exact vibe you're going for with the decor. You can go from fantasy-based decor to a classic wooden or vintage look!
15. The Simple yet Customized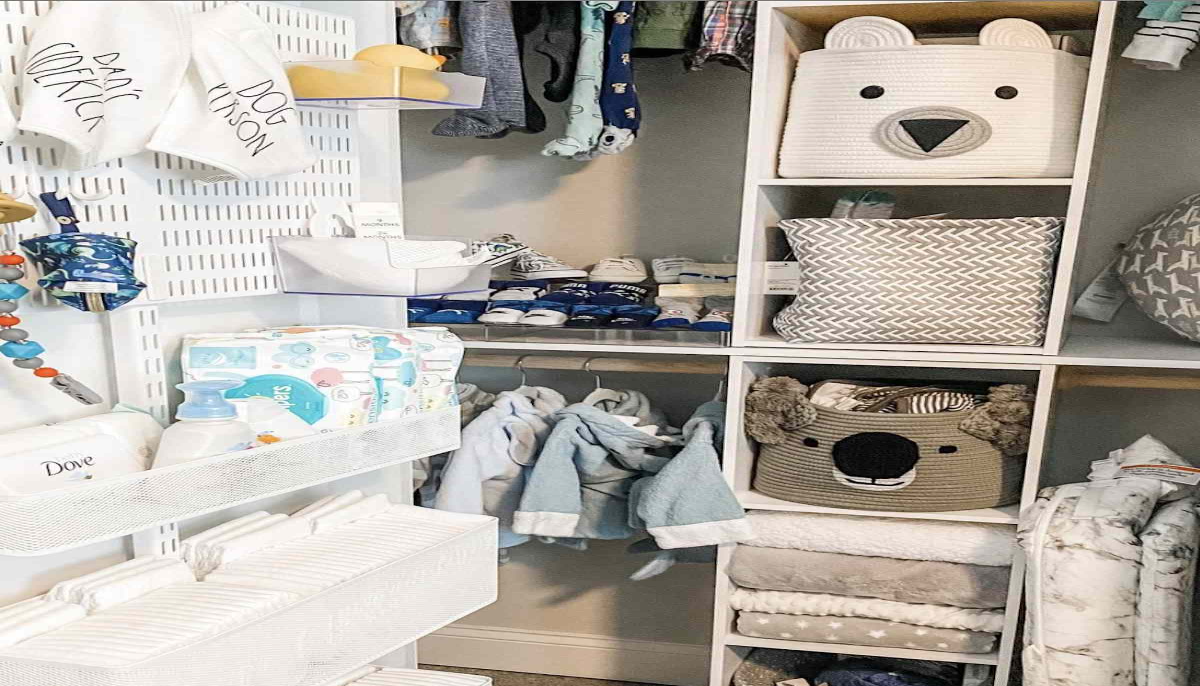 After this long list of nursery themes that cover the world of drama and aesthetics, if you're still not convinced and wish for utility-based ideas for your nursery, then this is the one for you! Designing and utilizing small nurseries can be a difficult task, and hence ideating different schemes for the storage of a plethora of items can be a task. But it doesn't have to take away from satisfying the designer in you and be boring.
You can combine utility items like shelves, folders, and other creative storages with an artist's abstract theme, an animal-based theme (bunnies, rabbits, elephants, giraffes, etc), cartoon-based themes (SpongeBob or coco melon). Here ideas like elegant foldable organizers and hanging closets can be a beautiful, organized, and extremely beneficial addition!
Final Thoughts
This well-researched list with a plethora of themes, from plain and subtle aesthetics to dramatic themes, that will help you plan and organize your themes and decor to help you design the perfect space for your child. Yet, one of the most crucial parts of parenting is doing life as it goes and working on and developing your parental instincts.
Your themes and aesthetics can change based on the vibe you feel as they grow or how their utilities and needs change. So, go with your gut feeling and what your child is responding the best to! You can also go ahead and mix and match the themes and other products to create your own customized theme, like Dinosaur World with the rainbow themes. Happy Parenting!!