Upgrade the look of your store cupboard, pantry cache, bedroom dresser, or kitchen drawers with unique types of cabinet hinges that are fixed to the interior and exterior, connecting the door and frame.
Although these movable joints are a hardware component, they can hugely impact the overall appearance of your home. So, choose a style that matches your furniture and fixtures.
Depending on the framed or frameless cabinets, pick the appropriate setup that has the required features, suits your home layout, and can sustain the weight of your storage area. To determine which hinge works best for you, first work out the door pocket style, then decide if you want to keep the hinge visible or hidden.
To help you figure out hinge types, here's a list of 15 varieties that have unique features, functions, and applications.
Types of Cabinet Hinges
Before you dive into the actual list, ensure you opt for fixtures made of rust-proof and moisture-resistant materials, appropriate size, sturdy fittings, durable fastening settings, suitable finishing, unique patterns or corner styles available in the below-mentioned products: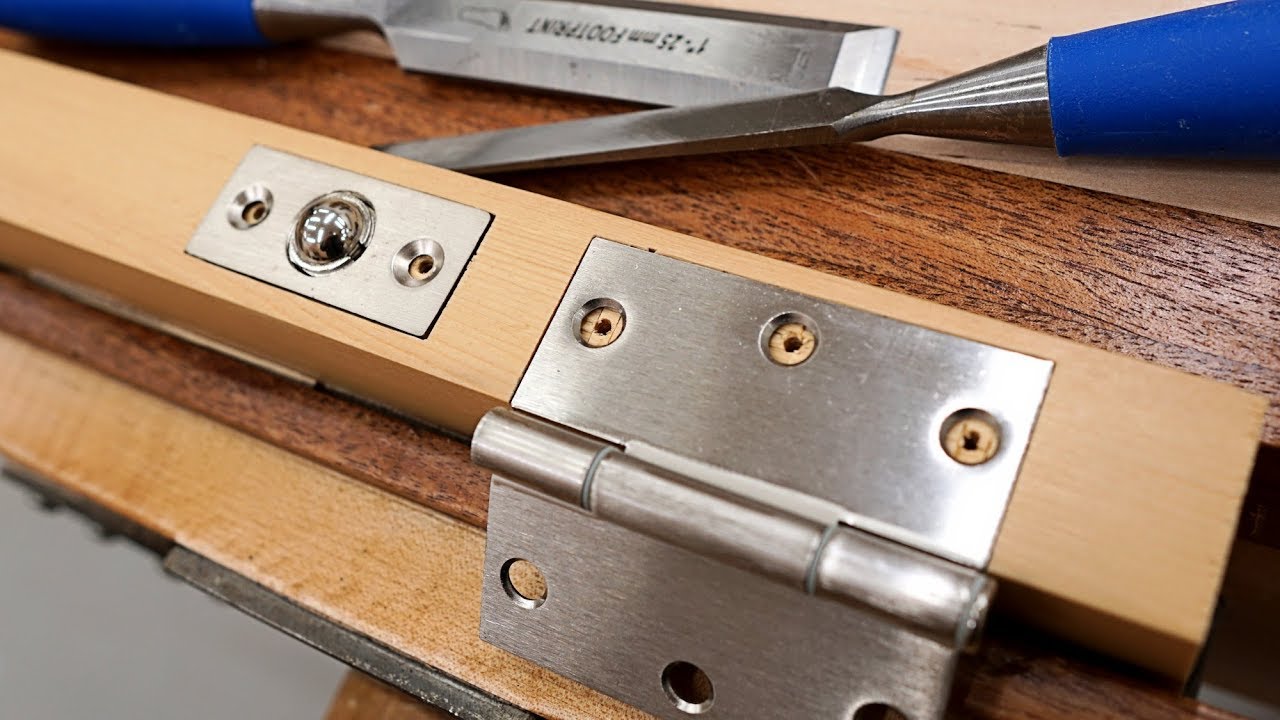 Hinges need a mortise, meaning a small space to receive another part or to join and lock two parts securely. Installed frequently in households, a mortise or butt jointer has two sides that are connected to the frame and cabinet door. The pin along the central axis or ball joint is spread out, connecting the joints and enabling smooth movement.
These hinges are highly durable and are not in need of frequent replacement. However, if you need to uninstall them, close the door to view the pin and remove the joining rod between the dual rectangular leaves.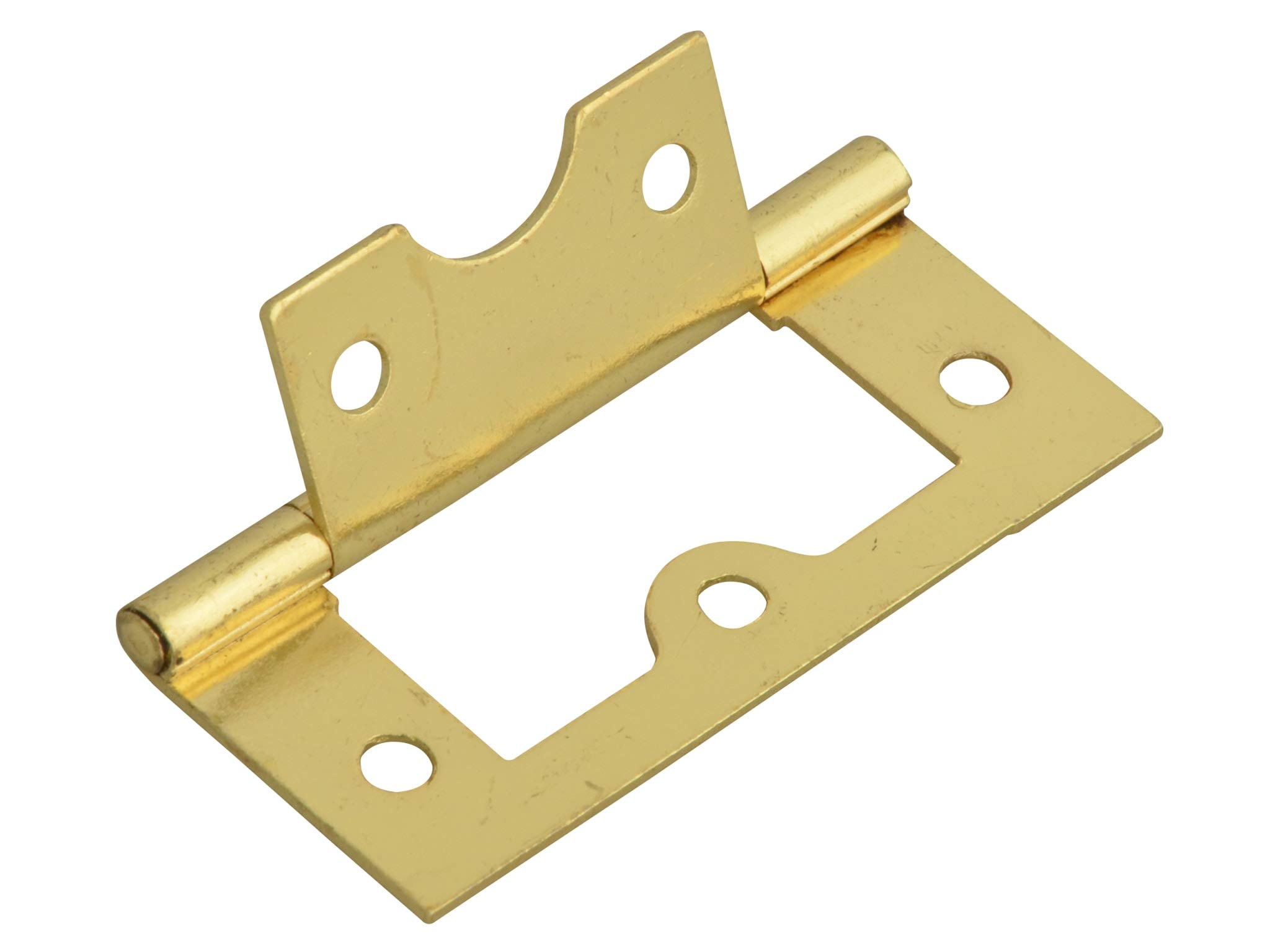 Similar to a mortise, the flush hinge connects the cabinet door and frame inside, taking up very little space. The small part of the joint closes into the bigger part, giving the suggestive look of a full piece, where only a knuckle is visible.
They are lightweight and best used for delicate furniture since they take up very less space. They can be mounted on screws alone and are ideal for eliminating frame and door distance. They have an added advantage compared to mortise hinges since creating a recess is not required before attaching them.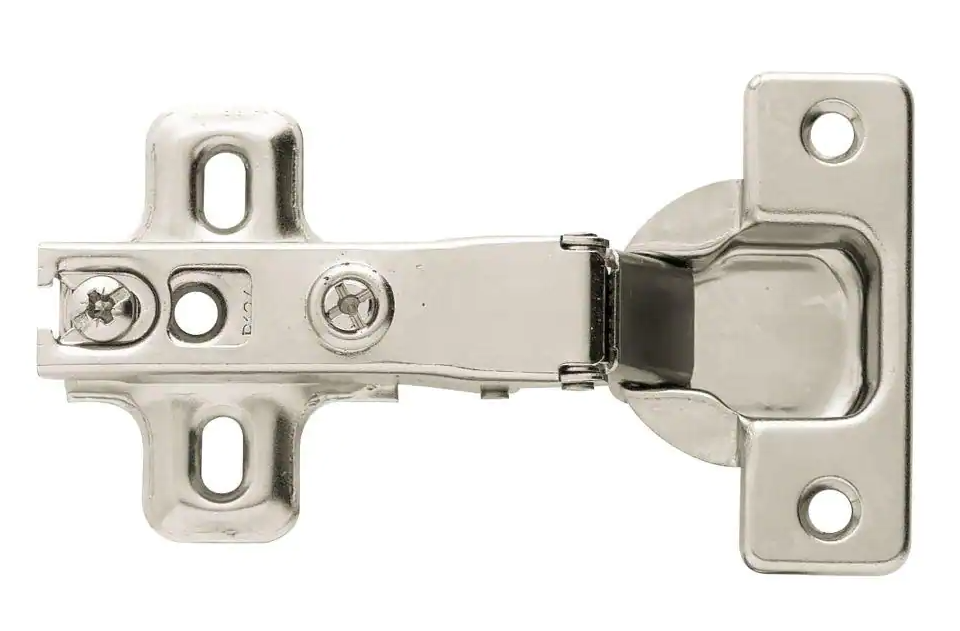 Full overlay joint hinges cover the entire face of the cabinet by being attached to the door, face frame, or the inner part of frameless cabinets. With a complete overlay, these types of cabinet hinges can also be used to connect separate cupboards that are fixed on the edge.
An alternate form of the full overlay type is the varied overlay hinge that is typically designed for framed cabinet doors. You can also use surface mount or frameless hinges that are mounted on the inside, giving you ample space to swing out the door without hitting the frame.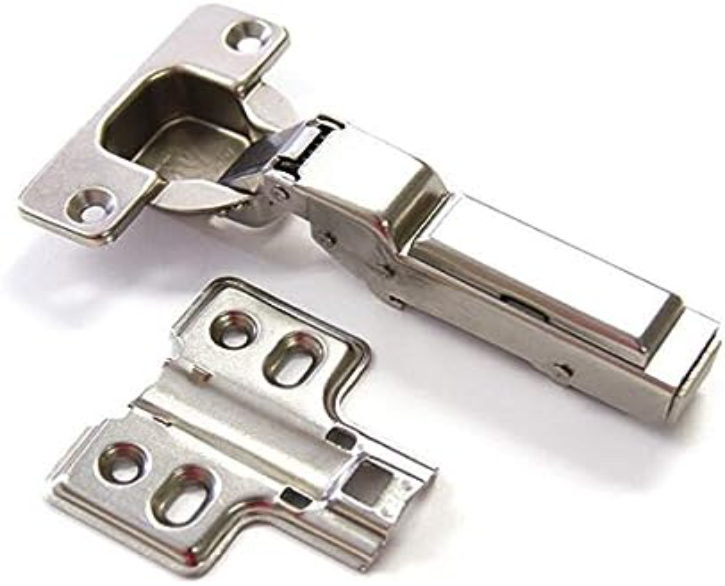 Also referred to as a half-crank hinge, this partial variety is best for cupboards that have a shared partition. With the jointer being inside doors, you can easily open doors sideways without hitting the other side. These links are positioned from the rear end of the edge, thereby increasing weight-bearing capacity.
Like the full overlay model, the half varieties can also be used in partial overlay cabinets where the face frame is visible. However, you can also use patterns that cover the frame at the interior or exterior end.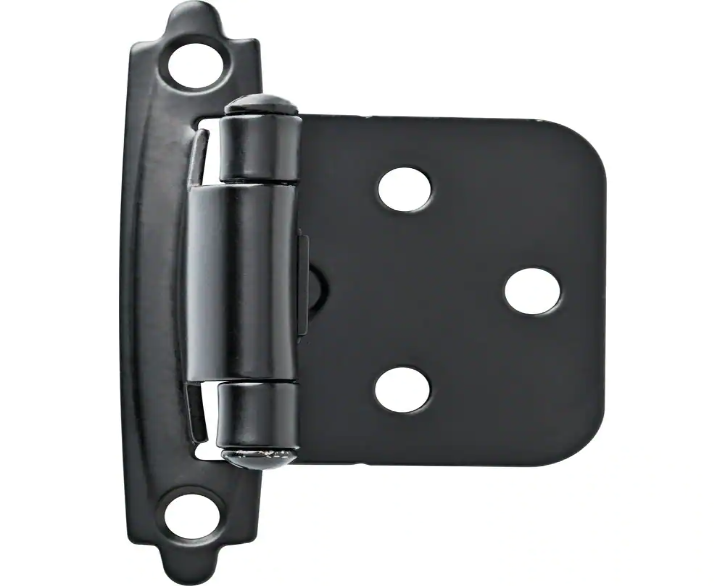 This spring-loaded type of cabinet hinge unwinds when a door is opened and recoils when the pressure against the door leaves while also controlling the weight. The hydraulic variety has a self-closing system that is most commonly seen in home theater system cabinets and gym lockers.
You can also add self-closure links to existing cabinets by lining up the holes and simply pressing the arrangement to snap it in place. While these supports are similar to soft closing ones, they tend to wear down after prolonged or repetitive usage, making it impossible to open the cabinet. So unless you want to replace these hinges regularly, use them carefully.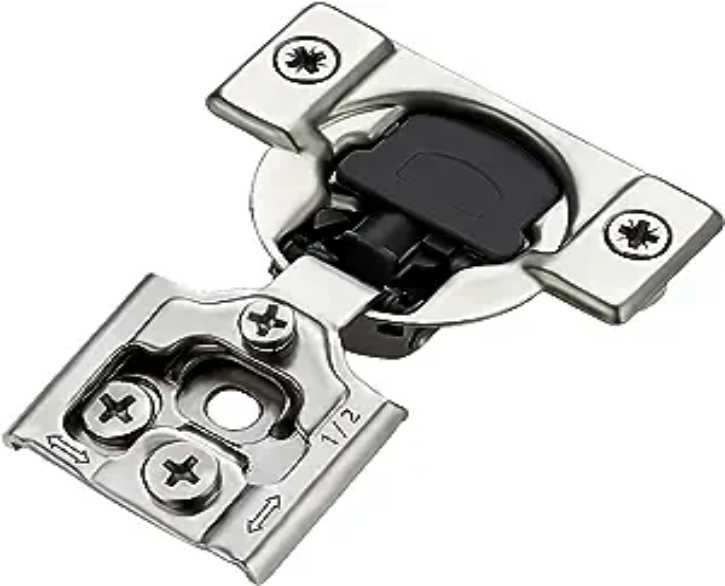 Identical to the self-closing variety, the soft close cabinet hinge type also uses a hydraulic structure that creates a vacuum, enabling the door to slide into a closed position silently. While these cost more than regular types of cabinet hinges, they are durable and prevent damage after prolonged usage.
The damper in the arm or the cup reduces noise, enabling doors to open and close with ease. This coupled arrangement can be installed by simply being fastened to the mounting plate and using a mallet to give it a snug fit, ensuring your cabinet doors stay in place.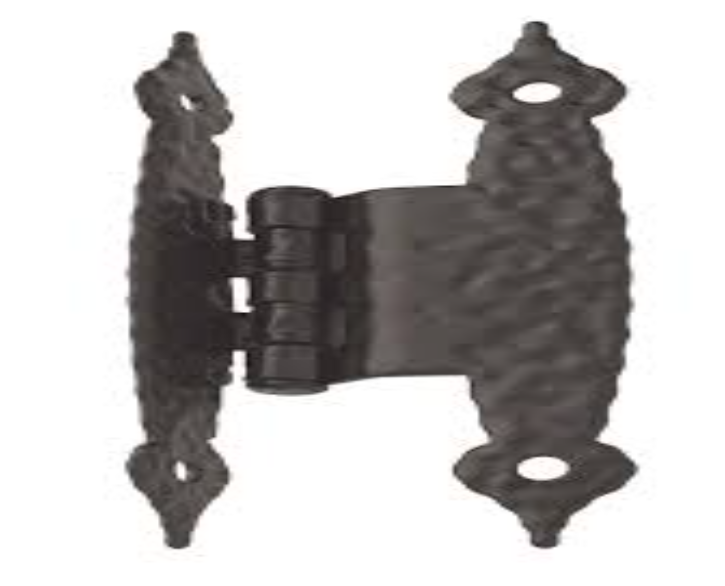 With cabinet doors that stick out from the frame or when two hinge sides are misaligned, the offset juncture assists in connecting the door and frame. These cabinet hinges are ideal with thick doors so they do not collide with the frame on opening.
With cost-effectiveness and easy installation, offset joints can match different cabinet styles as they are available in a variety of finishes like nickel, brass, copper, steel, chrome, stainless steel, and multiple varieties like multi-purpose reversing, arch style for H-type cabinets and old castle style recessed frame applications.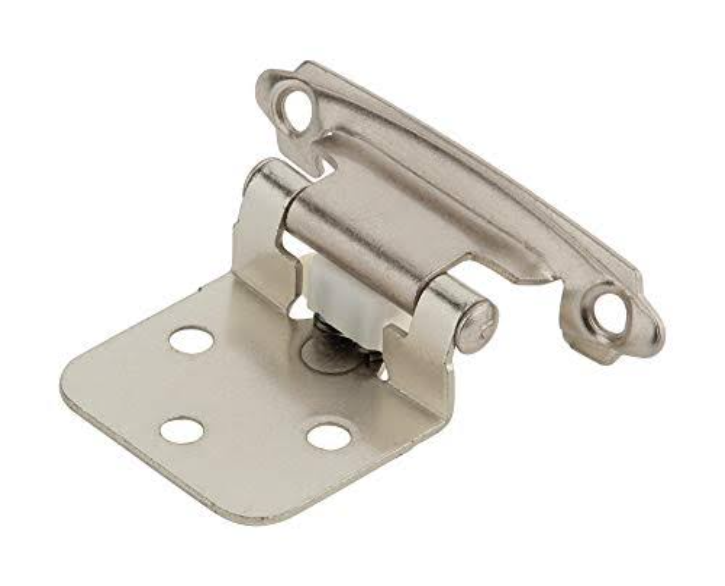 Also called the full crank hinge, with its narrow side connecting to the frame and broader side to the door give a seamless appearance. The jointers sit flush on the cabinet surface and are ideal for overlay doors. The axis is concealed in the carcass of the arm, towards the inner part of the cabinet, exposes the wooden frame, and is commonly used for kitchen display cabinets.
For inset doors, a blind corner hinge is placed parallel to the door and can be used in small spaces like cupboards and adjusted after installation. To further elevate the look, you can install inset hinges that are available in ornamental patterns.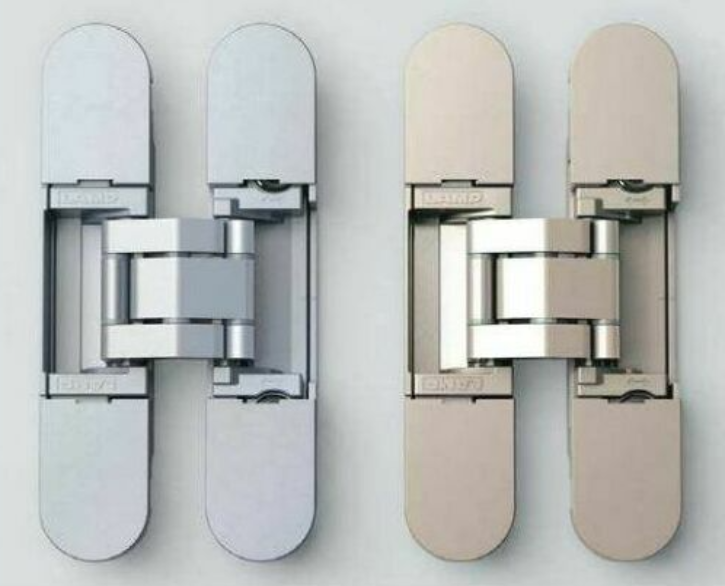 Although the discreet hinge types like concealed, invisible and hidden may sound identical, they serve unique purposes. Using concealed hinges, you can see the face of the door only, thus are popularly used on the face-frame, frameless, partial overlay, and inset doors.
Face frame or semi-concealed hinges are mounted on cabinets having a small frame that can be visible, and the door wing is attached to the rear end. At the same time, due to their small size, invisible hinges need very little space and cannot be easily seen when the cabinet door is opened. Similarly, hidden links are used to hide imperfections or ensure the look of the cabinet is not affected by the hinge appearance.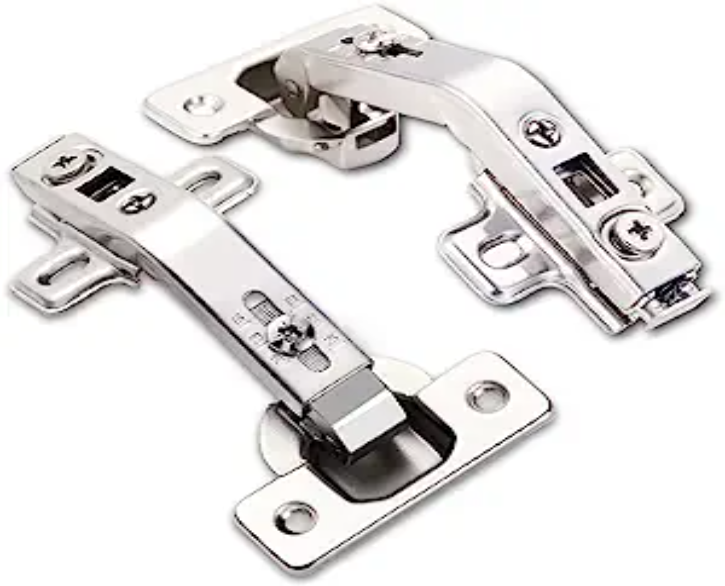 Another invisible type of cabinet hinge is the clip-on or snap-on attachment with a spring fastener that can be removed easily. It has a tab that snaps into the baseplate, making it easy to assemble and uninstall the arrangement. Hence is also referred to as the detachable hinge.
This stainless-steel apparatus works on hydraulic apparatus and is suitable for kitchen, partition, plate, and cutlery drawers. It is lightweight and durable, and the snap-on attachment allows height adjustment, making it a convenient concealed hinge. While the clip-on type suits expensive cabinetry, you can buy the slide-on style for economical usage.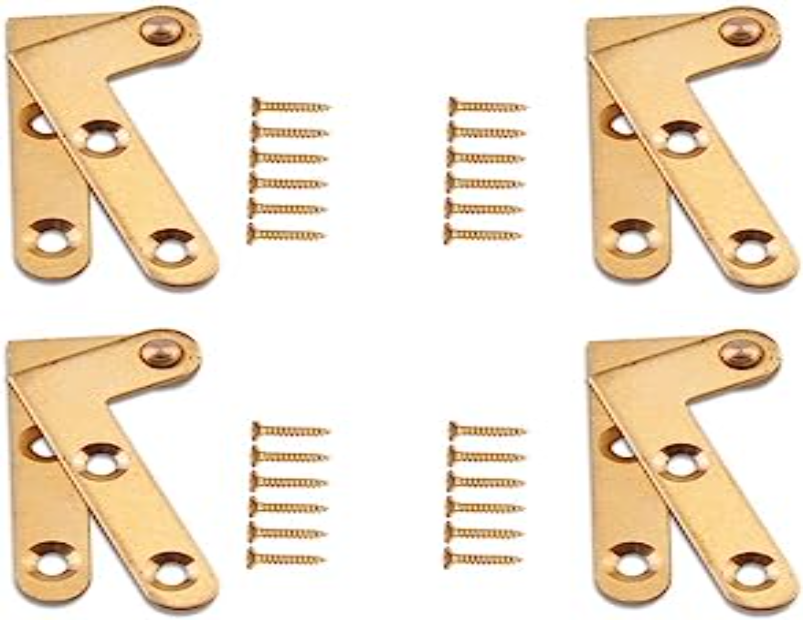 Best used for inset cabinets like home theater system cabinets, invisible hinges are installed on the top and bottom of the door and frame. The door protrudes slightly, while inset pieces of the frame fit securely inside, allowing it to pivot easily.
Similarly, barrel hinges stay hidden and move up or down without hampering the exterior appearance. You can drill two holes to connect the arm to the door and cabinet frame, giving the storage area a hinge-free look. These hinges are also popularly used for woodworking projects and for creating repository compartments with lids.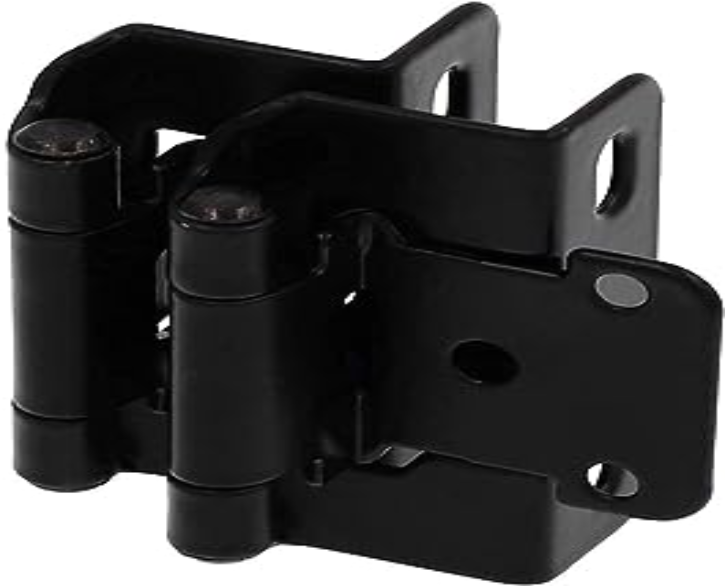 The joint at the back of the door, the face frame, and the inside of the cabinet these hinges wrap around completely, giving appropriate support and stability. While these swivel units are best suited for heavy cabinets, the full wrap touches three framed sides and can be visible from the outside.
Due to their heavy-duty feature, the wraparound variety is also popularly used in industrial settings. However, the multi-joint feature can be installed on wood cabinets for full extension and expansive openings, making it ideal to hold heavy cabinets, entrance gates, and other sturdy purposes for residential purposes.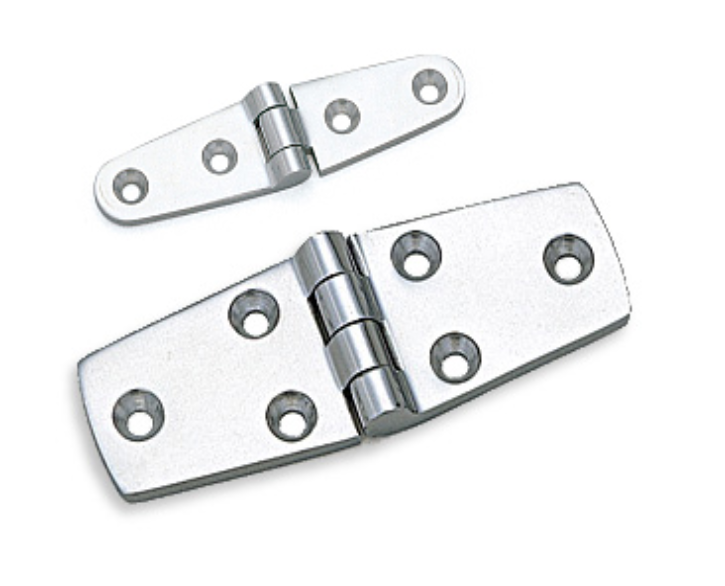 Mounted on the outside of the cabinet, the short hinges with a strap-like design have wings that bind around the door, meeting the frame and outside cabinet surface. These versatile types are long and short and thus can be used to support heavy weight while giving a sleek look to your cabinet.
Characterized by two long triangular flaps, these hinges secure the moving cabinet door and the adjacent immobile surface, where the long folds provide added stability. Since these cabinet pins can be seen, they are also used for sheds, barns, and garage doors.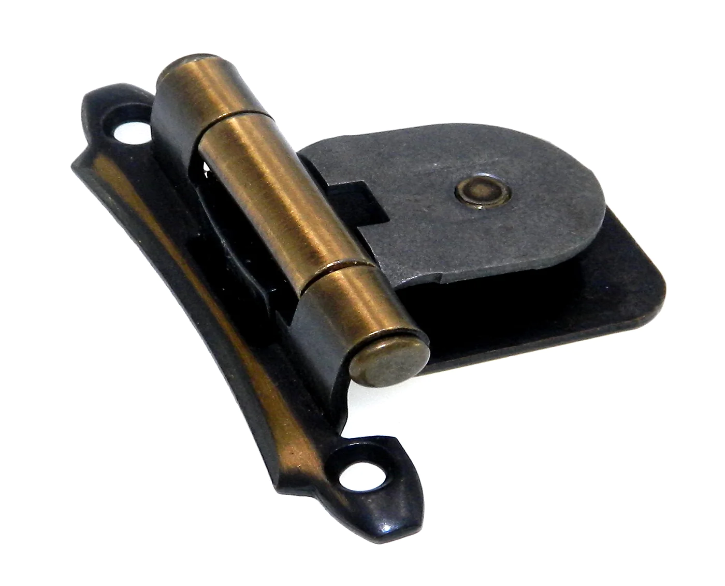 Single or double-demountable hinges are often used for kitchen cabinets that can be taken apart easily. The single and double varieties do not need any fasteners, and the door can be easily slipped in without having to remove the entire assembly.
The single demountable hinge can be installed into the frame, while the other end fits into the cabinet door. With this, you can also avoid the hassle of removing any hardware components or wiping grease and other mess if you want to clean or repair corners on a regular basis.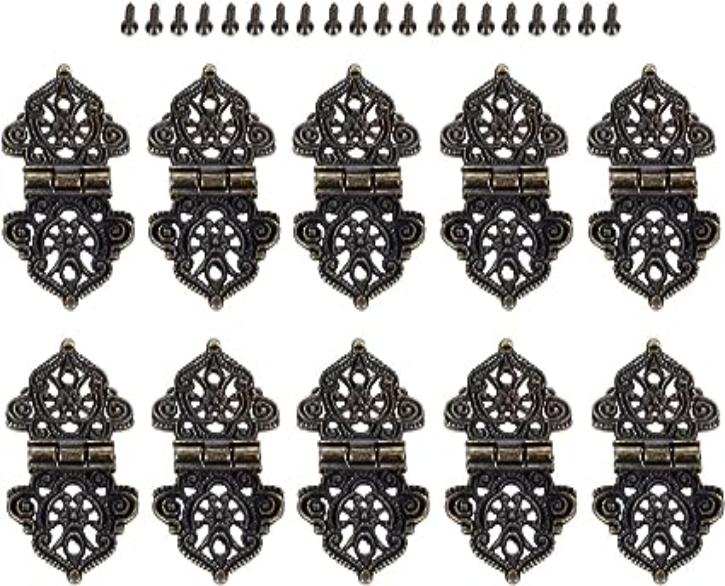 Although hinges are used for practical purposes, they can sometimes mar the aesthetic appearance of a stylish cupboard. So, you can use decorative fixtures that can be attached to the inner side fulfilling its functionality and showcasing a decorative appearance outside, thereby adding detailing to the cabinets.
Types of cabinet hinges for ornamental purposes feature vinyl styles, filigree patterns, speakeasy latch sets, colonial designs, antique looks, and customized piano pins. Another variety of this ornamental type is the faux hinge with a soft or self-closing mechanism that can be attached to the outside to appear like a part of the cabinet itself.
Final Thoughts
For bathroom cabinets, use frameless or wrap-around hinges that directly get attached to the cabinet box and are ideal for heavy doors. The surface mount type of cabinet hinge used in combination with faux styles and mounting plate is best suited for the kitchen and bedroom.
Now that you have gone through different types of cabinet hinges, you can make an informed choice according to your door overlay style, cabinet design, overall layout, functionality, and purpose. To accomplish your project successfully, precisely measure the cabinet overlay and hinge distance and choose a suitable finish.
If you want to simply repair or replace an old hinge, use the same screw measurements and brand to avoid damaging your door and causing further issues.
Frequently Asked Questions
How Can You Refinish Cabinet Hinges?
Simply spray paint old or worn-out hinges to renew the look of your old cabinets. You can remedy mismatched cabinets by refinishing them with a simple paint job rather than buying new ones.
Can You Powder Coat Cabinet Hinges?
Yes, you can use versatile powder coating to prevent cabinet hinges from rusting and incorporate new designs and styles to match the hardware. This method is eco-friendly and can be used to refinish doorknobs too.
Which Materials Are Used to Create Cabinet Hinges?
Hinges are made using materials like stainless steel, brass, bronze, copper, and pewter and with finishes like polished, chrome, and brushed designs that are rust-proof and can complement the look of your kitchen cabinets.
How Can You Clean Cabinet Hinges?
To clean cabinet hinges, mix one part water and one part vinegar and wipe the hinges with a cloth or use a mild brush to scrub using a tiny portion of dish soap. You can also use warm water, polish, and cleaning materials to wipe old hinges.