As a young kid, we would always save bits of glitter paper, sparkly threads, and pieces of broken stud earrings that would later be used to decorate my journal, greeting cards, and gift bags. Seeing the joyful receiver's reaction to my distinctive gifted creations made me happy.
Indeed, there is no greater joy than creating something interesting. The Research Institute for Creative Arts Therapies states, "Crafting reduces stress, boosts mood, and increases self-confidence." You, too, can boost creativity and learn creative skills with simplecraft ideas that can become a part of your home decor or be gifted to your loved ones.
So, if you want to pursue an affordable hobby or want to upscale old items, use any of the below-listed inspirational ingenious ideas to make paper flowers, holiday ornaments, personal care items, jewelry, storage organizers, and other products for home decor.
Cool Craft Ideas for Adults
Here's a list of 25 fun craft projects categorized according to material, purpose, personal and home use. Colorful paper, fabric, string, plastic, paints, broken tile pieces, other recyclable material, and essential crafting supplies can be used to design unique creations.
Some interesting options are listed below:
1. Paper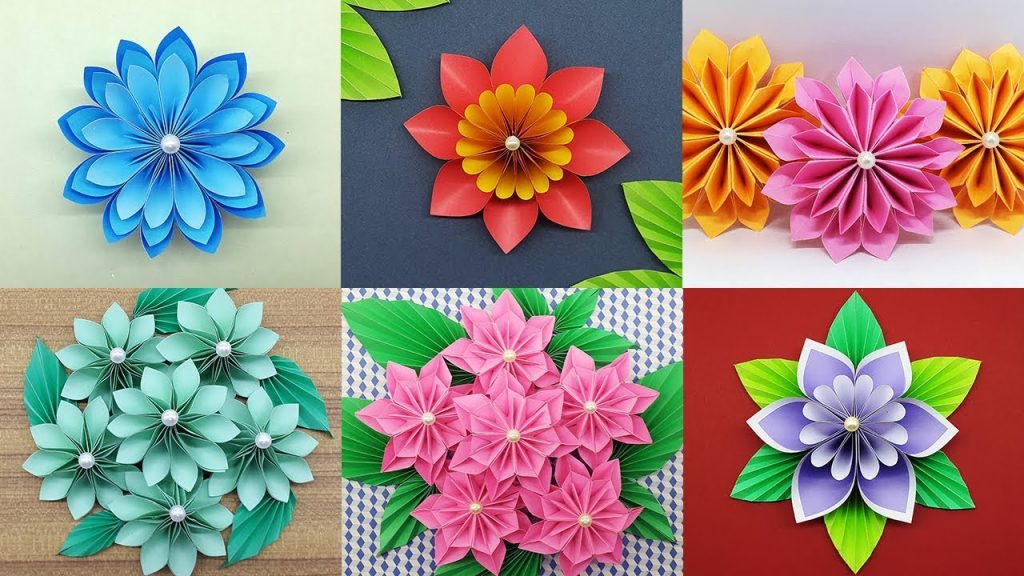 You can fold dyed cupcake liners or create pleated designs like an accordion to cut out petals or fold them in half to twist around a faux flower stamen and attach the decorative tape to make paper flowers that can be used to decorate your living space all year long. You can also join these flowers on a wreath frame to hang over the door or mantelpiece during Christmas.
Paper can also be used to make decorative flowers and specially printed notecards with paper envelopes or bags and decorated with glitter to be gifted for special occasions.
2. Plastic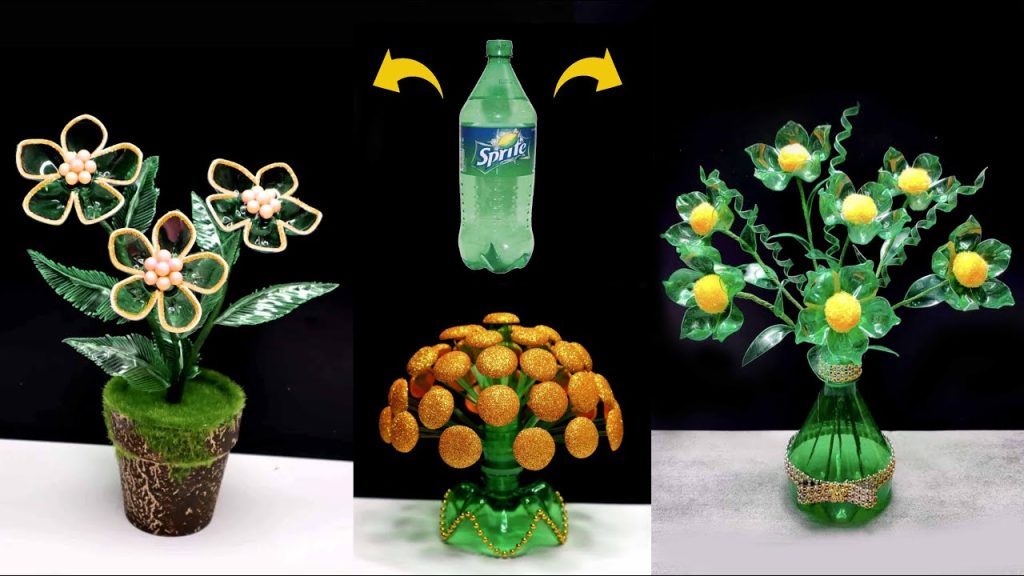 As plastic bottles harm the environment and are not efficiently recycled, you can repurpose them to make storage racks and give them an organized look. If you can cut thin bottles, they can be painted and decorated to create flowers, serving bowls, and platters.
If you are not keen on experimenting too much, plastic bottle craft ideas can also be used to make a bird feeder, a sapling planter, and a sprinkler for your garden. Just like the sprinkler idea, you can make holes in the bottle and use it to water plants as well.
3. Wool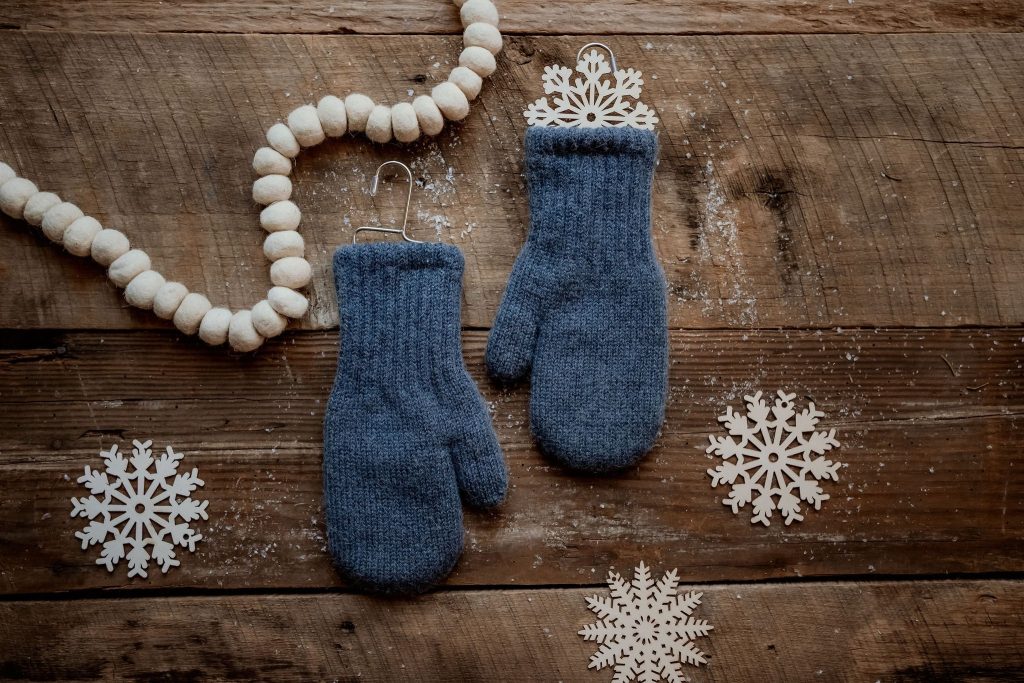 Woven materials like wool and cane webbing in neutral colors can be painted to wrap around a vase to give a cool look. You can simply use adhesives to stick the thread or use a cross-and-line pattern to stitch it around the vase.
Knitting enthusiasts can try making mittens for household purposes or use fun patterns for woolen gloves that can be gifted to their loved ones. You can also knit patterns and fringe borders to add detailing to your dreamcatcher, tablecloth, and burlap coasters.
4. String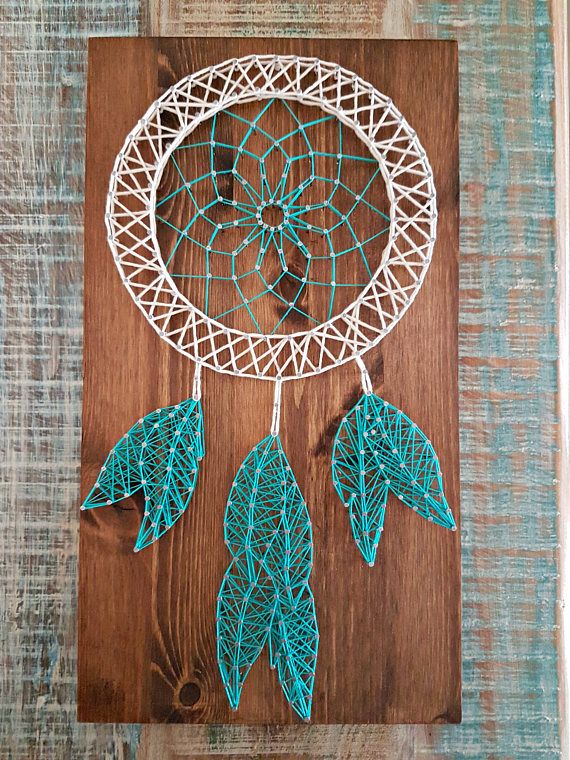 If you are not very familiar with knitting, use wool yarn or embroidery thread to wrap around unique shapes and create graphic string art. You can also use neutral shade thread to paint it, giving an ombre effect or glittery shadow, or use contrasting colors to create textual art pieces.
Alternatively, you can use different shape frames like stars or alphabet blocks to weave a jute twine and create an amazing decor. These decor pieces can also be framed on your walls or home entrance.
5. Ceramics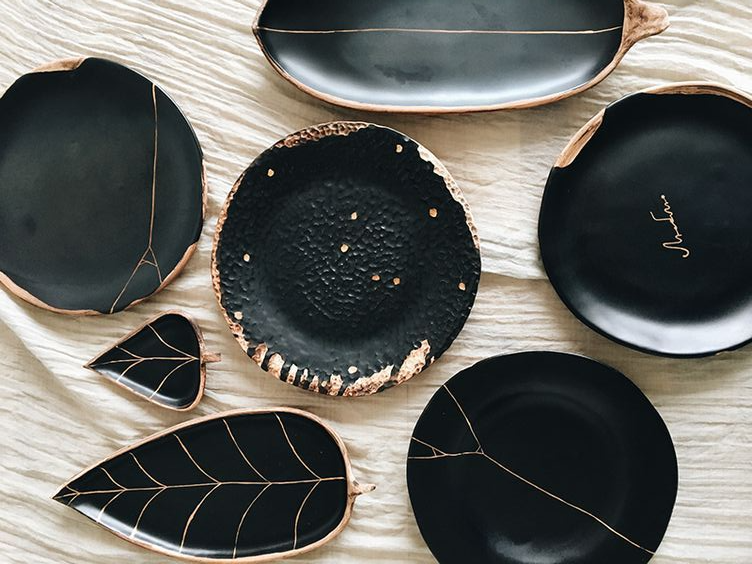 You can enjoy your morning coffee with an additional boost of handmade clay mugs that can be painted using simple DIY hacks. Acrylic paint, nail polish, glitter, and other craft supplies can be used with glazed ceramics, while clay and porcelain can be used to make bowls, serving trays, coffee mugs, and more.
Before you decide to take pottery lessons or get conventional equipment, you can start by using your home oven and creating basic shapes molded by hand. Or you can apply a stucco patch with dry spackling to repurpose an old unused vase and pitcher. Remember, if you mess up, you can still use shards to redecorate existing products at home.
6. Wall Art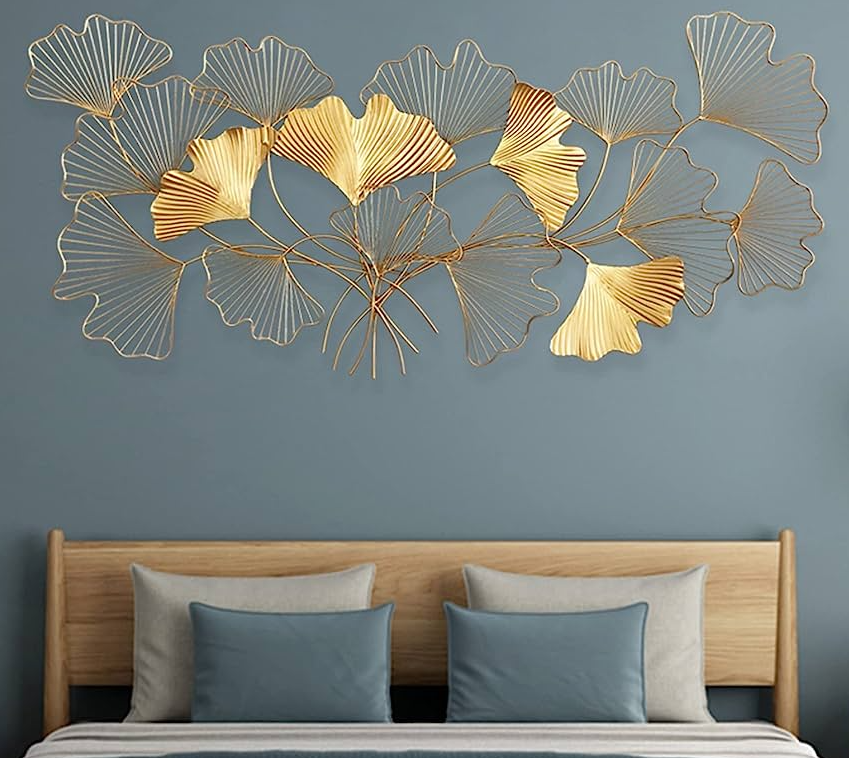 Add visual interest to your space with personalized wall art made using frames, posters, and unique prints. You can make unique wall hangings using cardboard flowers, yarn braids with cotton piping, or design a homemade functional decorative wooden shelf suspended from a wooden peg.
Besides hanging artwork, you can use a section of the wall as your canvas and try the acrylic pouring technique to create fluid art pieces. Likewise, you can use a sponge to create accent and textured wall designs.
7. Picture Frame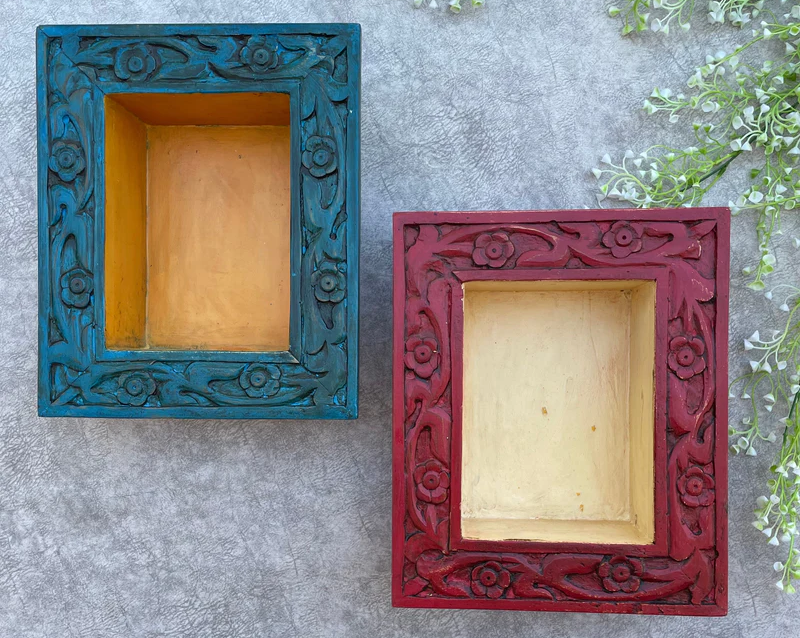 If decorating an entire wall seems overwhelming, you can begin with simple picture frame craft ideas that are relatively easy. With simple craft supplies and adhesive, you can revamp the look of an old frame or upgrade a wooden frame with applique, round molding, and cheerful colors.
Beginner-friendly craft ideas can make use of watercolors to paint pretty landscapes, vibrant designs, and intricate patterns and frame the masterpiece to be hung on the wall. If you are a professional artist, try your hand at photo transfer art by mixing dyes to paint over a printed image and using matte medium to transfer it on a canvas.
8. Lamp and Shades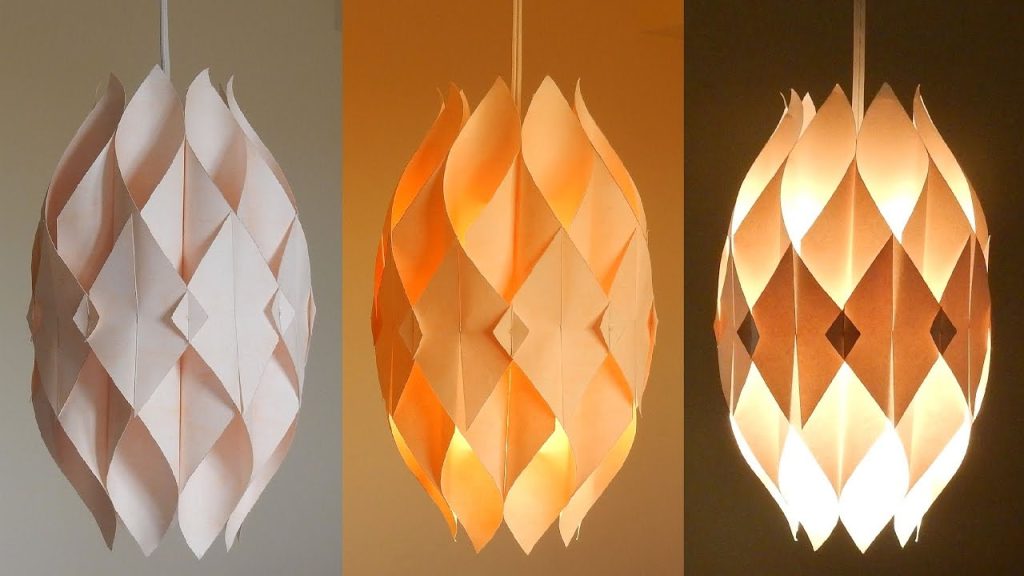 Antique lamps can be expensive sometimes, so you can design your own bronze lamp by painting it and using liquid gold leaf to give a luxurious look. You can also customize lampshades with colorful cotton twilling and other fabrics.
You can apply the same principle to overhead pendant lights and design origami shades to soften the harsh light.
9. Homestyle Candle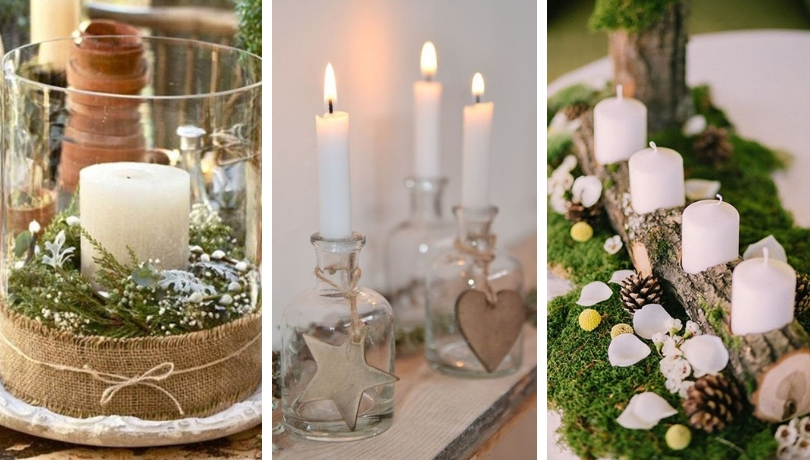 Instead of buying different shaped/styled candles for different occasions, you can buy wax, unique candle molds, decorative elements, and scented oils in bulk to create candles for therapeutic experiences and other special days around the year.
If you are hosting a party, decorate taper candles with acrylic paint or colorful markers. You can begin by wiping the candle clean to get a smooth surface, draw floral or other favorite patterns using markers or craft paint and simply let it dry.
10. Throw Pillows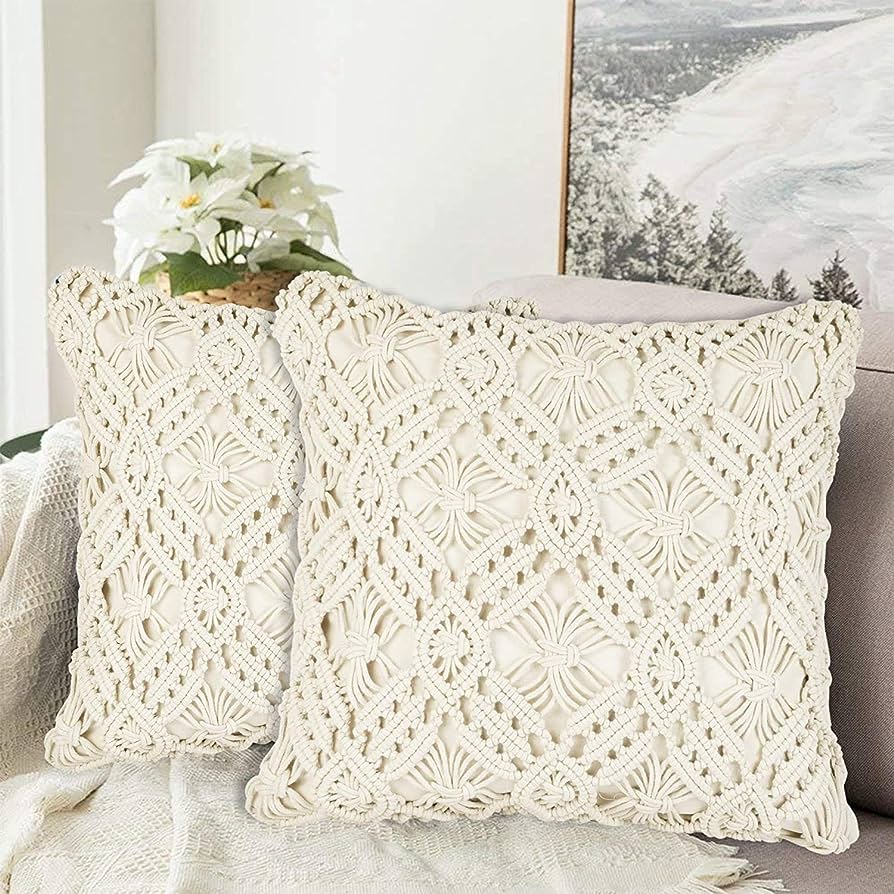 Rather than spending huge amounts of money on custom-made throw pillows, you can get tailored prints that showcase your style and use them to decorate your usual cushions.
Foam-filled pillows to create specialized shapes with colorful elements are one of the simplest ways to give an aesthetic look to your living room pillows. You can also decorate pillow covers with DIY yarn fringes, bold colored pom-poms, or design a crocheted creation.
11. Bottle Art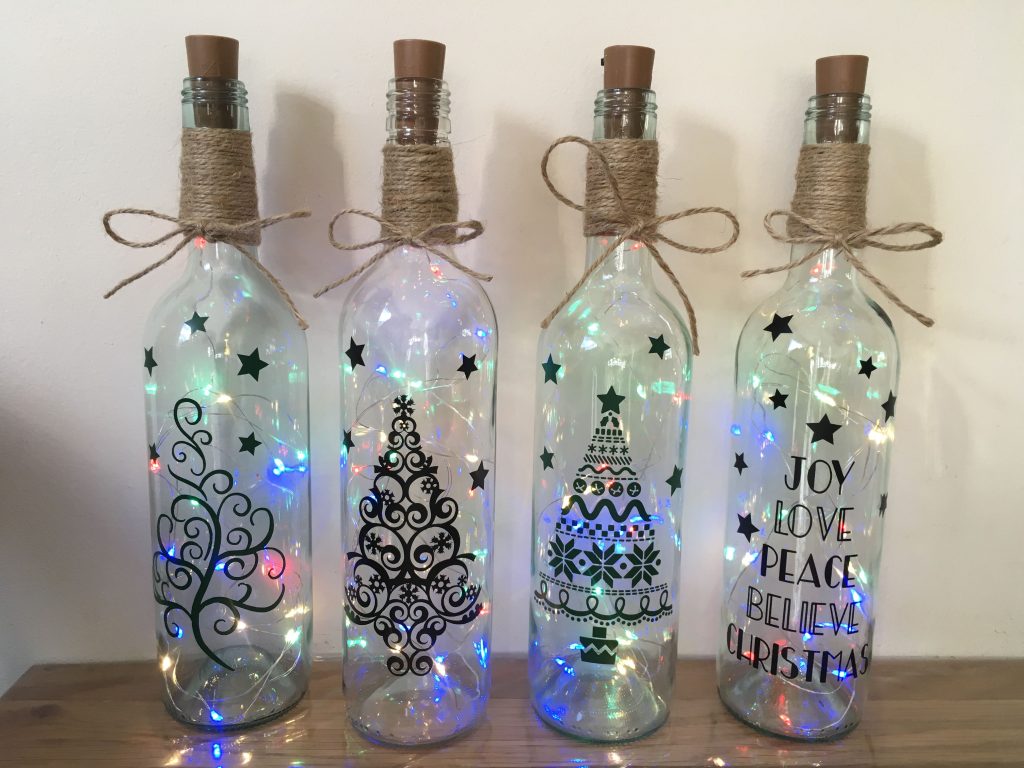 A super creative way to create modern aesthetic decor is to paint wine bottles and design an impressive vase. You can also use ingenious spray paint techniques to conceal wine bottles and create expensive-looking decor pieces with striking ombre effects.
With simple DIY tips, you can cut bottles with big bases, turn them upside down to plant herbs for your kitchen garden and hand them near your window. If you like the bottle hanging craft idea, you can repurpose an old bottle to make a hanging light fixture with a paper lampshade.
12. Wine Glass Designs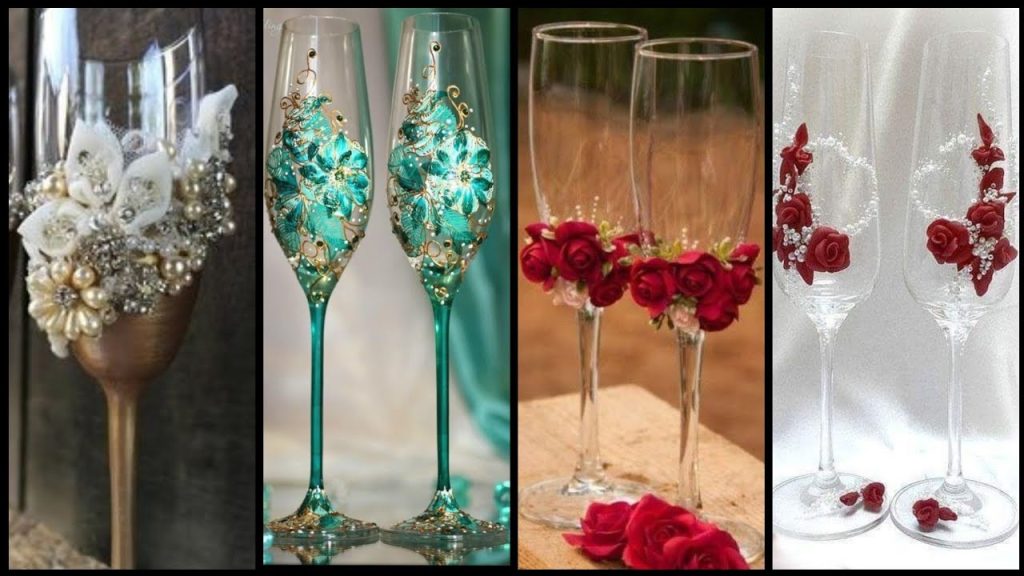 With simple ornamentation, your old wine glasses can be the unique centerpiece for your next big dinner. Use glue beads, tie a ribbon below the bowl of the glass, and add a shiny accessory to give the lusterless wine glass a makeover. You can also insert battery-operated lights and invert glasses to make glowing centerpieces.
Besides beads, glitter, and adhesive, vinyl scraps can also be used to make dazzling coupe cocktail glasses and fun ornaments like snowflakes and winter hats with fairy lights that can add to the amazing Christmas decor.
13. Mason and Jam Jars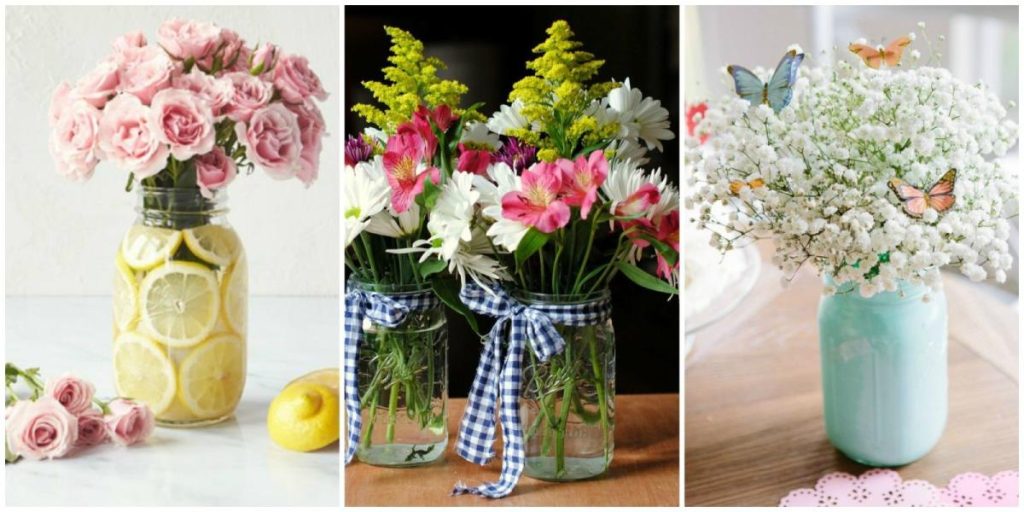 You can substitute ordinary picture frames by sticking memorable pictures in a cylindrical mason jar. For added effect, use a marbling medium and frosted paint to give a magnificent look.
You can also upscale an oversized jam jar with acrylic pouring craft ideas to create a flower vase. If you have several unused mason jars, you can decorate and hang them using chunky threads and beads to create wind chimes.
14. Glass Holder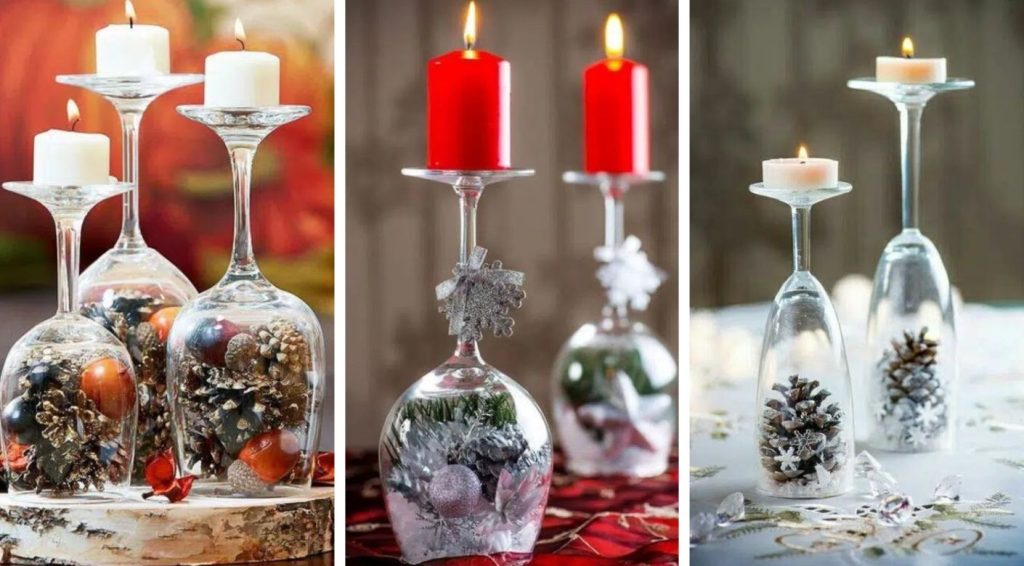 Uniquely shaped crystal glasses can be inverted or turned sideways to create candle holders. Using glass shards, colorful beads, and handmade flowers, you can design tea light holders. For a vintage look, utilize decoupage craft ideas to cover a portion of the glass with glamorous details like acrylic sealer and water-resistant varnish.
If you have colored glass, spray paint the outer bottle to create a vase that gives a silvery metallic appeal (Remember: spray paint can be toxic, so work outdoors or in a well-ventilated area).
15. Coasters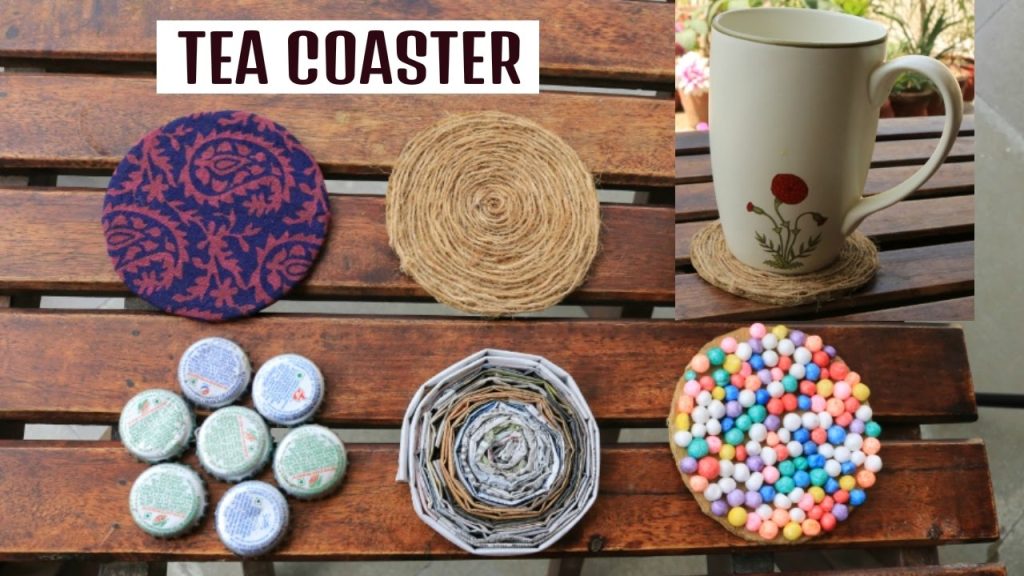 To protect the dining table glass/wood surface from condensation rings, using coasters is essential. Old CDs can be painted and decorated to create funky designs. You can also write personalized coasters for special celebrations like birthdays and anniversaries.
To creatively design unique shapes, you can use stencils and place them on the coaster before splashing them with paint. Using similar methods, you can also upscale old wood, cork, plastic, glass, and fabric coasters with fabric trims and adhesives, acrylic paint, and sealer spray.
16. Table Accessories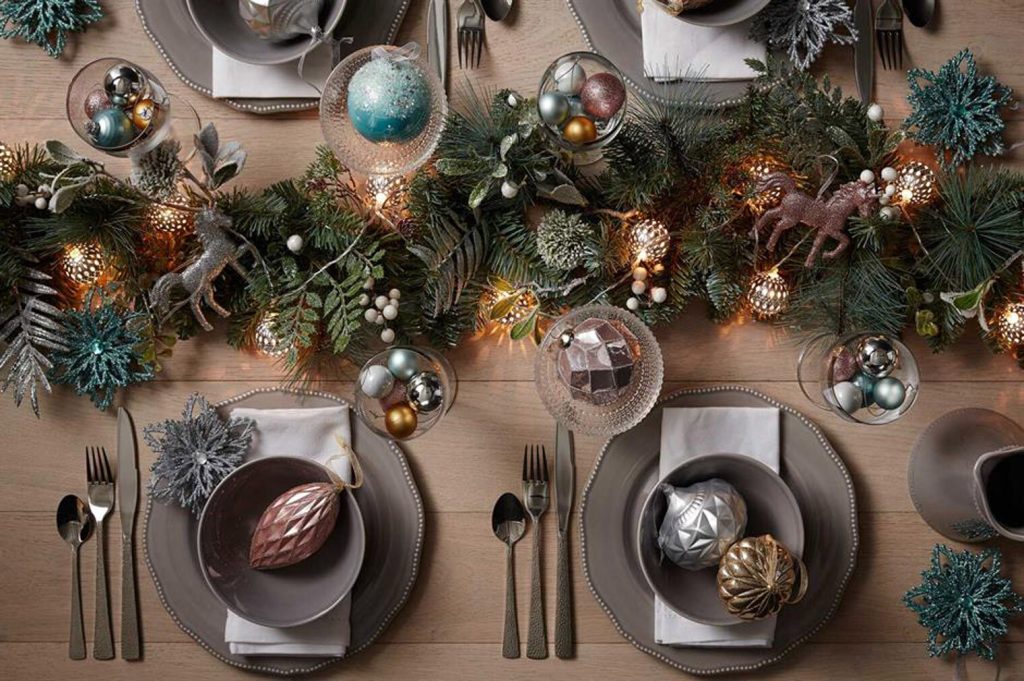 Adding vinyl decals, rhinestone elements, monograms, etched designs, wrapping stems with ribbon or shiny thread, and shimmery glitter, your regular glasses can become the most interesting centerpieces at the dinner table.
You can also decorate your table, fashion a handmade table platter out of an old wood board and paint it with your favorite quotes and shapes. To glamorize your table runner, you can place wooden pieces on a damp cloth and spray them with vivid colors or distinctive patterns.
17. Candle Holders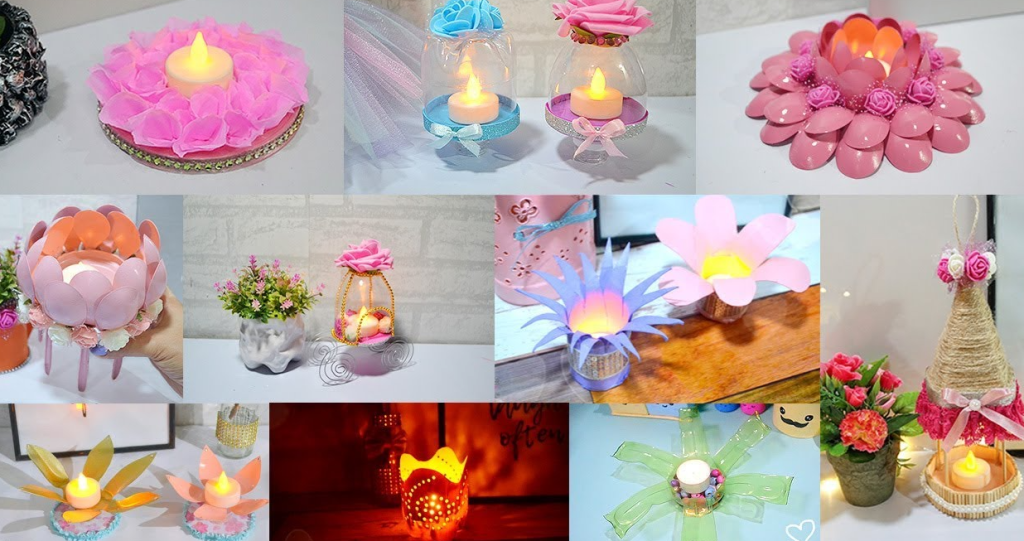 Glass objects made from stained glass look stunning indeed, and pieces from broken stained-glass projects are often used to design smaller objects like candle bulbs and holders. While achieving the same effect is difficult at home, you can use faux stained glass votives to make a candle stand or holder.
You can also use Cricut machines to elevate existing candle holders with vibrant designs. To further achieve a homogenous look, decorate candles with color-blocked designs or simply use the colorful melted wax to get glowing results (excuse the pun!).
18. Storage Organizer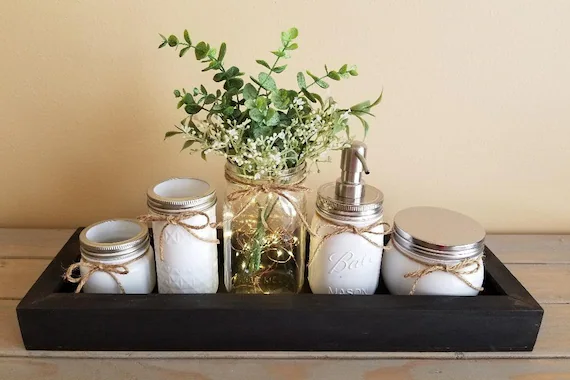 Another cool necessity for the dining area is organizing small objects like cutlery, napkins, and condiments. To sort these neatly, you can recycle old tins and cans with glossy metallic paint and decorate them with decoupage craft paper and glue.
For kitchen storage desks, you can design compartments by gluing wooden trays to nesting boxes that can be helped to stock other essentials. You can also decorate the overall space by placing a vase on the windowsill, adorning the window treatment with frames, installing small hooks, and adding a chalkboard for putting up grocery and to-do lists.
19. Resin Jewelry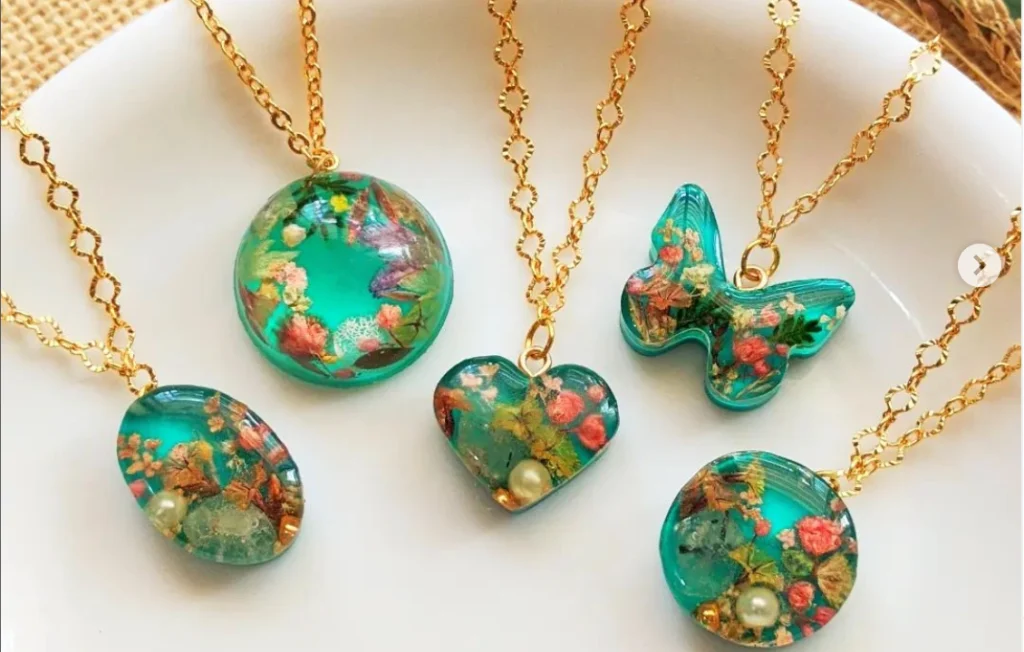 With varied shaped silicone molds, beginners and professionals can make geometric-shaped resin jewelry and further decorate them with colors, beads, glittering objects, dried flowers, and photo-based ideas to create amazing jewelry.
If you are a beginner, indeed, order a resin starter kit with sprinkles, confetti, glitter, and other decorative pieces that will help you make one-of-a-kind jewelry creations. You will also need a heating device to work with the epoxy resin and a little practice to get the hang of it.
20. Hair Trinkets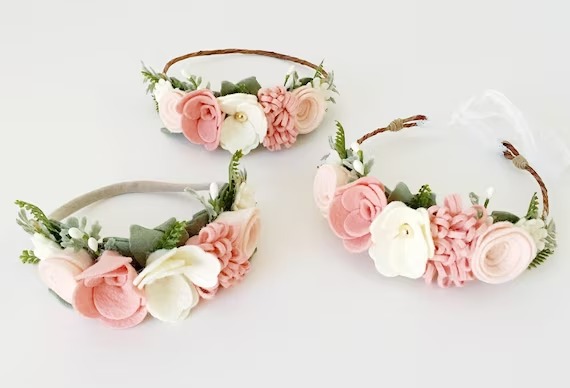 DIY headbands are really fun! With no sewing no-fussy tools, you can easily cut fabric and elastic, fold it and twist the ends together. However, if you know basic sewing, you can use a little piece of fabric and an elastic band to make a scrunchie.
For festive celebrations and special occasions, you can use a basic crown frame and accessories to design flower tiaras. This crafting project works well with fresh and paper flowers, so you can dazzle away with your personalized hair ornament.
21. Earrings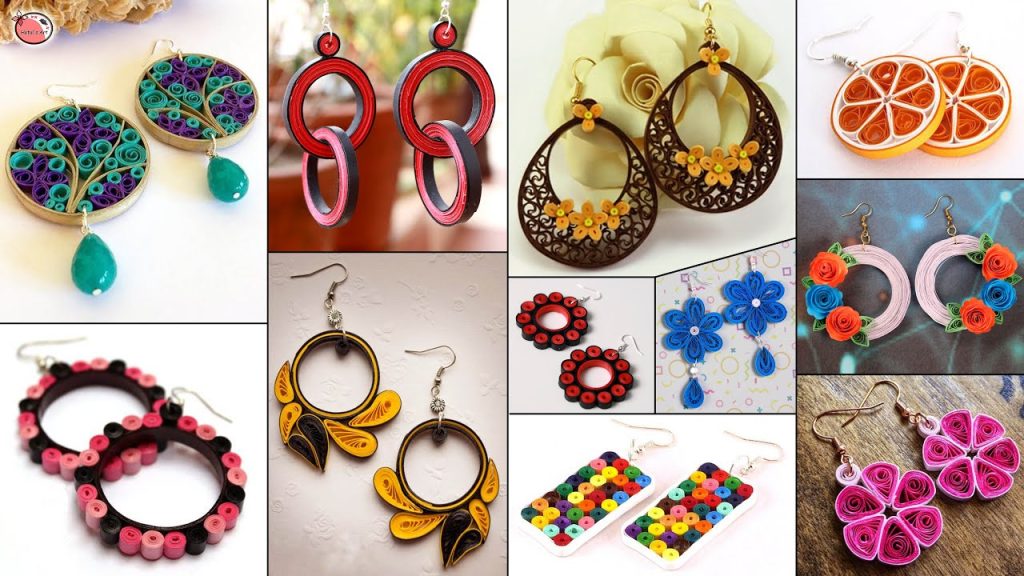 With ear hooks, headpins, stud bases with supportive ends, pliers, and wire cutters, you can design earrings from simple objects like colorful paper and decorative fabric. You can use silk tassels, lace trimmings, netted garment inserts, and end caps to design basic suspended earrings.
You can also use modern floral and botanical patterns, contemporary colors and shapes, embroidery floss spool and thread, and quilled paper in flat and cone styles to make stylish earrings. These patterns can be complemented with printed fabric and beaded decorations.
22. Bracelet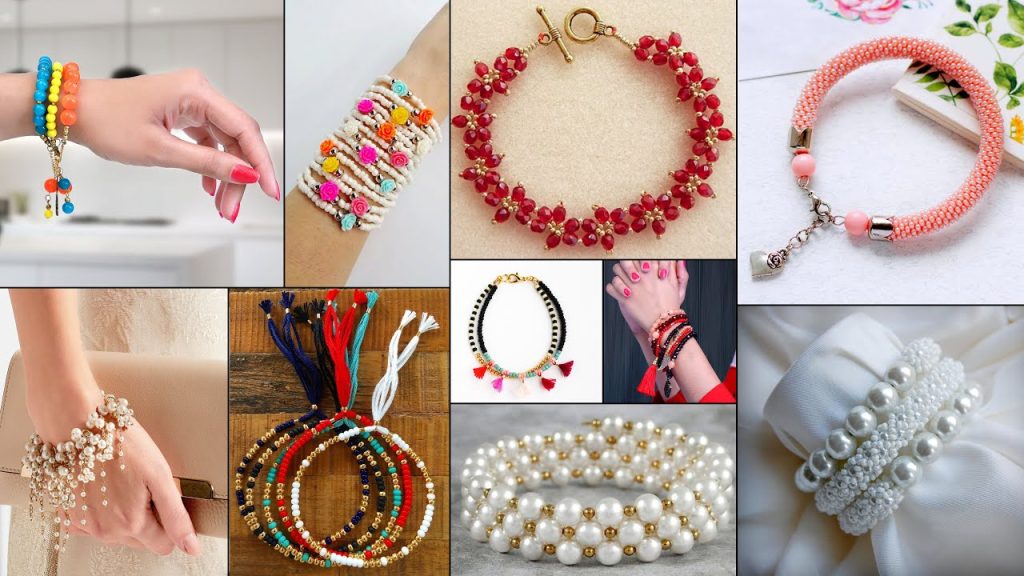 If you are a fan of friendship bracelets with alphabet name blocks or those with individualized messages, pick embroidery floss and start braiding them with beads or letters in the middle. Twist in the middle or tie and knot for secured closure.
Instead of embroidery floss, you can also use leather cords and fabric scraps and make multi-colored bracelets. If you have saved denim scraps from old shorts, clasp them using cords, and use beads and a hot glue gun to make cool bracelets.
23. Personal Care Products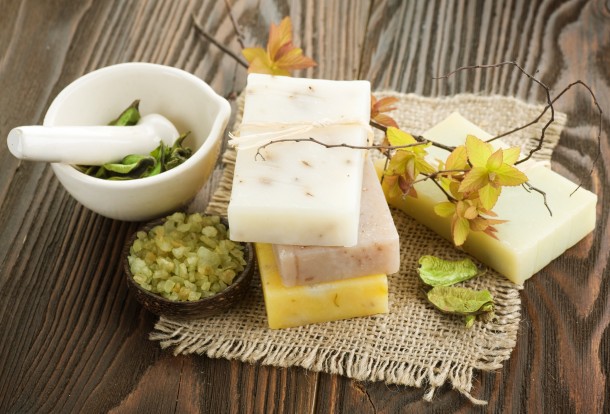 Pamper yourself with bath bombs and fizzing potions made from everyday ingredients like baking soda, food coloring, Epsom salts, perfumes, and essential oils. You can also make hand-wash soaps from scratch with varied scents and organic dyes.
If you have sensitive skin, you can use powdered milk with baking soda, mineral salts, essential oils, and dried flowers (optional) to package milk bath soaps. Similarly, if commercial lip products harm you, opt for homemade lip balms made from coconut oil, beeswax, and vitamin E and melt them in the microwave.
24. Festive Craft Ideas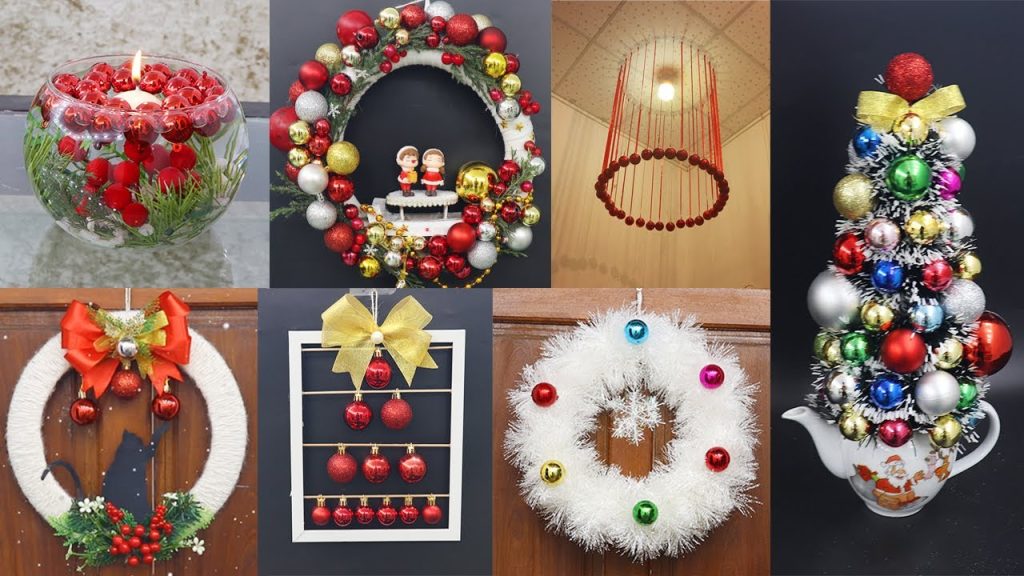 Store-bought decorations and Christmas trees are undoubtedly eccentric, but you can make handcrafted wreaths, gift tags, napkin holder embellishments, holiday ornaments, and other home decor products effortlessly.
Using bamboo paper straws or cupcake liners and a hot glue gun, you can make a fancy wreath. All you need to do is cut the straws according to desired lengths or trim paper liners in decorative waves and stick them around a circular frame. You can also use yarn and spherical paper ornaments to make a crafty Christmas tree.
25. Craft Ideas for Garden Area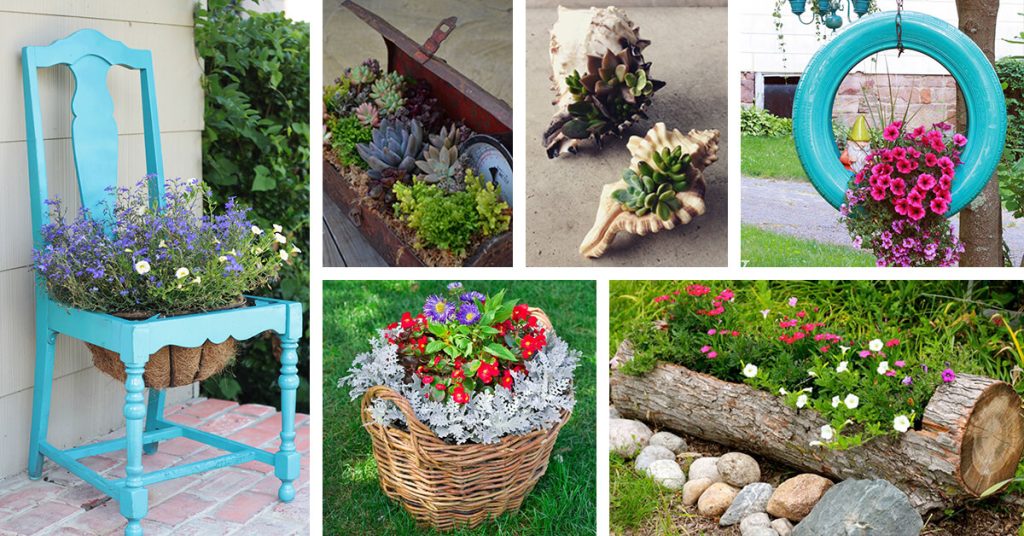 Repurpose old wine bottles and glasses to design planters with layered rock arrangements for succulents and ornamental pebbles for indoor plants. You can reuse an old punch bowl to make a small aquarium or mini pots that can be glazed with bright colors.
Instead of buying new pots regularly, you can transform terracotta pots with decorative elements. For instance, fabric bits, ribbons, and boho-chic accent pieces with glue can be used to accessorize flower containers.
Final Thoughts
Whether you are looking for a pastime, a new hobby, or just a creative outlet, try your hand at innovative craft ideas that will bring joy and glamorize the house. The best part about these fun projects is that you get to recycle unused products or repurpose broken bits of your favorite decor that you can't part with.
The craft projects mentioned above are relatively easy and not time-consuming. The raw materials needed are easily accessible and affordable. Besides, you can click on the links to order basic resources or watch video tutorials that will help you design original creations.
So, what are you waiting for? Depending on your level of expertise, get essential art supplies, look for inspirational videos or ideas, and get crafting today!
Frequently Asked Questions
What Are Some Fun Crafts to Escape Boredom?
You can escape boredom with fun projects like painting vases and coasters, making scented candles and soaps, decorating your garden bench and pots, and trying cross-stitching and upholstering old furniture to give a transformed look.
Which Craft Trends Are Popular in 2023?
Sewing clothes, knitting, macrame weaving, crocheting, embroidery with punch needles, and tufting are popular crafting projects for 2023. Another idea that is in vogue this year is to market and sell designer creations online.
What Are Easy Art Projects to Do at Home?
The easiest art projects you can start with are decorating hand-drawn or printable cards, making finger-painted decor, using string for monogrammed graphic art, using bohemian-inspired ideas to paint vases, and reusing old bottles for planting herbs.
Which Craft Projects Can Be Accomplished with Simple Household Items?
Using household items and without investing too much in other raw materials, you can work on knitting, crocheting, jewelry making, or take kitchen goods to create chocolates, candles, and soaps and use baking supplies to decorate cakes.