Do you also want a window above the kitchen sink to give your kitchen an airy and ventilated feel? Well, the good news is you can have them too. Often, the only view of the kitchen sink we can imagine is the one with piling dishes and residents fighting over who is going to clean it! But with windows that brighten up the spaces, we are certain there will be some respite over the kitchen duties. Our experts have put together a number of kitchen window ideas that people fall in love with instantly.
If you think about it, it is essential to invest in a good kitchen window. They are a source of natural lighting, ventilation, and most importantly, they keep the space smell-free. Also, placing the window right above the sink is a strategically-smart decision, as the rest of the area is covered with cabinets, appliances, and countertops.
If you are creative enough, you can even use the area to showcase your flair for art and make this a place with warmth and a charm of its own.
Kitchen Windows Over Sink Ideas
1. Black Crittal Windows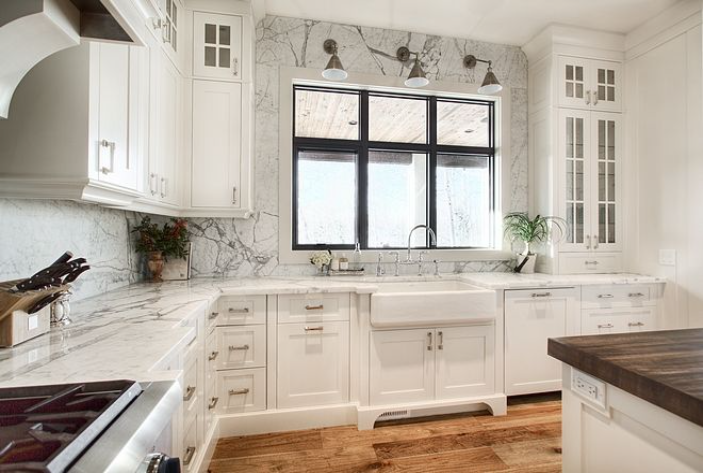 Looking for a sleek, dynamic look that makes heads turn? Black crittal windows are the way. The otherwise plain set of windows will instantly get a makeover when you use these. In recent times, this kitchen window idea has become an increasingly popular choice for adding elegance to the kitchen and the overall aesthetics of the house. The slimline design creates a bold contrast when you have light-colored walls around the kitchen.
This window is known for the metal used. When you add the black crittal windows above the sink, they frame the background outside. If you have a knack for gardening, our experts suggest that you plant a few trees in the area that opens up from this window. Prepare meals, wash the dishes, and enjoy nature in its own pure form. The black frame is also responsible for adding a dramatic effect to the home decor.
2. Cafe Curtains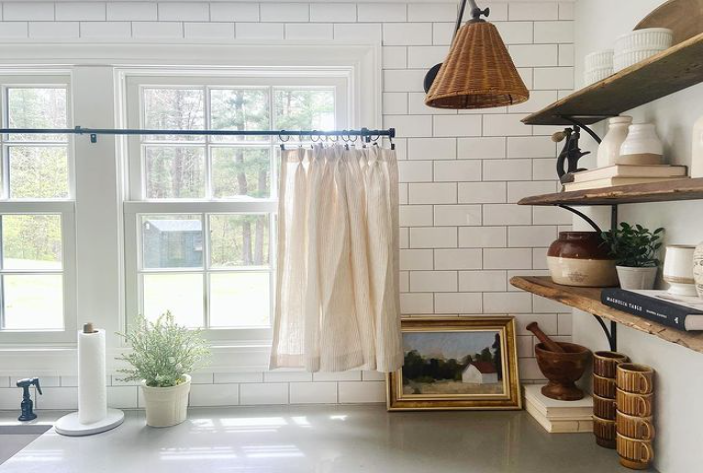 Want to add a lit bit of warmth and coziness to the kitchen area? You will fall in love with this idea. Cafe curtains add nostalgia and warmth while keeping the area spectacular. And if we are being honest, you will hate to keep the piling dishes with these gorgeous cafe curtains around. These curtains usually cover half of the window, which allows natural light to play around the space as much as they want.
They help you make the perfect balance of privacy and keeping the background accessible. A wide variety of colors, fabrics, and patterns are available in the market when you are looking for cafe curtains. You can even customize them as per your choice. The cafe curtains aren't just visually appealing. They also help maintain a clear view of the outdoors. The balance that comes with the cafe curtains makes it ideal for them to be used for homes built on busy streets.
3. Wreath to The Woods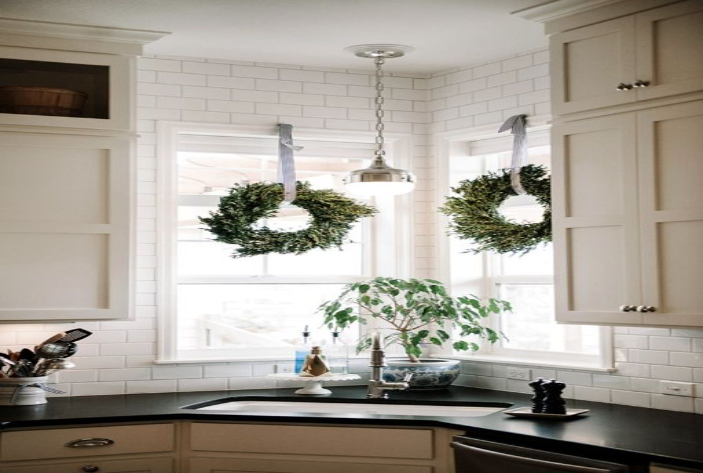 If you have a farmhouse sink, one of the ideal kitchen window ideas is sealing the casement with a wooden beam. Choose a broad beam to make more space for this natural element. Make sure the height of the wooden beams reaches the ceiling, making it a perfect contrast between modernism and vintage. Our experts also suggest adding the festive wreath to the window, which creates a gorgeous color palette.
The natural flavor of the wreath and wood, along with the walls – is a beauty in itself. Wreaths are available throughout the year in different designs for different seasons, and you can keep changing them as per your liking. When you have this combination by the sink window, you will no longer have to look for beauty outside. It is right within your view.
4. Statement Pieces Over Windows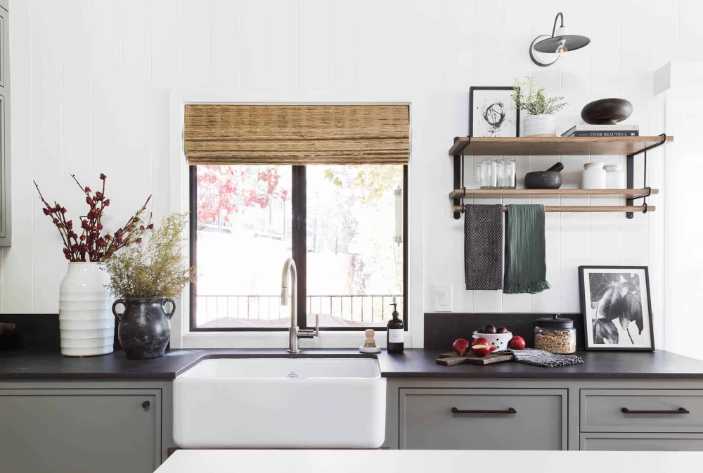 The concept of statement pieces can vary widely from person to person. However, our experts believe there is something common about them – everyone loves them. And adding a statement piece on the kitchen windows is, indeed, a fantastic idea. With statement pieces in this area, you get uniqueness. Some of the popular choices in this category include a wide round mirror, artwork, photographs, decorative pieces, candles with a stand, decorative garlands, and so much more.
The mirror is among the top choice for this category. And the reason behind this is that it is not only a decorative piece that brightens the space. In fact, a mirror creates an illusion. This helps make the space look much larger than it actually is. When it comes to displaying artwork, our experts suggest using a wall color, patterns, and texture that is conducive to such statement pieces above the sink.
5. Lighting Over the Sink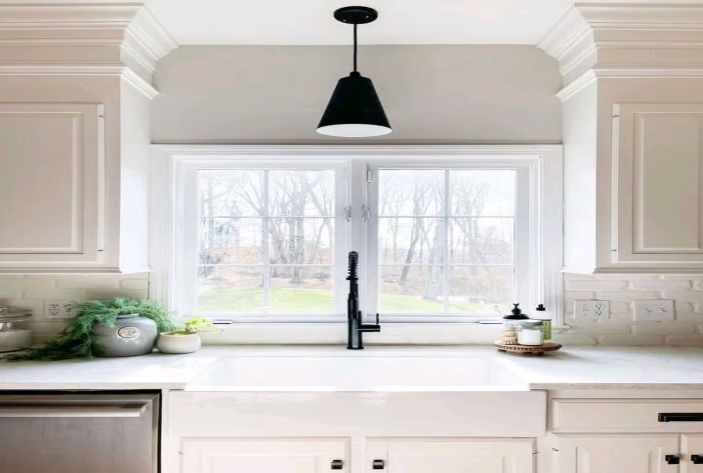 Although we focus so much on natural light, and yes, it is supremely important, there is another factor to be considered. What about the dark times? Do we add a glowy light in the kitchen and ruin all the beautification we have been doing so far? Absolutely not! Our experts suggest adding a singular, designer light above the sink area, which makes this a focal point.
These are also known as pendant lights. In case you choose focal light that isn't too bright, and you need help around the countertops, our experts suggest using surface lights in those areas. The pendant lights add a very unique, contemporary look to your kitchen and will make the place look brand new every day. While setting them up, be mindful of the diameter and height of these lights. Too long or too short lights might be inconvenient for you.
6. Sink Decor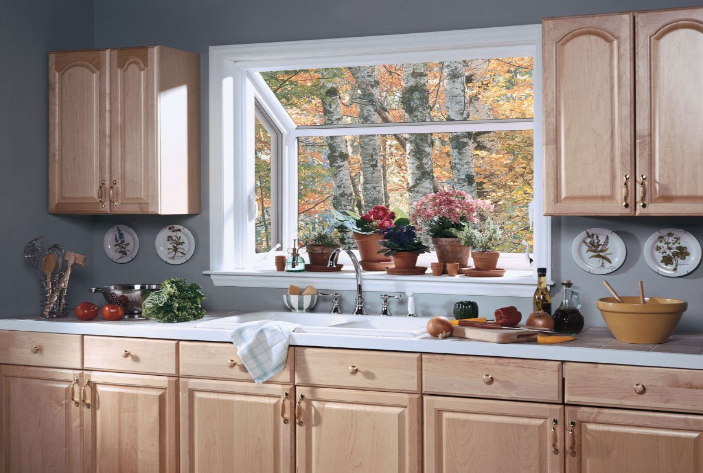 Who said the sink area is all about dirty dishes and dishwashers? They are more than that. This is not exactly a kitchen window idea, but it is linked to it. You can channel your inner creative expert to get the best results. When we say sink decor, we include the window bay as well. You can add a pot, vase, and other little decorative items around the place.
Although you can go crazy with your ideas, our experts suggest choosing the material for the decor carefully. For instance, if you place a decor piece made of glass, it is very easy to break them near the sink area. Another interesting idea that you might like when it comes to sink decor is adding a decorative utensil holder over the kitchen window. This is a highly practical idea that helps save a lot of space on the countertops.
7. Statement Clock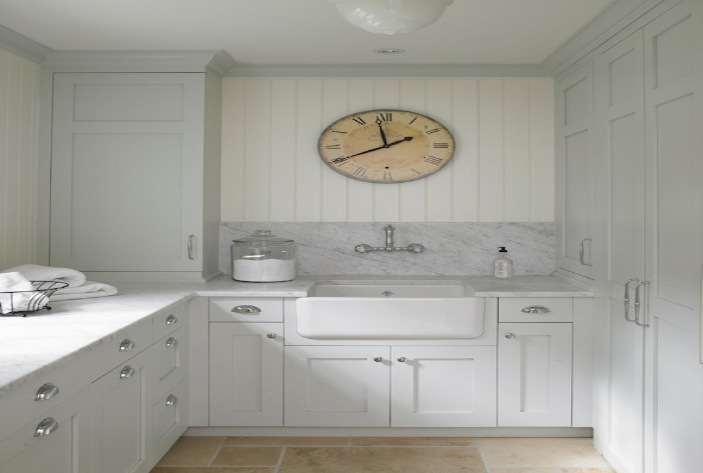 Clocks have always been a popular way to add charm to a house. Placing a statement clock strategically can be extremely beneficial. What do you think about adding a big statement clock beside a not-very-broad window above the sink? Interesting, right? Choose a unique design, oversized proportion, or an eye-catching color to help this area stand out from the rest.
Whether you want a vintage-inspired look or a contemporary style, both look gorgeous. Keeping the clock in this area helps you keep track of time while you are busy with the chores. It is a functional piece that gives your kitchen the character it deserves. When choosing the clock, make sure its style and design complement the overall aesthetics and create a balance.
8. Blinds on The Window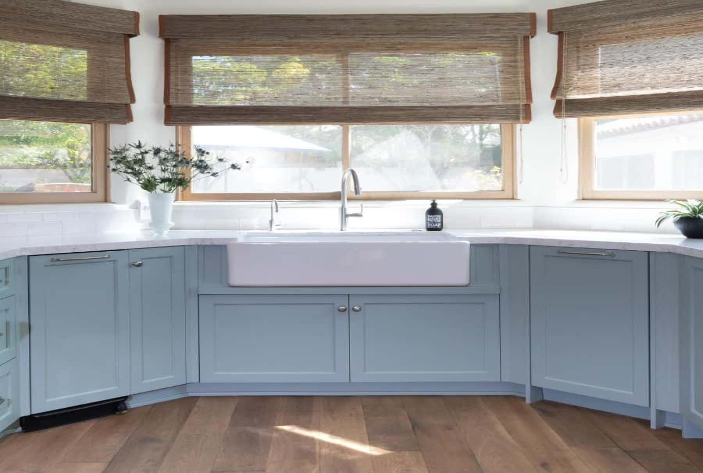 Are you inspired by the kitchen window looks that you see in the movies? Well, here's an idea that might give you the kitchen look of your dreams. Adding a bind to the window is especially a good idea when you have too much sunlight coming in during the daytime. While we encourage you to be exposed to natural light, we certainly do not want you to be blinded by it. They are a wide variety of blinds you can choose from. From rustic wooden or bamboo blinds to aluminum or vinyl ones to fabric blinds – the options are unlimited.
If you want a soft touch for your kitchen, we suggest option the fabric ones like the Roman blinds. They can not only be used for practical purposes like staying away from excessive sunlight or retaining privacy, but they also add a decorative element. And if you have a knack for thrillers as we do, you will love to take a peek from the blinds every now and then (just kidding)!
9. Grid-Style Windows with Succulents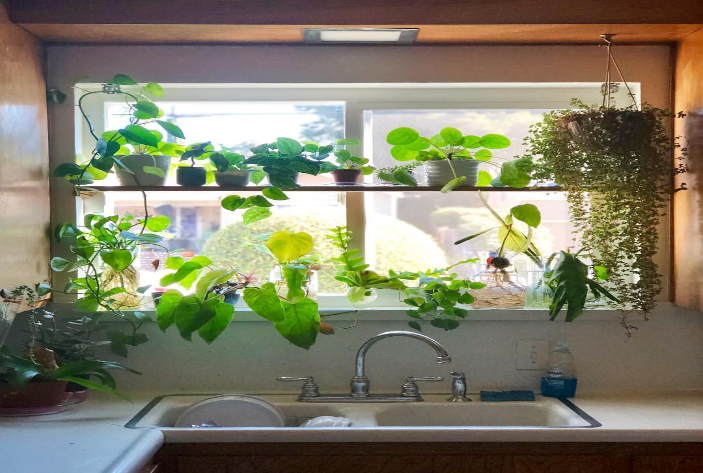 Before you start mulling over why we paired a certain kind of plant with a certain kind of window style, let us tell you not every combination looks great. Grid-style windows make your kitchen window look smaller than it is. If you place a mid-sized plant pot around the area, the window and the background behind it lose all its charm.
Our experts suggest that you use small succulent plants around the kitchen sink area if you have this kind of window. Succulent plants look unique and are extremely low maintenance. Placing them by the sink window is a great way to incorporate nature within the household. The grid windows also help in providing the plants with the practical support they need.
10. Arch Windows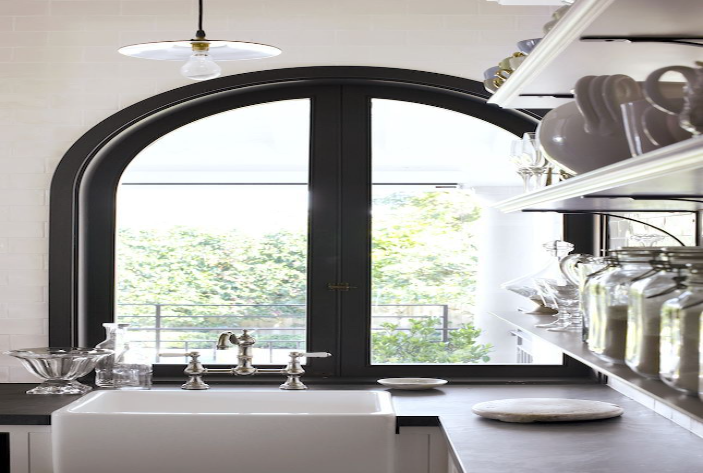 If anyone ever told you that you are less than royalty, it's time to prove them wrong. Although you do not need this to be the king/queen that you already are, here's something that can spice things up. Add the charm of royal vintage to the kitchen window on the sink with the arch patterns. Couple them with a few royal light fixtures and look at the wonder that your kitchen becomes.
An important advantage of arch windows is that they add height to the background. Whether you have scenic beauty or an urban skyline, this architecture is meant to accentuate everything. To highlight their beauty, make sure to go minimal with the decor around. The shape takes center stage and maximizes the flow of light to the kitchen.
11. Slider Window Over the Black Sink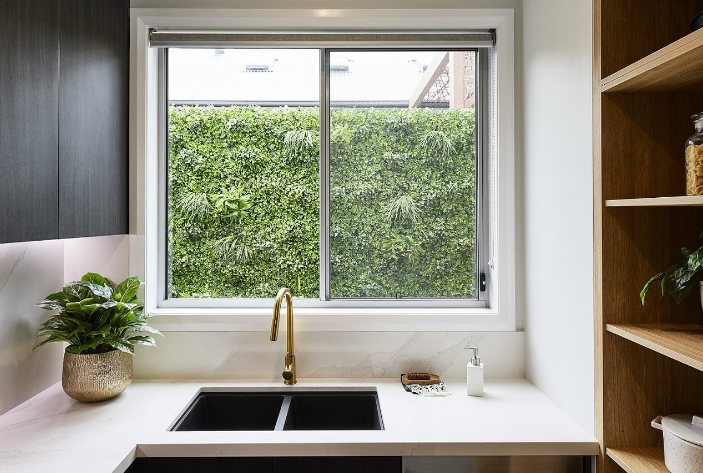 The brightest kitchen window is the one that takes up all the wall space. If you are someone who loves natural light and really enjoys the morning brightness, then this one might be for you. But to make the right contrast, our experts suggest using a black-colored sink. It's fun to switch things up in style, and this creates a stark transition from the outside to the inside.
When installing a wall-sized window, don't forget to use sliders instead of the regular panel. This makes the use of the windows easier and reaches out more effectively. Get more space to enjoy the pleasant view while doing your regular chores in the kitchen.
12. The Vintage Window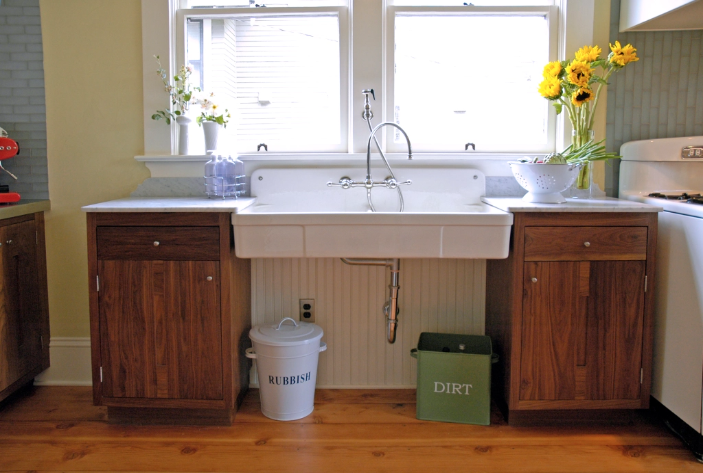 While the world is going all out with modern looks and aesthetics, why don't we try vintage? The vintage window, inspired by the French country, looks like something straight out of history. The grandeur it carries is so appealing that it will change the entire vibe of your kitchen. If you plan to install this kind of window, our experts suggest choosing cabinets and decor that go in perfect sync with this one. Steer away from the modern and fancy stuff and stick to what takes you several centuries back.
13. Build a View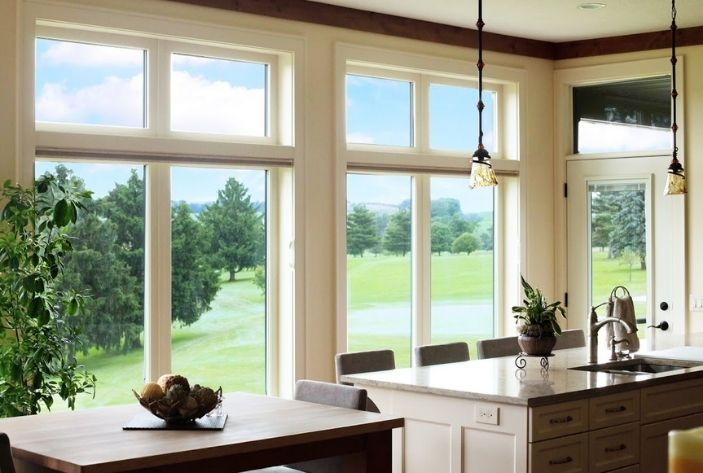 You can do a lot to make the interiors of your kitchen beautiful, but what about the outside? Our experts say that to gain the optimum benefit and beauty of the kitchen windows above the sink, it is important to work on the background. If you do not have an already-existing garden or nature, you might want to plan for it. A well-maintained garden, a pool, or a deck might be some of the ideas you can choose.
Final Thoughts
The kitchen window area above the sink doesn't necessarily have to be the ignored part of the house. It can be used practically and aesthetically. We hope you will love the ideas that our experts have helped put together.
Whether you want a rustic look or royalty-inspired aesthetics for your kitchen, whether you want the free flow of a lot of natural light or keep the area minimal – you can do so much with a little investment and a lot of creativity. We have also aimed to help you add beauty to the sink or to the window bay. Make your kitchen area a timeless piece of architecture or one that feels inviting – you can have it all!
We encourage you to go ahead and explore a few options or make their combinations to get the kitchen of your dreams. After all, you spend a lot of time here, and it is worth your attention.