Art is probably one of the oldest forms of self-expression since humans lived in caves. People have carried forward this form of expression to date. Art began being taught formally in the 18th century. During the Renaissance period, all forms of art witnessed expansions in different ways.
Dance, music, painting, sculpture, architecture, and theatre are the main forms of art. Visual arts can be classified into different forms. Fine arts are treated separately from applied arts. In modern times, architecture, graphics, and digital art have dominated the main space of applied arts.
Art is a wonderful way to express your thoughts and ideas. When you make artwork, you can share a part of yourself with the world. Making paintings can also help us relax and rejuvenate. Mixing colors and applying them on the canvas with brushes and knives is quite an exquisite process.
So, if you are a budding artist and looking for some inspiration, here is a blog post with 21 easy canvas painting ideas to get inspired!
Landscapes and Scenic Canvas Painting Ideas
This is one of the easiest canvas painting ideas that can be done by beginners and even children of all age groups. Drawing and coloring landscapes is simple, and despite its simplicity, it looks great on walls when framed and hung. One can choose any canvas size to paint captivating scenes from the local market to the Alps.
1. The Rising Moon Across a Water Body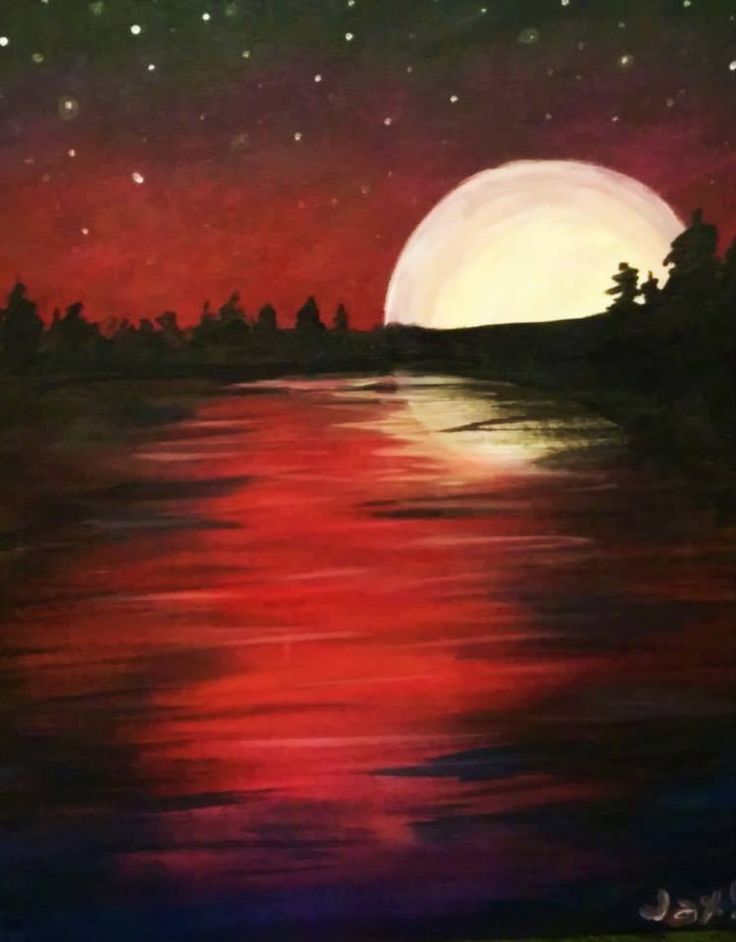 This is the most common yet mesmerizing scene that never fails to charm the viewers. One can easily make an evening backdrop with dashing blues and shades of purple. After blending the sky well, one can create a lake or sea and finish it with the rising silver moon.
2. A Misty Forest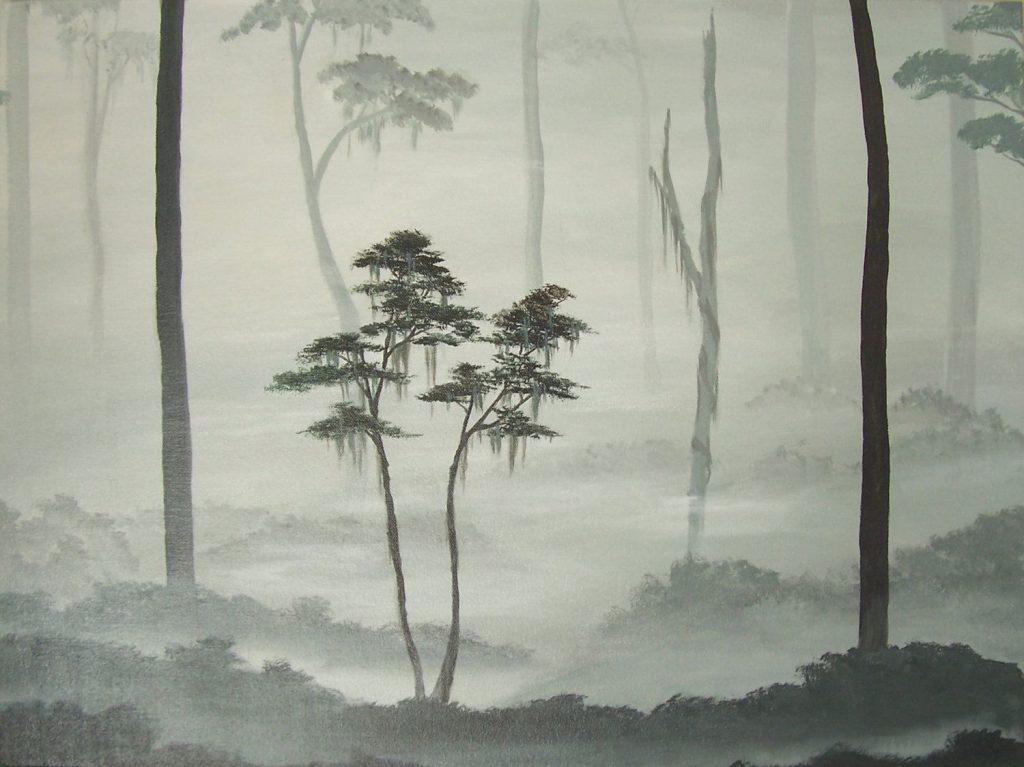 What could look more mysterious than a misty forest? Easy to paint, your need to create the treeline, a dull morning sky, and some dense fog in the area would complete the painting easily. To paint the fog, you have to smudge white on the frame and then paint the trees again. Repeat this till you have achieved a proper balance of discreteness in the painting.
3. A Flower Bed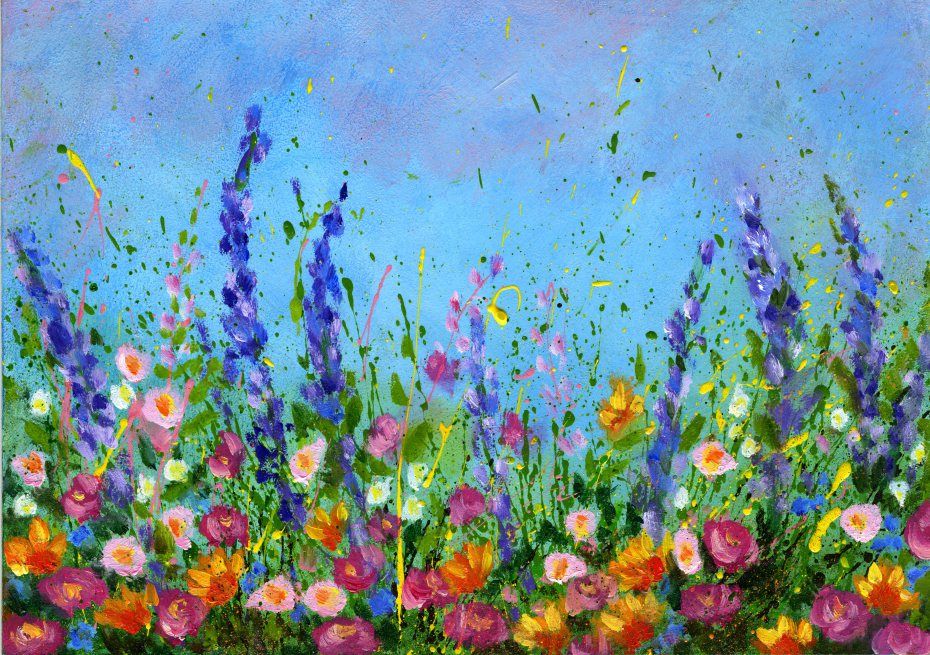 A flower field is undoubtedly easy to make. A morning sky, bright sunshine, and a field full of roses, tulips, and hydrangeas. You surely need to have a lot of bright colors on your palette to make this painting.
4. Cherry Blossom Painting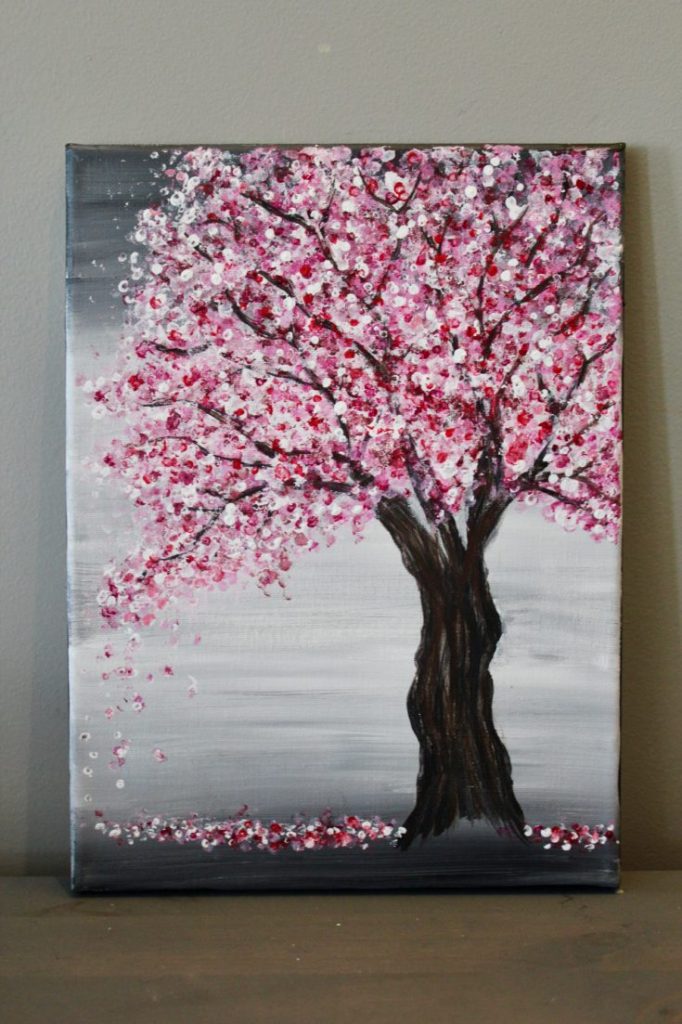 Another beautiful idea to etch out on a canvas is capturing the lovely cherry blossoms of spring. You could choose to make them pink or violet. You could also make the trees stand by the lake or by the street.
Floral Canvas Painting Ideas
Flowers are always easier to paint, yet they never fail to impress the beholder's eyes. From watercolor and pastels to acrylic paint, you can use any painting medium to draw your flowers on canvas. Here are some easy flower ideas for beginners.
5. Rainforest Painting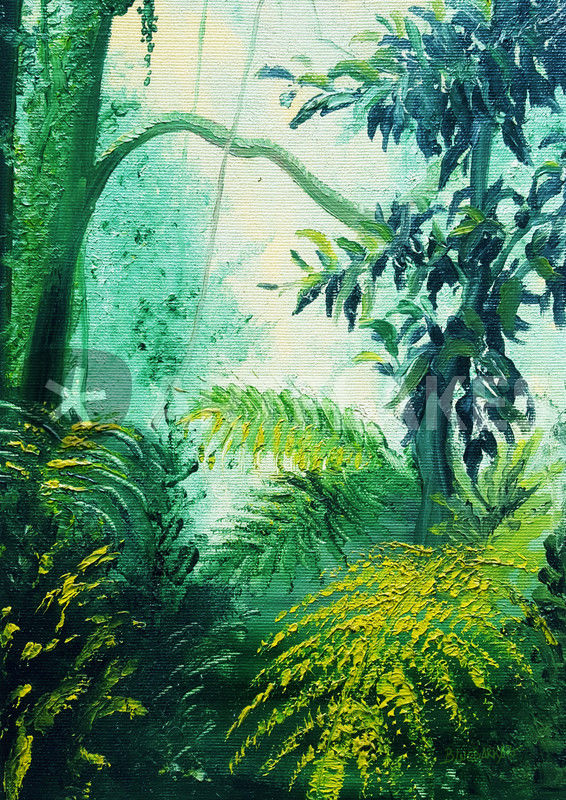 This easy flower painting is full of simplistic beauty. Green leaves adorn the Sun, and a bright flower at the center draws our complete attention toward the painting.
6. Tulips on Canvas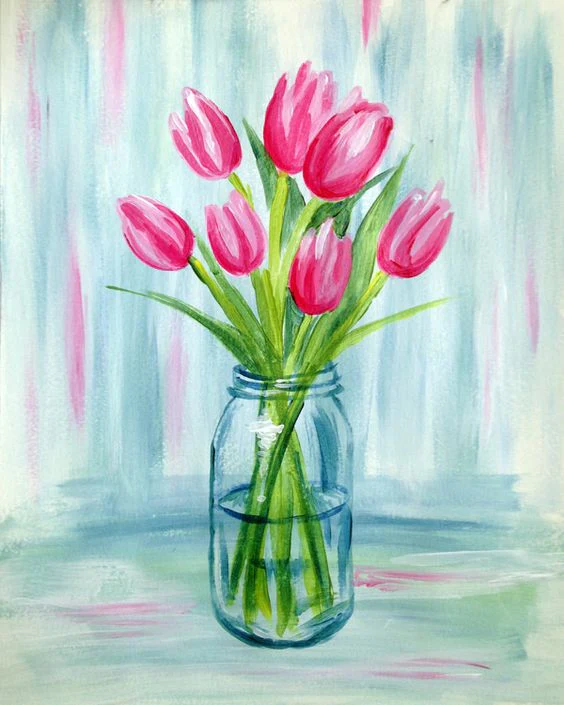 You can choose to make tulips against a plain backdrop. This can be created quickly and is perfect for gifting someone you love. It would make a gift for your father or mother on Father's or Mother's Day.
7. Cute Flowers and Bees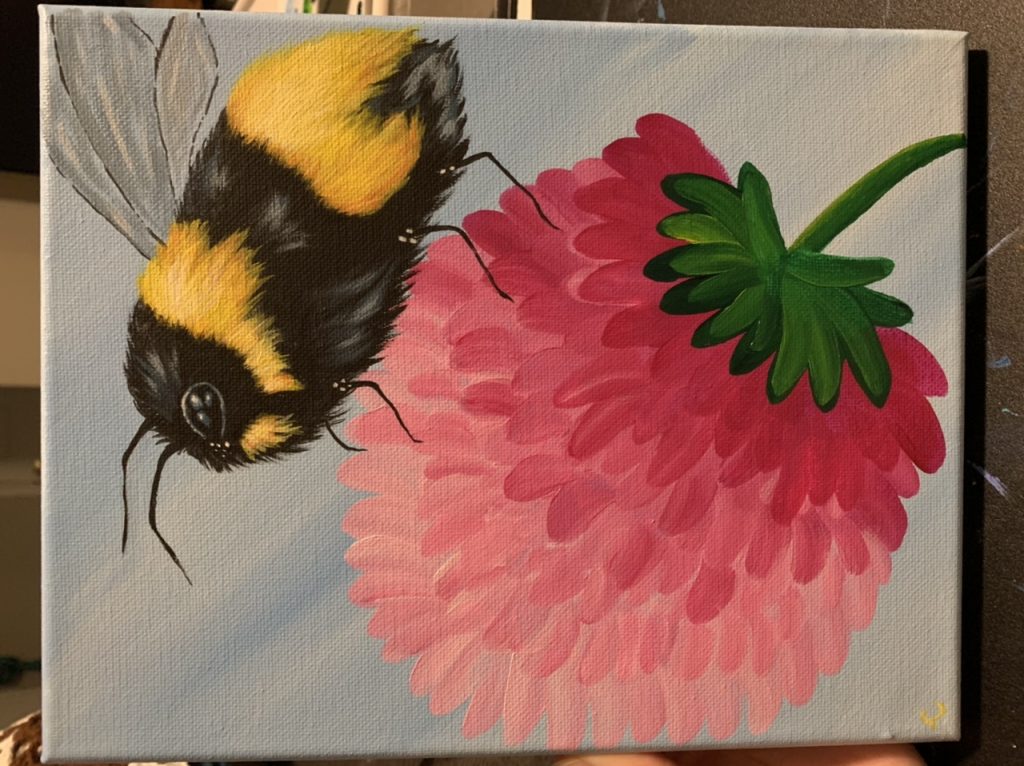 Bright yellow flowers and a cute bumblebee at the center are excellent for your bedroom room or study room wall. You can make this on a mini-size canvas or even a medium-sized canvas.
8. Flowers and Butterflies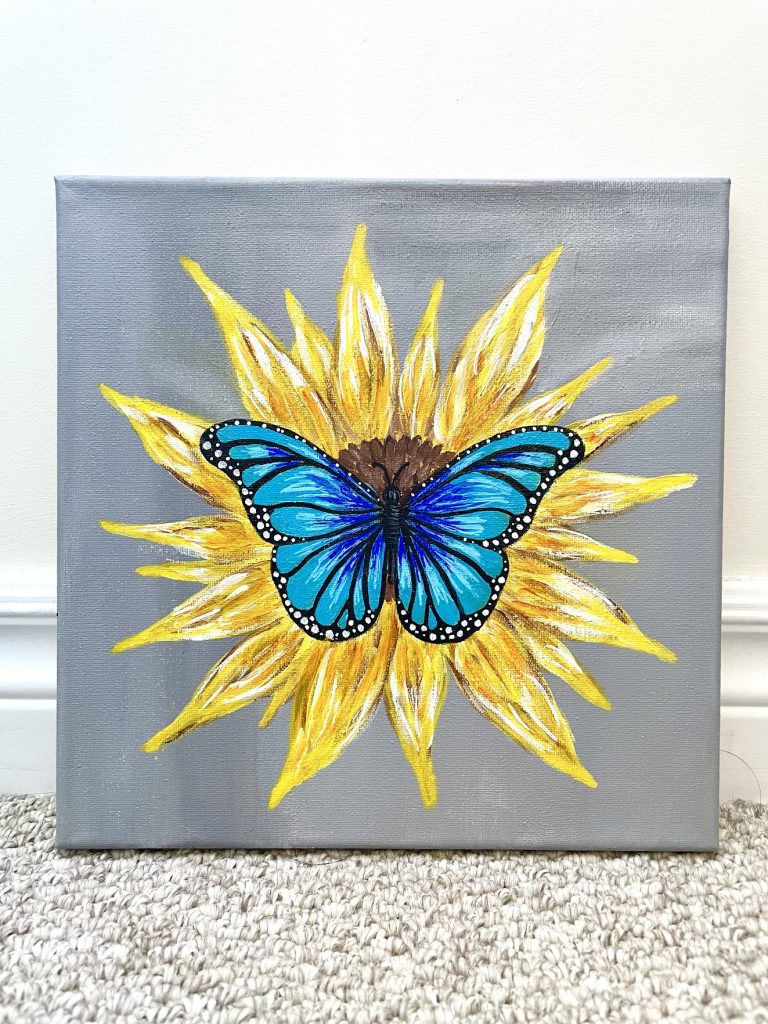 Colorful butterflies roaming in the Eden Garden are indeed a mesmerizing view to capture on your canvas. You can choose to paint this idea at a beginner level or even at an advanced level.
Abstract Canvas Painting Ideas
Abstract painting is one of the easiest concepts to try, especially at a beginner's level. This is because in abstract painting, one doesn't need to follow the typical rules of paintings, and one is free to make something out of their imagination alone. You could also be a self-taught artist to make abstract paintings.
9. The Radiant Sun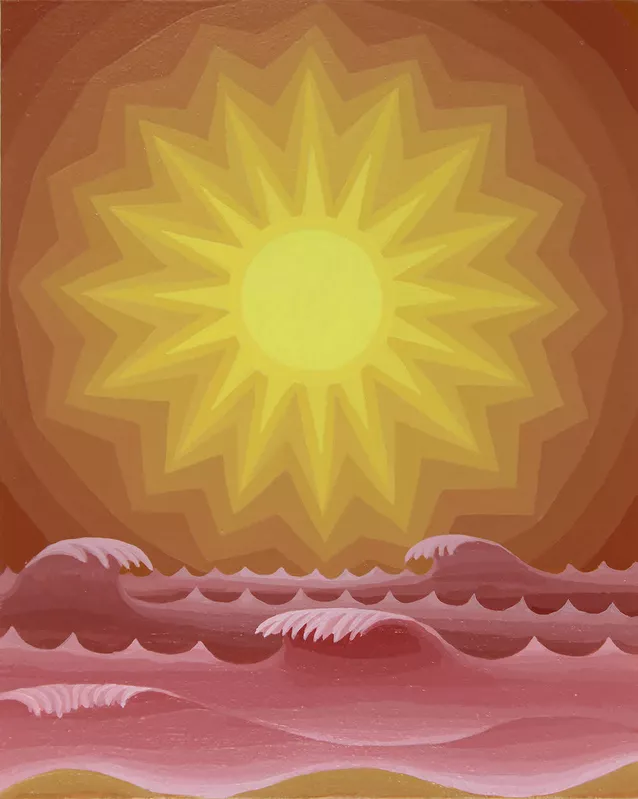 What else can be better than making a radiant sun in an abstract way? A simple yet eye-catchy painting idea, you can definitely make this wonderful piece in a matter of a few minutes.
10. Gradient Painting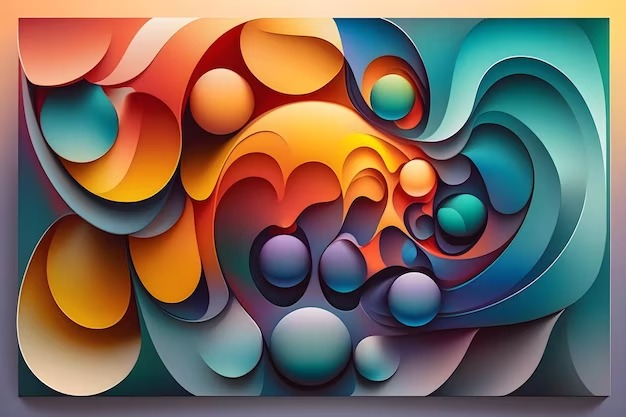 Create some magnificent gradients with different colors on your canvas. Not only is making this kind of art piece easy, but it is also completely fun to work on such an idea. You just need to mix and make some colors to get the perfect gradient and a knife. When hung on the wall, the art piece can also turn a few heads.
11. Resin Art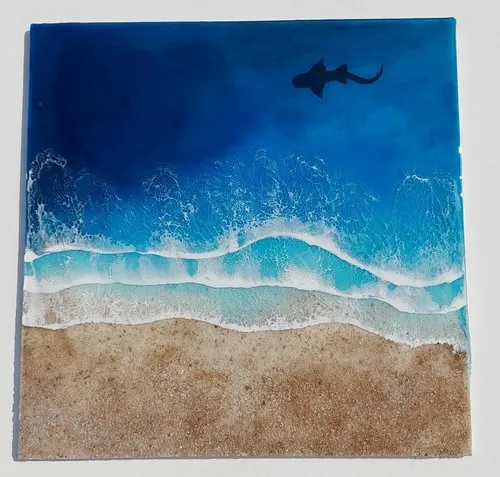 If you want to combine abstractness with aesthetics, you could try some resin art. Resin art makes use of different forms of resin. Although it has been used in different industries before, it has recently been used in art. You can create any kind of pattern with it and dry it out to get the perfect masterpiece for an art gallery.
12. Abstract Shapes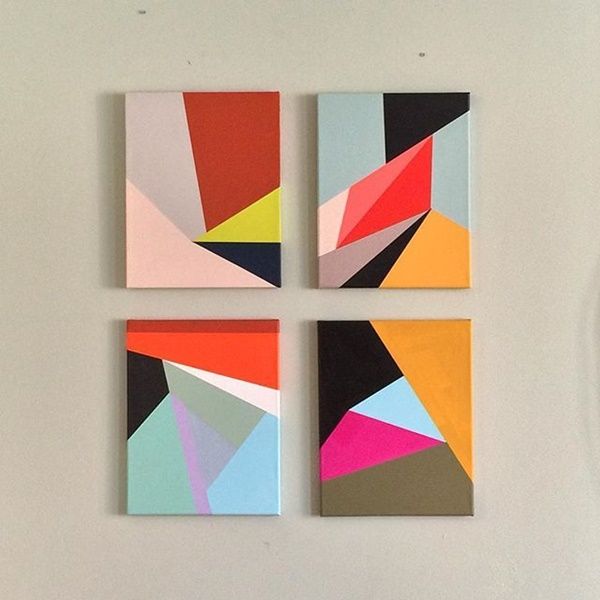 Whether you love circles or squares or anything else, as long as you are sticking to abstract painting, you can express anything on your canvas. These shapes look great on living room walls, alleys, and hotel lobbies.
Animal and Human Figures on Canvas
Although this is a slightly advanced form of canvas painting, you could still try some of the ideas below.
13. Cat Painting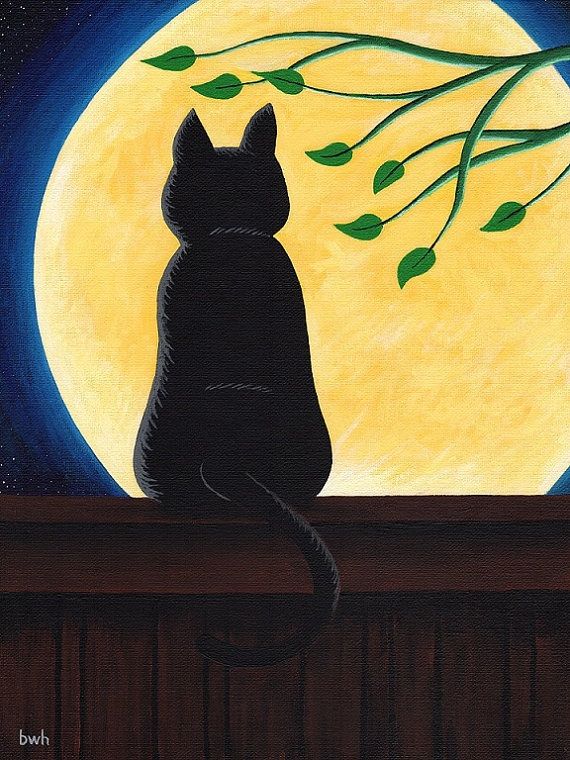 Cats are lovely creatures. They can often become your muse for making interesting paintings. You can make abstract forms of painting or make beautiful cats on canvas. Acrylic paints can be used to make such paintings.
14. Woman and Flower Painting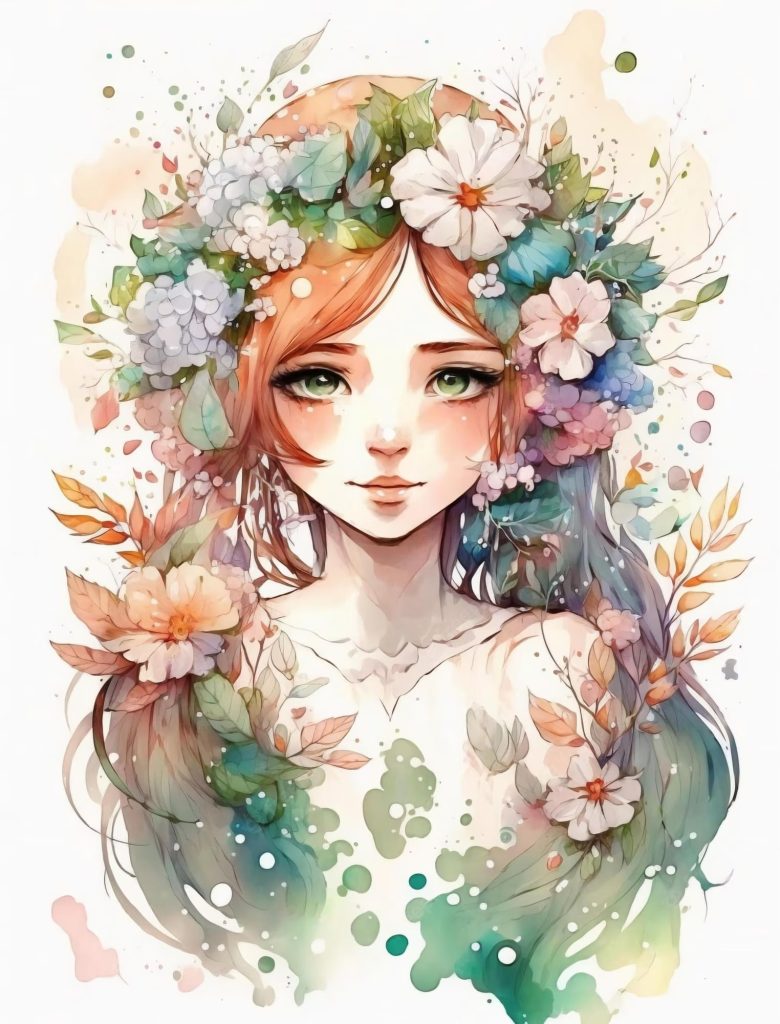 One of the most expressive forms of painting is a woman with flowers in the background. You could also try some mixed media techniques to do something creative on your own. Mix media consists of using a combination of different media or art materials. Mix media art form began in 1912 and was popularized by Pablo Picasso and Georges Braque.
15. A Selenophile Girl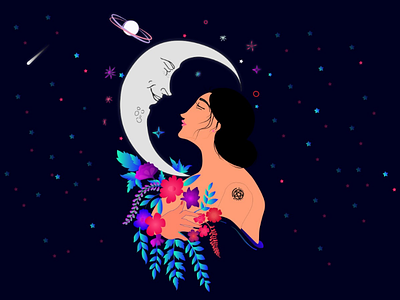 You can easily make the silhouette of a young girl watching a moon rise in awe. This is quite captivating to look at and simple to make on a canvas. Any moon lover would quickly grab this piece and own it.
Religious and Spiritual Canvas Painting Ideas
The realm of Gods has always inspired artists to make wonderful art forms, from the frescos in St. Peter's Basilica to Buddha's sculptures.
16. Buddha's Painting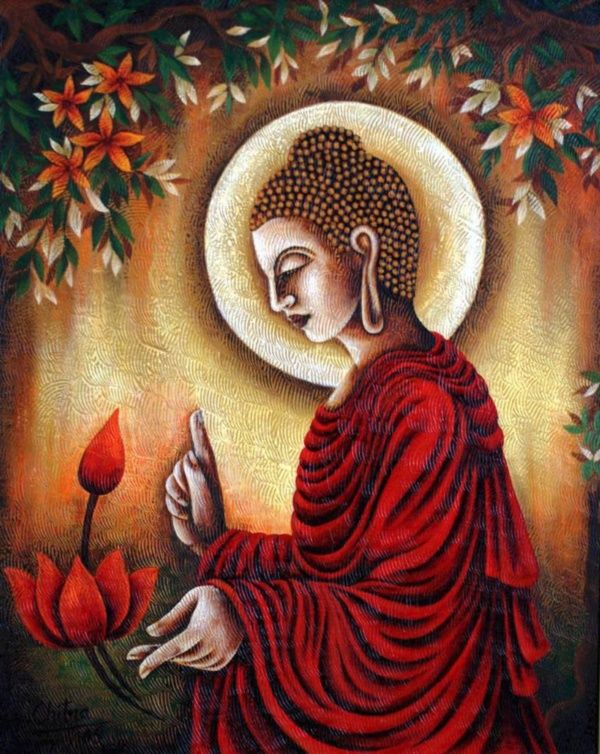 Even if you don't create a masterpiece with this canvas painting idea, you can represent Buddha in a simple yet elegant and peaceful form. Not much effort is needed, yet it will stand out among many works of art.
17. Hindu Deities or Greek God Forms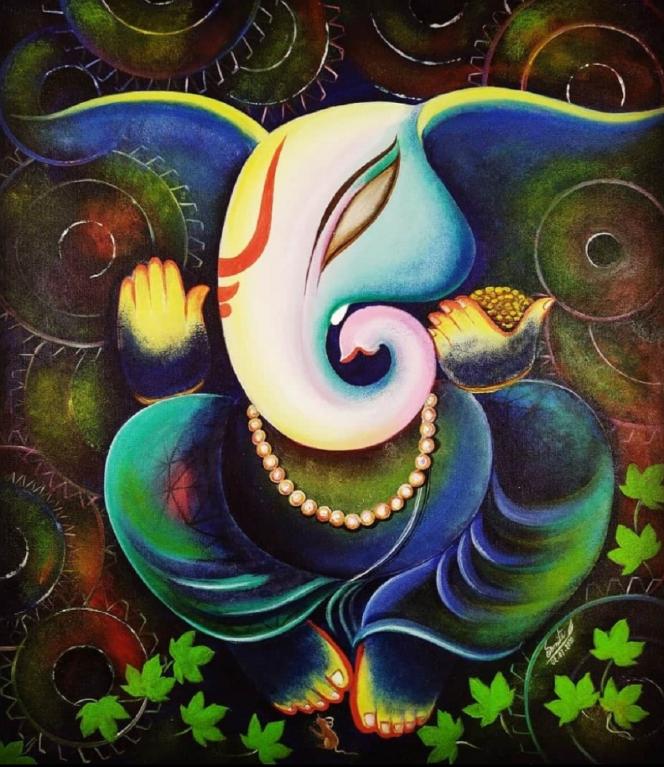 When it comes to painting Gods, you can choose your subject from Hindu deities to Greek and Roman forms and figures of Gods. A simple outline with a splash of colors is all you need to make some magnificent piece of art.
Some Other Ideas for Canvas Painting
You can either do some still-life paintings or any other kind of art.
18. Paint a Flower Vase Using the Still Life Style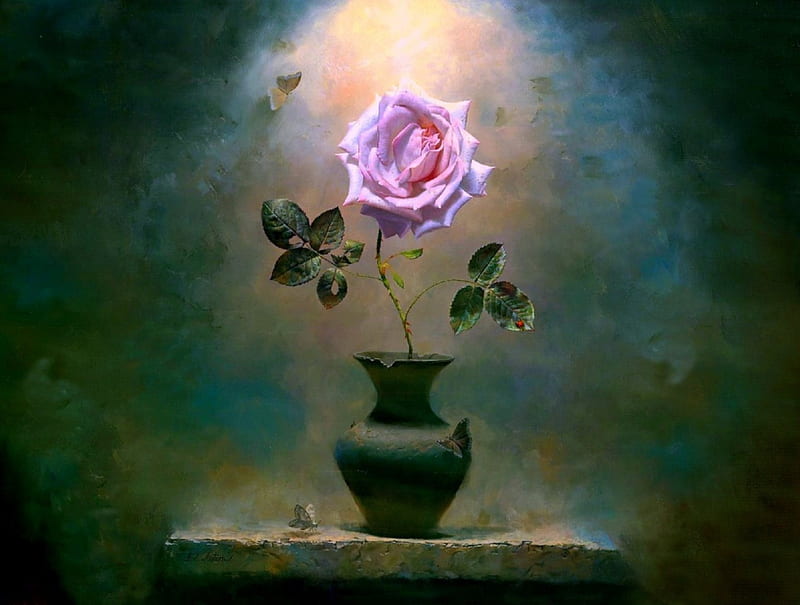 So, if you have a flower vase at your home, you can very well paint it on your canvas. This is an easy canvas painting idea and can be done by beginners too. It doesn't require expert-level skills. Just a bit of patience will help you do outstanding work for your wall.
You have to observe the vase, take your paintbrush or pencil and start making measurements from the vase tip to the base. Put the same measurements on your canvas and start giving your vase the right shape on your canvas. Afterward, color it and apply a contrasting background.
19. Paint Some Birch Trees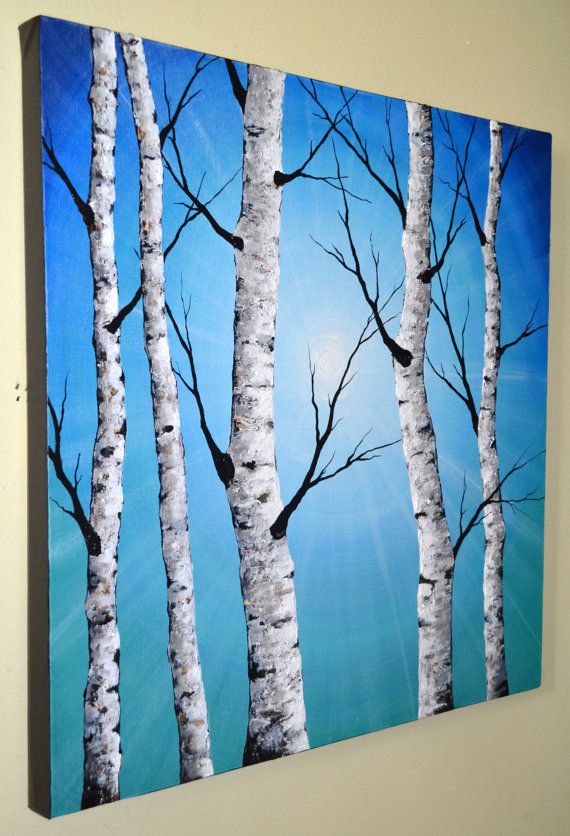 If you want to make some birch trees, you can paint them with the help of a ruler. Shading them is easy, and adding a light blue or pale green background will give them a pleasant appeal.
20. Song Lyrics or Famous Quote Wall Art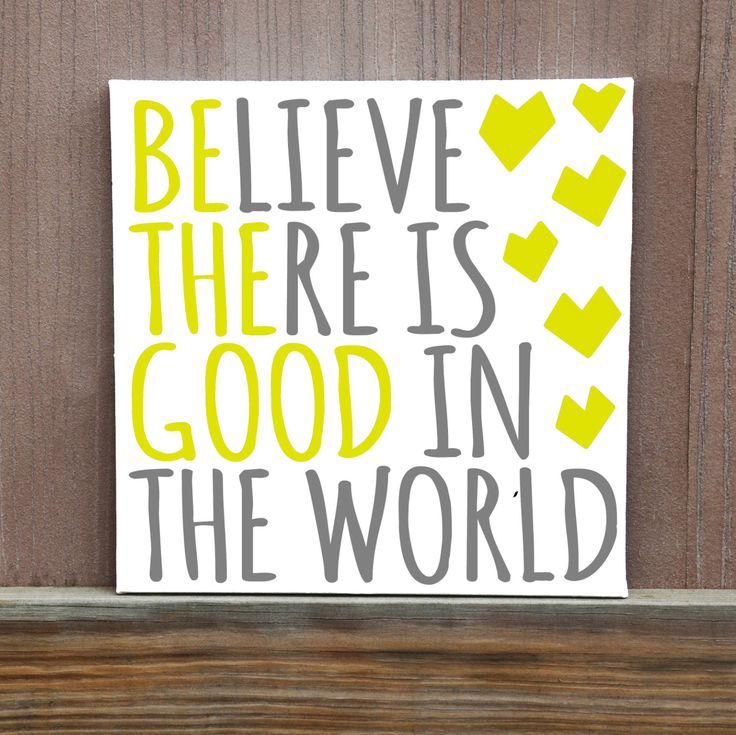 Adding a faint background and writing your favorite lyric on the canvas or your best quote on the canvas can be a brilliant and unique wall display. You could also use an old, faded painting for this purpose.
Furthermore, you can also splash some colors on the canvas to create a distinct background. You can also gift such a piece to someone on their farewell or Thanksgiving.
21. Try Some Splatter Painting Techniques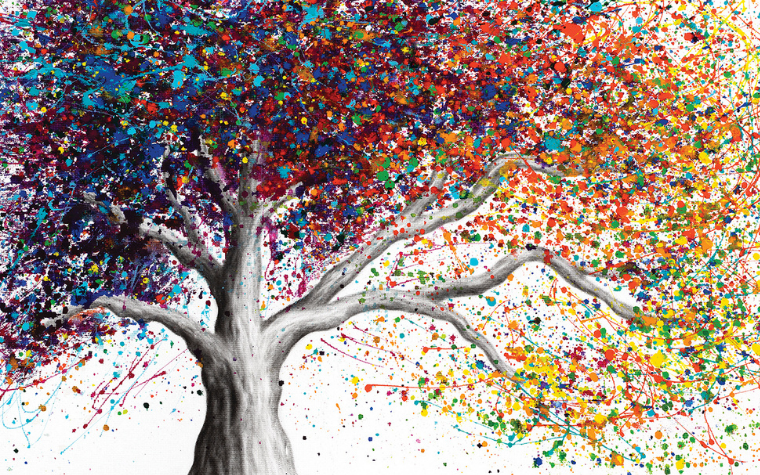 If you want to have a fun painting session, splatter painting is a wonderful idea. You can take two complementary colors such as blue and yellow, dilute them with some water, and start splashing them on a white canvas.
What Is an Acrylic Painting Form?
Acrylic paints are water-based paints that are composed of a mixture of pigments and acrylic polymer emulsion. This composition makes them ideal for painting on different mediums as they can quickly dry and become resistant to water once they dry on a surface.
So, using acrylic paints to paint on a canvas is known as acrylic painting. One interesting fact about acrylic paints is that they can be used to paint on a wide variety of surfaces like wood, paper, cloth, plastic, and even metal.
Artists can also mix acrylics with water, oil, and other substances like corn starch, silica sand, and even baking soda to create textured art. Acrylic paints can also be diluted with thinning agents and used as watercolor.
Thus, they have become a huge craze among artists, and most artists love painting with acrylics.
Acrylics offer numerous benefits when used as a painter's ink:
They are affordable.
They dry quickly.
Acrylics are water-resistant after drying.
They usually last long.
Acrylic paints are non-toxic and easy to clean.
How Does Painting Help the Human Mind and Body?
Now painting is not just about aesthetics and decorating spaces. It offers more benefits to the human mind and body in ways than one can fathom. Painting helps you to connect with the community of painters. Thus, it is great at beating boredom and loneliness. Art and drawing also help to make a person more evolved and observant. Besides this, it is known to boost self-esteem. Painting is a known form of busting stress and relieving oneself of worries.
It has also proven its effectiveness in improving the fine motor skills of humans. Creative arts have shown proven benefits for children falling under the autistic spectrum. It helps people calm down and be more communicative about their feelings. Art also plays an important role in people suffering from dementia by helping such individuals attain a sense of personal identity. It has also demonstrated a significant role in improving concentration among kids.
Creative and visual arts have played a major role in helping people learn how to communicate their feelings. Art has also significantly helped people struggling with attention deficit disorder and dyslexia achieve great heights. Even prisoners have many times benefited from practicing creative arts as art therapy helps them process their thoughts and correctly channel their energy.
Conclusion
When you want to put your thoughts onto the canvas, or you want to replicate an existing idea, you can refer to our canvas painting ideas guide. You can begin with landscape or still life painting style. These are pretty easy, and you can also become a self-taught artist with these ideas.
Also, you can choose to stick to one style or try experimenting with other styles of painting. Mixed media and resin or fluid art are quite common these days, and many artists love these styles. The abstract form is also another style of painting that you can adopt as it is easy and doesn't mandate people to stick to norms and typical ways of painting.
You can also take some online tutorials or offline classes to learn how to draw. Besides arts, crafts and sculpting are also other popular options. The corporate gifting and personalized gifting market is thriving, and arts and crafts have gained prominence.
Frequently Asked Questions
What Are the 7 Types of Art?
The meaning of art is diverse according to the world's different cultures. However, art generally comprises painting, sculpting, literature, music, dance, motion picture, and theatre. Architecture is also a part of art. Though all forms of art have existed since ancient times, the motion picture is the most recent type of art, which only came into existence in 1895 when Auguste and Louis Lumiere introduced Cinematography.
What Are the Styles of Painting?
There are numerous styles of painting, starting from realism to hyperrealism, surrealism, expressionism, impressionism, abstract art, and pop art. Based on the medium of painting, there is oil painting, water art, acrylic, spray paints, pastels, gouache, encaustic, fresco, resin art, mixed media, and most current digital art and AI art.
What Can I Use to Preserve Paintings?
Varnish is an excellent material used to preserve paintings from damaging or fading after a long time. It is applied as a top coat on canvases to protect paintings from discoloration, fading, moisture, dirt, and ultraviolet rays. Varnishes are available in glossy finish or matte finish.
How Do You Protect Art from Fading?
Besides the application of varnishes, one has to take several precautions to protect paintings from getting destroyed. Protect your paintings from humidity, direct sunlight, and dust. Furthermore, you should consider storing them in cool, dry, and dark places to make the detail and color last long.