We are sure all of us have that one friend who spends hours and hours in the bathroom, and we keep wondering why he/she takes so long. Well, we don't know the reason, but with these new bathroom design ideas, the space will look so stunning that you, too, will never feel like leaving the bathing area.
Before implementing trending designs, clear the area and get things organized into baskets, storage compartments, or countertops. Depending on the space available, decide what design elements can be used to transform your bathroom. If you are working on a low budget, simple tips like changing the light fixtures, wall and tile color, and adding basic embellishments and sanitaryware can give an instant makeover to your bathing area.
Even if you have a modest-sized bathroom, you can make the most of it by implementing space-saving hacks and using bold design elements to store all essentials creatively.
Exciting Bathroom Design Ideas for 2023
From traditional to modern, industrial to natural elements, minimalistic to futuristic inspirational picks, choose the option that best suits your style and functional needs.
Here's a list of exciting 25 bathroom design ideas that can help you remodel the space seamlessly and creatively:
1. Minimalist Bathroom Design Ideas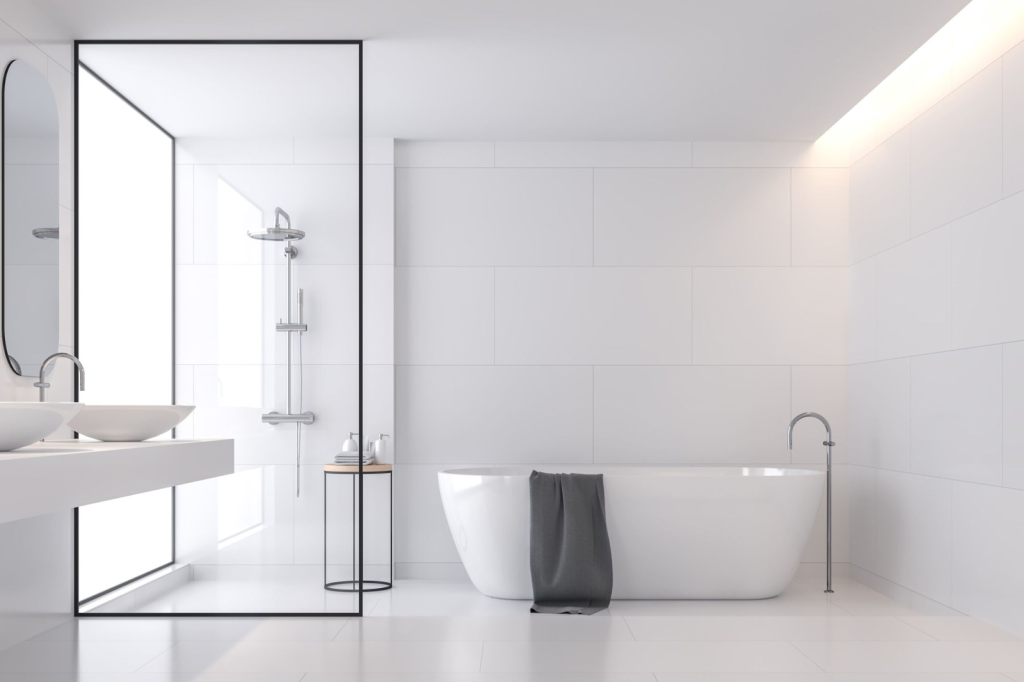 Having a tiny bathroom is not an issue with this simple bathroom design trend. Decorating the space with minimal accessories, including basic designs, maximizing the use of ambient light, and a false ceiling can indeed add a royal touch to your small bathing area.
From soothing colors and stylish wall mirrors to matching toned sanitary fittings and storage cabinets, you can spruce up the space in no time! Despite the lack of space, a small bathtub or sleek glass-enclosed shower with a floating bench can help you unwind.
For minimum wall space and storage area, using adaptable hooks, organizing essentials, and basic decor items on the windowsill is a great idea.
2. Remodeling Furniture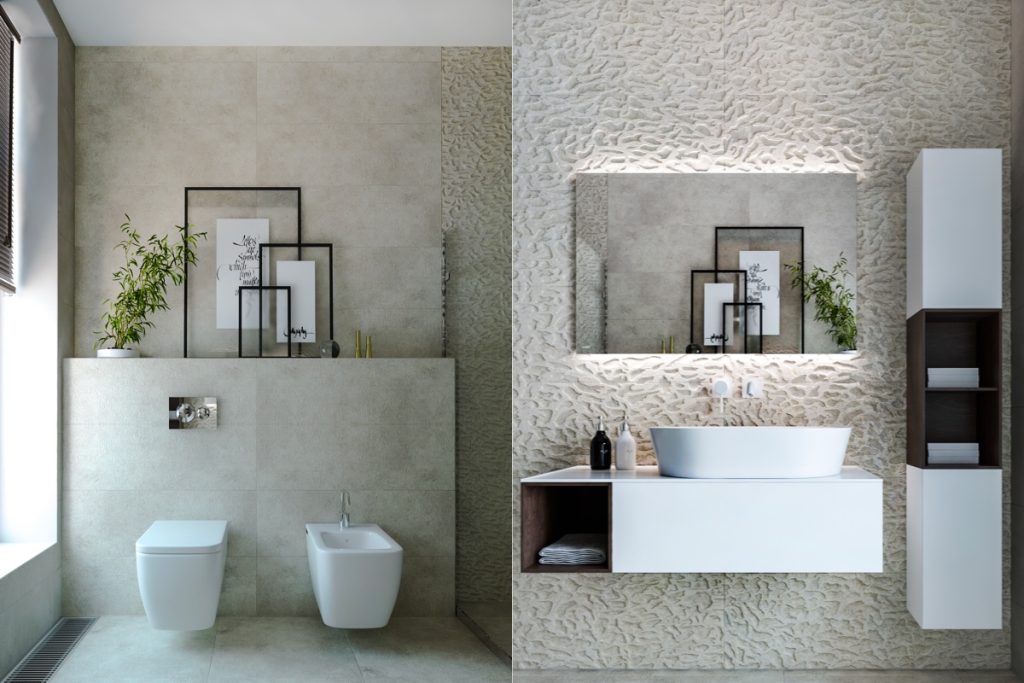 Besides minimal renovations, you can repurpose furnishing and decor pieces to utilize existing elements in a creative fashion. You can rectify the lack of space by using furniture as a countertop, a small ledge to form a small storage cabinet, and easily adding hooks and reflective mirrors to get a sense of wider space.
For serious space crunch issues, replace the double sink with a long vanity that has a sink and countertop, enabling plenty of room to hold daily essentials. If you do not have enough space for cabinets, add floating shelves to store additional products.
3. Monochromatic Interiors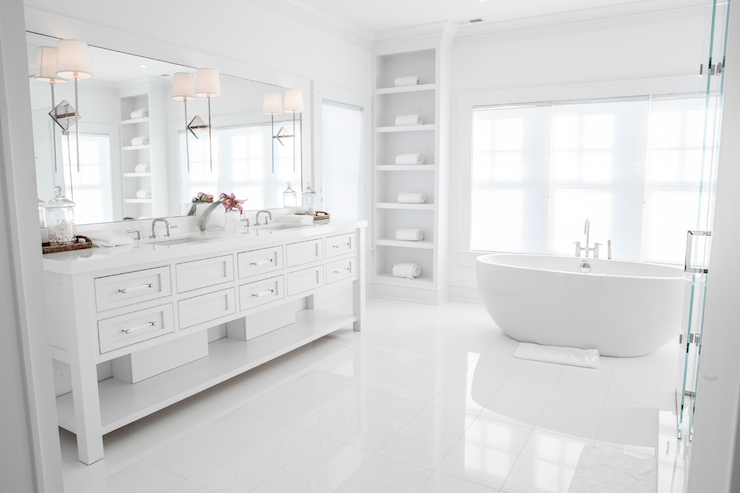 At times, even large surface areas can feel cluttered due to the incorrect placement of objects and overall layout. You, too, can create a sense of spaciousness by bringing white, pearl, and cool tints in wall colors, sanitaryware, and bathroom fittings. Using white marble tiles, creamish window shades, shimmery lights, and a white ceiling with a pop of metallic table can create a bright, clean, soothing atmosphere.
Natural materials used for stone counters with overflowing trim, hand-cut glazed edges, wood cabinets, and sparkling floor tiles can steer away from the all-white stereotype that gives a clinical look.
4. Pastel Play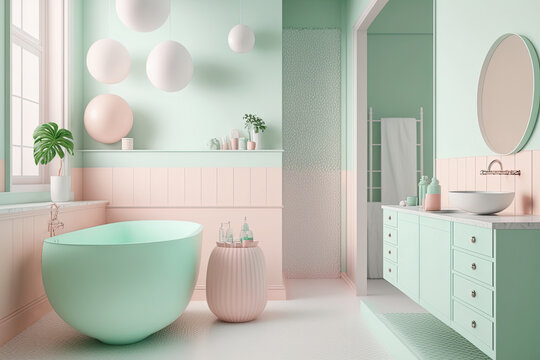 Modern minimalistic pastel colors used for themed walls are apricot yellowish-orange, pale pink, light orange, peach, greenish gray, turquoise, and low-key blue that give a delicate cottage-core look.
To further soften the look, you can design a simple backdrop with spotlights and decorate using vintage elements and collectibles like dainty carved sculpture pieces stacked against a beaded board.
Combine pastel colors with stylish wall sconces, metal mirror frames, dark undertones, veins in floor tiles, marble wainscoting, and traditional plumbing. You can also take inspiration from speckled terrazzo ideas to style titles, bathroom floors, and sink coverage and get an intricate seamless look.
5. Bright Dazzling Look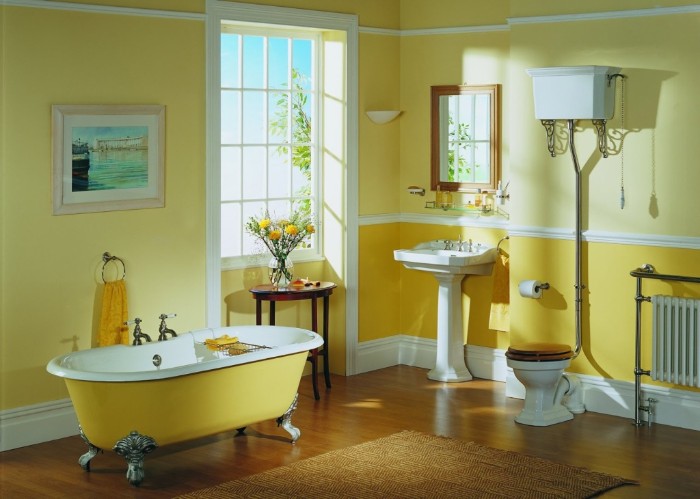 Transform your bathroom from a clinical to a warm look with bright-hued walls, printed tiles, and colorful sanitaryware. If you are not very keen on painting the whole bathroom, use hacks to design small spaces. For instance, rather than using traditional storage compartments, you can renovate the wall space to mount cabinets and paint them in vibrant shades.
To create a comfortable vibe, you can pair unique shades like seaweed green, champagne, biscuit, caramel, rust, terracotta, and beige with gold and silver decor pieces, metallic design elements, black tap fittings, or wash basins, stone vanity tops, and natural cream-colored interiors.
6. Lighting Fixtures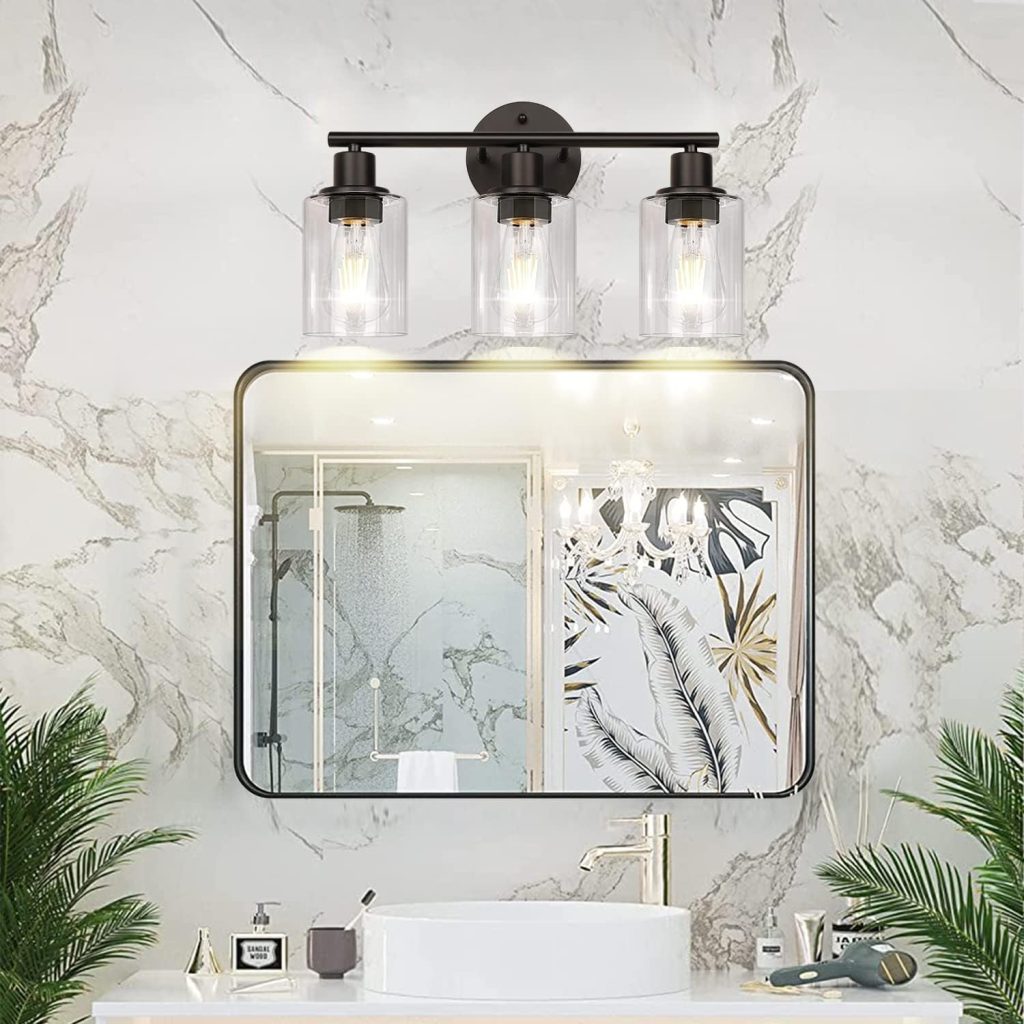 One of the easiest ways to upgrade the look of your bathroom is to get aesthetic lights. Get a sleek, ultra-modern look using linear lights that complement your tile and wall color. Alternatively, you can contrast the existing theme with oversized pendant lights that flood the room or use reflective surfaces that allow natural light to shine through.
Bathroom design ideas trending these days include unique crystal chandeliers, drum pendant lights, and huge floor lamps. If you are feeling braver, go all-out with pillar lights that give a reminiscent look on decorative surfaces with grooved, ribbed, and reeded finishes.
7. Tile Textures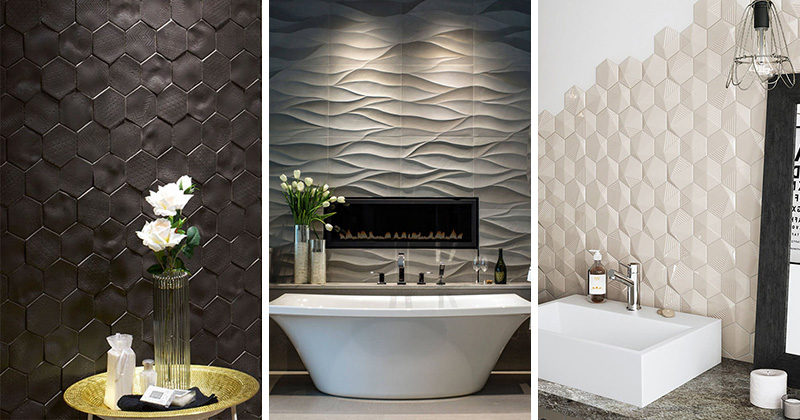 For a captivating look, opt for tile designs like backsplash, Moroccan prints, fish-scale shaped tiles, or raw organic textures. Use prints and motifs that create a 'feel good' ambiance for you. If you do not want to change the entire appearance, look for graphic patterns or inspirational color palettes that create an impact.
You can also repurpose terracotta flooring and salvage bricks to create a rustic, eco-friendly appeal or add a playful pop of color with jewel-green, ruby-red and light-reflecting hues. Also, check that adequate waterproofing materials are used to ensure all accessories are secured to the wall.
8. Statement Look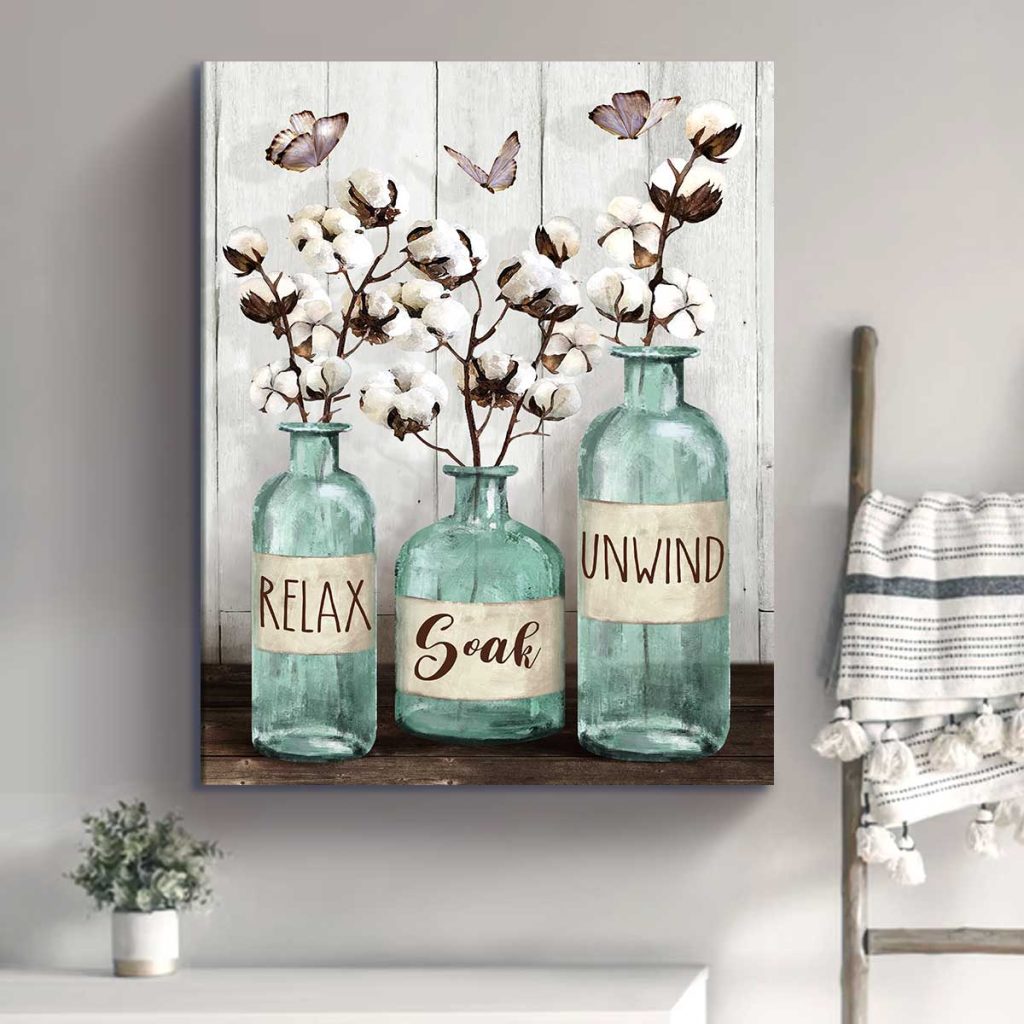 Along with lights and tiled textures, you can give a classy finish to your bathroom with patterned and intricate floor tiles. You can also add focal points like a showcase screen, curvy sculptural designs, and personalized elements like monogrammed shower curtains featuring custom prints, classic shapes, and pretty pictures that will steal the spotlight.
Another stylish focal point for your bathroom is the textured and accent wall design. For functional purposes, having a bright-colored towel warmer, wavy floor tile with contrasting shades, and other built-in amenities help with storage and transform the space instantly.
9. Artistic Vibes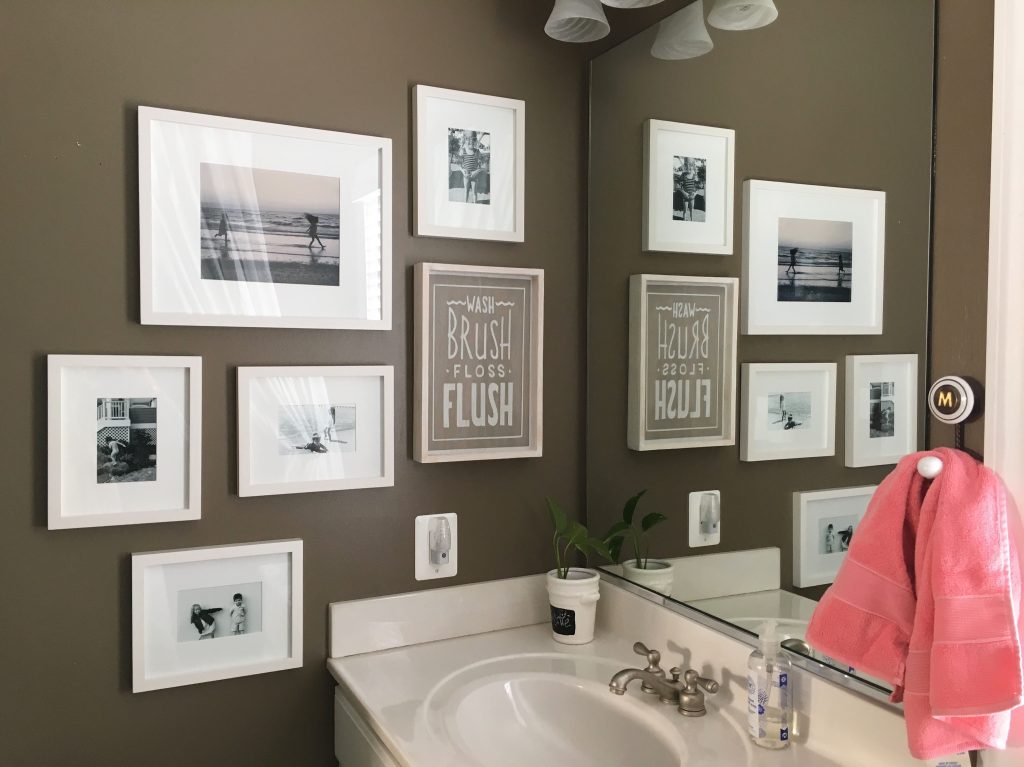 Add a creative flair to your bathroom with art decor. You can use statement pieces, unique tiles and rich textures, pretty patterns, grand lights like chandeliers, bold features, and more.
To customize the artistic vibe, you can use decor pieces that are inspired by your travels, are reminiscent of special family celebrations, or are creative works that showcase your personality.
Even in small spaces like powder rooms, the artwork can be displayed on walls or other vertical panels, a windowless space can be lit with basic lighting, while concrete floors and dark-toned marble interiors can set the right mood.
10. Privacy Hacks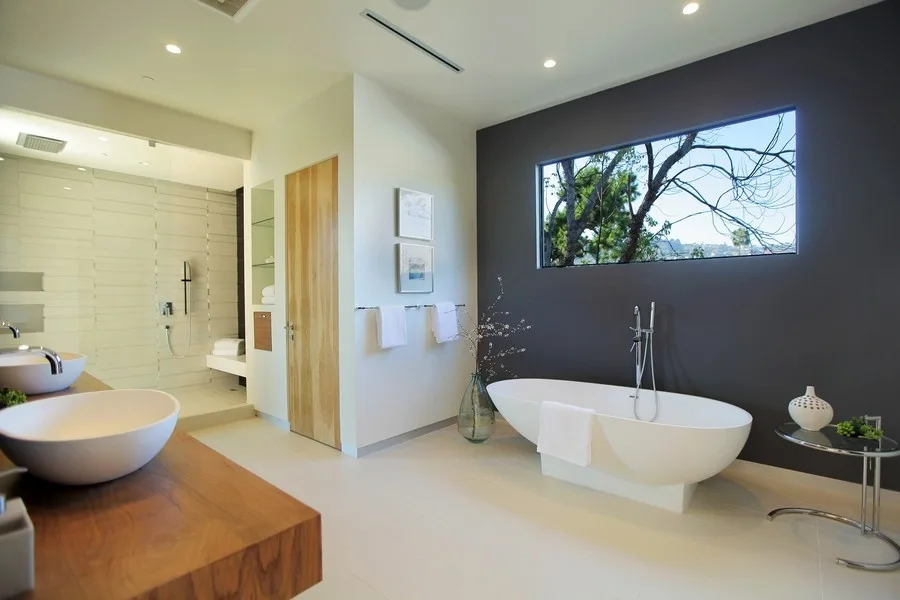 Not everyone has the luxury of having separate bathrooms for all individuals. Hence you need to maintain a serene atmosphere in this shared space. The best way to achieve privacy is to use room dividers, screens, ingenious window treatments, and steel-framed glazes that help you get dressed without getting wet.
With a compromised surface area, having a separate cubicle, a personal vanity, and a freestanding bath may not be possible, so you can install a concealed WC behind a door and create a private zone for bathing. To assemble a discreet shower, use tinted, frosted, fluted elegant screens in metallic or opaque shades that elevate the space and offer maximum privacy.
11. Open Showers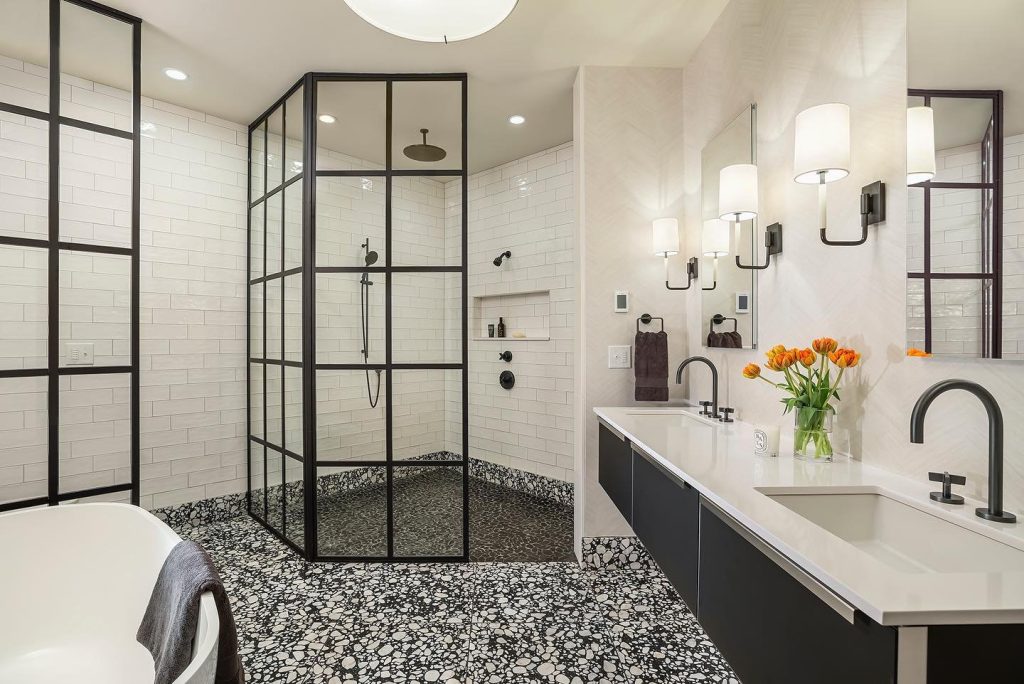 You can further improve privacy by installing smoked glass or transparent partitions that give a spacious feel and classy look to your bathroom. Likewise, a walk-in shower idea with appropriate waterproofing, affordable curtain panels, and a part-tiled wall can limit splashing. For smaller spaces, a bathroom with mirrored surfaces gives a spacious and bright look.
While this method is perfect for master en-suite bathrooms, you can also use it to separate the shower from other storage elements and keep things organized. Besides, this layout suits concealed and shelved storage cupboards. You can use wall paneling or a vanity unit for functional purposes.
12. Luxurious Beauty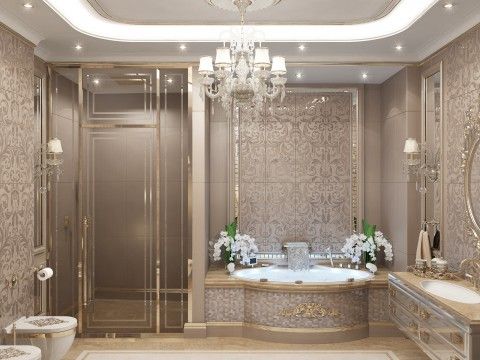 Create a lavish space with luxurious bathroom design ideas that include metallic elements like gold accent walls, a stylish wash basin, an elegant jacuzzi, or a multi-sided tub incorporated with classic bulbs, grand hanging lights, and beautiful drapes.
You can draw inspiration from Parisian styles and get antique furniture, traditional light fixtures, and streamlined embellishments to give a laid-back yet grand look. Besides, adding French country-style decor like extravagant drapes, classic grand chandeliers, and monochromatic royal palettes can add to the charm.
For a more affluent experience, you can invest in bathroom design ideas featuring hydrotherapy. For instance, the directional shower helps relieve muscle aches, and the plate-style head relaxes the mind.
13. Subdued Elegance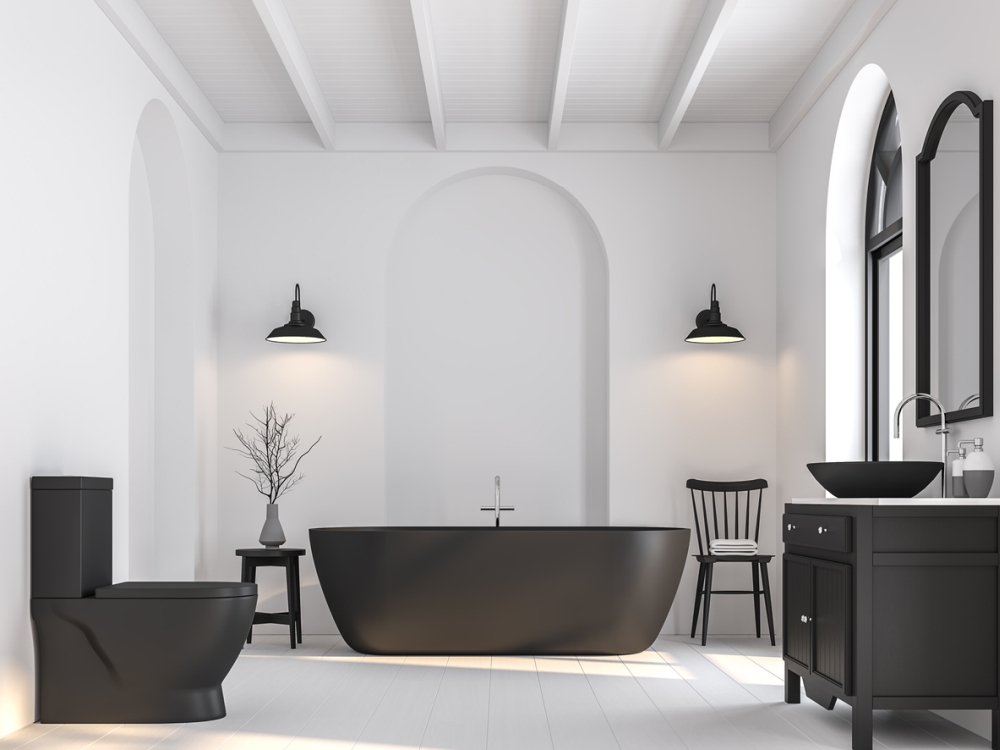 If you are not very keen on stretching your budget to implement luxurious, expensive bathroom design ideas, you can still add a touch of grandeur to the space with distinctive patterns and rich impactful colors. Marble walls or dark blue hues, unique light fixtures, splendid mirrors, modern archways or curved arch moldings, and soft ambient lighting bouncing off the soft round edge vanity gives a chic look and relaxing appeal.
Using warm wood surfaces, fun patterns, quirky motifs, gold wallpaper designs, floral patterns, and pocket doors at the entrance with closet enclosures help to achieve elegance even in smaller spaces.
14. Relaxed Retreat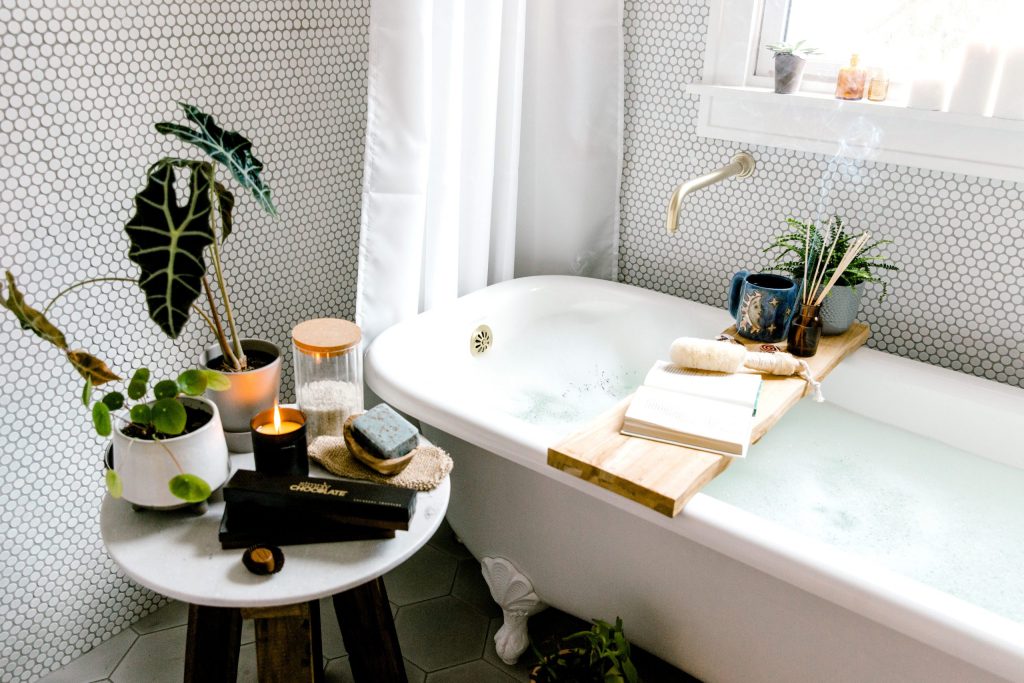 Bathroom design ideas in 2023 focus on increasing wellness spaces for personal use. You, too, can now destress and unwind in your very own private spa by pampering yourself. Create a private oasis by enhancing the luxuriousness of your bathroom for optimal relaxation. You can use natural elements like brick and stone or introduce similar textures with floor-to-ceiling stone and mirrors.
With luxury fittings and scented candles, your wellness retreat, including a spa bed, steam or sauna room, hydrotherapy baths, and massage showers with a caddy on the bathtub that holds your favorite essential oils and massage essentials, can give a soothing experience.
15. Coastal Theme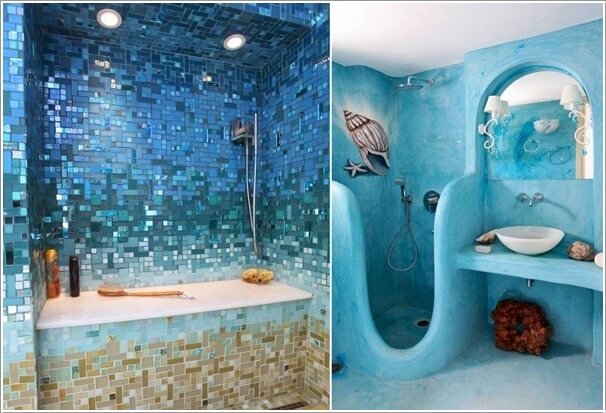 Another cool bathroom design idea to create a spa-like atmosphere is choosing blue-tiled accents for walls or light blue wallpaper, white marbles, coral and shell decor, wicker accent accessories, pampas, grass vases, beach-related prints, and photo frames.
Borrowing ideas from seashore vistas, you can use bathroom decor like sand-hued mosaic tiles, bright sea-blue walls contrasted with white beadboard, and beach-theme souvenirs that create a calm ambiance and also help you create a personalized indulgent spa-like session.
You can also use breezy decorative motifs, aqua-colored matte tiles, trendy maritime elements, ship-shaped lanterns, and nautical anchor-shaped hooks to add to the oceanic references.
16. Natural Elements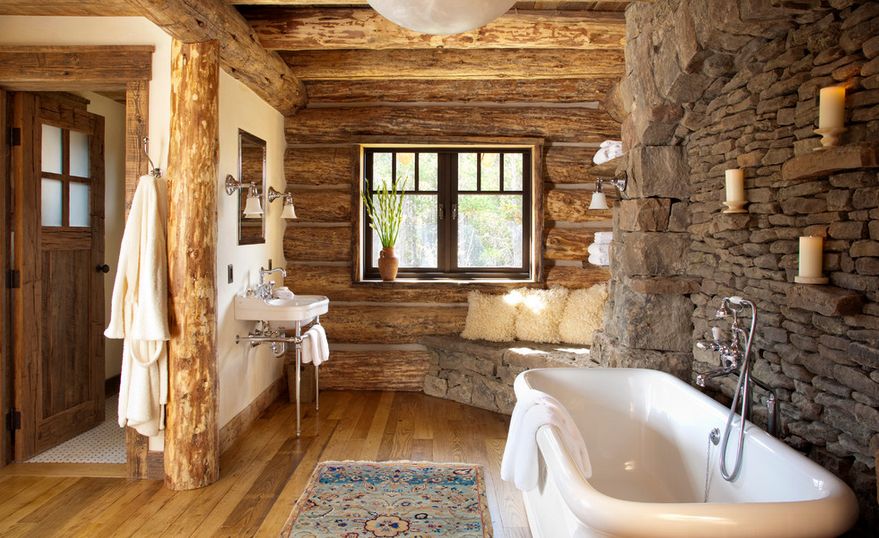 Earthy materials like wood, hybrid stone, organic plasters, marble, and alternatives like onyx with vein detailing have natural allure and help bring in a calm, relaxing atmosphere.
Feel refreshed with indoor plants that create a bright, airy atmosphere. Pair greenery with nature-based colors like brown, green, and white, or use wooden cabinetry and surface area to bring an organic feel while invoking a sense of calm and harmony.
Additionally, allowing sunlight to flood from big bare windows is a good way to use natural light. You can further integrate metallic bronze or natural stone vanity with plastered walls and geometric designed floor tiles and install skylights to create an illusion of a bigger space.
17. Warm Look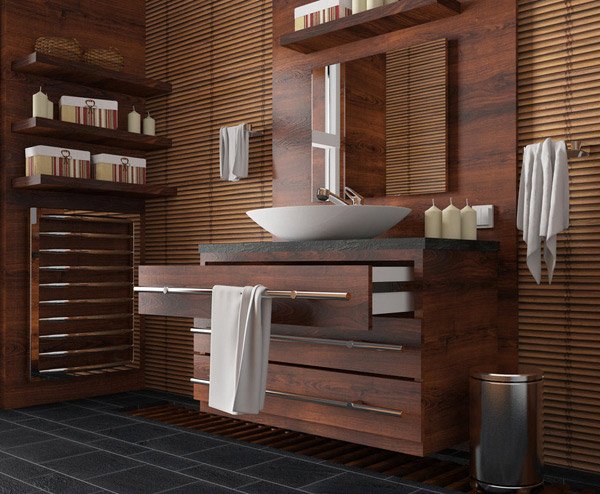 Despite the use of natural elements, there might still be an incohesive feeling if the room is not well-lit. Adding warm lights, gold sanitary fittings conflicted against dark walls, and a bathroom sink can give a sophisticated look. You can also match wall and floor designs with wooden cabinets to induce a warm vibe.
To prevent the wood furniture from getting spoiled, opt for teak, oak, or rosewood that are of premium quality, have natural oils which aid in water resistance, and age wood naturally, ensuring you have an organic touch to the bathroom for prolonged durations.
18. Mirrored Designs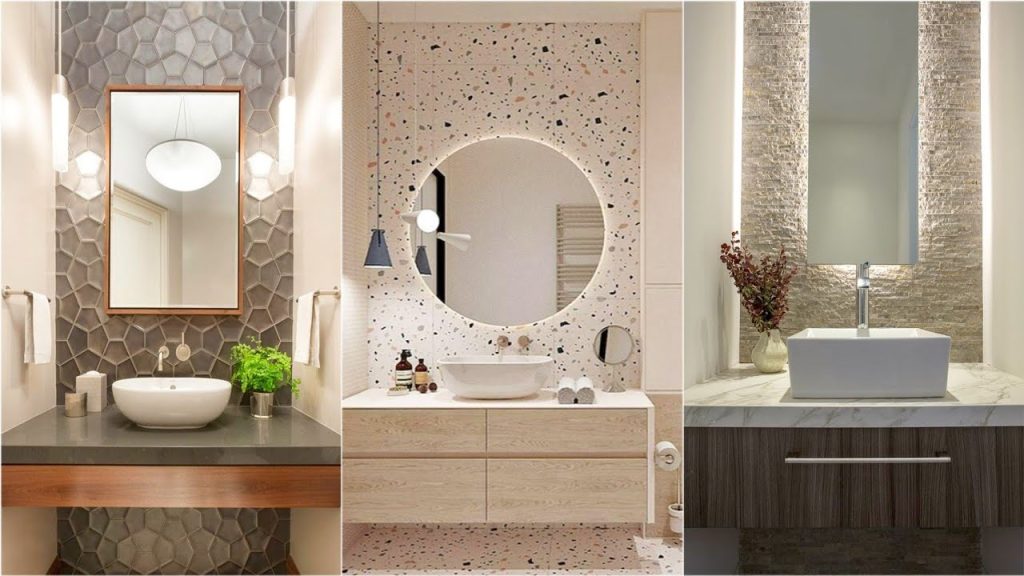 While a wall-to-wall mirror can give a sense of spaciousness, a large mirror also helps in reflecting natural light. Modern bathroom mirror trends for 2023 include choosing unique shapes, backlights, featured shapes, and stylish frames.
Complementing mirrors with warm brown-toned details, indoor plants, and beige color schemes can give a natural cohesive look, even in spaces that are not naturally lit by sunlight.
You can also maximize the shape of an existing mirror by using molded surfaces that give a three-dimensional effect. This bathroom design idea works best for circular mirrors in small spaces with clean molded lines and waterproofed moisture-rich zones.
19. Modern Spin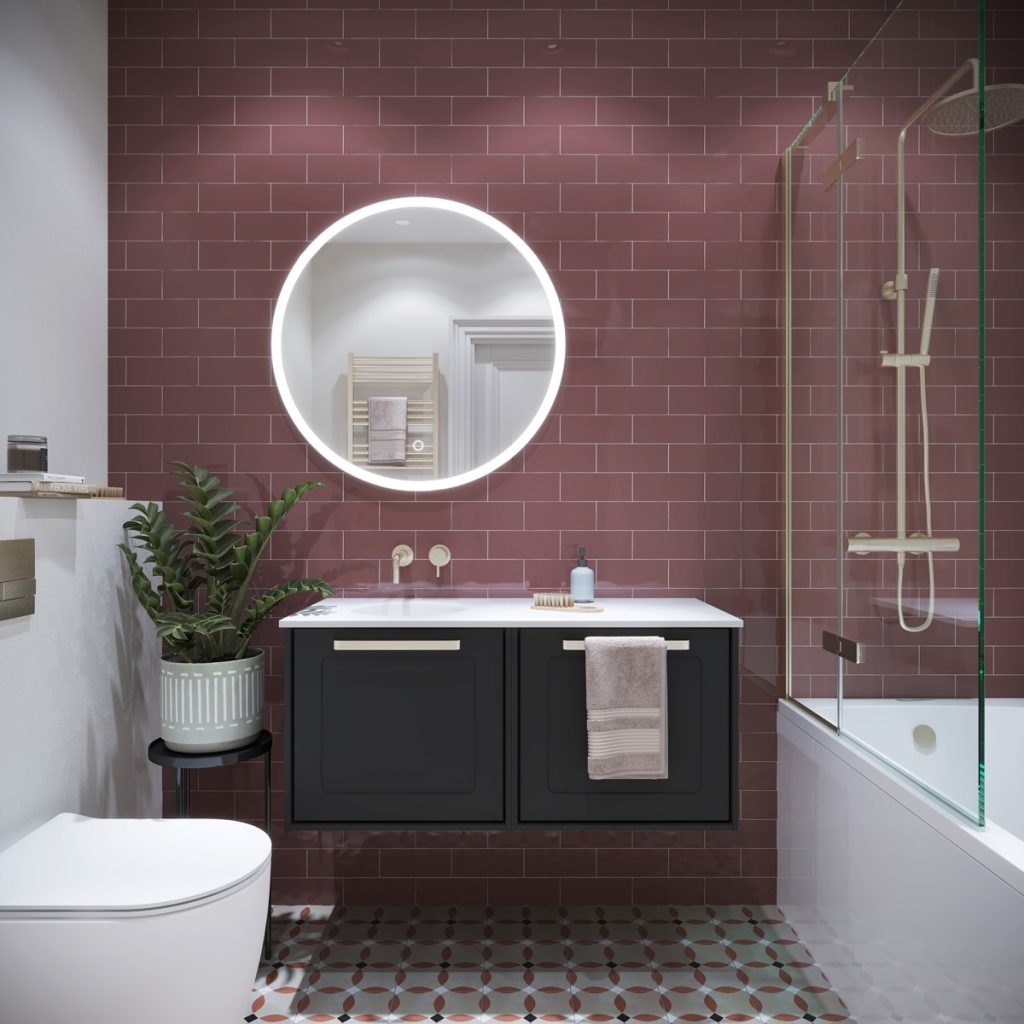 Contemporary bathroom design ideas use progressive shades as opposed to clinical colors. To create a clean, polished modern look, use dark red, deep maroon tiled accents that add elegance. If you want to add some personality to white polished surfaces further, bring in fun graphic floor tiles and custom-made murals.
In addition to spa-style nooks, they integrate nature or other biophilic elements that reduce stress, induce creativity, and create soothing vibes. Besides, a glossy vanity unit with a smooth finish, dark wooden cabinetry, and spacious compartments under a floating sink can help you keep things tidy and maximize surface area.
20. Industrial Design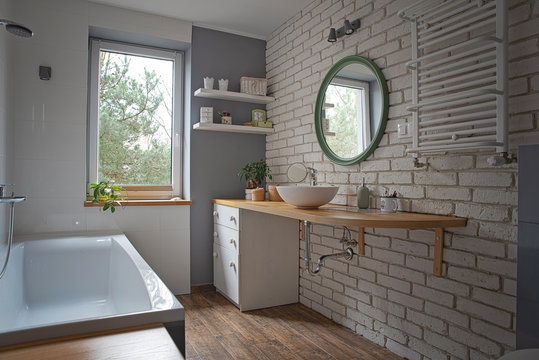 Another modern bathroom design idea that is in vogue is the industrial look. Achieving this look is relatively easy and cost-effective. This concept uses concrete interiors, unrefined materials like brick walls, textured embellishments, metal pipes, unconventional sanitaryware, and lights with metallic shades.
If you think concrete gives a harsh appeal, use curvy furniture in brown shades and wood tones, LED lights, and indoor plants to soften the look. To maximize brightness, install a skylight that allows natural light to enter or use contrasting oversized pendant lights, and metal-framed mirrors, along with added fixtures near the mirror and sink areas.
21. Black Beauty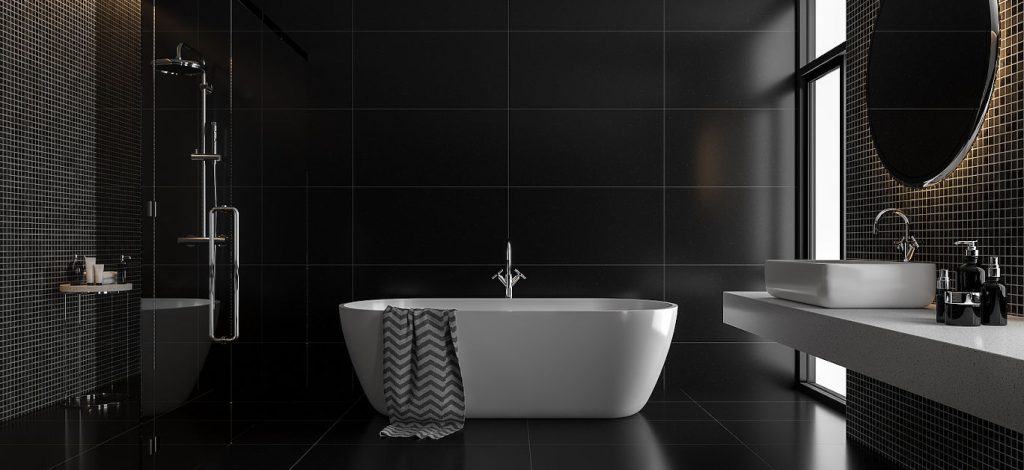 At times, gray and black shades, when used indoors, make the space look gloomy, but trendy bathroom design ideas show the creative use of black to create beautiful aesthetics. A striking matte finished floor, muted black cabinet, dark bathtubs, and laminated accessories scream luxury.
For snug settings, embrace designs that include a stone sink with dark natural cabinets, smoky palette wall paints, and textured porcelain tiles or ceramics for a bold natural look.
If you are still worried about black interiors and unwilling to experiment too much, try switching the shower dividing the area to a black frame, adding dark sanitary fittings, and using toiletries that will give an edgy look while being functional.
22. Marble Design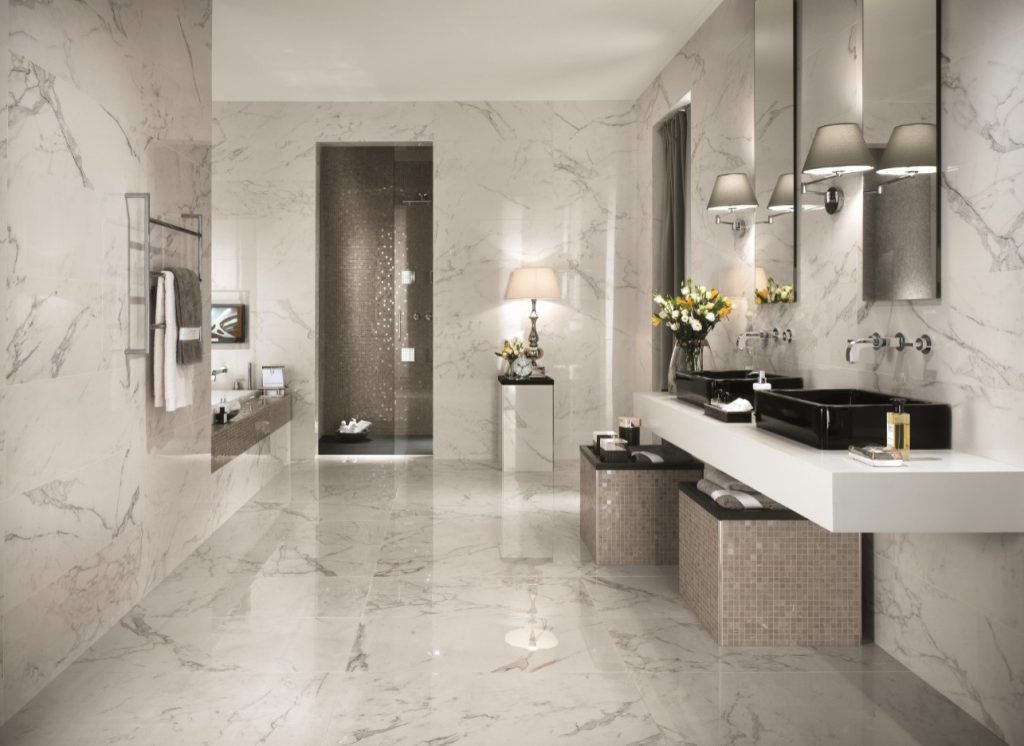 From attractive floor-to-ceiling cladding, integrated toiletries storage, and shelved corners, marble has always been used to create a vintage charm and is hence frequently used for tiles, floors, cabinets, and bathtubs. To utilize marble creatively, you can introduce it in varied colors, veining, and markings and pair it with minimal accessories to create a unique appearance.
You can use 'vein-matching', top-to-bottom marble surfaces complemented with gold-toned accessories like an ornate mirror to get a sophisticated look. For small spaces, matching the marble veining to the cabinet door or any other accessory can make the space look uncluttered.
23. Traditional Designs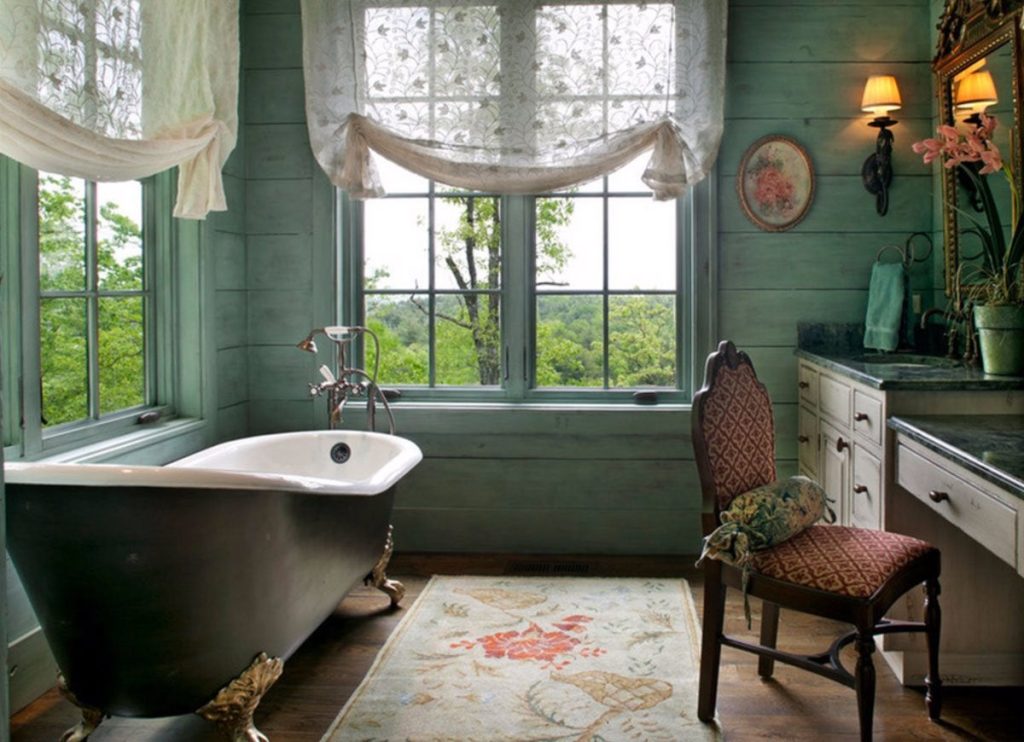 Vintage patterns, floral wallpaper, and walls in forest green shades with bright sanitary fixtures may be considered traditional bathroom design ideas, but they add an unmistakable natural look. If you do not have access to direct sunlight or bright views, incorporating small mirrors on multiple corners can help reflect light and brighten up the space.
With smaller spaces, a delicate vintage scone accompanied by curved surface mirrors, creative wallpaper, lively colored walls, lush designs, blooming foliage detailing, and creative pieces can make a comeback to give your bathroom a warm vintage charm and tropical look instantly.
24. Eclectic Mix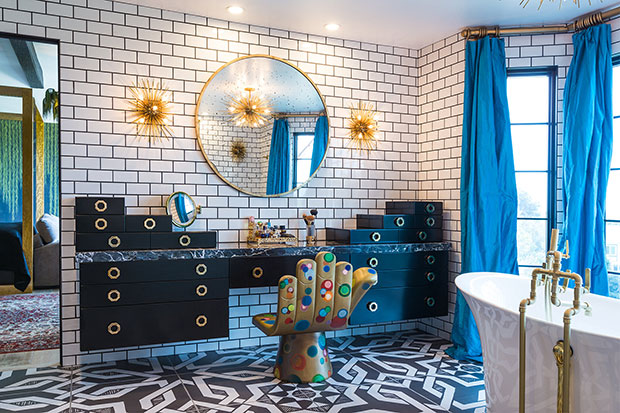 Combining modern and classic designs or traditional and contemporary elements can give a beautiful rustic look. Eclectic bathroom design ideas include using wood paneling, incorporating modern materials with existing furnishing like marble for the shower area, and polished surfaces to brighten up the space.
Blend in elements from different categories to create an eclectic look. For instance, you can use rugs, a mixture of fixtures, different patterns, varied textures, radiant colors, a blend of unique industrial materials, and fresh elements like plants to balance the look.
You can also progress with a maximalist approach by using bold patterns, informal mismatched elements, stylish wallpaper, jewel-style decor, and polished white marble surfaces for an ultra-modern look.
25. Futuristic Vibes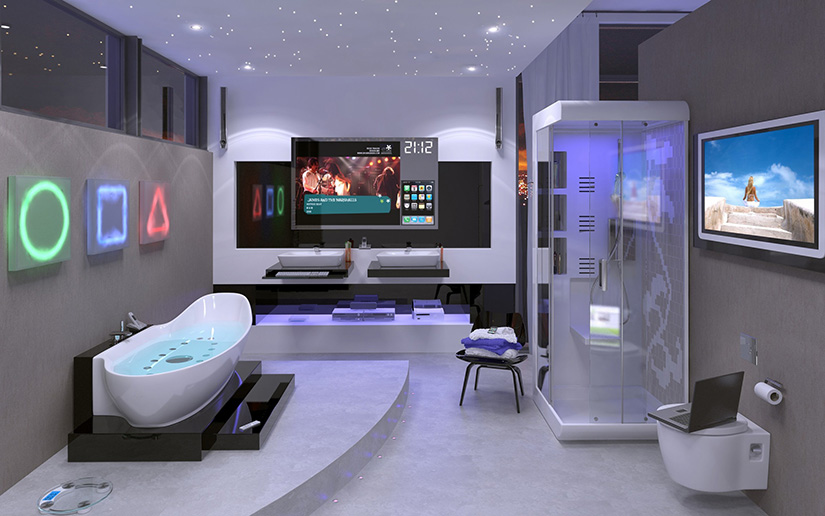 For sci-fi enthusiasts, bathroom design ideas featuring futuristic styles are a cool trend. However, even if you are a regular culturist, utilizing smart technology and home automation tools is a functional idea. Besides, using sustainable, energy-efficient eco-design technological settings can also help save energy and reduce environmental impact.
You can invest in easy installation charging and integrated USB ports, smart scales that can be connected to other home gadgets, demisting mirrors, LED temperature displays, magic mirrors that help you send commands virtually, automated washer and dryer, AI-based hand-wipe sensor panels and other smart technology that regulates water temperature according to the weather automatically.
Final Thoughts
Whether your old tiles are chipping off or the walls look dull, or you simply want to create an uncluttered look for your bathroom, opt for any of the above-mentioned bathroom design ideas trending this year that will surely help you transform your space. Besides, using natural and metallic products, sturdy fittings, good flooring, and tiled elements, you can be ensured that the remodeled bathroom will remain functional for several years.
If you are unwilling to experiment too much, begin with transforming one nook and then match other elements to go with it. You can bring your personality to choose mild or bright colors, opt for basic or luxurious decor pieces, and transform minimalist ideas into luxurious spa-like settings with timeless design principles.
Frequently Asked Questions
Which Is the Most Prominent Bathroom Design Idea Trending This Year?
The most prominent trend this year is the usage of larger tiles, specifically those made of marble or other natural stones, switching to warm natural tones and using lights and plants to brighten the space.
What Are Simple Ways to Transform the Bathroom Space?
You can transform the bathing area by simply putting in new tiles, adding a fresh coat of paint, mounting a new toiletry dispenser, adding a bright shower curtain, and replacing old fittings with shiny taps.
How Can a Small Bathroom Be Remodeled?
To transform a tiny bathroom space, organize essentials with smart storage hacks and wall-mounted shelves, add elegant lights, install furnishings that can serve multiple purposes, and use bold colors to enhance natural brightness.
Which Bathroom Design Trends Give a Luxurious Look?
Add a lavish touch to your bathing area with diagonal tiles, stylish lights, statement mirrors, unique art pieces, classy storage containers, and gold and metallic accents that make any space look grand and luxurious.