A backyard coop or secure enclosure can provide a secure and comfortable shelter for your chickens. It can also prevent the fowl from being attacked by predators, birds, rodents, and other harmful climatic conditions.
Draw inspiration from these unique 21 chicken coop ideas to design an appropriate confined setup for your poultry friends. While getting a readymade pen may sound convenient, it may not be the best option for your backyard due to its proportional size and high price value. Instead, you can collect household items and simple decorative elements for your upcoming weekend DIY project.
Besides thinking about the right measurements and suitable materials needed to build a chicken coop, it also ensures that the shelter can be designed in an eco-conscious manner to handle waste correctly.
DIY Chicken Coop Projects for Your Backyard
Depending on the space available and number of birds, design a pleasant enclosure for your flock using any of the following chicken coop ideas:
1. Chicken Coop Ideas for Amateurs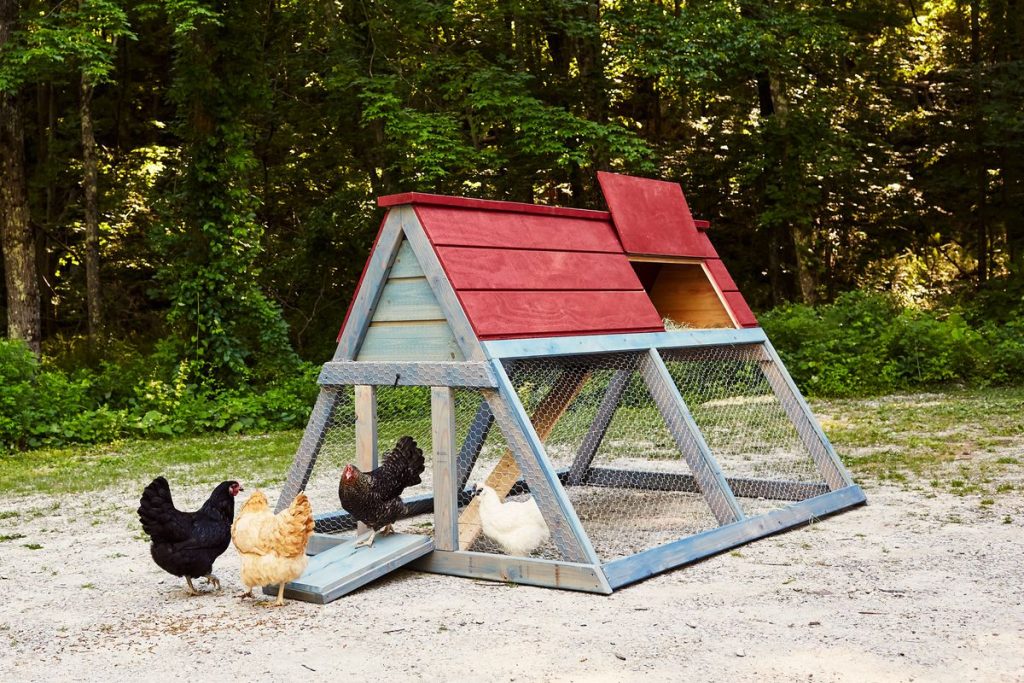 If you are new to the poultry-keeping task, look for simple chicken coop ideas that can be created in a short amount of time and can be easily maintained. You can use inexpensive products that are sturdy and durable enough to protect your chickens.
You can also use a minimalist concept to create the perfect home for your chickens on a tight budget with products like wood, plastic roof, straw, wire mesh, screws, and a locking clasp.
If you are an expert with woodwork, you can create a screen door for ventilation and design nesting boxes too.
2. Convenient Chicken Shelter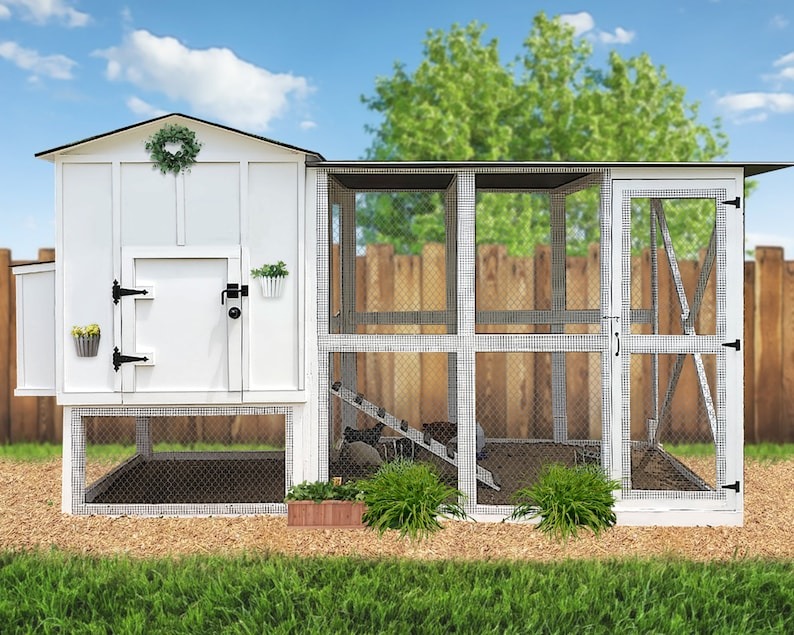 The basic idea behind designing a coop is to ensure your chickens are safe and comfortable, but there should also be ease of access and ample space to move around and clean the area later.
You can use convenient designs like a walk-in layout where a screen door can be installed to divide the nesting area and the clean space. Using inspirational ideas, you can create a nook for you to relax in or spend time with a book.
If you are looking for a temporary solution, design a teepee shelter for your chickens to roam around in an open area.
3. Functional Enclosure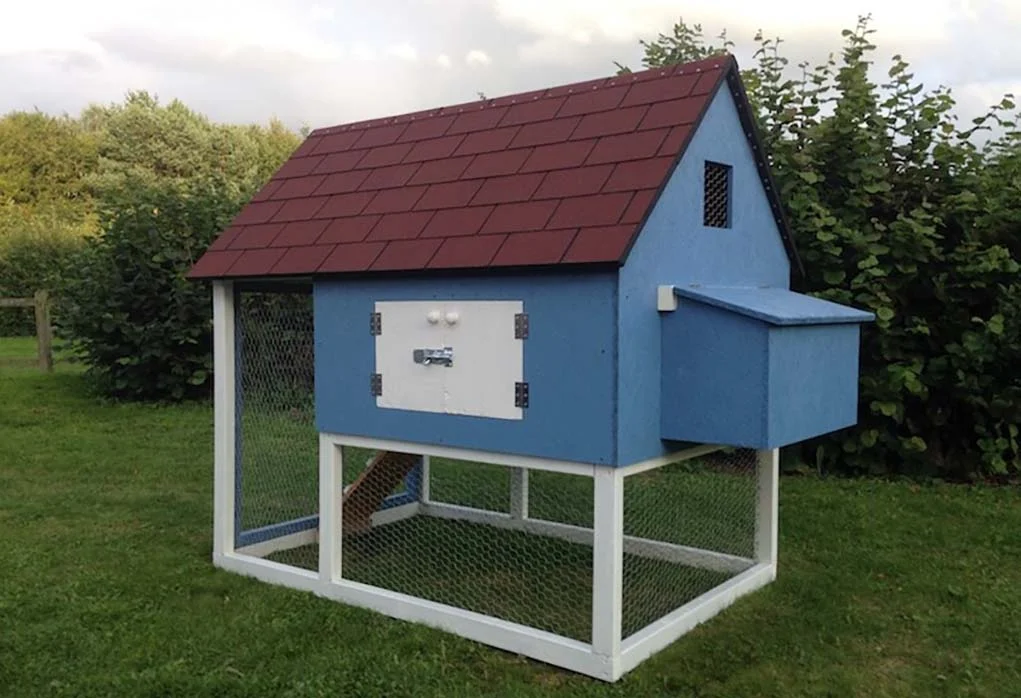 To ensure that chickens remain safe and to prevent them from insects or rodents, you can create an elevated enclosure using weather-adaptive shields and sturdy wood. This is also helpful to improve air circulation and avoid flooding during the rainy season.
If you want to have easy access to the nesting section, you can add a roasting perch or install a pergola roof to ensure your chickens always remain in the shade and don't get overheated. The nesting area can also have barriers to prevent the spread of diseases.
4. Portable Chicken Sled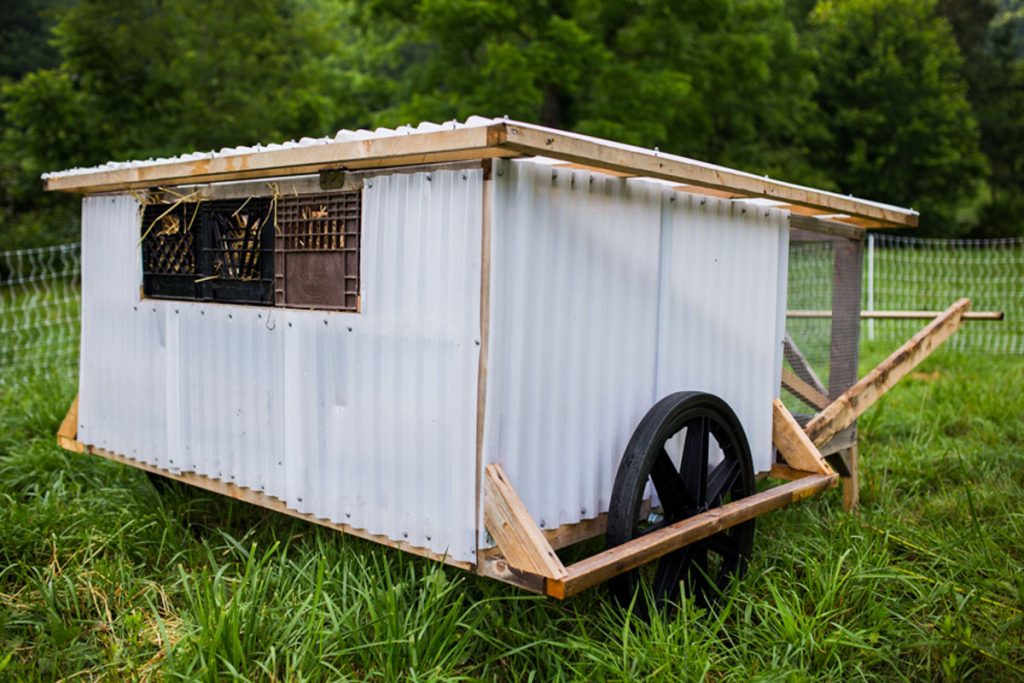 Speaking of functionality, how cool would it be to move your poultry friends to varied locations in the backyard? You can design a mobile chicken ark with a wood or metal design so that you can ensure the chickens have fresh grass or new insects to snack on!
Besides, having a portable mini coop is lightweight, and fixing it on a movable frame or wheeled tractor saves you the trouble of cleaning it regularly and allows you to fertilize the soil without additional effort organically.
5. Coops for Small Spaces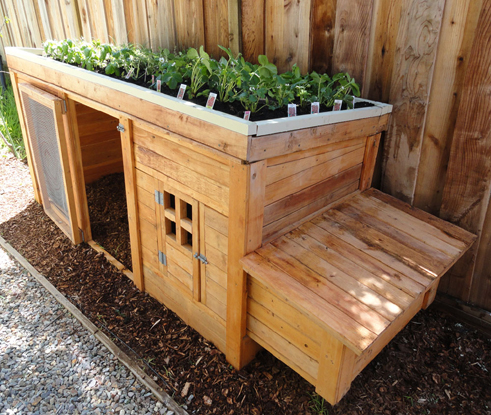 If you have a limited yard area, you can get creative with long and narrow passages to create a perimeter and build a chicken run around the yard. You can also use a planter box to contain the chickens and create a roof to grow aromatic herbs that will also help in masking the odor.
This eco-friendly roof design can double as a space-saving solution to create a self-sustaining garden. You can also design a raised garden bed with a ramp below for nesting boxes or customize an enclosure with a fence and roof panel that is held together by hinges, latches, and screws.
6. Using Repurposed Materials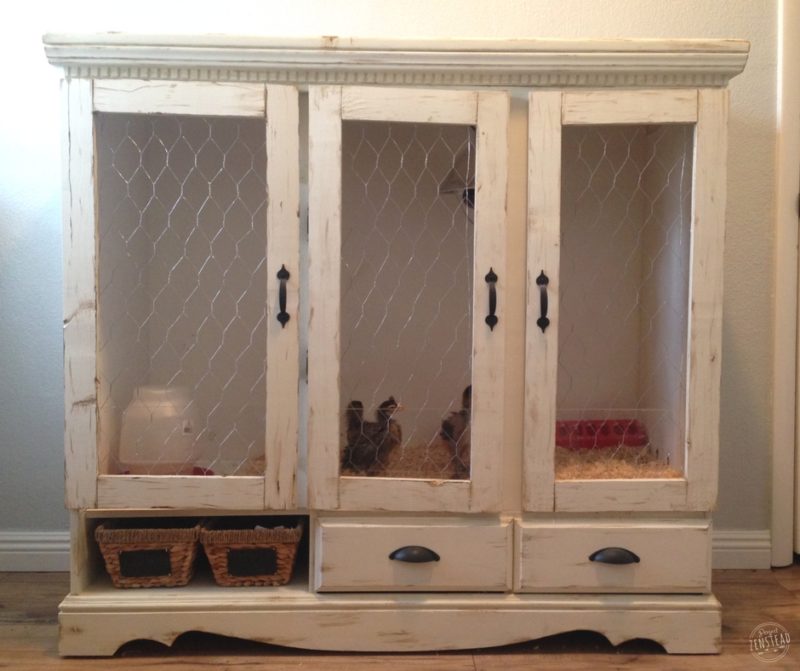 You can upcycle an old swing set, or a crib, cut out a section of the shed, or reuse a discarded vehicle to create a chicken coop design. You can also utilize a piece of furniture, old cabinets, or an armoire with drawers to make a home for your chickens.
Likewise, you can use old wooden boxes, an old camping tent, or scraps of deck board wood to design a resourceful coop. Further, you can creatively upcycle an old telephone booth, a bunk bed, or roofing sheets that can be assembled to design a shelter.
7. Economic Design Ideas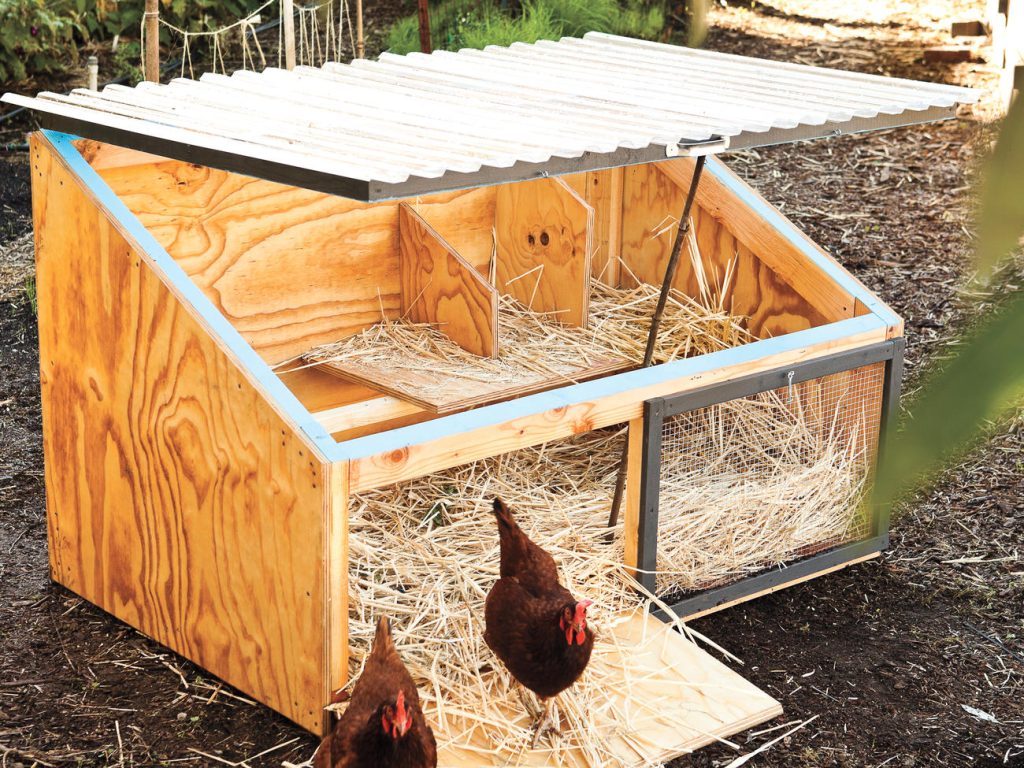 Instead of opting for expensive readymade designs, you can choose budget-friendly chicken coop ideas from simple DIY projects. For instance, wooden beams or bamboo sticks are used to create a strong framework and comfortable environment for your chickens.
You can also use wood boards, plywood sheets, hardware cloth, a roof, and metal screws to secure the chicken coop. Although this option is cost-effective, you need to ensure that the space is not exposed to predators like snakes and is resistant to harsh weather conditions.
8. Usage of Natural Materials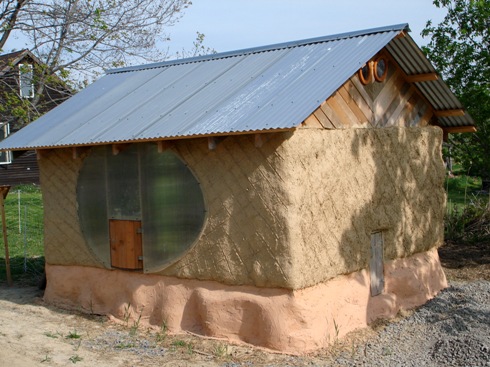 To further minimize costs, you can choose materials like cedar wood, naturally available wicker, wooden poles, a bunch of reeds, and dry leaves to weave layered walls. This aesthetic can be matched by painting the coop using organic colors and earthy tones that represent a natural habitat.
Another advantage of using cedar wood is that it is naturally resistant to seasonal changes, insect damage, and heavy moisture conditions. While protecting the coop from bacteria and fungal attacks, this wood is also durable for prolonged durations.
9. Chicken Coop Run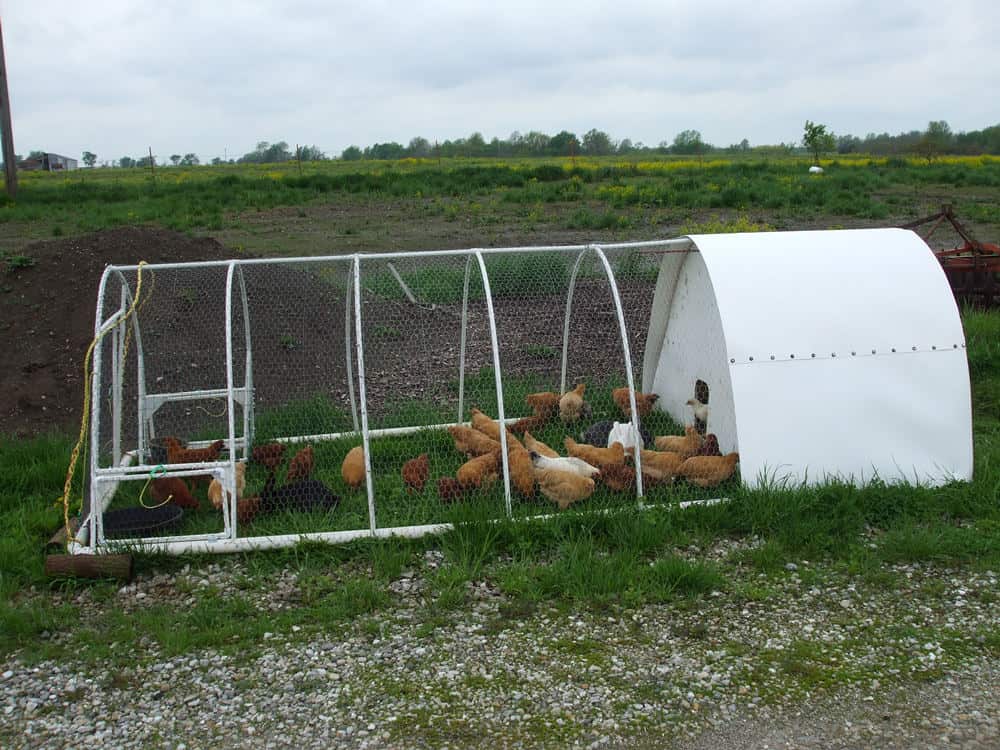 If budget or space is not a concern for you while creating a close-in setup, you can opt for a chicken run using a strong metal fence and slanted roof for a long distance. You can also use lightweight, durable PVC pipes and a mesh wire to enclose the shelter and prevent your chickens from being attacked by other animals.
Since this setup will be spread over a large area (approximately 4 feet or more), ensure it can withstand heavy rains and snow accumulation during winters.
10. Luxurious Coop Ideas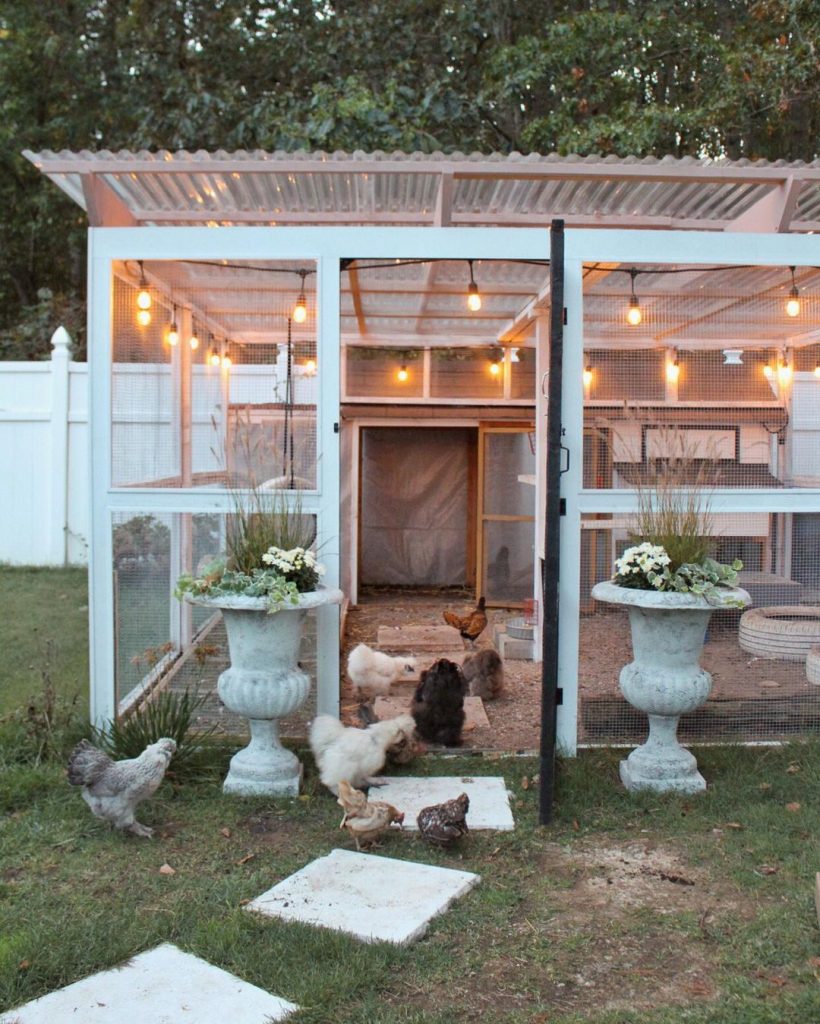 Go all out with elegant chicken coop ideas that can be functional yet cheaper than store-bought versions. To create this dreamy residence for your domestic friends, use mansion-like ideas or designs of stylish hotels.
You can also draw inspiration from Disney Princess castles to design a gorgeous space for your chickens by using luxurious lights and maybe even a chandelier to add to the magical touch. For traditional designs, you can build a white picket fence around the structure and secure it to give a homey feel.
11. Personalized Chicken Coop Ideas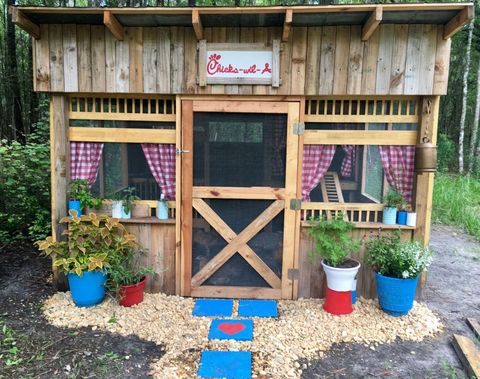 To further customize the design, you can add cute signs with the names of resident chicks and include them as a part of the outside decor. You can also design tailored nesting boxes using sustainable materials to add a personal touch to windows and tiles that will give a unique look.
Additionally, you can reuse clay, sand, straw, or other natural materials and pastel shades or trim details to decorate the area and add functionality to the space to ensure your chickens are safe and comfortable.
12. Coop for Fun Activities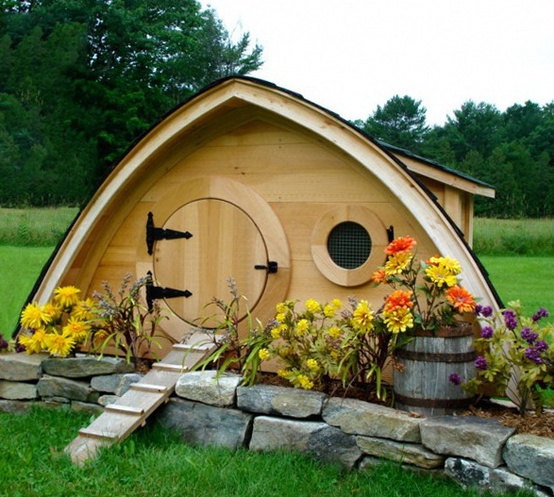 While building a functional perch is important, it is also imperative to keep your chickens close to their territorial dwelling space. You can do so by creating a tree roost where you can use a string to hang veggie pinatas that can be pecked all day long.
You can also create a spa bath where they can clean feathers and get rid of parasites or other microbes. For an added relaxing experience, you can design a nesting aromatherapy box by adding herbs like lemon balm, lavender, and rosemary.
13. Predator Proof Coop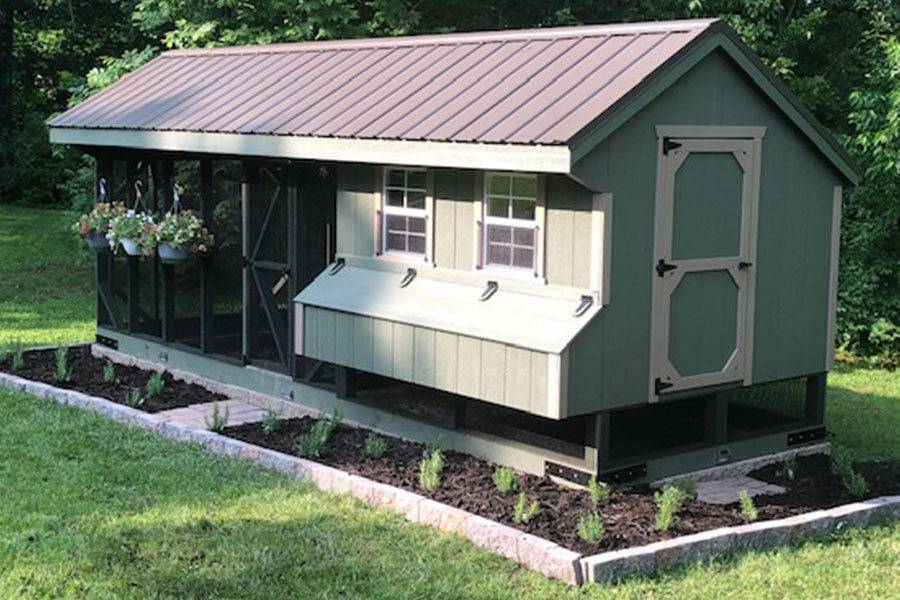 Besides creating a fun environment, it is also important to create a space for your chickens where they are not prey to foxes, coyotes, birds, raccoons, or attacks by other domesticated pets. If you are creating a chicken run, also ensure burrowing creatures or smaller animals like bobcats, possums, and chickenhawks cannot enter the area.
During humid and rainy days, the coop can be covered with a tarp or roof to protect the chickens while allowing sufficient sunlight to enter that will prevent bacterial growth and odor issues.
14. Backyard Garden Coop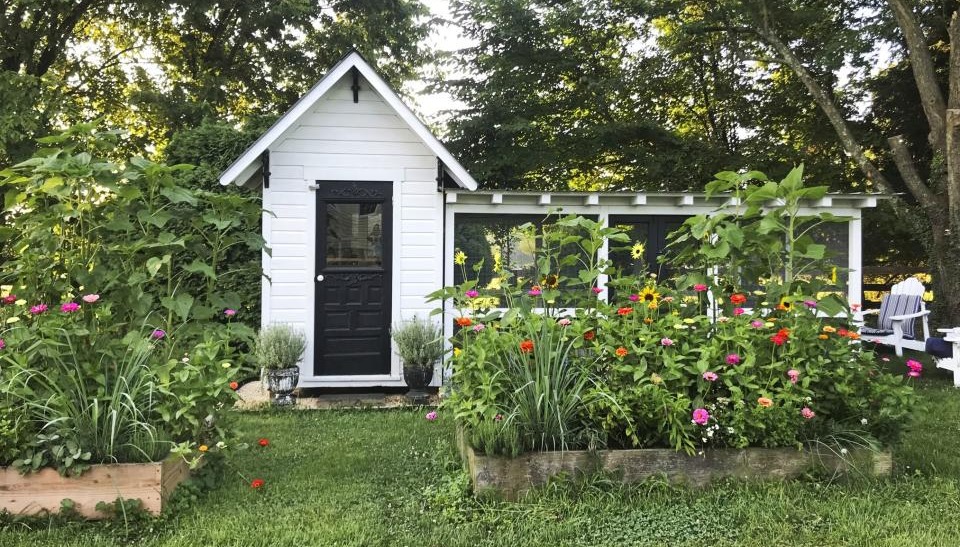 You can creatively design a homemade creation as an interesting addition to your backyard by shaping the coup like a shed and using green and white colors to blend it seamlessly into the garden surroundings. You can also use an organic food chicken tractor to feed the chickens and move them easily around the pen.
Additionally, you can design a relaxed retreat for the chickens by adding small plants and flowering pots near the coop to enhance the appearance of your backyard.
(Safety tip: ensure the plants are non-toxic to your chickens).
15. Colorful Coop Designs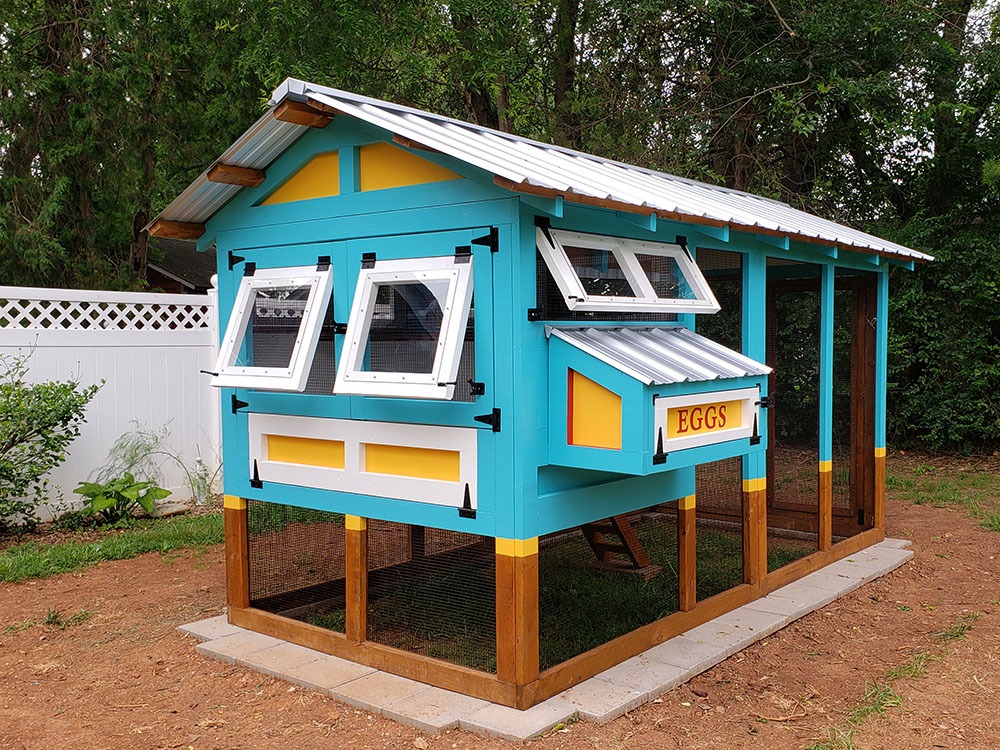 Another option to brighten your backyard is to use fun and bright colors or design the chicken coop as an adorable cottage with functional lamps, clean window boxes, blooming flowers, accessories, and other amenities in petite sizes.
You can add colors like vibrant red, cherry yellow, charming green, and light pastel shades, including lavender, to give your garden a spring feel all year round. Alternatively, you can color the window frames, doors, nesting boxes, or other small nooks to enhance the appearance.
16. Modern Chicken Hutch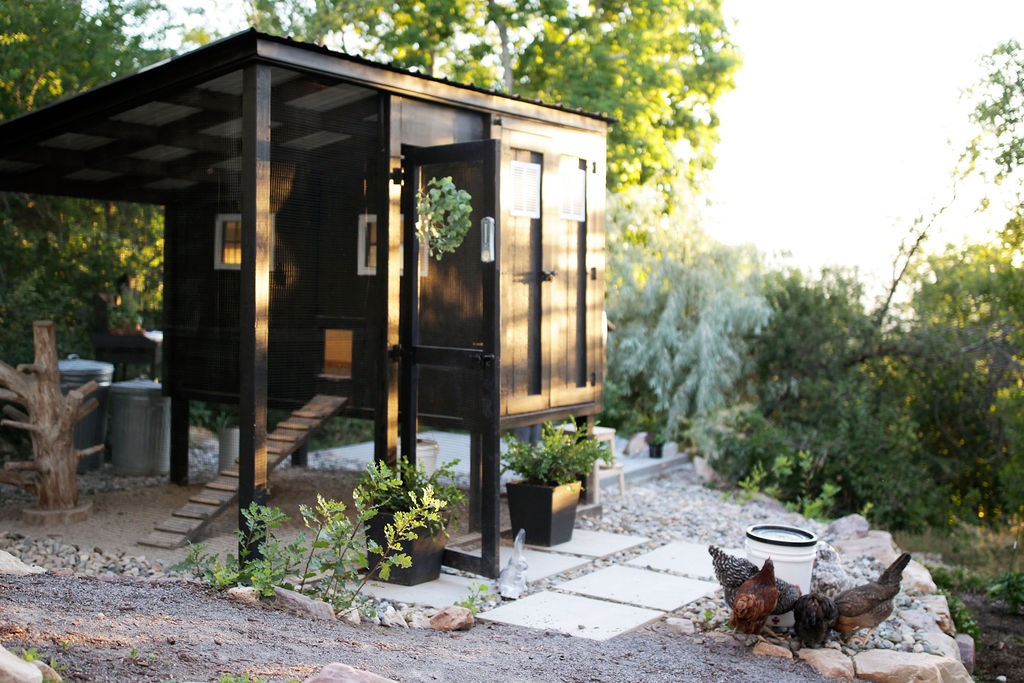 In urban settings, you can design a pretty coop using a modern chic black-and-white palette with concrete or cinder blocks, bold colors, and portrait windows with a cozy nesting space.
You can also use architectural principles by installing long door handles, modern sconces, exterior design components, buried fences, and using electronic devices like heaters or air conditioners to maintain the temperature.
To create a rustic modern look, use reclaimed wood, paint it in vibrant hues, and get nesting boxes or roosting bars with skylights and vinyl flooring that give a striking appearance.
17. Unique Styled Aviary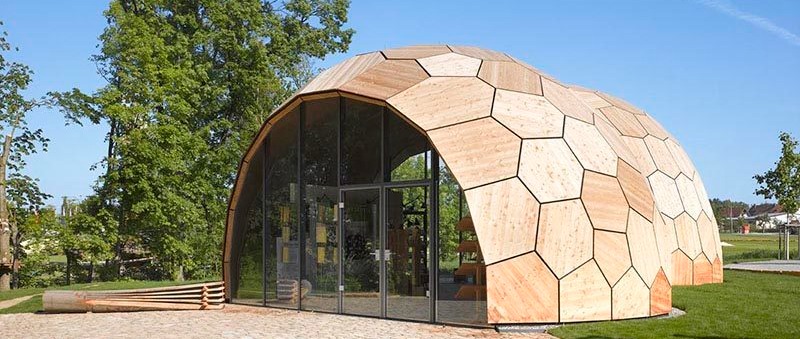 You can bring your personal style to pack the coop with charming elements like rustic metal fixtures, awnings, classic wood barn interiors, or upscale a vintage cabinet to bring in a warm vibe.
Likewise, you can design a cabin-style shelter with wood interiors, iron hardware, a metal roof, and vintage detailing elements that blend with the natural landscape.
In contrast, you can take cues from cupola-style nesting boxes and barn dominium trends or design a geodesic dome to bring a cozy appeal for your chickens.
18. Recycling Household Items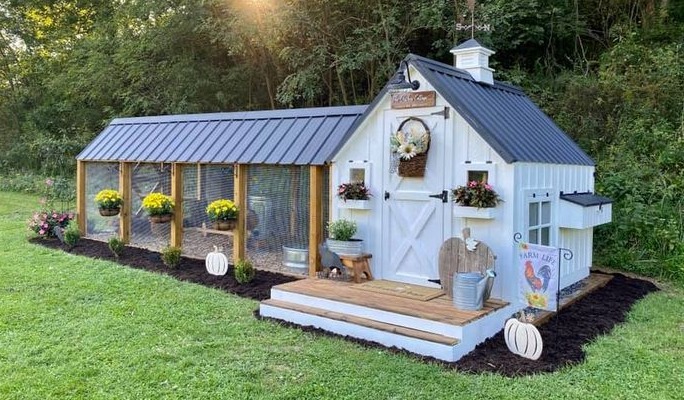 Rather than storing old furnishings that are not in use anymore, you can recycle discarded wood furniture pieces and transform them into a creative home for your chickens. For instance, household plastic, weave, or raffia baskets can be used for indoor birds.
Chicken coop ideas using abandoned furniture involve minimal design work and simple renovation. You can clean the interior of a playhouse and paint the exterior or recycle an unused grain silo that has an attached enclosure so that chickens can enjoy the space even more.
19. Artistic Chicken Confines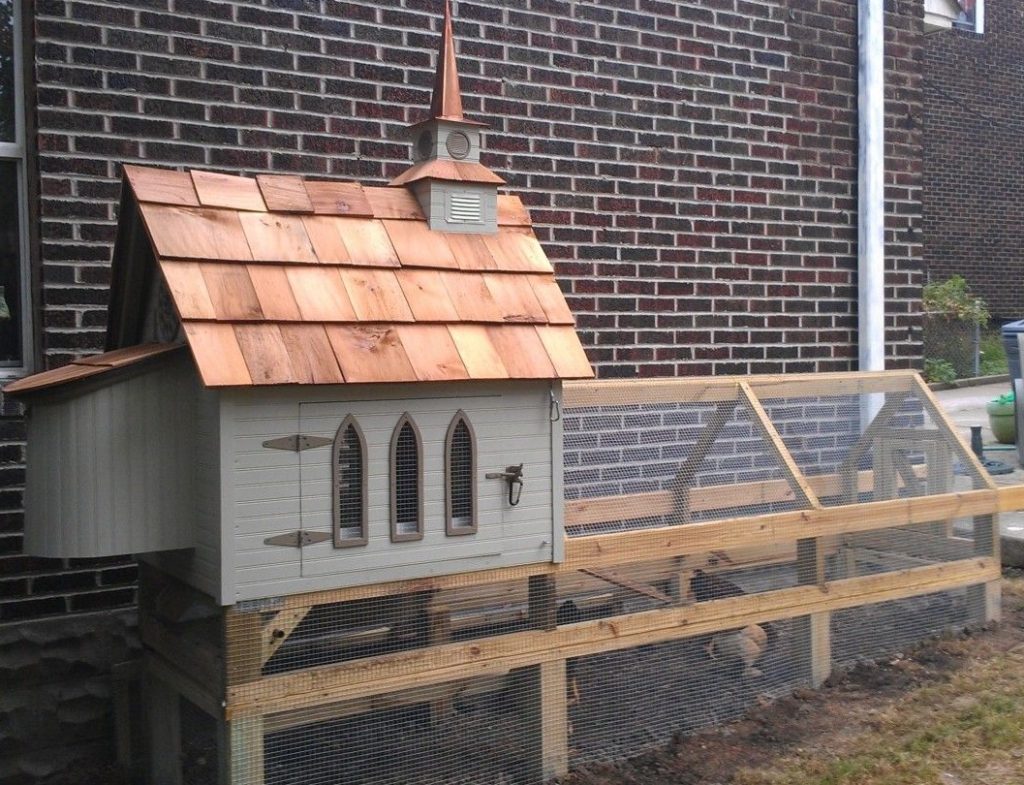 Borrow inspirations from homestead chicken shelters using simple products like plywood, sheathing roofs, and pocket hole screws that can help design a comfy space yet resemble a commercial design.
You can also design interiors to resemble an aroma-filled bakery, a relaxed, beautiful country home, a beach-inspired bar house, or go spiritual with Church inspired local designs.
While some of this detailing may require professional skills, you can design the interiors by using natural wooden logs, a framed square, non-toxic paints, and simple machinery to secure them.
20. Location-Based Chicken Coop Ideas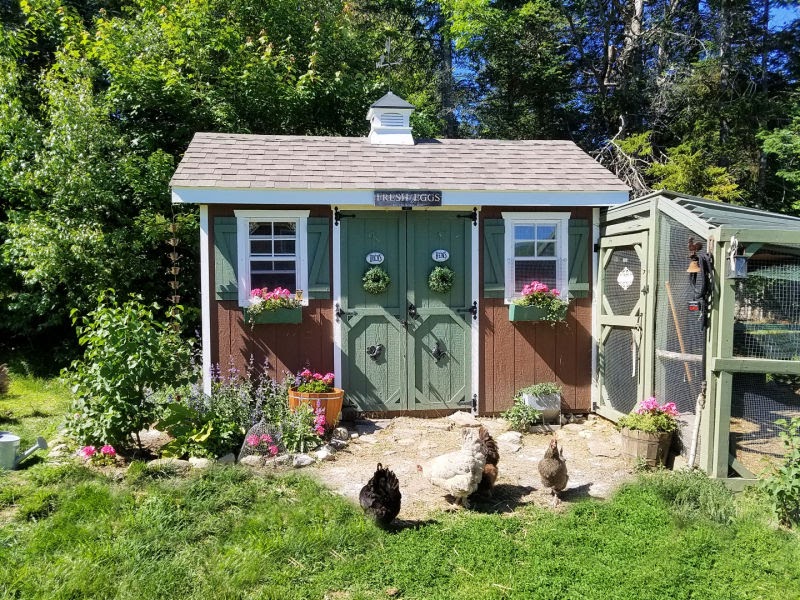 Although a chicken coop need not be fancy every time, you can design it to match your surroundings and use similar architectural elements to accommodate domestic fowls conveniently. In limited city spaces, a home balcony can be converted to create a floating hen house or mini garden with poultry cages.
Countryside shelters with red barn designs and wooden pallets or cottage-style coops with vines and stone paths can give an aesthetic appeal. Likewise, well-appointed metal seams and batten shutters for cottages can also be accompanied by shrubs and large plants in the yard, which act as natural barriers and create a secure area for your chickens.
21. Nesting Houses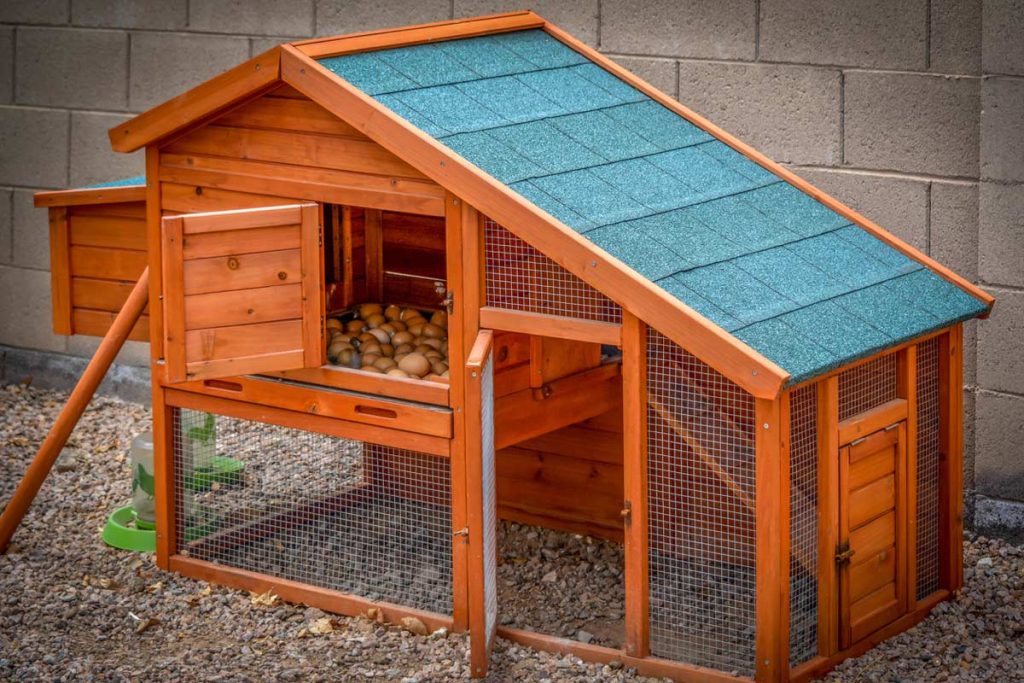 Besides decorative, security, and functional elements, you need to implement your DIY skills to create the perfect nesting houses for your chickens. For this, you will need wooden boards, plywood sheets, cedar fence pickets, self-tapping screws, exterior gate locks, and other electronic equipment to assemble everything.
You can design an A-frame portable or permanent structure to create underground, above-the-ground, or economic structures in your outdoor space with entry ramps, pulley systems, and a door that can be closed shut at night. You can also set a solar timer to open the door in the morning or set the alarm to ensure no one trespasses after dark.
Final Thoughts
Whether you are an amateur homesteader or a professional poultry farmer, raise your chickens in a cozy atmosphere with ingenious chicken coop ideas that you can design.
You can build a simple or luxurious design based on your budget. You can also repurpose wood, lights, old furniture, and other hardware components with flowering plants, aromatic shrubs, and decor elements to create a beautiful, safe home that shields your chickens from adversities.
Check out step-by-step instructions for any of the chicken coop ideas listed here, and start building a fun and practical shelter for your flock today!
Frequently Asked Questions
How to Create an Affordable Chicken Coop?
Without spending a lot of money, you can design a chicken coop easily by sourcing wood pallets, using plywood, recycling discarded or old wooden cabinets, and using milk crates or plastic boxes for nesting.
What is the Best Material for Making a Chicken Coop?
Use materials like metal or concrete to design a secure coop and cover the ground using straw, organic sand, and wood chips. You can also use wood to create fences, windows, and doors and paint it using non-toxic tints.