Curtains are the small decorative elements that you might not have noticed it. However, these plain sheets are not merely decorative elements but also functional addition to any room. Curtains provide privacy and help to dim the light and enhance the overall look of the house. Thus it is necessary to maintain the look of your curtains.
Moreover, when we think of the right curtain lengths, it just strikes in our mind the long curtain sheets draped on the window rack. But this isn't all. You can assume it is like a pair of pants on our body. A long length pant creates a different look on our body, and short ankle-length pants give a whole new look to our body.
Similarly, the curtain lengths work. Different lengths create a different statement in the house. All this explanation proves why measuring for your drapes and knowing how to measure it correctly is so important.
Standard Curtain Lengths
There are different curtain lengths available in the market, and it is totally dependent on the region, cultural norms, and individual preferences. However, some common standard curtain lengths are widely used and accepted in many parts of the world. We have mentioned some common curtain lengths that are popular worldwide.
63 Inches
84 Inches
96 Inches
108 Inches
120 Inches
However, this does not signify that curtains are available only in these lengths.
Different Curtain Length Options
Further, there are different curtain lengths to consider for your household and when you should use them.
1. Sill Length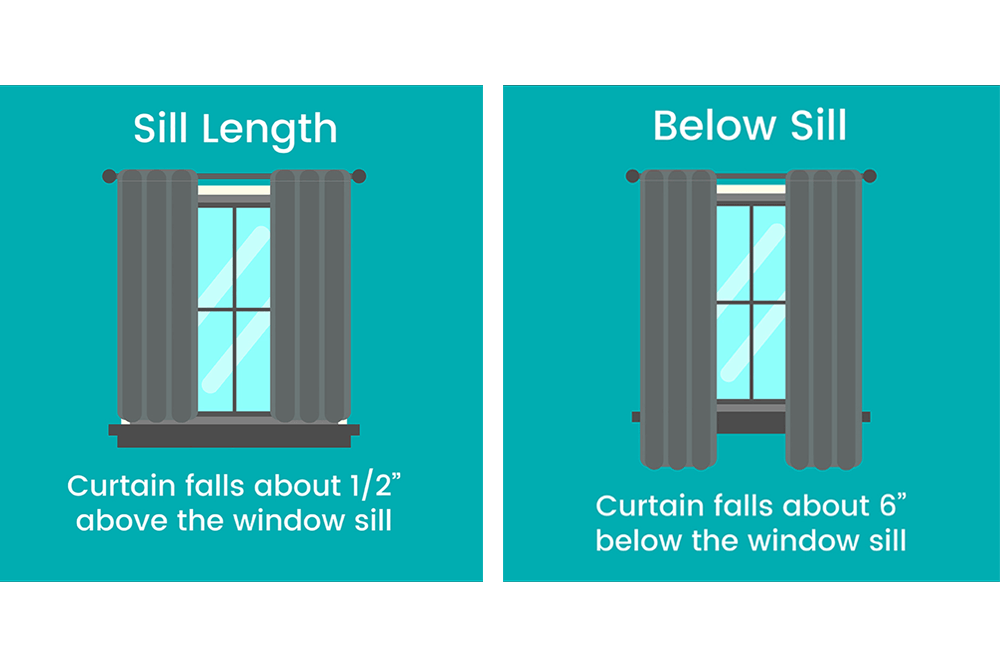 Sill-length curtains are designed to reach just below the window sill. They are a popular choice for kitchen and bathroom windows, as well as windows in children's rooms. Sill-length curtains provide enough privacy while still allowing easy access to the window area. The length of sill curtains typically ranges from 45 inches to 54 inches (114 cm to 137 cm).
2. Apron Length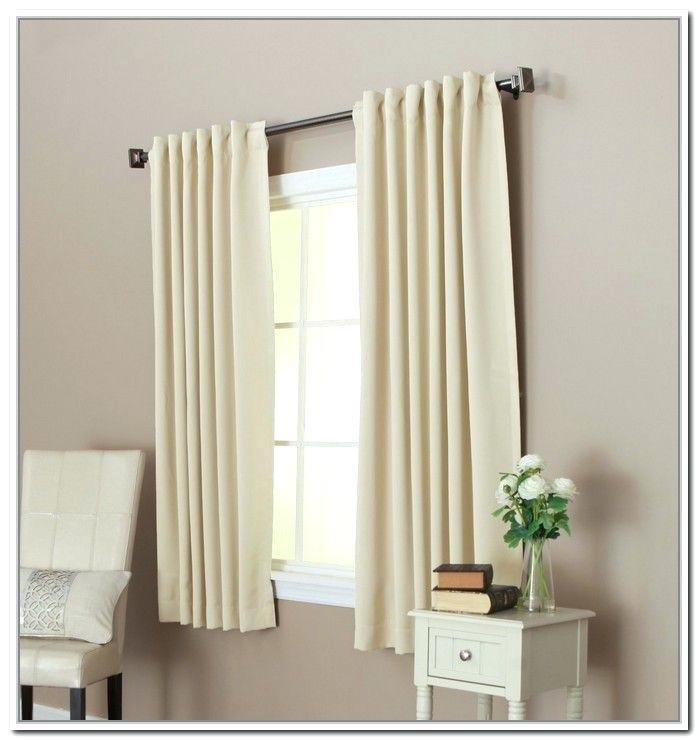 Apron-length curtains fall slightly below the window sill, typically reaching around 6 to 8 inches (15 cm to 20 cm) below it. This length is a versatile option suitable for various rooms in the house, including dining areas, bedrooms, and smaller living rooms. Apron-length curtains strike a balance between privacy and a more casual, contemporary look.
3. Floor Length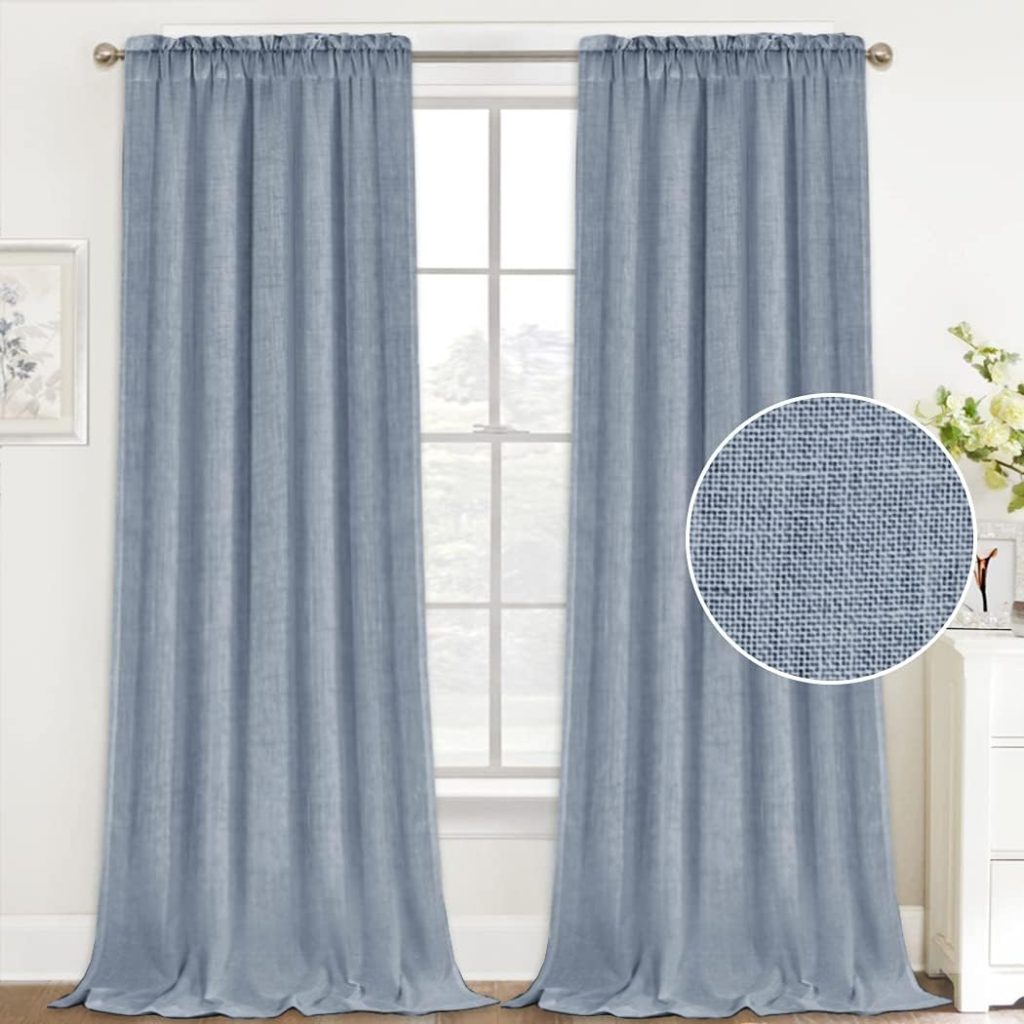 Floor-length curtains are designed to extend all the way to the floor. They are a classic and elegant option often used in formal living rooms, dining rooms, and bedrooms. Floor-length curtains add a touch of luxury and sophistication to the space. When measuring for floor-length curtains, ensure they gently touch the floor or have a slight break to avoid looking too short or dragging excessively. The length of floor-length curtains typically ranges from 84 inches to 108 inches (213 cm to 274 cm) or more.
4. Puddle Length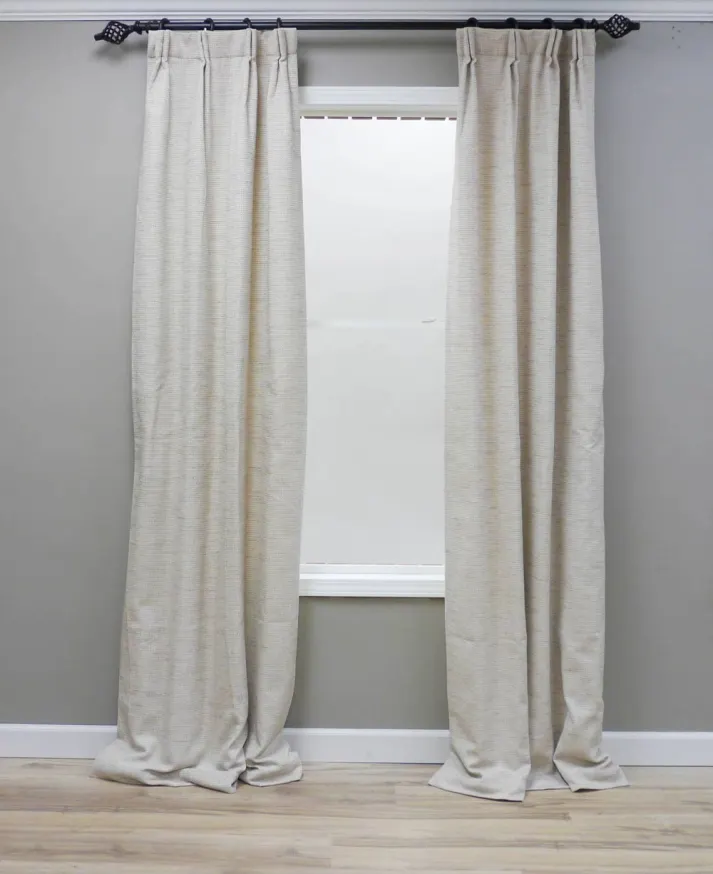 Puddle-length curtains, also known as puddled curtains, are a luxurious and opulent choice that exudes elegance and grandeur. Unlike standard curtain lengths that just touch the floor or have a slight break, puddle-length curtains intentionally extend beyond the floor, creating a graceful "puddle" of fabric on the ground. This style is especially popular in formal living rooms, grand dining areas, and lavish bedrooms, where everyone wants that extra touch of elegance.
These curtain lengths are not suitable for all windows, and if you have a unique window design, then you should look out for some other curtains. Custom-made curtains will suit your windows best. However, we have mentioned some curtain lengths that you can look for before you go shopping.
Steps for Choosing the Right Curtain Lengths
Choosing the right curtain lengths is essential for achieving the perfect balance between functionality and style. In this guide, we will walk you through the process of selecting the ideal curtain lengths that suit your needs and complement your interior decor.
1. Decide the Purpose of Choosing the Curtains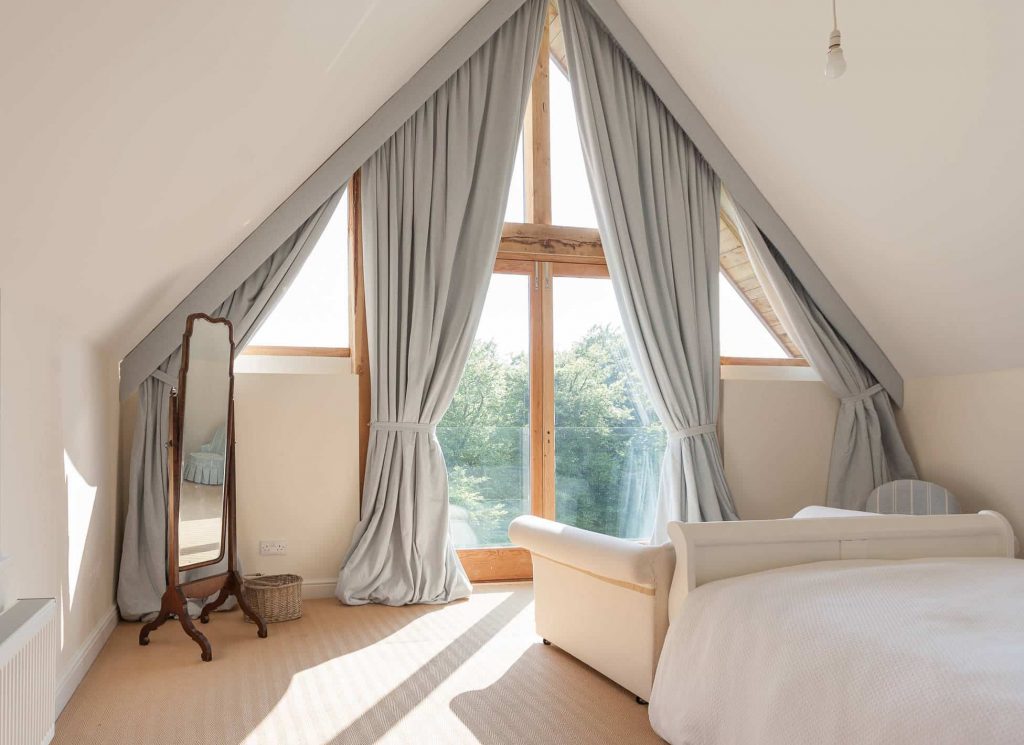 As we mentioned before that, curtains are not only for decoration purposes. They have functionality in the house. Thus, before deciding the right curtain lengths, we need to determine the purpose of the curtains in each room. Do you want curtains for privacy purposes, to block out light, or just for decoration to enhance the overall aesthetics of your house? If you choose the right purpose for your home, then you can choose the right material and then the right length of the curtains.
2. Measuring the Windows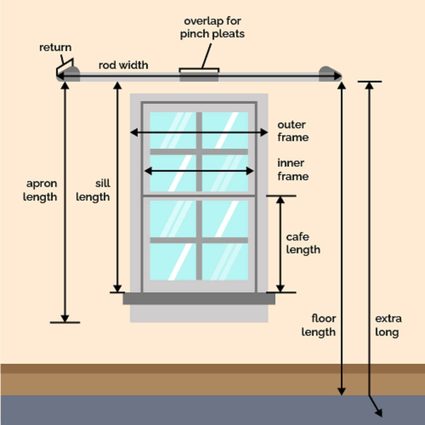 Taking the measurements of your windows where you are going to hang your curtains is very important. This is because then only you will be able to determine the curtains lengths that can fit your window. Accurate measurement is crucial for this purpose. You can start by measuring the height and width of your window.
By Length
You are going to measure the length of the window. However, you need to decide how high you want to mount the curtains that you have chosen. Furthermore, it is common that the curtain rods should be mounted above the window casing. Designers prefer ten inches above the window is good, but it is totally up to you how much you want to place your curtains. Just trust your instincts about what would enhance the overall aesthetics of your house. However, you need to decide the total length of the house from the top to the bottom.
By Width
The width determines how wide your curtains' lengths will be. Moreover, you need to measure the projection of the curtain rod. While you are measuring the width of the window, you should measure the face of the curtain rod or the aesthetic pole that you have. Also, the projection is considered the distance from the wall to in front of the rod or the pole. Furthermore, while you are measuring the width of the window, then you should extend at least four inches on both sides of the window.
3. Curtain Styles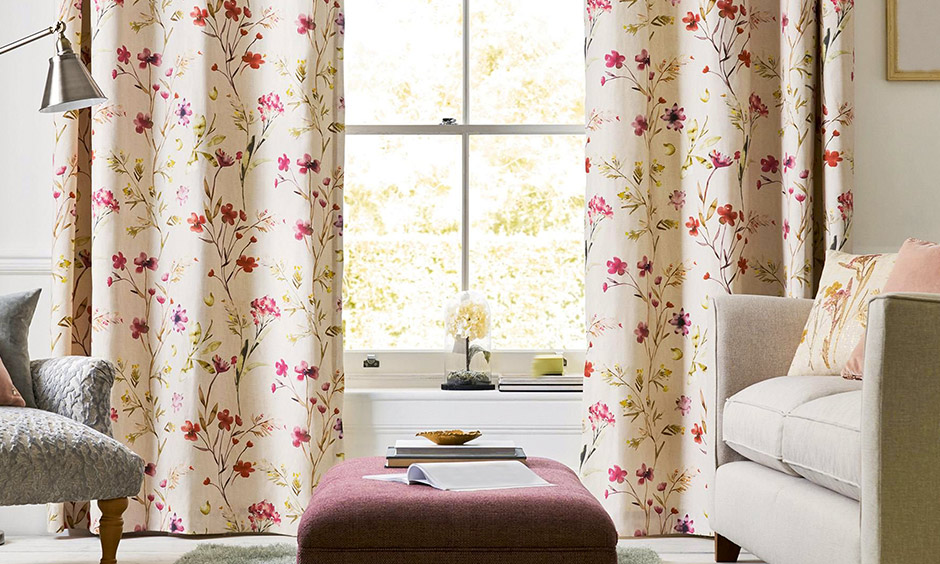 There are so many curtain styles option available in the market which offer standard curtain lengths. However, you can also have cloth and customize the curtain lengths according to your window length and width. We have mentioned some options above that you can choose from for your home. These are as follows:
Sill length
Floor length
Apron length
Puddle length
4. Room Types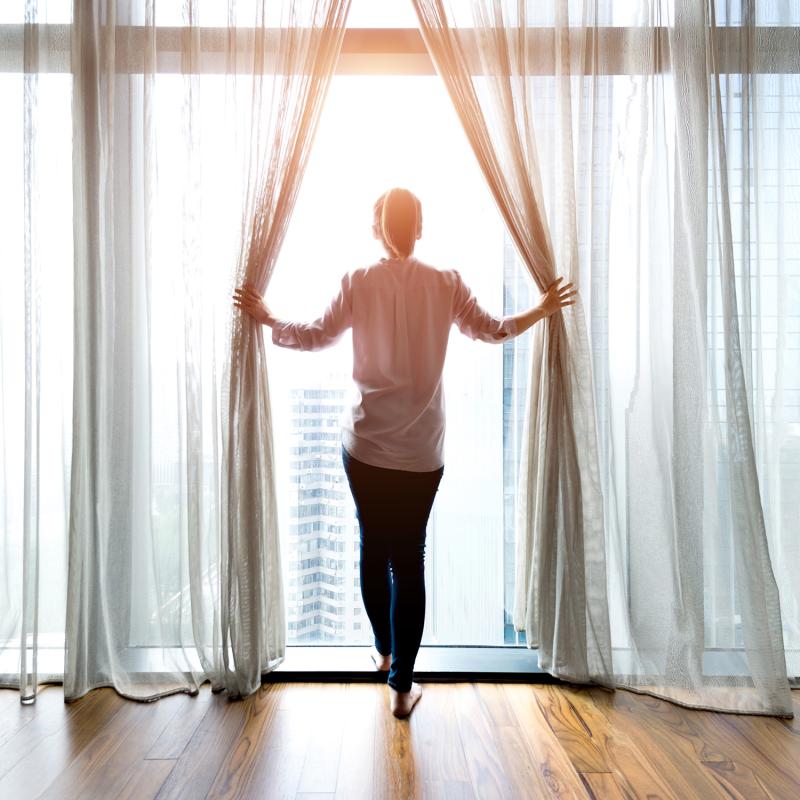 There are different types of rooms in your house serving different purposes, such as the living room, bedroom, kitchen, and bathroom. The type of room you are decorating should influence your curtain length decision. For instance:
Living Room: In the living room, you might opt for floor-length curtains to create a sophisticated ambiance. Ensure the curtains don't obstruct any furniture or heating/cooling vents.
Bedroom: Bedrooms often benefit from floor-length curtains for enhanced privacy and light control. Make sure the curtains do not interfere with any nightstands or obstruct access to windows.
Kitchen and Bathroom: Sill or apron-length curtains work well in these areas. They offer privacy while maintaining practicality.
Once you have decided the purpose and in which room you are going to place these curtains, then it will be easy for you to determine the right curtain lengths.
5. Types of Curtain Fabric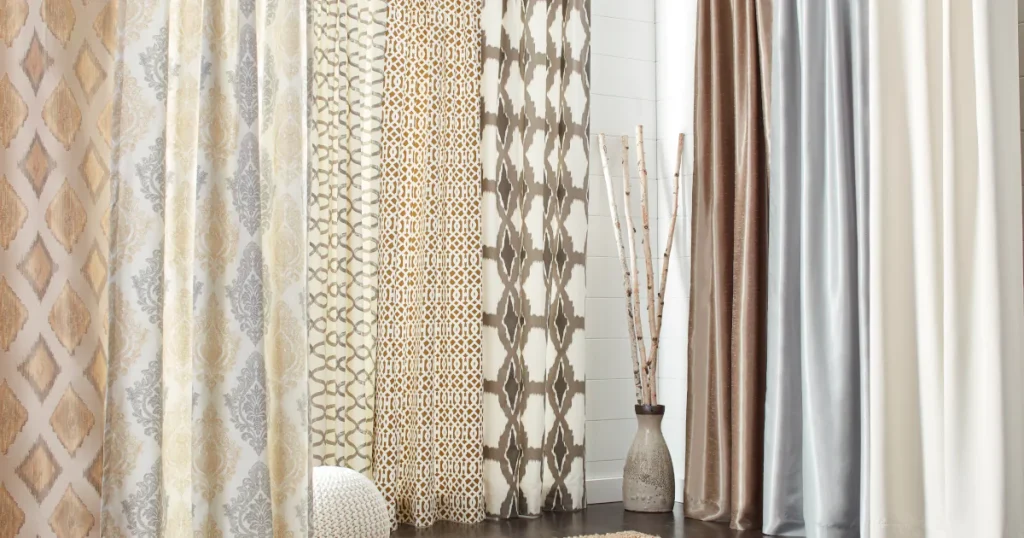 In order to determine the curtains' lengths, you need to choose the fabric that you are going to use in your home. The choice of fabric can significantly change the overall look and feel of the curtains.
Cotton: Cotton is a versatile and widely used fabric for curtains. It comes in various weights and weaves, offering options for both light and heavy curtains. Cotton curtains are easy to maintain, breathable, and provide a casual, relaxed feel to any room.
Linen: Linen is a natural fabric that adds a touch of sophistication and texture to curtains. Linen curtains have a beautiful drape and a slightly rustic look, perfect for achieving a laid-back yet elegant ambiance.
Silk: Silk is a luxurious and lustrous fabric that instantly elevates the elegance of any space. Thus, silk curtains bring sophistication, making them ideal for formal living rooms or bedrooms. However, silk requires delicate care and may not be suitable for places that have a maximum number of people.
Velvet: Velvet curtains are a classic choice that brings richness and depth to your decor. With their plush texture and excellent light-blocking capabilities, velvet curtains are often used in bedrooms, home theaters, and formal spaces.
Polyester: Polyester is a synthetic fabric that is durable, easy to clean, and resistant to wrinkles and fading. It comes in a wide range of colors and patterns, making it a versatile and budget-friendly option for various decor styles.
Sheer: Sheer fabrics like chiffon, voile, or lace are lightweight and translucent, allowing soft natural light to filter through while maintaining privacy. Sheer curtains create an ethereal and dreamy ambiance and are often used in conjunction with other curtains for layering.
Jacquard: Jacquard fabrics feature intricate patterns woven into the fabric, adding texture and visual interest to the curtains. These curtains are perfect for adding a touch of elegance and luxury to any room.
When choosing the ideal curtain fabric for your home, consider the room's purpose, your desired decor style, light control requirements, and the level of maintenance you're willing to undertake. Once you have determined the fabric type of the curtains, then you can go for the curtain lengths and decorate the room.
6. Hanging Style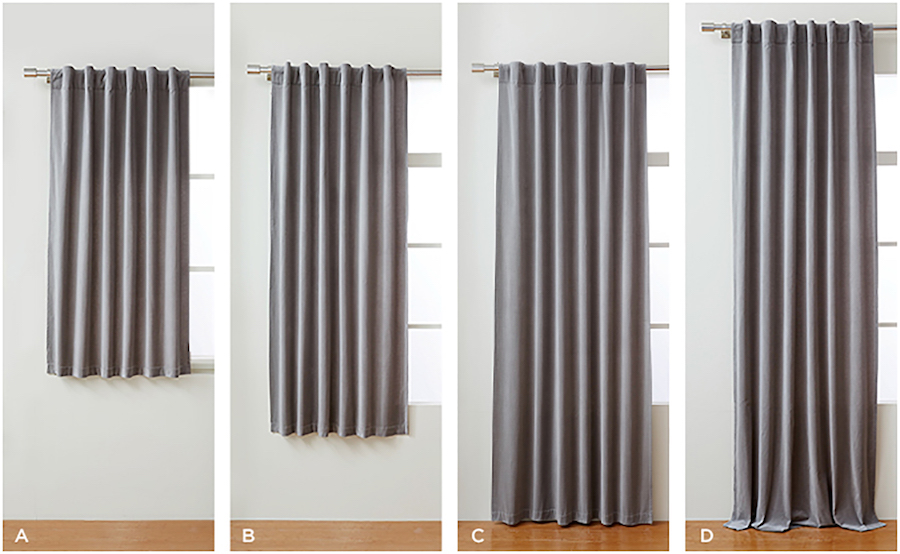 Now you have taken the measurement of the window and also determined the curtain lengths. Thus, now you need to know the right way to hang the curtains to enhance the look of your house. However, there are several common hanging styles, each with its unique characteristics. You can opt for rod pocket curtains that have a sewn-in pocket along the top through which the curtain rod is threaded, creating a gathered and casual look.
Tab-top curtains feature fabric loops along the top that slide directly onto the rod, offering a contemporary and relaxed style. Grommet curtains have metal rings at the top that allow the rod to pass through, resulting in clean, modern folds. Evenly-spaced pleats along the top characterize pinch pleat curtains, adding a tailored and formal touch to the decor.
Conclusion
Drapes are a unique feature in the overall aesthetics of the house. Thus, choosing the right curtain lengths is a crucial step, as this will help create a well-designed and functional space. However, do not leave behind your instincts; they are the real game changer.
Choosing the right curtains and then finding the accurate curtain lengths is a fun activity to revamp the look of your home. Just enjoy the process and be part of this creativity.
However, keep in mind to take the measurement accurately, as anything more or less than the right measurement can make your house a bit off. Just enjoy the process, and feel free to choose anything that you like.