The standard bedroom size varies from the type of bedroom to the whole floor plan. Manifesting a renovation or finding something new, there are a number of elements to consider, like the purpose of a bedroom, the general design of your house, and where your home or building is located!
While bedroom size and shape may vary greatly within households, going for 10% of the size of the total house/apartment gets you on the right track as a rule of thumb. While an average US house stands at 2000 sq ft, an average master room is 200 sq ft. But in reality, the size varies across a spectrum, and finding your place in this scale is the first step towards finding your perfect fit.
Standard Sizes for The Room Types
1. Master Bedroom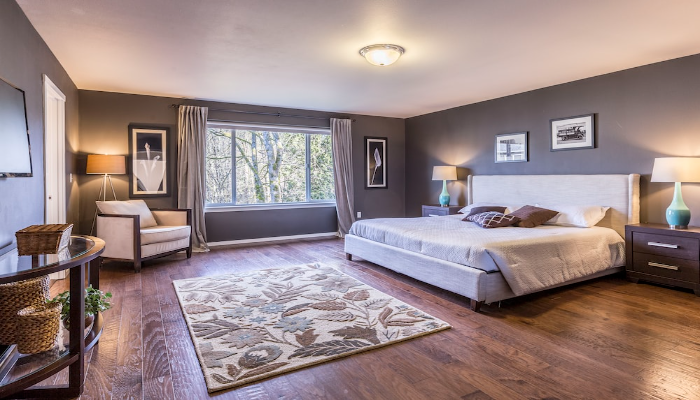 The master bedroom usually has the most share of space compared to any other room, some even being larger than the living rooms themself. Going along with this luxury is the responsibility to maintain a well-organized master bedroom with appropriate furnishing and décor over an area usually spanning 130-250 sq ft.
2. Guest Room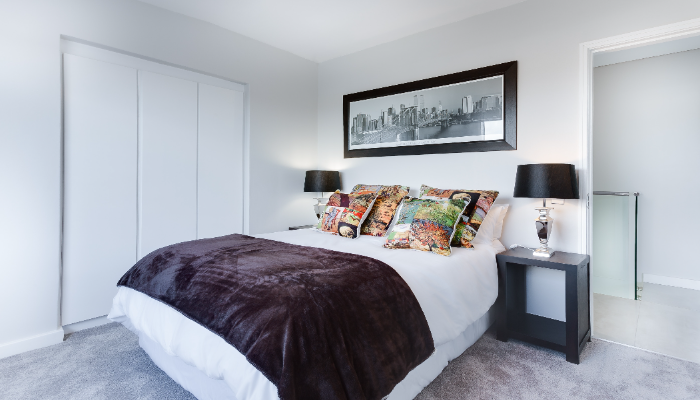 Guest rooms can vary greatly in shape and size. These are converted or modified from other rooms or the left-out rooms. Then again, ideally, they vary in size between the master and the kid's room. Even though seldom used, these rooms are well organized and maintained for the guests, which takes any kind of makeshift beds or bunk beds out of the equation. So the standard size for a guest bedroom can be such that they can at least accommodate a twin XL bed of 80*38 sq in or a full bed of 75*54 sq in if you are feeling generous.
3. Kids' Bedroom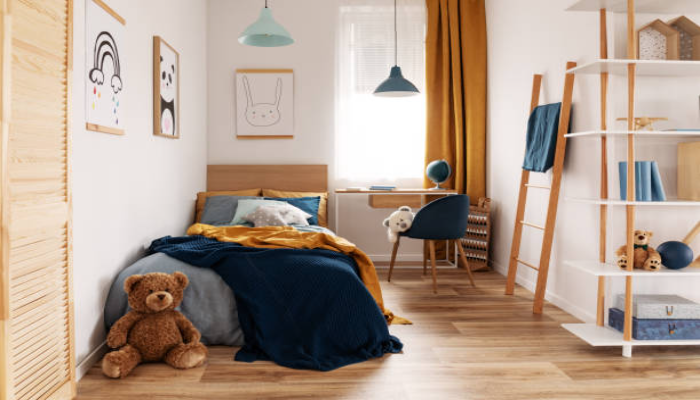 The kid's room is often the smallest of them all, which can go from half to, at times, one-third of the master bedroom. The standard size of a kids' room can vary again based on the number of kids to be accommodated, where bunk beds are a very efficient way to manage space. An average kids' bedroom is 50-150 sq ft and can accommodate a twin-size bed comfortably.
Bed Sizes and Floor Plan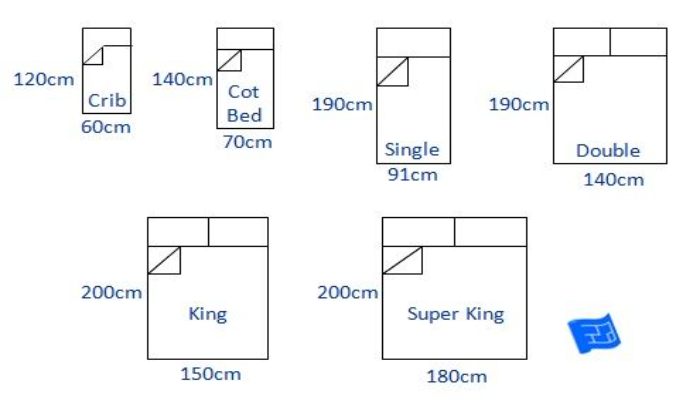 Well, now that you have the room, a quick glance at the type of floor plan design can give you better insight into the suitable room sizes for your built type:
Contemporary model: This modern architecture has spacious indoors with a minimalistic design. Houses average around 2500 sq ft, and standard bedroom size can go from 250 sq ft to more.
Traditional ranch floor plan: Built for elegance and maximum floor utilization, these can have bedrooms as small as 8*10 sq ft. And when areas are cut short, the master bedrooms take the biggest hits and often end up being only slightly bigger than other bedrooms.
Special cases:  There can also be special cases of condos or apartments where rooms are smaller and conditioned for maximum spatial efficiency.
Making the Best of Small Spaces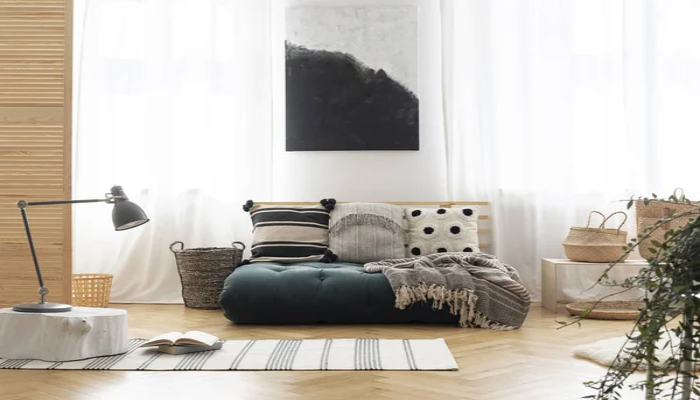 Then again, if your floor plan doesn't go well with these dimensions and you need something more budget-friendly, here are some alternative tips that can help you design your own bedroom, ensuring that you compromise on nothing:
The bed takes up the most amount of space in a bedroom. So integrate storage space or other fun extensions.
By limiting furniture to one wall and moving the bed into the corner, the room can seem larger.
Mirrors! Adding mirror decor around gives you an illusion of space.
Instead of using horizontal furniture and adornments that crawl around, go for something vertical and contained.
You can also make use of various room design software found online for better outcomes.
Find a bed with under-space storage.
Find more flexible beds like Muffet beds.
Replace nightstands with more useful duty tables. 
Pay attention to scale. Even if your space isn't large enough, you can still trick the eyes with proper scaling and placing.
How Much Does It Cost?
But for an average middle-class household, it could often be the price that makes the choice.
The expense of adding a bedroom to your home obviously depends on its square footage and can cost anywhere between $50 to $300 per sq ft. A master bedroom can cost over $50,000, while a smaller room will be $15,000. As each contractor charges differently, you'll have to contact the company you have in mind to get a quote.
Stylish Decor Ideas for Your Bedroom
Now that you have your beautiful room all set in size and design, here are some simple yet chic ideas to decorate those beautiful spaces:
Nooks: There is a current trend of bringing back cute little nooks into the bedroom spaces to accommodate a vintage shelf, insert a small futon, or simply for extra storage. They are often appropriately lighted to stand out.
Statement headboards: They are the perfect way to bring out the grandness in your bed and tell a story with the power to change the overall look of your bedrooms. They can be used to accentuate other decors in the room.
Built-in bedside shelf: Rather than shelves that suck out all of your floor space, use there such that they match the bed headboard for simple yet space-efficient storage.
Textured neutrals: Using various textures in the neutral background are a modern favorite and just beautiful.
Neutrals or Pops: Many go for neutral colors because, well, less is more. But if your vibe is something bold and bright, go for pops of your favorite colors. Hold nothing back.
Let's Wrap This Up
Whether you are making a home or deciding on a rental, it's important to choose a standard bedroom size that prioritizes your needs without challenging your budget. This article briefed you on what these factors could be. It urged you to ask yourself for further personal elements like  how frequently you will spend time in this room,  is this your primary bedroom or a secondary one,  whether you are passionate about this room enough to alter your budget, and how likely you are to stay in this particular household.
Hey, then again, it's not the end of the world. If you are feeling overwhelmed by all these decisions and if you are like some unique people for whom the best ideas come with time and trials, you could always go for something safe and renovate when that inspiration finally hits.
Frequently Asked Questions
What is the Ideal Bedroom Size Percentage?
Even though it changes according to your home design and space available, along with the type of room, 10% of your total house space would do the job. For example, a house of 2000 sq ft could have a master room of ideally 200 sq ft area. This percentage is followed in most of the countries.
What is the Standard Bedroom Size?
An average US house has a room of 200 sq ft, with the second largest size around the globe. This is after taking into consideration the around values of master rooms, secondary bedrooms, guest suits, etc., with respect to the common variations they could have.
What is a Good Size Bedroom for King Size Bed?
A king-size bed has an area of 6080 square inches. Thus a 13*13 sq ft room could be enough to accommodate the bed without being much crowded. But a California king can span 72 inches in width by 84 inches in length and would require a larger room. At times, furniture in the rooms is tactically placed to make room for the bed in small spaces.
Which Country has the Largest Standard Bedroom Size?
As per recent charts, Australia stands at the top of the chart with bedrooms of average size of 269 sq ft. This is normally calculated by considering the average sizes of master bedrooms, secondary bedrooms, and guest suites from various countries. The data is flexible and does not account for the all-time value.