A fresh coat of paint can make an old house look brand new. The same is true for bathrooms too. Finding the right aesthetic for this space can be a bit challenging, but with the right tools and knowledge, you can effortlessly give a new shine to your bathroom with just a few paint colors in 2023.
Whether you're aiming for a calm and spa-like atmosphere or a bold and vibrant aesthetic, these colors will help you create a bathroom you can be proud of. From soothing neutrals to energetic pops of color, these modern bathroom paint colors of 2023 offer something for everyone.
Your facilities need not be just for utilitarian purposes; it can very well be a bold style statement. The right combination of strokes and lighting can provide some much-needed personality to a bathroom and make it look lively. So, let's dive in and take a look at the ones that will reflect your personality, evoke a timeless aura, and seamlessly blend with your existing fixtures and furniture.
Are you ready to give your bathroom a fresh and trendy makeover?
1. Pure White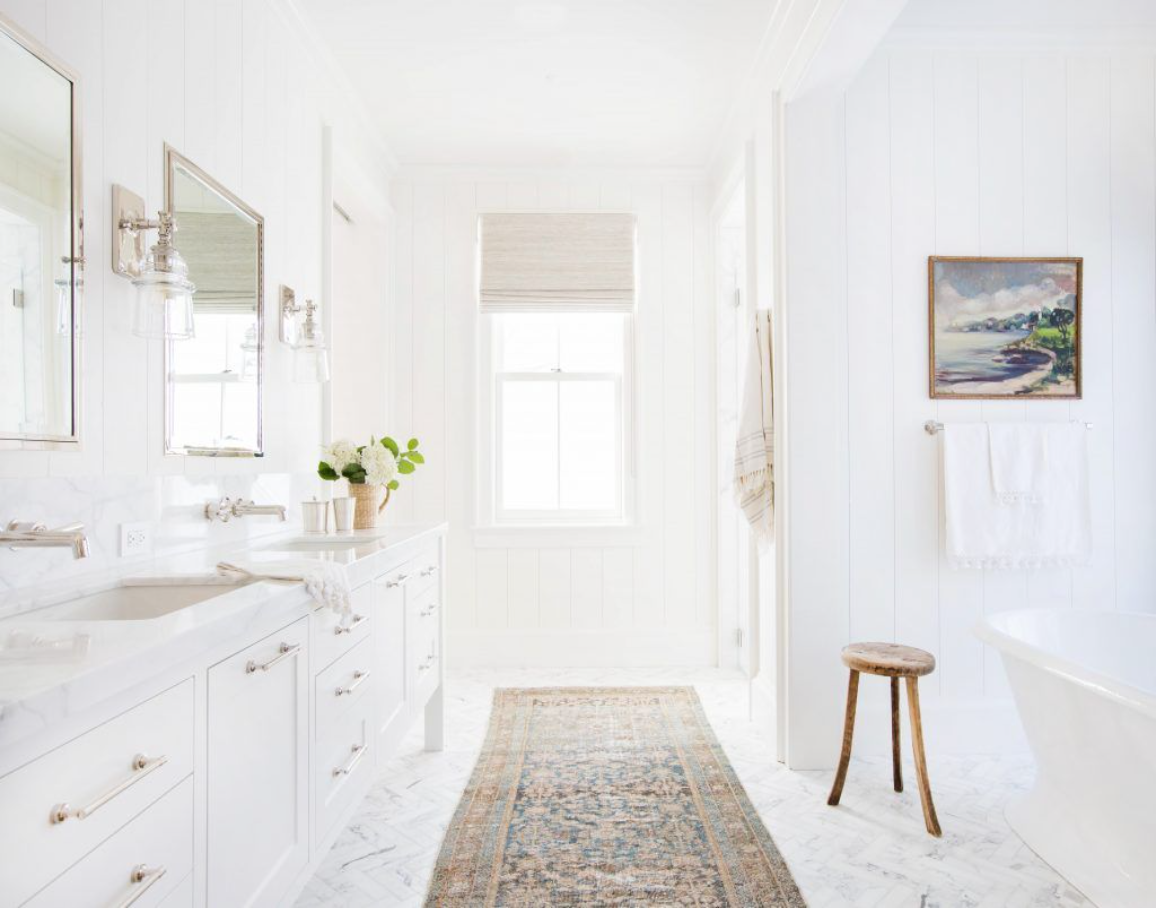 When it comes to bathroom requirements, the top of the list for most people will be cleanliness. A Pure White bathroom exudes this feeling with class. It is a simple yet versatile solution that brings a breath of fresh air and purity to your lavatory. Whether you're aiming for a minimalist, modern, or traditional look, Pure White serves as a perfect backdrop to enhance the overall aesthetic. Its ability to reflect natural light also makes the bathroom feel more spacious and airy. To elevate the mood, make sure the bathroom has access to a good amount of natural lighting. With a timeless charm and simple elegance, Pure White is still the most popular bathroom paint color in 2023.
Tip -To add some color, a wooden vanity or a painting will be the icing on the cake.
2. Relaxing Rustic Brown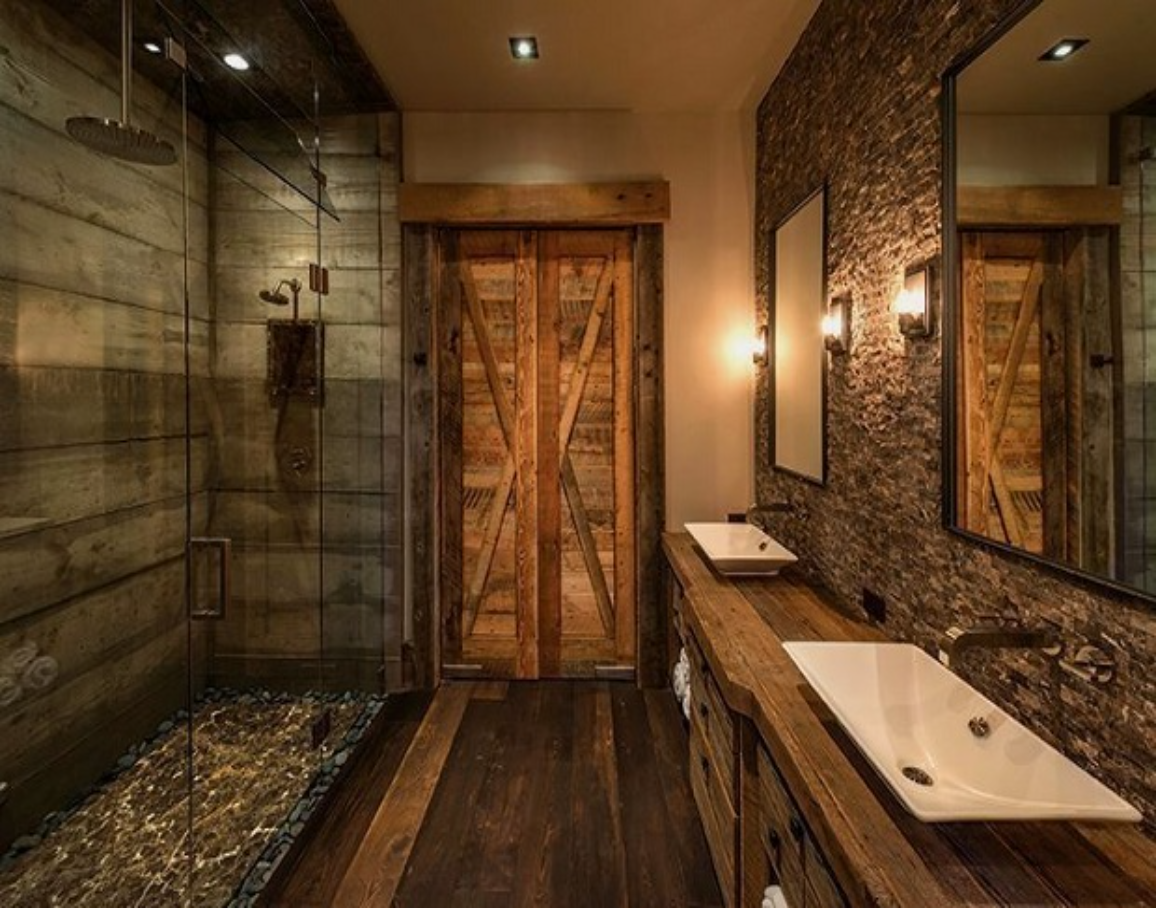 If you prefer a cozy bathroom with a simple cabin-in-the-woods charm, then this is the one for you. The Rustic Brown adds a special earthiness to your bathroom, giving it a country-like warmth. This rich and natural hue evokes a cozy and inviting atmosphere reminiscent of the countryside. With its warm undertones, Rustic Brown adds depth and character to your bathroom, creating a comforting space to unwind in. If you're aiming for a farmhouse-inspired paint color for your bathroom in 2023, Rustic Brown is the perfect choice.
Tip – It instantly transports you to a simpler era. When paired with wood fixtures like doors and cabinets, it creates the ultimate rustic experience.
3. Vintage Victorian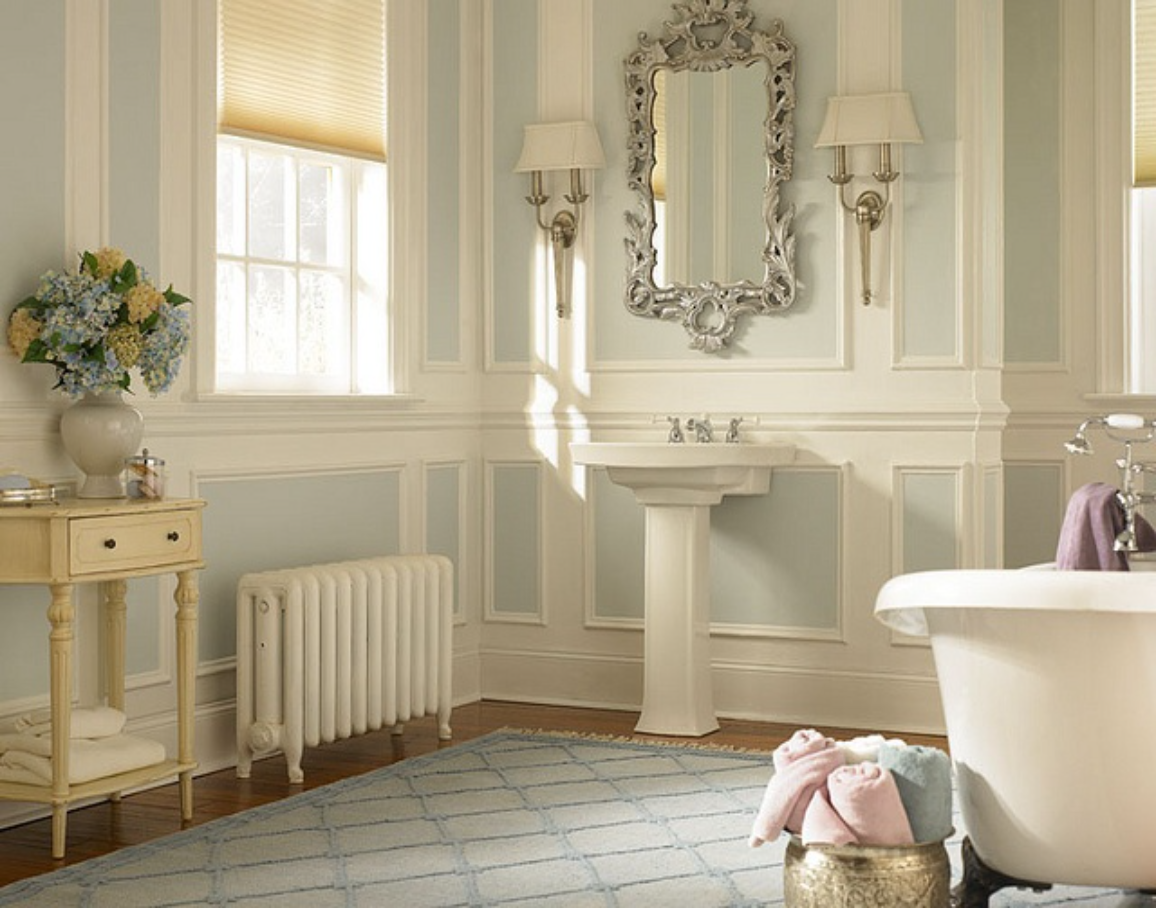 If you are proudly into old-fashioned decor and aesthetics, a Victorian-style paint color would be perfect for your bathroom in 2023. This rich and luxurious hue takes inspiration from the regal designs of the Victorian era, offering a nostalgic charm and an aura of opulence to your bathroom. With its deep and muted tones, Vintage Victorian creates a sense of grandeur that will leave you proud. You can include Victorian-themed furniture and tiles to complete the look. Let Vintage Victorian hues transport you to a bygone era of grace and class.
Tip – Decorate it with ornate fixtures, vintage-inspired accessories, and intricate wallpaper patterns to complete the Victorian aesthetic.
4. Black and White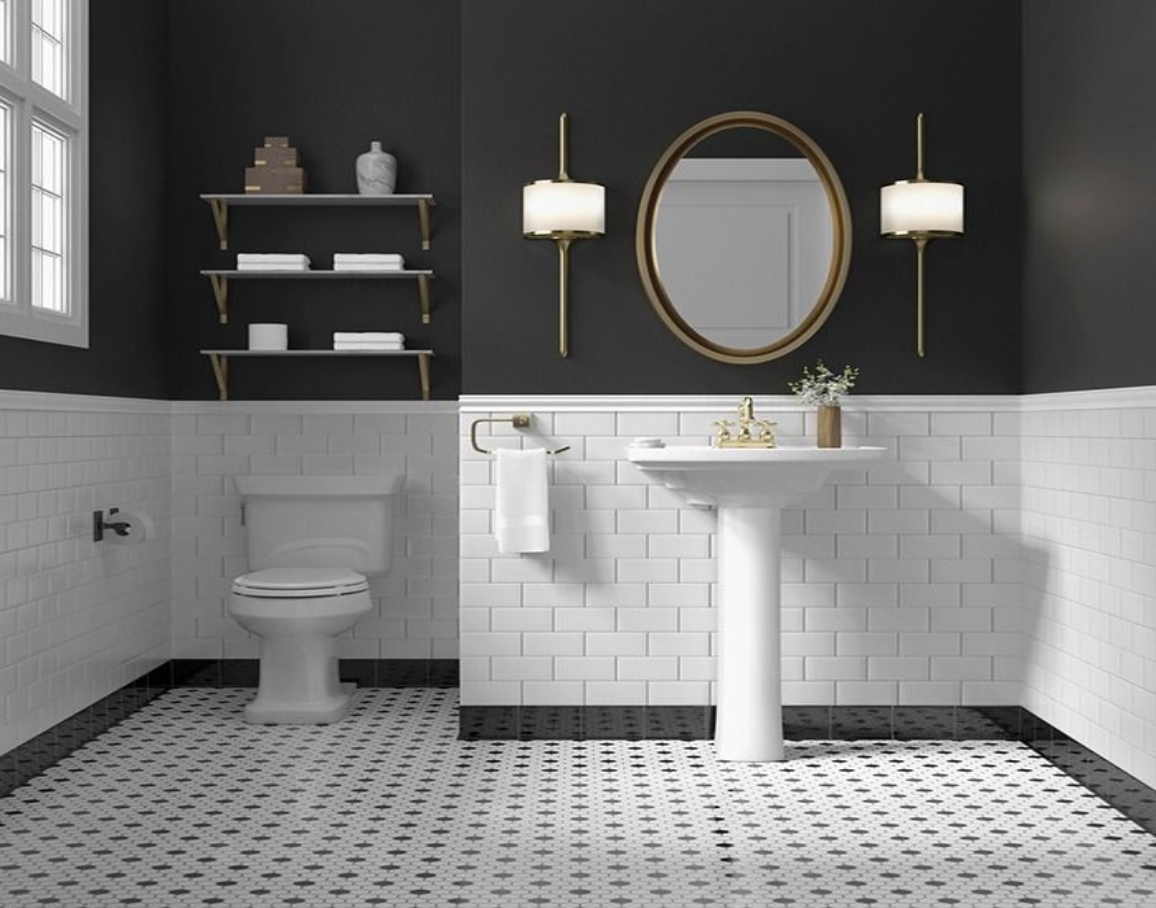 Contrasting colors offer a tasteful dichotomy to your bathroom. It is a timeless and striking bathroom paint color combination that continues to captivate in 2023. This classic blend offers a sophisticated and versatile aesthetic that complements any bathroom style. The contrast between the boldness of black and the purity of white creates a visually dynamic and visually pleasing effect. Whether you prefer a minimalist monochromatic look or want to incorporate intricate patterns and textures, black and white allow for endless design possibilities.
Tip – Black adds depth, mystery, and a touch of modernity, while white brings simplicity, cleanliness, and a sense of openness to the space.
5. Dark Purple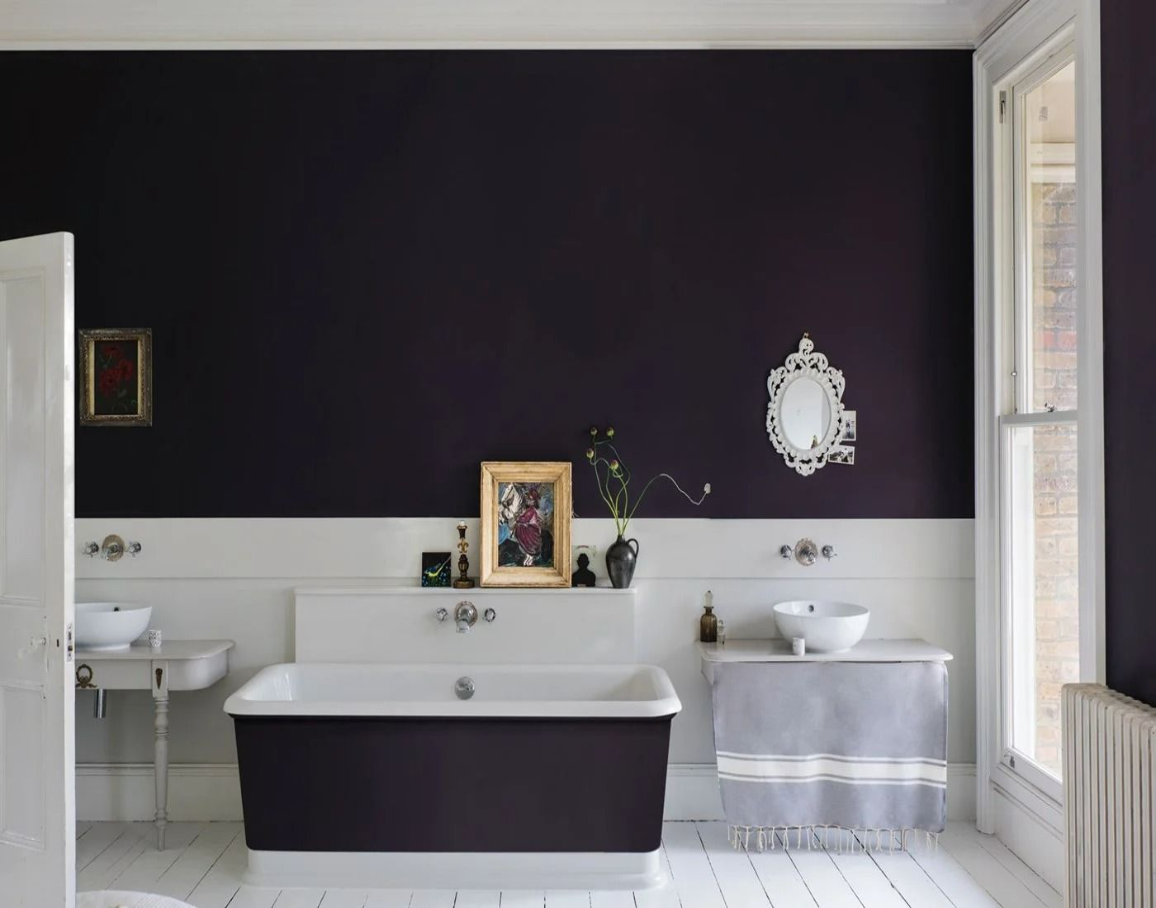 A deep purple hue provides a moody and sophisticated ambiance to any living space. Being a symbol of regality and grandeur, the purple color is often associated with kings and palaces. A Dark Purple sets a bold statement, evoking a sense of mystery, status, and elegance. It adds depth and richness to your bathroom, creating a cozy and intimate atmosphere. Whether used as an accent wall or as the main color scheme, Dark Purple offers a unique and stylish backdrop for your fixtures and decor. Paired with metallic accents, this paint color will add a kingly aura to your bathroom in 2023.
Tip – Pair the color with metallic accents like gold or silver.
6. Periwinkle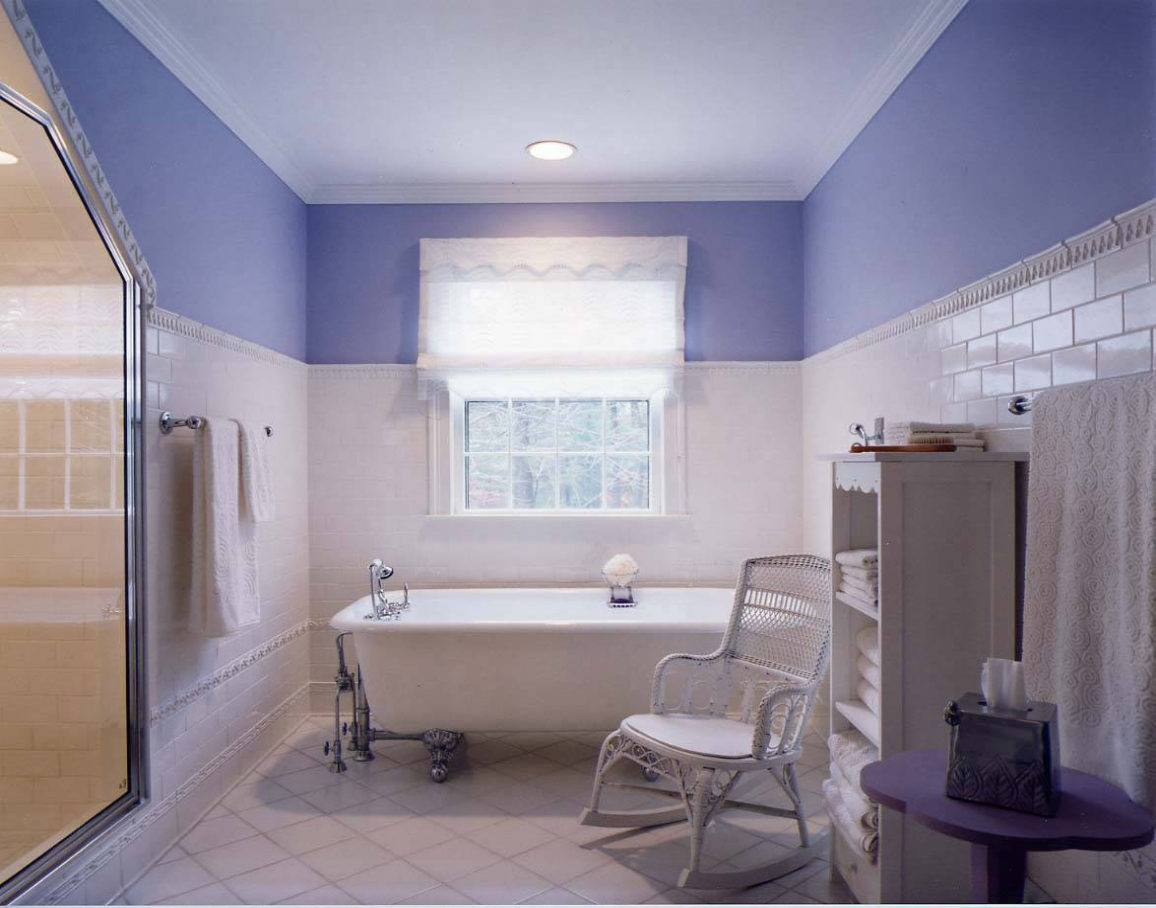 Want to add a little bit of fun to your bathroom experience? Periwinkle is a delightful and enchanting bathroom paint color that is sure to capture hearts in 2023. It is a delightful blend of blue and purple hues that are known for bringing a sense of calmness to your washroom. Whether used as the primary color or as an accent, Periwinkle adds a touch of whimsy and delight to your design. Embrace the soothing allure of Periwinkle and create a bathroom that is both visually pleasing and mentally rejuvenating.
Tip – Pair it with crisp white accents for a fresh and airy feel, or combine it with natural wood tones for a rustic and organic look.
7. Coastal Blue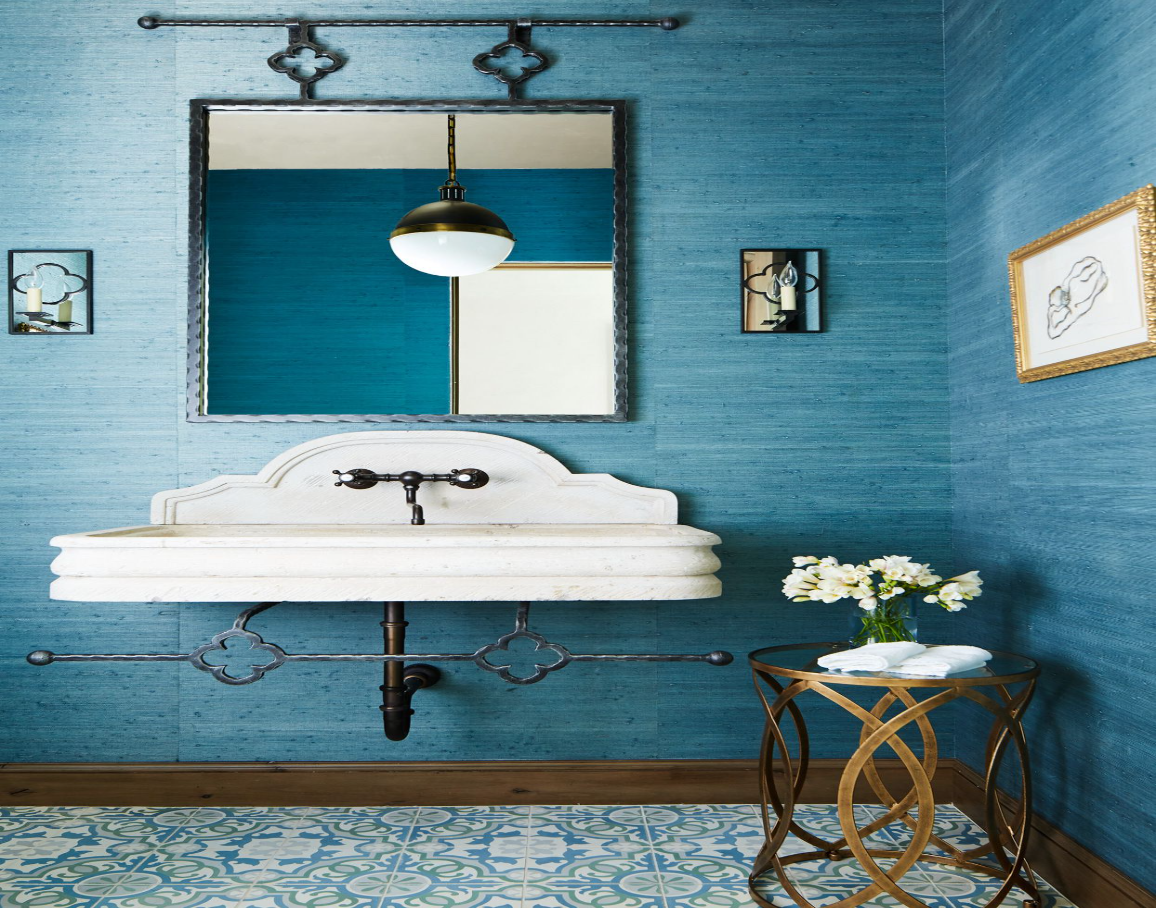 If you feel like converting your regular bathroom into a fresh, relaxing, sun-kissed coastal paradise, then this is the perfect bathroom paint color for you in 2023. Coastal Blue is a refreshing color that embodies the essence of the seaside. It brings the tranquility of the ocean into your bathroom, evoking a sense of relaxation and serenity. This cool and calming hue instantly transports you to your favorite beaches. Adorned with crisp white accents and natural textures like seashells, this coat will give your bathroom an authentic coastal feel that will keep you relaxed and engaged.
Tip – Decorate your bathroom with coastal elements like seashells, starfish, or small plants to bring out the seaside vibe.
8. Warm Coral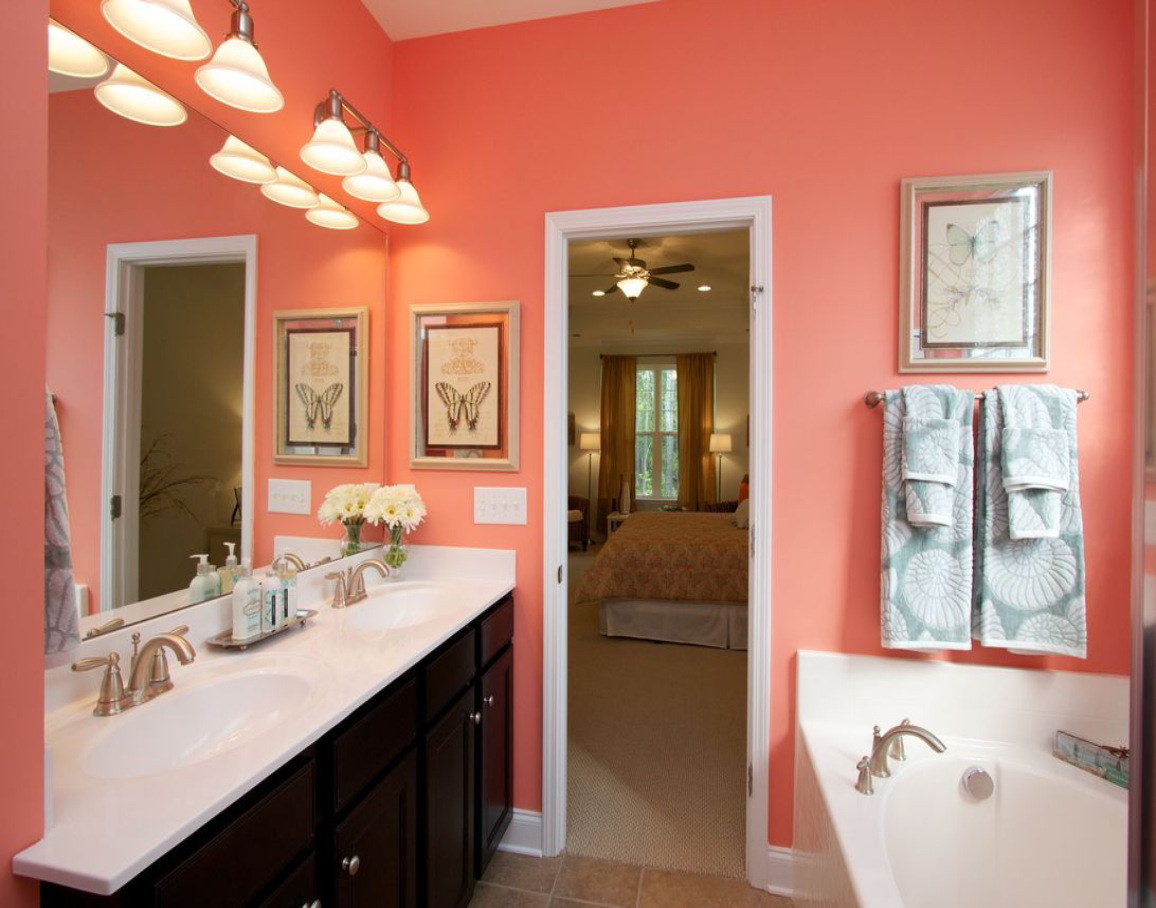 Coral tones produce a warmth in your bathroom that gives it a bright and invigorating atmosphere. This energetic shade of coral is set to make a unique statement for bathroom paints in 2023. Warm Coral adds a touch of personality and playfulness, infusing your bathroom with a lively and cheerful ambiance. This hue glows in positive energy and can instantly uplift your mood. Whether used as an accent or as the main color, Warm Coral creates a bold and striking focal point in your bathroom. The color is also known to give an old-fashioned vibe to a bathroom.
Tip – Pair it with neutral tones like beige or gray to balance its vibrancy.
9. Sunflower Yellow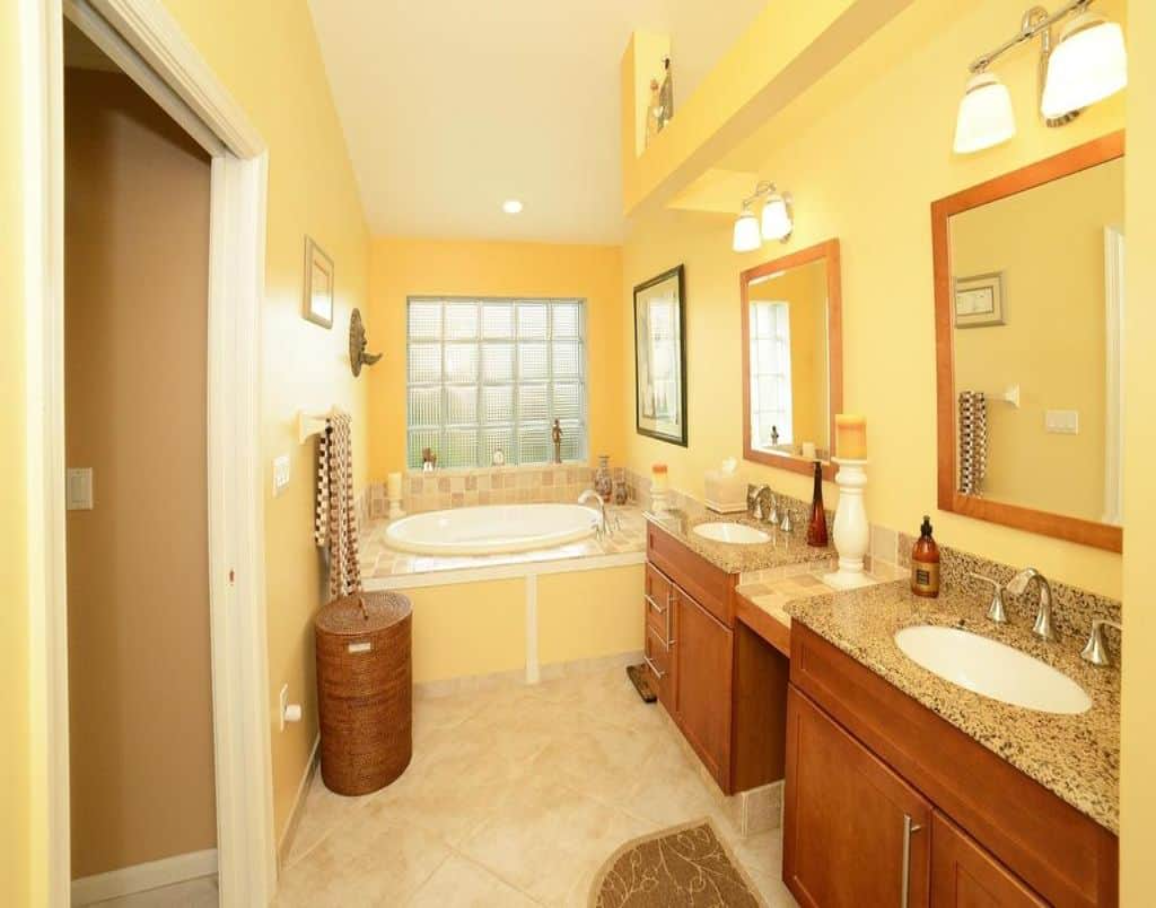 Everyone loves a bright, sun-kissed atmosphere in their house. It is full of vigor and gives people the energy to get through the day with a breeze. Sunflower Yellow is the best bathroom paint color for people who love natural light. This bold and sunny hue brings a burst of positivity and optimism to your bathroom, instantly brightening up the vibe. Incorporating this color into your bathroom design can instantly uplift your spirits and create a lively atmosphere. It adds a vibrant pop that complements various styles and aesthetics.
Tip – It looks best when sunlight is allowed to glow through the bathroom.
10. Stone Gray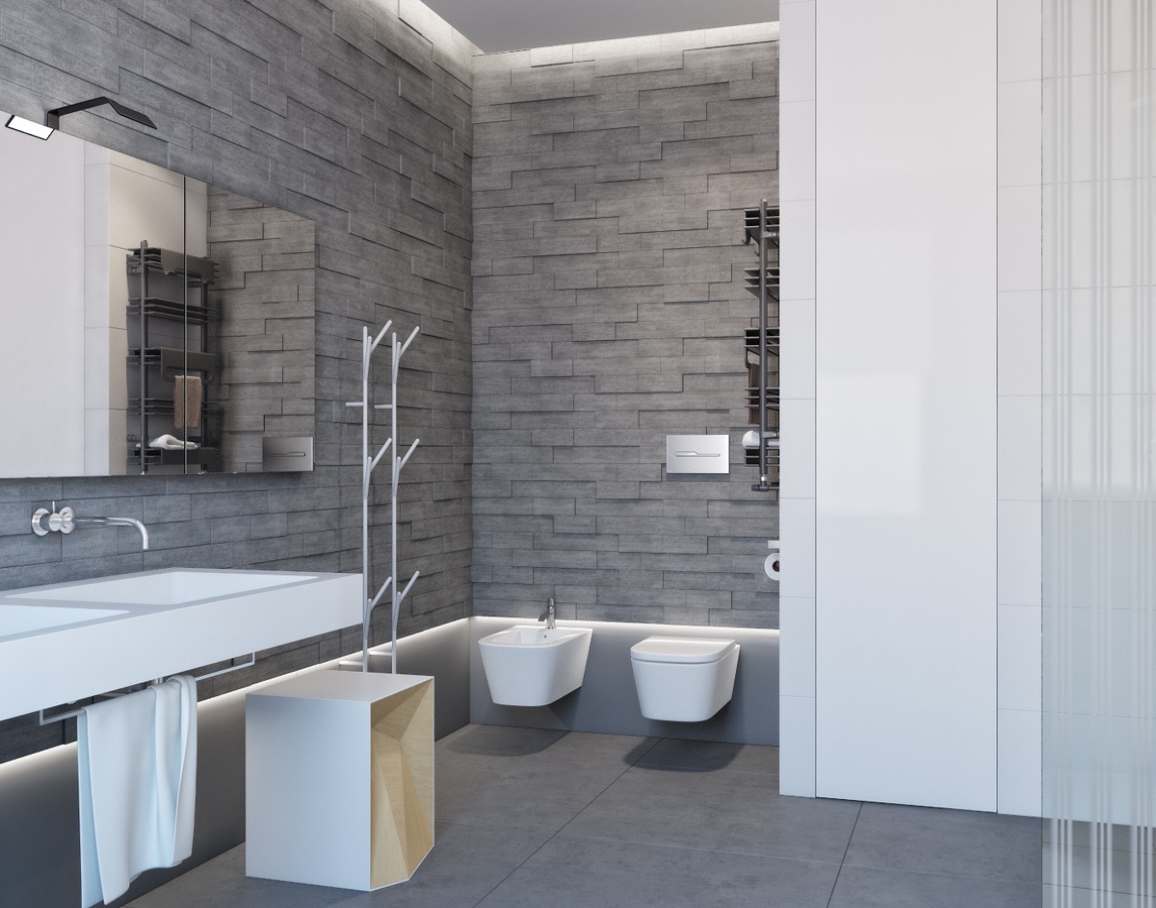 The gray color is a great way to keep your tones neutral while also adding a modern and sophisticated edge to your bathroom. Stone Gray is a sophisticated and niche bathroom paint color that is poised to make waves in 2023. This versatile shade exudes elegance and offers a neutral foundation for any bathroom design. Stone Gray brings a sense of calm, evoking the natural ruggedness of stone and adding a touch of refinement to your space. Whether you opt for a light or dark variation, Stone Gray creates a sleek and contemporary atmosphere that seamlessly blends with various styles.
Tip – Pair it with crisp white accents for a clean and modern look, or combine it with warm wood tones for a cozy vibe.
11. Peachy Pink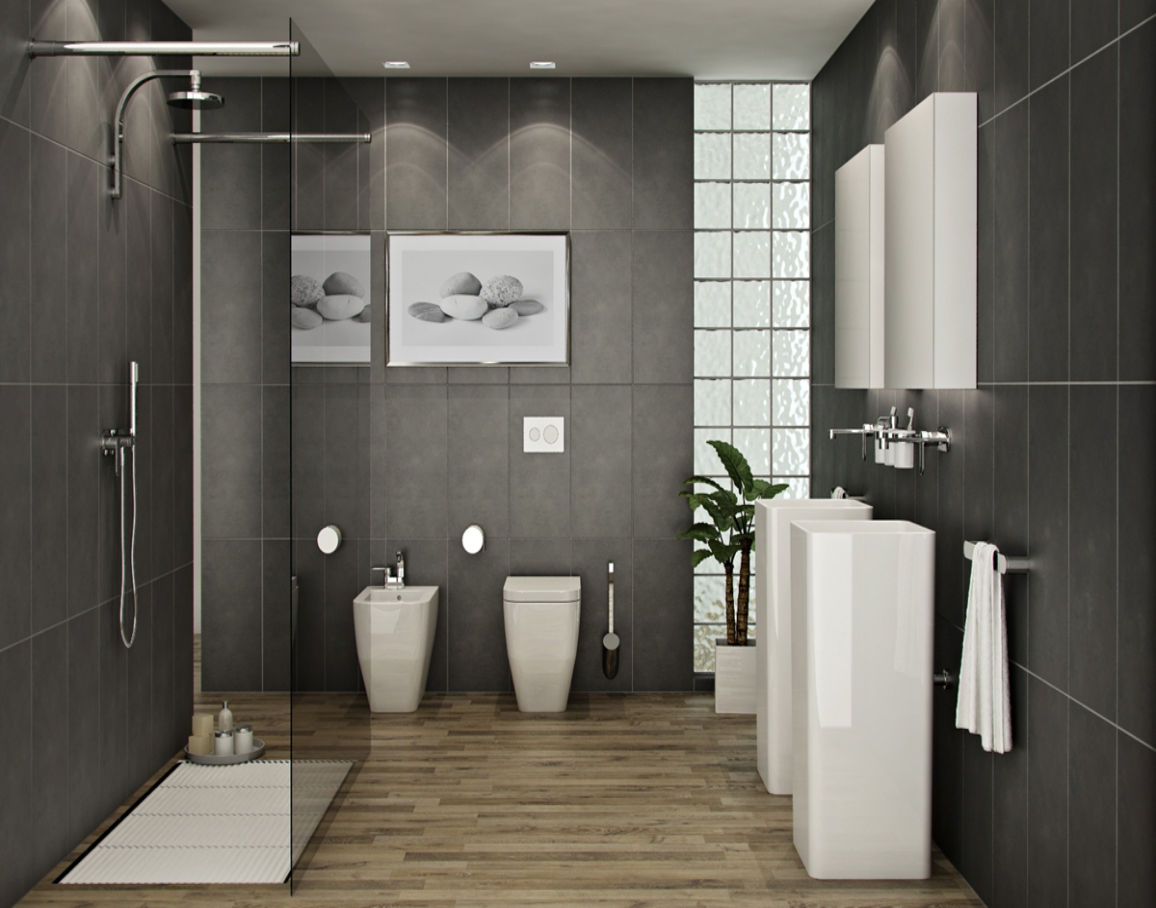 Although similar to the coral hues, Peachy Pink is an exquisite bathroom paint color that is at the height of its popularity in 2023. Known for bringing a soft and feminine touch to your bathroom, this color has a gentle and soothing vibe, evoking a sense of warmth and tranquility. While Pink adds a playful and energetic element, Peach fills the room with a youthful and joyful ambiance. When combined, Peach and Pink create a harmonious and visually pleasing color palette that exudes charm and elegance.
Tip – Use them with light-toned accents and natural textures for a serene and organic look.
12. Blue and Gray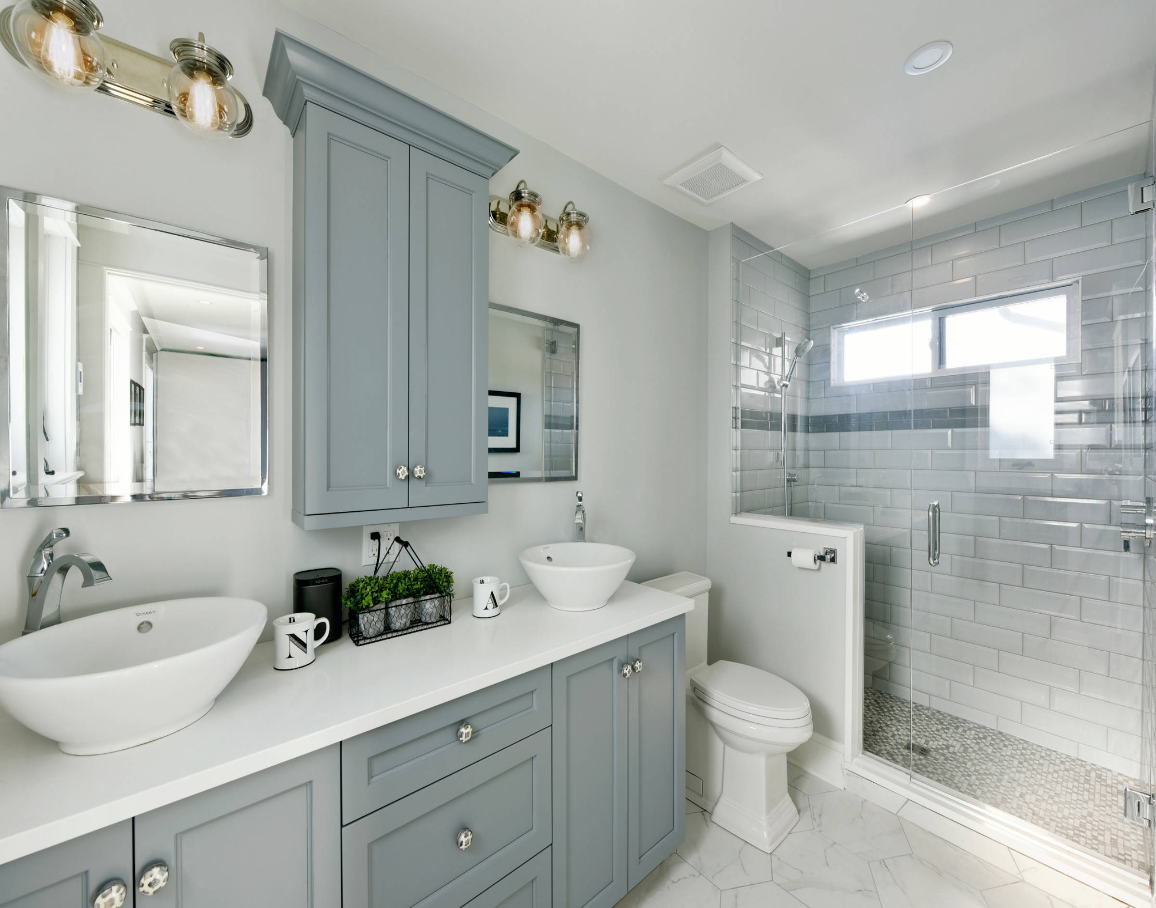 Blue and Gray are popular bathroom paint colors on their own. Pairing these shades up together gives a modern and sophisticated touch to your bathroom. Blue brings a sense of calmness, evoking the essence of the sky and ocean, while Gray adds a touch of elegance and modernity. This combination offers a harmonious balance between cool and neutral tones, making it suitable for various bathroom styles and aesthetics. Whether you opt for a soft blue and light gray for a soothing and airy feel, or a deep navy blue and dark charcoal gray for a more dramatic effect, the Blue and Gray duo allows for endless possibilities.
Tip – Contrast between dark and light shades to give a rich ambiance to your bathroom.
13. Urban Charcoal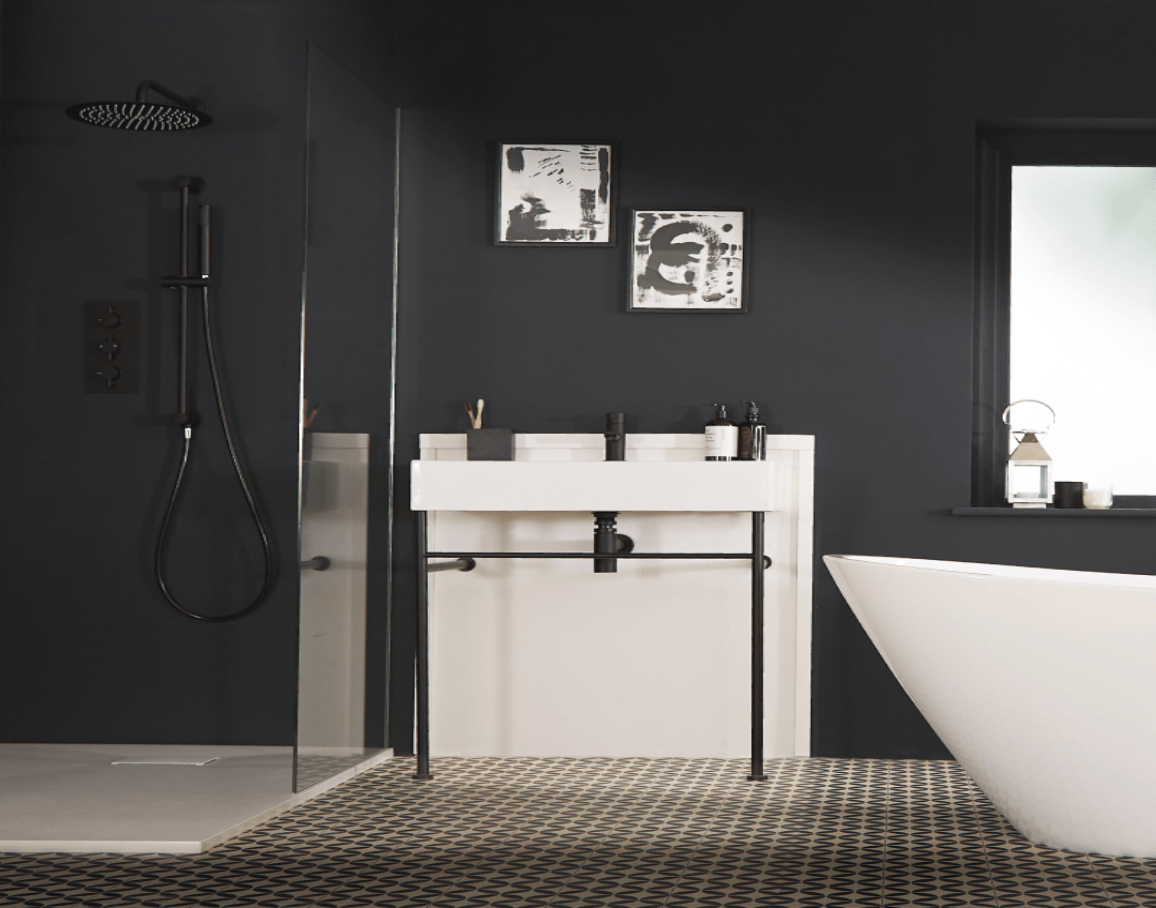 Charcoal is a rich blend of black and gray that contains the right amount of depth and impact that soft gray lacks. It is a bold and contemporary bathroom paint color that is set to be a status symbol in 2023. This deep blend of black and gray brings a sense of modernity and urban chic to your space. With its sleek and dramatic appeal, Urban Charcoal adds depth and character, creating a striking focal point in your bathroom design. This color choice is ideal for those seeking a stylish and edgy aesthetic.
Tip – Urban Charcoal can also serve as a beautiful backdrop for showcasing artwork or decorative elements.
14. Light Green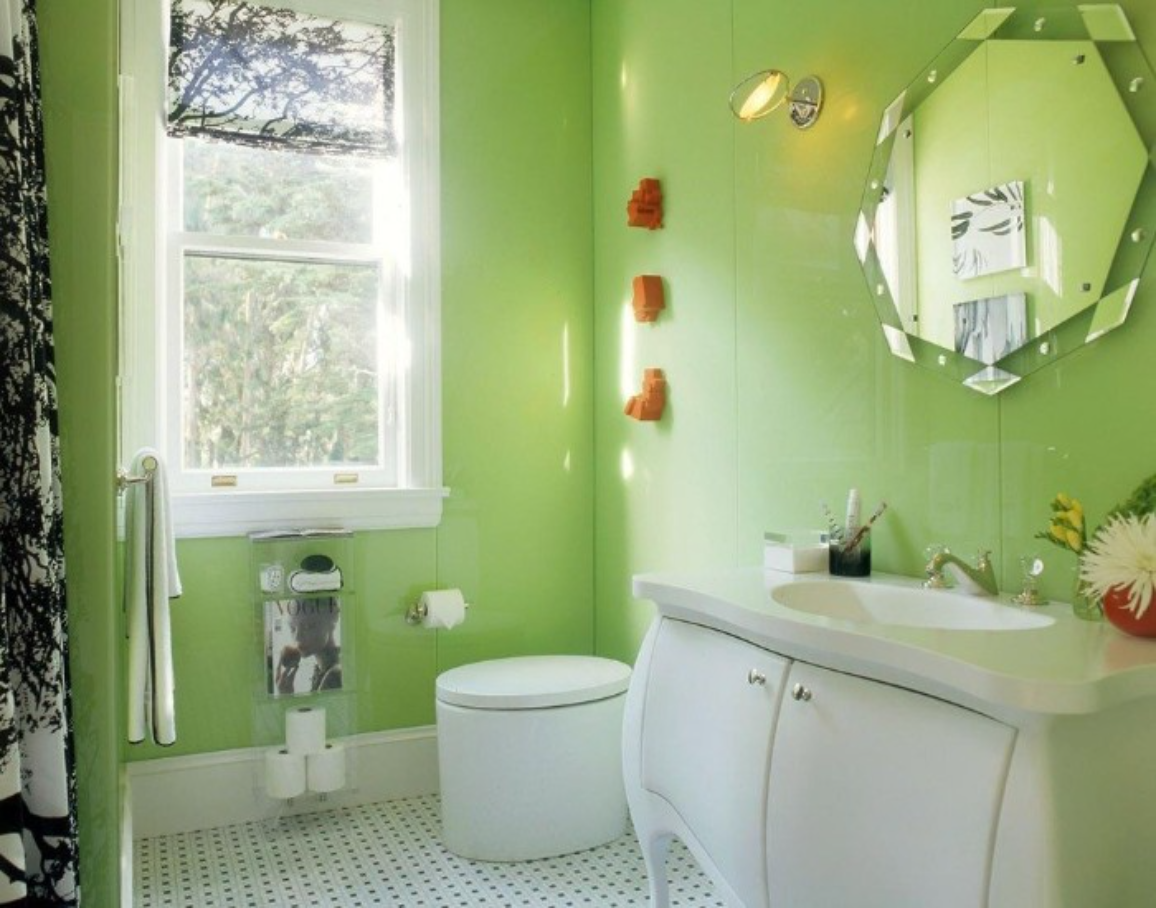 For the nature lovers out there, this is the perfect pick for you. This shade blends well with earthy tones inspired by nature, like brown and taupe. Light Green evokes the beauty of lush greenery and vast meadows, creating a sense of freshness and relaxation. This color choice is perfect for those seeking a natural and organic feel in their bathroom design. Whether used as the main color or as an accent, Light green adds a subtle pop of color that uplifts the atmosphere and promotes a sense of well-being. With the onset of climate change, this might be the most motivating bathroom paint color in 2023.
Tip – Keeping plants along with this color will make your bathroom a favorite amongst nature lovers.
15. Taupe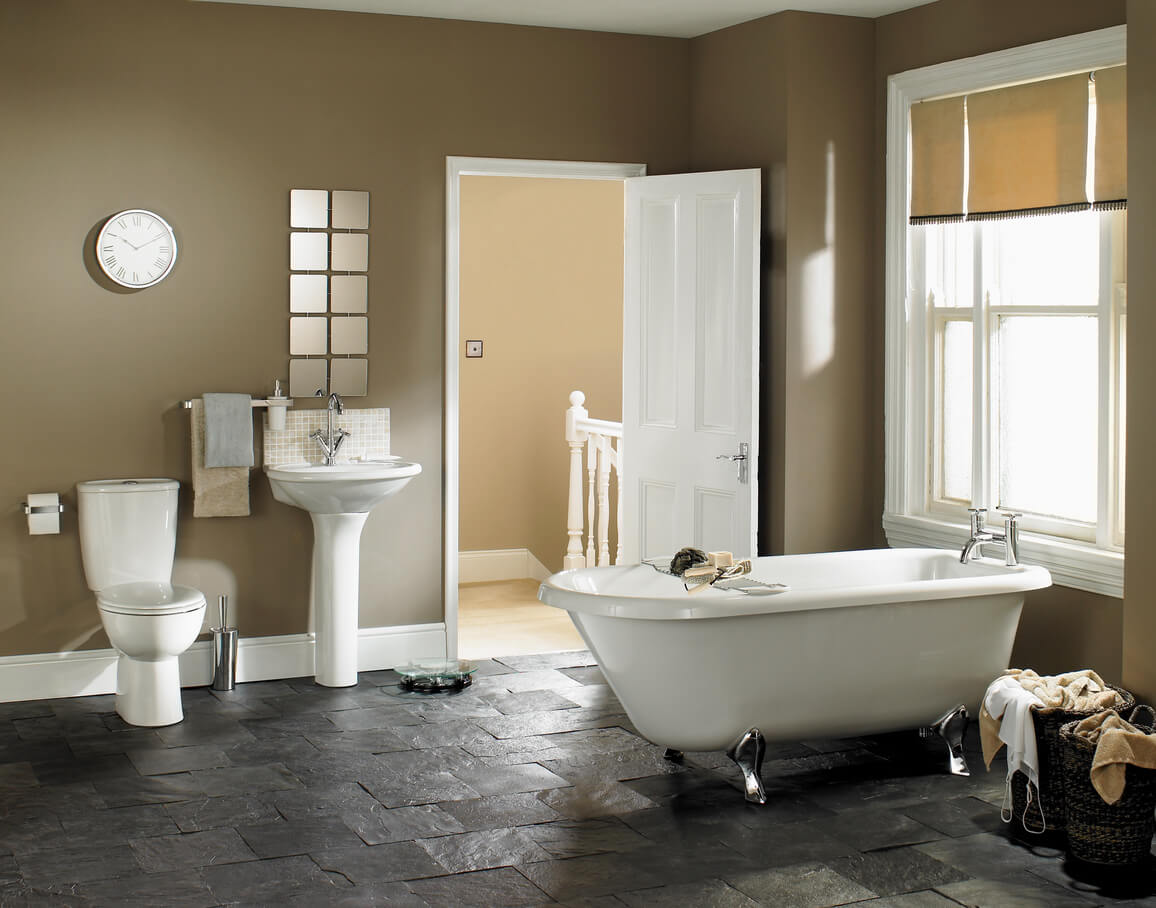 A naturally earthy yet neutral shade, Taupe has gained popularity and has become an essential bathroom paint color in 2023. Whether used as the main color or as an accent, Taupe provides a neutral backdrop that allows other design elements to shine. You can use this shade to highlight decorations and artwork. There are different shades of Taupe available for different palettes.
Tip – A more brown shade works better for a rustic, earthy look, while a more gray look works best for a modern design.
Final Thoughts
A bathroom is a deeply personal space for every person. It is a space for self-care and relaxation. Your bathroom needs an aesthetic that matches this feeling and creates a safe and inviting environment.
From the calming and inviting vibes of muted pastels to the dramatic presence of dark and moody hues, there's no shortage of choices to suit your style. You can even consider a blend of multiple styles that suit your taste.
Remember, when selecting bathroom paint colors, consider factors such as lighting, size, and overall ambiance to ensure the perfect result. Understanding how the hues blend with your existing fixtures and facilities is crucial.
So, go ahead and experiment with these 15 bathroom paint colors that are set to shine in 2023, and get ready to transform your bathroom into a space of elegance, relaxation, and comfort.