Don't you think that unpainted earthen pots, ceramic pots, plastic pots, or even metal pots look bland and dull when placed in the living room or on your porch?
Wouldn't you agree that painted pots look much more appealing? The form of pot painting is used to create visually appealing homes. Pottery painting has existed since prehistoric times. Did you know that the earliest pottery colors were achieved with the aid of slips stained with metal oxides?
So, if you are running short of flower pot painting ideas, this blog post will serve as the right guide for you. We bring 15 DIY pot painting ideas and designs to help you decorate your house or sell your crafts to others.
Flower Pot Painting Ideas
Find out how you can paint clay, ceramic, and terracotta pots in bright colors.
1. Rainbow Pattern on Pots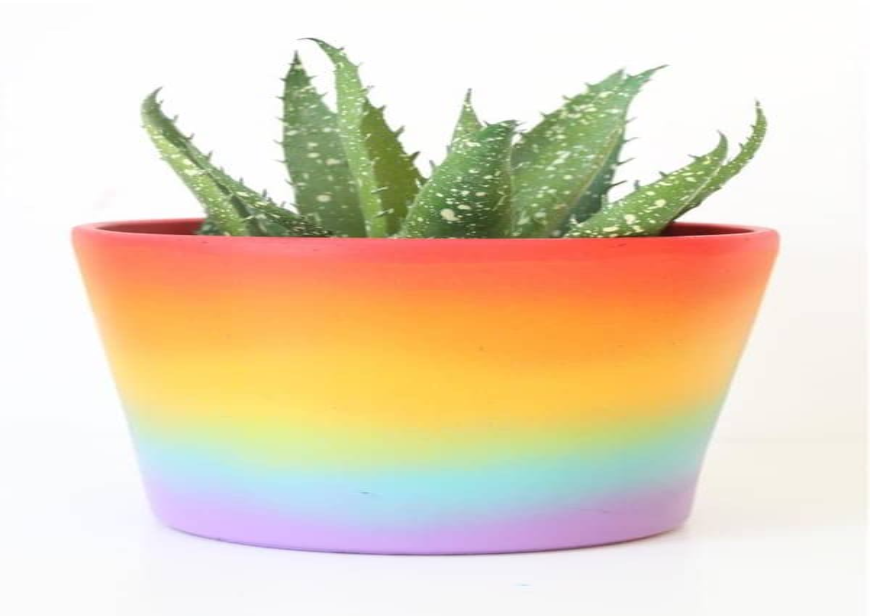 Who doesn't love a rainbow? Rainbows symbolize hope and good fortune. They also represent the beauty of diversity. So, painting your pots in rainbow colors and patterns can have the same effect on your psyche.
So, pick up your paintbrushes and draw some zig-zag lines and fill them with the VIBGYOR (violet. Indigo, blue, green, yellow, orange, and red) color palette.
2. Polka Dots on Pots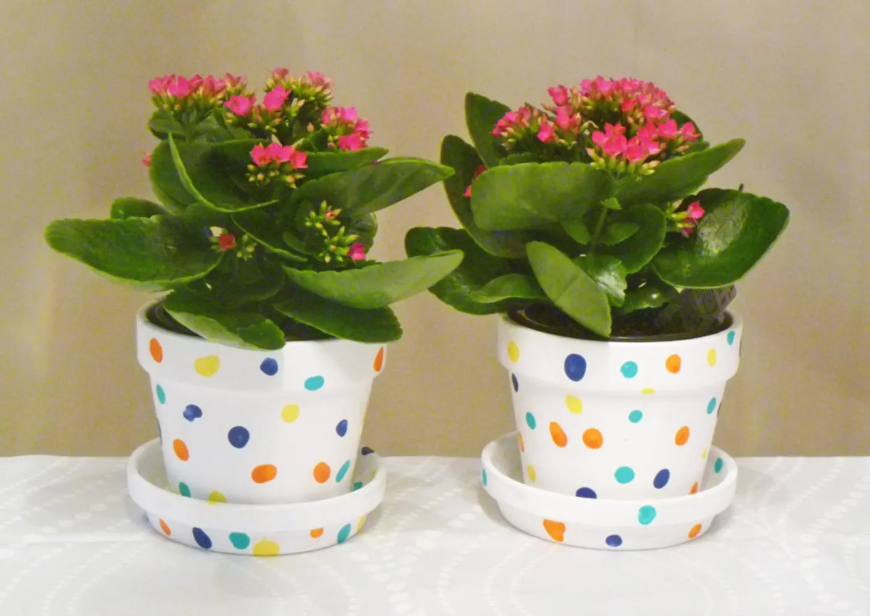 Once in a while, polka dots come back in trend. In fact, they are never out of fashion when it comes to your wardrobe style and also your garden pots.
So, why not try them out? They are quick to make and are hassle-free. All you need to do is pick a base color to prime the pot, then choose another bright color to uniformly layer the pot. Finally, you can pick up your white or black color to create traditional polka dots with a toothpick.
3. Designing Pots with Geometric Patterns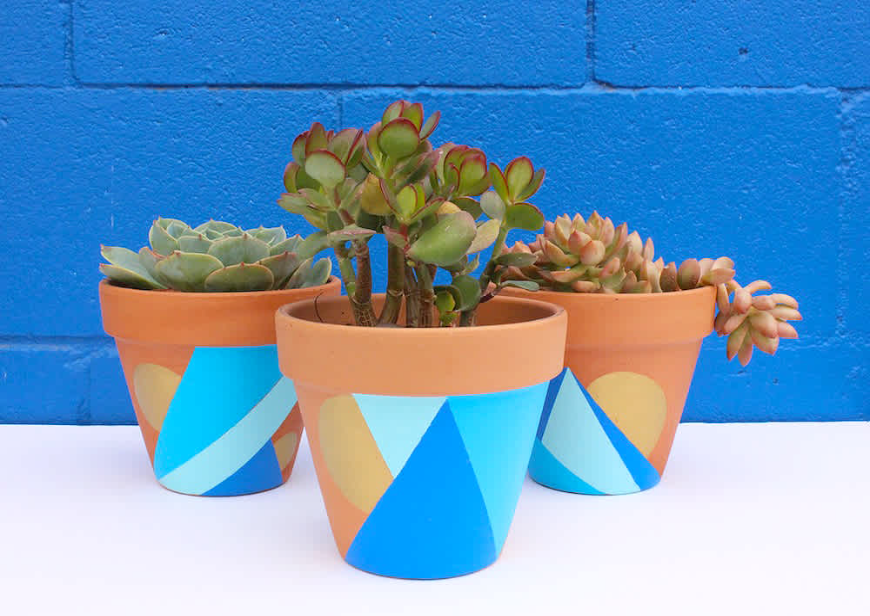 The roots of geometry lie in the Egyptian and Mesopotamian civilizations. When we think of the word 'geometry' – triangles, squares, and all sorts of unconventional shapes start circling in front of our eyes.
So, you can very make use of one or two such shapes and draw them on your flower pots with a marker. If you don't have still hands, you can take the help of stencils or some painter's tapes. Once the shapes are done, all you need to do is fill them in monotone or polytone acrylic colors. That's it!
4. Making Floral Patterns on Pots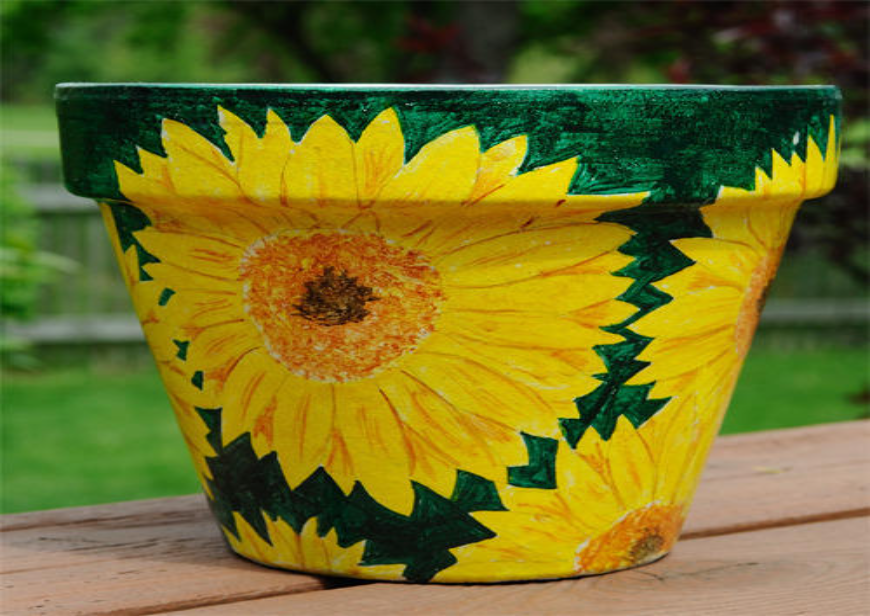 Your flower pot painting can't be complete without making floral patterns on it. Like polka dots, floral patterns also never get boring.
Take the aid of stencils or make free-hand flowers on your pots and color them bright. When you are drawing bright flowers on the pots, ensure to create a lighter background. Also, use pastel shades to fill your floral designs.
5. Drawing Fruits on Pots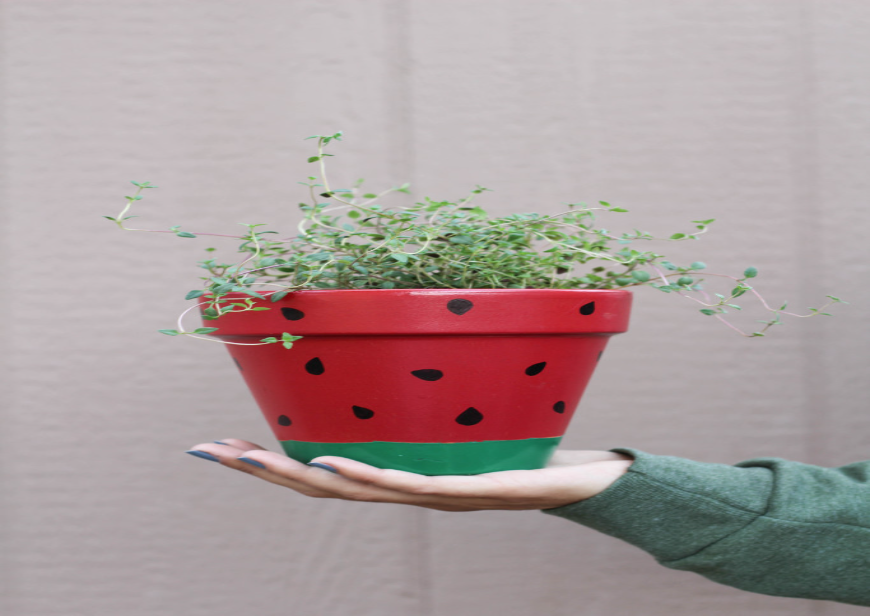 When flowers and rainbows are already tried options, you can then try your hands at creating beautiful fruits. Fruity designs are cute and easy to make.
Similar to making floral patterns, you can first color the pots in a monotone base shade. Choose a light shade so that your fruits are distinctly visible. Outline the fruits with a permanent marker, and then fill your strawberries and cherries with red.
6. Create Abstract Designs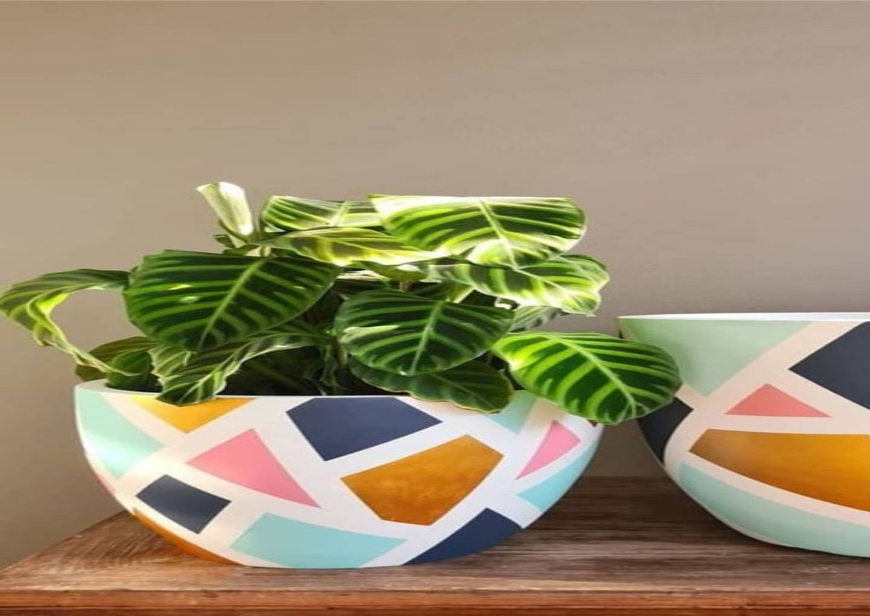 Want some quirky flower pot painting ideas? How about trying some abstract designs? Try out some zebra patterns, retro patterns, batik print styles, or simple bird's eye designs.
You can also do some custom designs of your own, as choosing to do an abstract theme gives you that freedom.
7. Try out The Donut Design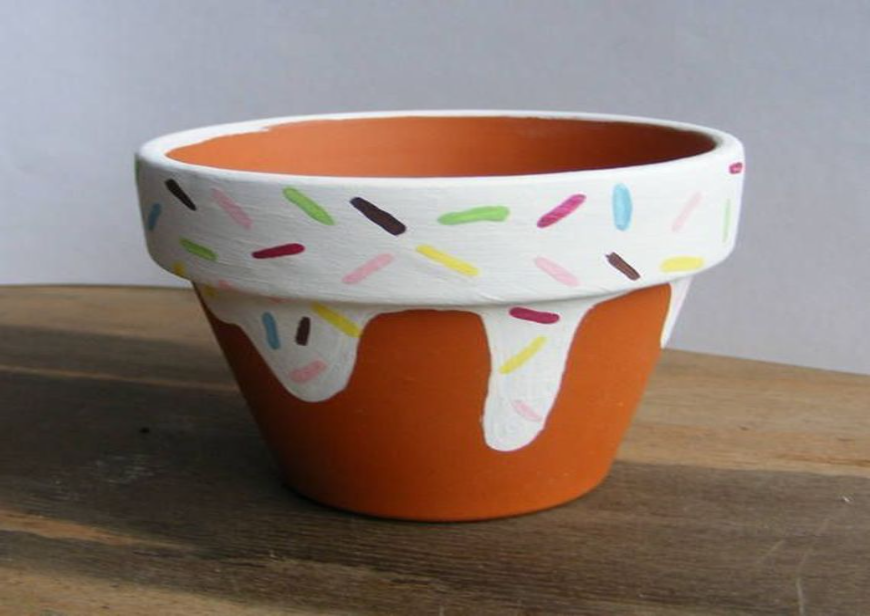 All those donut lovers out there, why not transform your love for donuts into a painting theme?
There can be nothing cuter than this theme, and it will also be something offbeat for your front yard. This theme is so easy that you can create it while eating donuts.
8. Go Medieval on Your Flower Pots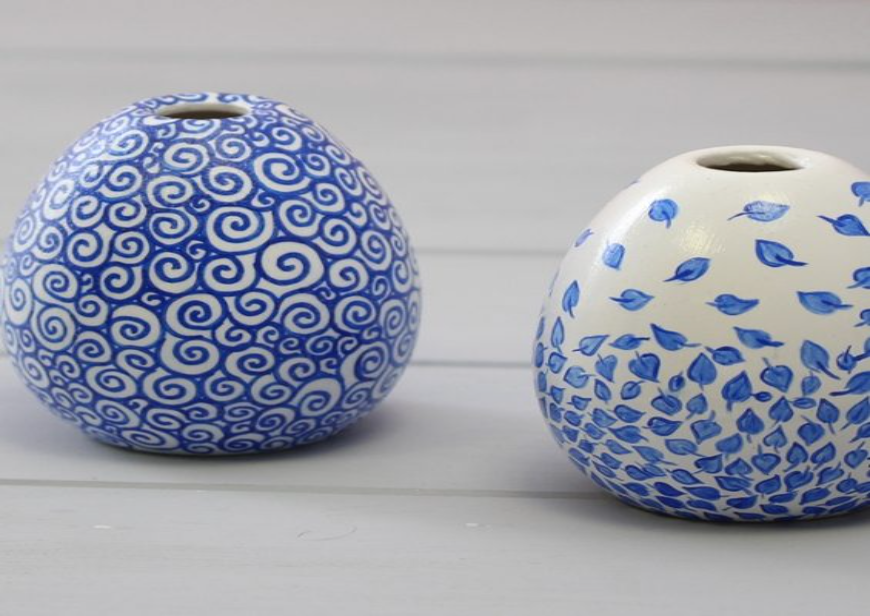 Vibrant hues and intricate patterns are a perfect representation of the timeless Mediterranean theme. However, it takes time and patience to recreate Mediterranean patterns. It is worth trying to achieve a fresh look for your outdoors.
These patterns work best on ceramic pots and hence are ideal for your pots placed indoors or on your balcony. A color scheme of white and blue are enough to make your rooms spectacular.
9. Blue Pottery Design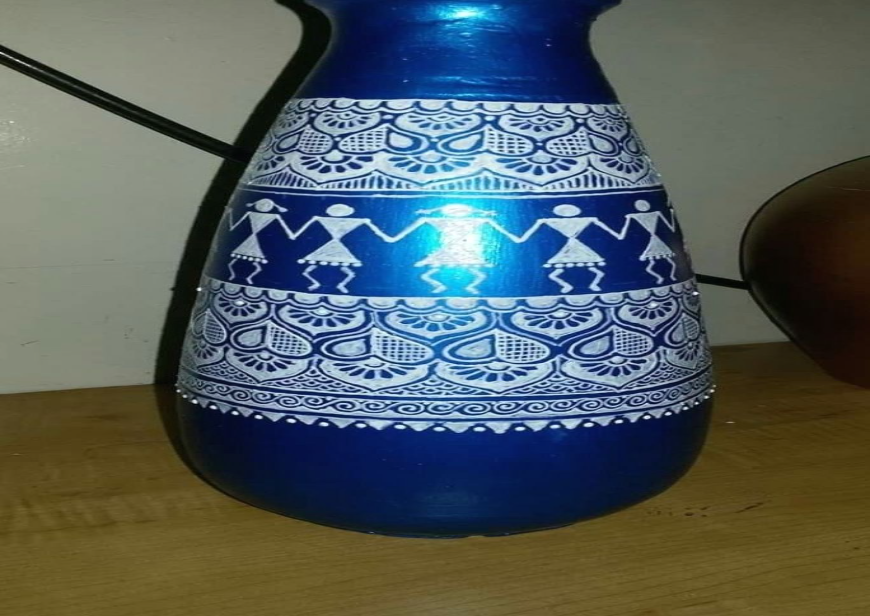 The blue pottery of Jaipur comes with its signature blue and white patterns. One can replicate the animal and bird motifs and patterns of the blue pottery style in one's clay pots.
However, the use of blue glaze on pots is not native to India and belongs to Mongols. This form of pottery traveled to India during the 14th century with the Turk invaders.
10. Create Some Boho Patterns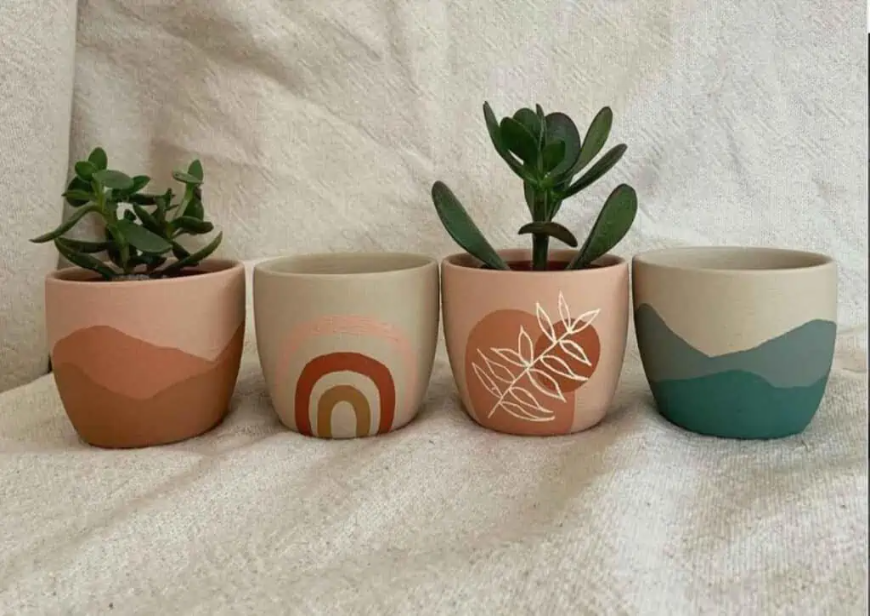 Colorful feathers, charms, dream catchers, and the evil eye are all key elements of boho design. The Bohemian style resonates with the concept of celebrating the colors of life.
The boho color scheme consists of blue, green, earth tones, red, yellow, and white. So, you can utilize a similar color scheme for painting your pot's background and then make the motifs in white.
11. Replicate Some Feminine Patterns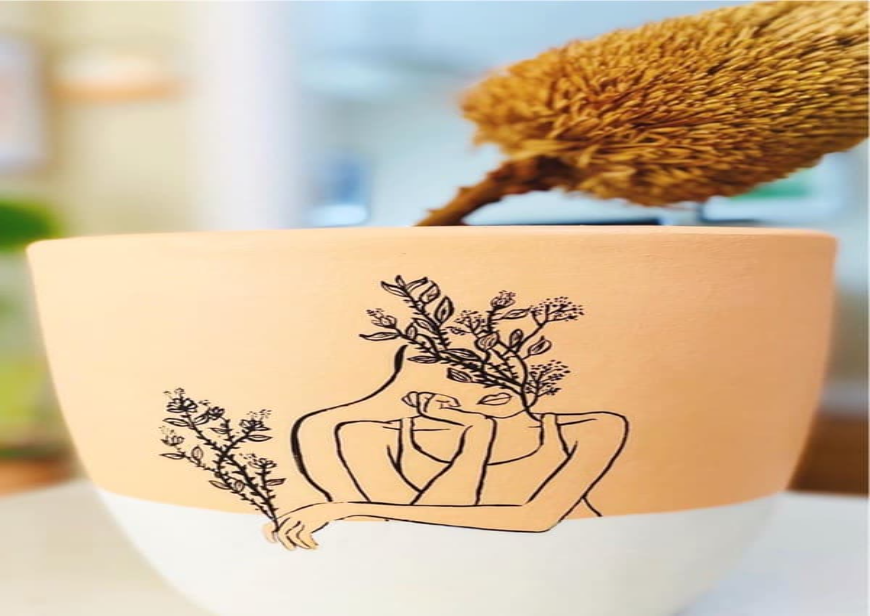 If you want to make your weekend memorable, then pick some paintbrushes and make some feminine designs on your clay pots lying on your patio. Make a feminine figure transform into a flower or some other shape.
You can make these patterns with just your markers and don't need to paint your pots in bulk. These simple patterns can transform your otherwise dull pots into works of art.
12. Make Some Facial Expressions on Your Pots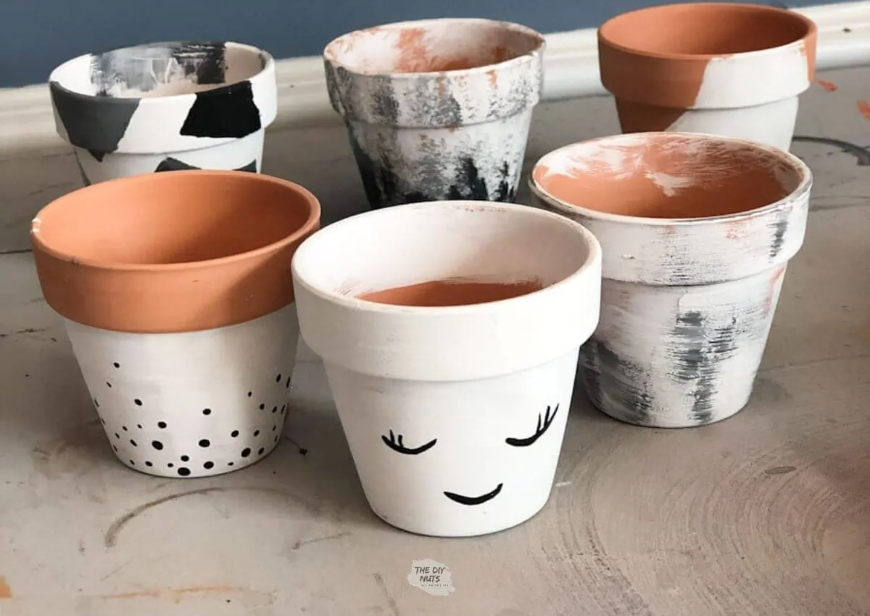 Who likes dull expressions anyway. Why not make your pots express their feelings by making a smiley face or a sleepy face on them?
Easy to draw, all you need to do is paint the background in a white or yellow background and then use your marker to make a sleepy or smiley face. You can also make some of your pots look 'angry' or 'undecided.' Once you are done with the emoji design, don't forget to add a layer of mod podge before leaving them outdoors.
13. Try Dual Tone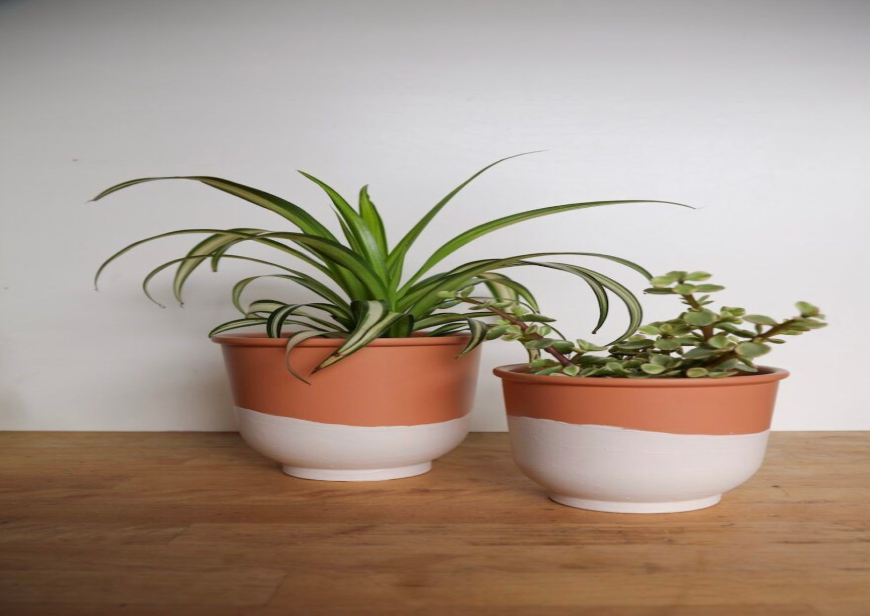 If you want a minimalist design, just color two halves of the pots in two contrasting tones and seal them with a shiny top coat after drying. You can use pastel shades of blue, pink, yellow, cream, and grey. Pastel shades are subtle tones yet attention-grabbing.
14. Make Bold Shapes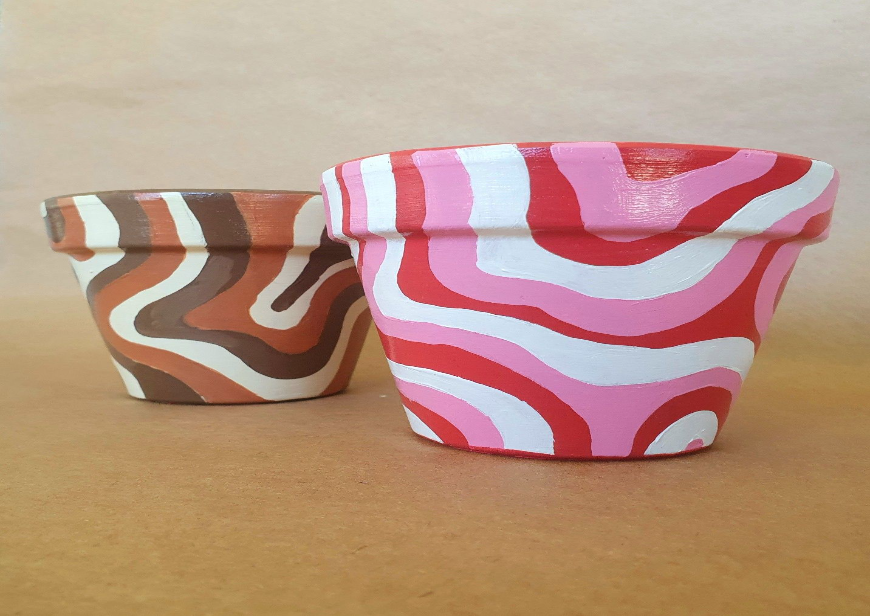 Create some statement art and dramatic prints on your pot. Otherwise, you could also opt for some aesthetic designs and patterns to represent a sophisticated look for your garden.
These minimalist designs can be created with monochromatic white and black colors. You can also try some custom shapes of your own with black color on white background.
15. Watermelon or Beach Theme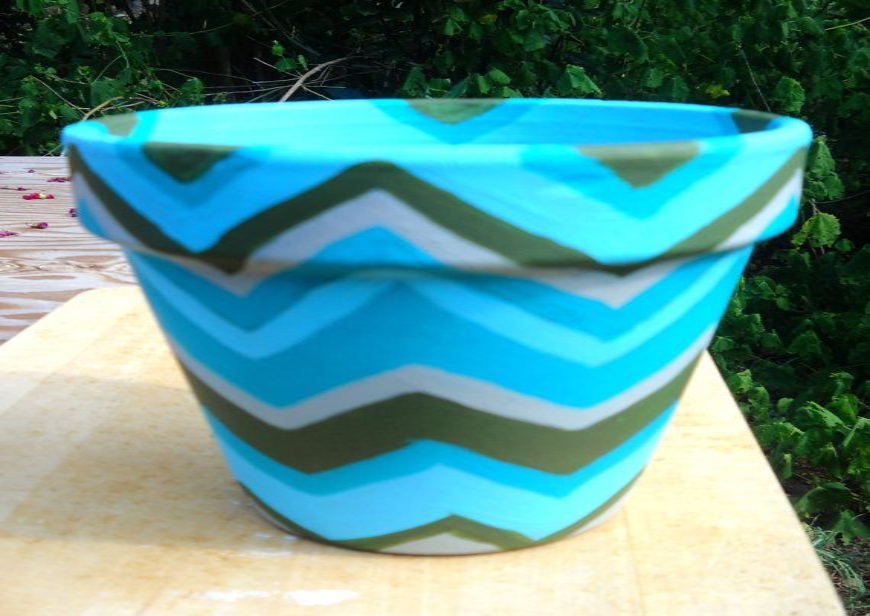 Try the watermelon theme by painting your pots all orange or red and dotting them with black all over them. Alternatively, you can try making some wavy patterns in different shades of blue at the base of the pots.
What Are the Supplies Needed for Flower Pot Painting?
Here is a list of supplies you must gather before you get started with one of our suggested designs.
Clay and terracotta pots
Paint primer
Markers and painters tape
Paint brushes, foam brushes
Acrylic paint and spray paints
Top coat sealer or mod podge
A hairdryer
Some rough cloth
Newspaper
What Are the Various Kinds of Pot Paints?
There are a variety of paint options available when it comes to flower pot painting.
Acrylic paints – Acrylic paints are not soluble in water, so they are used to paint pots on wider surfaces and to form the base layer of pot designing.
Oxide stains – Oxide stains are useful when it comes to making flowing lines or patterns.
Permanent markers – Markers are primarily used to create detailed designs and for outlining intricate designs.
Latex paints – These are available as latex spray paints that can be used to apply several layers of paints on the pots quickly to create a thick lining.
Textured paints – These paints are used to offer some texture, definition, and effects to clay pots.
Tips for Choosing the Right Colors for Flower Pot Painting
Choosing the right color combination is needed to design attractive pots. Here are some ways to select the right color scheme for flower pot painting.
First, decide on a color scheme.
Brighter colors are great for drawing anybody's attention.
Black color is good for highlighting the surrounding elements of your room.
If your rooms are compact, go with whites, pastel shades, or grey to maximize the space.
Further, what you need for dim rooms are bright-colored planters with warm-toned pots.
How to Paint a Terracotta Pot at Home?
Here are the steps to painting terracotta pots at home:
You have to begin by scrubbing the surface thoroughly with warm water and allowing it to dry completely.
Then, apply a thin film of sealant uniformly over the exterior surface of the terracotta pot. This will prevent the seepage of moisture from the soil onto the exterior surface of the pots and consequently save the plant from drying and the paint from blistering.
Finally, you can start applying colors to the pot and design it according to your taste.
What Are Some Tips for Painting Clay Pots?
When you are painting clay pots, you must do the following:
Clean the clay pots with water and dry them out in the sun.
Prime the surface before using acrylic colors to get a smooth and uniform finish.
Ensure to paint the interior surface of the pots as well.
Finally, apply a top coat of mod podge and let it dry.
Final Thoughts
If you want to arrange a summer camp for your kids or simply want to have some fun with colors at home, flower pot painting is an interesting activity to undertake. You could have fun while engaging in creativity. Also, you could add a dash of colors to your flower pots at home and make them look far more captivating than they normally do.
If you are looking for a new hobby, you could try pot painting. If you want to take up pottery and pot painting as a full-time profession or even run it as a side business, you could take help of our pot painting designs to help you get started.
Whether you stick to some traditional art forms or try out some abstract ideas on your own, always remember to have fun while painting your pots, as this will naturally bring out your creativity.
Frequently Asked Questions
Which Colors Are Best for Painting Pots?
Picking the right colors for painting your pots is essential. You must consider several factors before deciding on the color schemes: your wall colors or wallpaper color scheme, furniture shades, whether your rooms are naturally lit or artificially lit, and your exterior house colors and border colors. Therefore, some colors that always work for pots are white, black, brown, grey, and yellow.
Is Painting Terracotta Bad for Plants?
Before painting a terracotta pot, you must use a primer to prepare the surface and only then apply the paint. If the surface is not primed well, then the moisture from the soil will seep out and consequently damage the plants.
What Kind of Paint Do You Use on Flower Pots?
Acrylic paints make excellent choices when it comes to painting flower pots because they are not soluble in water. Hence they would be good for pots kept in balconies, gardens, or patios. Other than this, nail polish is also suitable for painting intricate designs on pots.
What Is the Importance of Pot Painting for Students?
Painting is one excellent way to improve concentration. Hence pot painting or any other form of painting can cultivate good habits in students. They will learn to focus well and be patient. They will also understand the importance of being quiet. Painting is also good for destressing.