In recent times, there has been unexpected attention on bathrooms. Here amazing selfies are taken, and due to their calm nature, aesthetic, and privacy, bathrooms are a relaxing space for some.
Although it can be small when compared to other rooms, you need to pay extra attention while drawing bathroom floor plans. Otherwise, due to the odd positions of the sink, toilet, shower, bathtub, etc., you are going to suffer from foul smells, and it will not be pleasant as well.
You need to consider factors like the size of the bathroom space, plumbing lines, your needs and preferences, budget, etc. Deciding the floor plan after considering these factors is essential before you start building a new or remodeling the bathroom.
You may be confused about the details, but we're here with 12 essential bathroom floor plans to help you out!
Factors to Consider Before Deciding on The Floor Plan
The size of the bathroom will determine what you can have in the bathroom, how many, and how big they can be. You need to know the exact length and breadth of the bathroom so that you can accurately design the floor plan and decide where you can have windows and doors.
This will also help you to design which regions will be wet and which will be dry and use this to decide on the tiles and decor. The size of the bathroom will play a role in choosing the type of door, be it a conventional one or a sliding door.
You need to consider the available plumbing and electricity options so that you can design accordingly. You need to position the fixtures, such as the sink, toilet, shower, and bathtub, so that there is a partition between them and space to move around. This way, you can choose where you are going to place storage cabinets or shelves.
You need to make sure that there is adequate ventilation and lighting and that it covers the entire bathroom, so the placement of doors and windows needs to be examined. You can choose your preferred aesthetics, such as color, style, etc, of the fixtures. Finally, you need to decide on the budget before you start executing your bathroom floor plans so that you can be prepared.
Be Inspired by These Essential Bathroom Floor Plans
1. Smallest Bathroom
If the space is extremely small, then you can choose to have a toilet and sink alone. There will usually be a bigger bathroom space in other areas of the house to compensate. You may not have enough space to install a bathtub or a shower, but you can include a storage cabinet without wasting this space. You might only have wet regions in this type of floor plan, but still, you are making effective use of it. This type of cramped space is present in cities where it is very expensive to live in.
2. Three in a Row Classic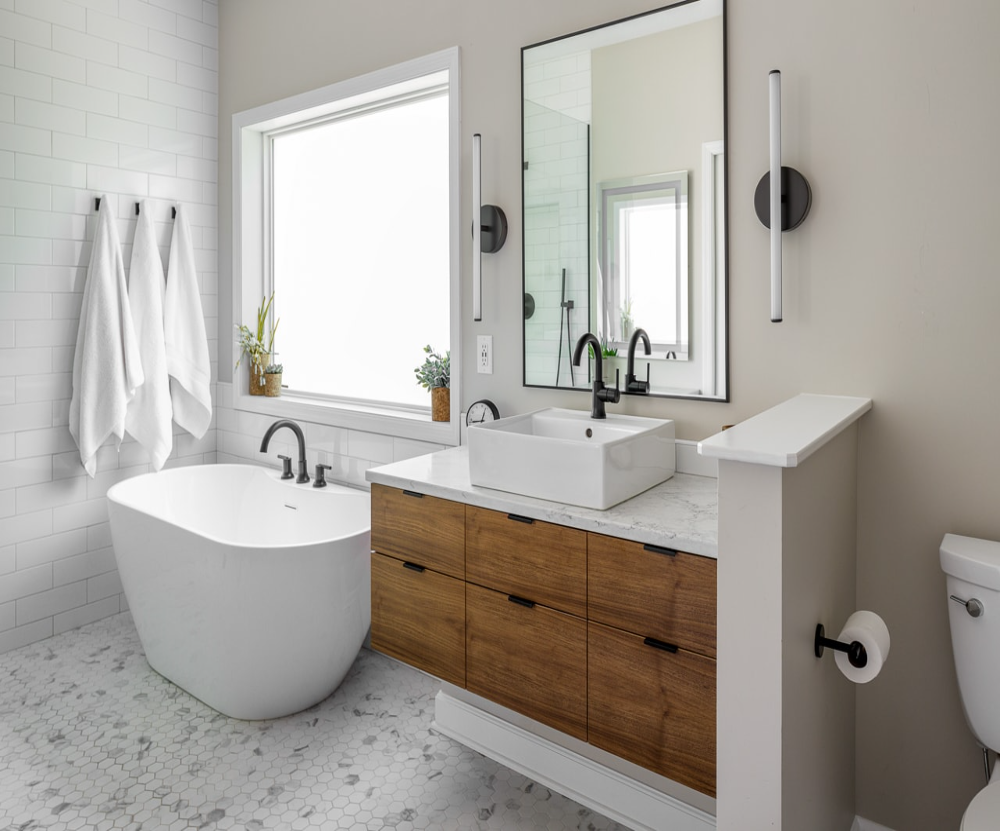 This is the design that is commonly seen in American households because it has been tried and tested to be effective. This can be ideal for 40 (5' x 8') or 50 (5' x 10') square feet bathrooms. It is a classic and efficient design mainly because it reduces the plumbing cost, as only one plumbing wall is required. In addition, it creates small sections and makes good use of the small space. At one end, you can have the shower/bathtub, and on the other, you can have the toilet, and in the middle, as the door opens, you can have the sink, and its size can be up to you (2 sink basins or a long countertop). You can also switch the location of the sink and toilet.
3. Opposite Wall Bathroom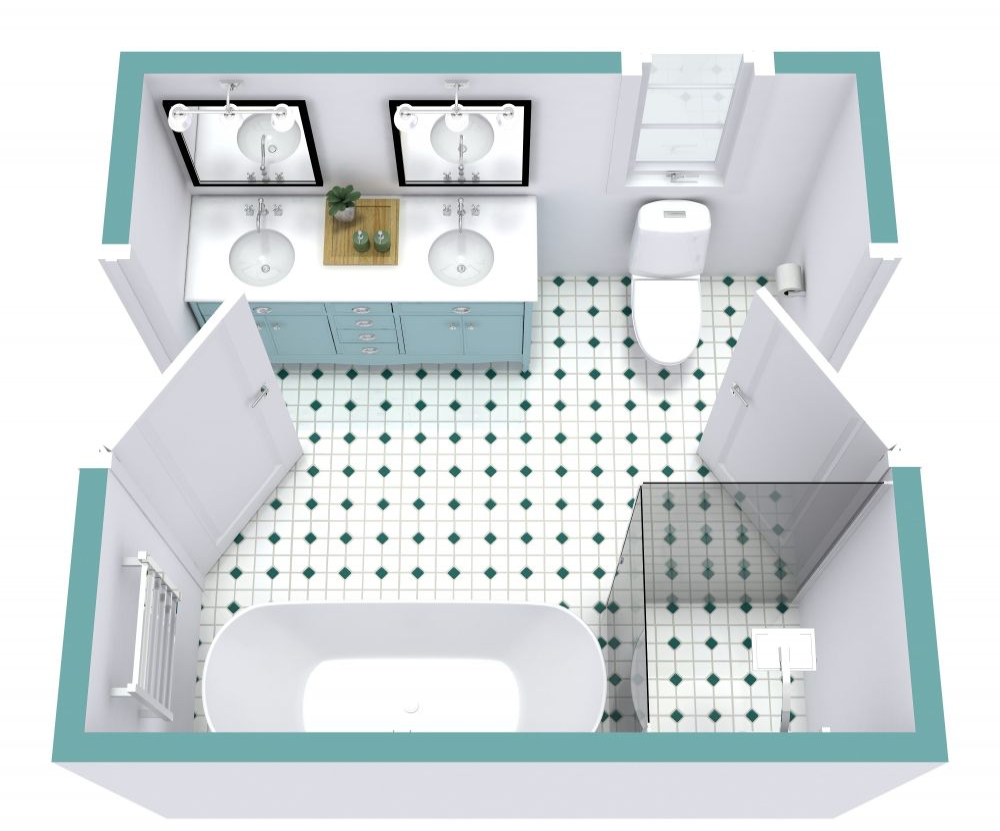 This floor plan requires two opposite walls with plumbing because the bathtub/shower and toilet can be on one wall, and on the other, you can have the sink cabinet. On the other wall, you can have the door and don't forget to leave space for opening it. This bathroom design may be a bit more expensive, but the space will be used well. This can be useful for an 8' x 5' or 10' x 5' bathroom. This is not much different from the previous floor plan, but this can be used if you have a little more space.
4. Square Bathroom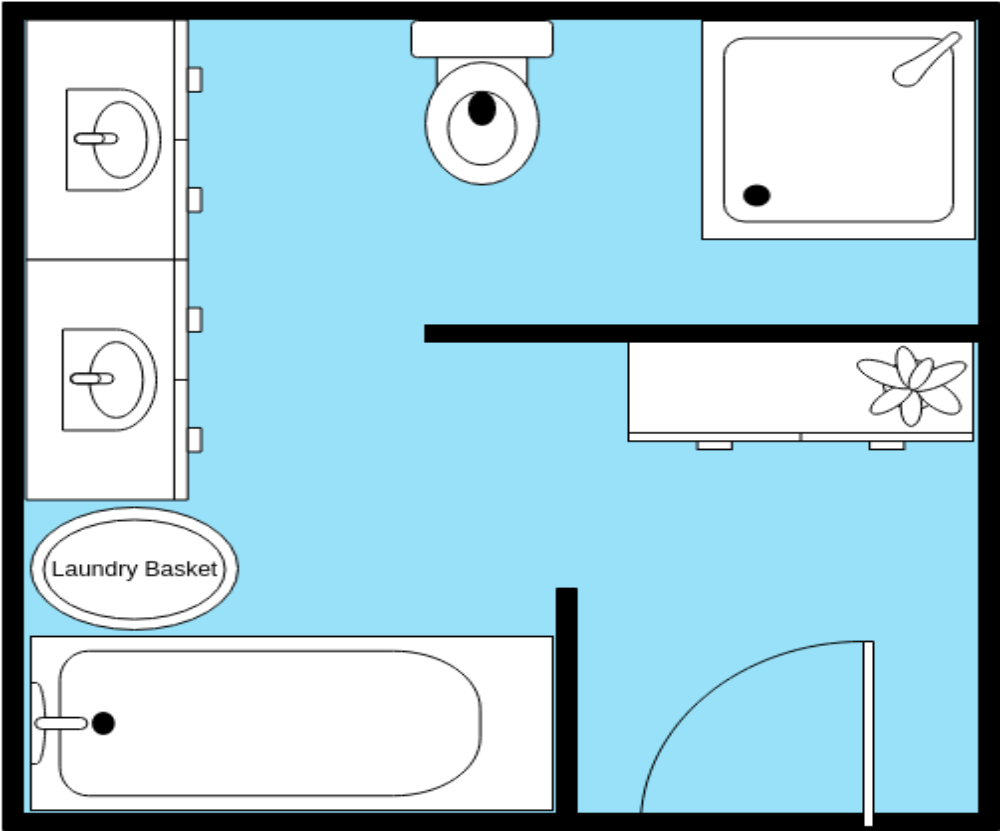 If the size of the square bathroom is bigger, then a bathtub can be added, but these bathrooms are usually small and cramped. But you can still turn this into an effective bathroom space where you can have the shower in one corner, the sink and toilet in the other corner, and the door in the last corner. This way, you have separate sections which feel more comfortable. But this type of bathroom also requires plumbing on at least 2 walls. This is the most commonly used bathroom floor plan, but you can also try switching up the locations. Because if the bathroom is big, you can have the tub, toilet, sink, and shower in the four corners and the door in the middle of the wall.
5. Bathroom with Storage Space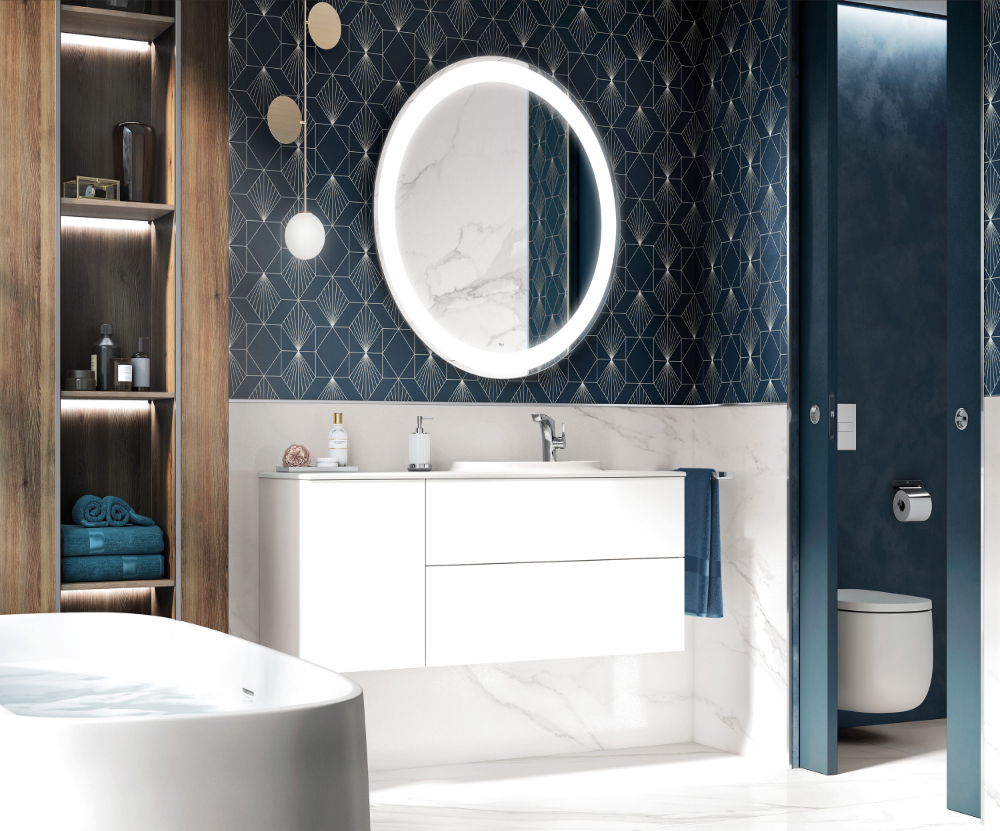 Rather than being a unique bathroom floor plan by itself, this focuses on how to utilize the space effectively. If you decide not to have a tub or a shower, although you have the space, you can choose to have a storage space in that area. But make sure that it is closer to the dry region in the bathroom, or if it is in the wet region, necessary changes are made. This is an ideal design for 8 feet by 8 feet (8' x 8') bathroom. You can have inner partition walls also.
6. Five-Piece Bathroom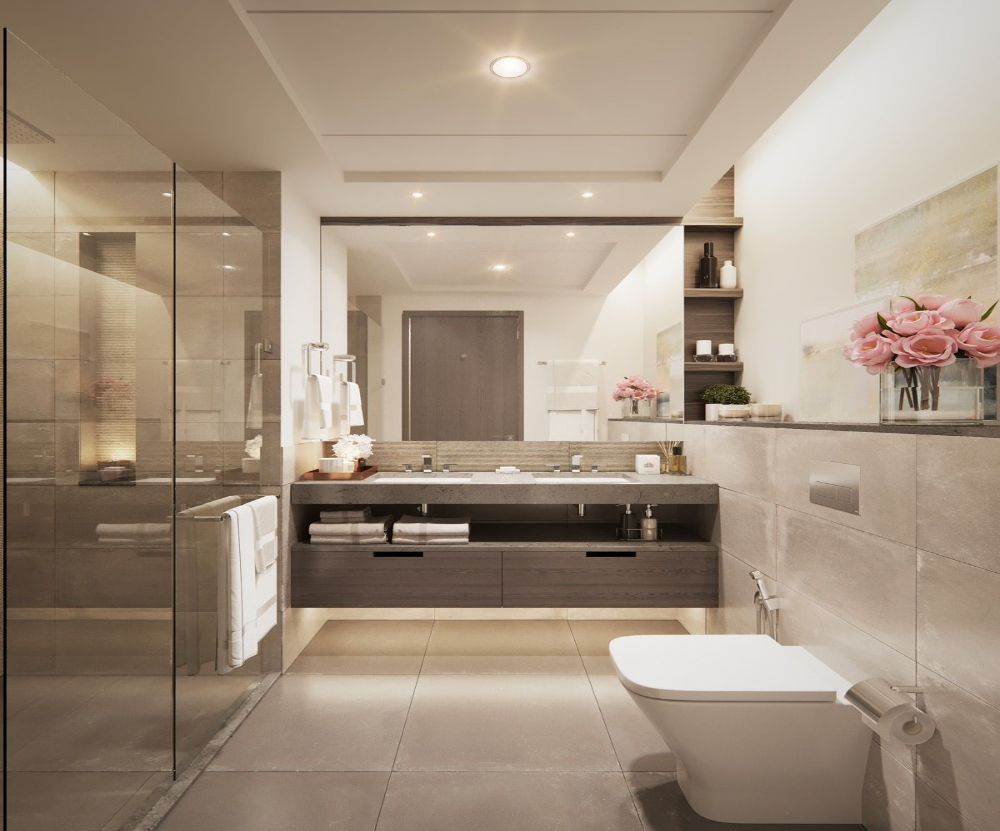 These are master bathrooms which are 8 feet by 12 feet in size, and they have a toilet, bathtub, shower, and two sinks on one counter. You will have options for the placement of the window or the door as there is more space. This is a child-friendly plan as one of the two sinks can be shorter to be used by them. Alternatively, this can be used by two adults as there are two sinks. If you love both showers and baths, this will be a great choice for your bathroom. You can have a compact and aesthetic bathroom with this floor plan.
7. Bathroom with a Bump-Out Tub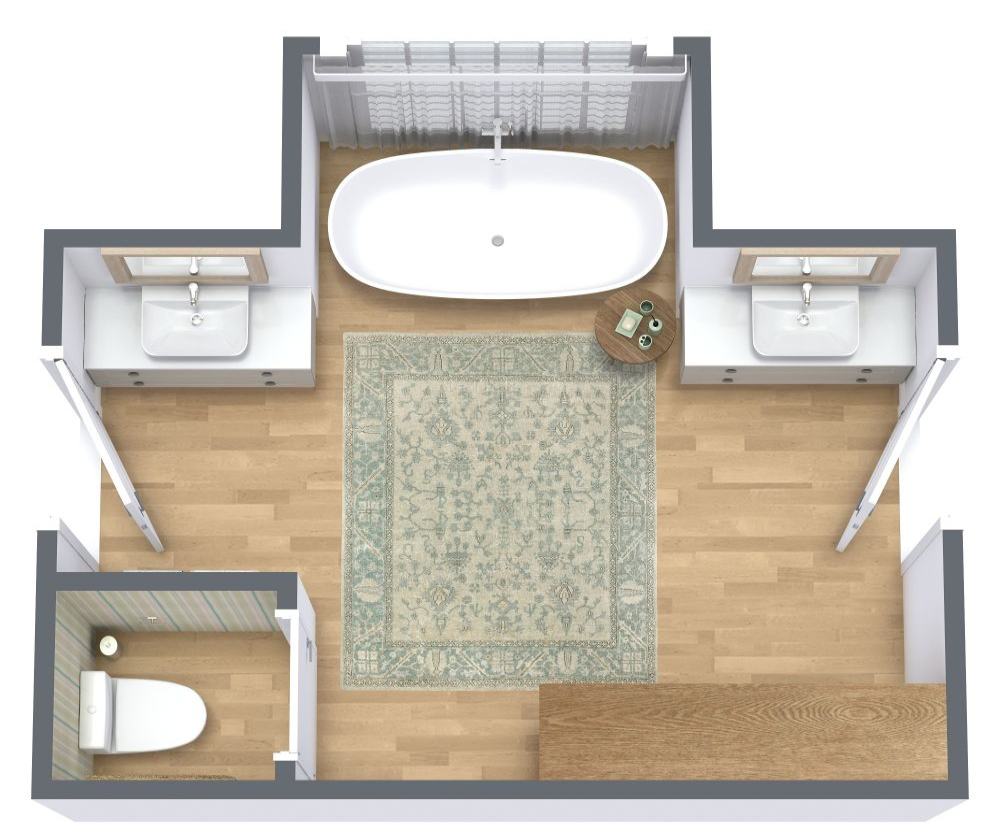 If your bathroom has this space, then you are in luck. You can have a bathtub in this space and have the toilet and sink on the other side of the wall. If it is possible to have a window on the bump-out wall, you can enjoy the view while having a bath. You can also use this idea to create a jack-and-jill bathroom type depending on the area available. This is where you connect the bathroom to two different rooms, and the bathroom is a common space. Although the bathroom's shape might be a bit strange, you can make use of it effectively using this floor plan.
8. Private Toilet Space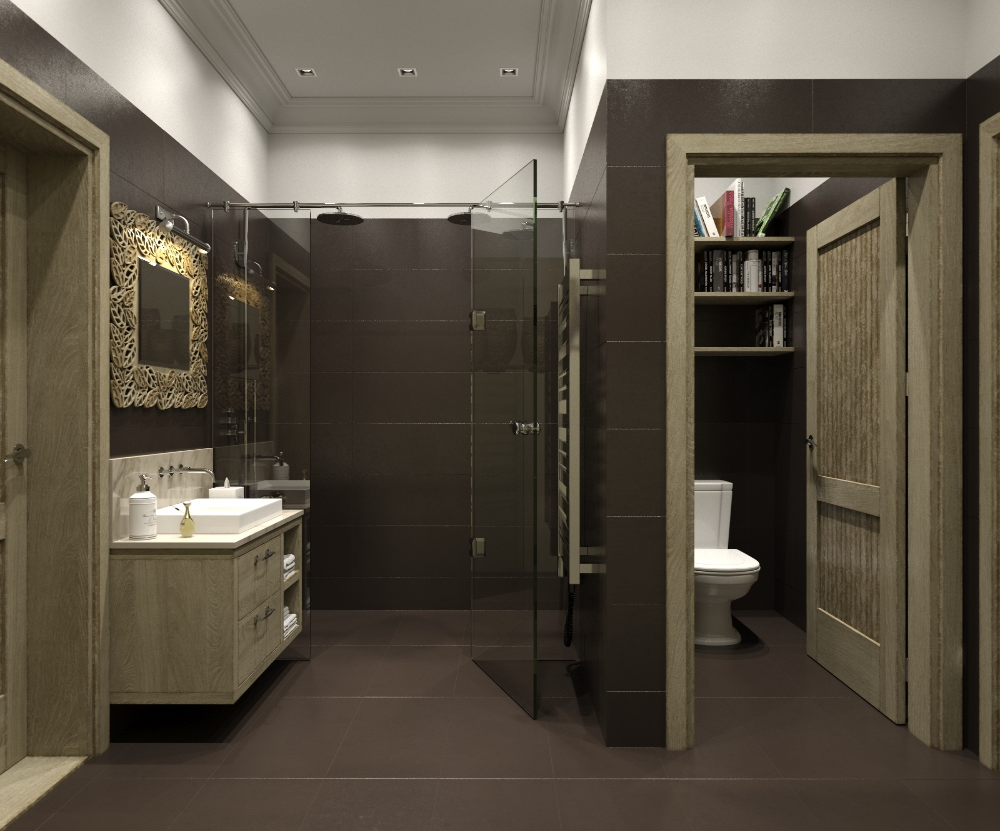 If the bathroom has an awkward shape, has too many people using it, or simply for preference, you can have a private toilet space with a door. Outside, you can have the tub and the sink; if there is a large space, you can have 2 sinks on a large counter. This creates a very efficient bathroom with 2 separate sections that can be used simultaneously if needed. If there is less space for this private section, install a pocket (sliding) door rather than the normal one. These types of bathroom floor plans save you money because you don't have to create two different bathrooms for your requirements.
9. Large Bathroom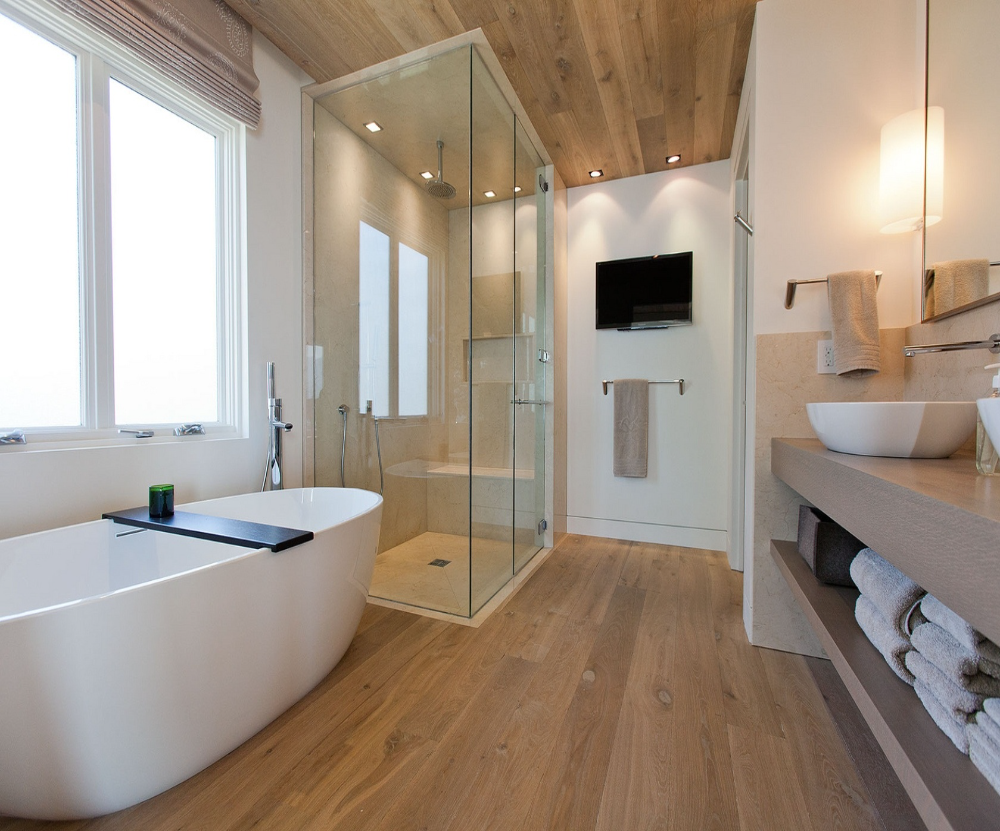 If you have a relatively large space for your bathroom, then the floor plan can have a lot of open floor space. Although many prefer to install a storage space after creating partitions, leaving it open is also not a bad idea. You can have the toilet, sinks, shower, and tub in the four corners, and the middle space can be empty, or you can move one of them closer to the other and create storage space there. These bathrooms are where you can confidently have huge mirrors, stunning carpets, etc., as the dry and wet regions will not overlap.
10. Unique/awkward Bathroom Shapes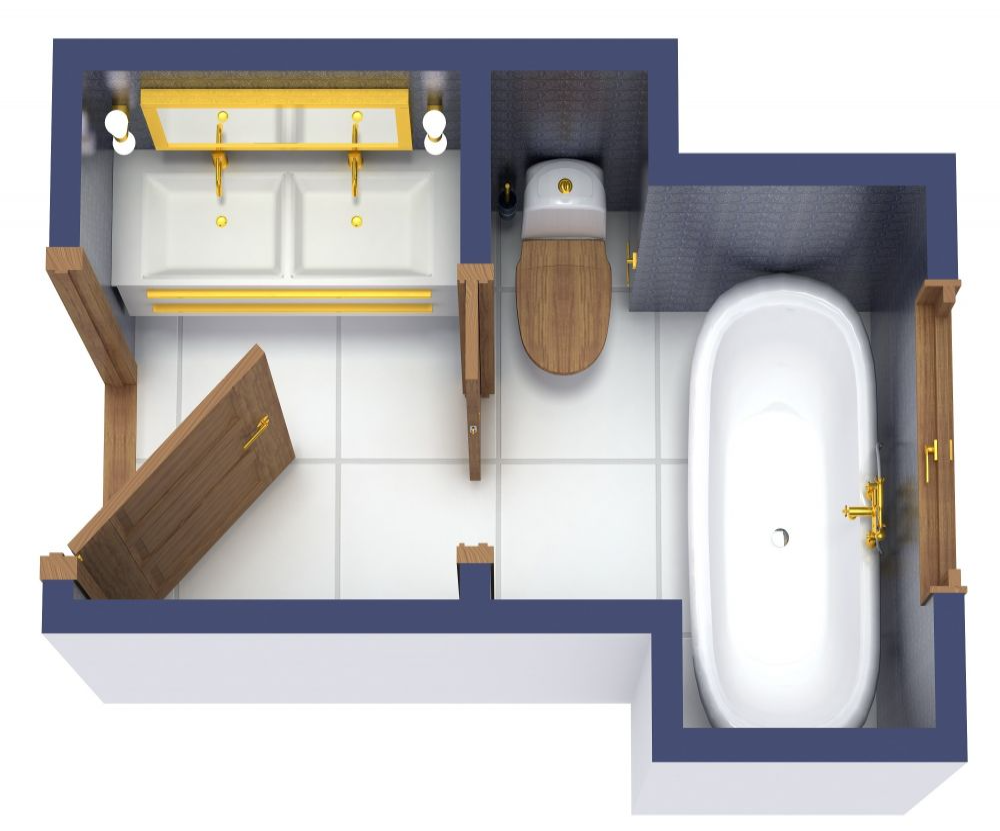 There can be wild guesses about the shape of the bathroom, as many different odd shapes are possible. Sometimes, the bathroom shape, although geometric, may not have evenly shaped walls as some of it may be a bit more inside or outside. These spaces may be difficult to utilize, but with thoughtful bathroom floor plans, it is possible to make use of it. If there is a small space, you can have a storage cabinet there. If you think the rectangular niche has enough space to accommodate a toilet, you can have it there. Try to have clear wet and dry regions in this bathroom for better comfort.
11. Sloped Roof Bathroom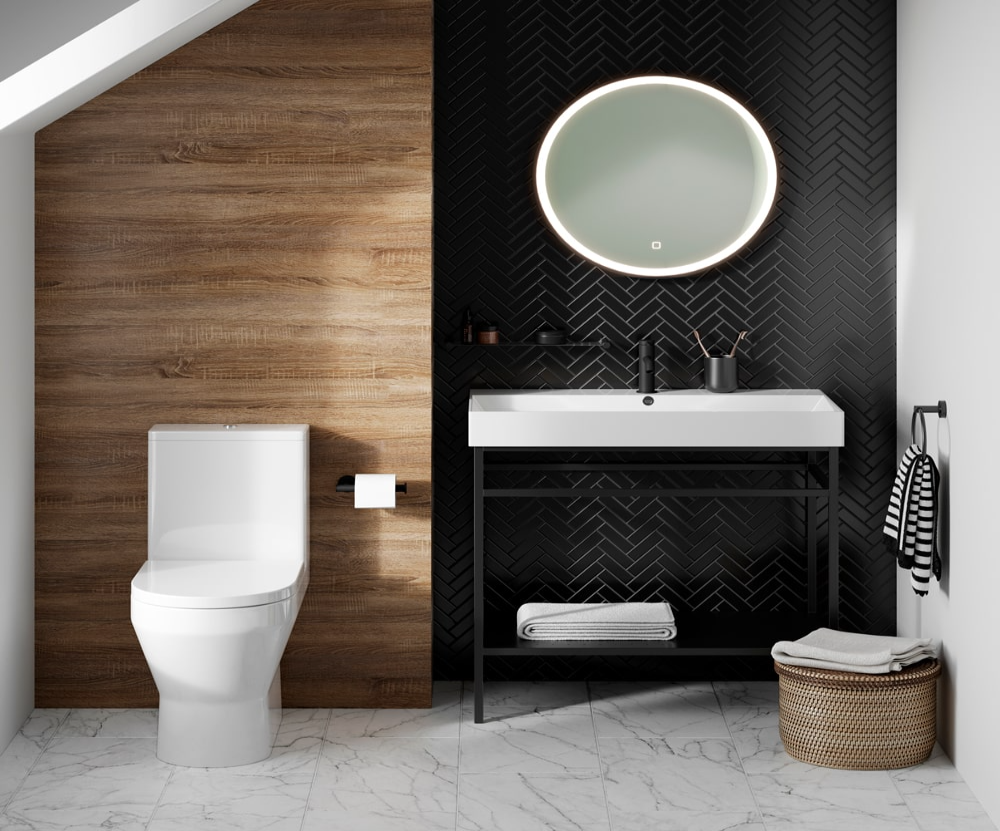 If your bathroom has a sloped roof on one side, you can think of including a toilet or a bathtub in that area, depending on the size. Both will be an effective use of space. Having a sink or shower in that sloped region is not a good choice because these have to be used standing up, and it will be difficult under that slope. Measure the height of that area before you choose what to have there. Worst case, you can use it as a storage space if it is too low.
12. Shower/Bathtub Alone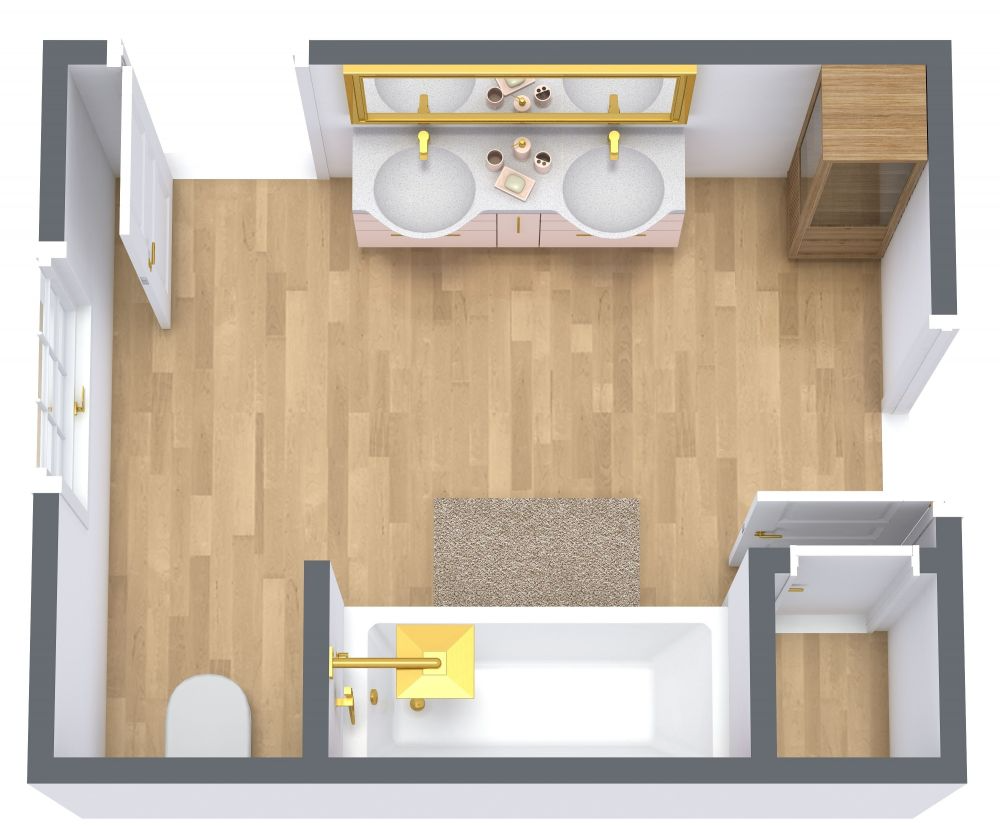 You can create a relaxing personal space if you have more than one bathroom and relatively big bathroom space in the other. You can think of simply having a beautiful bathtub or a shower, although the latter is not common. You can have a sink and a storage cabinet as well. You can choose to have your preferred type of bathtub, like a clawfoot tub which can be placed anywhere, an alcove tub, a corner tub, etc. This type of bathroom design can give you a spa-like experience at home if you place some scented candles and also help you relieve stress. If you have children, this can be used to give them baths more easily than in a shower.
Final Thoughts
Bathrooms are important spaces in the house, and they have to be well designed so that the space and materials are effectively used and you can have a comfortable experience using them. Bathroom floor plans are detailed drawings that consider the bathroom's size and shape and decide where each fixture, such as bathtub, shower, sink, and toilet, can be placed.
This will help you plan where you can have some storage space, where the windows and doors can be placed. Different types of bathroom floor plans can be used, such as jack-and-jill bathrooms, square bathrooms, five-piece bathrooms, etc. Each one varies in its functionality, and depending on your requirements and availability of space, you can choose the best one for you.
If you have chosen one of these floor plans, be sure to let us know!
Frequently Asked Questions
How to Decide Where to Place the Bathroom Fixtures?
You need to consider factors like plumbing options, the shape of the bathroom, and the position of other fixtures. The size of the bathroom will decide which fixtures (toilet, sinks, shower, bathtubs, etc.) can be placed. For instance, if your bathroom is small, you may not have space to have both a shower and a bathtub separately or have two sinks. So consider these factors before drawing the floor plan.
What Are Some Common Bathroom Floor Plans?
Although some effective designs have been used for a long time, the floor plan will depend on the features of your bathroom space. But regardless, some common bathroom floor plans are five-piece, three in a row, square, bump out the bathtub, and private toilet space bathrooms.