If you find calmness in organizing things and want everything in place or at least on the shelf, then don't worry. It is not necessary that you have OCD. It is just that you like to be in discipline and want things in order.
Organizing your bathroom by adding bathroom shelves can be very satisfying after you observe that it gives a whole new dimension to your bathroom. You don't even know there are so many options available that you can do it on your own to revamp the look of your bathroom.
There are built-in bathroom shelves options or cabinets over or under the sink. There are just so many possibilities that too creative that you can choose to make your bathroom look so creative and obviously organized.
We have got you a list of 17 creative DIY ideas for your bathroom shelves that will impress your guest. Just keep reading and choose which one is your favorite.
Creative Ideas for Your Bathroom Shelves
Installing bathroom shelves has endless good reasons, especially if you have big or small kids. They all love to create a mess, so if you want to avoid those possibilities, below is a list of 17 great ideas.
1. A Cart with Wheels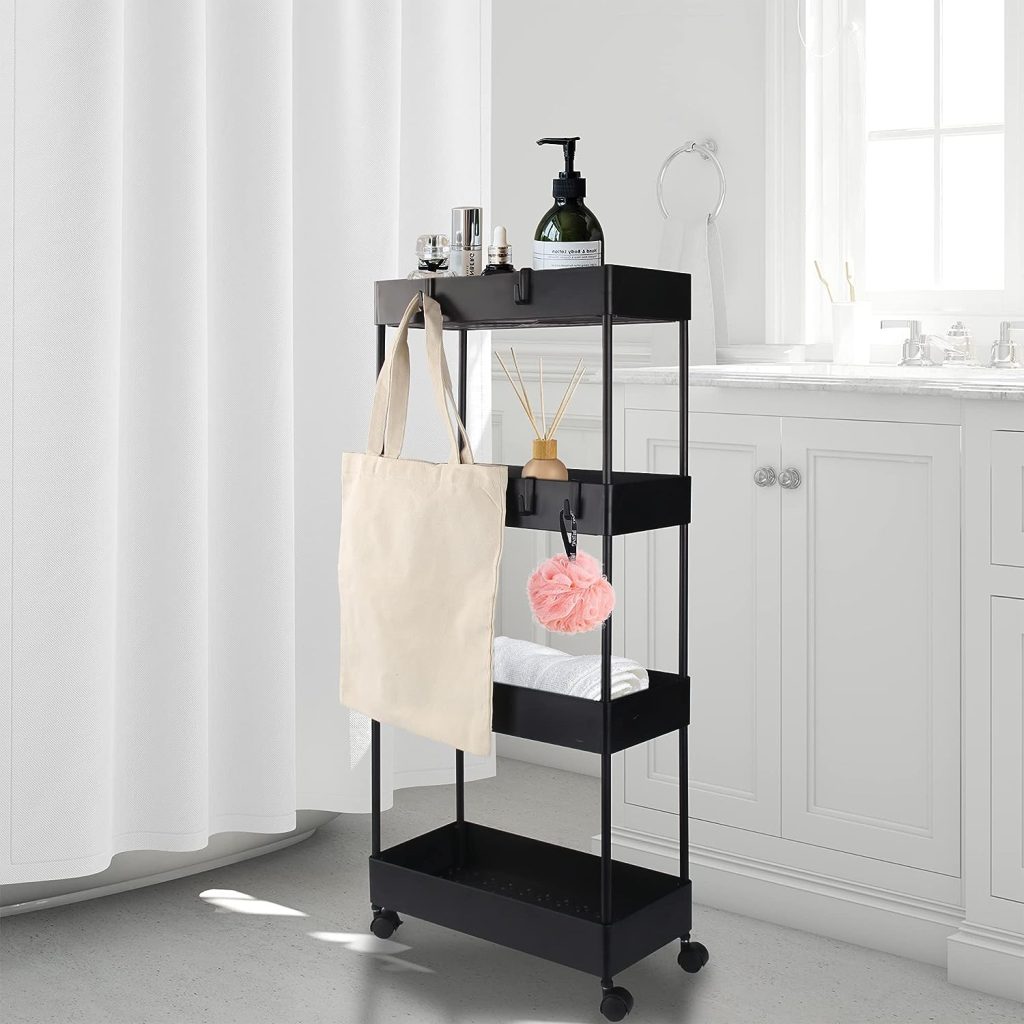 A RASKOG rolling cart can be the easiest and most fun way to decorate your bathroom. These carts with wheels are the best bathroom shelves you can have, as they are attractive and functional. Also, an immobile cabinet can be bulky and hard to move. It has shelves that can store all the bath necessities like towels, shampoos, and other things.
Also, these carts are strong enough to store potted plants to make your bathroom look more fresh and lively. You can surely choose these cart-with-wheel options to give your bathroom a more organized look.
2. Vintage Ladder Shelf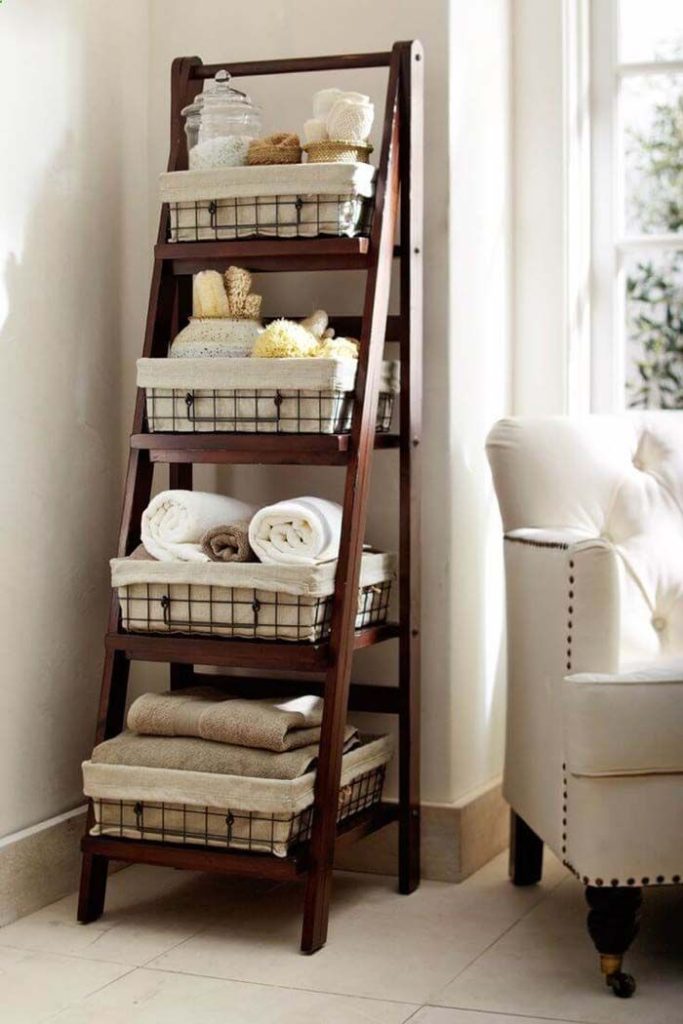 The vintage ladder shelf is a charming and practical addition to any bathroom, offering a rustic touch while maximizing storage space. This is a very creative DIY idea for bathroom shelves because you can transform an old ladder into a unique and functional storage solution as well as organize your bathroom. While reusing an old ladder, you can create a multi-tiered shelf that accommodates towels, toiletries, and decorative items.
The weathered wood and worn-out paint give the ladder shelf an authentic vintage look, adding character to your bathroom decor. Whether leaning against the wall or securely mounted, this DIY project combines nostalgia and functionality, providing a stylish storage solution for your bathroom essentials.
3. Crate Shelves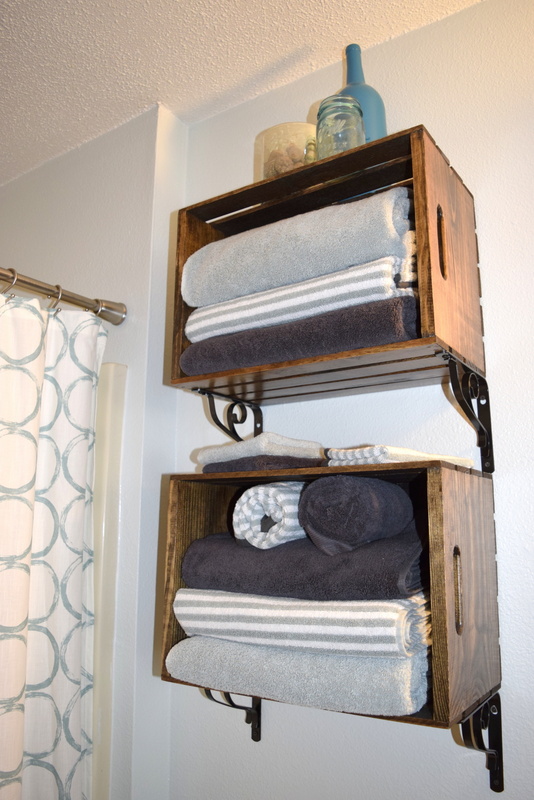 Carte as bathroom shelves is a great idea for storage. This DIY option shows both beauty and functionality of old wooden crates lying in one corner of your home. All you need to do is stack and secure the crates together, and you can create a unique shelf that offers ample space for organizing towels, toiletries, and other bathroom essentials.
The rustic charm of the crates adds character to the space, while their open design allows for easy access to items stored within. With a touch of creativity, you can paint or stain the crates to match your bathroom decor or leave them in their natural state for a more organic and earthy feel. These crate shelves not only serve a practical purpose but also add a charming and rustic aesthetic to your bathroom.
4. Floating Mason Jar Shelves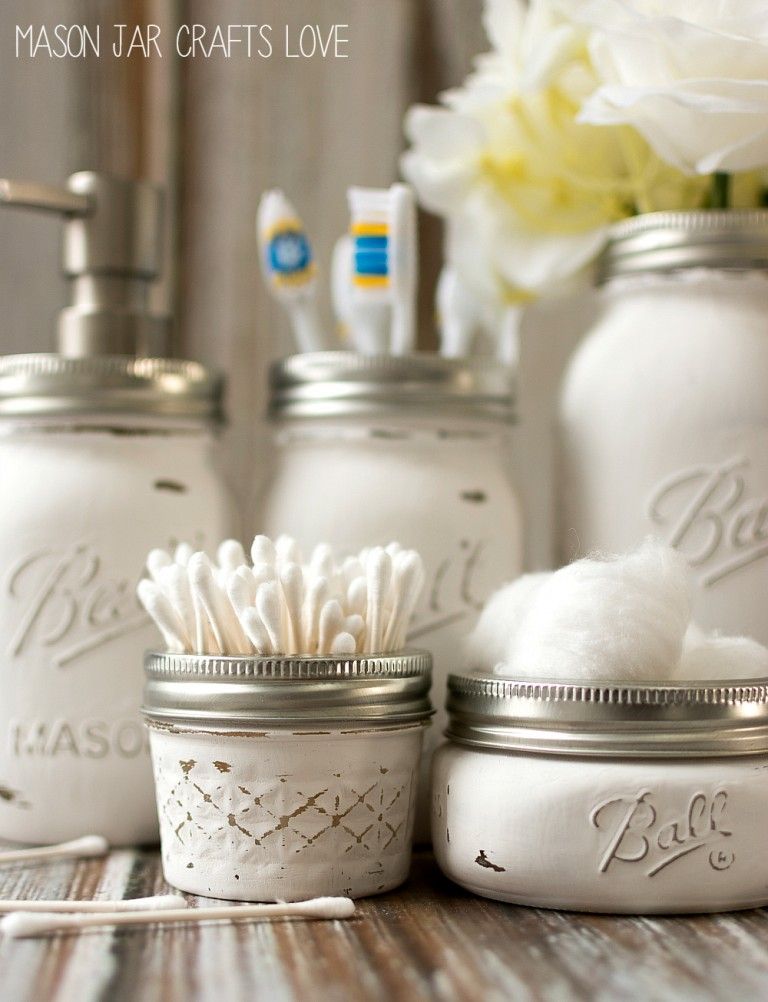 This is a very innovative DIY idea for bathroom shelves. These floating shelves provide a unique and charming storage solution. By affixing sturdy brackets to the wall, mason jars are suspended, creating a whimsical and functional display. These versatile jars can store and organize small bathroom items such as cotton balls, Q-tips, or even decorative items like fresh flowers.
The transparent nature of the mason jars allows for easy visibility of their contents, adding a touch of elegance and simplicity to the bathroom decor. With a few simple materials and a dash of creativity, floating mason jar shelves bring a touch of rustic charm and practicality to your bathroom space.
5. Wine Rack Shelves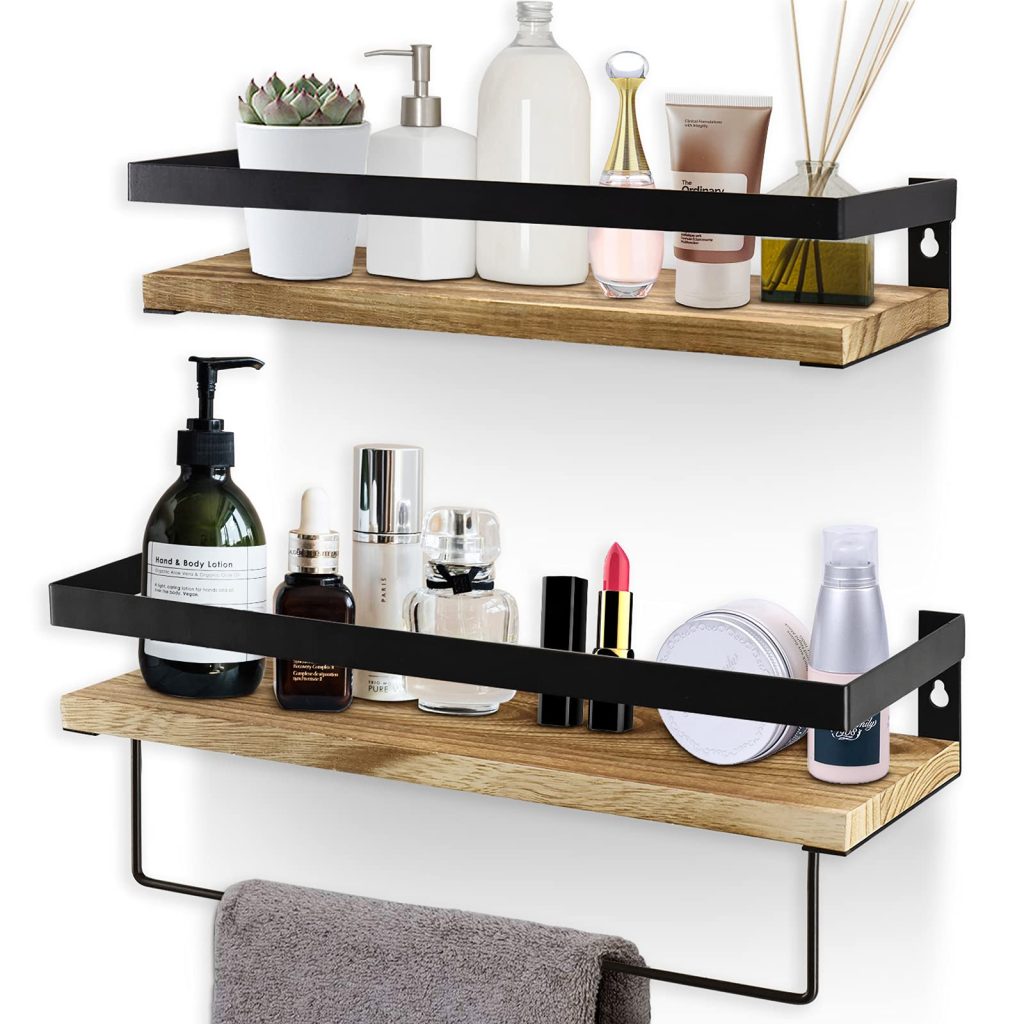 Using a wine rack in functional bathroom shelves is a smart and creative move to revamp your bathroom on a budget. Also, this is a unique way to organize towels, toiletries, and other essentials. The individual compartments of the wine rack conveniently accommodate rolled towels or even small baskets for organizing smaller items.
The sleek design of the wine rack adds a touch of sophistication to the bathroom decor, creating a modern and elegant look. By painting the wine rack to match the bathroom color scheme or leaving it in its original finish, you can customize the shelves to fit your desired aesthetic. These DIY wine rack shelves combine practicality and aesthetics in your bathroom.
6. Leather Strap Shelves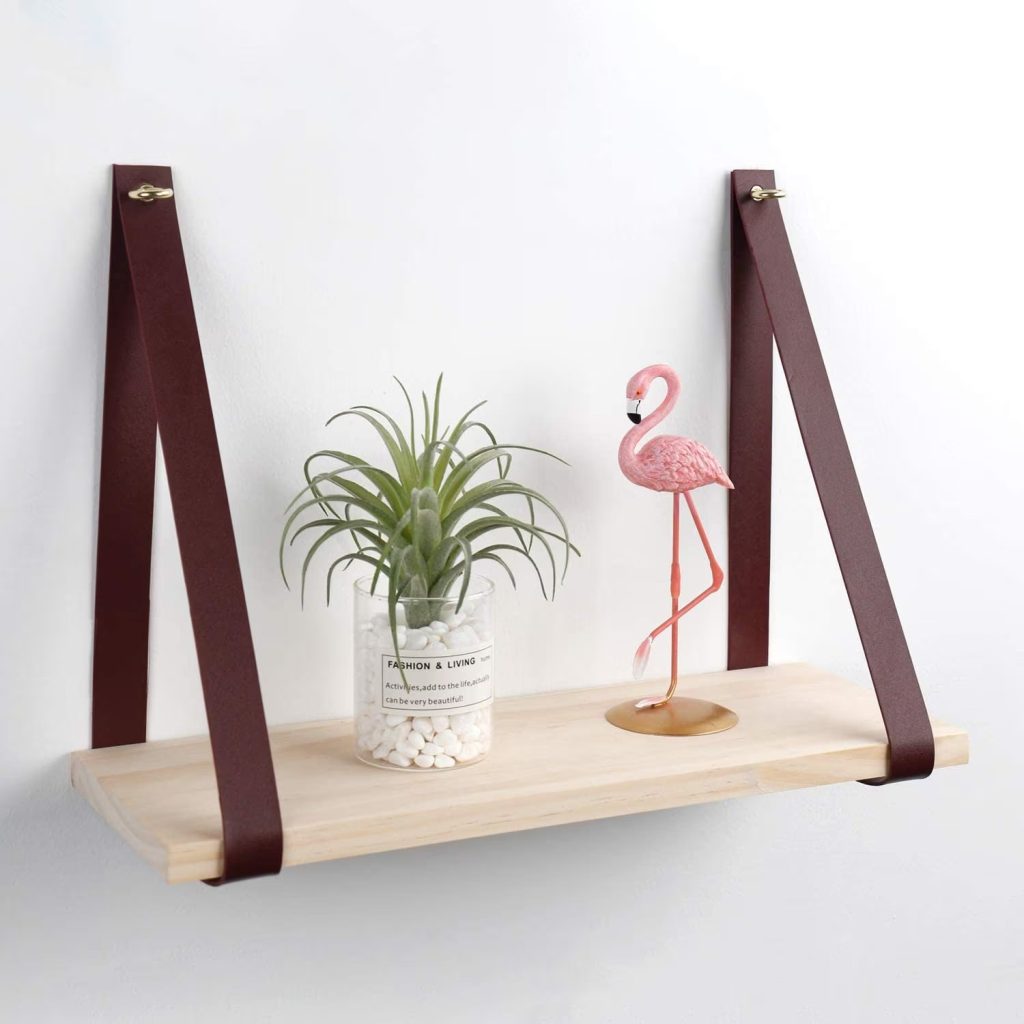 These leather strap bathroom shelves offer a blend of functionality and aesthetics, adding a touch of modern sophistication to your space. By attaching leather straps to wooden boards or planks, you can create suspended shelves that provide a minimalist and contemporary storage solution. The leather straps serve as a support system and add a visually appealing element to the shelves.
The natural texture and color of the leather bring warmth and character to the bathroom decor. These DIY leather strap shelves can be easily adjusted in height and position, allowing you to customize the storage space according to your needs. Whether used to display decorative items or to organize toiletries, these shelves are a versatile and eye-catching addition to your bathroom.
7. PVC Pipe Shelves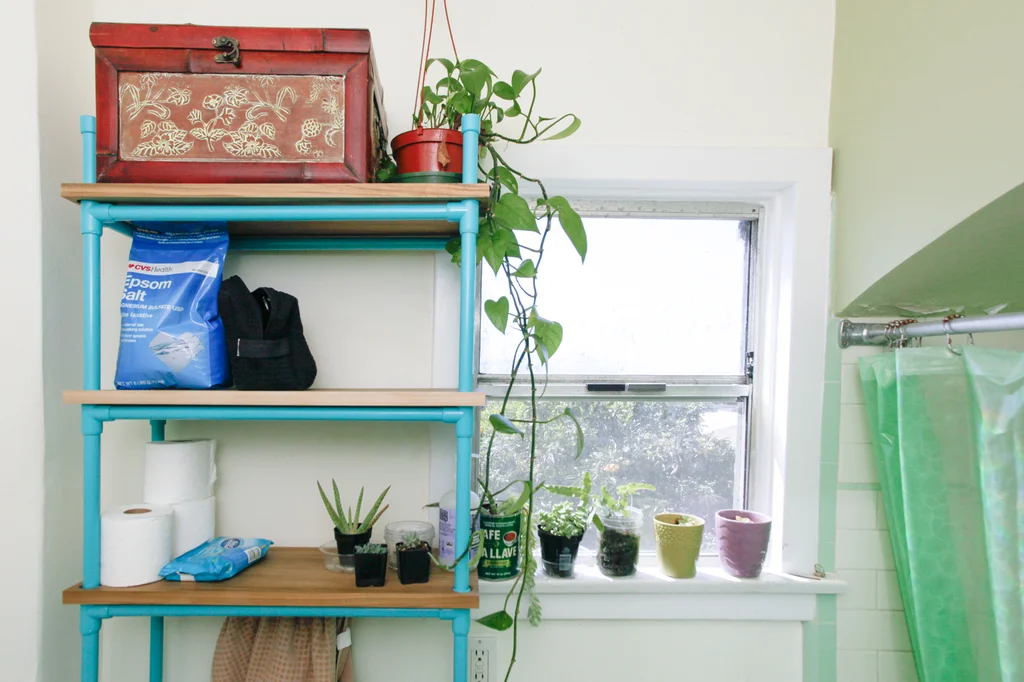 PVC pipes are strong, durable, and versatile DIY ideas for bathroom shelves. By using old PVC pipes, you can create unique and customizable shelves that offer efficient storage solutions. All you need is little creativity and basic DIY skills. Just cut the PVC pipes into desired lengths and assemble them into various configurations, such as a ladder-style shelf or a multi-tiered organizer.
The lightweight and durable nature of PVC pipes makes them ideal for bathroom shelves. These DIY shelves provide ample space for storing towels, toiletries, and even small potted plants. Additionally, PVC pipes can be painted in different colors or left in their natural form to match your bathroom decor. With their affordability and versatility, PVC pipe shelves are a practical and creative way to maximize storage and add a modern touch to your bathroom.
8. Upcycled Drawer Shelves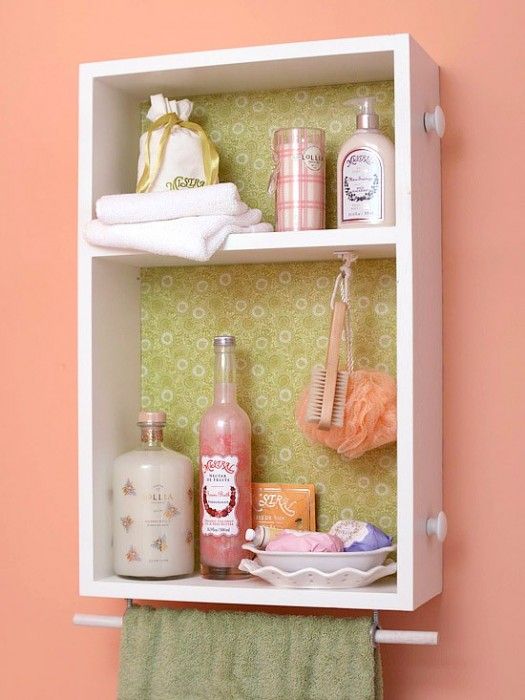 Another interesting DIY bathroom shelf that will surely elevate the look of your bathroom. You can create an impactful and functional shelf by using old drawers. The drawers can be mounted directly onto the wall or arranged horizontally for a more traditional shelf look. These upcycled shelves provide a perfect spot for storing towels, toiletries, and decorative items.
You can enhance the visual appeal by painting the drawers in vibrant colors or distressing them for a vintage look. The varying sizes and shapes of the drawers add an eclectic touch to the bathroom decor while creating an interesting focal point. This is a sustainable and budget-friendly idea to solve your organizing problem in your bath space.
9. Hinged Shelves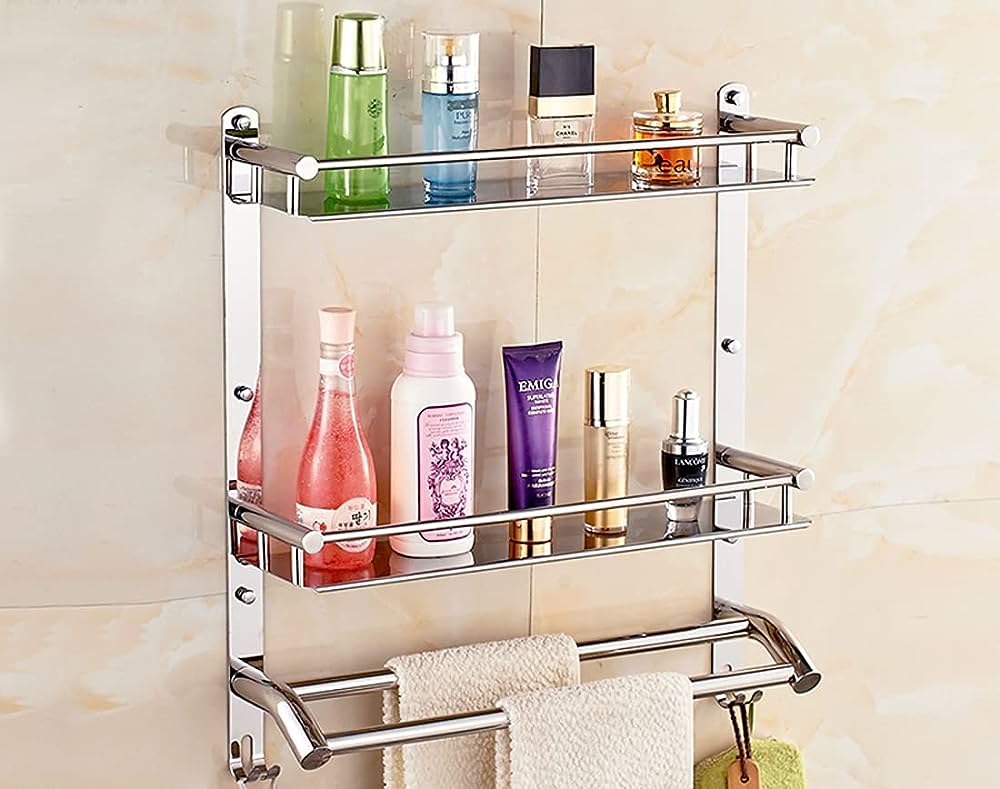 These bathroom shelves are designed with hinges that allow them to fold or expand according to the need. By attaching hinges to wooden boards or planks, you can create hinged shelves that can be mounted on the wall or behind the bathroom door, maximizing space utilization. This design is particularly useful in smaller bathrooms where floor space is limited.
The shelves blend seamlessly into the wall when folded up, creating a sleek and unobtrusive look. When expanded, they provide a convenient surface for storing toiletries, cosmetics, or even displaying decorative items.
10. A Shelf Under Your Basin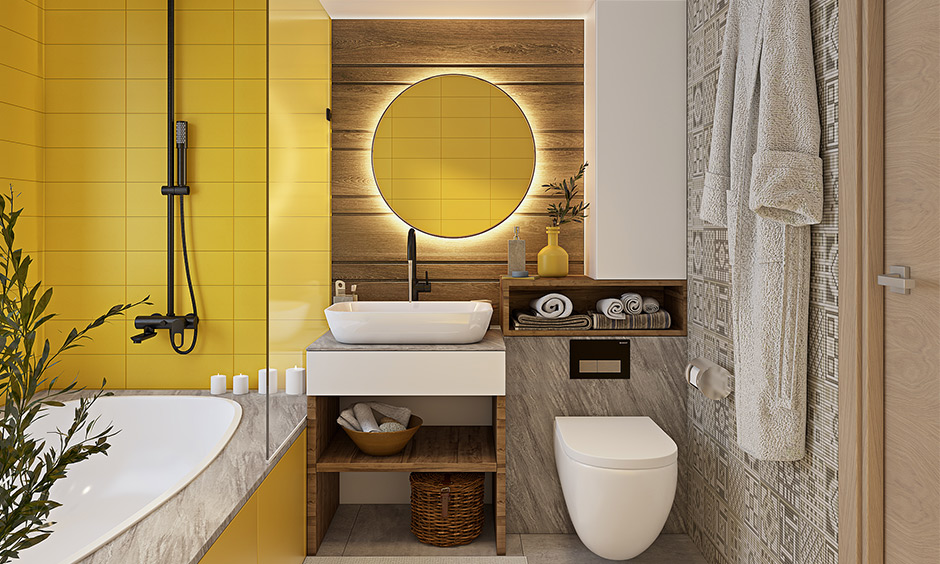 This is a very creative DIY solution for your bathroom space. All you need is a wooden shelf to place under your wash basin. However, the type of bathroom shelves will depend on your bathroom style. If you like floating-style shelves, then you can surely opt for this one. You can place a counter under your washbasin to store all your toiletries and towels.
This is a budget-friendly solution, as you only need an additional floating shelf underneath is a perfect solution for storage purposes. Also, it offers open space; thus, you can access your items quickly.
11. Vintage Suitcase Shelves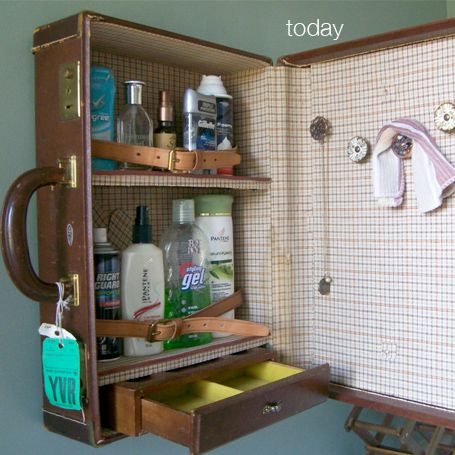 Repurposing vintage suitcases into wall-mounted shelves is a charming and unique idea for adding storage to your bathroom. These shelves not only provide functional storage space but also infuse your bathroom with a touch of nostalgia and character. All you need to do is attach your sturdy brackets to the back of the suitcases and mount them on the wall, and you can create eye-catching shelves that are sure to be a conversation starter.
Whether you use them to store towels, display decorative items, or even as a home for your potted plants, vintage suitcase shelves add a delightful and whimsical element to your bathroom decor.
12. Pallet Shelves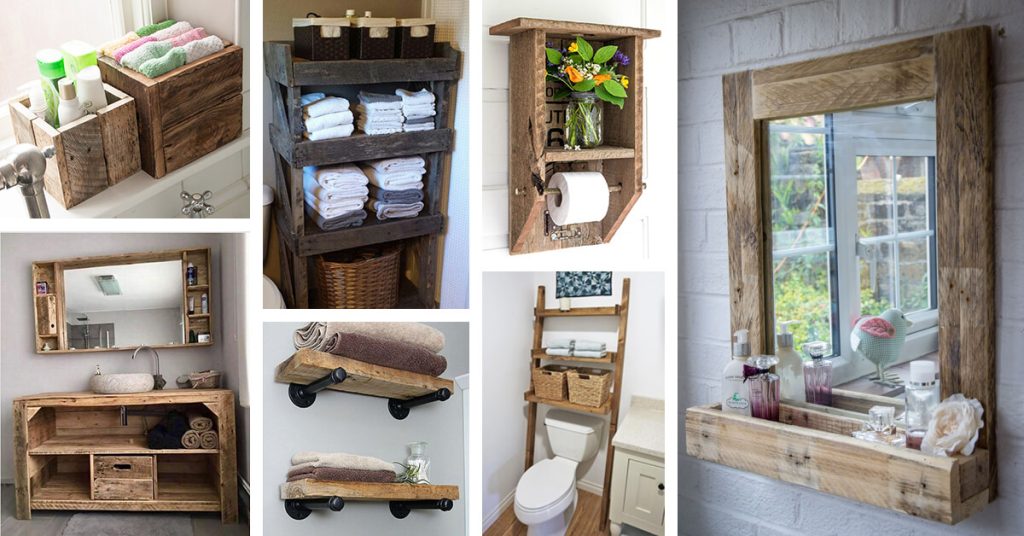 Wooden Pallets add a rustic charm to your space while being functional for storage purposes. These bathroom shelves have a natural and organic look that brings a rustic charm to any space. After cleaning and sanding the pallets, you can easily mount them on the wall to create sturdy shelves. Pallet shelves provide ample storage space for towels, toiletries, and other bathroom essentials. Their open design allows for easy access and adds a unique visual appeal to your bathroom decor. By incorporating pallet shelves into your bathroom, you add functionality and infuse a rustic and eco-friendly vibe into the overall aesthetic of the space.
13. Rope Ladder Shelf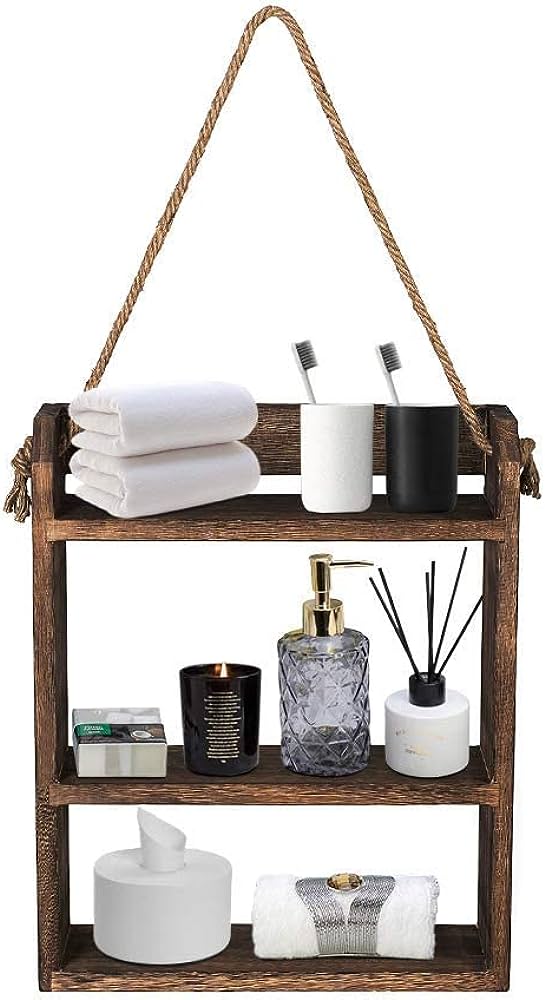 If you're looking to add a nautical or bohemian style to your bathroom, a rope ladder shelf is an excellent DIY idea. This unique and eye-catching shelf combines wooden dowels with thick ropes to create a ladder-like structure. By attaching the dowels together with rope, you can easily hang the shelf on the wall.
The rope ladder bathroom shelves offer a perfect blend of functionality and aesthetics. Its rungs provide multiple levels for storing towels, hanging plants, or displaying decorative items. The ropes' natural texture and the wooden dowels' warmth add a rustic and cozy feel to your bathroom decor. The rope ladder shelf not only maximizes your storage space but also serves as a statement piece that enhances the overall visual appeal of your bathroom.
14. Hula Hoop Shelves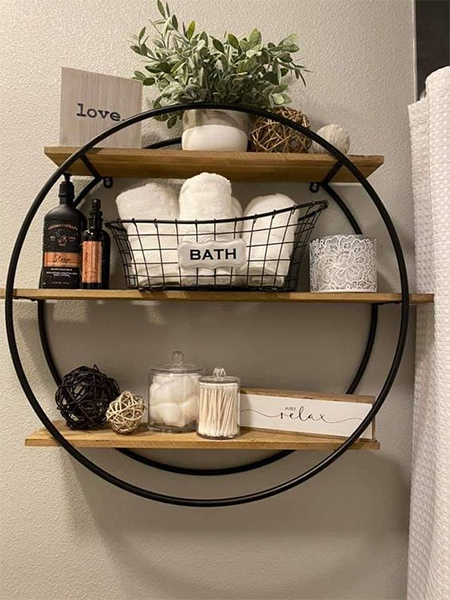 This unique idea repurposes hula hoops into stylish and functional shelves. Just paint the hula hoops in your desired color and attach them to the wall using brackets. You can easily transform them into eye-catching shelves. The wooden boards placed on top of the hula hoops provide a sturdy surface for storing towels, toiletries, or displaying decorative items.
Hula hoop bathroom shelves bring a fun and imaginative element to your bathroom decor, making them a great choice for children's bathrooms or anyone looking to add a touch of creativity to their space. With their vibrant colors and circular shape, these shelves become a focal point and conversation starter, adding both storage and visual interest to your bathroom.
15. Basket Shelves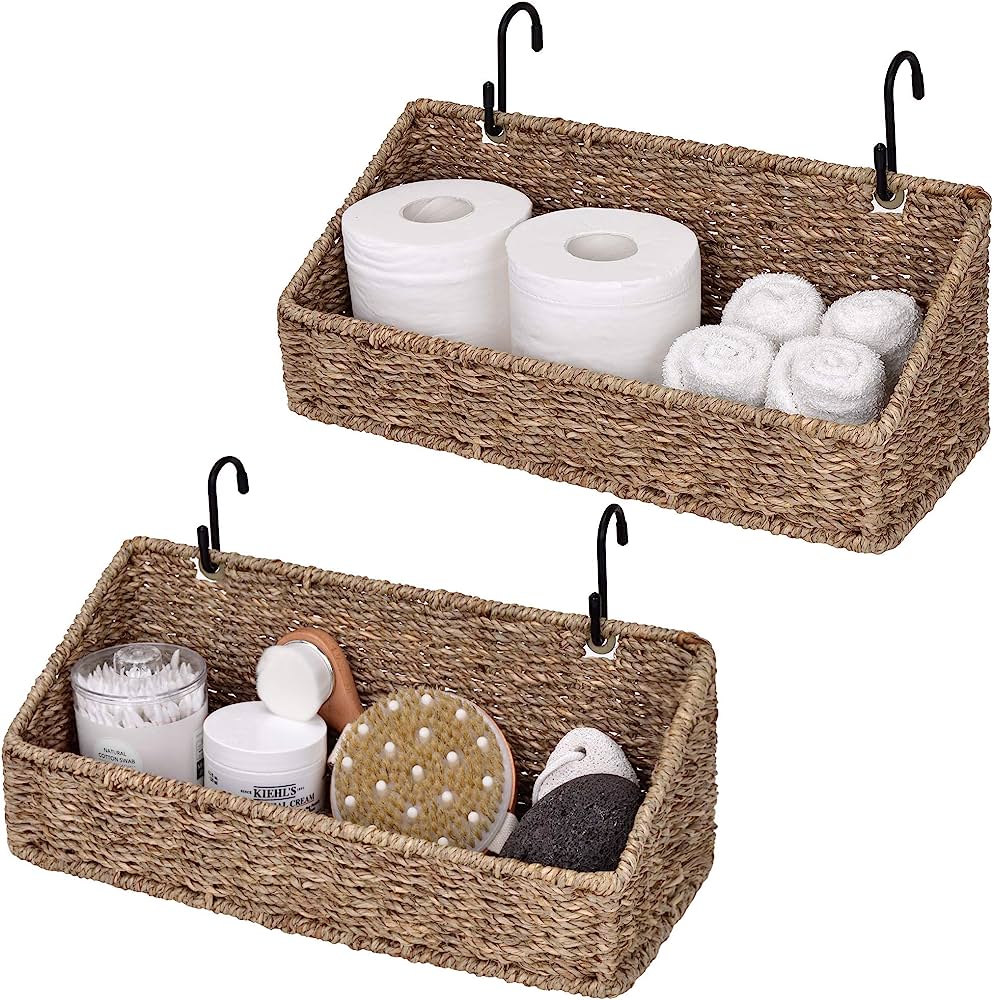 Basket shelves provide a charming and practical storage solution that adds a touch of texture and warmth to your bathroom decor. You can hang the baskets on the wall using hooks or brackets or even attach them directly to a wooden board for a more streamlined look. These bathroom shelves are perfect for storing towels, toiletries, or other bathroom essentials, while the woven texture of the baskets adds visual interest to the space.
You can leave the baskets in their natural state or paint them to match your bathroom color scheme. With their open design, basket shelves allow for easy organization and accessibility while also introducing a cozy and rustic vibe to your bathroom environment.
16. Pipe and Wood Shelves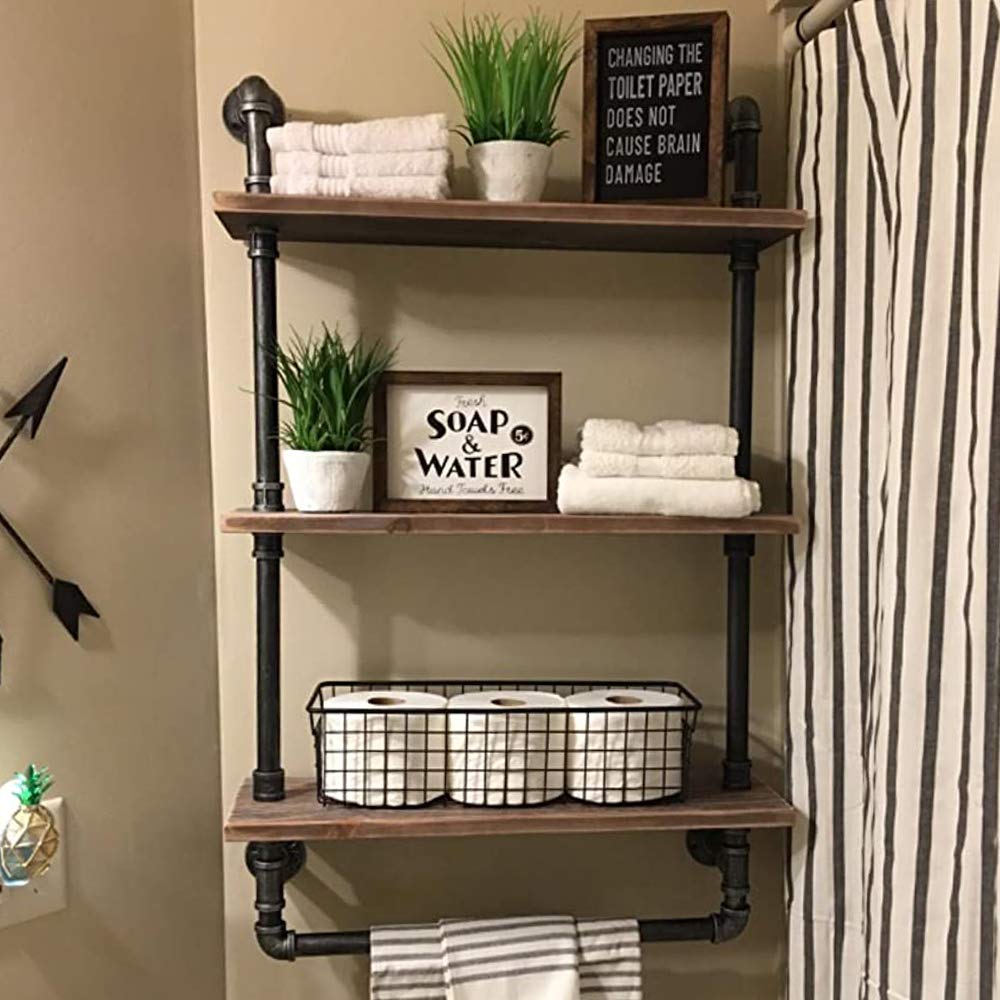 This unique combination of industrial pipes and wooden boards results in sturdy and stylish shelves that add a unique flair to your bathroom decor. You can create a strong framework for the shelves by assembling the pipes and fittings. At the same time, the wooden boards provide a solid surface for storing towels, toiletries, or displaying decorative items.
The juxtaposition of the rough, metallic pipes and the warm, natural wood creates a visually appealing contrast that adds character to your bathroom. These bathroom shelves are functional and customizable, as you can adjust the height and arrangement of the pipes and boards to suit your space. Pipe and wood shelves offer a blend of practicality and aesthetics, making them a standout choice for those seeking a contemporary and industrial look in their bathroom.
17. Pegboard Shelves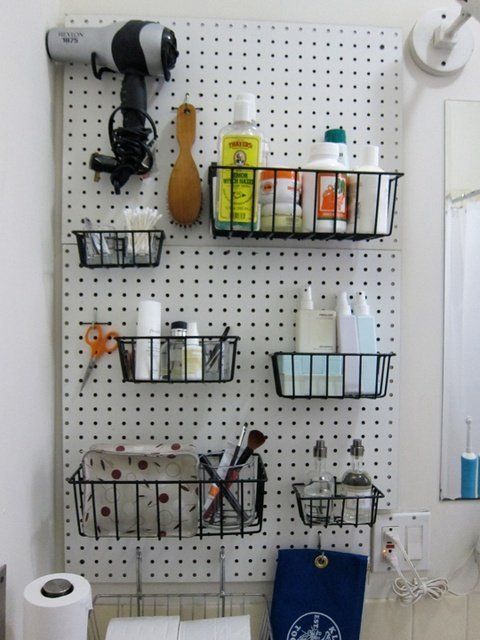 Pegboard shelves are a versatile and customizable option for bathroom shelves. Pegboard shelves allow you to arrange shelves, hooks, and other accessories in various configurations, giving you the flexibility to organize your bathroom essentials in a way that works best for you. Whether you want to hang towels, store toiletries in baskets, or display decorative items, pegboard shelves offer endless possibilities.
Additionally, the perforated surface of the pegboard adds a unique visual texture to your bathroom while providing a convenient solution for keeping everything within reach.
Conclusion
Bathrooms are one of the most important rooms in any house, and well all know that very well. Thus it is essential to keep it organized, and adding creative DIY bathroom shelves is a good initiative. It enhances its functionality and adds a personal touch to the space. And anything has the possibility to become something useful with a creative mind, from repurposed items to unique designs.
You don't have to invest a lot of money in these ideas. On the other hand, these ideas offer a wide range of options to suit different styles and preferences. So choose any of these that enhance the look of your bathroom.
Thus, roll up your sleeves, get creative, and transform your bathroom into a well-organized and visually appealing oasis.