The measurements of a kitchen cabinet play a significant part in balancing beauty and practicality in a well-designed kitchen. Understanding the exact cabinet dimensions is essential whether you are planning a kitchen remodel or building a brand-new one.
In this detailed post, we'll explore the wide world of kitchen cabinet dimensions and sizes and present you with a precise and helpful road map to follow.
Standard sizes are an excellent place to start, but we'll also explore the world of customization and stress the need to adapt your cabinet measurements to your specific needs and the layout of your home. After all, you want your kitchen to reflect your personality and meet your unique storage needs.
Join us as we discover how to make your dream kitchen a reality by learning the ins and outs of kitchen cabinet dimensions, whether for a contemporary or a more classic look.
Why Are Kitchen Cabinets Necessary?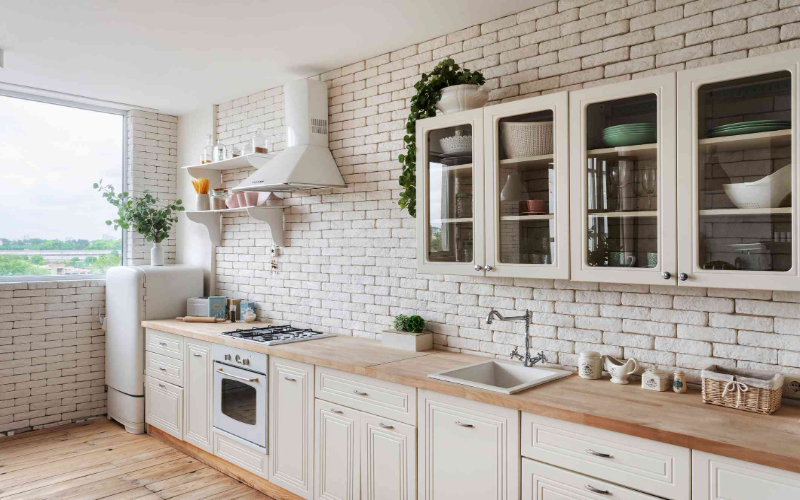 Cabinets in the kitchen are an essential part of any kitchen remodel. They have several uses and provide many advantages, all of which improve the efficiency and neatness of your kitchen. Some of the many benefits of installing kitchen cabinets are as follows:
Storage: There is plenty of room for storing all kitchen appliances, plates, cutlery, and pantry staples in the kitchen cabinets. Kitchen staples can be neatly tucked away in cabinets of the appropriate size and layout, allowing for quick access while keeping counter space clear.
Organization: Kitchen cabinets are helpful because they allow you to store various objects in their own individual locations. Organizing your kitchen supplies by kind and how often you use them will make finding what you need much quicker and less hassle.
Protection: Kitchen cabinets shield your valuables from filth, dust, and accidental breakage. You can keep the quality and extend the life of fragile or expensive objects by putting them in cabinets.
Aesthetics: The cabinets in your kitchen are an essential part of the room's overall design. They may be found in many different materials and styles, allowing you to coordinate your kitchen's look with your own style.
Functionality: Kitchens benefit greatly from cabinets since they provide convenient storage solutions for appliances, sinks, and other fixtures. They make the kitchen smoother by speeding up the chopping, cooking, and cleaning processes.
The Basics of Kitchen Cabinet Dimensions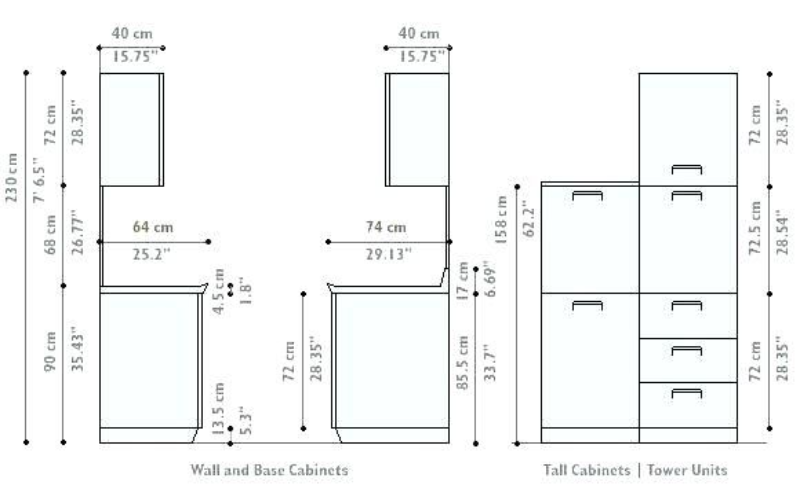 Kitchen cabinet dimensions have been established to maximize storage in the typical kitchen. Industry standards and significant research informed the establishment of these sizes to ensure they meet the demands of most homes.
Standard kitchen cabinet sizes allow you to choose from the wide variety of cabinets sold by retailers. Because of this, planning and remodeling your kitchen will be easier and cheaper.
The regularity and predictability of standard sizes are another advantage. You can get many kitchen cabinets in these standard sizes at home improvement stores, furniture outlets, and online catalogs. By doing so, you may quickly evaluate variations in design and select the optimal kitchen fixtures and fittings.
1. Lower Cabinets
Kitchens cannot exist without base cabinets. They serve as a place to put things and a base for counters. The typical base cabinet height, from the floor to the top of the countertop, is 34.5 inches (87.6 cm). However, the height is flexible and may be adjusted to suit your needs.
The standard kitchen cabinet dimensions in width for base cabinets are between 9 inches (22.9 cm) and 48 inches (121.9 cm). The standard width for kitchen cabinets is 24 inches (61 cm). Wider choices are available if you have a larger area or require extra storage.
Usually, a depth of 24 inches (61 cm) is standard for base cabinets. At this depth, there's room for all your pots, pans, and other culinary utensils. However, 21-inch (53.3-cm) deep cabinets are an option for those limited in space.
2. Wall Cabinets
You can store kitchen necessities in wall cabinets positioned above the counters. Wall cabinets are typically installed at 30 inches (76.2 cm) to maximize accessibility and visibility. However, people above 6 feet tall may find cabinets that are 36 inches (91.4 cm) in height more practical.
Wall cabinets, like base cabinets, can vary in width from 9 inches (22.9 cm) to 48 inches (121.9 cm). When deciding on the width of your wall cabinets, it is essential to consider your kitchen's overall dimensions. Kitchens with plenty of wall space may benefit from broader kitchen cabinet dimensions, while narrower options can help maximize limited space.
You'll commonly find wall cabinets 12 inches (30.5 cm) deep. This width is convenient for storing and retrieving most kitchen necessities. However, you can add 15-inch (38.1 cm) deep cabinets if more space is necessary.
3. Tall Cabinets
Consider a set of tall cabinets, often called pantry cabinets or utility cabinets, for vertical storage of things like brooms, mops, and food supplies. The typical height of these cupboards is 84 inches (213.4 cm), which means they reach from the ground up. They are, however, adaptable to your demands and the height of your kitchen.
Tall cabinets can range in width from around 18 inches (45.7 cm) to about 36 inches (91.4 cm). Since these cabinets aim to enhance storage, it is common to see broader alternatives to accommodate larger goods.
The standard depth for both base and wall cabinets is 24 inches (61 cm). This standard depth is compatible with the rest of the kitchen while providing enough storage space.
Modular Storage Solutions for Your Kitchen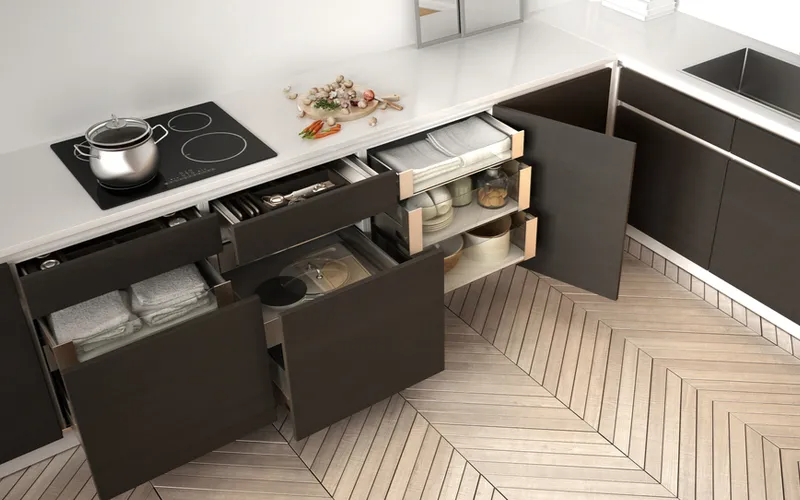 Specialty cabinets are an integral part of a well-designed kitchen in terms of practicality and aesthetics. Their kitchen cabinet dimensions are tailored to individual requirements and made to tackle specific problems that regular cupboards may struggle to fix. Let's check out the recommended sizes for several standard specialty cabinets.
1. Corner Cabinets
Kitchen corners are generally wasted space, but you can put that space to good use with the correct corner cabinets. They're made specifically for maximizing space and ease of use in tight quarters. Standard widths for L-shaped corner cabinets are around 36 inches (91.4 cm) on each side. These cabinets have a standard depth of about 24 inches (61 cm) across the diagonal, allowing for plenty of storage space while blending in seamlessly with neighboring units.
2. Drawer Cabinets
Homeowners who value convenience and storage choose drawer cabinets. These cupboards have several drawers, allowing for flexible storage solutions. The drawer cabinet width is adaptable to the user's specific requirements. Drawers for smaller goods, like utensils, should be at most 12 to 18 inches (30.5 to 45.7 cm) broad; while those for bigger items, such as pots and pans, should be 24 to 36 inches (61 to 91.4 cm). Drawer kitchen cabinet dimensions usually have a depth of 24 inches (61 cm) to accommodate various culinary implements.
3. Sink Cabinets
Kitchen sinks require a special kind of cabinet called a sink cabinet. The sink and its associated piping have a special compartment within these cupboards. Sink cabinets are usually the same width as the sinks they house, between 24 and 36 inches (61 and 91.4 cm). The standard depth, which allows for a sink and other plumbing fittings, is 24 inches (61 cm).
4. Appliance Cabinets
Cabinets for appliances are typically created to order so that each appliance fits snugly into the kitchen layout. The appliances they will store determine how big these cabinets need to be. The standard width for an oven is between 24 and 36 inches (61 and 91.4 cm), while the standard width for a microwave cabinet is 30 inches (76.2 cm). To achieve a snug fit, a fridge's kitchen cabinet dimensions should match those of the fridge itself.
Conclusion
Choosing the correct kitchen cabinet dimensions is essential for a great kitchen that serves your needs and looks great. As a starting point, familiarizing yourself with the typical dimensions of the base, wall, and tall cabinets can help you create a well-balanced layout. While these typical measurements might serve as a guide, they must be adjusted to fit your needs and your available area.
By adjusting the dimensions of your cabinets, you may make your kitchen more functional, more aesthetically pleasing, and better suited to your needs. An attractive and functional kitchen can be achieved via thoughtful planning, regardless of whether you go with stock or bespoke cabinetry.
A kitchen that serves your needs and makes cooking more enjoyable can be designed by striking the proper balance between aesthetics and practicality.