A bedroom is not just a place to sleep but a sanctuary of personal time and rejuvenation. Your bedroom provides you space and privacy from the rest of the family when you feel tired or at your wit's end. Hence, while designing a bedroom, what is the one factor you just cannot ignore? The size, of course.
Your bedroom's dimensions are one of the most crucial aspects to consider when building or renovating a home. Are you in the middle of designing your home and stuck on the size of the room? Rest assured, since we have discussed the average master bedroom size, that will give you enough space to innovate, be creative, and envision your room however you want.
We have also elaborated on the dimensions of other rooms and ways to furnish them. Continue reading to find out!
Average Master Bedroom Size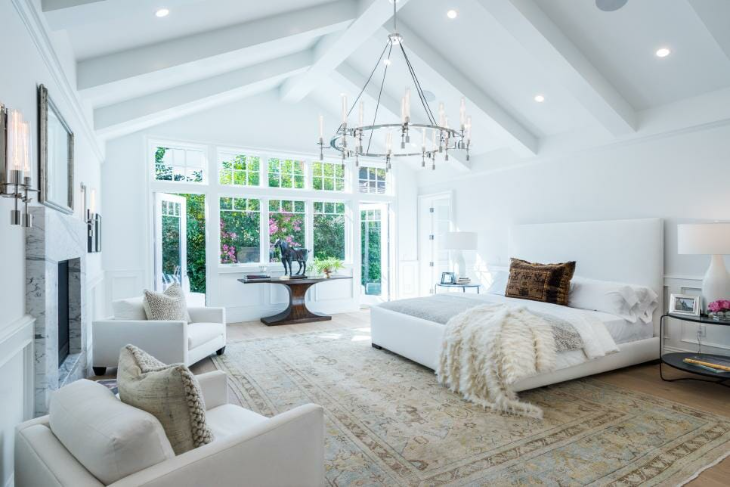 The master bedroom is typically the largest bedroom of the house occupied by the homeowners or parents of the family. Without beating around the bush, the average master bedroom size is around 15' by 15', which is 225 square feet. However, this size can range from as low as 10' by 12' feet or around 125 square feet to as high as 20' by 20', 400 square feet. The standard recommended size is 14' by 16' or 224 square feet. Typically, the average master bedroom size depends on the floor plan and the square footage of the entire house.
The best way to determine an estimate of your bedroom size is to divide the size of your house by ten since your master bedroom must occupy one-tenth of the total space. Then, depending on the furniture and usage, you can lessen or increase the size. Of course, the size of your bedroom depends on several factors, as we have elaborated in our guide ahead. Furthermore, how you design your bedroom depends vastly on the dimensions since a larger bedroom accommodates more furniture and accessories.
Average Guest Bedroom Sizes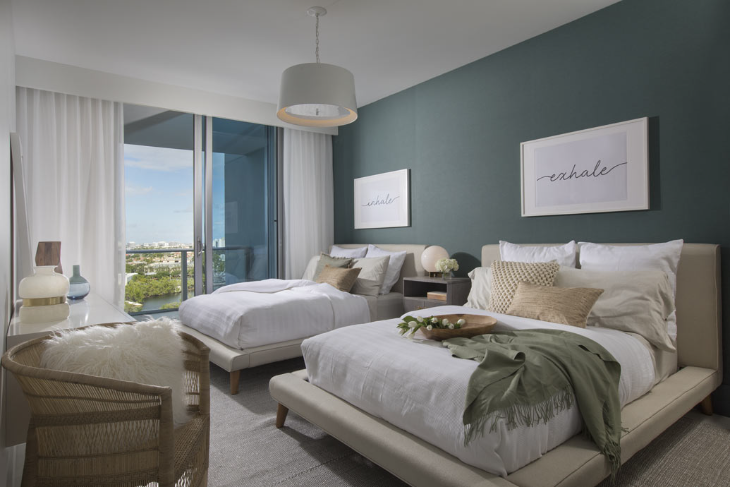 In comparatively bigger houses, there's usually space for constructing an extra room which can be repurposed as a secondary bedroom or guest bedroom. On the other hand, several houses have a second bedroom already, which is not in use because of fewer people. At such times, it can be converted into a guest bedroom. The dimensions of the latter are usually lesser than the average master bedroom size. For instance, the average size is around 120 square feet or 10' by 12'. However, people use rooms as big as 200 square feet as guest bedrooms, as well. Since these rooms have a queen-size or king-size bed, the space must be enough to accommodate that. Large walk-in closets or excessive furniture are generally not required.
Average Kids' Bedroom Sizes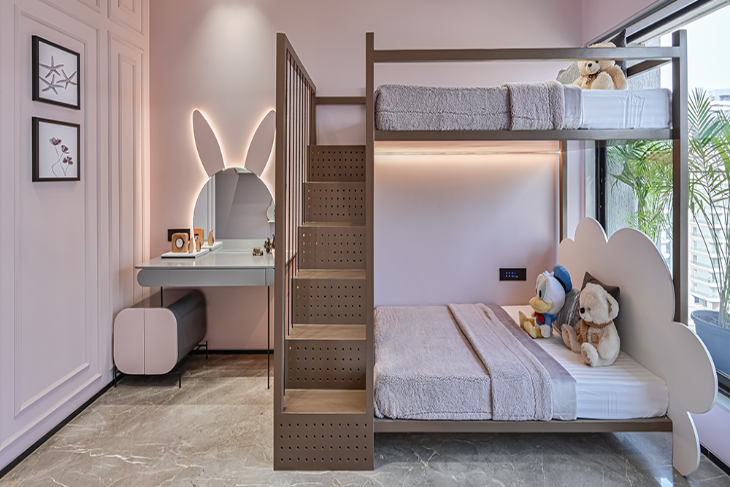 Kids' bedrooms are often smaller than the average master bedroom size and the average guest bedroom dimensions too. It's not uncommon for kids' rooms to be half or even less than half the size of the largest bedroom. You can also install a bunk bed to save space. The average size is around 10' by 10' or 100 square feet. It is because the kids' room has smaller, kid-size furniture – smaller cupboards and desks – which take up less space.
It is essential to note that these are the average sizes of bedrooms in a typical American home. However, your bedroom's dimensions can vary depending on the utility, needs, furniture, and much more. While these dimensions provide an able guide, you can always innovate and find what suits you the best.
What Determines the Average Master Bedroom Size?
1. Home size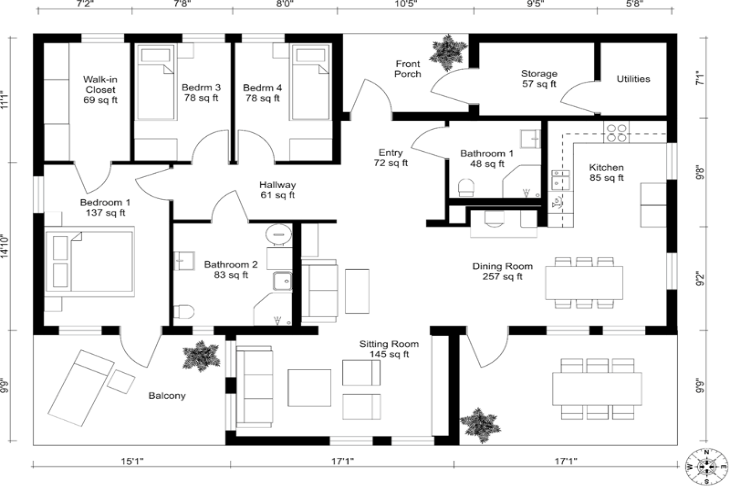 Usually, to derive the dimensions of the master bedroom, we use the one-tenth rule. Divide the dimensions of the house by ten to figure out how much space must go into designing the largest bedroom. However, you might need a bigger room, depending on your furniture and needs, or you may need to carve out some space for other rooms, a closet, or a bathroom.
2. Bed Size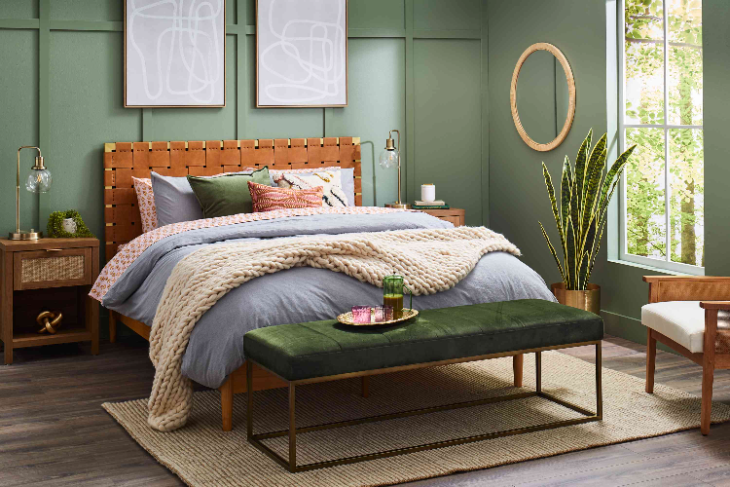 The dimensions of your master bedroom can vary depending on the kind of bed you want. Since it typically takes up most space, a larger king-size or queen-size bed will require a bigger bedroom. You can acquire more room to add a desk, accessories, and more furniture, or even divide the room into two if you feel comfortable in smaller beds as well.
3. Closet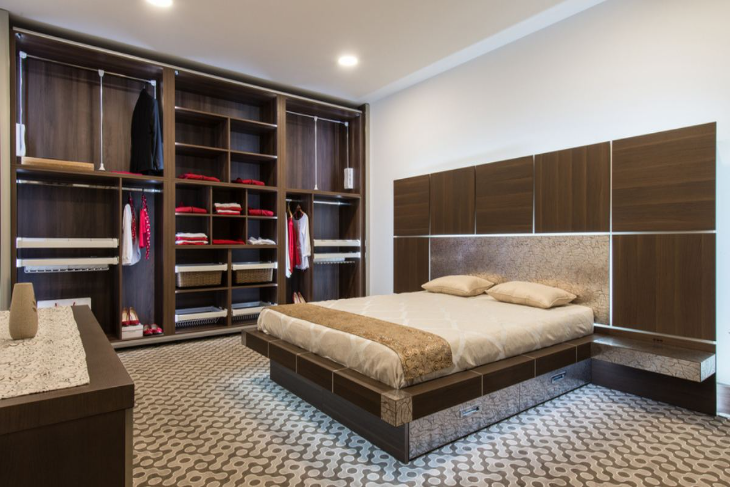 Some people prefer a typical cupboard aligned with the walls for their clothes, books, or other things. However, if your room has more space, you can go for a bigger closet, even a walk-in one. Depending on how large you want it to store your clothes, bags, and shoes, you can lessen or increase the size of the bedroom. However, a closet can be styled uniquely, as we have elaborated below.
4. Bathroom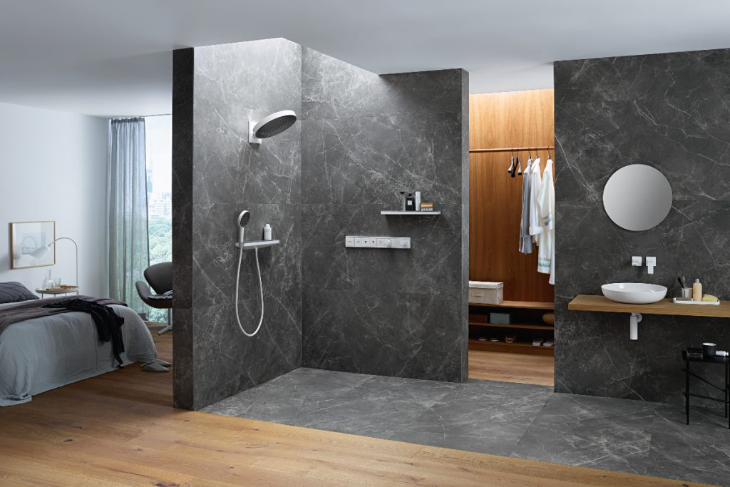 A connected bathroom is a crucial aspect in deciding the size of the bedroom. The bathroom dimensions are often considered together with those of the bedroom. Master bedrooms usually have an attached bathroom. To save space, you can build a smaller one. Or you can design your bathroom in creative ways as well, like with glass or circular walls.
5. Furniture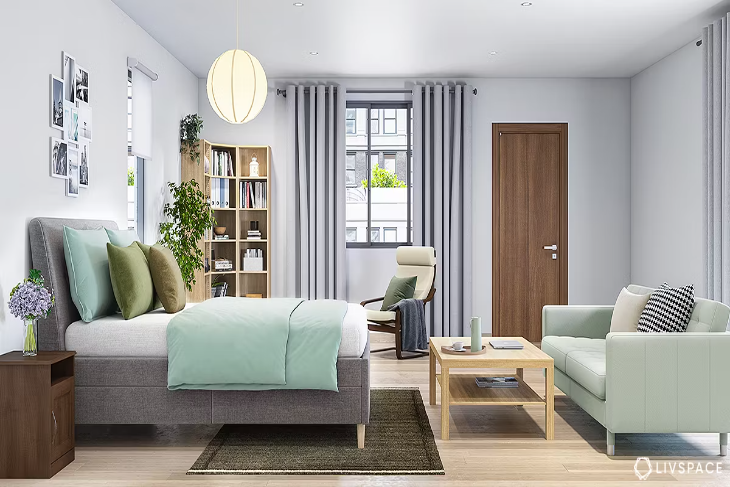 You can delegate its space depending on the amount of furniture you intend to furnish in your bedroom. Some people keep a sofa or a couch in the bedroom while others combine it with their office, which requires a desk and a chair. Conversely, if your bedroom has less designated space, you should opt for a smaller, more compact type of furniture.
6. Accessories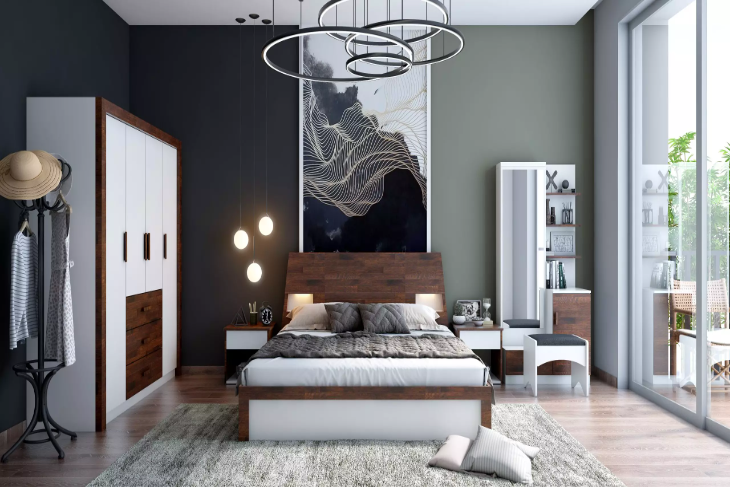 By accessories, we refer to the additional furniture and decoratives that aren't essential for the bedroom, for instance, paintings, wall hangings, plants, decorative pieces, or extra shelves. You can select many accessories to elevate the look of your bedroom if you're lucky to have a large space. However, most of the time, accessories are restricted to paintings or other wall-mounted objects.
Master Bedroom Design Ideas
Once you've constructed the layout of your bedroom, what's the next step? To design it! We have compiled some of the best, most popular design ideas that suit the average master bedroom size.
1. Add Rugs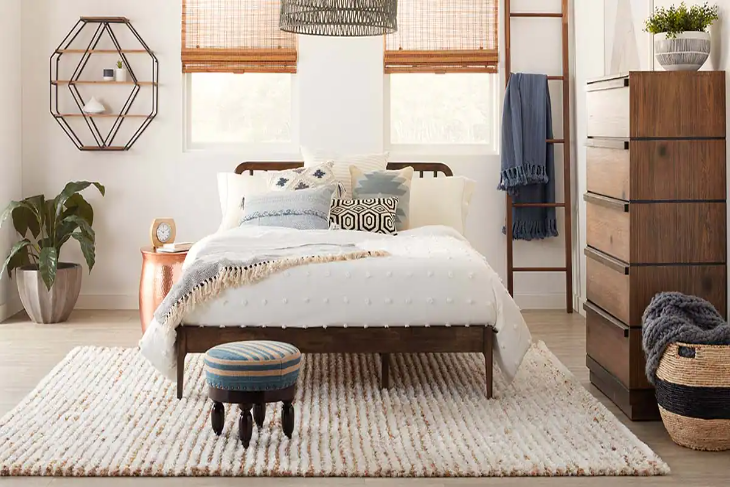 Island rugs are an incredible way to add richness to your room. Place the rug beneath the bed or near the foot of the bed. Not only does it elevate the look of your bedroom, but it also doubles as a soft carpet for your feet. You can also get creative and place multiple smaller rugs around the room.
2. Combine the Office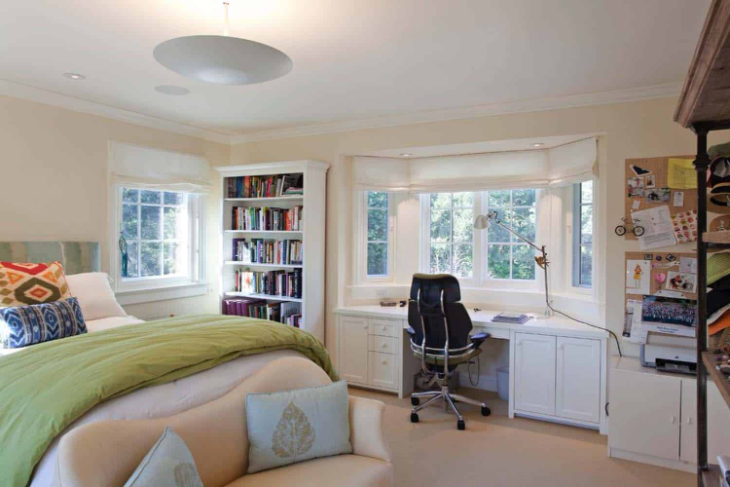 If you have a large bedroom, you can combine your workspace with the master bedroom. Add a desk, an office chair, and a couple of shelves to accommodate your books, documents, or stationery. It's an innovative way to keep you motivated and save space on an additional office in the house.
3. Use Accents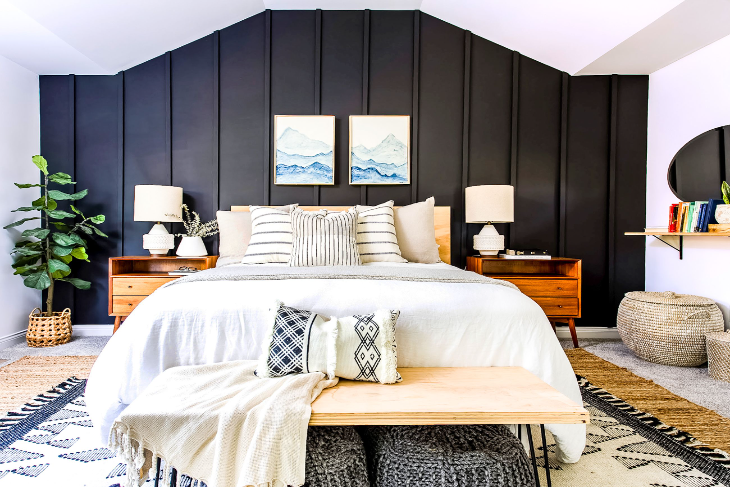 A deep, bold color can work wonders to accentuate a monochromatic room. If you have any statement furniture in the bedroom, like the bed or closets, you can match the theme and achieve the desired effect. Our recommendation is to choose a rich color on the same lighter palette.
4. Focus on The Bed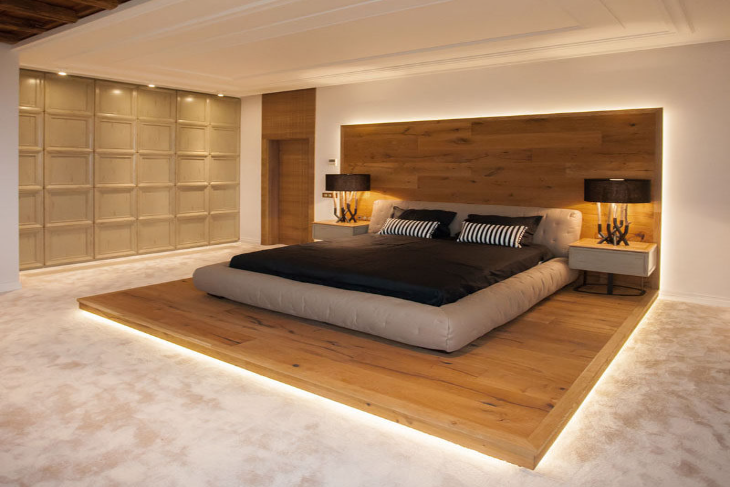 Since the bed takes up most of the space in a bedroom, you want to focus on it the most as well. Selecting a platform bed or a circular one can elevate your bedroom to the next level. On the contrary, choosing a smaller bed can save up a lot of space to accommodate other types of furniture.
5. Closet Behind the Bed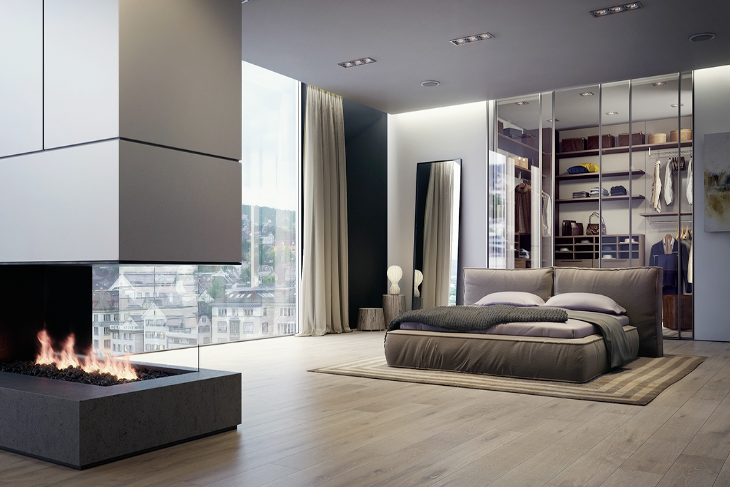 Building a closet on the wall behind your bed is a brilliant idea if you have a lot of space to design your dream bedroom. You can design it on either side of the bed or place the bed in the middle of the room and use the entire wall for the closet. Add in glass doors, and voila! Your perfect classy look is ready!
6. Hang Paintings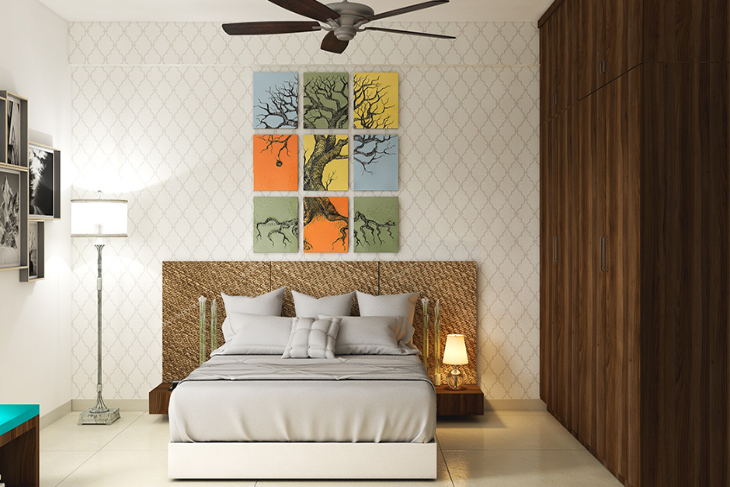 Paintings are not only a beautiful medium for expressing our personalities and opinions but also help us enhance the room's ambiance. You can opt for portraits of your family, or you can hang statement or abstract paintings of nature, stills objects, or anything else you like.
7. The Touch of Gold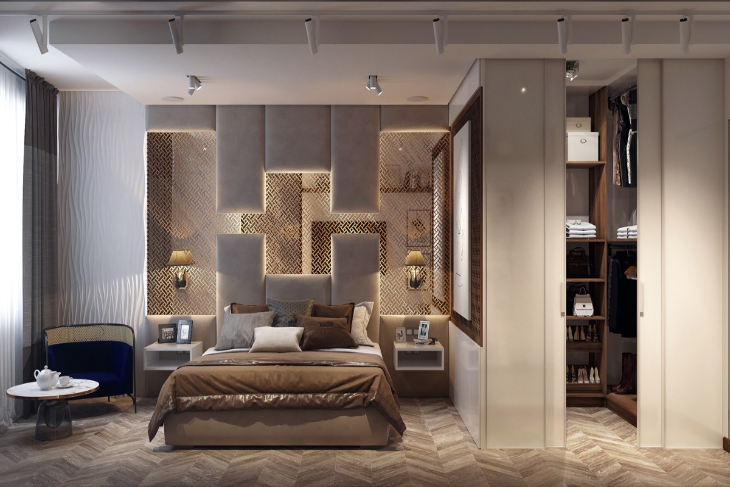 Gold adds an element of royalty and richness. Even the most minimalistic interiors with monochromatic palettes look amazing with a simple touch of gold. Select chandeliers, lights, table lamps, or paintings with a golden outline, or go for an accent of gold to highlight the wall paint.
8. Add Some Green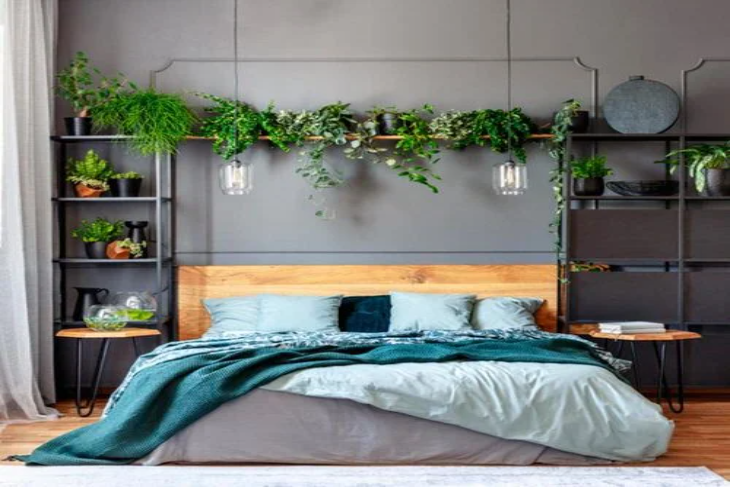 Green = plants! Houseplants add a serene and calm vibe to the house if properly decorated. You can keep small pots there if your bedroom has a window or a balcony. Otherwise, you can opt for a more elaborate version and elevate the ceiling or the bed's headboard with climbers or creepers.
9. Closets & Bathrooms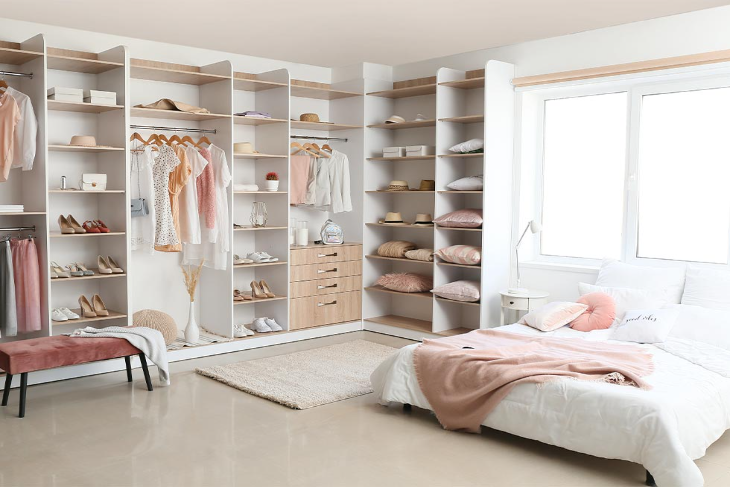 Closets and bathrooms take up a majority of space in the bedroom, second only to that of the bed. Creatively designing the former can instantly elevate your bedroom's look while managing their space can leave more room for other furniture. Check out glass walls for these or other innovative solutions.
Design Ideas for Smaller Spaces
Designing a bedroom in a small compact space is a huge task. Are you wondering how to accommodate more furniture in less space? Or how to elevate the looks of your bedroom? Worry not because we have compiled some great suggestions to help you plan your rooms.
1. Focus on The Vertical Space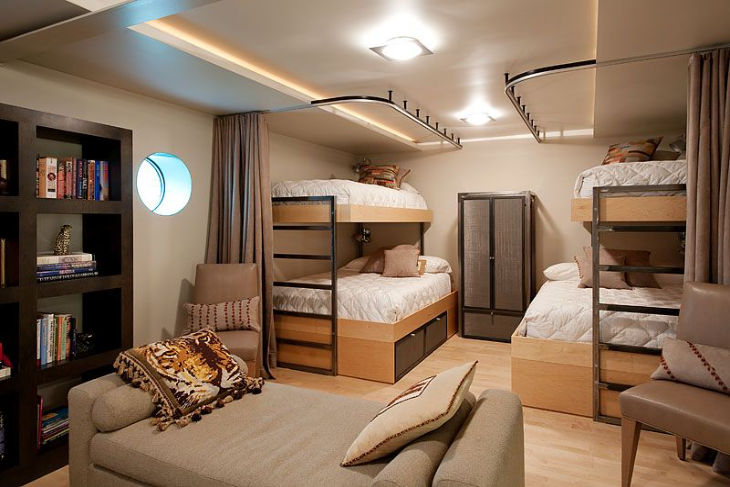 Several times, you can use the vertical space when the room's square footage is less. For instance, if it is a kids' room, you can install a bunk bed instead of two single beds. Or one large cabinet instead of two smaller ones. This blueprint will leave more space for other furniture.
2. Add Mirrors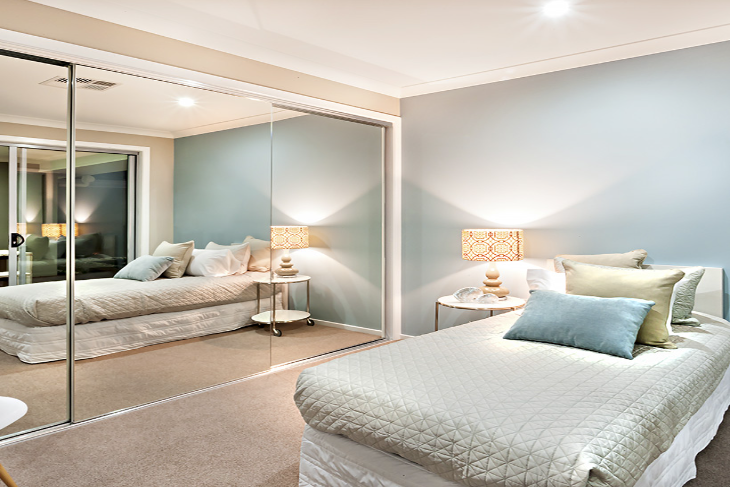 Mirrors incorporate the feeling of extra space. If your bedroom seems compact and claustrophobic, you can install a wide-set or full-length mirror on one wall to create the illusion of more space. You can go for multiple smaller mirrors as well. They also add a classy and sleek look to your bedroom.
3. Positioning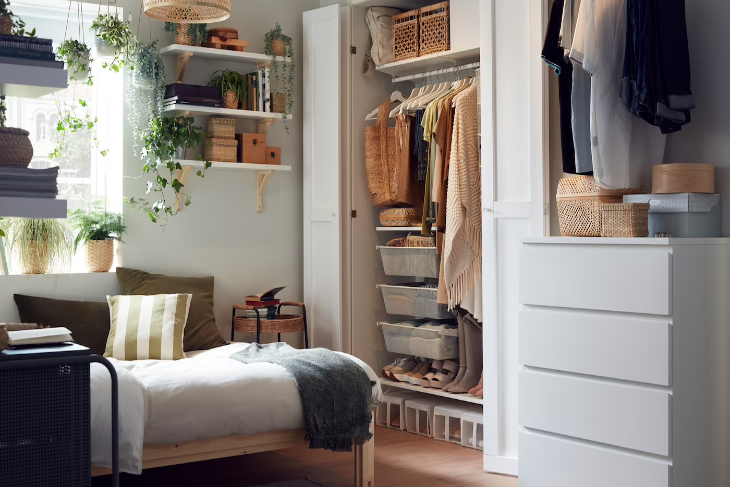 It is advisable to place the furniture against the wall for a compact room. It would leave more usable space to walk around or get your chores done. Try not to leave extra space between two pieces of furniture since it would simply go to waste. Opt for wall-mounted bookshelves or racks to save more space.
4. Retractable Furniture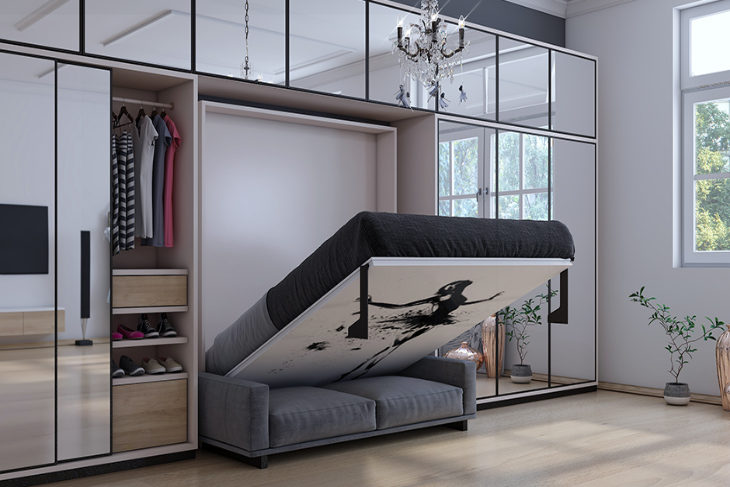 Retractable or folding furniture takes up the least space when folded up. On the other hand, you can open it up for use whenever needed. Not only is it multipurpose, but it also serves as an incredible solution for designing a bedroom in less space. It usually includes tables, desks, chairs, or even beds.
5. Construct Shelves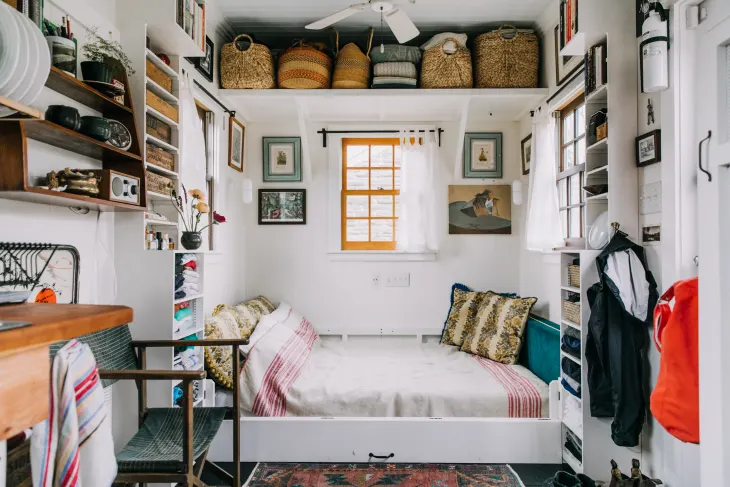 Since shelves are wall-mounted, they leave a plethora of space on the floor to accommodate other furniture. You can use these shelves to store books, display portraits, plants, vases, and other decorative objects. Several decorative wall-mounted shelves also elevate the interiors of the bedroom.
Parting Words
As elaborated in our guide, the average master bedroom size is around 15' by 15' or 225 square footage. However, bedrooms can be as small as 10' by 10' or as large as 20' by 20'. In the end, it depends on the size of your house, the furniture you plan to keep in the bedroom, its interior design, closets, and the size of the bathroom. One smart way to determine the bedroom's dimensions is to divide the square footage of your house by 10. Later, you can alter these dimensions according to your utility and needs.
There are several beautiful ways to design your bedroom, some of which we have elaborated on above. Placing rugs, hanging paintings, using creative palettes for the wall paint, and incorporating houseplants are some ways to elevate the looks of your bedroom. On the other hand, you can design smaller spaces by focusing more on vertical space, opting for wall-mounted shelves, and selecting retractable furniture.
What is the size of your master bedroom, and how have you designed it? Let us know in the comments section below!
Frequently Asked Questions
What is the Average Master Bedroom Size?
The average dimensions of the master bedroom are around 15' by 15', which is 225 square feet. However, this size can range from as low as 10' by 12' feet or around 125 square feet to as high as 20' by 20', 400 square feet. Typically, it depends on the floor plan, the square footage of the house, and the homeowners' needs.
Can a King-Size Bed Fit in a 10' by 12' Room?
While a king-size bed can fit in a 10' by 12' bedroom, we recommend opting for a king-size bed only if your room is bigger than 13' by 13'. This way, you will have enough space to accommodate other furniture and accessories.
How to Design Master Bedrooms?
The first step in designing master bedrooms is to take into consideration the furnishing, needs, habits, size of bed, closet type, and bathroom. Once you've figured out these crucial aspects of a bedroom, you can add your creative touch and design it any way you like.