What do you think first when you want to change the look of your house? If I am not wrong, you would think… "Let's just paint it," right? However, this painting option will make a huge impact on your bank balance and even will take your unaccountable time. Moreover, if you are planning to paint your rental accommodation, then it indeed won't be a worthy deal in any case scenario. In this case, you will get stuck on what alternative option is available for painting. And the answer is Wallpaper.
Wallpaper installation is somehow a better alternative for high-cost and time-consuming painting options. It won't let you suffer financially as well as less time-consuming.
Throughout this piece of article, we are going to deliver resourceful information about the concept of wallpaper and also share the list of 17 mesmerizing red wallpaper ideas to create vibrance in your house.
So let's get started with getting a better understanding of the concept of wallpaper.
List of Red Wallpaper Ideas for Your Home
When you want to choose a wallpaper for your home, you will get confused and, most of the time, won't be able to decide which one looks good, which texture is good, which design is good, what color will look good, and so many questions. If you are looking for a vibrant and bright color to add to your house, then nothing is going to beat the Red color.
The following red wallpaper ideas will assist you in maximizing the look of your house.
1. 3D Mural Red Plum Blossom Wallpaper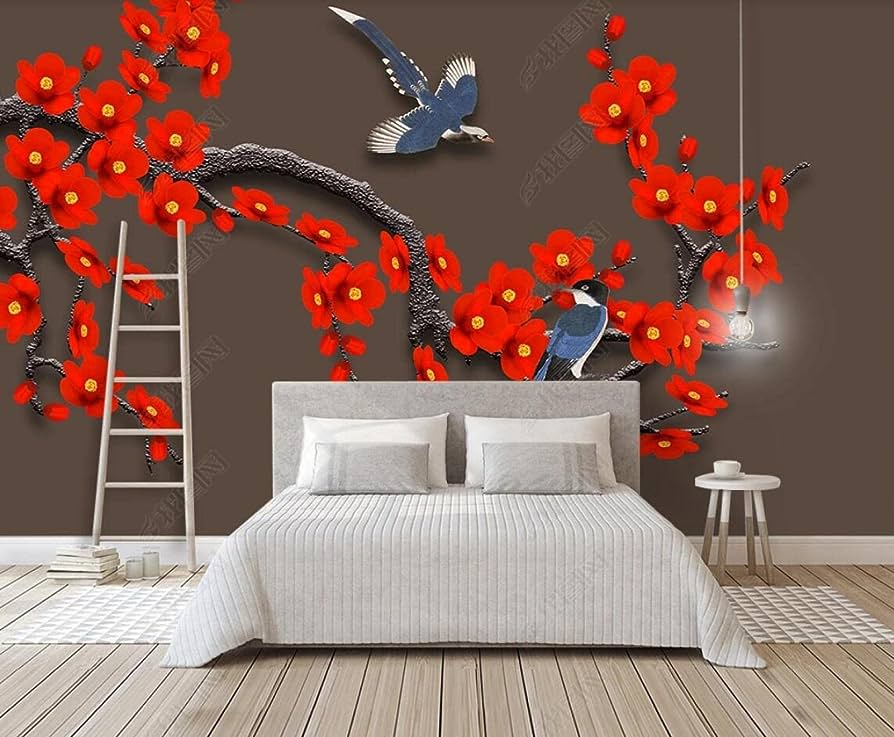 This beautiful red plum blossom wallpaper is made of non-fabric material. Its size can be customized according to your requirement. It is a non-pasted wallpaper that needs to install with separate adhesive or glue.
2. Vintage Style Textured Red and Gold Wallpaper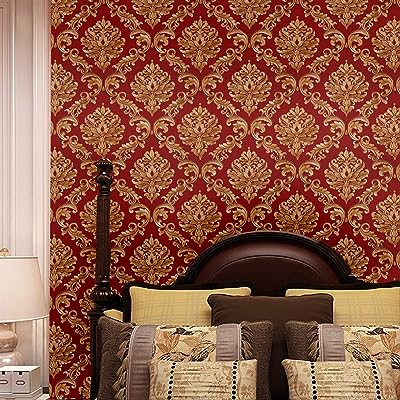 This vintage-style textured red and gold wallpaper is made of non-woven material. Gives a nice 3D look with an embossed texture. It is a washable and stripable wallpaper without being enclosed with glue. You will need separate glue for installing this red wallpaper. This could be a fine red wallpaper idea you can use in the drawing room or bedroom.
3. Glossy Mural Red Wallpaper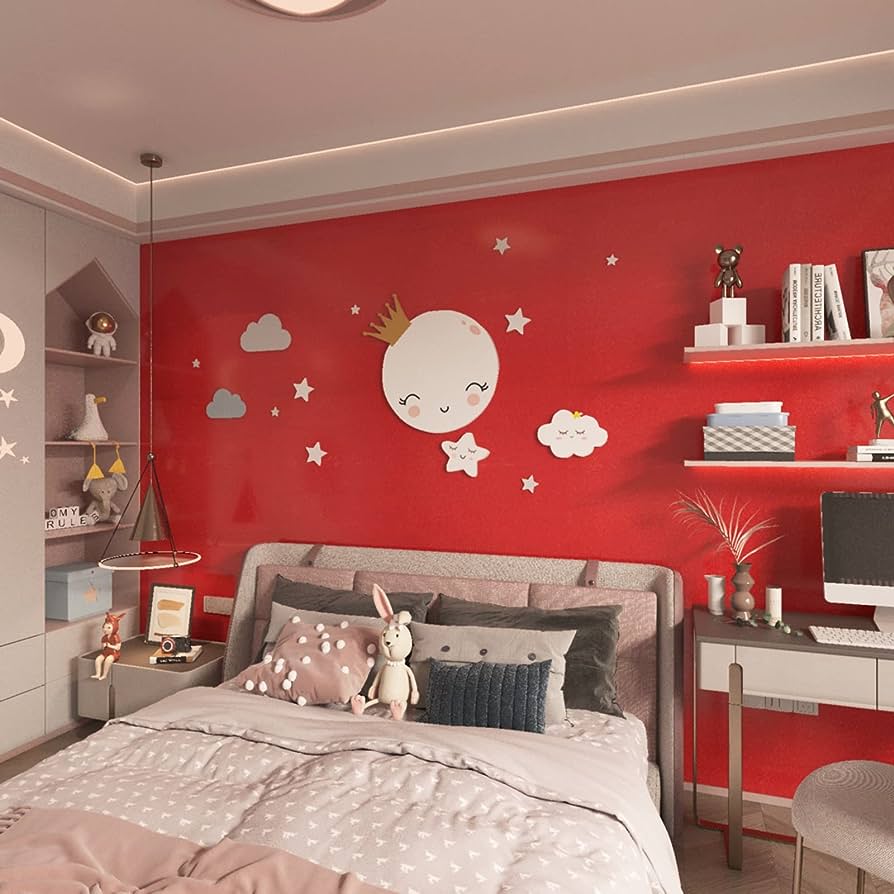 This wallpaper is made of vinyl and PVC. The glossy mural red wallpaper delivers a nice shine to the wall. It is waterproof and oilproof wallpaper; hence you can use it in the kitchen, kid's bedroom, etc. Its installation is also easy because it is peel-and-stick wallpaper.
4. Solid Red Contact Paper Wallpaper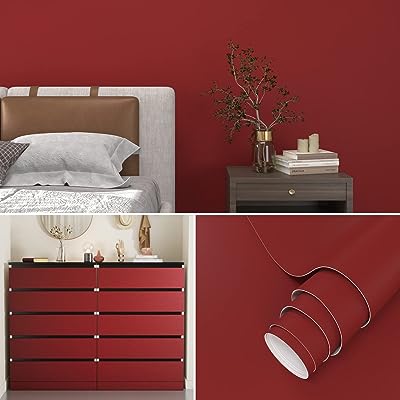 This solid red wallpaper is made of PVC material. It is a highly durable option consisting of an easy peel-and-stick installation method. It can be installed anywhere in the house. Hence this is the best red wallpaper idea you can choose.
5. Red Rose Dark Floral Wallpaper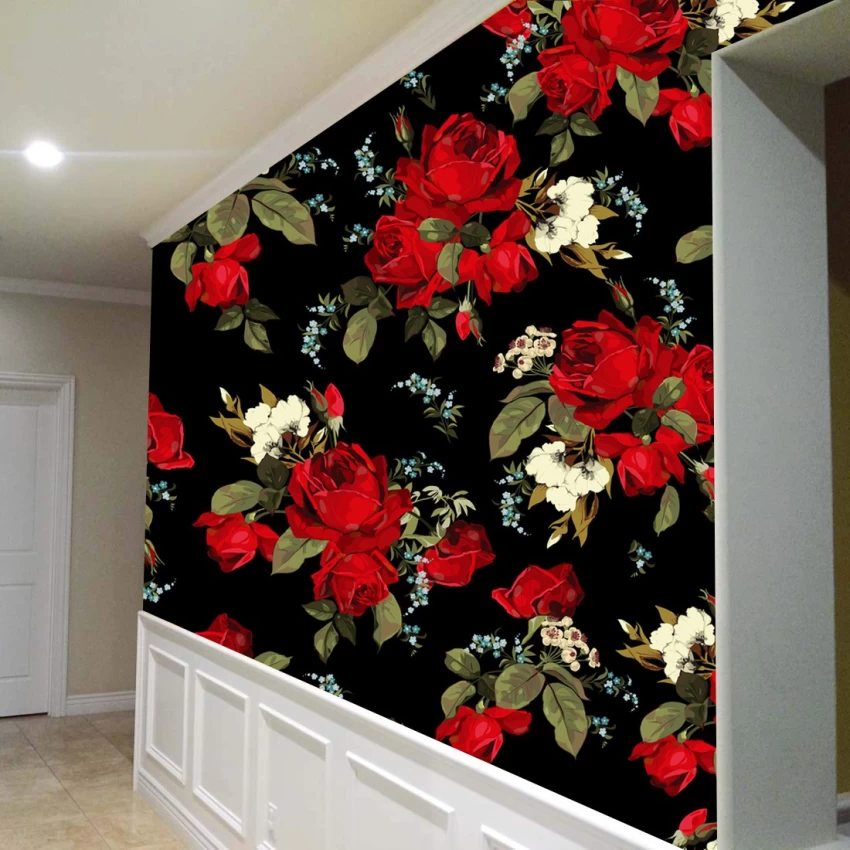 This vinyl material wallpaper has a dark floral pattern on it which will intensify the look of your house. This red rose dark floral wallpaper is prepasted, so its installation is quite easy. Moreover, it is a durable and washable option so that it can be installed anywhere in the house, like the bedroom, laundry room, cupboard, etc.
6. 3D Oil Painted Mural Wallpaper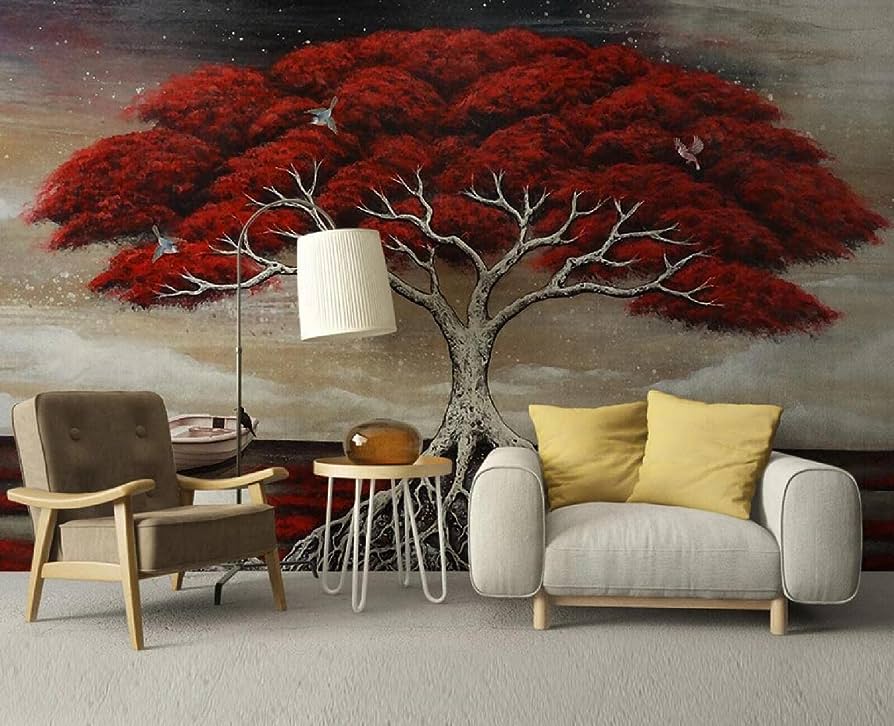 3D oil-painted mural wallpaper is crafted using non-oven material. It is an eco-friendly option in red wallpaper idea you can install in your living room or bedroom. It is a non-pasted wallpaper; hence it needs to be independently glued.
7. 3D Big Red Flower Wallpaper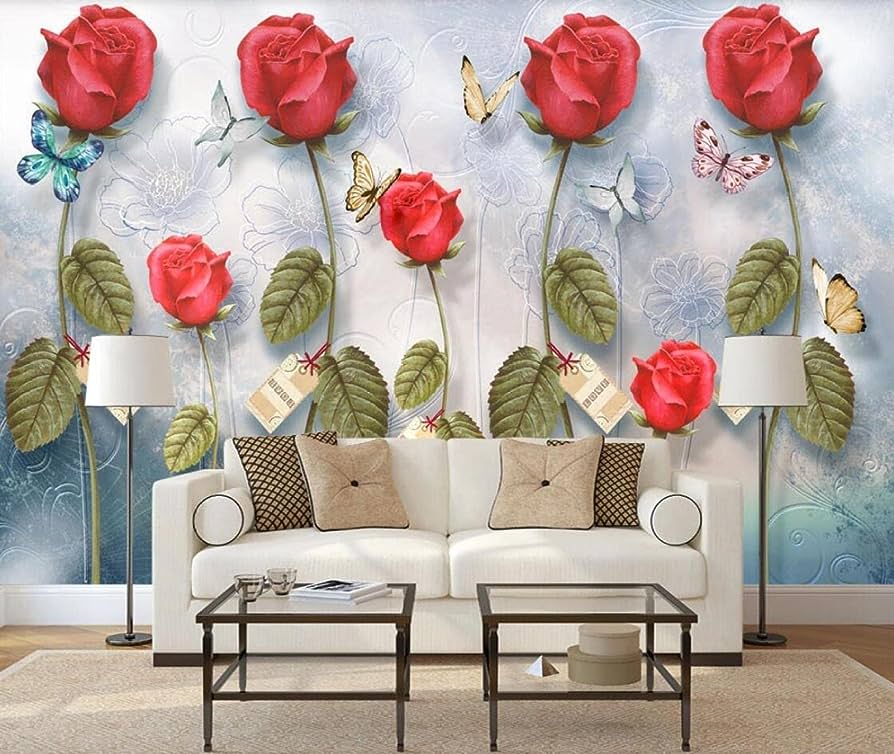 The non-oven fabric material is used for this 3D big red flower wallpaper. This is a non-pasted wallpaper that needs separate adhesive for pasting on the wall. You can apply this botanical-themed eco-friendly red wallpaper idea in your living room or bedroom.
8. Retro Chinese Red Brick Wallpaper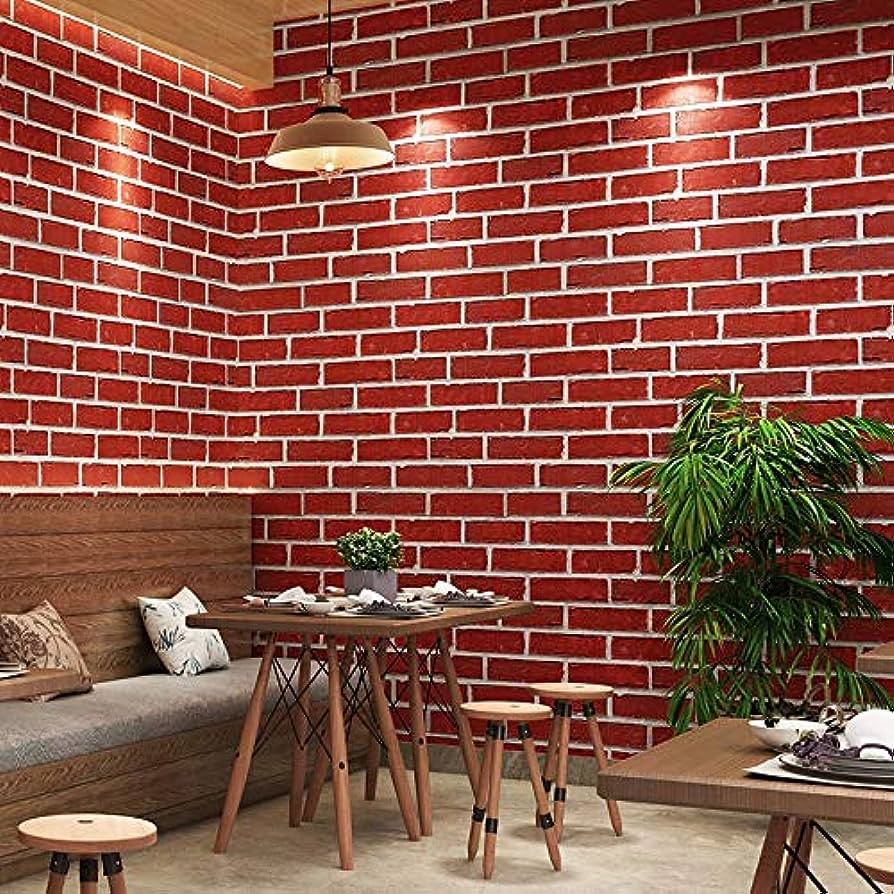 It is a popular PVC surface wallpaper idea. You can use it on domestic or even commercial walls. For instance, kitchen, bedroom, living room, or even in offices, cafes, etc. This retro Chinese red brick wallpaper is non-pasted wallpaper, so it needs to be glued independently. This wallpaper is a durable option you can install in your house.
9. Red Grasscloth Wallpaper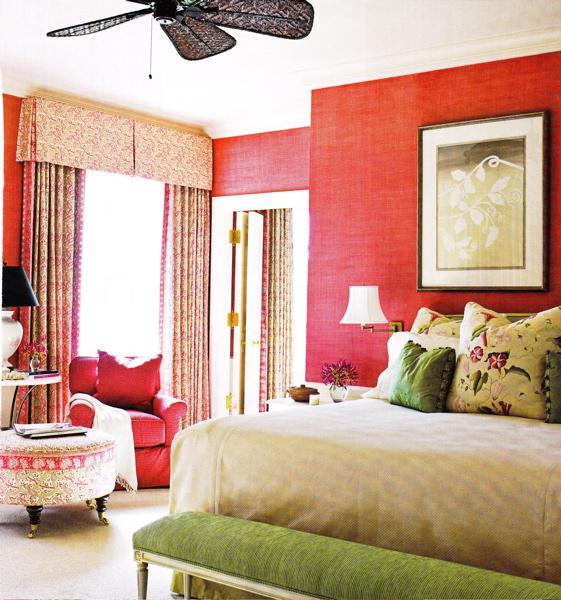 This red grasscloth wallpaper is made of grass, reeds or corks, etc. It is a delicate wallpaper option among all the other wallpaper materials. Expert help and separate gluing are required to install this beautifully textured red wallpaper. It needs special care in cleaning and maintenance. If you are looking for elegant, raw-featured wallpaper, then this red wallpaper idea will work for you.
10. Contemporary Striped Red Wallpaper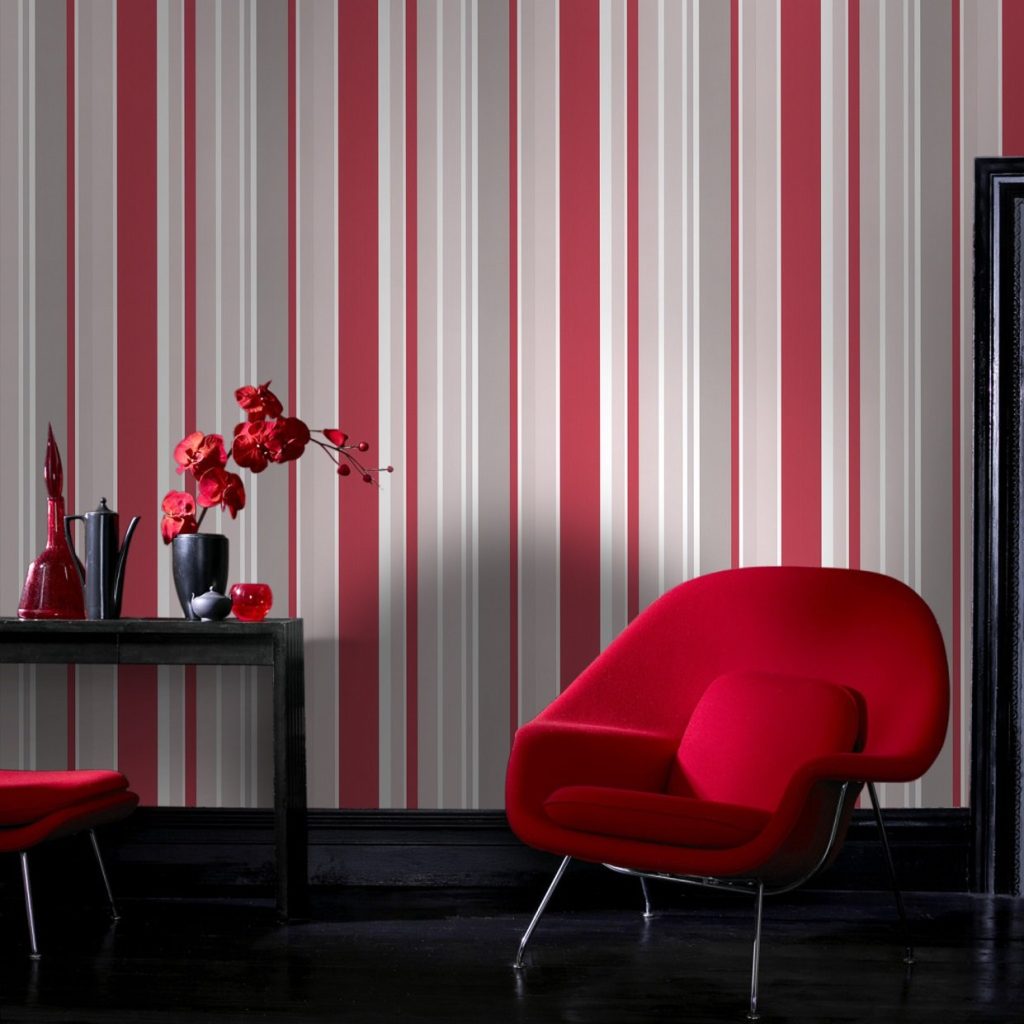 To give a stylish look to your living room, this striped red wallpaper will do best. This washable wallpaper is easy to apply by just pasting it. It can be applied in dual ways, like horizontally or vertically. This is the best red wallpaper idea to get a modern look to your house.
11. Embossed Textured Red Wallpaper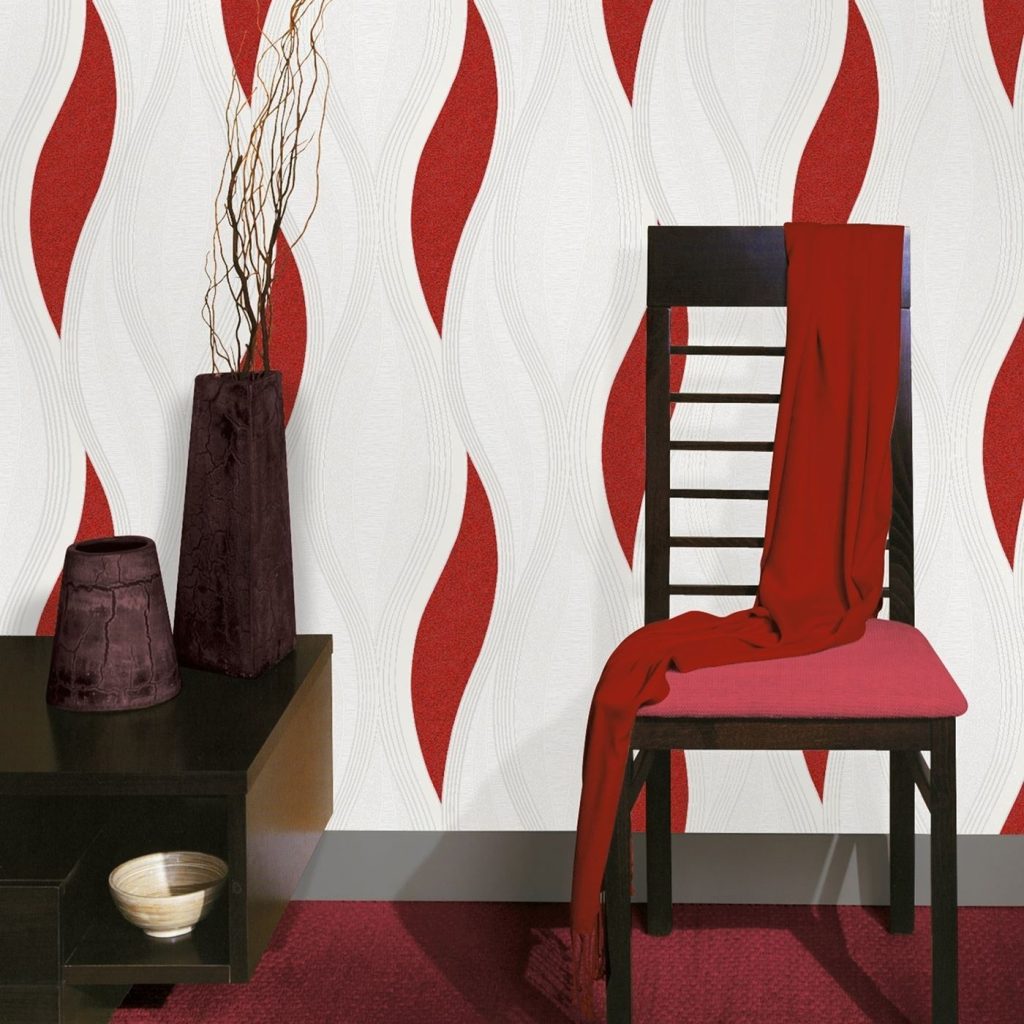 This beautifully embossed red wallpaper gives elegance to your place. This wallpaper is made of vinyl material, and hence it is a sustainable and washable type of wallpaper. This glitter and metallic-featured wallpapers installation is easy. You can try this red wallpaper idea for your bedroom, living room, etc.
12. Red Photo Mural Wallpaper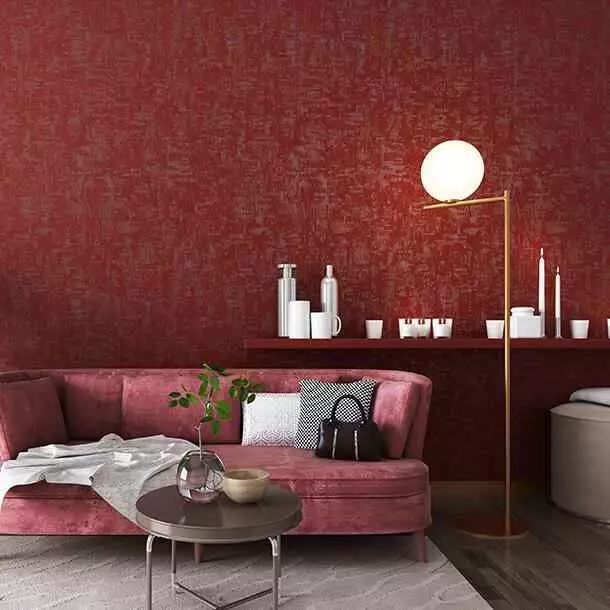 This wallpaper is made of non-woven material and is the perfect red wallpaper idea you can apply. It provides an easy installation process with the self-adhesive element. This is a customizable wallpaper option.
13. Intense Floral Red Wallpaper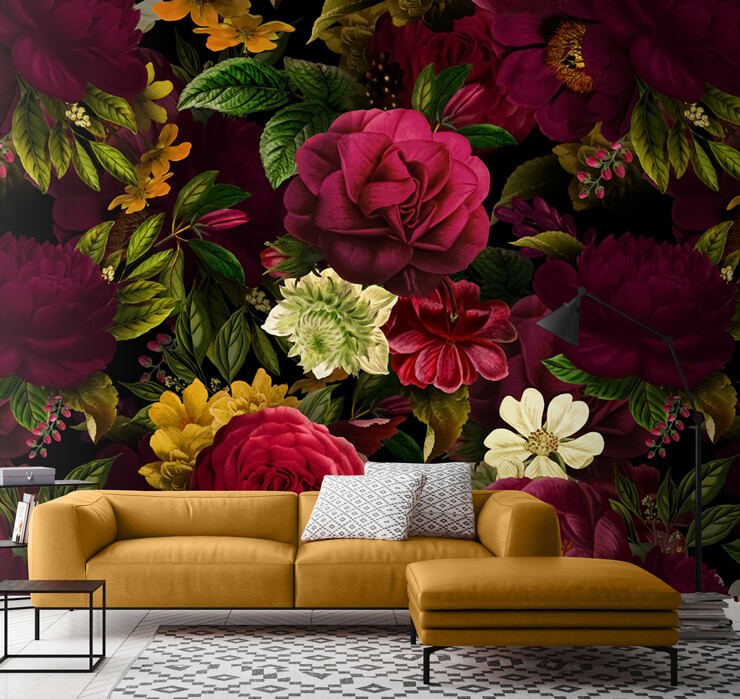 It is a dark beauty with an intense floral pattern. This wallpaper will be best suitable for lounging and bedroom. You can install this dark botanic beauty in your home.
14. Deep Red Gold Patterned Wallpaper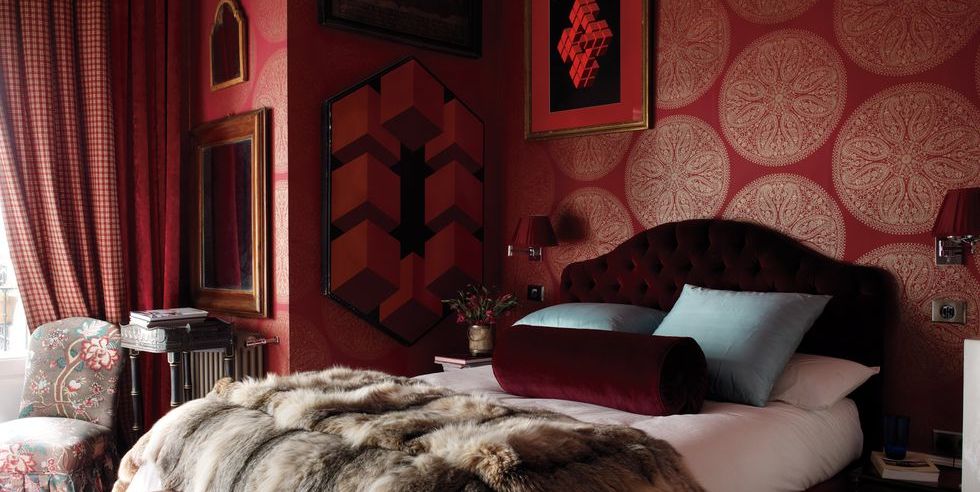 The color red in this wallpaper creates a calm and elegant environment in the place. This gold-patterned red wallpaper needs an expert installation process. This could be the best red wallpaper idea to get this composed look to your bedroom or living room.
15. Bright Red and Cream Coloured Wallpaper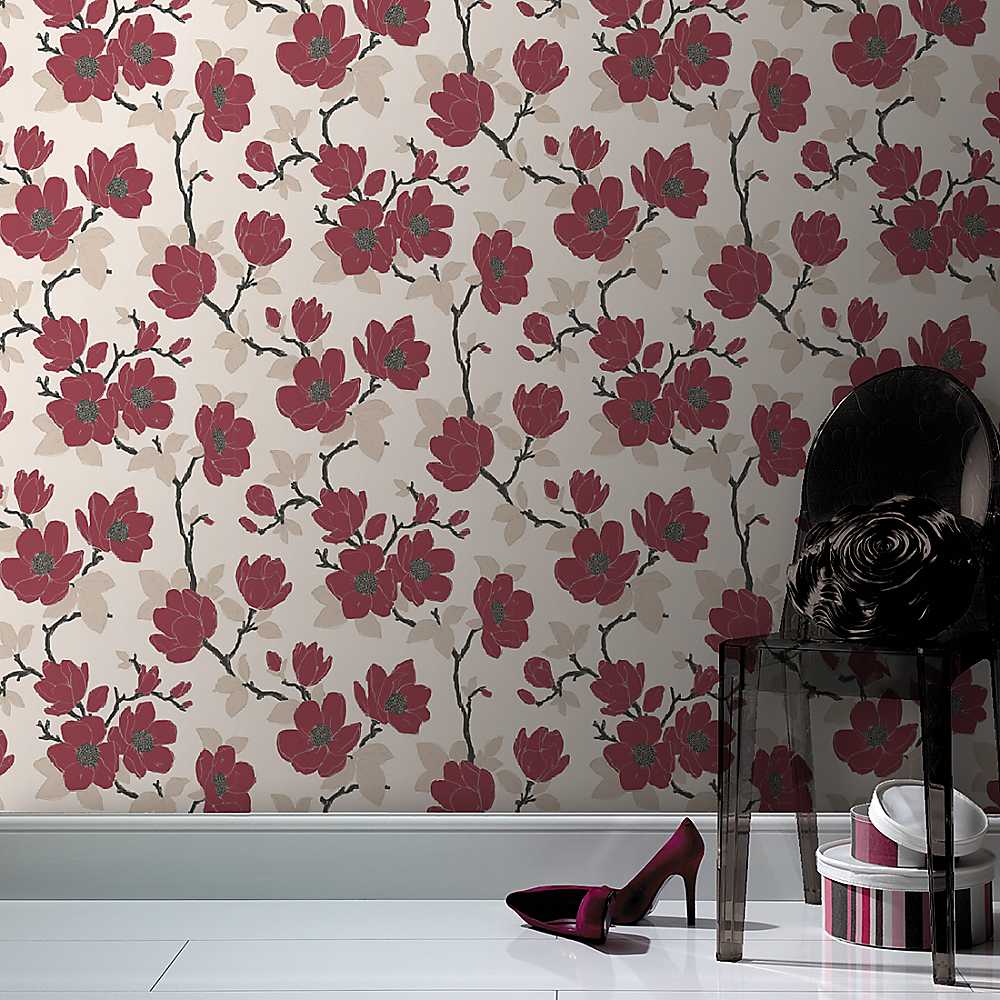 It looks awesome with a combination of bright red and sophisticated cream. This red wallpaper idea will definitely add more beauty to your place. However, it needs proper installation.
16. Single Flower Red Wallpaper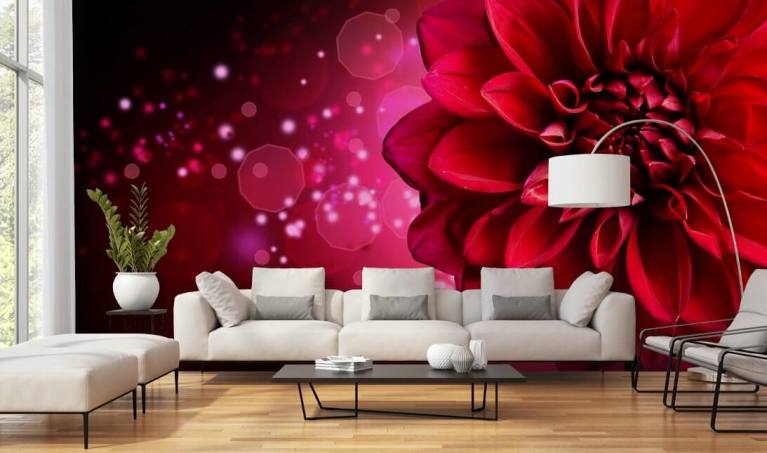 Vinyl base PVC-free wallpaper is a good red wallpaper idea you can install in your living room or bedroom. Its application is made easy with a pre-pasted method. It is a fireproof, environment-friendly wallpaper type. This wallpaper delivers a matt finish, and its colors do not fade for a long time. This can be a good choice for wallpaper.
17. Indian Culture-Inspired Red Wallpaper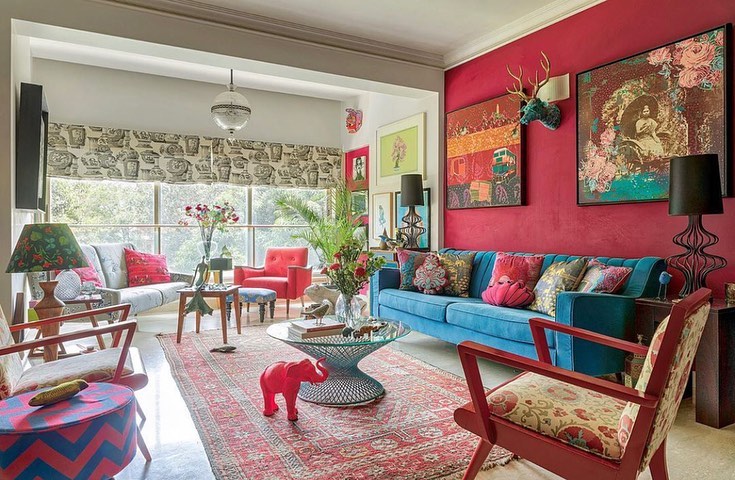 The traditional look of this red wallpaper is inspired by Indian traditional culture. It is made of non-woven material and requires delicacy while maintaining. You can try this matt finish red wallpaper idea if you are fond of Indian culture.
What Types of Material is Available in Wallpaper?
In recent years, huge developments occurred in wallpaper manufacturing. Apart from paper wallpaper, there are various types of wallpapers available embedded with other materials.
Let's briefly see the types of materials available in wallpapers.
1. Wallpaper with 100% Paper
As we all know, these wallpapers are made of paper which is made of trees. This material has been there since the start of the concept. It provides a classic, matt-finished visual appearance to the wall. It is a less durable type of wallpaper material that requires glue for pasting on the wall.
2. Wallpaper with Vinyl
Vinyl is a repurposed plastic. It has been introduced in the wallpaper industry in recent years. It is a durable wallpaper option with the least cost and easy installation. Somehow its long-term use could be unfavorable for the environment. Hence try to use PVC-free wallpapers for toxins free environment. This material is divided into subcategories.
You will get 100% vinyl or solid vinyl wallpaper which is washable and scratch-proof. This solid vinyl wallpaper can be used in wet areas of your house, i.e., bathroom, kitchen, utility area, etc.
A minimum amount of vinyl-coated wallpapers are also available with a less glossy appearance. It is a durable option but not very popular.
Fabric-enclosed vinyl wallpapers are also a sturdy option in wallpapers. It has a combination of heavy fabric and vinyl. This heavy-duty wallpaper is mostly used in commercial places. For instance, hotels, airports, etc. But it can be used in-house too.
3. Wallpaper with Non-Oven Fabric
This material consisted of a small amount of vinyl and natural fibers. It is even manufactured with natural or synthetic plant fibers without adding vinyl. Non-oven fabric wallpapers are quite popular these days. Its installation process is also non-clumsy.
4. Wallpaper with Grass Cloth
As the name suggests, these wallpapers are made of grass, reeds, corks, etc. But this unusual wallpaper needs considerable attention during the installation process. Hence it requires expert advice to apply this Grasscloth wallpaper on the wall. It also requires regular maintenance because it consists of the lining that needs regular dusting using a vacuum cleaner.
5. Wallpaper with Organic Fiber
This is almost like grasscloth wallpaper. It is made of natural fibers like linen fabric, cork or wood, etc. Its application process is similar to grasscloth wallpaper. These organic fiber wallpapers are cost-wise very high among all wallpapers materials.
After looking at the material of the wallpaper, let's move forward and see its application methods.
How to Apply a Wallpaper on The Wall?
Before installing wallpaper on the wall, you need to prepare the wall. For instance, regulate its absorbency, use wall primer, and try to use white pigment color for priming, etc. You will get various options of applications for hanging wallpaper on your wall.
Following are a few application types:
1. Unpasted Wallpapers
Some wallpapers did not consist of any kind of sticking component. In that case, you need to use glue separately to install these wallpapers on a wall. This process is quite messy sometimes. But the end result is long-lasting compared to other options.
2. Ready to Use or Pre-Pasted Wallpapers
Pre-pasted wallpapers embedded with glue or adhesive which not appear in sight. It is get activated with water. You need to apply water on the backside of the wallpaper and then paste it on a wall. Vinyl wallpapers and non-woven wallpapers are mostly pre-pasted with adhesive.
3. Peel And Stick
These types of wallpapers are just like stickers. You just need to peel the backside of the wallpaper and can pest it on the wall. It can be reused. However, this peel-and-stick or self-adhesive option is not a durable option compared to the non-pasted and pre-pasted ones.
After discussing the fundamental part of the wallpaper topic, you have certainly grasped the idea about it. Now to give you some inspiration, we are sharing 17 mesmerizing red wallpaper ideas for your home.
Conclusion
It is not necessary that when you want to decorate a house you need to spend more. Actually, there are so many alternative options available in the market which will cost you half and give you beautiful results. To get these alternative options, you need some research into it.
In this article, we have provided the best alternative for your costly painting component, and that is mesmerizing wallpapers. We have discussed the fundamentals of wallpaper, which will assist you while installing your wallpaper in your home. For instance, what kind of material is best for wallpapers, what is the wallpaper installation process, etc? Apart from that, we have recommended 17 vibrant and refreshing red wallpaper ideas to give you more precise knowledge.
Overall this article is a knowledge container you need to go through to decide the best red wallpaper idea for your home.
Frequently Asked Questions
Which is Better, Vinyl or Fabric Wallpaper?
The answer to this question depends on what you expect from the product. If you want durable wallpaper, then vinyl material used wallpaper is a long-lasting type of wallpaper you can choose.
On the other hand, if you want environmentally friendly wallpaper, then better to choose fabric-based wallpaper.
What is Fabric-Backed Vinyl Wallpaper?
Basically, this wallpaper is a combination of vinyl and heavy-duty fabric. In this wallpaper type, vinyl sheet is backed with fabric material; hence it is a strong type of wallpaper. This wallpaper is majorly get used in commercial places like restaurants, cafes, airports, etc. It can be used in-house also.