Who doesn't want to experience calm and peace? According to the Anxiety and Depression Association of America, about 6.8 million adults in the U.S. are affected by General Anxiety Disorder.
There are plenty of ways of dealing with stress, including yoga, meditation, group therapies, and even vacations. However, the key always lies in reminding yourself to relax and preventing yourself from getting worked up.
If you can initiate relaxation where you spend a significant part of your day – your home, it will be the most effective thing for you as you will be able to manage your stress without depending on the outside world.
Here comes the importance of having a peaceful home environment, which begins with relaxing interiors; to further achieve this, you can begin by painting your walls in calming colors.
Calming Colors for Your Home Interiors
Although our personal choices vary depending on our perception and natural inclination towards certain colors, it is true that specific colors have more impact on some individuals than the rest of us. Yet, here we have selected eleven calming colors for your rooms that can reduce stress the moment you walk into the rooms based on what experts suggest.
1. Turquoise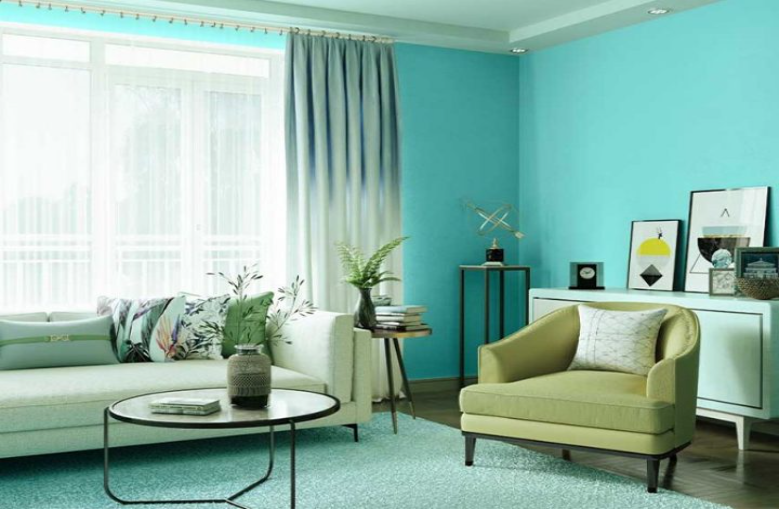 Turquoise is the shade between blue and green. Who doesn't love the color turquoise, be it the stone or the color?
One benefit of the turquoise shade is that you can match it up with other colors, so you won't need to worry about setting up your old furniture in the room. So, you can either color the whole room in turquoise or choose an accent wall and color it in the turquoise shade. If you are coloring one wall in turquoise, you can color the other walls in white to give a soothing effect to your room. You can also apply a complementary wallpaper to the opposite wall.
2. Soft Green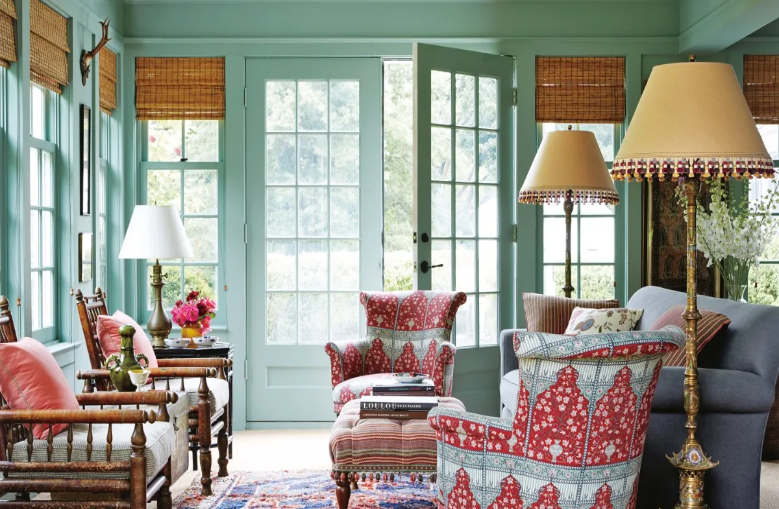 This shade is another calming color for your bedrooms, where you spend a good part of your time sleeping. Rest is one of the most essential parts of living. It is during sleep that our body repairs itself and replenishes the energy needed to sustain through the day.
To get sound sleep, it is essential to have a relaxed state of mind, and your room color plays a role in having such a state of mind. Therefore, the color soft green can make your room cozy and soothing to help you quickly fall asleep.
3. Violet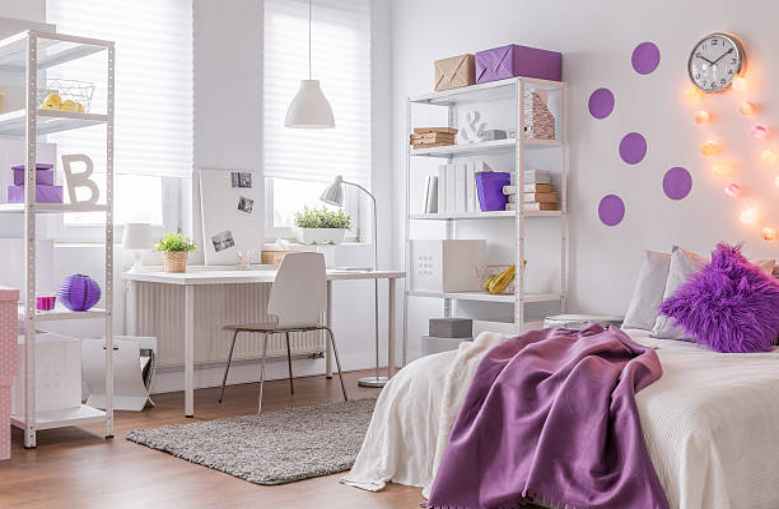 The color violet has a blue base along with red. The blue part is responsible for imparting the tranquil effect to the color violet.
You can choose a light and soft shade of lilac, lavender, or violet to color your living room, except for the darker shades, if you want to feel calm in your room. You can create an accent wall with deep blue and color the rest of the walls in violet. Violet can bring inner peace and calm.
4. Cool Blue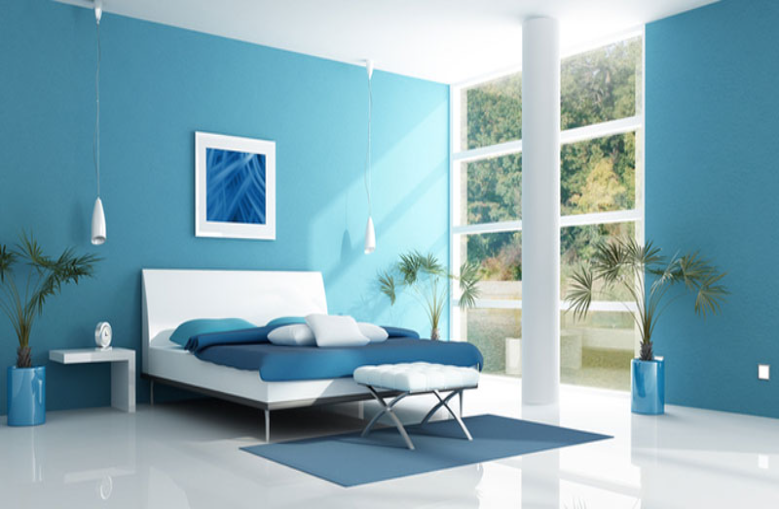 Blue is the color of the seas and oceans. Whenever in stress, if you go and sit near any water body, be it a small lake or the wide sea, it automatically evokes calmness within us.
As we belong to different terrains, many of us cannot access a water body readily. Hence you can paint one of your rooms in a cool blue shade to experience the same calmness and serenity within you every time you are stressed.
5. Tranquil White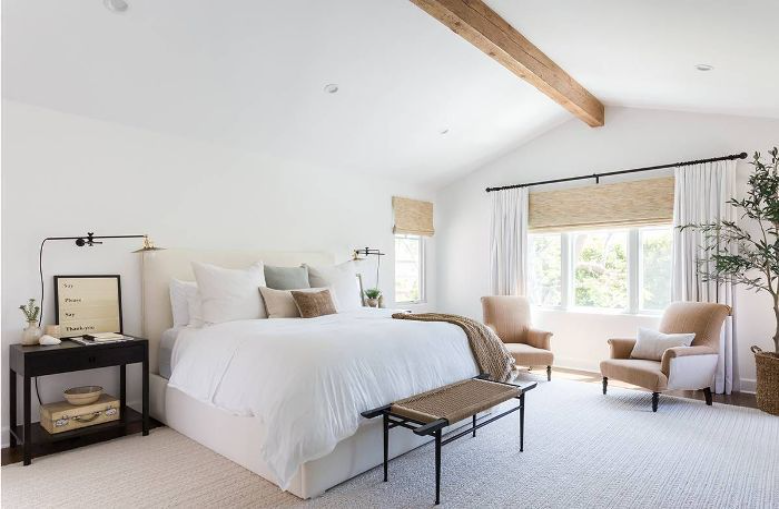 The color white symbolizes peace, tranquility, and purity. Coloring your home in different shades of white can make you experience positive vibes effortlessly.
White can calm you down and make you more grounded, centered, and composed. White walls can also be great for your meditation sessions as they can help you focus better when you stare at them and even boost your creativity, as per some researchers.
6. Light Yellow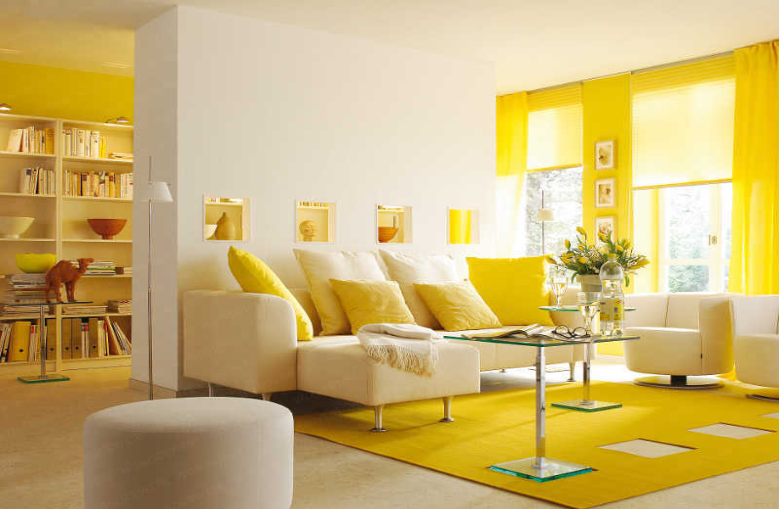 Although yellow is a warm color, it is included in our list of calming colors because yellow is strongly associated with optimistic qualities in most cultures. Yellow is also the perceivable color of our Sun. It is the harbinger of spring, the color of cheerful sunflowers and daffodils.
Yellow is the color associated with hope, happiness, spontaneity, and courage. So, painting your walls in vibrant yellow shades can stimulate your brain, boost your memory, and make you feel bright and positive.
7. Sage Green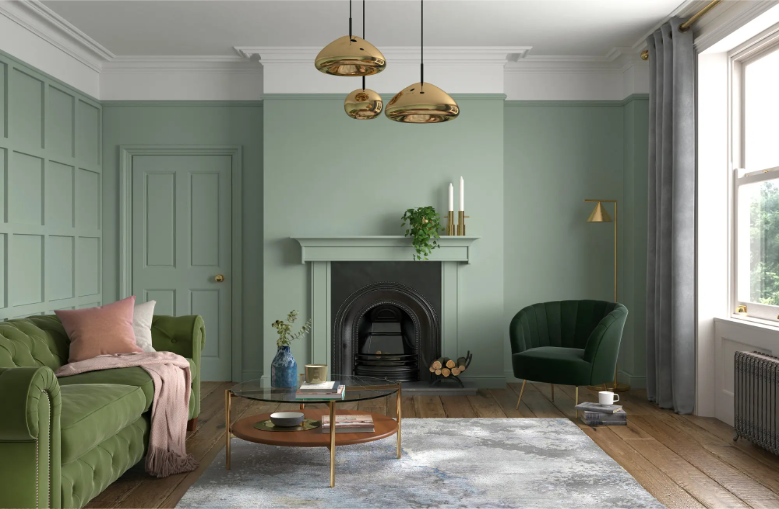 Another calming color is sage green which is the representation of mother nature. Keeping close to nature is always the best thing when it comes to de-stressing and relaxing.
A simple walk by the woods, a long walk along the beach, gazing at the night sky, or sitting by the lake are all simple ways of releasing the unwanted energy built up inside you. So, painting your walls sage green can rejuvenate you and add that much-needed dose of tranquility to your life.
8. Aqua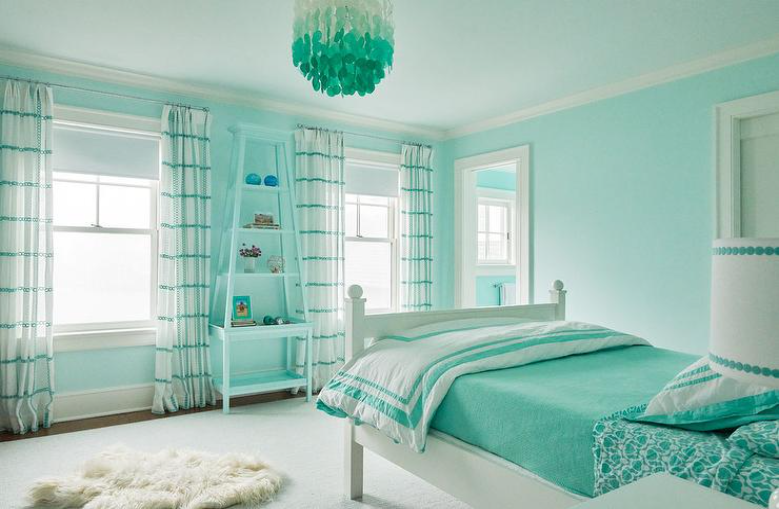 Many of you might confuse the color aquamarine with turquoise, but significant differences between the two exist when you look at them. However, aquamarine could be described as a light bluish-green color, and turquoise is a mix of pale blue with a small quantity of green and yellow.
Aquamarine is another shade that spreads a calming effect in the surrounding environment. If you truly want to experience being in the lap of nature from your bedroom, you can add some plants around to create your own sacred sanctuary.
9. Beige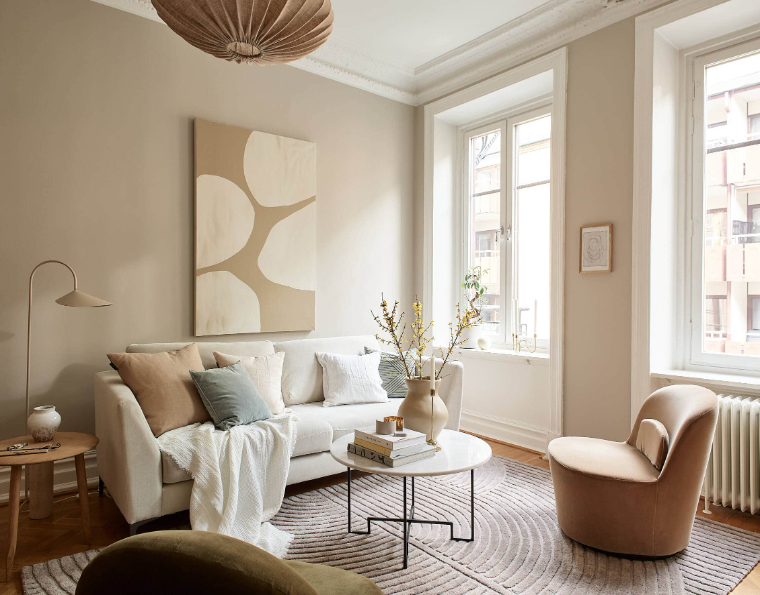 The natural beige shade also falls in the calming color spectrum. Neutral walls can help you fall asleep quickly. Besides offering adequate relaxation, neutral walls can also be convenient to match up with any furniture shade and color.
One downside of neutral shade can be that it can sometimes appear to be too monotonous. So, to break the monotony, you can use an accent wall with the colors soft green and sea green.
10. Peach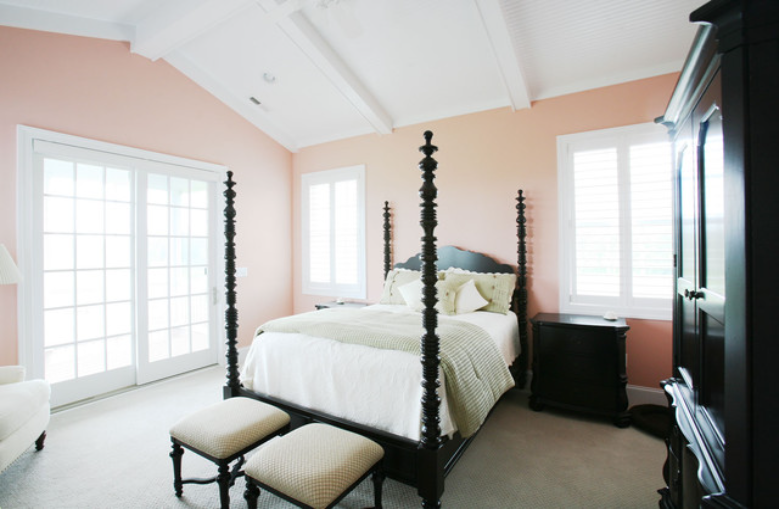 Peach is a color that is a combination of yellow, white, and orange. Sometimes the peach color can have a pinkish hue, or sometimes it can also have an orangish hue. This shade signifies vitality, vigor, cheerfulness, and enthusiasm. At the same time, it's a sober and peaceful color for your bedroom walls.
Add an eccentric sculptor in the corner or a floor vase to complete the look of your bedroom.
11. Ocean Air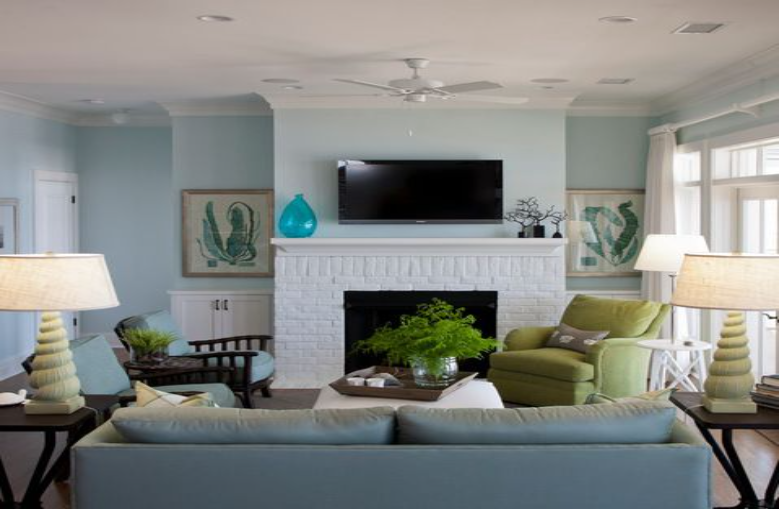 If you don't want to spend on a wellness retreat, convert your home into a retreat by choosing calming colors for your walls. Benjamin Moore's Ocean Air is one shade that beats boredom, invites positive vibes and calmness, and transforms lives.
It is one lovely shade that can cover your entire interior or just a single room. It is a light blue shade with a pinch of green combined with a gray backdrop that can just remind you of the ocean. Staring at the walls will mentally make you transmigrate into an island surrounded by the blue ocean all around.
Tips to Transform Your Home Into a Personal Retreat Zone
While adding the right shades to your walls is a great start to give yourself the right calming environment, you can make some more additions to make your home the best weekend retreat zone.
1. Add Some Plants
Plants can be excellent additions to your home. They can immediately transform the vibes, purify the air, and cleanse the aura of your home, making it relaxing and aesthetically pleasant to look at. Plants produce oxygen, and besides that, they can ward off negative energy quickly. So, having plants inside your home is the next step to making your home a stress-free zone.
2. Create a Relaxation Corner
A creative corner or relaxation corner is the next best thing to set up at your home so that whenever you feel burdened, you can go sit in your favorite corner and unwind. But what do you need to do to set up a relaxation corner? Choose a corner with ample natural light. Add some string lights or a lamp shade, surround the corner with potted flowering plants, and add some rugs and comfortable seating options.
3. Remove the Clutter
Keeping your home neat and organized is always one of the best things you can do for yourself. De-clutter the rooms, throw off all garbage, clean the dirt, and assign proper places to all objects and furniture. This itself will make your home look ten times better than how it was before. Transforming the place you live in can have an amazing impact on your psyche and mental health.
4. Use an Essential Oil Diffuser
Inhaling essential oils can impact your well-being to a great extent. So, get a traditional or electric diffuser, pour some essential oil, and enjoy the fragrance. Along with the fragrance, you can relieve yourself from stress. Frankincense, jasmine, and lavender oils are good for relieving stress and calming down.
5. Allow Natural Light to Flush out The Darkness
Natural light plays the trick in elevating moods and beating depression and stress automatically. So, always take a home that has the provision of allowing ample natural light inside the home.
Summing It Up
Did you know that anxiety is a stress response? While we all experience stress in our day-to-day lives, some individuals have difficulty managing it as it develops into an anxiety disorder. Therefore, being aware of the point where you get stressed and being able to manage it proactively is the first step toward self-help.
Painting your home in calming colors is part of the self-help process. From our blog, you have learned about eleven color suggestions that can help you make your home your haven. We have also shared other tips to create a stress-free environment at home.
Our homes are where our journeys begin, and therefore, it is essential to transform our homes in a way so you can experience tranquility and positive vibes. Once you step into your home and shut the front door, you should be able to forget the world's torments and blend into your home's calmness.
We hope you enjoyed reading this piece and found our suggestions helpful. You can let us know by leaving your thoughts in the comments section.
Frequently Asked Questions
What is the Most Calming Color for Stress?
Greens, turquoise, ocean blue, and lavender are some soothing colors for the walls that can reduce stress levels on their own accord. These colors can overpower you with a sense of calm and relief and help you forget stress and anxiety.
What Colors are Good for Mental Health?
Most shades of blue and green are good from the perspective of boosting mental health; however, other color codes also have relevant importance. For instance, red and pink boost energy and passion, orange and yellow stimulate appetite, and purple is associated with higher creativity and productivity.
Which Wall Color Gives Positive Energy?
Yellow, the color of the Sun as seen from Earth, is regarded as the color of inspiration and positive vibes in most cultures of the world. Yellow also symbolizes power and self-esteem. Research has also indicated that on seeing the color yellow, our brain releases happy hormones.