Today, we will begin by addressing two problems that this blog will help you solve. Let us ask you two questions before that. First, do you have that insanely large space above the refrigerator that just sits there awkwardly? Second, have you gotten a lot of gifts recently, especially plates and dinner sets that look like trash? Well, the good news is these two problems have just one solution. That awkward, open space is often used to dump things one after another till they start falling behind the refrigerator, creating more problems.
Our experts bring to you a great way through which you will not only be able to make this space functional but also make it look decent – refrigerator cabinets. It helps reduce clutter in the kitchen area, adds extra room for storage, and gives a clean finish to the fridge, which otherwise looks orphan.
Before we get into how you can build the above fridge cabinet, let us talk about something more important.
How to Build a Refrigerator Cabinet?
While crafting this section, assume that you might have had an already built cabinet or had to replace the fridge, or were renovating the space. We want to include all kinds of scenarios.
Step 1: The Before & After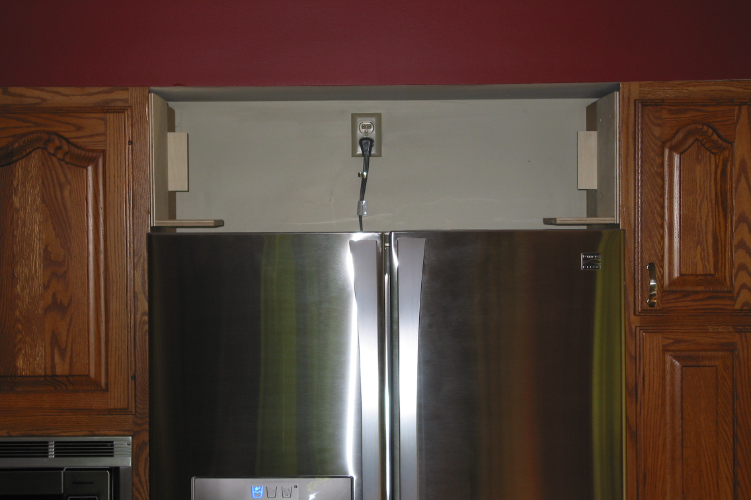 While you are trying to adjust a new refrigerator in the old space, you might have to consider trimming down the space by half an inch. If the existing cabinet becomes a hindrance, make sure to replace it with something shorter and more compact. A box shelf or a cabinet can be a good idea. Begin by loosening the screw of the existing cabinet that is attached to the back end of the wall. Remove the cabinets.
Take an accurate measurement of the space that you now have to build the cabinets. If you get the floor-to-ceiling cabinet depth, you get more storage. This technique allows you to get the refrigerator cabinet of any depth.
Step 2: Get the Brackets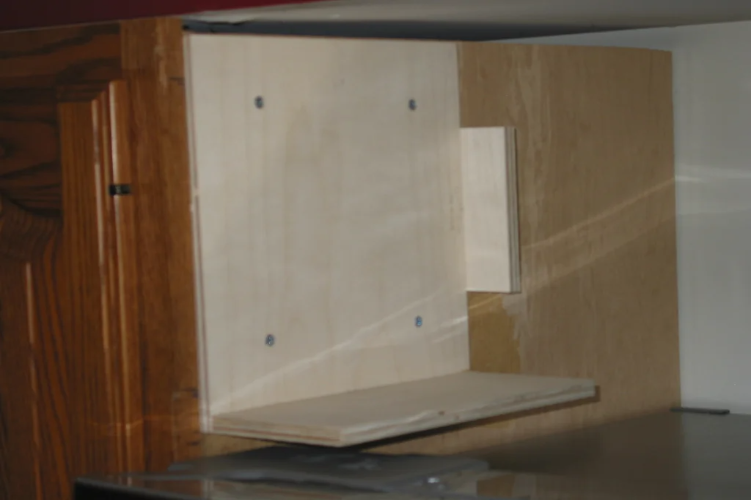 The most common use of the above fridge cabinet is to hold less-used items. Here, you can choose to build a display box or go for a full-fledged cabinet. Here's a tip to make this area accessible to the shorter members of the family. Instead of adding the opening in the center, you can keep the opening towards the lower ends. You can also add a mechanism that allows the cabinet to open itself when you press just one side of it.
No matter what kind of cabinet you choose, we will make it easy for you. Add brackets on both sides to support the box. These brackets are usually made from plywood, hence, are easily available. You can use anchors if you are adjusting the bracket to an adjacent wall, making it more sturdy. You can trim out the box to avoid any minor asymmetry in the level.
Step 3: Build the Box and Install It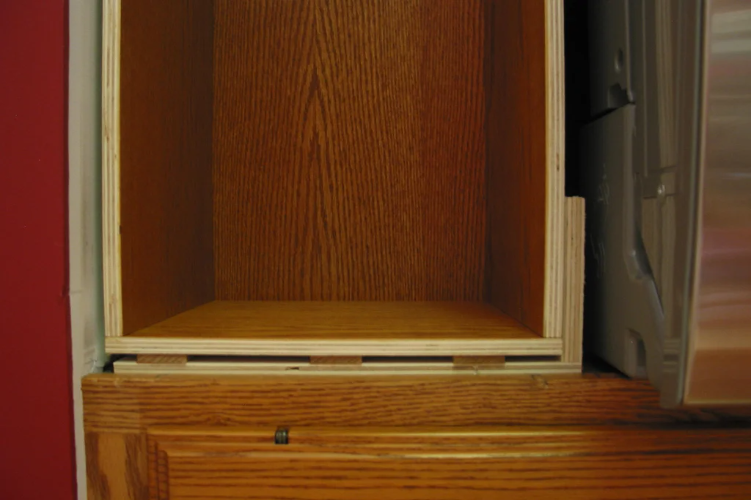 This is the main part of making a refrigerator cabinet. Building the box will solely depend upon the material you want to use and the finish you desire. Make sure that the box that you want for the cabinet must be smaller than the bracket openings, else you are going to end up cutting and trimming a lot of it. You can make a box from wood, plywood, or any other material that seems to fit your style. You can even paint them to sync well with the rest of the kitchen aesthetics. If you are going for an open style, you will have to make the cuttings accordingly.
Depending upon the look, you will have to build a four-side or a three-side box and a back with a nail and glue. Slide the box in position, secure it on all sides, and go with lighter-weight materials to check the strength of the box. Once it is good to go, you can insert as many things, depending on the size of the box, as you want. Close the box or leave it as it is. Enjoy the changed look of the place together.
Step 4: Trim It Down, and You are Good to Go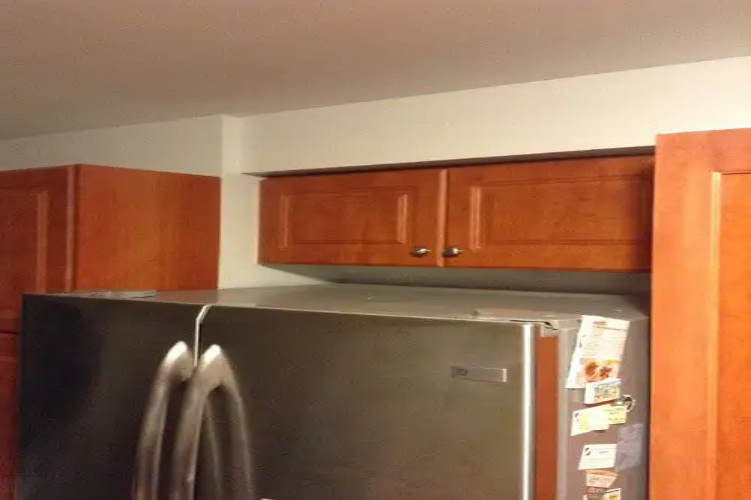 Trimming out the box is as easy as it sounds. All you have to do is make sure to choose the stain carefully. You will have to choose one that is either in sync with or complementary to the overall appeal of the house. When this is done right, no one with ever be able to tell that you did it yourself without professional help. Isn't that a great thing to show off? Tell us how did that turn out for you.
What Can You Do with The Refrigerator Cabinets?
Your cabinet can be in perfect sync with the kitchen decor or even be a contrast. No matter the color and patterns you choose, make sure you build them well within everyone's reaching range. Here's how you can put them to good use:
1. Show Off Your Cookbooks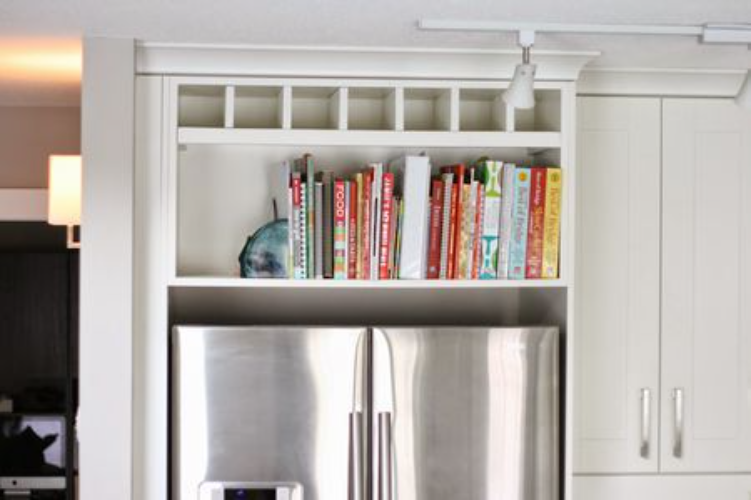 Are you someone whose every dish is straight out of famous cookbooks? Then just like your cooking, you should also want to show off your inspiration. Use the refrigerator cabinet space to store all your cookbooks, even that dairy where you have the recipes of your experimental dishes. Don't forget to separate them with dividers. Arranging them neatly by the kitchen area completes your culinary experience, giving it an aesthetic appeal.
2. Tray Dividers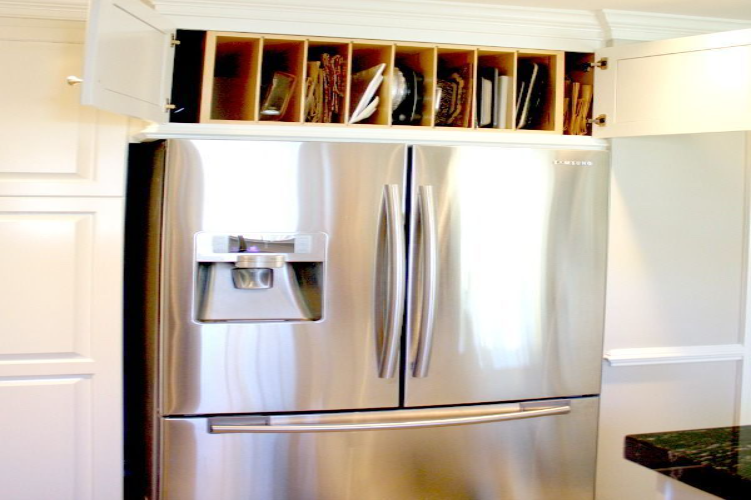 Our experts bring you a clever storage solution by keeping all things you need on a daily basis accessible. By installing tray dividers in your above fridge cabinet, you lose the risk of cluttered stacks of trays. This is also a great solution to help you keep your chopping boards, baking sheets, and trays organized and easily available. The tray dividers are designed to help enhance efficiency and streamline the process of cooking.
3. Drinks Cabinet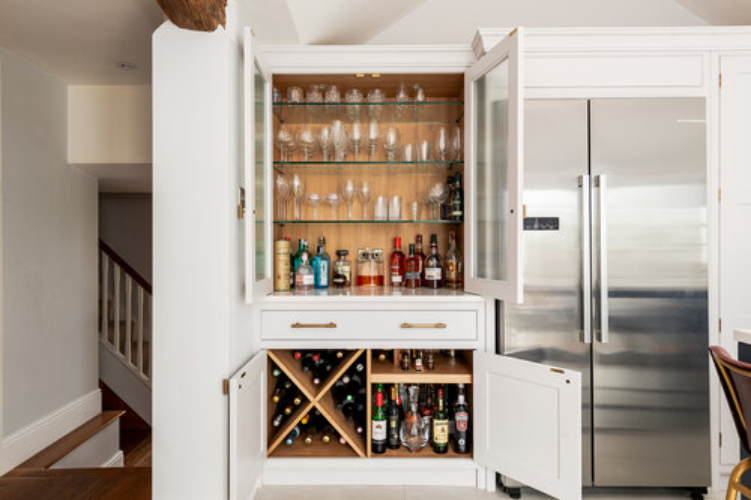 Most households often end up storing the wine and the whiskeys in any corner of the kitchen that they get their hands on. But our experts suggest that keeping the bottles and glasses in a designated space is not only better in terms of organization but also gives a positive vibe when you have guests over. Create enough space in the refrigerator cabinet to store the cocktail and wine glasses, tumblers, spirits, mixers, and non-alcoholic beverages. However, be careful while storing the wine in the area. This space is exposed to heat from the fridge, which can lead to damage to the quality of the wine.
4. Decorative Baskets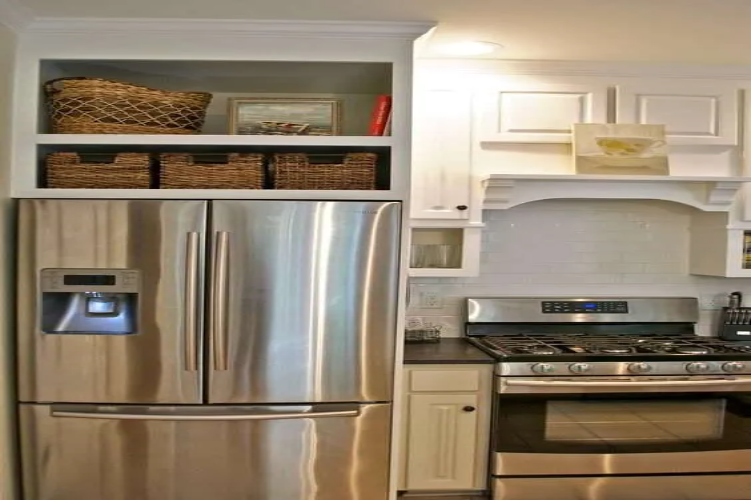 Our experts suggest that this idea is great for homes without a closed cabinet. Carefully place hand-woven or designer baskets, decorative plants, and other such elements in the space. This can also be a great idea where the cabinets are not too big in size. The natural texture, color, and appeal of these natural items, like baskets, help enhance the overall look and vibe of the kitchen space. It makes the area warm and inviting. Baskets and plants help add practicality and style to the area.
5. Storing Items of Different Shapes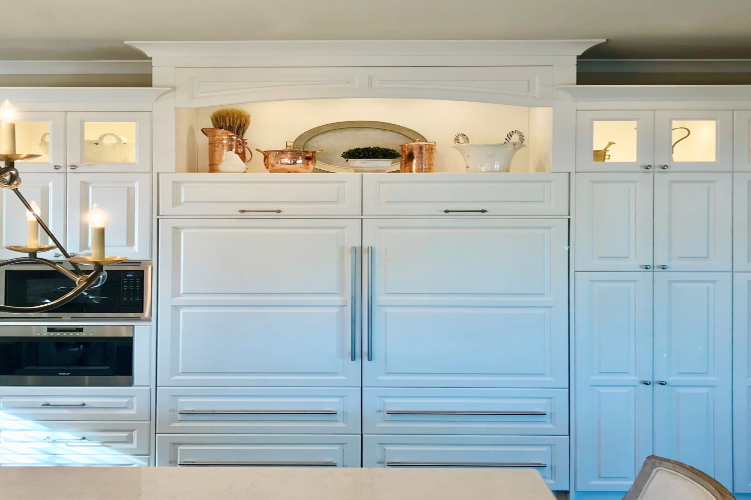 An interesting benefit of having refrigerator cabinets is the fact that items of different shapes easily fit here because of their height and build. Everything that has been loitering around in random places in the house now has a definite space. The oversized kitchen appliances, tall bottles, irregular cookware – the above fridge cabinet is the solution. Incorporate adjustable shelves and specialized storage organizers, and you double the chances of accommodating a number of shapes and sizes.
Before you start building the refrigerator cabinets, here are some things that you must keep in mind to get the results you desire!
Things to Keep in Mind: Before Building Refrigerator Cabinets
1. Measure Right & Plan Well
When building an above-fridge cabinet, accurate measurement, and the right planning are key. You have to consider the height, width, and depth to create the space you need. You will also have to be mindful of any obstructions, such as ventilators. It is not enough to plan the fit of the cabinets; you must also take into account the functionality and practicality. After all, deconstruction and construction are not something you want to do every day.
2. Think of Convenience and Accessibility
This refrigerator cabinet is going to be a storage space in disguise (well, for most of you). Avoid making it too deep or too high that you have to end up climbing inside the cabinets and recreate a scene straight out of a horror movie. In case the height of the fridge needs you to have the cabinet at a more-than-usual height, consider adding a foldable ladder. You can also incorporate pull-out or adjustable shelves to keep the space accessible to everyone.
3. Stabilize the Structure
The above fridge cabinet isn't going to be just an element of the show. So make sure it is sturdy, stable, and has longevity. The best way to ensure this is by using materials that won't die out easily, the use of plywood for the box, for example. Or adding an extra layer of glue or more anchors. Also, make sure that the brackets used are strong and can hold onto the weight. Adding brackets or support frames ensure that the weight of the box and the materials within are equally distributed on all sides.
4. Customize as Needed
When planning for the refrigerator cabinet, make sure that you do not design them in a rigid manner. They should be available for customization. Our experts say that these should be built in a way so that minor amends can be made even a few years after they have been in place. Use adjustable shelves, dividers, pull-out drawers, or foldable stairs to organize well and make the best use of the space. In the cabinet space, you should be able to store items according to their heights and sizes effectively.
5. Think About the Aesthetics
No matter what element you are adding to a house, it is not enough to think about its use and functionality, and it is also important to consider the overall appeal. You don't want your fridge space to look like a tiny island in the middle of nowhere. Choose materials, paints, and hardware that blend seamlessly with the rest of the cabinets, and the walls, creating an inclusive look. Make sure to pay attention to the doors or decorative accents around the area so that there is harmony and visual pleasure.
Final Thoughts
Building a refrigerator cabinet in the above fridge area gives multi-functional benefits. From efficient use of the vertical space to helping get organized storage solutions – you can do so much with the area. The methods and tips that our experts have pulled together will help you ease out your DIY cabinet-building process. The blog has focused on functionality, accessibility, and the aesthetic consideration of the space as a whole.
While this space is mostly used for the storage of the less-used items in the house, our experts believe that they can even be turned into spaces to hold things of greater visual appeal. Depending upon the size, space, and look of it, you can decide how you want to use the above fridge cabinets.
In the blog, we have also given you simple ways that can help you build the refrigerator cabinet of your dreams. Feel free to make modifications however you please. But before you get into the making of it, keep in mind to measure carefully and plan it right. This helps you get the fit you desire. They also help you avoid any unnecessary obstructions, unplanned construction later, or incurring additional costs.
Loved the ideas? Start making your refrigerator cabinets today!