Does seeing those aesthetically pleasing houses on Instagram makes you also wonder how to achieve that look? And if achievable, what would be the cost behind all of it?
What if we tell you that you can create your designed house with your own creativity? You can also give a personal touch and even involve your family members in the process. And the best part is that some of these DIY projects may cost you less than your weekly coffee budget.
Hmm… sounds interesting, right? Let me show you some of the ideas that are tested practically and proved to be really eye-catching, contributing to a uniquely styled home.
1. Gallery Wall
Each one of us has some memorable pictures lying around in our house. You can easily decorate a wall by putting those pictures in different sizes of picture frames and creating a collage from them. This kind of decoration adds a personal touch to the space while demonstrating your family's collective personality. You can also mix and match by adding one or two drawings in the frame that any of your children made by hand. It can prove to be such a sweet little addition and gives the wall an emotional aspect that you get to see daily.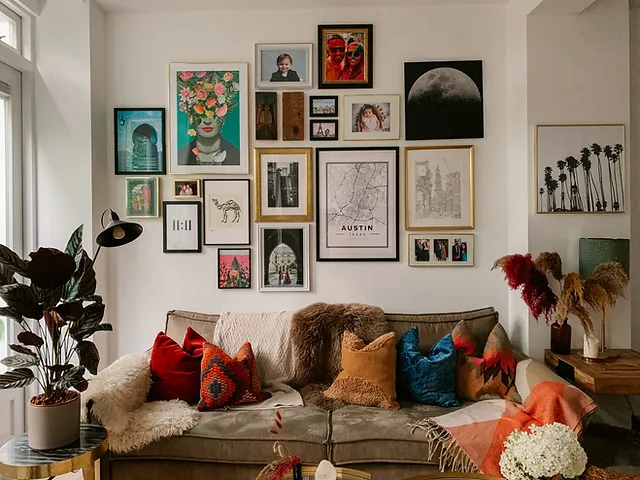 2. Personalised Fragrances
Did you know? Our noses can form a memory of fragrances and places associated with a particular smell. Creating a personalized smell for your house, which gives a warm and cozy feeling, can prove to be such a good idea. People will always associate your home with that smell and wholesome vibe they get from it. You can do this by simply using some dried flowers and essential oils of your choice. This homemade freshener is organic, so it can be used as much as you want without the worry of any side effects of chemicals. This aromatherapy can also provide you with a calming effect after a tiring day at work.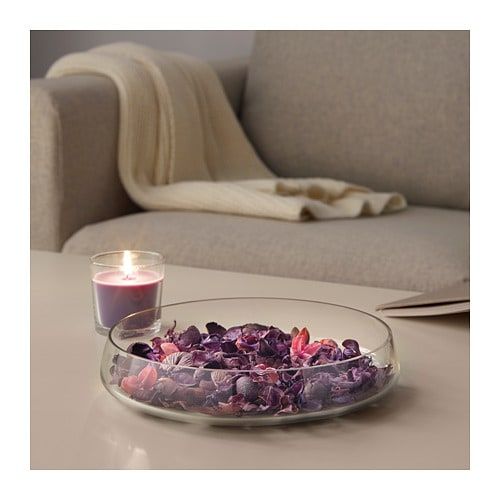 3. Light It Up
How would you like it if you had a color for each mood and you could change your room's vibe to that shade? Yes, it is possible to use LED lights. You can decorate them anywhere, like in a room, balcony, or terrace. This DIY project will help you in creating a space that can be customized at any time just for you. These lights even come with a remote that can change the color within seconds and helps control the light brightness. It really doesn't get better than this.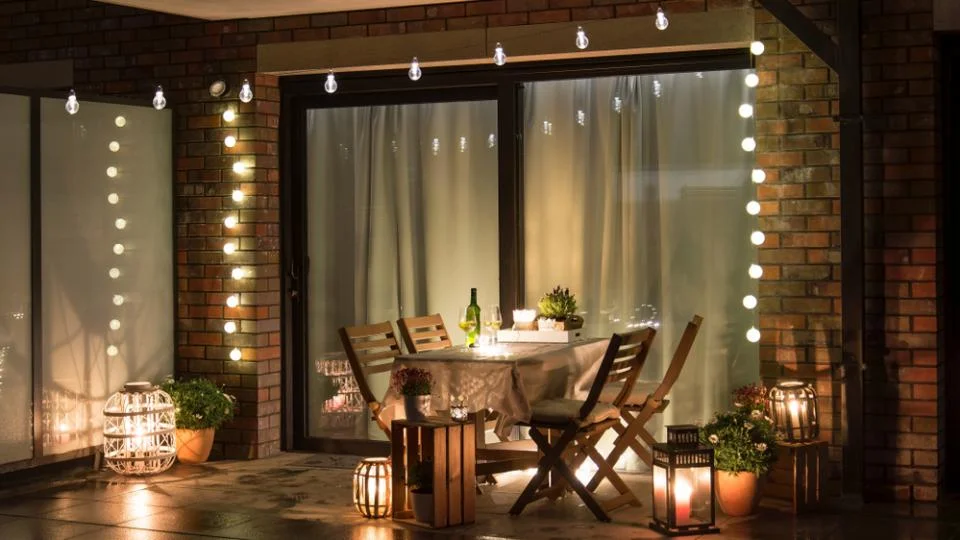 4. Feelings Board
Nothing can be better than a project which helps your family members understand each other better and increase family bonding. You can simply do this by adding an acrylic board on your fridge or on any wall where your family starts their morning. Each person can write a few words describing their feelings or mood for the day. This can become a great way of communication on days when words don't seem to find their way. You won't even have to put effort into encouraging others as these boards are so cute that everyone will be eager to use them. Similarly, another board can be used for daily to-do lists and friendly reminders.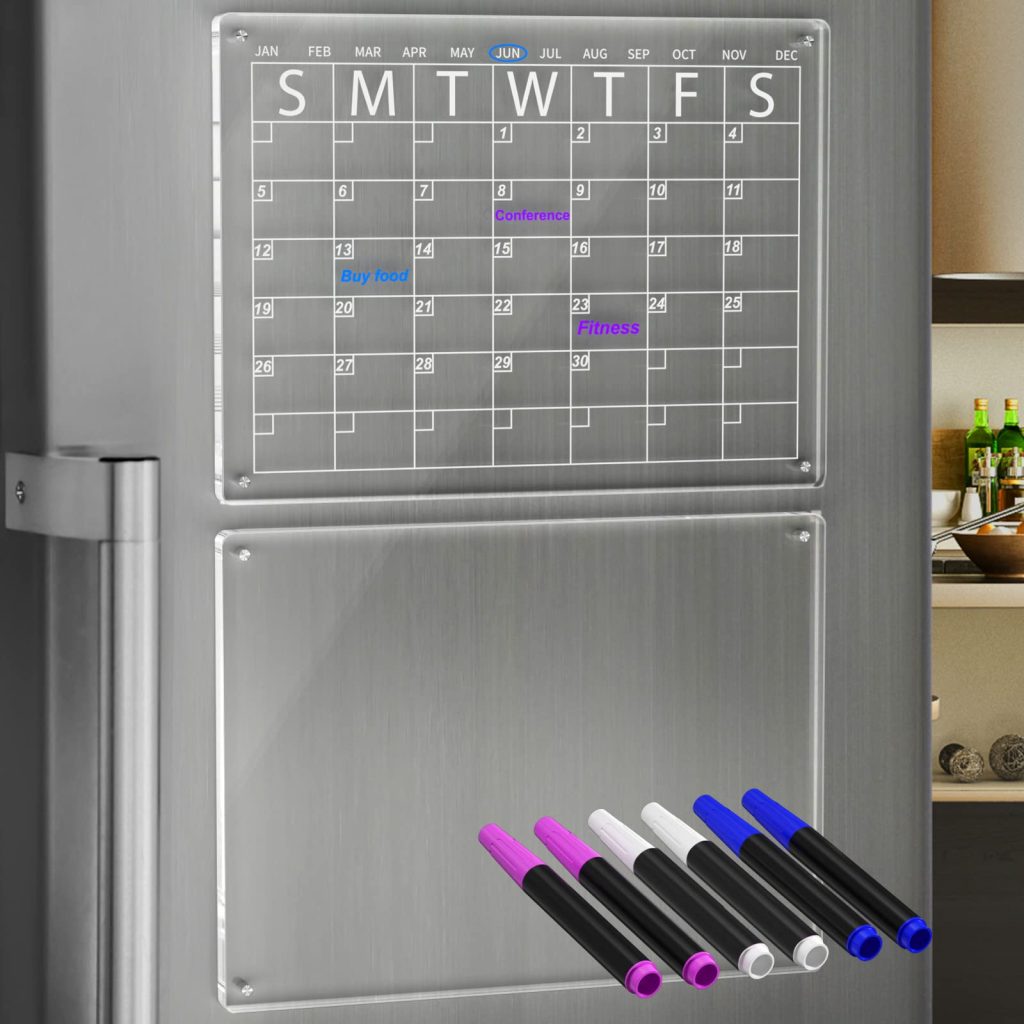 5. A Floral Welcome
It is so fascinating how flowers make everything better instantly. They give a sense of calmness and a wholesome vibe. These can prove to be a great addition to your front door so that every time someone knocks on it, they know that they are truly welcome. For this, just add a floral wreath on your front door according to its look and style. It will be a beautiful addition to the first impression of your home. You can even have one made from artificial components so that it needs minimal maintenance.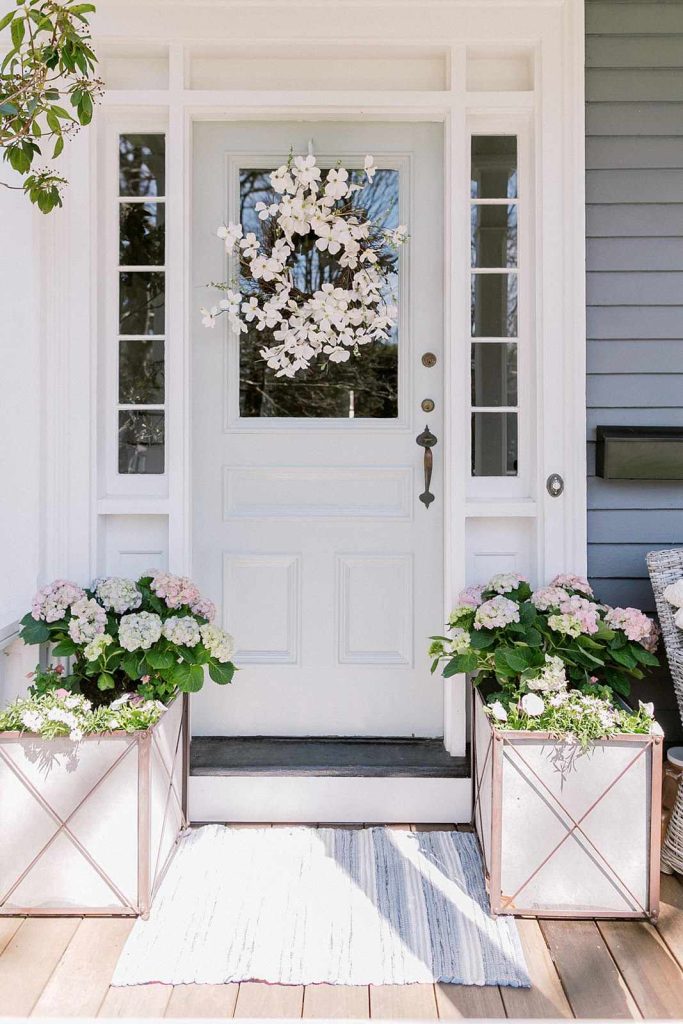 6. Custom Coasters
As the name suggests, you can get custom coasters made from various websites available online. These will give your home a distinctive feature that can be pretty cool to show off. You can even get your family picture printed on them. Our personal favorite way to make custom coasters is by making it a fun activity. You can do this by using some plain coasters, lots of colors, and your own mind. Paint whatever feels natural or things that resemble your home.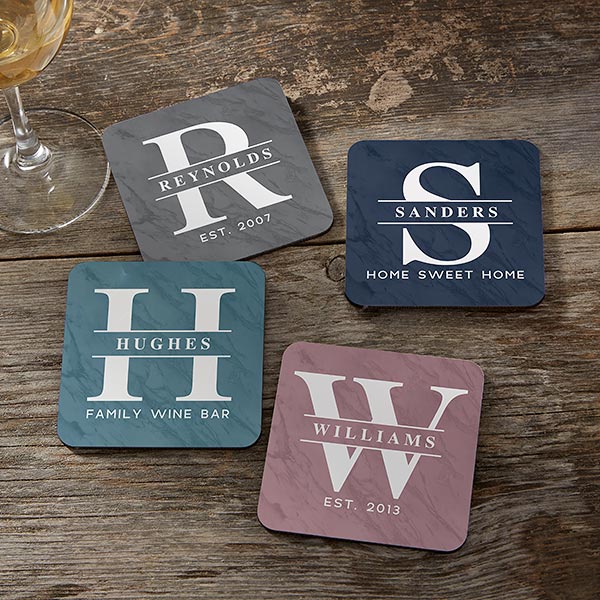 7. Pillow Party
Turning a boring living room into something fun seems to be such a huge task. You will have to make some major changes like switching your old furniture with a brand new one which can be pretty expensive too. This is where your talent comes in. You can elevate the look of the whole room just by changing pillow covers. It is even better if you stitch them by yourself using different types of fabric for each room, giving a separate look to all of them. This way, covers can be made of the exact size of your pillows. You can even change them at shorter intervals according to your mood or season. See, it really is a party!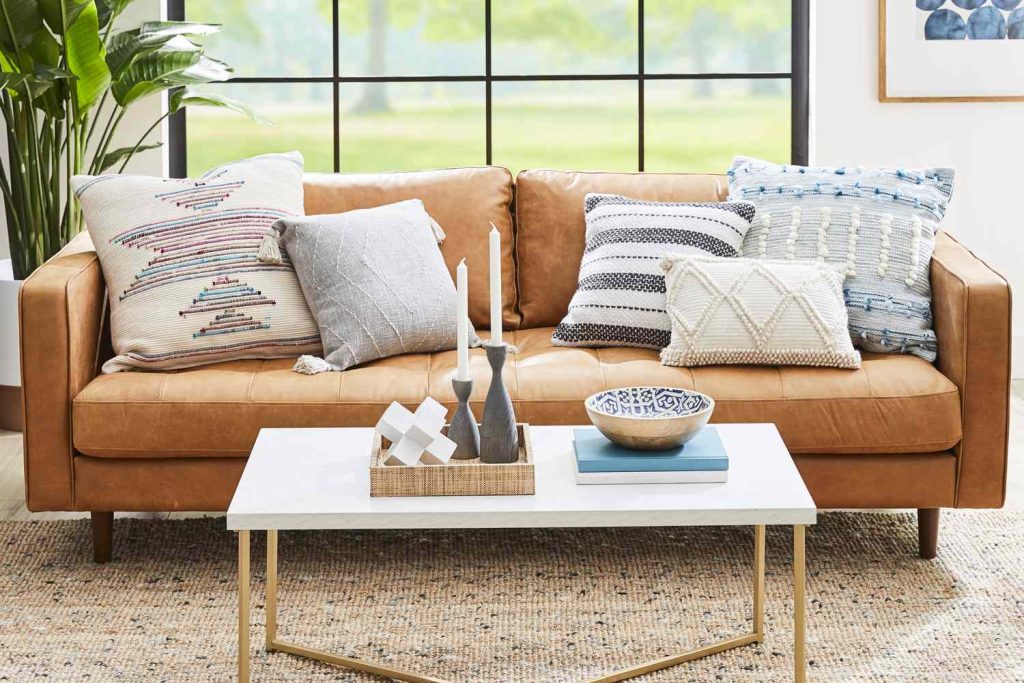 8. Build an Organiser
We have yet to see a home that doesn't need more organizing at all. Every home has at least one corner which needs a little "refinement." We know this kind of work is tedious and monotonous and seems better when procrastinating. But why wait when an easy solution is in your hands? You can start a DIY project and build an organizer for the exact purpose you need it for. Customize according to the space you have and the things you will be putting in it. Choose from unlimited choices of materials and color it however you please. An organizer like this is truly a pinnacle of perfection.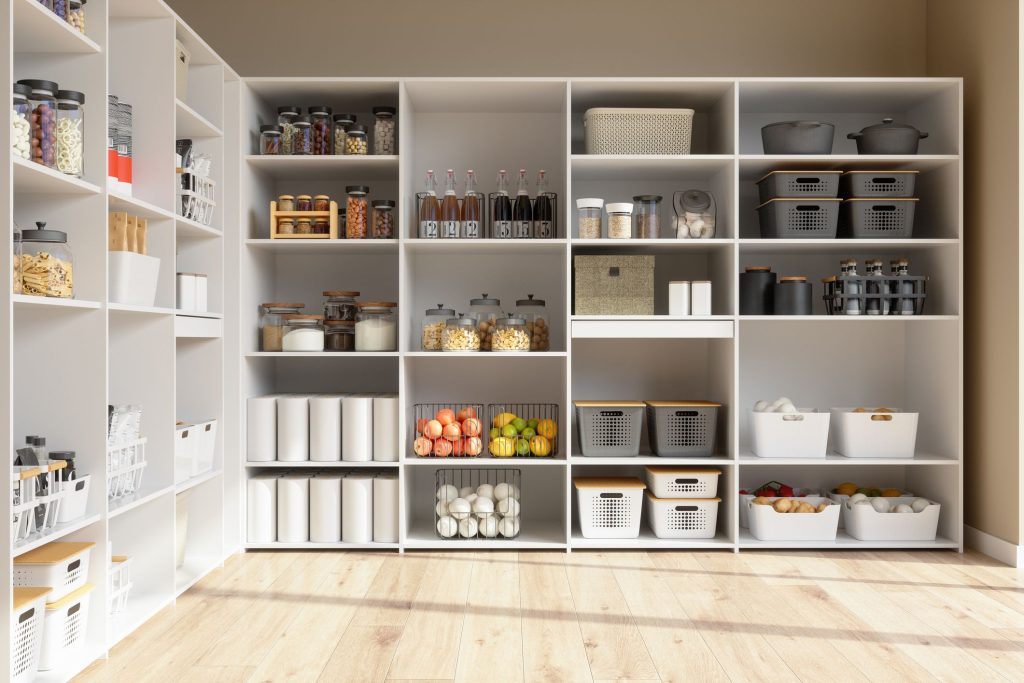 9. Beauty of Macrame
Art made with Macrame is so beautiful and soothing to the eyes. The pattern made by using cotton ropes is just fascinating. You may start making a macrame wall hanging or pot hanger as a project, but we are sure you will build a hobby out of it. The pastel colors of the ropes can be mixed and matched for an even better and more colorful handcrafted piece for your lovely home. For this, all you need is to buy a macrame cord, and you can start instantly.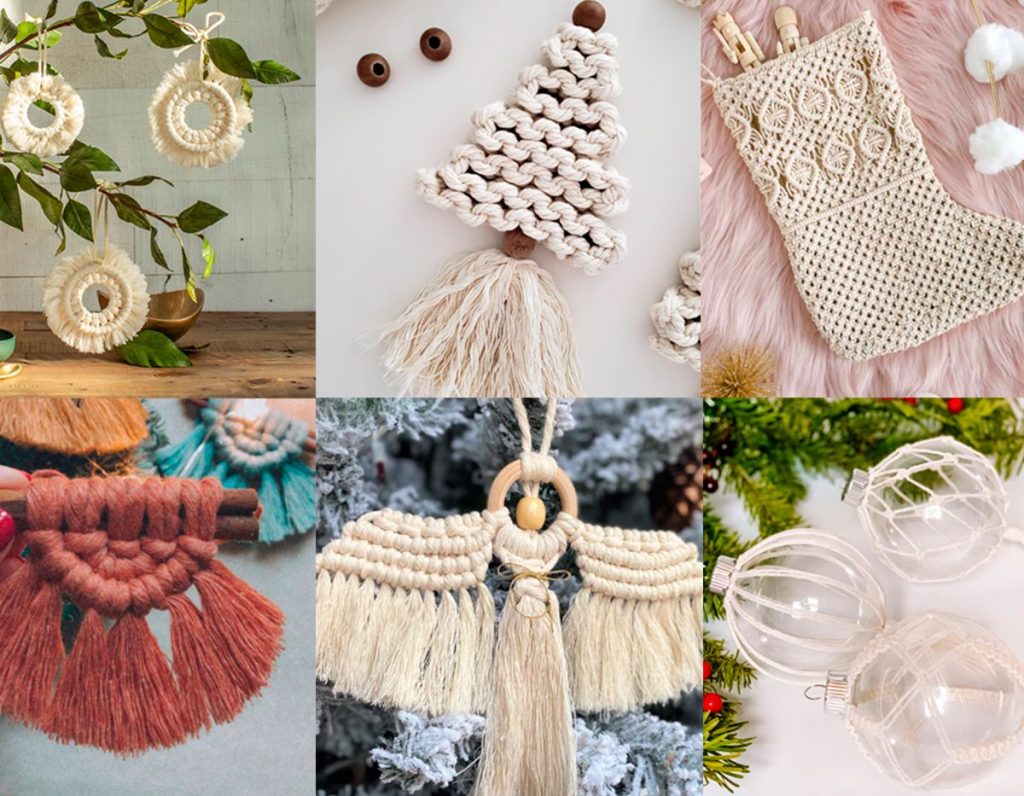 10. Wall Calendar
Having a bigger calendar on a wall in front of you puts everything in perspective. It makes you practically think about time and days, eventually helping you in increasing your productivity. Several wall calendarsets are available in the market, which you can arrange and rearrange as per the need of every month or even day. These even come with two different sets – one for the monthly calendar and another for the weekly schedule.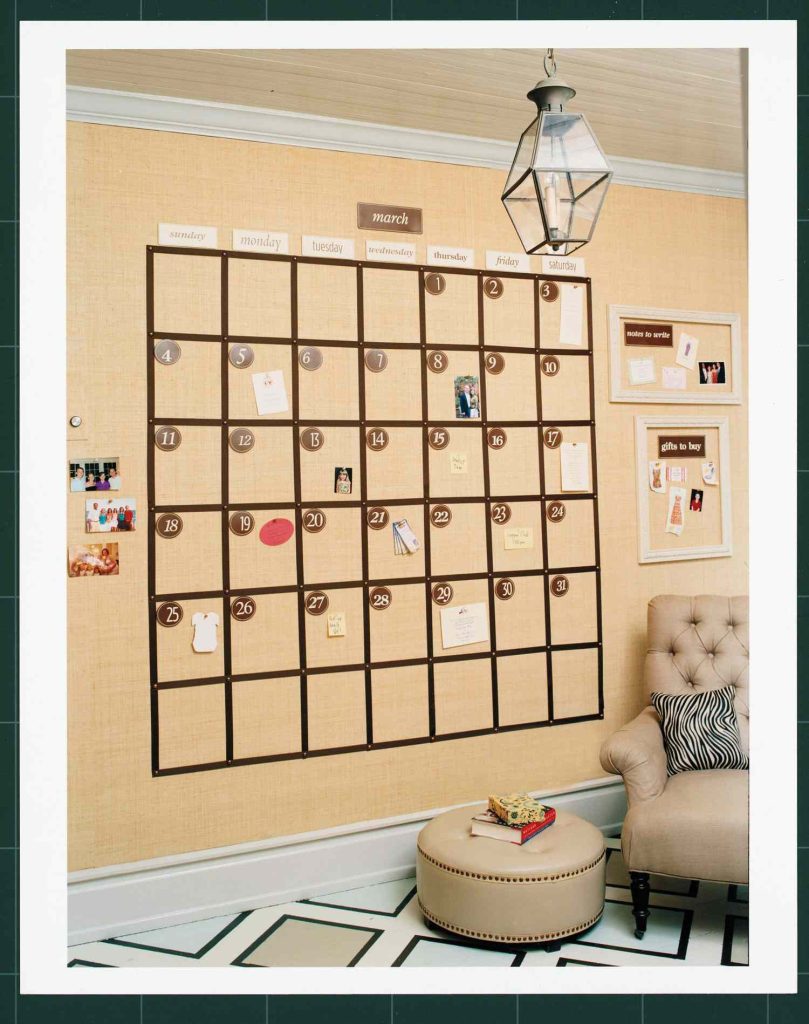 11. Decorate the Mirror
Although mirrors are a great way to create the illusion of a large space and to decorate without giving it much thought but simple plain mirrors just don't speak the language of uniqueness. Using baking clay, even boring mirrors can be given a cute look. This decor idea can make plain walls exciting just with one element. According to your preference, you may choose other materials to decorate.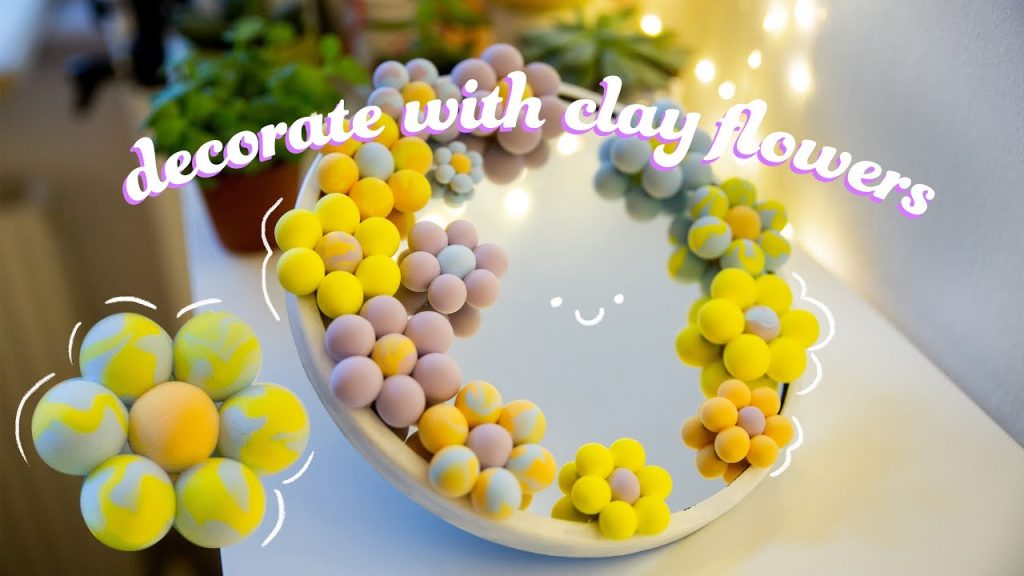 12. Painted Pots
Those ordinary, basic brown pots don't do it for me anymore. We believe that each plant has its own personality, which should be expressed with a visual medium. You can paint ceramic and clay pots by using acrylic paint and some brushes. Try it once, and we assure you your garden will be getting compliments from all over the neighborhood.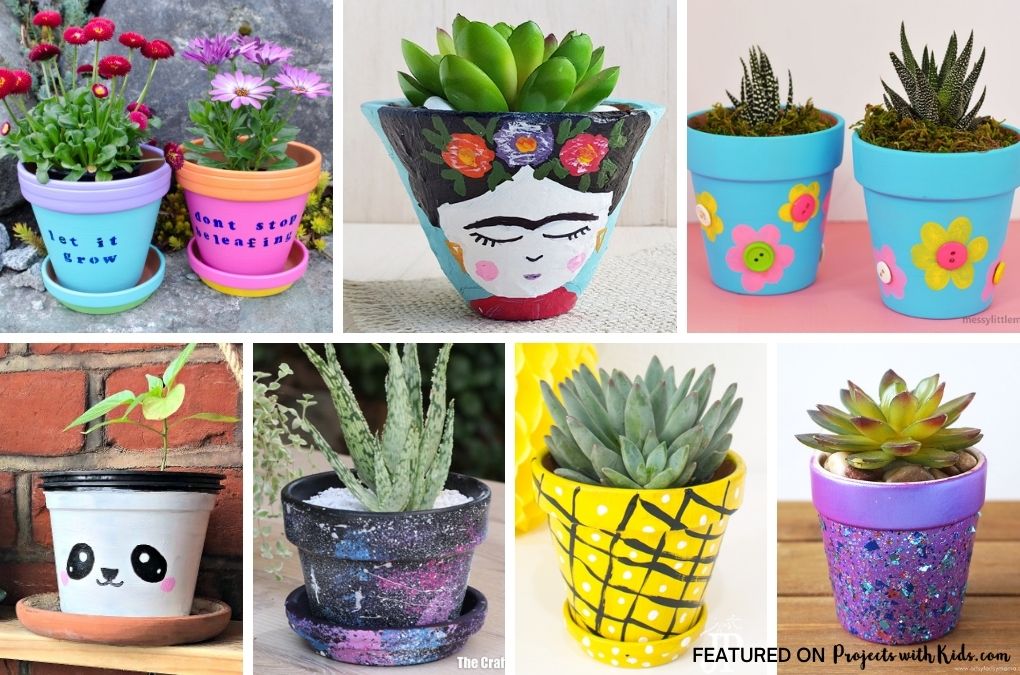 13. Some Labels are Good
Little accidents in the kitchen are common because of confusion between spices and their names. We are sure that something similar happened to you when you wanted to put oregano in the pasta but picked some random herb because both looked the same. We have the perfect solution to this problem. This isn't just a DIY project but a practical use of your skills. You can print some labels at your home on sticker sheets and stick them on each jar. This will save so much of your time and energy in the kitchen. Additionally, your kitchen will be so efficient that even a stranger will be able to cook there without any hassle. You may even use the fancier printing sheets for a more classy look.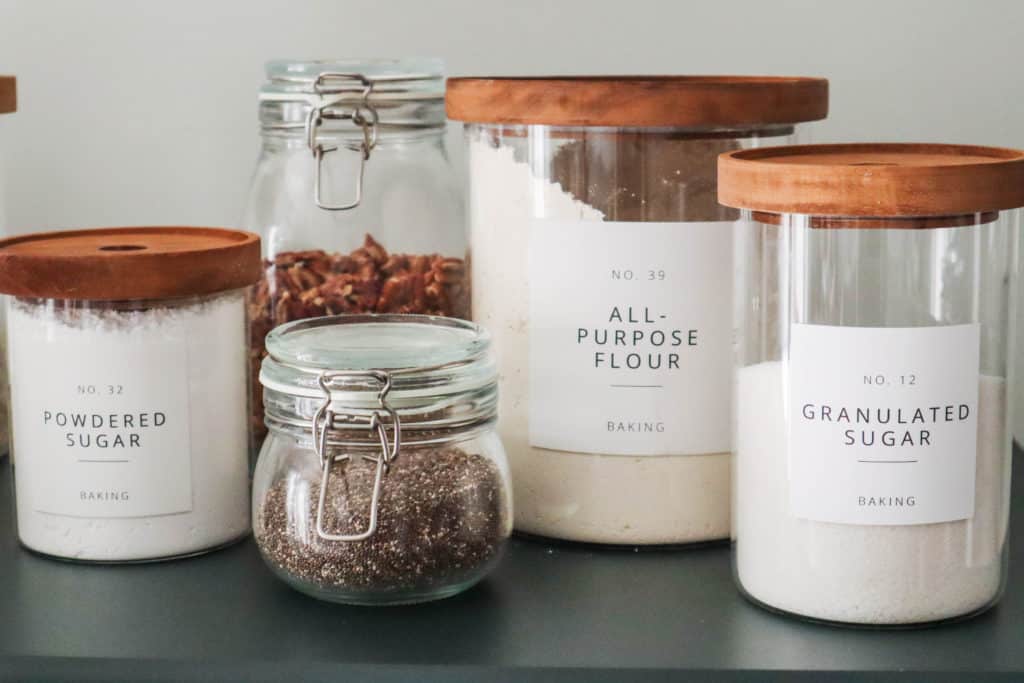 14. Paint a Picture – Literally
This sounds so basic, right? But give me a chance to explain. We are not asking you to paint on a canvas or in a drawing book. We are suggesting you draw and paint on a piece of fabric. Once completed, this fabric can be used in your home. You can paint on blank fabric and use the masterpiece as a bedsheet or curtain or anywhere else you like. The only thing you need is a fabric paint kit, and you are good to go. Using this, you can even give a new look to your old fabric that holds sentimental value to you.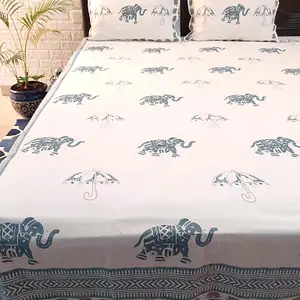 15. Key Holder – A Key DIY Project
Key holders are one of the most essential items of a home. But the issue is that they have a common design and, more or less, all look exactly the same. You can make a personalized key holder as per your needs and choice. You can choose the shape, color, material, and even the number of holders it should have. On top of it, add a section for other things like mail, etc., to make it multi-functional.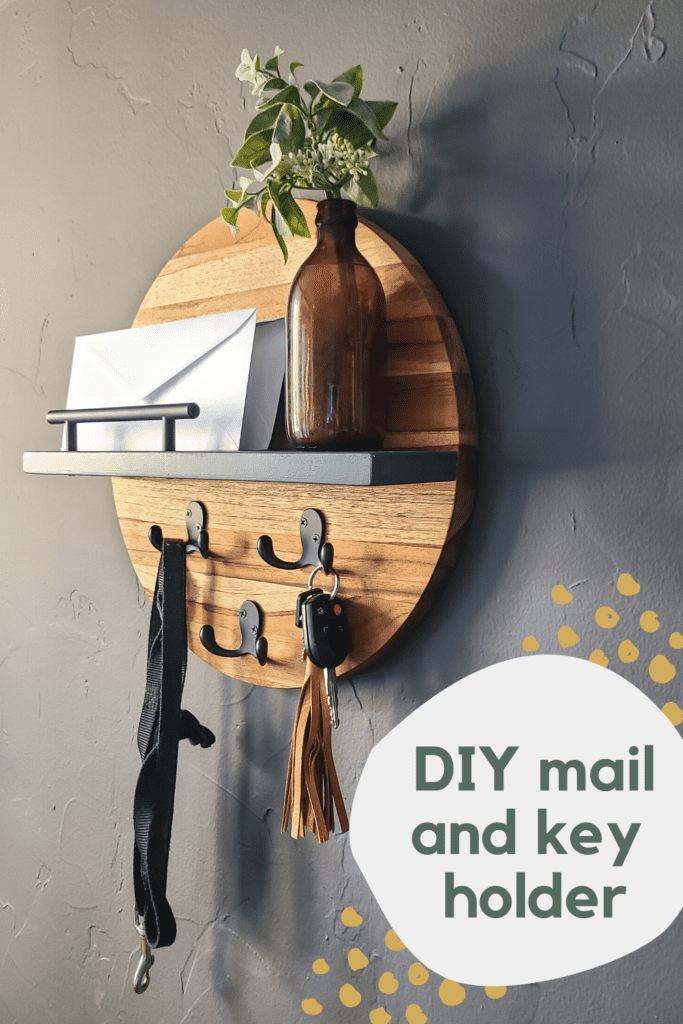 16. Hand-Painted Vases
It happens to us too often that we have a design in our mind for a particular thing, but we can't seem to find it anywhere. In situations like these, it is best to use your imagination and become the creator of the jewel that you were looking for. Vases fall perfectly under this criteria. The activity of painting a vase can be quite fun and liberating, too, as it provides creative freedom to our minds. You can even decorate vases for festivals and special occasions like a wedding by using glitter and a paint set.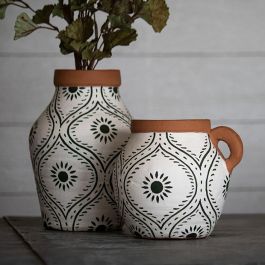 17. Homemade Candles
Making candles at home is not only a great source of channeling your inner creativity but also proves to be cost-effective. Free from harmful toxins, these candles light up well and can be made with your choice of fragrance. You can even gift these to your loved ones because nothing says 'I care about you' more. The whole process of making candles is so calming and satisfying too. You can buy a candle-making kit online and start the fun.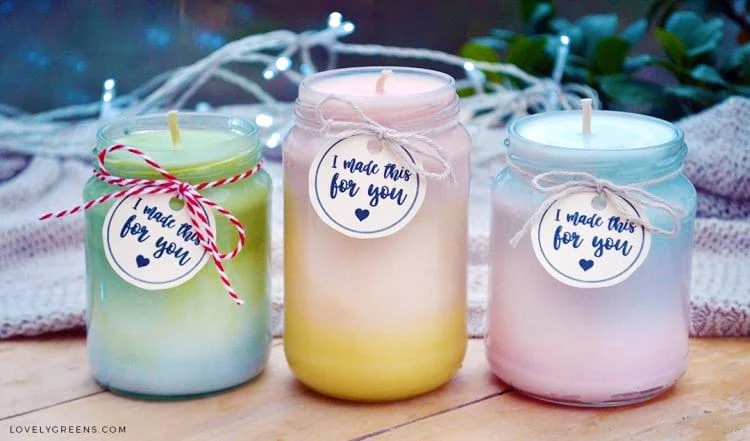 18. Elevate with a Floating Shelf
In our opinion, modern and minimalistic furniture is a trend that will stick for a prolonged period of time. It gives such a clean and sophisticated look to the space and yet is efficiently functional. This is the reason why this particular project has been one of our favorites. Installing a floating shelf is effortless and swift. It is the easiest way of having a space to decorate and even put things on.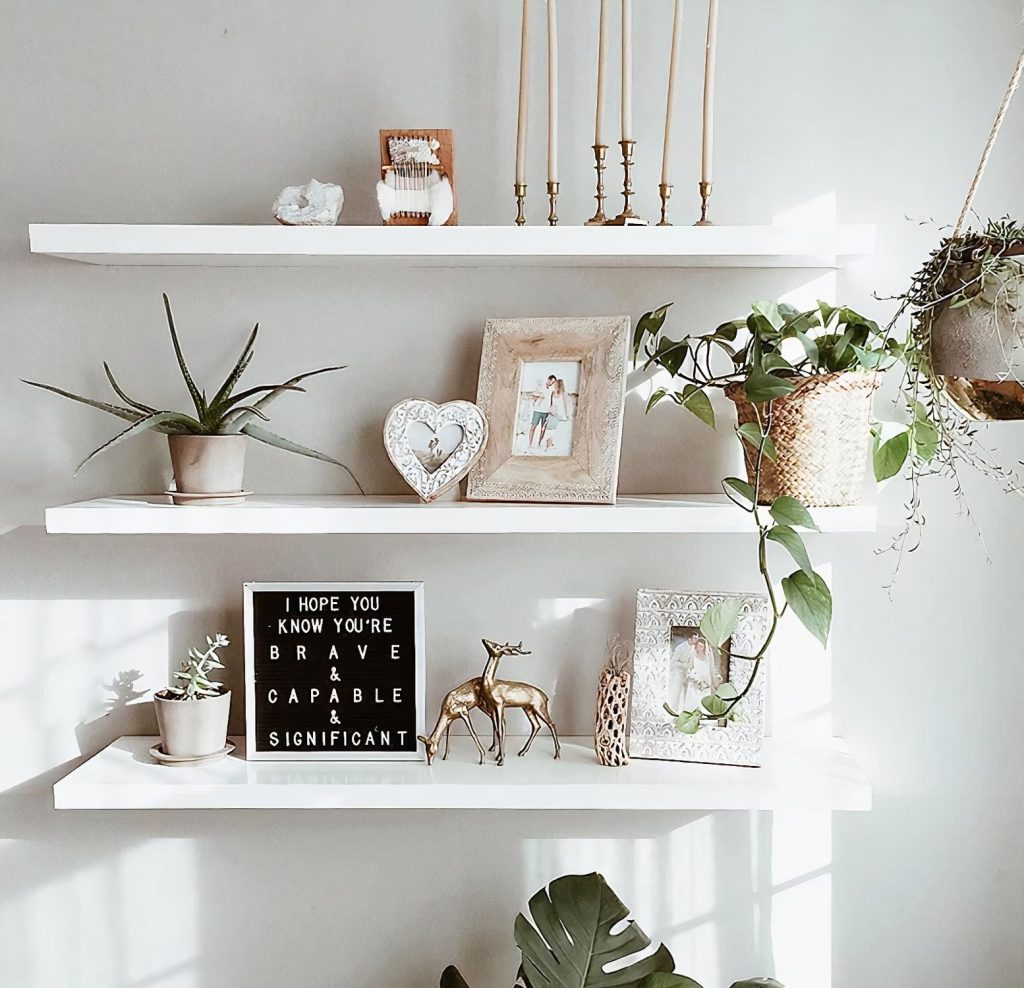 19. A Revolving Book Case
Look at the picture below and tell me that you don't want your child to have this amazing, playful book and toy case. It is practically impossible to say no to this, isn't it? You can build it yourself and even involve your kid in the process. It will be such an entertaining and educational DIY project which will create memorable memories between you and them. And once up and working, they will enjoy it even more. The revolving function makes it easy to use in compact spaces, due to which it can even be settled in a corner.
20. A Mini Kitchen Garden
No, we are not talking metaphorically. It is quite possible to grow your mini kitchen garden and have fresh, organic produce. Also, you won't need those big gardening equipment or lots of spare time to put in. Start with just some small pots and whatever seeds are available to you. It is more beneficial if you use local vegetation to propagate the plants as they will grow faster and have more chance of surviving. As you gain success, you can hang these pots on the wall in a way that it becomes a spectacular showpiece with tonnes of health benefits.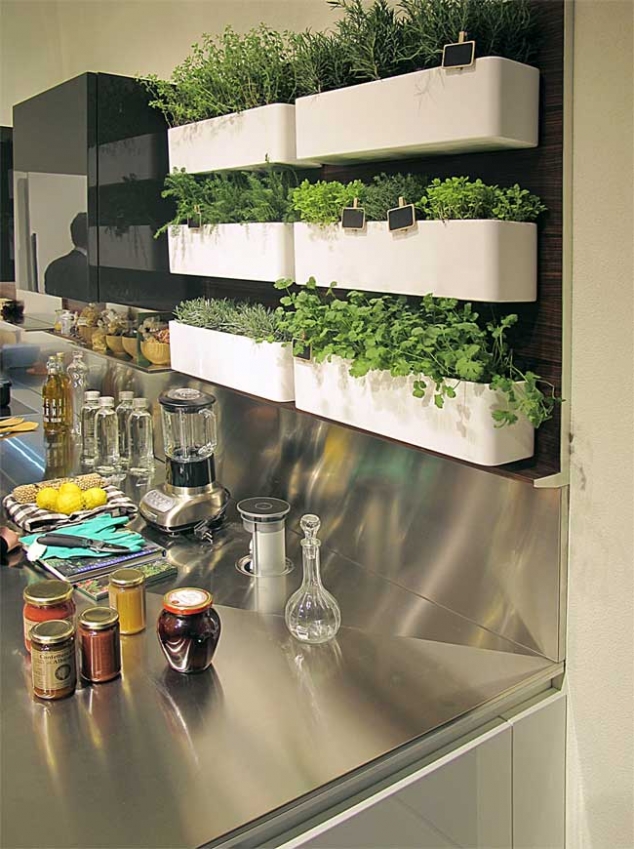 21. Paint an Accent Wall
An accent wall can add a pop of color and texture to your home without having to change much. This easy to achievable project is so versatile as you can have fun with different shades of colors and see which you like the best. Since this paint is done only on one wall, it is comparatively easy to change with minimal disruption if you get fed up with the color; you can even try out different patterns with materials like wood or metal frames. Uhh, just talking about it makes us so excited. You should really give it a try.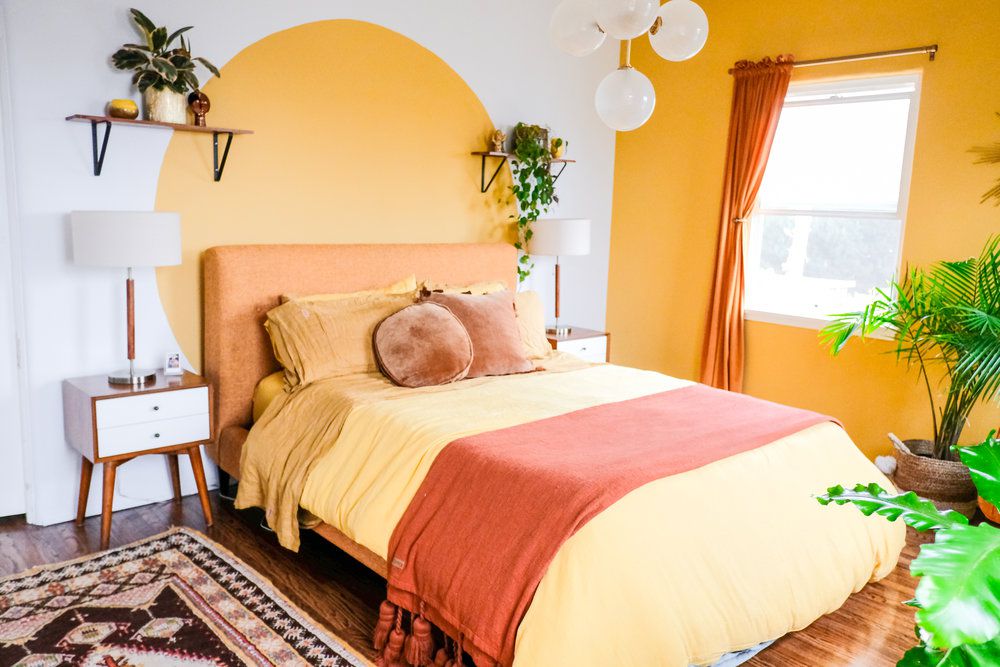 These ideas are just the tip of the iceberg. Once you get in with the rhythm, you will discover that your home has so much potential, and your creativity can literally turn it into a one of its own kind space that belongs just to you.
This feeling of owning something self-made, mixed with emotions of joy and pride, is such a great experience. Start today with something small, and you never know. You might find your passion in a DIY project that started from your own home.
We have talked all about the budget DIY weekend ideas. Some are easy to do, while some require extensive preparation.
However, we have ensured that all the items on this list are easily doable over the weekend.