The struggle with a muddy footprint, spilled milk, dog poop & cat hairs on the rug is real! We have all been there. But you must have often wondered what could be an ideal solution to these problems.
Ruggable rugs probably offer the solution to your rug-related woes that you have been in search of for a few years now. However, to know the product well, are you in need of genuine Ruggable reviews that can serve as a wholesome guide for you?
But did you know that rugs are not modern-day inventions? The origin of rugs can be traced back to the ancient Egyptian and Mesopotamian civilizations. According to archaeologists, rugs were a part of daily life in Egypt and Mesopotamia about 4,000 years ago.
So, here's our comprehensive Ruggable review that you can go through to address all your queries and doubts before ordering one of their rugs for your home.
Ruggable Reviews: Overview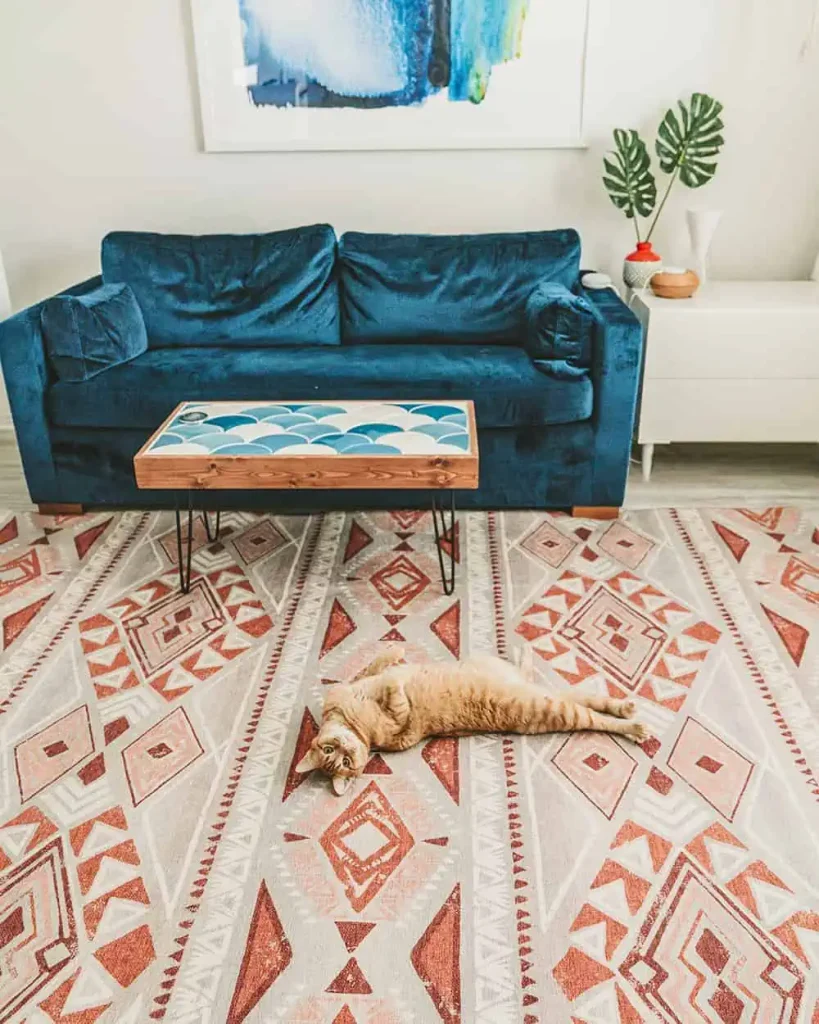 Ruggable is an LA-based company that was first conceptualized in 2009 by Jeneva Bell. But would you believe what made the founder even think of making a machine-washable rug? So, she thought of having a machine washable rug when her dog ruined her newly purchased expensive rug years ago. With this concept, she brought out her first product.
Ruggable rugs are not just rugs, and they are specially crafted rugs that can make your rooms magazine-ready and let you experience the ultimate level of comfort while running around your house. They are also completely washable, which means you don't need to worry again about pet peeves.
Sounds amazing! Isn't it?
With Ruggable's out-of-the-box designs, you can add a touch of your personality to your hallways, patio, or any other corner of your house. Rugs from Ruggables allow you to add definition and dimension to your rooms.
So, let's know more about how the rugs work and what are the various kinds of rugs available from this Ruggable review.
What Makes Ruggable Truly Special?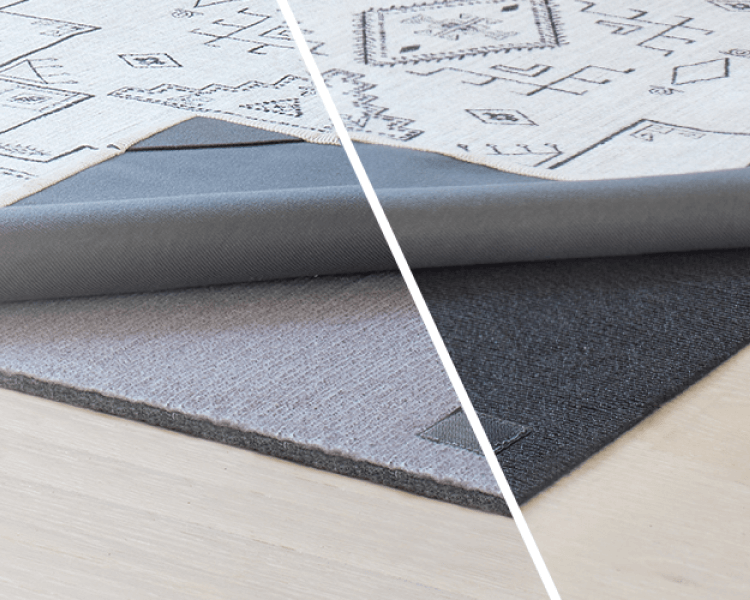 Ruggable's rugs come as bi-layered rugs where the bottom layer is a rug pad, and the top layer consists of a rug cover.
The Rug Pad – The rug pad is composed of recycled polyester and thermoplastic rubber, as used in yoga mats. You can either go with the classic version or the cushioned version. The floor-facing side has an anti-slip feature.
The Rug Cover – When it comes to the rug cover, it can be described as a layer of designed or embroidered lightweight fabric which is highly customizable as per customer preference. The rug cover material is mostly polyester but can vary as per the chosen texture. The rug cover is completely washable. You can get a new rug cover to change your interior decor if you have an existing rug pad. It can be laid down over the rug pad that can attach to it firmly like velcro.
Types of Ruggable Rugs
When it comes to the uncountable styles of Ruggable rugs, there is no limitation you can think of. There are more than ten curated collections, with each collection comprising countless patterns, color choices, and styles. They have a wide variety of options based on different categories of styling and needs.
1. Ruggable Rugs Based on Size, Color, Texture, and Style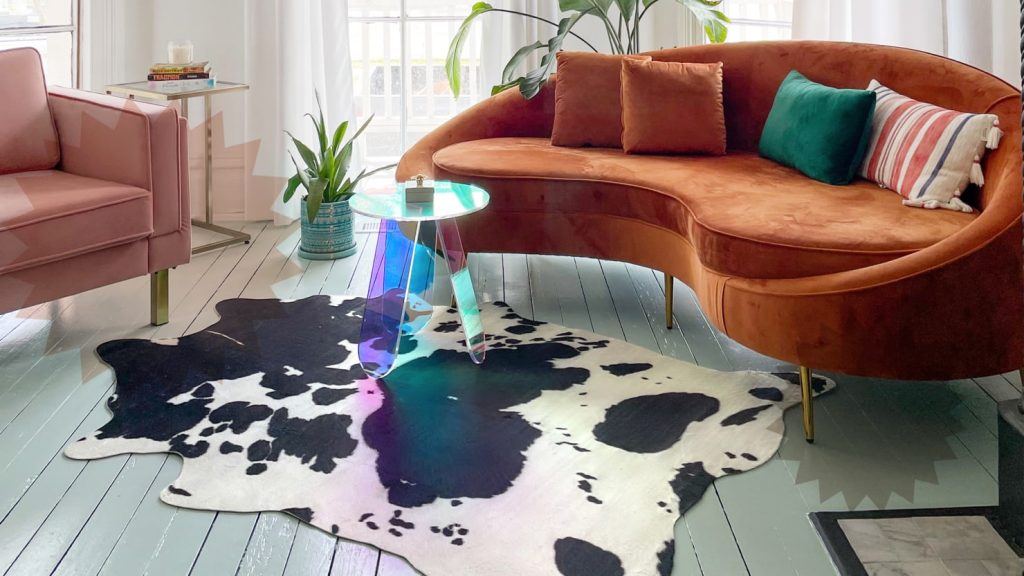 Size – Ruggable rugs are available as per the area sizes. So based on that, you can opt for runner rugs, area rugs, round rugs, doormats, and bath mats.
Color – Color is the most limitless factor when you are thinking of purchasing a rug from Ruggable. They have rugs available in all popular and rare colors.
Texture – You can find a run having the following textures – premium rugs, classic rugs, outdoor rugs, faux hide rugs, re-jute rugs, plush rugs, shag rugs, bath mats, and door mats.
Style – Whether you ask for abstract rugs, boho rugs, vintage rugs, modern rugs, animal print rugs, art deco rugs, checkered rugs, coastal rugs, Floral rugs, farmhouse rugs, kids rugs, geometric-patterned rugs, striped-ones, traditional rugs, mid-century mod rugs, minimalist one's, summer rugs, ombre rugs, or rugs with geographic specialties (like Persian, Moroccan, Scandinavian, etc.), Ruggable has got them all covered.
2. Ruggable Rugs Based on The Type of Room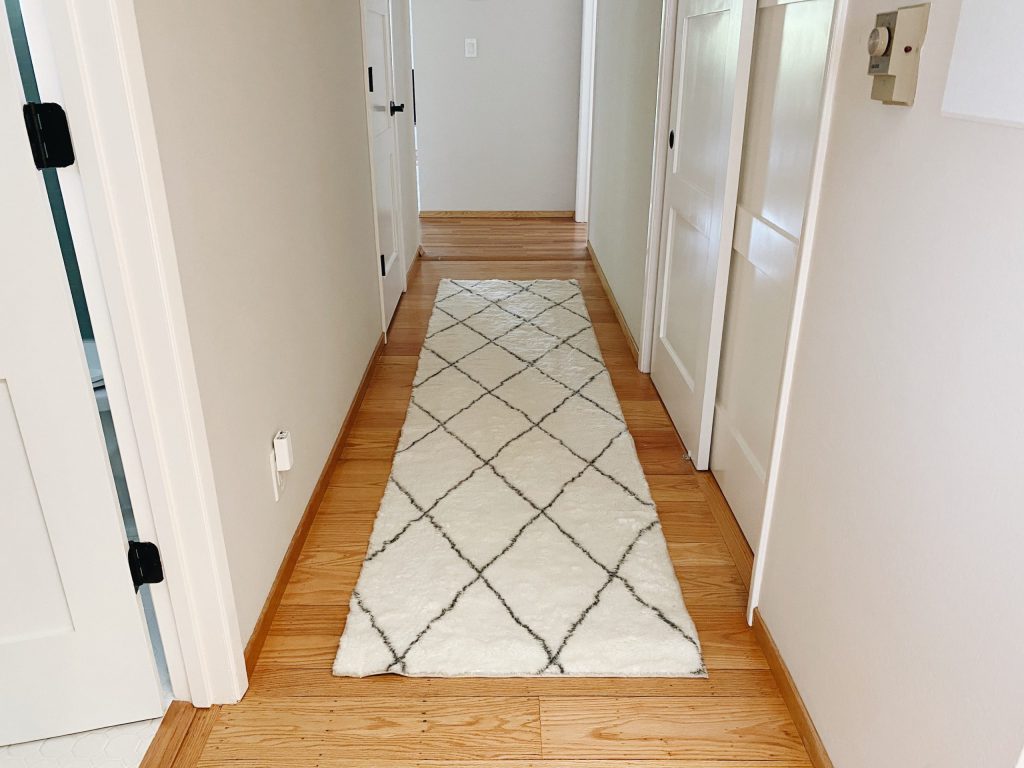 Did you know Ruggable also designs rugs as per your indoor room requirement or outdoor space? So, you can order rugs for the living room, bedroom, dining room, kitchen, bathroom, hallway, entryway, and even your patio or porch.
3. Ruggable Rug Designs Based on Brand Collabs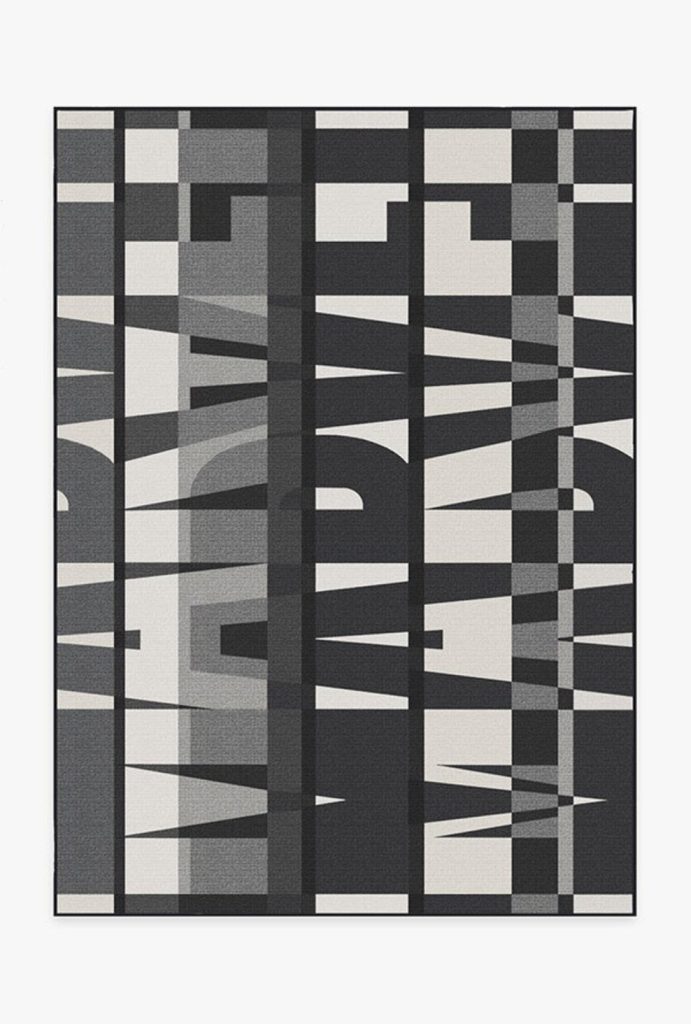 If you, your kids, or anyone in the family are fans of Marvel, Disney, Star Wars, or Barbie, you would be gleeful to know that Ruggable is in collaboration with them and many more brands like Iris Apfel, Gray Malin, Jean-Michel Basquiat, Morris & Co, Anna Sui, Jonathan Alder, Nina Takesh, The National Gallery, Monica Ahanonu, etc. So you can order a custom cover from the world of Marvel, Disney, and so on.
Distinctive Features of Ruggable Rugs
1. Machine Washable & Easy to Vacuum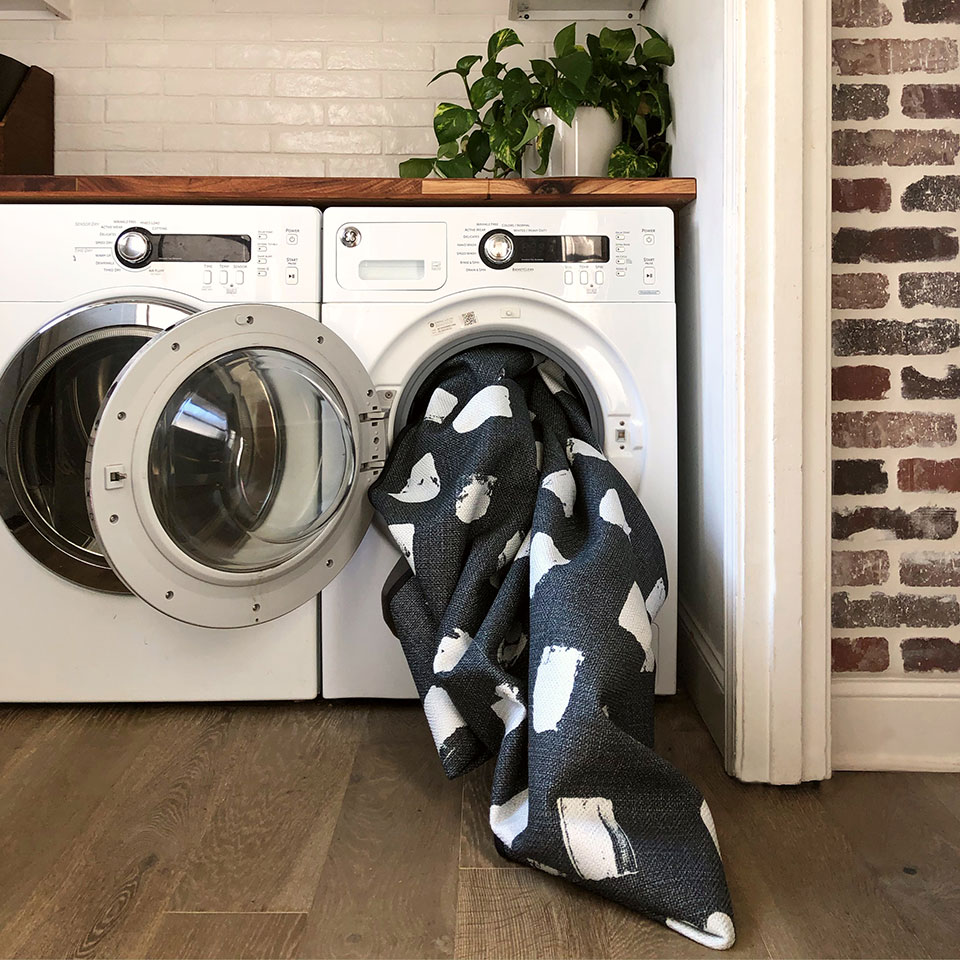 So, the rug cover is made up of lightweight low-pile fabric. Whenever a rug is messed up, you just need to detach the cover from the rug pad and toss them in the washing machine, and it will come out clean, fresh, and odorless.
They fit into domestic-size machines easily and can be laundered with mild detergent and cold water. The rugs don't need washing for up to a few weeks if you are vacuum cleaning them regularly with a robot or regular vac and offering some spot treatments.
Thus, it's a clear win-win situation over expensive single-layered regular rugs that need to be either dry-cleaned or need fancy upholstery cleaning equipment.
2. Spill Proof
The rugs use a polyurethane water-resistant barrier that makes them spill-proof. This quality of the rugs makes them ideal candidates for use on hardwood floors as the floor won't come in contact with the spillage of liquid materials and water frequently and won't get spoiled in the process.
So, you can stop worrying about spills forever. Whenever there is a spill, all you need to do is detach the cover from the velcro-like rug pad and then toss it in the washing machine and dry it on low heat. Reattach the cover and enjoy your life in less than three hours.
3. Nonslip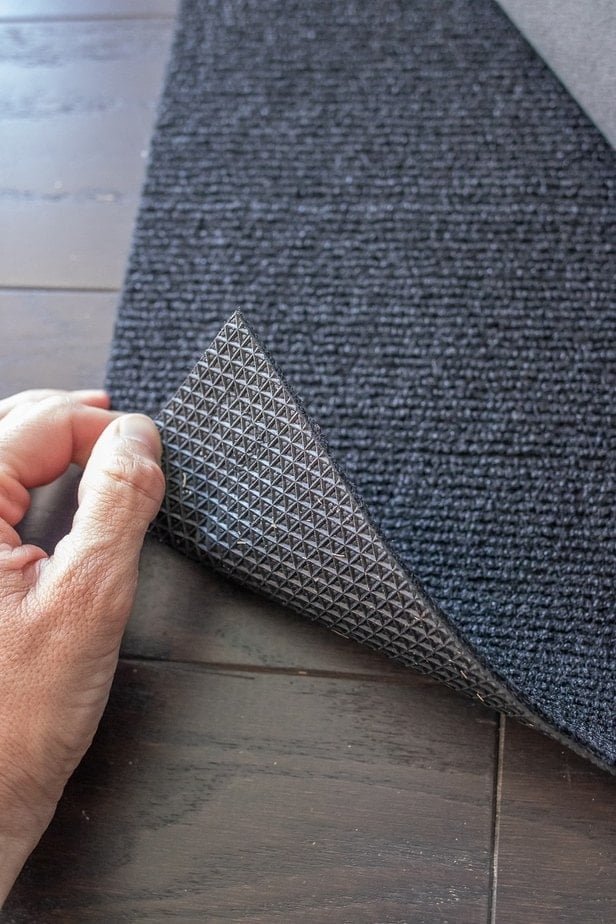 Ruggable rugs are super-firm on the floor and hence are great for high-traffic areas. This is another area where they win over regular rugs, as these rugs are super-grippy and great if you have kids, pets, and the elderly at home.
The rug pad is made up of thermoplastic rubber and recycled polyester. The rubber is like a latex-free synthetic material that is used in anti-slip yoga mats. Hence this largely contributes to the non-slip feature of Ruggable rugs.
Also, the top cover firmly sits on the velcro-like rug pad, so it further aids in comfortable walking.
4. Interchangeability and Customizability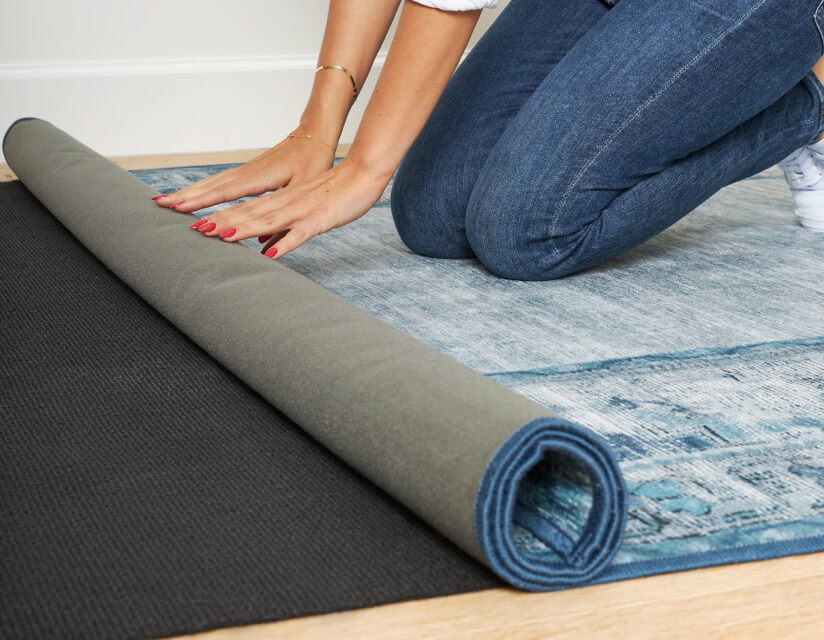 Wow! This is undoubtedly the coolest feature of these rugs that we are sharing with you in his Ruggable review.
Since the rug cover is attached to the velcro-like pad separately, so every time you need a makeover, you can simply order a customized rug cover. Once it is delivered to your doorstep in a neat package, you can open it, read the assembly instructions, and be ready to overwhelm yourself and others in the family.
The customizability option that Ruggable offers is also available due to the various brand collaborations. So, you can order covers in custom sizes according to your room dimensions and also what you love from the world of Disney, Star Wars, or Marvel.
5. Thin and Cozy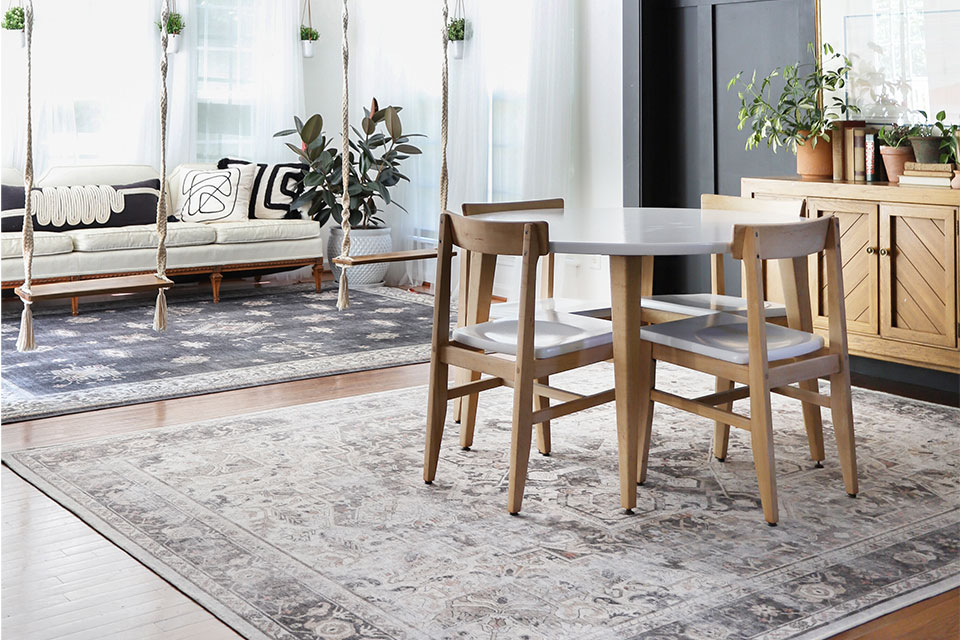 Ruggable rugs are thin, which makes them easy to wash and also makes them feel like vintage rugs. The classic rugs are only 2 mm thick. They achieve this by making the rug pad thin, which is about 1/8th of an inch in thickness. The rug pad's main function is to keep the rug in place on the floor without slipping or changing position.
It is, therefore, the rug cover that contributes to the coziness of the rugs. You can choose textures that are comfortable to sit on and laze around, like plush rugs, shag rugs, or faux hide rugs.
But there are other options too that are thicker, about 7mm, and comfier to walk on and sit on.
Pros and Cons of Using Ruggable Rugs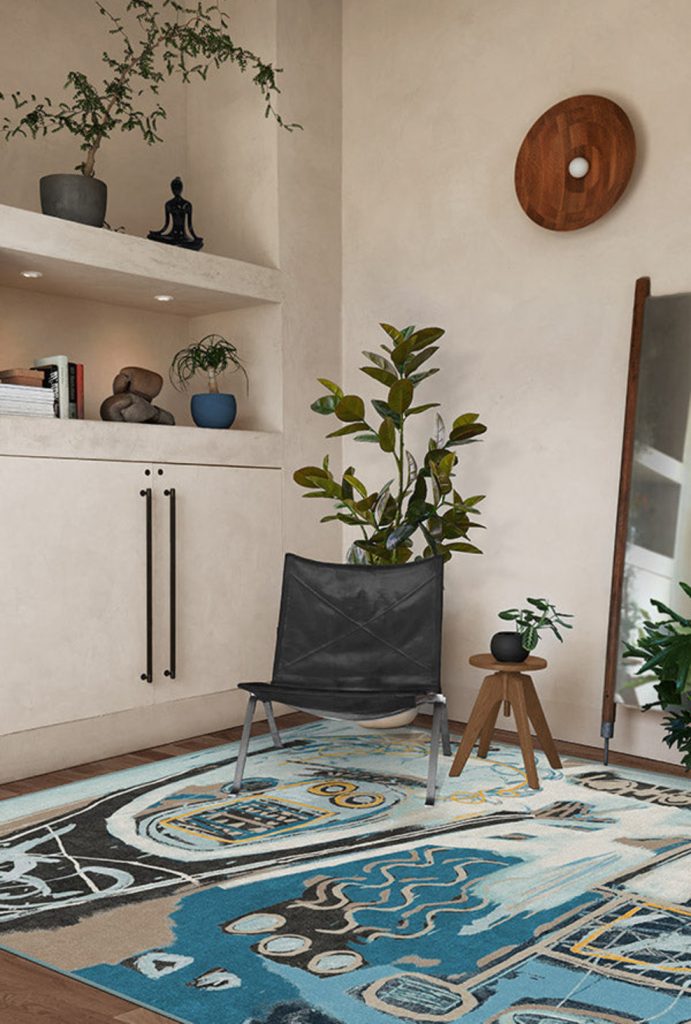 Pros
Detachable and washable cover.
Interchangeable covers give freedom to revamp your interiors anytime without having to throw the entire piece, thereby helping you save money.
It is vacuum friendly and responds well to spot treatment.
The products of Ruggable are eco-friendly as the pad is made up of 95% recycled materials.
The rugs are stain and water-resistant.
The rugs are absolutely non-slip and safe for use.
They come in a wide variety of designs and colors.
The outdoor rugs by Ruggable are great for outdoor use.
They are thin and feel super cozy to the feet.
Cons
They are expensive compared to regular rugs but cheaper when the longevity of the rug is taken into consideration. You have to wait for the discount season to make your purchases.
The corners tend to curl sometimes, and the edge banding raises sometimes. You can use carpet tape with the classic rug or go for the 7mm thick rug, which won't give you these problems.
Ruggable: Order Placement and Shipping
To order Ruggable Rugs, you can either visit their website or download their Android and iOS apps from Google Play and App Store, respectively. You can also walk in to pick up Ruggable rugs at Walmart, Bed Bath & Beyond, Kohl's, Home Depot, Lowe's, and Target.
Shipping is free across the United States and Canada, excluding Hawaii, Alaska, and the U.S. Territories. The rugs also come with a 30-day return guarantee.
Final Thoughts
So, finally, here we arrive at the concluding point of this Ruggable review. We hope that you have received an in-detailed idea about the features and quality of rugs from our comprehensive review on Ruggable Rugs.
Ruggable rugs are worth the one-time investment because you can refresh them with just one thorough machine wash and renew them just by changing the cover. They are anti-slip, spill-proof, and thin. Further, you can find them in a wide variety of textures, styles, and colors. You can also obtain custom rugs. Sometimes you might need a helping hand to replace the cover for rugs with larger dimensions.
Ruggable is an eco-conscious brand which is the best part of investing in Ruggable products. They make the rug pad out of recycled materials mostly, and also, as a brand, they plant trees each year to reduce their carbon footprint.
Frequently Asked Questions
Are Ruggable Rugs Sold in Stores?
Yes, many brick-and-mortar stores sell Ruggable rugs these days, including Bed Bath & Beyond, Kohl's, Home Depot, Lowe's, Walmart, and Target. But you can always shop for rugs exclusively on their website. Their website features all the new arrivals and exclusive pieces that you can access immediately upon their release in the market.
Can You Vacuum a Ruggable Rug?
Yes, you can always vacuum clean your Ruggable rugs if machine washing isn't feasible for you. But when using a vacuum cleaner, you must use the hard floor setting as this will prevent the cover from separating from the pad.
Is Ruggable an American Company?
Yes, from the About section of Ruggable's website, you can find that the company is based in Los Angeles, southern California. It is a venture-backed e-commerce company with the vision of revolutionizing the market of residential and commercial rugs. Geneva Bell is the founder of Ruggable. You can refer to our Ruggables reviews to learn more about their products.
Is Ruggables Rug Good for Dog Pee?
Yes, Ruggable Rugs are absolutely dog-friendly rugs. They are machine washable, just like bedsheets and duvet covers. They are also stain and water-resistant. So, every time your dog pees over your rug, you can wash it and clean it up quickly just by washing it.