Laundry rooms are an essential part of the home. After all, they offer the space to clean and reuse your clothes again. But laundry rooms can be aesthetic, creative, and exuberant and reflect different vibes than just a simple room used for washing clothes.
If you think that the laundry room can't look aesthetic, your laundry space area will always remain a dull workload space.
Now how can you make your laundry space look aesthetic? You can create an aesthetic, creative, or exuberant laundry space area in a small corner with DIY or by picking up a particular theme.
In this post, we have covered 17 small laundry room makeover ideas to help you select the one good idea for your small laundry room. We have covered the pastel tone approach to art, from wall closet DIY to small shelf stack theme.
1. Pastel Tone Laundry Room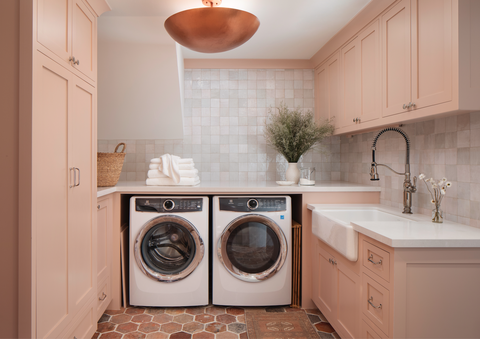 If you want to create your laundry room or space like a cozy space that doesn't seem like a hectic workload space, opting for a pastel theme is worth trying at every cost. You can use beige or pastel pink colors on the cabinets or wood shelves to make it light and warmer. Use a light color like white or cream for the counterparts and walls.
While organizing the laundry room or designing the interior, please don't consider it like the cleaning room only. This different approach will help you to make it a light space, and your laundry room will also stand out like the other rooms of your home, like in this image by Paul Dyer.
2. Rod Installation Laundry Room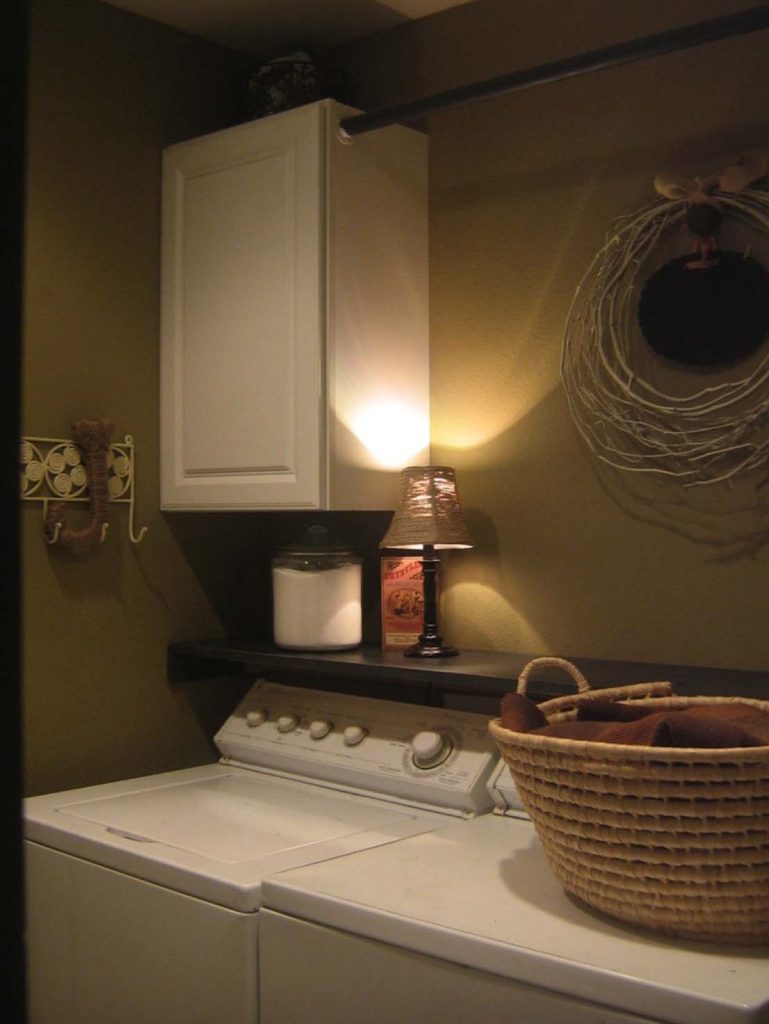 If you want to create the laundry space in the Bathroom itself, this rod installation DIY idea is for you. Above the leftover space of the washing machine and between the other washroom utilities, horizontally install a long rod for hanging clothes.
If the rod is long enough, you can create the separation by the stopper or decorative hangers to categorize it into parts for different purposes, like half side to hang clothes you will wash. And on the other half side, you can hang the clothes after washing and cleaning. You can install double rods to create more space with the rod installation. You can use the designer hangers on the rod for a creative touch.
3. Add Fabrics in The Laundry Room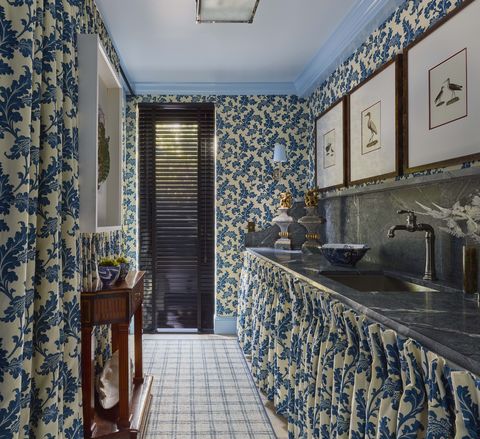 If you want to make your laundry room creative and don't mind using textiles, this Laundry room theme is for you. Add the fabrics in the laundry room to create fresh, new, and vintage vibes. You can use a pattern or flower-based fabrics to cover the laundry walls and designated areas like cabinets and doors and utilize them as the curtain, as shown here in the image by Carmel Brantley.
If you don't want to use much fabric, you can use a similar theme wallpaper to cover the walls of your laundry room for better creativity and avoid fabric cleaning tasks.
4. Industrial Chic Utility Room Ideas Small Laundry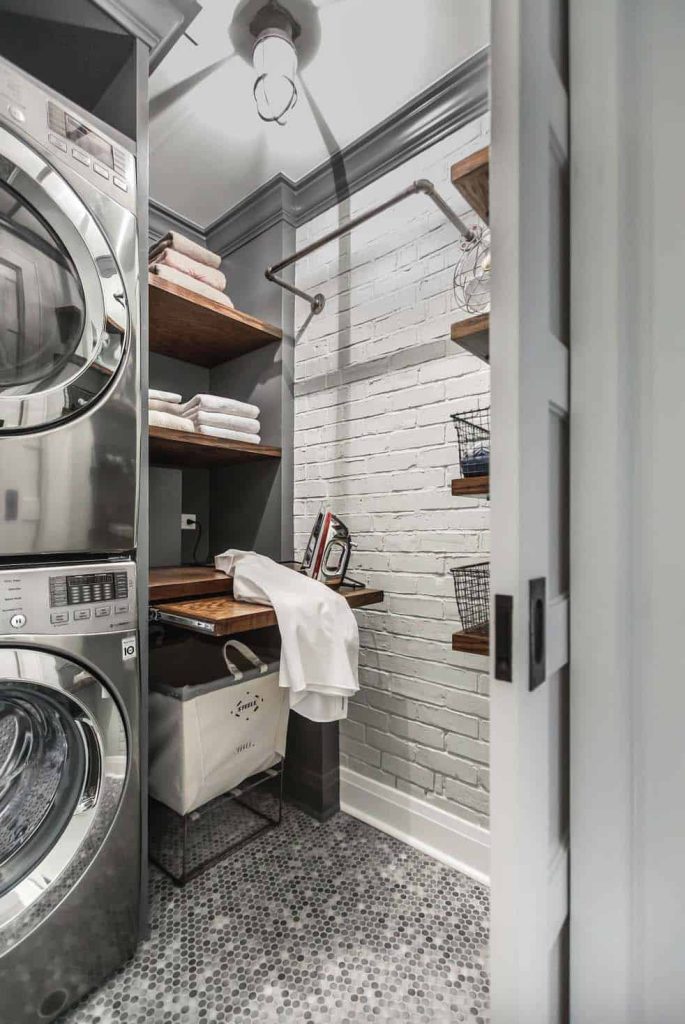 If there is space like industrial chic storage in your room or washroom, you can easily convert it into the laundry room by DIY. Use a rollout shelf and convert it into an aesthetic closet, so you can easily hide it when you don't need it or when the laundry is done.
The good thing about this rollout shelf is you can utilize it after washing clothes, like folding or ironing them over the rollout shelf. You can keep the dry folded clothes, laundry detergent, or linen clothes on the smaller and higher shelves. Since the rollout shelf goes from ceiling to floor, it will save lots of ground space and is the perfect utility room idea for small spaces and easy DIY tips.
5. Pop Color Utility Room Ideas Small Laundry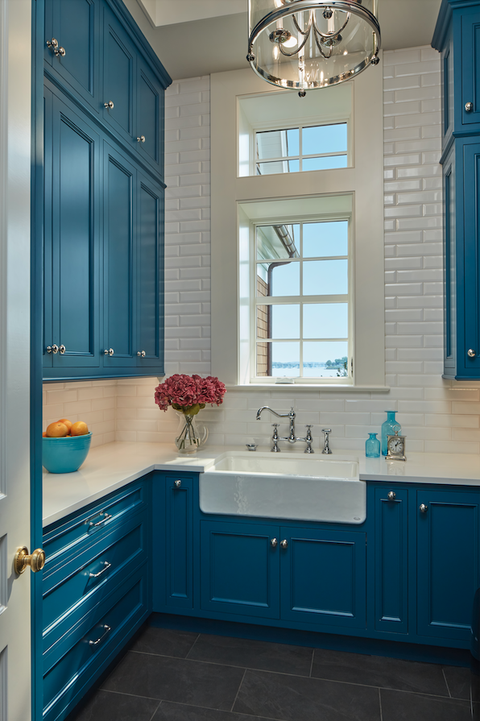 This pop-up theme is for you if you want to make your laundry space interesting and exuberant instead of tough task vibes. Add the vibrant color splash in the cabinets of your laundry room, as shown in this image by Purple Cherry Architects. If you use a closet DIY laundry space, paint the closet cabinets or drawers with a vibrant or pop color to bring an exuberant look.
This pop-up touch with color splash will make your laundry space warmers, and make it creative and interesting, to ease off the heavy working load. Balance the overall laundry room look with light-tone colors like white or the faintest shade of blue to paint the leftover space.
6. Organizational Utilties Room Ideas Small Transformation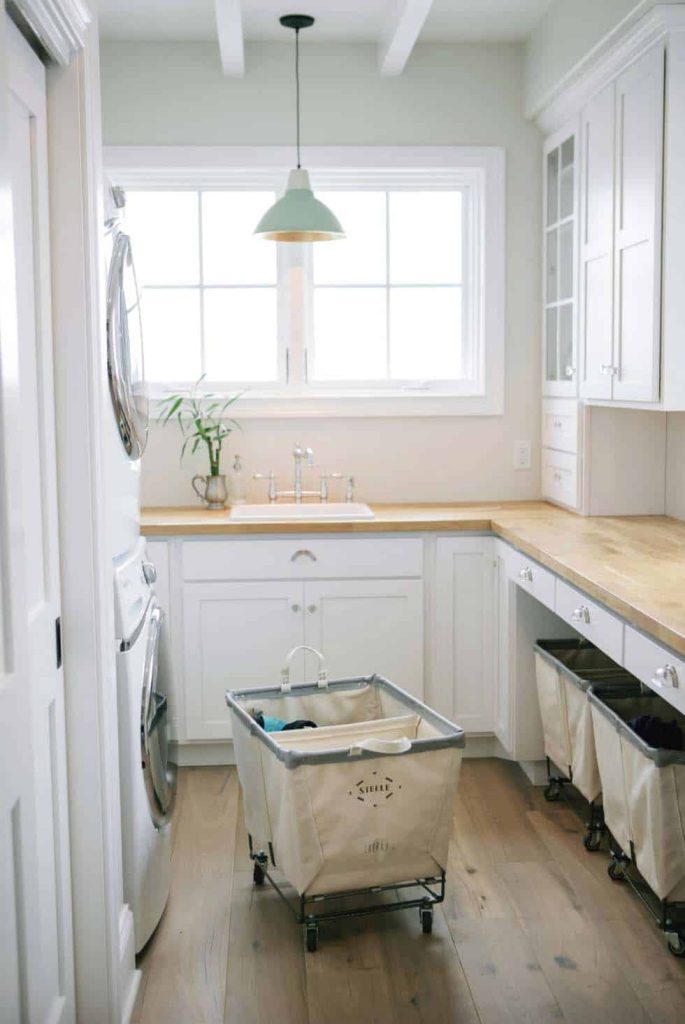 If you want to create more organizational utility room ideas for small laundry transformation, this idea is for you. You can incorporate canvas storage laundry baskets in your laundry room. If you don't want to DIY, you can buy them. If you are looking for affordable ideas, you can easily DIY them.
Pick up a rolling stand. Use an old clean blanket to wrap around it and cover it from all four sides and the base area. Use the hooks or create them with the rope piece by fixing them with the blanket with thread and needle or hand stitching machine to make it easier to carry or move the canvas basket, and your canvas laundry storage basket is ready.
7. Artistic Flair Touch Laundry Room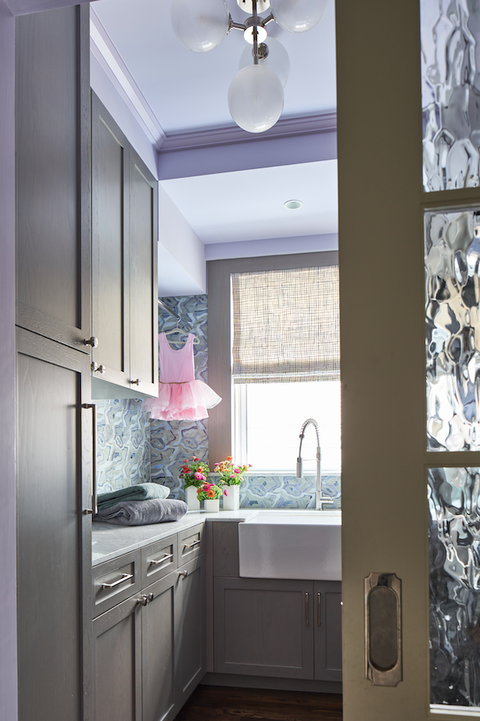 An artistic laundry room is suitable and possible if you design it professionally instead of creating it with a DIY. So it will be a little costly and need the professional help of architecture. Create the space in the laundry room for proper and more than enough lighting so it will be easier to dry the clothes quickly.
You can use the big glass windows to make it easier to light the entrance and take the help of curtains to add a privacy touch when you are working or loading the laundry. Use the shiny backsplash tiles, as shown here in the image by Lisa Frantz, for maximum light reflection in the laundry room itself.
8. Utility Room Ideas Small Built-In Cubbies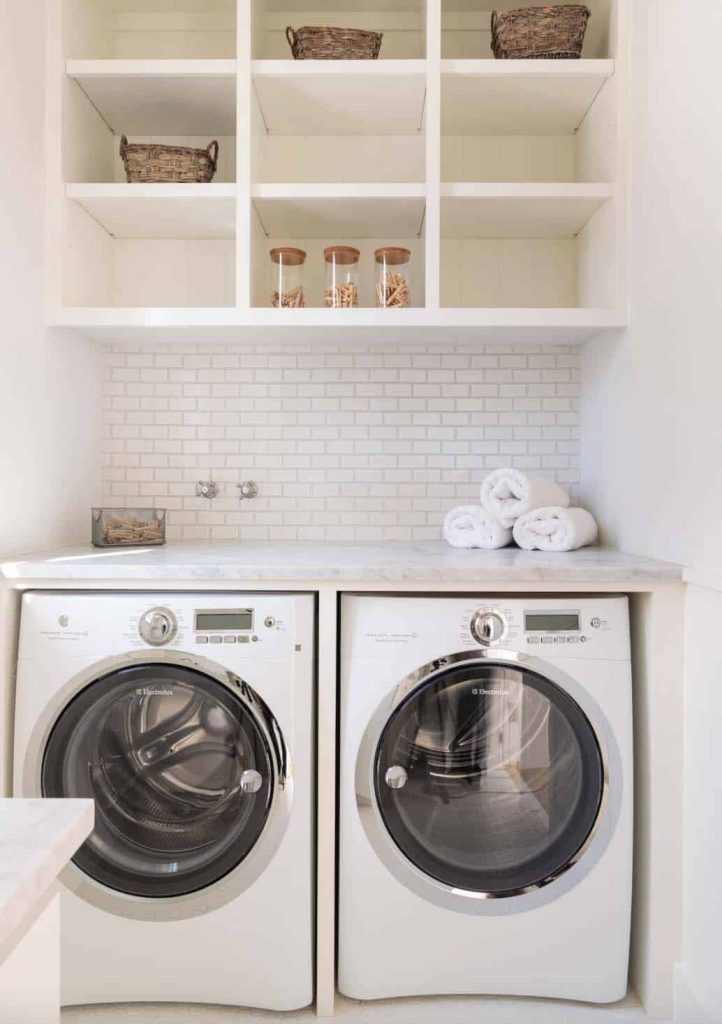 If you want to dedicate a smaller area for the laundry service or room, this Cubbies DIY idea is for you. Keep the washing machine in the lower part to make it easier for you to do cleaning and washing. For the upper leftover space, fix the built-in cubbies so you can utilize them for multiple purposes.
Installing smaller and multiple storage cubbies can increase the storage capacity and save ground-level space. Also, you can easily store laundry detergent or clothes before or after the laundry in the cubbies as per your comfort.
9. Utility Room Ideas Small DIY Partition with Curtains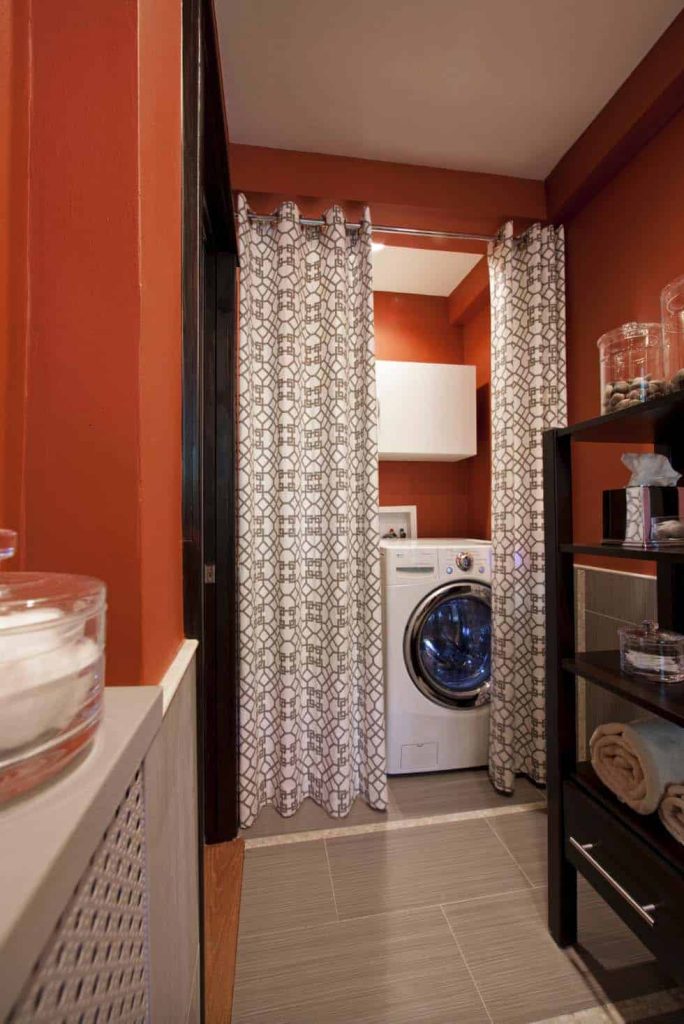 If you are looking for an affordable idea and where you need less effort in the DIY process, this curtain theme is worth trying. This will go well if you don't want to create a separate laundry room or don't want to invest in the door of the laundry room. You can easily convert an old closet into a laundry space. And use the curtains to create the separation in your room, instead of using a door or leaving it open.
Use the tension curtain rod to hand the curtains so that it will be easier to open and close them. It will save money as the curtains are much cheaper than wood planks or door installation. And it will also not affect the beauty of your roof, as the curtains will act like the aesthetic or creative soft wall.
10. Utility Room Ideas Small Wall Closet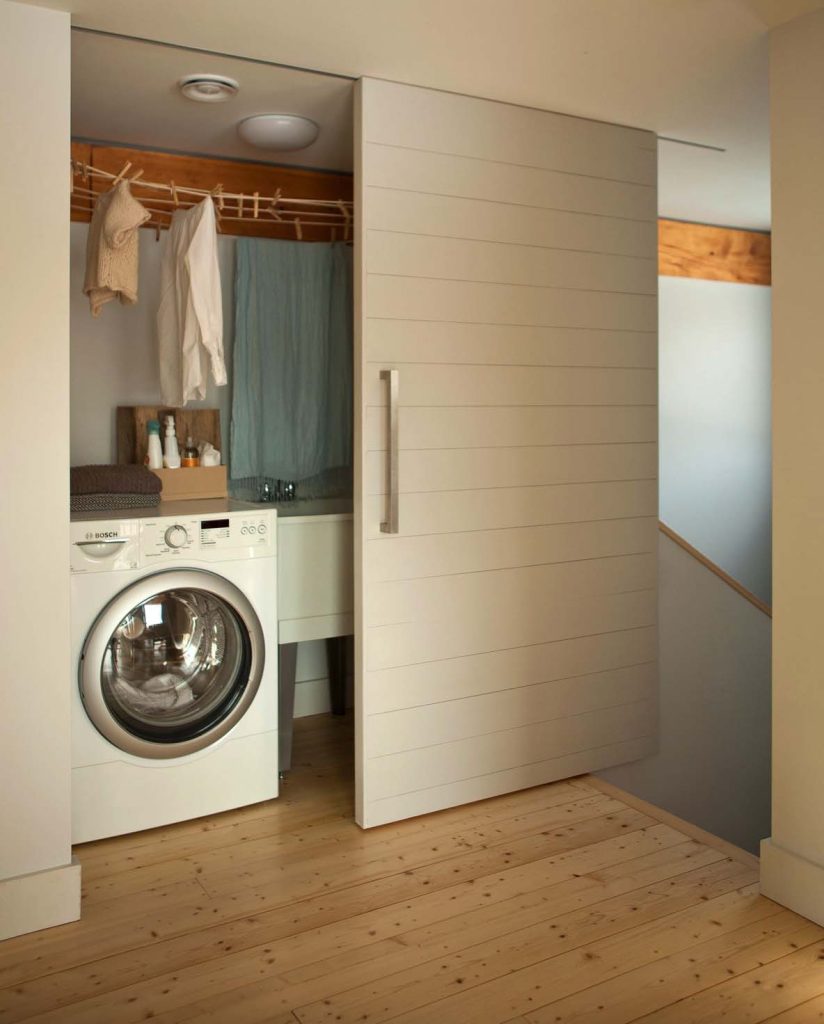 If you want a hide-and-seek laundry space theme, this wall closet idea is for you. You can easily store the washing machine or laundry loaders in them. The wall closet will work like a hidden secret space for your laundry room. Use the upper space to hang the clothes.
You can install the handles and rod in the wall closet to create more storage space. Like to store laundry detergent, fix a drawer in it. Use one more rod to hang the clothes. And the best thing about the wall closet laundry space is that it will not affect your home's aesthetic.
11. Black And White Laundry Room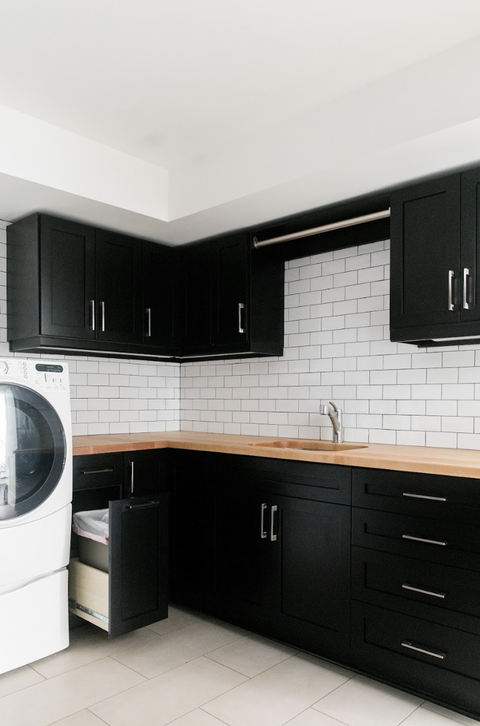 Adding a contrasting touch in a working space is the easiest way to start the work or DIY or design repurposing. The issue with the patterns and other designs is that you will need to use your brain so much about the color combination, what will look good, and so many other factors are there. Black and white laundry theme makes it easier for you, and your laundry room no longer looks like a laundry room.
Paint the cabinets in black, and keep the laundry room walls in white paint. If you will add tiles, keep them in solid white instead of patterns, as shown here in the image by Morse. Use the wooden accent or brown paint on the countertops of cabinets for a bold touch.
12. Utility Room Ideas Small Laundry Space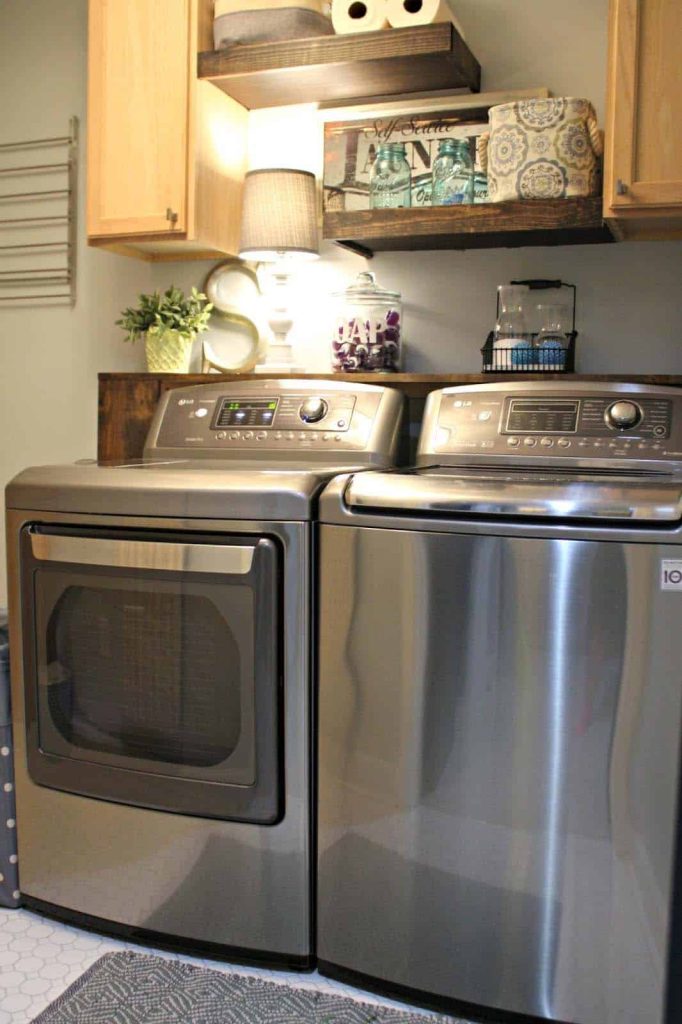 This idea is for you if you want to create unique utility room ideas for small storage laundry spaces. You can easily convert a small or narrow shelf into a laundry space. For this theme, your washing machine and dryer should be stackable and have a flat bottom area; otherwise, loader sitting might damage the laundry machine.
You can easily fit the washing machine loader and clothes dryers in two sections, one by one, where one is at the bottom and another on the top. It will help you to save enough ground space. And the flat bottom surface of the laundry machine will ensure safety and prevent slippage. Keep the water valves on the back side and create room for installation via the accessible panel and adjacent joint cabinet or closet.
13. Master Closet Laundry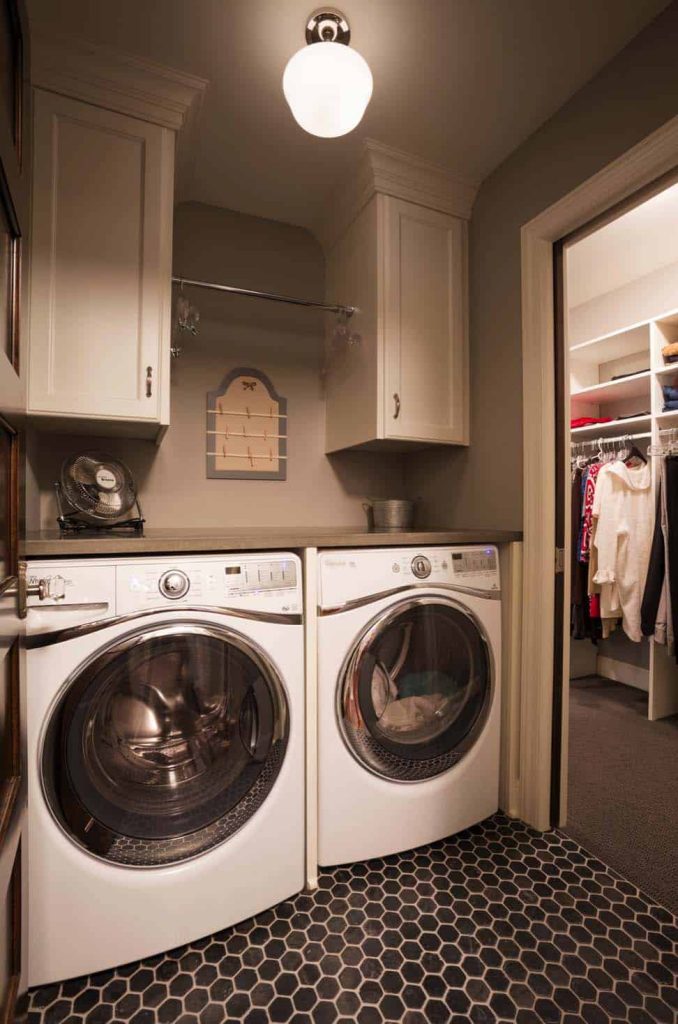 Repurposing the master closet with some easy DIY steps can help you create a brand-new laundry room for your laundry. As usual, keep the lower part for the laundry loader and dryer. Install a rod in the upper part for multiple purposes. Especially you can use this rod to hand the clothes before washing or to dry them.
The great advantage of converting a master closet into a laundry room is that you don't need to hide it. It will give attractive vibes instead of creating a dirty or dull look. For a more aesthetic and eye-appealing touch, you can pair the floor rug or tiles with the aesthetic vibes and color tone of your master closet.
14. Special Laundry Storage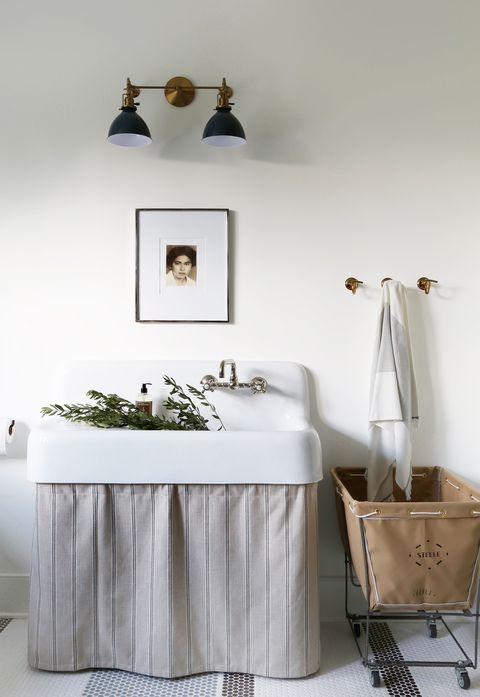 If you want to add a traditional or special touch to your laundry room and storage, this idea is for you. The fabric can cover or redecorate your laundry storage or space space. You can pick a calming tone while selecting laundry devices and storage cover material. Please don't cover the whole area like people cover their cars after usage.
Cover the bottom parts of only outer boundaries so you can easily use the storage space area or laundry automatic commands while loading or picking up clothes from the washing machine or dryer. This attempt will help you create a mild vintage look in your laundry room and items.
15. Utility Room Ideas Small Shelf Stack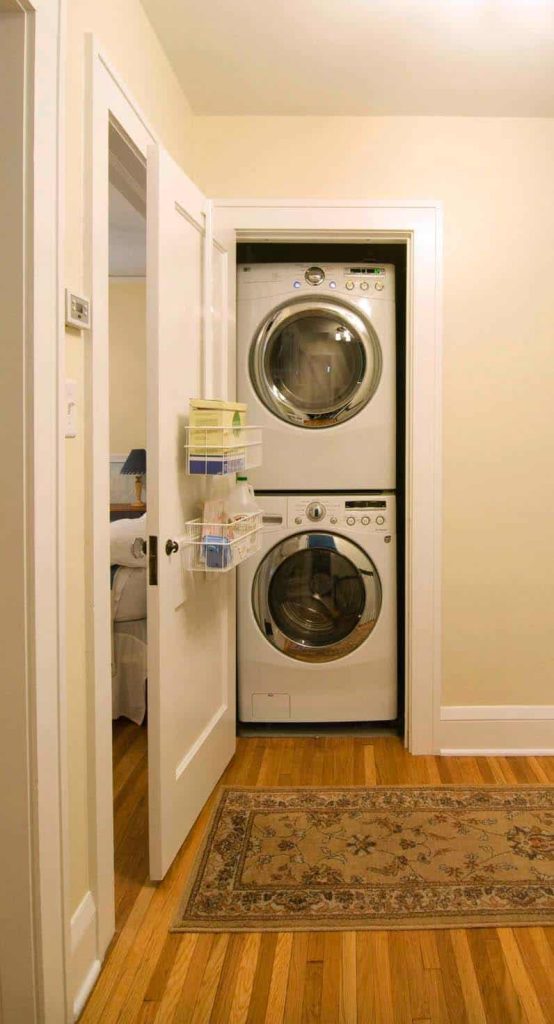 You can easily convert this theme into your laundry room if you have a top-loading washer. Add a small shelf above the washing loader machine. Use the shelf area to store soap, laundry detergent, and frequently needed accessories. To create this small storage shelf, you can easily DIY it with the help of wood planks. Pick up two wood planks that can be of the same size. If not, it is fine.
Use the larger plank among the two and install it above the washing machine by leaving some gaps. Install the other wood Planck above this plank to create one more storage shelf. You can fix the wood pillars or planks on both sides of these planks as the support system.
16. Laundry Room from Closet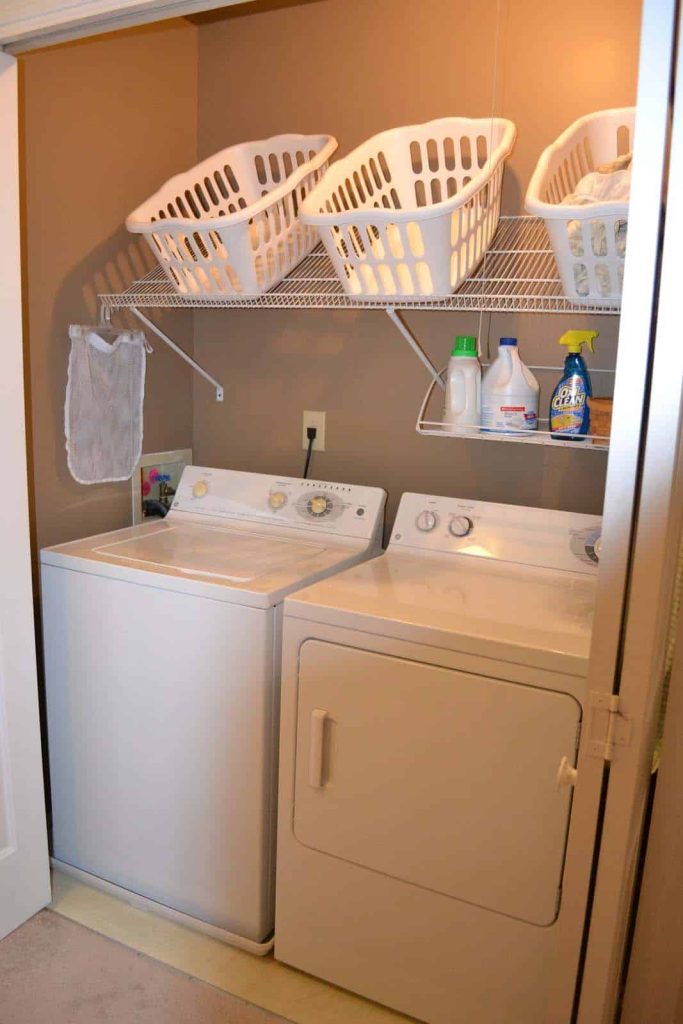 If you have an old closet you no longer want to store your precious and new clothes, you can easily convert it into a DIY laundry room. Keep the washing machine in the lower area and do some DIY tasks in the above area of the closet. Install the iron board on the shelf to hold the laundry supplies or baskets.
You can fix multiple iron boards or racks in the closet to create more storage space in less area. Store the laundry detergents in the smaller drawers or iron board cabinets. Use the baskets to store clothes and further organize them on the iron board installed in the closet.
You can also install the iron rod or hooks on the iron board to hang the clothes before or after the laundry.
17. Double Function Laundry Room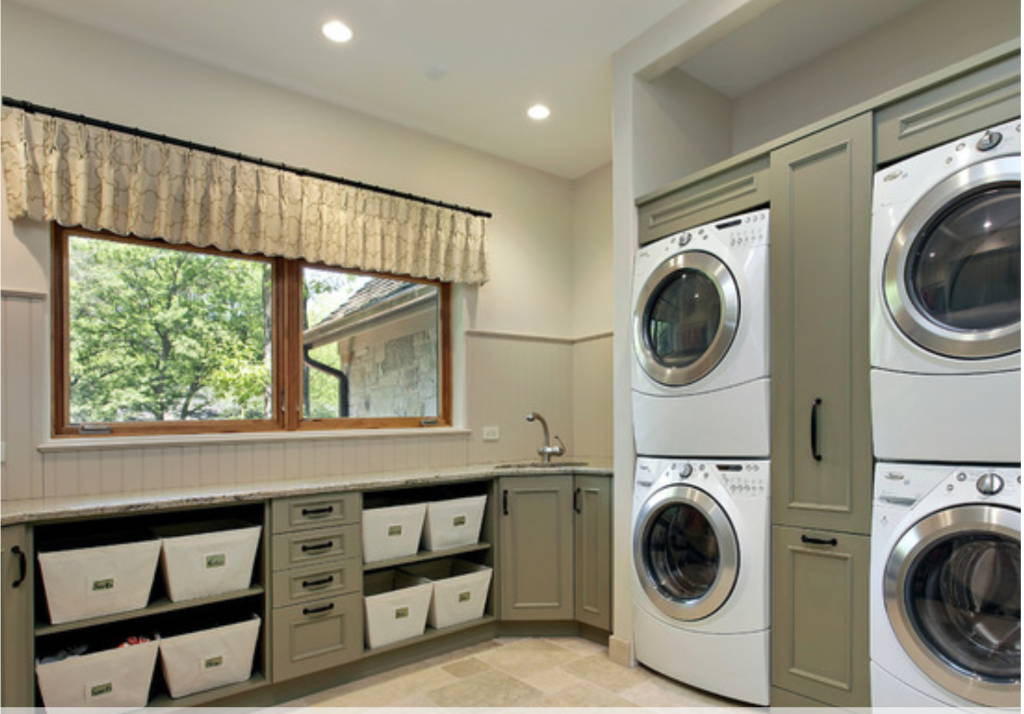 If you want to create multiple rooms or a high-class custom cabinetry laundry room, this idea is for you. This double-function theme is the most costly one among all the ideas listed here, so go with it only when your budget allows you. Use the custom cabinets to store clothes, laundry items, and supplies.
Insert the washing machine and dryer in the biggest customized cabinet, and it will be easier to complete the laundry task hassle-free. Use the counterparts to keep the frequently used laundry supply like detergent, wiping cloth, soap, brushes, etc. Create a relaxing nook with lower cabinets to relax when the machine works or comfortably fold clothes.
Final Thoughts
Everybody wants to create an exuberant and interesting laundry Space or room that doesn't seem like an additional workload or dirty area. Using the cozy and warm themes in your laundry area by not considering it just the cleaning or laundry space will help you try the exciting laundry room theme. And using suitable utility room ideas, small laundry storage themes, or DIY ideas according to your requirement and laundry space area will help you achieve the exuberant laundry space look.
This post showed you 17 small laundry room makeover ideas from professional interior setup to DIY and aesthetic to creativity to make things easier. This post has covered a wide variety of laundry space ideas from the pastel tone theme to add on fabric, closet DIY laundry space ideas to curtains, artistic touch, and more so that you can easily pick up at least one theme according to your requirements of a makeover and the laundry space or room type.
If you want more ways to add creativity to your home interior or rooms, sign up and get our best strategies in your inbox.