Finding genuinely enjoyable hobbies can be challenging for both kids and adults. However, artful pastimes are a great way of keeping your mind engaged and stimulating the creative part of your brain.
If you like indulging in art at your leisure but have lost the imaginative touch amid routine, don't worry. Our guide will rekindle the spark of creativity in you and introduce you to some of the most compelling crafts to do when bored.
Keeping your kids engaged over a long stretch of free time can be challenging. Summertime vacations are especially tough if you want to keep them away from the constant screens. Hence, not only for adults but we also bring the kids the most fun crafts to do when bored.
Continue reading to find out all the innovative aesthetics!
Enjoyable and Easy Crafts to Do When Bored: Kids Version
1. Homemade Bubbles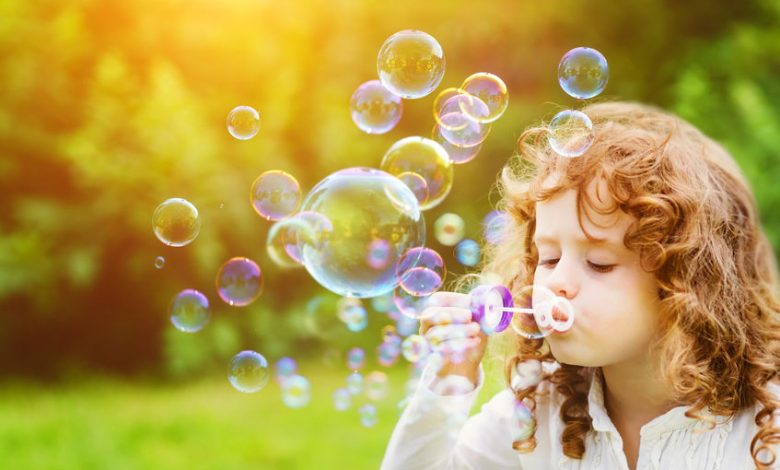 Water activities are highly amusing for the kids but tedious and tiring for parents. Can you find a midpoint, though? We have! A homemade bubble mix is engaging for kids to prepare and doesn't make a lot of mess, either. All you have to do is mix some dishwashing liquid with water and stir well. For better results, add a bit of light corn syrup to the water before mixing the soap. You can get cheap bubble wands online or use any old accessory.
2. Decorate Some Rocks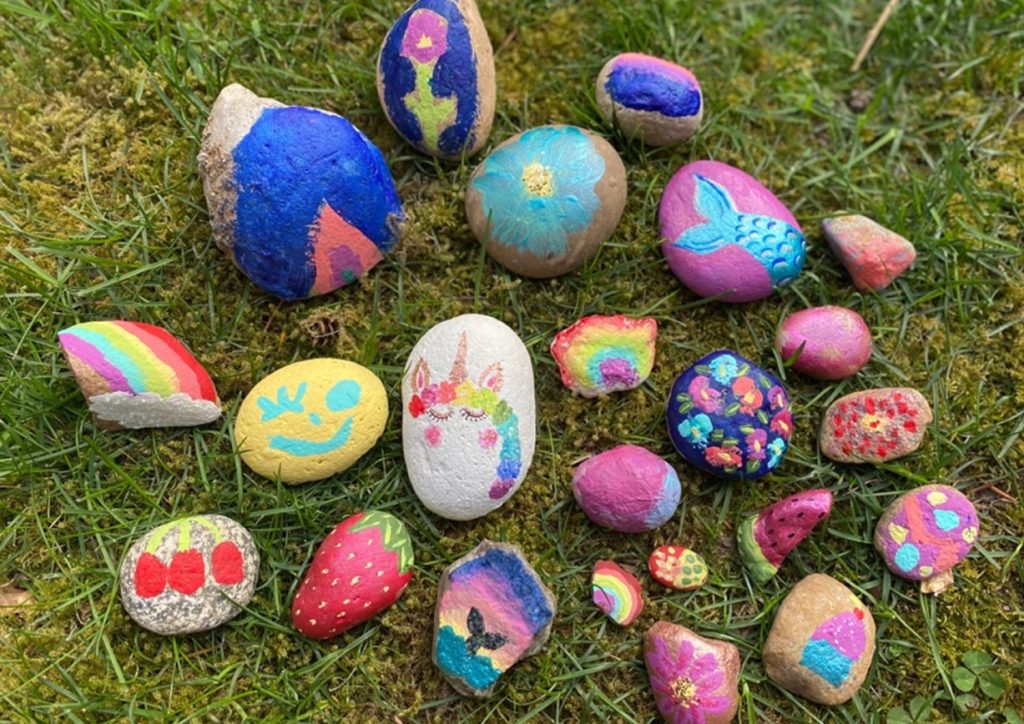 This activity goes under the toddler's list of crafts to do when bored. Young kids have a great time doing artistic stuff that involves paints and colors. Get some small rocks and let the kids paint them however they like. Encourage them to design their favorite cartoon characters or any object. If they're learning the alphabet, this can also turn into an educational activity. Ask them to paint the different letters on each rock and line them up in sequence.
3. DIY Pen Stand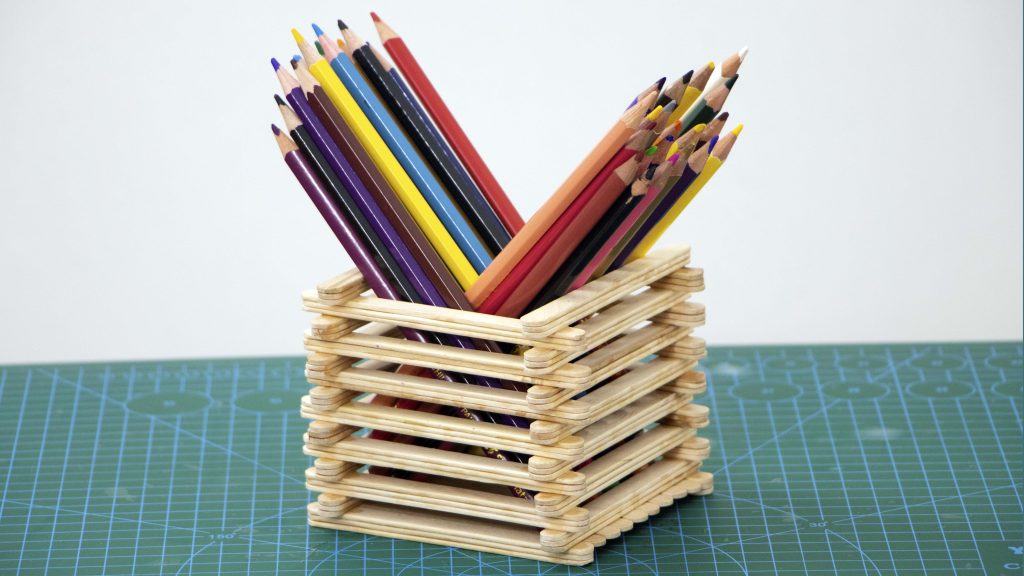 Summer means heat. And heat equals ice creams! Ask your kids to save the sticks from all the popsicles they eat to fashion them into something fun. Our suggestion is a creative pen stand. First, begin with washing off the residue popsicles from the stick, and then paint them in different colors. Next, you have to arrange them on top of each other to create a pen stand. You can also line them vertically, although this would require several sticks.
4. DIY Wall Hang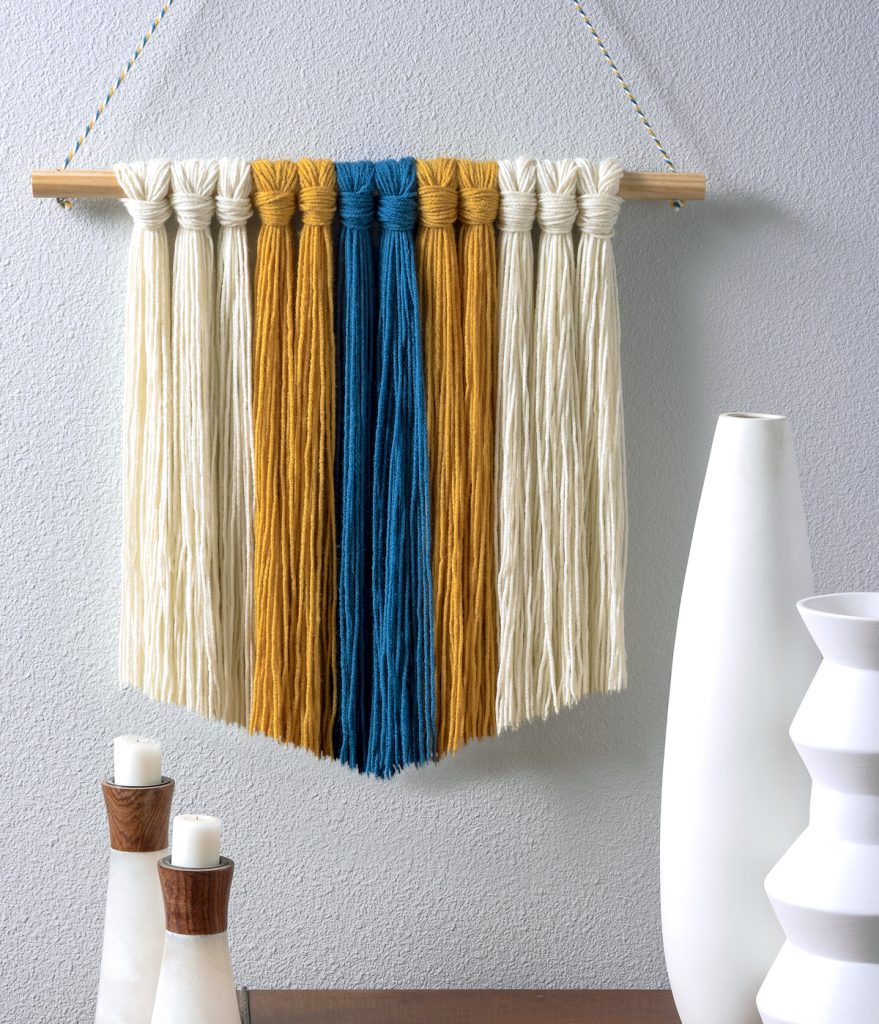 Another one of those crafts to do when bored is making a wall hanging. A simple way is to use yarn. You can take various colored ones and tie them on a stick vertically however you like. Try creating different patterns or adding other accessories. Yarn is merely our recommendation here since it's easy to use and usually available at home. You can also utilize old wall-hanging strips used for decoration at parties. Hang it in the kids' room, and voila! Your DIY wall hang is ready!
5. Bracelets Made Out of Buttons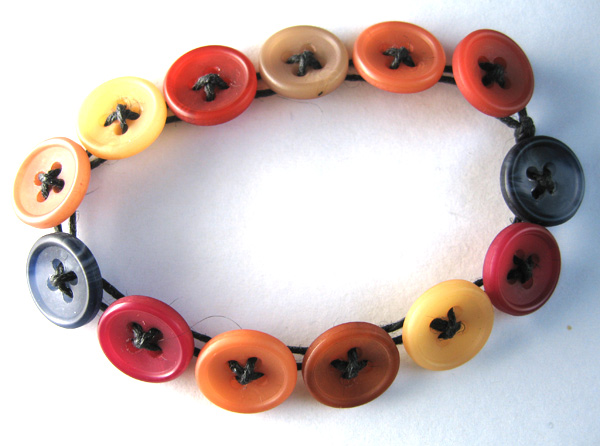 Every household has a ton of buttons that have fallen out of clothes and are no longer in use. But with our easy art idea, you can reuse them in the cutest way! Encourage your kids to make a button bracelet. Use buttons of varying colors, shapes, and sizes, and arrange them in creative fashions on a ribbon or fabric. These bracelets are an age-appropriate sewing project and look absolutely adorable on tiny wrists. If your kids like making them, ask them to make you one as well!
6. Fidget Spinner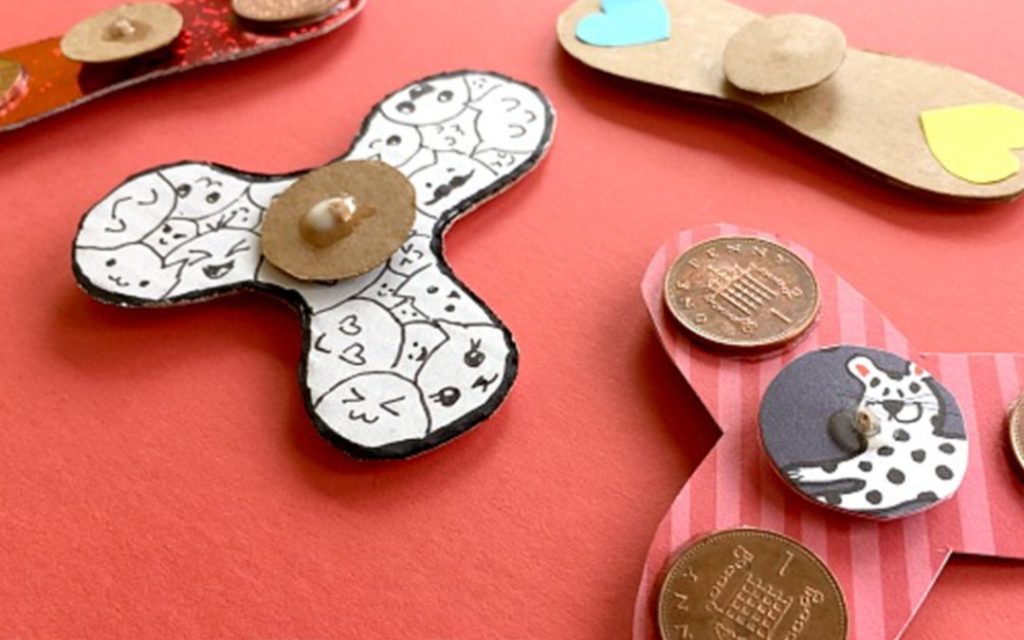 Making a fidget spinner is more suited for older kids since it involves more effort. The basic materials used are cardboard, toothpicks, coins, glue, and scissors. Cut two pieces of the same shape as the fidget spinner after tracing it on the cardboard. Stick the coins at the ends for weight distribution. Lastly, attach both pieces of cardboard with a toothpick and decorate in creative ways! A DIY fidget spinner is also a great way to teach kids about centrifugal force and angular momentum.
7. A Ladybug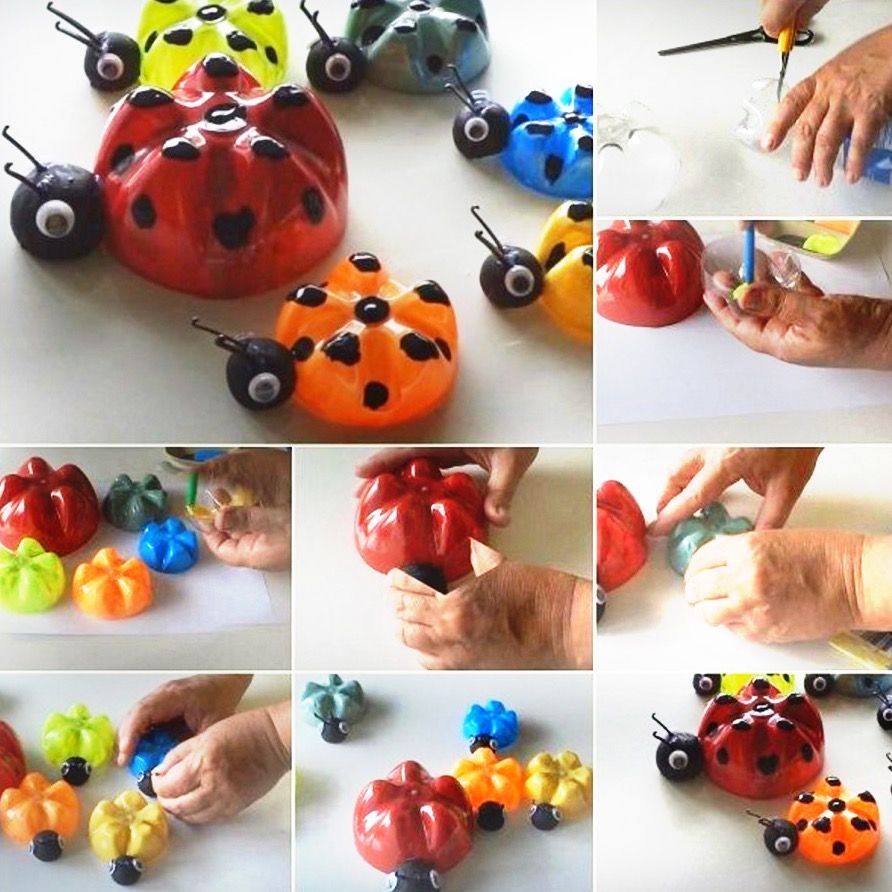 By a ladybug, we, of course, suggest a craft one. Reusing a soda bottle to make a ladybug is an excellent idea to teach your kids about repurposing. First, the bottom part of the soda bottle must be separated. Once cut, turn it upside down to form the ladybug's body. Next, you will need red and black colored craft paper to decorate the bottle. Use paint or colored pencils to draw the spots. You can also use black craft paper to make the spots in different shapes.
8. Butterfly-Shaped Snack Pouches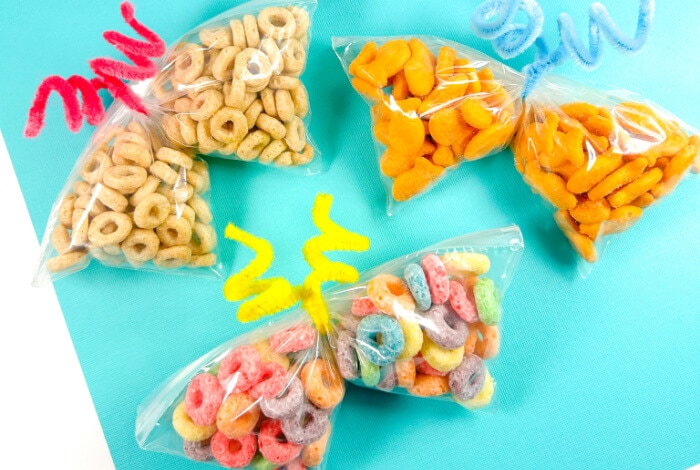 Very simple to make, these are lovely crafts to do when bored and will be a definite conversation starter in your kid's friend circle. Begin by taking the children's favorite snacks and putting them in a transparent sandwich bag. Next, add a clothespin in the middle. You will have to separate your snacks into two halves that will constitute the butterfly's wings. Next, you can decorate the pin to make the body and stick googly eyes at the top. Add craft-paper antennas to finish your butterfly snacks!
9. Unicorns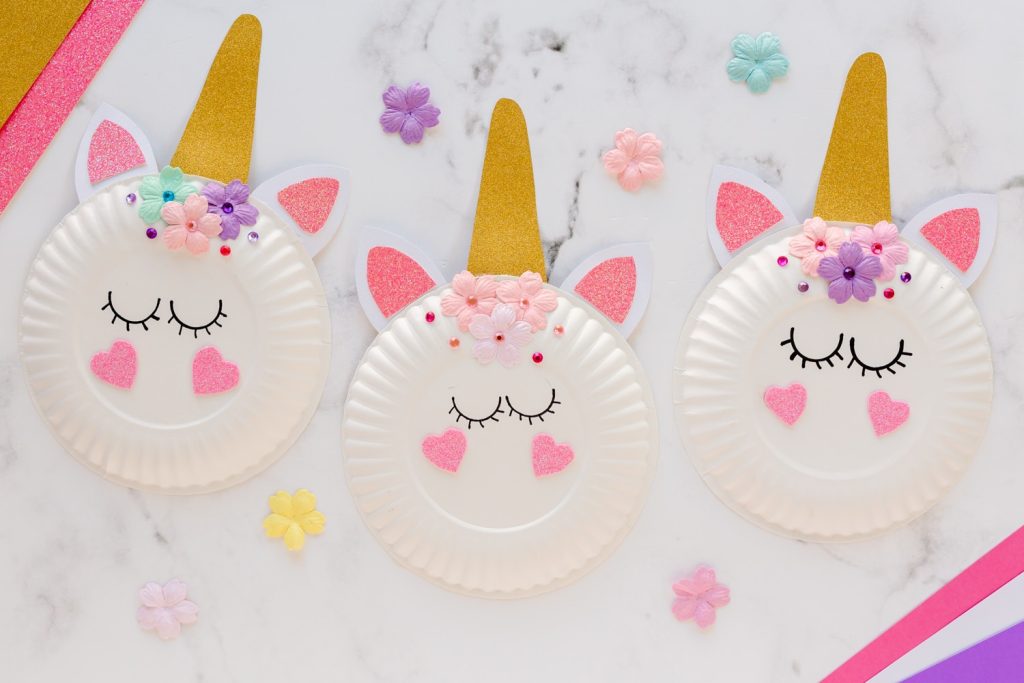 Unicorns are creatures of fascination and wonder for all kids. Then why not encourage unicorn-themed crafts to do when bored? One of them is a unicorn pencil holder. It can be made easily by decorating an old tin can with craft paper and designing it like a unicorn. Second, you can make unicorn plates. Take regular paper plates and draw the features of a unicorn with sketching pens or crayons. You can add the horn with multi-colored craft paper.
10. Sponge Water Bombs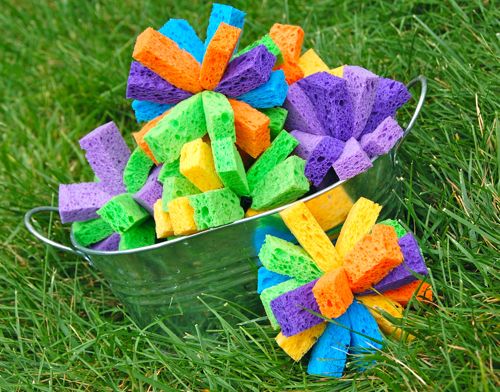 Water bombs are the most fun part of summer. However, balloons can sometimes hurt and create a mess while filling them. Then why not encourage the kids to make better ones that are also reusable? All you need are three things – sponge sheets, rubber bands, and scissors. Cut the sponge lengthwise to form cuboids. Next, stack them on top of each other. Lastly, tie a rubber band around the middle, and voila! Your sponge water bombs are ready! Shoot away!
Engaging and Simple Crafts to Do When Bored: For Adults
11. Wind Chimes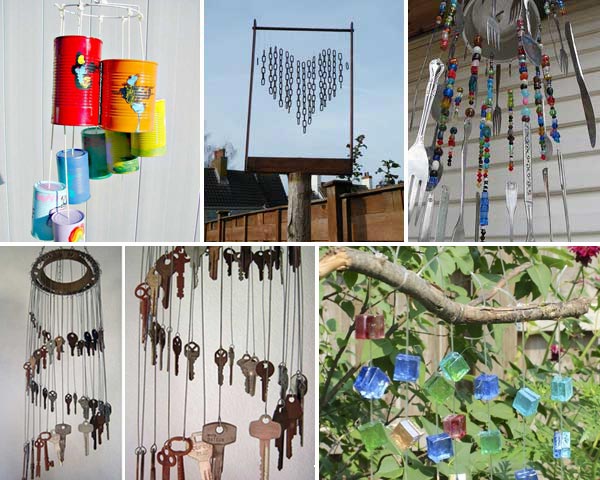 Wind chimes are the perfect accessory for your balcony, terrace, or porch. You can fashion the wind chimes with any type of material you want. For instance, you can use old bottles, tin cans, bottle caps, chains, beads, old cutlery, and even wine bottles. The options are endless. You can decorate in innovative ways to make your chimes more beautiful. As a bonus tip: use pieces of mirror or glass pebbles to double it as a light catcher in your balcony.
12. Fridge Magnets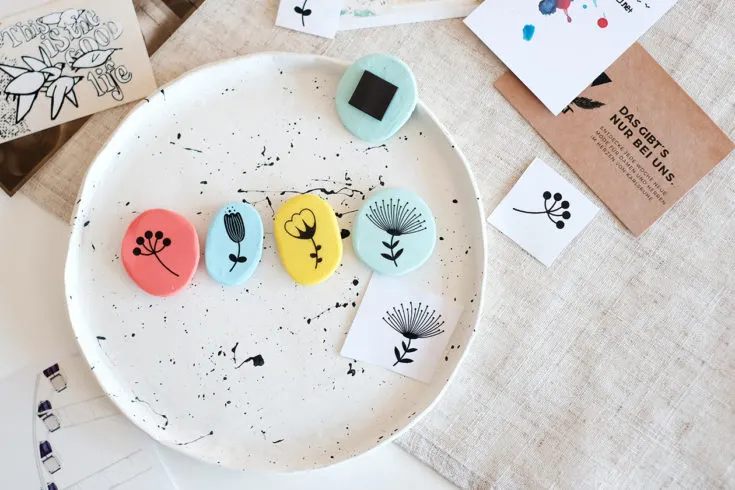 Although they are an easy fix to putting up important dates, meetings, and schedules in the kitchen for everyone to see, fridge magnets can also be used as decorative articles. Feel free to add your creativity to beautify the kitchen aesthetics. Instead of just painting them, you can use buttons, small pebbles, clothespins, and fabric to enhance the fridge magnets. Bonus tip: decorate several magnets together to create a themed design for your fridge!
13. Rock Painting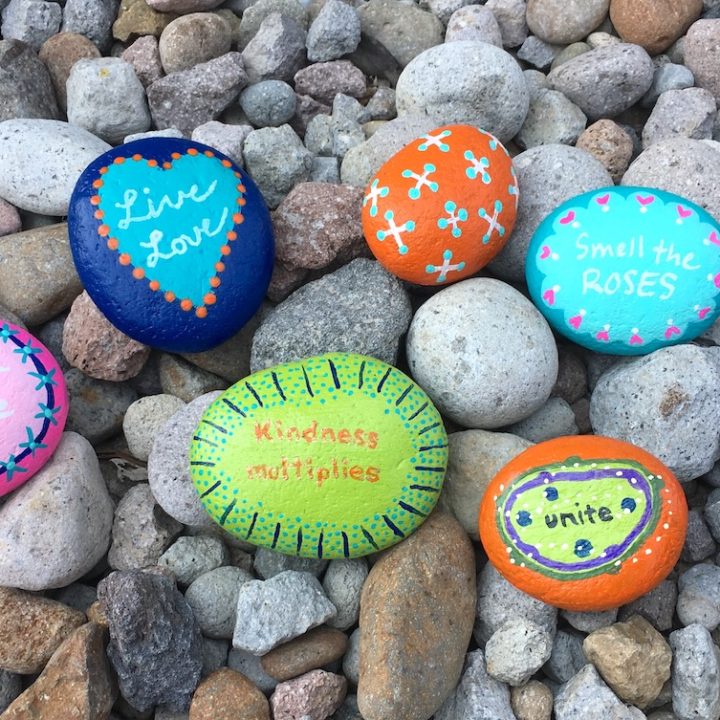 Yes, we suggested rock painting as a creative activity for kids. However, it is one of the most fun crafts to do when bored for adults too. Not only has it become quite popular recently, but you can also use the rocks as paperweights or set them in a bowl. Another way to adorn them is to display them in different pots and glamorize your garden. Rock painting is also a typically calming activity through which you can meditate or gather your thoughts.
14. Sewing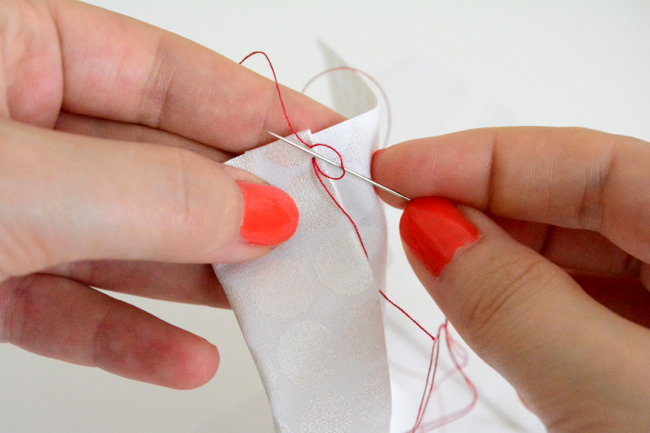 Sewing is another hobby to cherish that is fun and therapeutic as well. It's a sustainable activity that helps you be more eco-friendly. It's one of those crafts to do when you're bored but feel like expressing yourself because sewing different patterns and designs can help you envision your views and opinions. You can also sew motifs on t-shirts or other clothes to personalize them and add a touch of self-expression. Try sewing your initials or designs related to your interests on your handbag or similar accessories.
15. Bulletin Board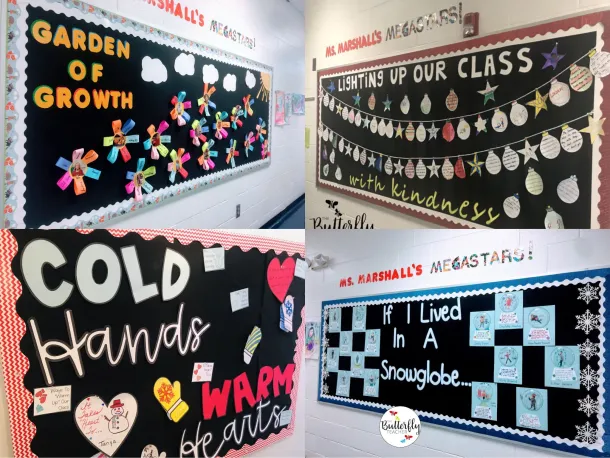 Although this is one of the easiest DIY crafts to do when bored, you'll still require basic art supplies like a wrapped canvas, fabric, and a staple gun. First, wrap the fabric of your choice over the canvas tight enough to ensure no wrinkles. Then turn it upside down and use the staple gun to secure the former in place. Lastly, hang it on the wall, and your bulletin board is ready! Use it to put up important notes and to-do lists, or decorate it with pictures and paintings!
16. CD Coasters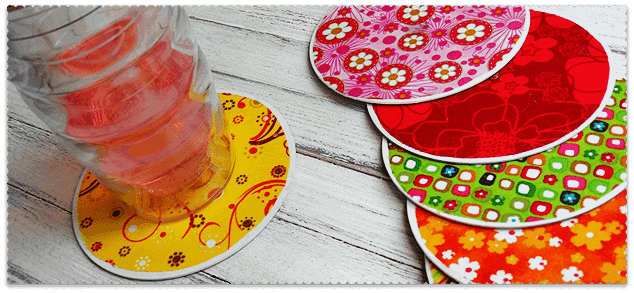 This is one of our best recommendations for crafts to do when bored – the adults' category. We all have a large CD collection that has been stuck to some corner of the house for years because no one uses the CDs anymore. Well, we have a way you can put them to use – make DIY CD coasters! You can add colorful fabric on them to cover them up. Or you can stick a piece of cardboard to a CD and create whichever design you like. Easiest crafts ever!
17. Wine Cork Boards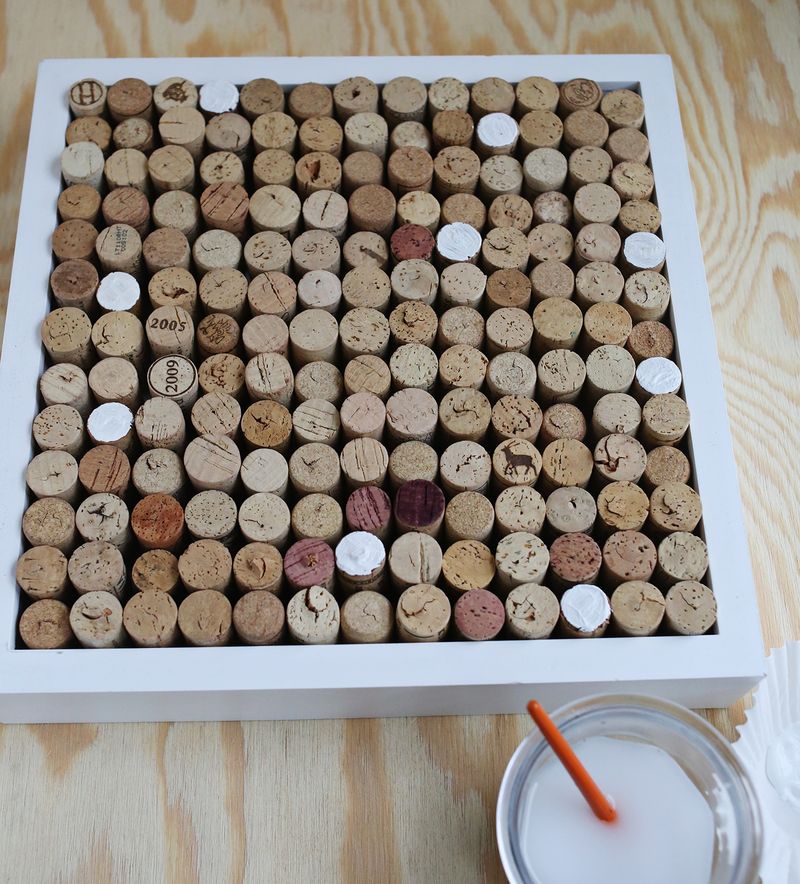 If you enjoy wine tasting, then there are chances that you have an overflow of corks at your place. Old wine corks can be repurposed in several ways, like making a wine corkboard. You will need a frame of some sort to form the base of your board. You can paint or decorate it in any way you like. Next, stick the corks on the frame in an orderly manner. Secure them together by tying a ribbon or thin rope around them. Use it to stick notes, schedules, or reminders.
18. Paper Flowers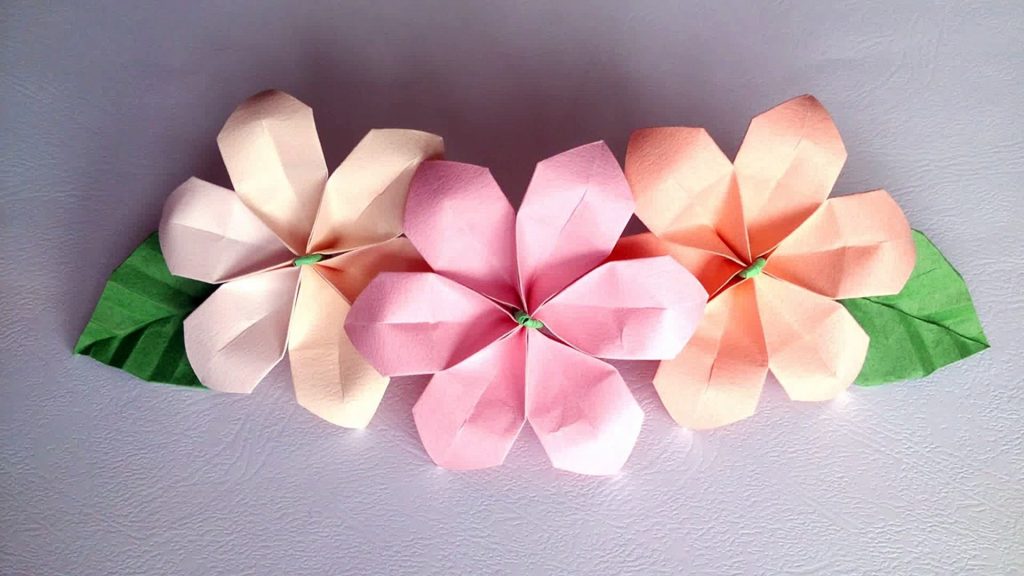 Paper flowers are not only fun to make but also look absolutely adorable. Even if you have never made these before, they require almost no previous skill. You can easily learn paper origami online. Try different colors and shades to form a theme and set it around the dinner table, kitchen, or bookshelf. The best part of paper flowers is that they don't need to be changed like real flowers and can be kept for as long as you wish.
19. Cord Organizer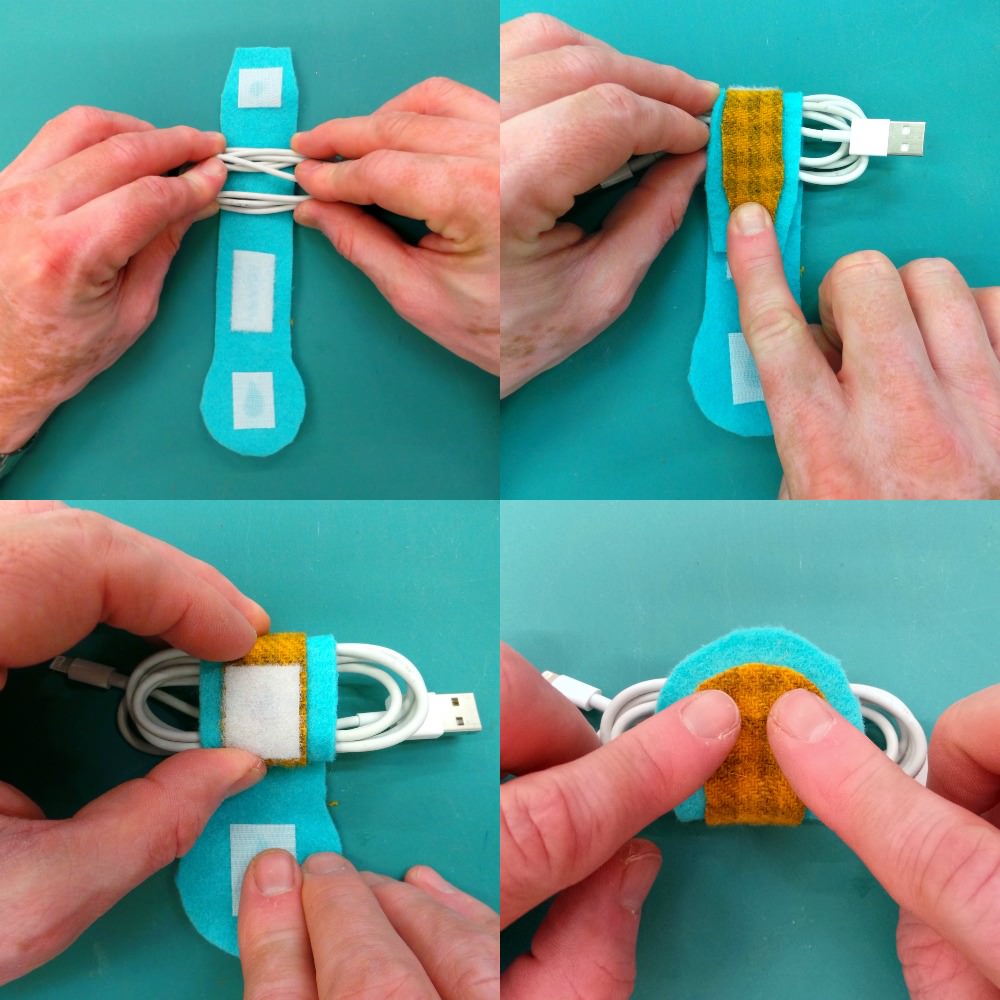 Do you have a remote job that requires a computer set up? Then you may be suffering from the constant mess of wires. Have no concerns since we have brought to you one of the easiest crafts to do when bored that will solve your problem. You only need pieces of cloth or felt, scissors, velcro, and a hot glue gun to make a DIY cord organizer. Wrap the cloth around the cord however you want to organize it and stick the velcro in the apt position to finish.
20. Decorate a Phone Case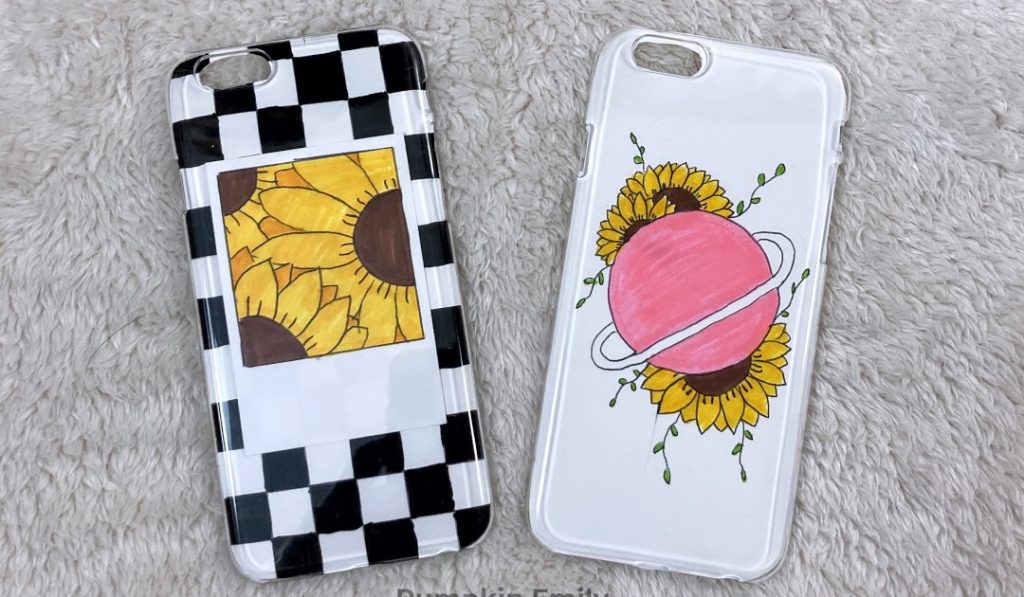 Nowadays, we all need our phones 24×7 to get everything done. We can incorporate a few accessories to our mobiles to add a personal touch. The best out of these has to be the phone case. And what better way than to make one yourself? Begin with a clear phone case. You can proceed to paint it with any design you like. If you wish to change the design frequently, draw on craft paper and insert it between the phone case and the mobile.
Summing It Up
In conclusion, we all need fun crafts to do when bored to keep our brains stimulated and access their creative side. Unleashing this artistic side helps us express ourselves better and explore our interests.
During summers or long vacations, kids nowadays tend to waste their time on gadgets or video games. Parents can encourage them to indulge in creative art to keep them engaged. Snack pouches, sponge water bombs, wall-hanging designs, and pen stands are some of the best activities they would enjoy.
For adults as well, finding artistic hobbies to keep ourselves busy during free time can be challenging. However, you can always undertake small craft projects to decorate your house or beautify the workspaces. Pottery, sewing, and origami are some artsy activities that work as soothing stress relievers.
Which are your favorite crafts to do when bored? Let us know in the comments section below!
Frequently Asked Questions
What Crafts Can a 12-Year-Old Do?
Preteens can try rock painting, DIY keychains, pen stands, bracelets, and origami. These enjoyable pastimes encourage and inspire kids to explore their imaginative side. They can also make DIY crafts to decorate their room according to their aesthetic and vibe!
What Are Some Fun DIY Crafts for Adults?
Some fun DIY crafts for adults are decorating or painting a vase, making coasters and paper flowers, painting artwork, tie-dye a shirt, and making organizers for your workspace. These artistic projects will keep you occupied and help you repurpose old objects to decorate the house.
What Are Cute Crafts Specifically for Girls?
Young girls may enjoy cute crafts like an EOS cupcake lip balm, balloon splatter painting, finger painting, string bracelets, DIY bath bombs, unicorn bookmarks, melted crayon butterflies, DIY fairy jars, and wind chimes. Some of these activities are more fun when done in groups or at themed birthday parties.
What is the Newest Craft Craze?
Every year brings in new trends and shifts in popularity. Art and craft is also similar field concerning changes. Some of the most popular craft hobbies that everyone indulges in are tufting, sewing, crocheting, knitting, punch needling, latch hooking, macra weave, and pottery.
What Are 3D Crafts?
3D crafts are an interesting field of art for all those who wish to explore their passionate, creative side. Sculptures, installations, performance art, craft, and product design are some examples of 3D art. They are usually classified based on the medium, such as 3D paintings, 3D photography, or 3D wall sculpture.