Cornhole is the perfect backyard game for the summertime. Barbecue parties, tailgating parties, beach visits, birthday parties, graduation get together, and many other occasions are just the right time for a cornhole game. You can spend many hours playing cornhole with your friends, family, colleagues, and acquaintances. It is a great bonding experience and a good way of making friends. You are never too old or young to enjoy a cornhole game with anybody at any time.
Having the complete cornhole set should be on your shopping list. You can easily settle on the designs of the cornhole board from the stores or make up your own designs. There are countless designs out there that you can pick from.
In this article, you will learn about 21 cornhole board designs that you can use for your cornhole board.
What Is Cornhole?
Cornhole is a game where you toss bean bags at a hole on a raised board or platform. You score points when your bean bags land in the hole or on the platform. This is a simple and fun game where everyone will have fun.
There are two raised boards or platforms with a hole on each one and four bean bags. The boards are placed 27 feet or 8.23 meters across from each other. Everybody is divided into two teams who stand on opposite sides of the platforms. Then, they take turns throwing the bean bags. The players have to make sure the bag lands inside the hole for three points or on the board for one point. The first team to reach 21 points wins the cornhole game. Different-sized equipment can be used for different age groups.
Creative Cornhole Board Designs
As mentioned, there are so many designs available for your cornhole boards. Here are 21 creative designs for you to pick from to decorate your cornhole boards.
1. Plain Theme Cornhole Boards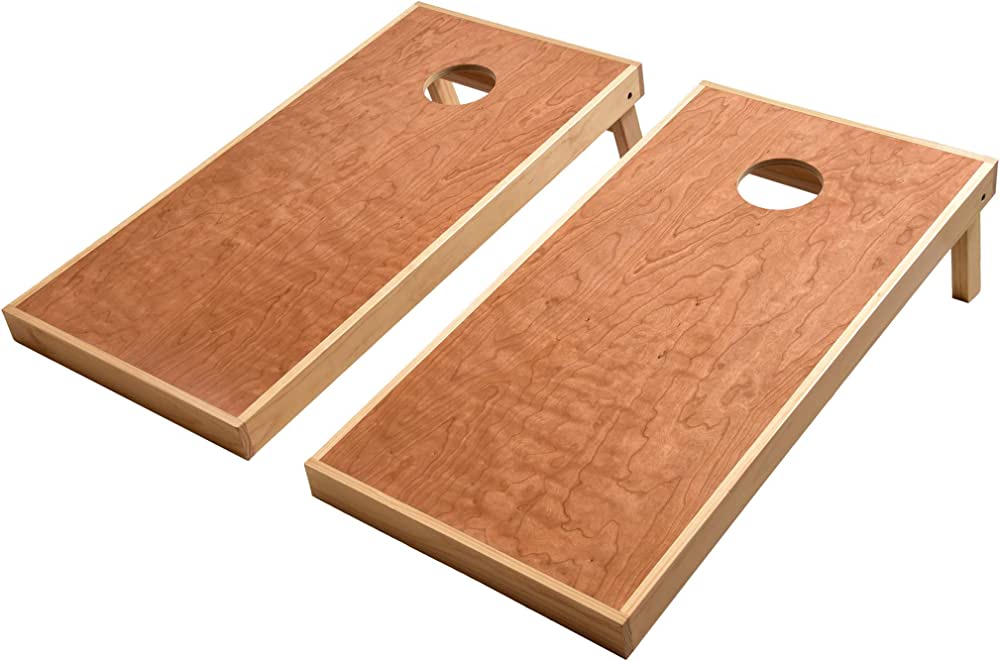 One design for your cornhole is the plain design. These solid wooden boards are perfect for a game of cornhole any day; they can be used for tournament play or casual play. Use them at parties, events, restaurants, bars, festivals, and many more places; these cornhole boards are easy to transport as well. They will hold up to the test of time and repeated use. These boards are up to tournament regulations which means they are ready to be used as soon as possible. Call your friends and family members for a cornhole game or tournament and make delightful memories.
2. 4th of July Theme Cornhole Boards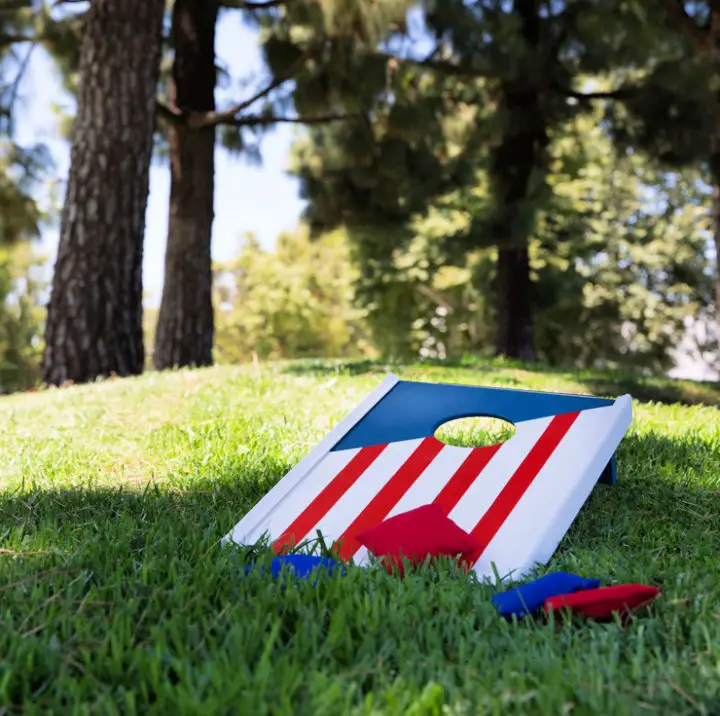 Who does not like the 4th of July? Hot dogs, corn on the cob, grilled vegetables, fried food, barbeque, burgers, beers, juices, family, friends, neighbors, fireworks, summertime, and freedom. All of your favorite people and things in one day. Make this independence day more festive with this 4th of July-themed cornhole design. Get together with your friends, family, and neighbors for a celebration and play a game of cornhole. Even the kids can play a couple of cornhole games; you need to start early on the next generation. Have fun wherever you go with this unique cornhole board.
3. USA Flag Theme Cornhole Boards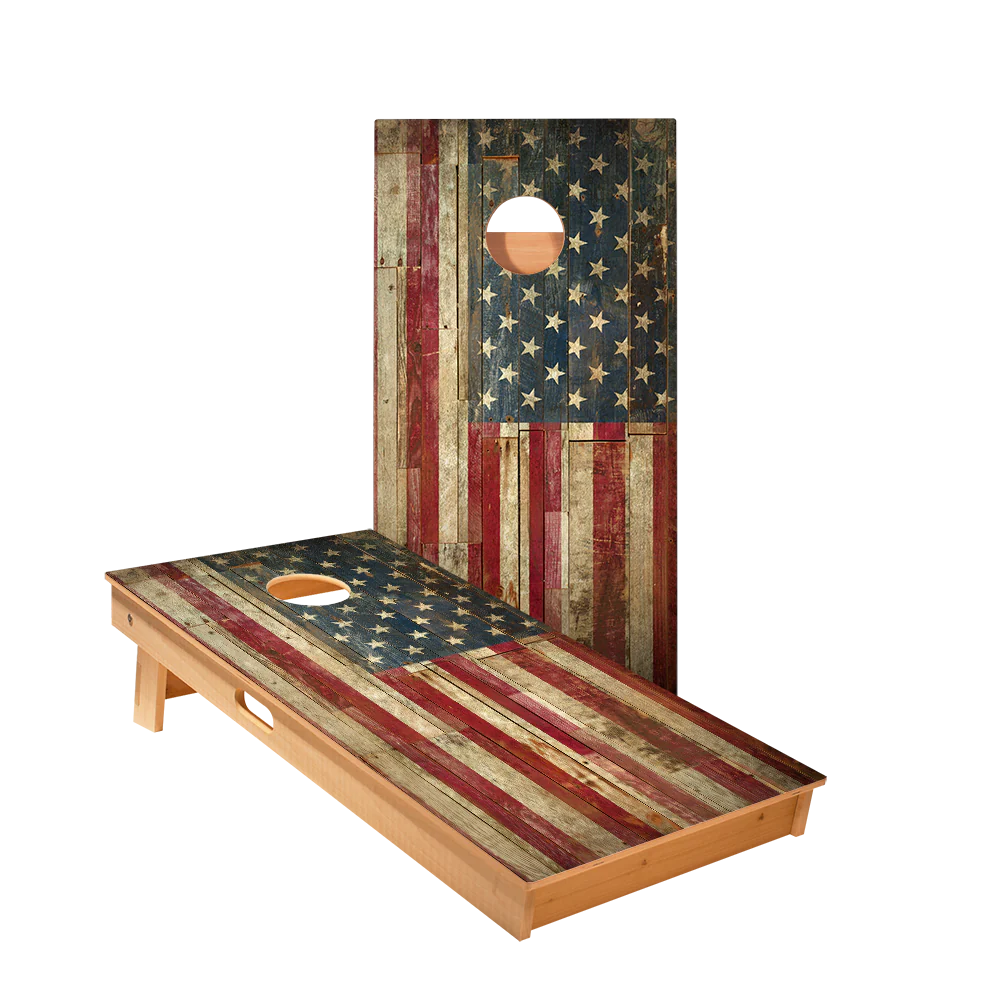 Show off your pride in being an American with this cornhole board design. The fifty stars with the red and white strips will showcase your USA pride wonderfully. These rustic-style cornhole boards are just what you need in the rural countryside or at a country-themed party. This classic board set will be a hit at every party or get-together. You will get many compliments from your friends, family, and neighbors. Those trusted handles will make for smooth transport. Once you are done, you can easily store these boards away for the next game. So, go and enjoy the cornhole game for years to come.
4. Star Spangled Theme Cornhole Boards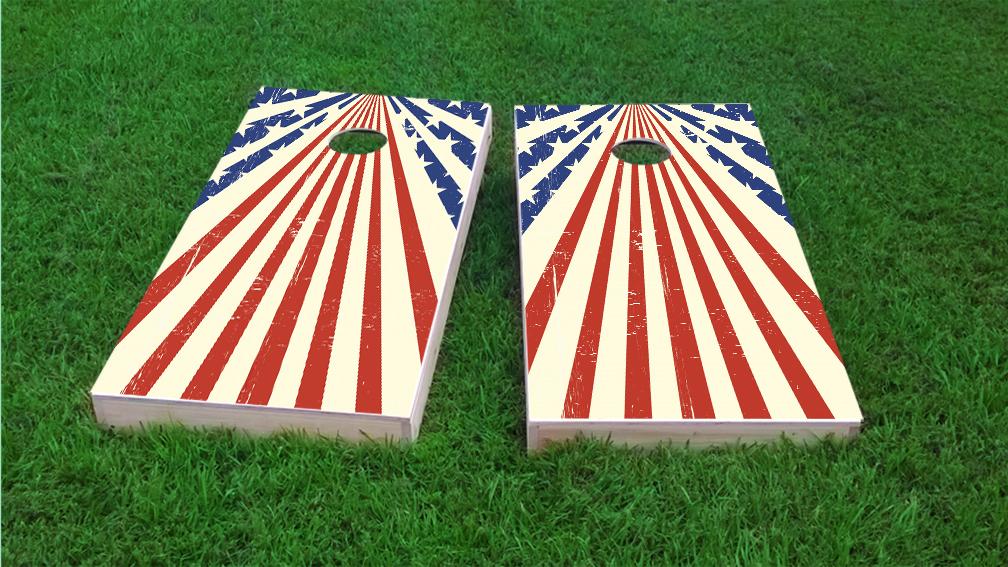 This star-spangled banner set of cornhole boards should be on your radar. What better way to be proud of being an American? The stars and stripes are a unique take on the American flag. Of course, the traditional flag design is a classic, but this design is brilliant and quirky. Throw around the bean bags with your loved ones while playing a game of cornhole. Bring out these classy boards at birthday parties, barbeque parties, 4th of July parties, summer parties, graduation parties, or just a regular hangout. You can even display these cornhole boards when not in use.
5. Blue Striped Cornhole Boards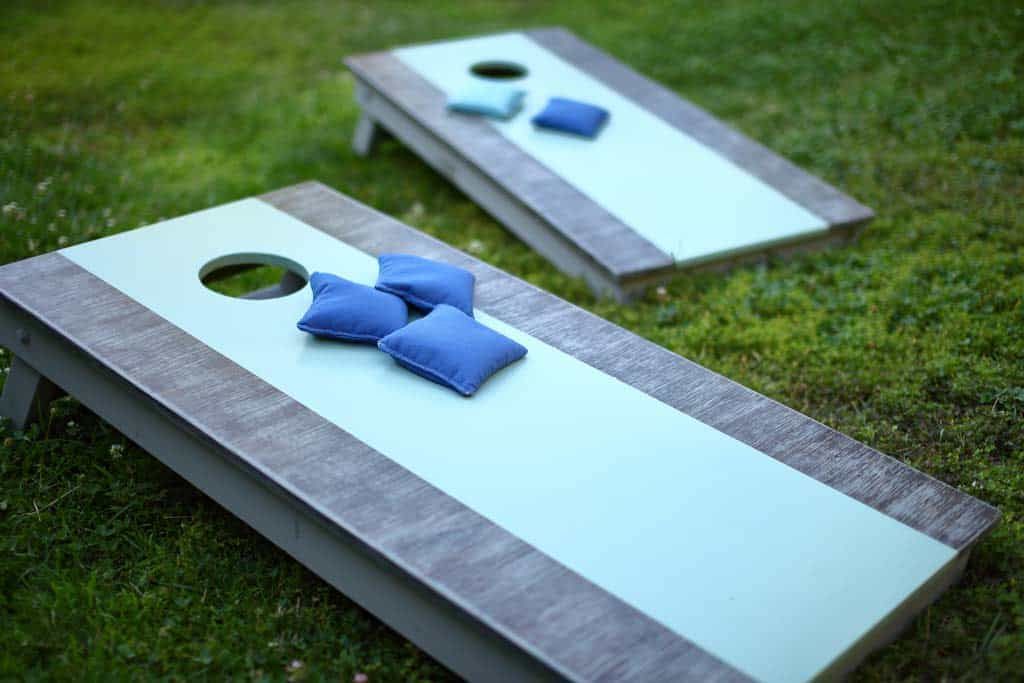 If you prefer minimal styles, then this single-colored striped board is the one for you. The blue stripes will look gorgeous against the lush green grass. Have some backyard fun with this cornhole set. You can even coordinate the color of your bean bags with your boards. These cornhole boards will greatly complement the blue or green walls and decorations of your home. Any visitor will greatly appreciate the style of your cornhole boards. Bring your cornhole boards to any gathering, especially since these boards are easy to transport. Storage is also no concern for you as these boards can be stored anywhere.
6. Geometric Style Cornhole Boards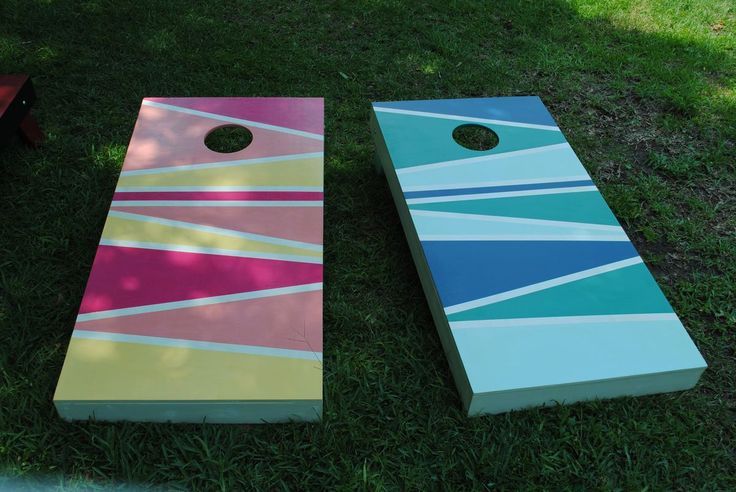 If you like shapes, you should try these geometric-styled boards. These stylish cornhole boards will be the talk of any party. Kids will just love this one out of all the cornhole board designs; it is cool, bright, and fun. It will brighten up any kid and even an adult. Everybody would use a little bit of color in their lives. Customize your cornhole boards with this design for a vibrant look. Invite your friends and get their help in putting this pattern on your cornhole boards. Everybody will have tons of fun, and it will be a great bonding experience.
7. Arrow Style Cornhole Boards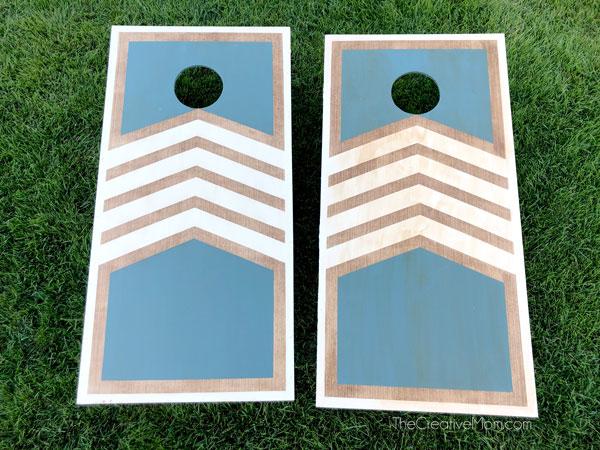 Have trouble landing the bean bags into the hole? No problem. This cornhole board design will help you aim your bean bags. The arrows show you where to line up your bean bags. Of course, you want to win these cornhole games, so why not get some help. It is all fun and games, but winning just makes the game extra special. Boost any child's confidence in the game with this wonderful design. The blue and wood shades shine together under the bright sunlight. Do not waste the summer days sitting inside; get out the cornhole set now and play with your loved ones.
8. Diamond Shaped Cornhole Boards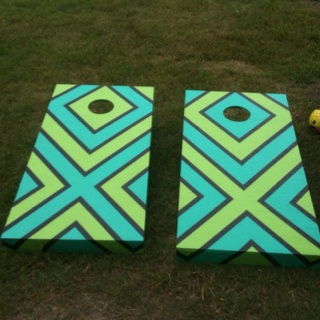 This funky board design is sure to turn heads at any party. The diamonds and the colors catch your eye every time. If you are on a DIY streak, this cornhole board design should be your next project. You will have fun making this unique design. The neon shades are perfect for the summer since flowers bloom in different colors. Bring colors into your life, and play a game of cornhole. Make lifetime memories of playing and having fun with your loved ones.
9. Sports Theme Cornhole Boards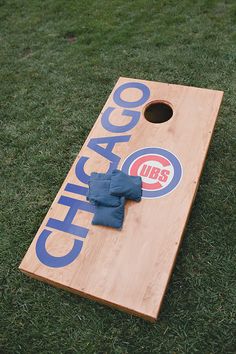 Big sports fan? Have a favorite team? Great! You can customize your cornhole boards with your favorite team's logo and name. Even your favorite player's name and number can be put onto the boards. What better way to showcase your team spirit? Do your loved ones support another team? Have different teams on the two boards, and get a friendly competition going. See who wins and which is the better team.
10. Superhero Theme Cornhole Boards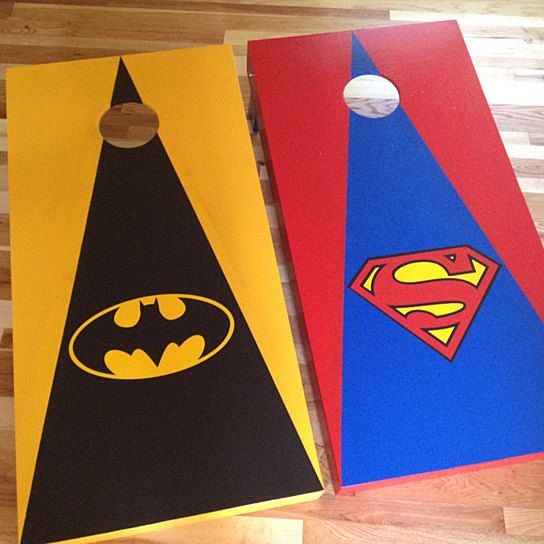 Love comic books and superheroes? No problem. There is a cornhole board design for your favorites. Get your favorite superheroes and villains on the boards, and be proud of your fandom. This design really shows your creativity since comic books are filled with beautiful artwork. Showcase your inner geek while playing cornhole. Channel superheroes and challenge your loved ones in a game of cornhole.
11. US State Theme Cornhole Boards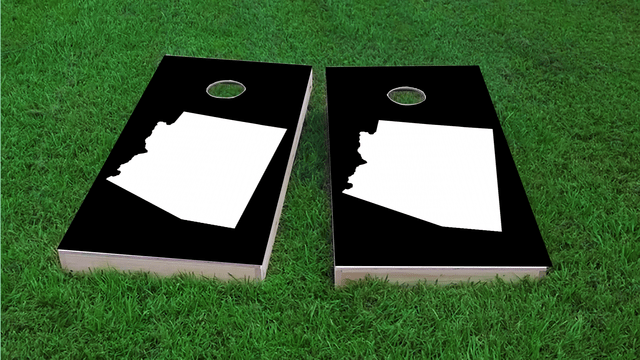 Show your pride in the state you live in with these cornhole boards. The state you live in is an important part of your life, so why not put it onto those cornhole boards. Combine your love for your state and cornhole into one activity. Do a cornhole competition with different states and see which state emerges victorious. This is perfect for summertime games in your backyard.
12. Military Style Cornhole Boards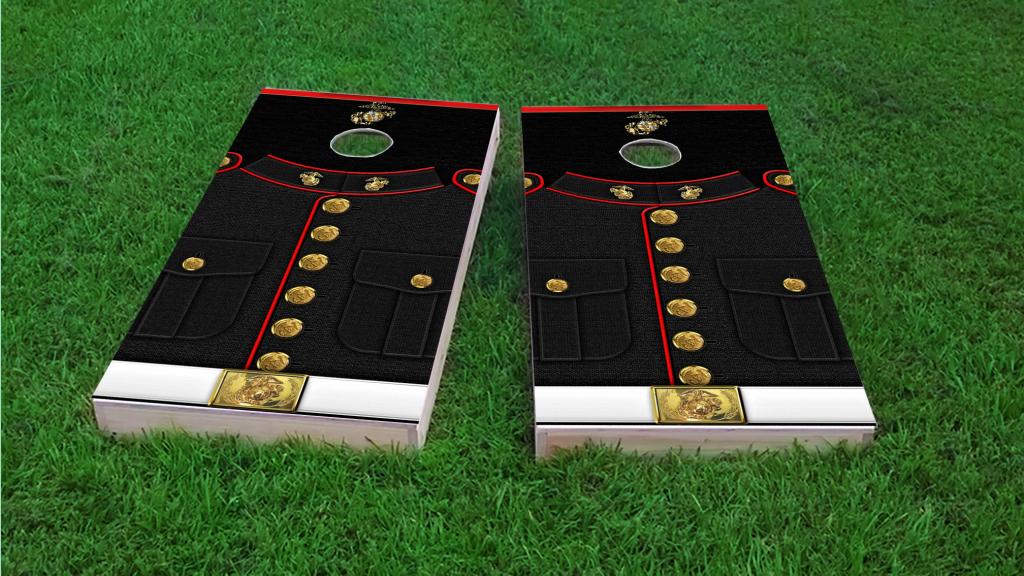 There is a proud tradition of serving in the armed forces in the US. Many people have family members or friends who have or are currently serving in the armed forces. So, show your pride with a military theme on your cornhole boards. The enlisted women and men protect your freedom, so this is your chance to support them and pay tribute to any fallen members.
13. Game of Thrones Style Cornhole Boards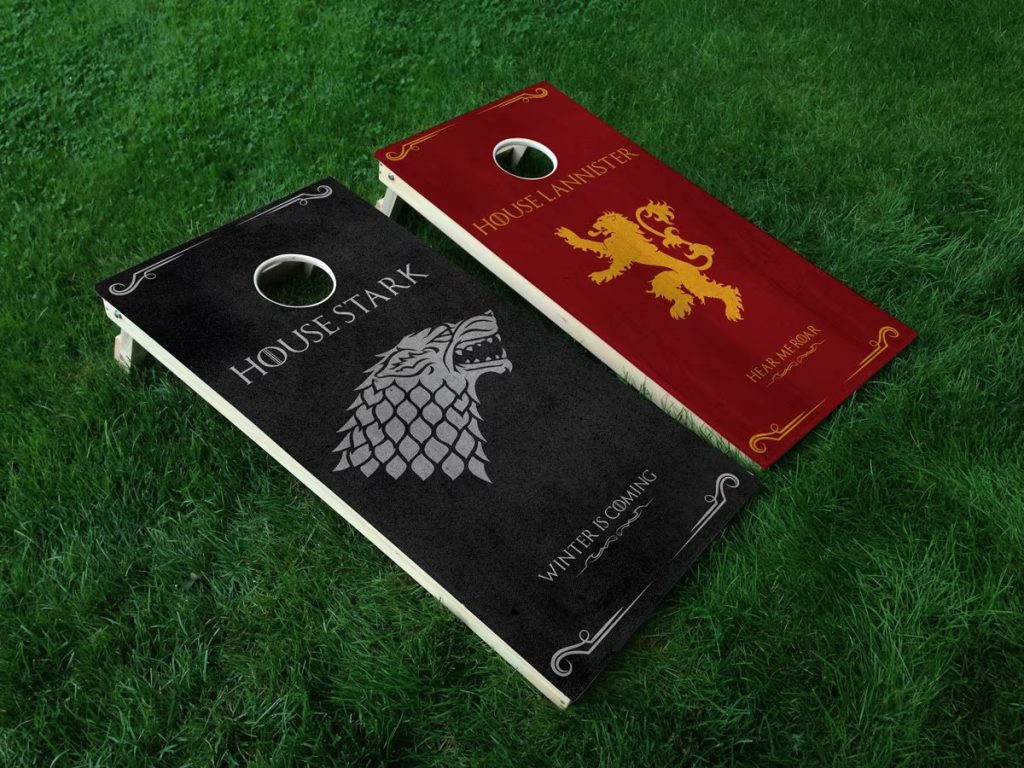 Do you love saying winter is coming, or a Lannister always pays their debts? Have you fallen completely in love with Game of Thrones and its spin-off House of the Dragon? Well then, put your favorite house words and their sigil on your cornhole boards. Take part in your own Battle of the Bastards with your fellow Game of Thrones fans and see which Bastard triumphs.
14. Beach and Seashells Theme Cornhole Boards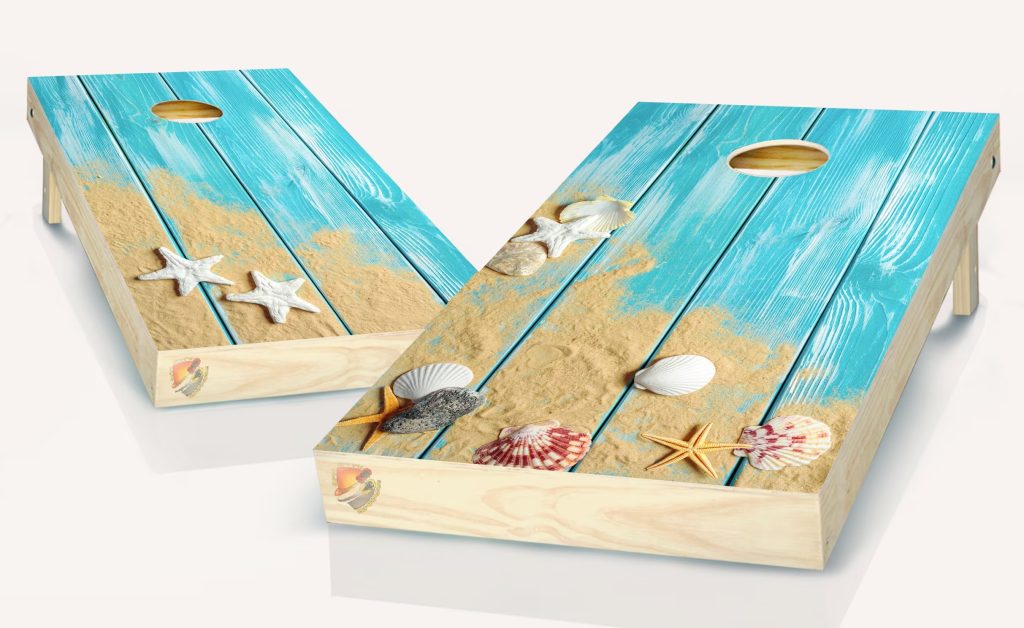 Love spending time at the beach? Making sand castles? Surfing the waves? Swimming in the deep blue ocean? Soaking up the bright sunlight? If you answered yes to any of those questions, pick this beach theme from the cornhole board designs list. You will feel like you are on the sandy beach while playing cornhole, especially if you live far away from the beach.
15. Snoopy Theme Cornhole Boards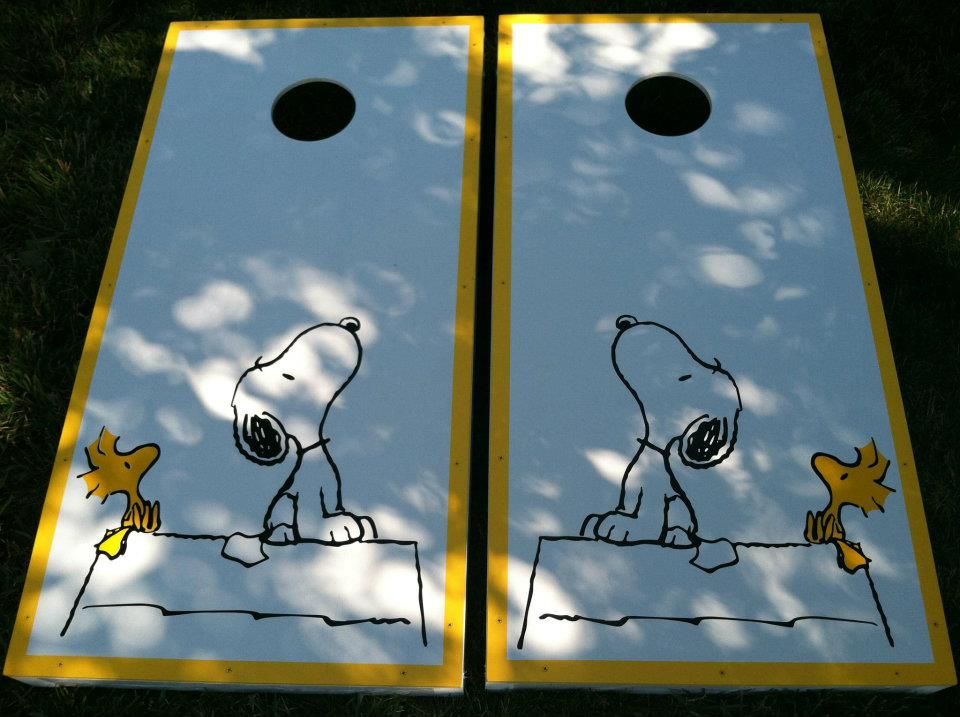 Snoopy is such a beloved cartoon. That's why Snoopy deserves to be on a cornhole board. He will be with you as you try to sink the bean bags into the hole. Pay homage to this great cartoon dog, and play cornhole with your loved ones. Let Snoopy inspire you to win a game of cornhole. This is the perfect outdoor and indoor game, especially in the summertime.
16. Four-Leaf Clover Cornhole Boards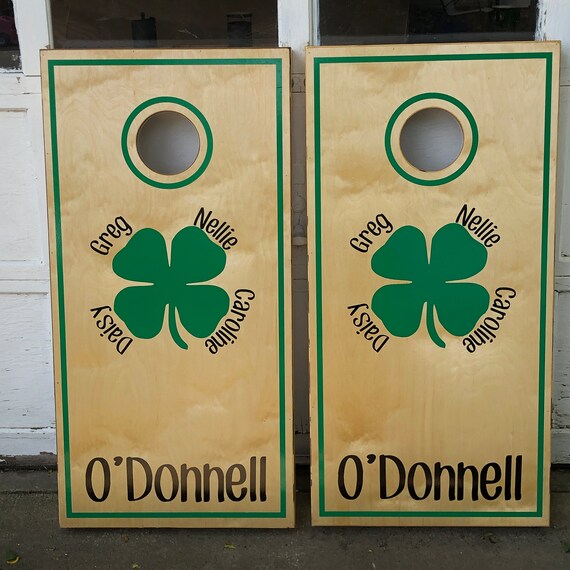 Do you have Irish ancestry? Want some luck with the four-leaf clover? Choose this Irish theme for your cornhole board design. This board design works for any Irish sports team as well. Hopefully, the four-leaf clover will rub off luck onto you, leading to you winning the cornhole game. This bright green design is perfect for the summertime when the grass is greener and the flowers are colorful.
17. Family Name Cornhole Boards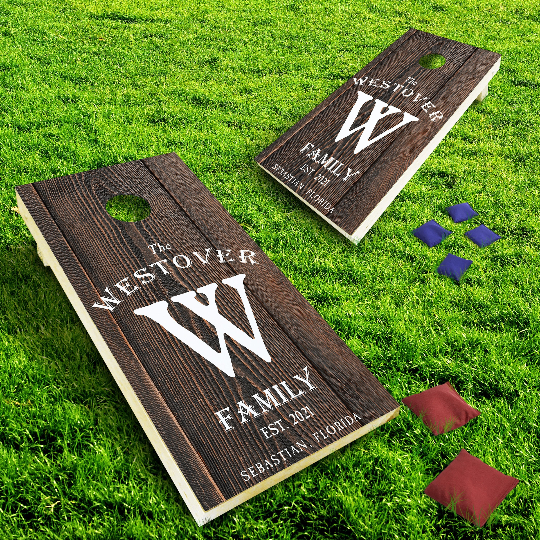 You can really customize your cornhole boards with this particular design. Put your family name on the board so that everybody knows that it is your cornhole board. Even if somebody borrows them, you will know which ones are yours. Sometimes you forget you have lent your things to somebody; with your name on them, you can always spot it and get your boards back.
18. Harley Davidson Cornhole Boards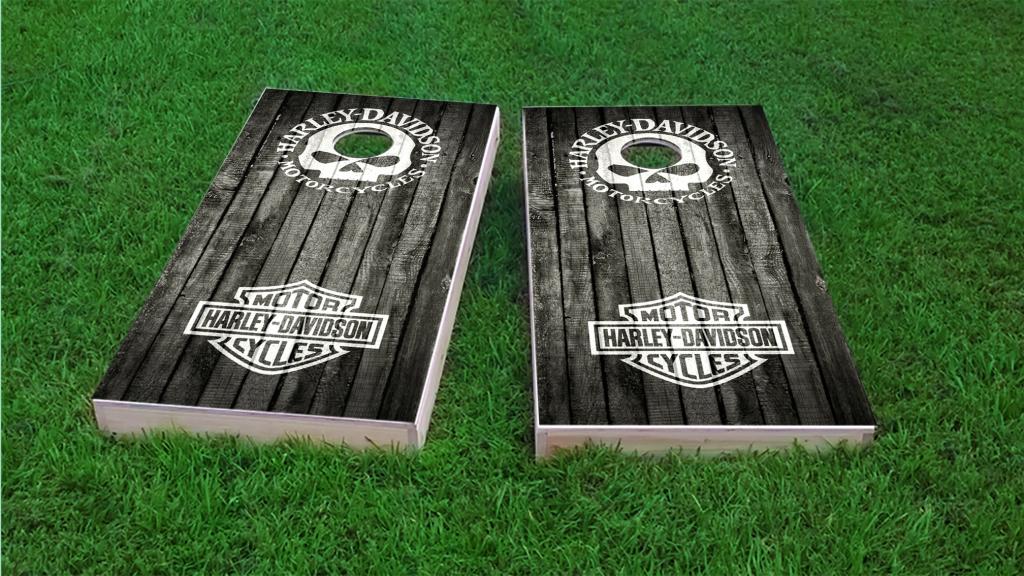 You are a biker? Love riding a motorcycle? Like cruising down the highway? This Harley Davidson design should be on your cornhole boards, then. The skull looks extremely fantastic and menacing at the same time; you can intimidate your opponents with your superior cornhole skills and this Harley Davidson design.
19. Abstract Swirl Theme Cornhole Boards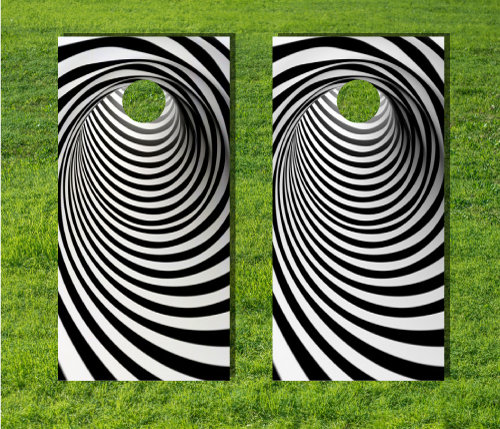 From the cornhole board designs list, this one is the most memorable one. This abstract swirl is the right choice for optical illusion lovers. This one will confuse your opponents and increase your chances of winning the cornhole game. You will want every advantage when it comes to winning cornhole games, so take that chance with this cornhole board design.
20. Nautical Theme Cornhole Boards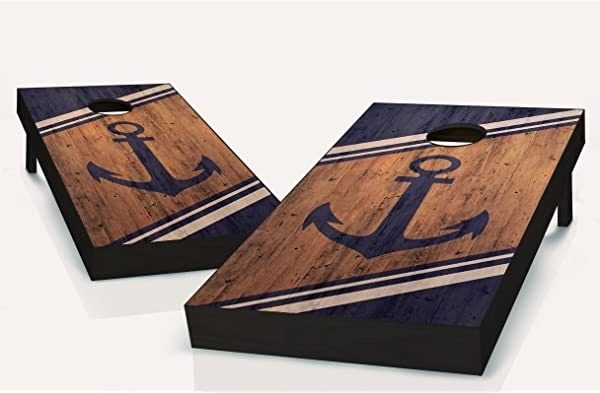 Long to sail the blue seas? Like to go boating or rowing? This nautical theme is a great pick for those sea lovers. The blue anchor looks spectacular against the rustic wooden background. Show off your nautical skills when playing cornhole and sink those bean bags into the hole. This choice will look even more compatible if you live near the water.
21. Guitar Style Cornhole Boards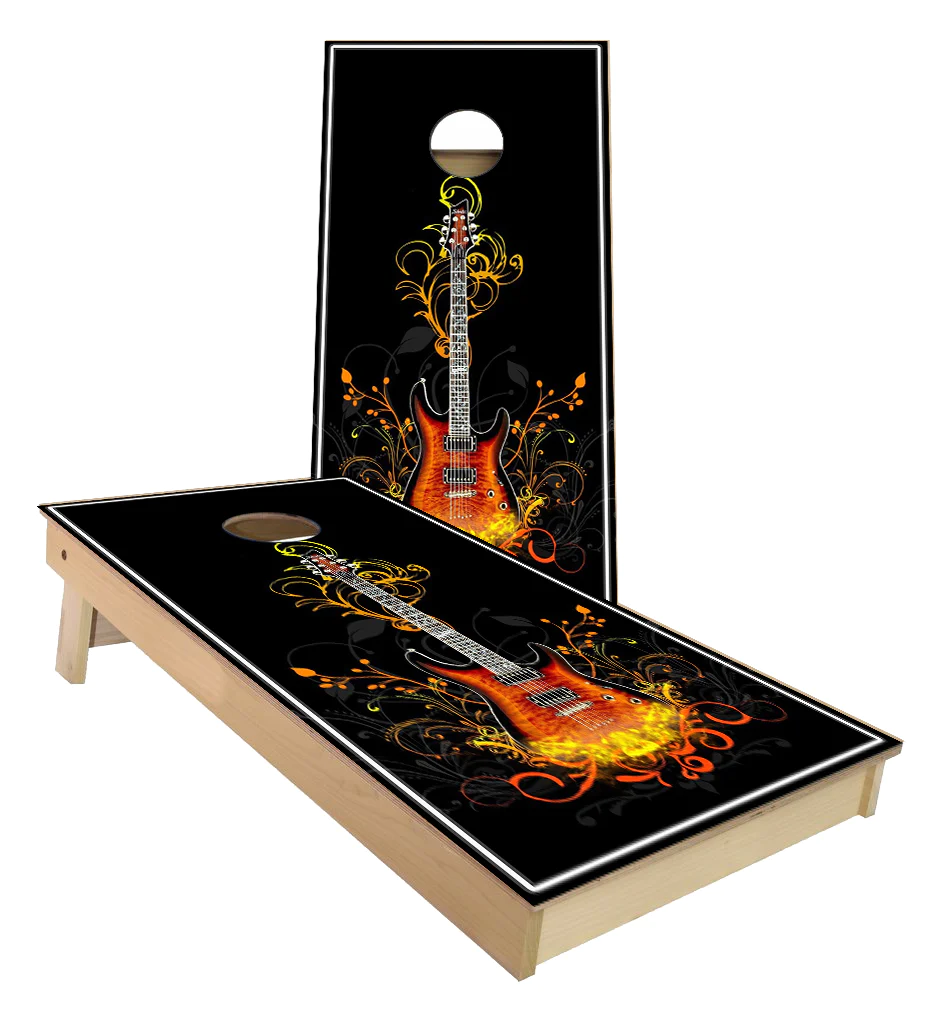 Love rock and roll? Playing your guitar until your fingers bleed? This flaming guitar will rock your cornhole boards. The red flames and back background are striking in any weather and indoors or outdoors. This eye-catching design will become your pride and joy. What are you waiting for? Pick this design and go win cornhole games.
Who Invented the Cornhole Game?
It is believed that a group of farmers invented the cornhole game in the mid-19th century. This game became popular in rural communities, and eventually, it spread throughout the entire United States. There are different cornhole variations and rules depending on where you are playing it in the US.
You can earn points by tossing the bean bags onto the cornhole board; if a bean bag lands on or in the hole, you receive extra 3 points. If your bean bag is closer to the hole, you earn 1 point for each bean bag that is nearer to the hole than the opposing team.
The cornhole is said to have originated in the Midwestern United States, and it has many names like soft horseshoes, bean bag toss, or bags. The cornhole name is said to be derived from the original bags used that were filled with dried corn kernels. So, the name stuck.
How Much Do Bean Bags Weigh, and What Are They Filled With?
The bean bags weigh between 14-16 ounces. The official weight for tournaments and other competitive events is 16 ounces. The bean bags are usually filled with plastic resin pellets, feed corn, or whole beans. They are 6 inches across.
According to regulations, the cornhole boards are usually 48 inches or 4 feet long by 24 inches or 2 feet wide; they are made from wood or plastic. The hole is 6 inches in diameter. The cornhole board is 4 to 12 inches above the ground. The playing surface is 2 x 3.5 feet.
For tournaments, some cornhole boards are 2.5 feet wide by 5 feet long and 2.25 x 4.5 feet for the playing surface. The hole's diameter is 8 inches and is 9 inches from the board's top and 12 inches from both sides.
In the cornhole game, you will stand 15 – 30 feet away from the board. Hold the bean bag in your dominant hand. You grip it with four fingers at the bottom and one finger underneath the beag for support. Swing your dominant arm forward in an underhand motion and let go of the bean bag, all while your arm is parallel to the ground. Of course, you should aim for the hole.
How Do You Make Cornhole Boards?
For a cornhole board, you need two 48″x24″ boards of ½ inch plywood, four 2.5″ lag screws, two 2x4s cut into 24″, sandpaper, drill and bit set, paint, and wood glue. Drill pilot holes in the plywood board's each corner. Use the lag screws and wood glue to secure the 2x4s to the plywood. Then, you can sand and paint your cornhole board however you want.
You can keep the cornhole board's design when you buy them. But you can also decorate your cornhole board according to your preference. There are so many designs for cornhole boards out there, and they can be your next DIY project.
Final Thoughts
Cornhole is a game for the entire family; parents, grandparents, cousins, and children can participate in this fun family activity. Any party will instantly be more fun with a game of cornhole; barbecue, birthday, tailgating, or graduation are all perfect for cornhole. Your friends and family members are already, so why bust out the cornhole boards and bean bags. See if your team gets to 21 points first. Playing a game is even better with family and friends.
The best thing about this game is that you can customize the cornhole boards. There is a wide range of board designs out there, and hopefully, this list of 21 cornhole board designs will help narrow the choice down. Write in the comments below which fun design you picked for your cornhole boards, do your bean bags match the board design, how did you decide on which design, and other important things everybody should know when picking designs for cornhole boards.