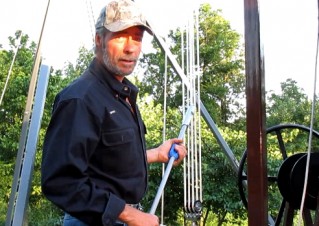 Well WaterBoy Products, LLC designs and builds innovative human-powered machines and equipment for self-reliance. Our unique products include a high-volume shallow and deep-well hand pump, the Pedal-Powered PTO™, WaterBoy Windlass Hoist and the Well Bucket, a new version of old timey well buckets.
A need to pump volumes of fresh water from wells without electricity of any kind, quickly and easily, inspired the shallow and deep well WaterBuck Pump™. Our high performance manual water pump greatly exceeded anyone's expectations, making Well Waterboy Products the new leader in capacity and performance in the water well hand pump sector.
New Record For The WaterBuck Pump
"Considering how important the commodity produced by the WaterBuck Pump is to sustaining life on this planet, you have created a very powerful piece of equipment." — Kresten Jensen, III, general manager of Cook Pump Company
The WaterBuck Pump is so simple and easy to use that a 64-year-old grandmother is also breaking records with this deep well hand pump. Click here to see for yourself.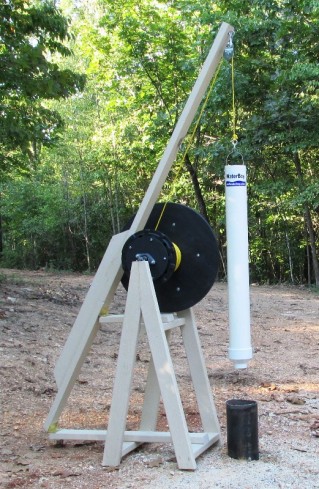 We encourage everyone with a drilled well to have a WaterBoy Windlass Hoist and Well Bucket on hand for emergencies, even if they have solar power, wind generators or other alternative energy systems for retrieving water. Storms or other disasters can temporarily or permanently disable those systems, but a well bucket is always ready to go.
With our quality made-in-Missouri products, you get peace of mind, supplying your family with fresh water for drinking, bathing, laundering, watering and survival.  You need no sun or wind power, just human power.
When all else fails, the WaterBoy is a sure and inexpensive way to retrieve water from a drilled well.
Be prepared and have the water you need — when you need it.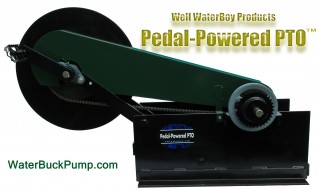 We also designed another machine to simplify chores under human power — the Pedal Powered PTO — for use with grain grinders, generators, alternators, water pumps, air compressors, threshers, grindstones, drills, saws, sanders and so much more.
.
Our products offer a much better quality of life for the self-reliant 
© 2014 Well WaterBoy Products LLC ♦ WaterBuck Pump™ (patent pending)                     ♦ Pedal Powered PTO™