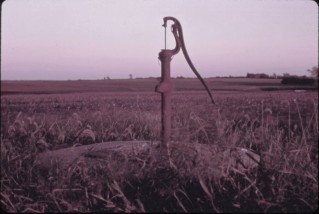 For anyone lucky enough to have a shallow water table without bedrock, a do-it-yourself driven well saves thousands of dollars compared to drilling a bored well. Under ideal conditions, a well can be driven in a few hours and fitted with a pitcher pump, creating an uncomplicated, inexpensive backup or everyday water supply.
Sand point wells (a.k.a. well points or drive point wells) were once widespread, but, like so many other unsophisticated tools, went to the scrap heap once electricity, drilling rigs and volumes of deep water became available. "Mechanics of the Household" of 1918 describes the easy installation and maintenance of sand point wells as if every household should have at least one. Just as many Americans have saddled a horse, used a crosscut saw, canned sauerkraut or sewn with a treadle machine, many do not know about sand points. Yet, we should.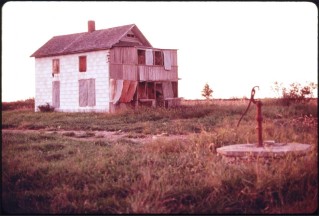 Many professional experts now agree the severity of our extreme weather is increasing, fossil fuels really are irreplaceable, and the cost of energy will only go up. For a few hundred dollars, a hand pump and driven well could be a lifesaver, and not only for rural folks. Installing a sand point may be less complicated than you think.
I have to admit that even though getting water off-grid is our business, I was unfamiliar with sand points until Darren brought one home. Now I wonder why such a handy device was overlooked by so many of us. A sand point makes it possible to drive a well for use with a pitcher pump. Although, the yield is relatively low (about 3 GPM), homeowners can have emergency water for the house, livestock and gardens without the expense of drilling a new well. If ordinances permit, you may even be able to install one in town.
Find your water table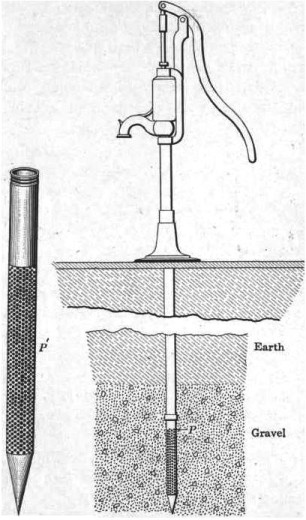 Sand points are used in coarse sand or gravel. In clay, earth augers function best. Where stone or hard formations exist, or water is very deep, wells are drilled. The water table, or upper level of saturated soil, fluctuates seasonally. In wet periods the water table may be above the surface. In drought, the water table may sink below the well bottom, "going dry."
To learn about your water table, contact your county's water district or state's natural resources department. Well drillers and neighbors with sand points can tell you about their well depths and yields. Online, check with Water Systems Council or U. S. Geological Survey. You may also need a permit.
How to install a sand point well
Through the years, Mother Earth News published several good articles about sand points, including "How to Dig a Well" in 1970 and "Water Development for Homesteaders," in 1971 by Ken Kerns, who says, "If driving conditions are good, a 4-inch diameter casing can be driven to as deep as 50 feet." Readers Digest "Back to Basics" book of 1981 says depths of 150 feet can be achieved with equipment. Typically, however, driven wells are installed no more than 30 feet deep with a 1 1/4" or 2" pipe with simple tools. Also in Mother Earth, Steve Maxwell writes in 2012 in "Homestead Water Sources and Options" that 50 feet can be reached with perfect hydrogeological conditions.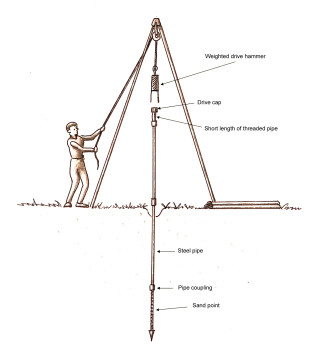 Basically, a driven well is installed by hammering a sand point and pipe directly into the earth to tap groundwater that may be literally right under your feet. The sand point, a perforated pipe of 24 to 60 inches with a heavy steel point (the water intake), is screened to keep out larger dirt particles. The screen, available in various opening sizes depending on soil, must be strong enough to withstand hammering and abrasion. Two good sources for installation information include Merrill Manufacturing and Wisconsin DNR.
Drive pipe, couplings and cap
The drive (rigid) pipe, or well casing, must also be heavy-duty. Threads of ordinary thin-wall pipe and couplings may strip or shear or the pipe may break at the threads. A drive cap protects the threads. It may be helpful to use a short section of rigid pipe and coupling below the drive cap, which is easier to remove than the cap after repeated blows.
Hammering methods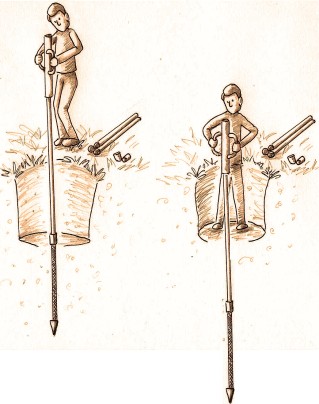 This pipe is hammered into the ground by repeatedly dropping a heavy weight (a driver) onto the pipe generally in one of four ways:  The driver is guided inside the pipe to strike the pipe cap, the driver is guided outside of pipe (as pictured here) to strike the pipe cap, the driver strikes a clamp outside the pipe, or a long, thin driver strikes the sand point base inside the pipe. The last technique eliminates compressive loading on the pipe and makes heavy drive pipe unnecessary. A maul can be used, but besides being grueling, is difficult to drive squarely.
The weight can be driven by hand using a tool resembling a T-post driver, or the weight can be raised and lowered with a tripod and pulley. Or, if dropping a weight inside the pipe, the weight can be lowered with a rope and no tripod. Just be sure to tie off the rope so it is not accidentally dropped down the well (this is from personal experience).
After the first pipe is driven into the ground, the pipe cap is removed and another section of pipe (with threaded coupling and pipe compound) is added. It is easiest to work with 5-foot pipe sections. If using 10-foot pipe and a T-post driver, first dig a 3-foot deep hole to stand in as the pipe is driven down. This hole must later be filled. Another option is to stand on a ladder or platform as sections are added. Again, this can make hammering awkward.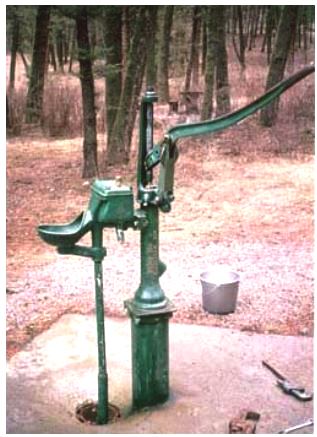 Hitting water
To determine when you have hit water, lower a weighted string down the pipe. You will hear when it hits water. Drive down about 5 more feet to allow for seasonal water level changes. Do not drive down too far or you may push your sand point past the water-bearing formation. Leave enough pipe extending from the ground to be at a comfortable working height with the pump you intend to use, about 2-3 feet. This also helps protect the well from surface contamination. The system also must be flushed to remove dirt.
Next, attach your pitcher pump or suction pump. (Soak the pump leathers by submerging the pump in water a few hours.) Begin pumping. Within a few strokes, you'll have water coming out the spout. As with any new well, the muddiness will disappear in time.
Uses for sand point wells
According to "Self-Help Wells" by the United Nations Food and Agriculture Organization, sand point wells have many uses in developing countries. For instance, while the well diameter is normally small and the yield relatively low, a number of driven wells may be coupled and pumped with a single pump. Because driven wells are quickly constructed, they may be used as a temporary water source and pulled up when no longer needed. Driven well points may be used for dewatering excavation sites. A driven well point may be used to finish a hole that was excavated to the water table by another method such as an auger.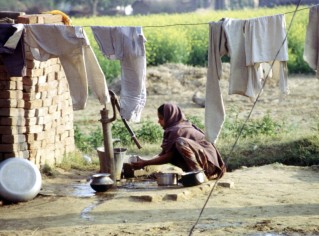 Investing now in something as simple as a sand point well, if at all possible, is wise. After all, you can only store so much water.
Complete sand point and pump kit
Besides individual sand points available now, we also offer a do-it-yourself sand point and pitcher pump kit with instructions for driving your own well. You will need to purchase 1 1/4″ galvanized pipe locally, which generally costs about $3 a foot.
©2014-2015 Well WaterBoy Products LLC ♦ WaterBuck Pump™ ♦ Pedal Powered PTO™