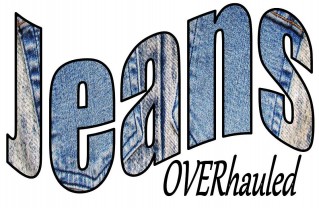 Around here, we believe in doing our part for the planet by recycling, up-cycling and re-purposing. Working by daylight on an antique treadle sewing machine, we're turning gently used jeans into tough, practical products for your home. All of our Jeans OVERhauled™ and Pocket Preps™ items are unique, machine washable, and — like all Well WaterBoy Products — are made right here in Missouri to last for many years of everyday use.  Pre-washed and line-dried. Available in recycled khaki, pastel denim, wild colors or traditional indigo.  We also love special orders. Our most popular items are now on sale for the holidays!
Granny's Clothespin Bag —

On Sale for the Holidays!

 
Stays open for easy access to clothespins. Sturdy wire holder slides along easily as you work. Tough denim exterior, reinforced along top with extra layer of denim and belt loops, lined with country calico or gingham fabric and padded with jersey (3 layers of fabric and a 4th layer around the opening!). Handy front pocket to hold your cellphone, iPad, stray buttons or super-fast access to several clothespins.  Holds more than 200 clothespins. Bag is 13"H by 6" in diameter.
Now $15

.
Save $4 each until Dec. 10.
New Southwestern print fabric —
 Same heavy-duty construction, large front pocket and tabs to ensure your Granny's Clothespin Bag lasts many years.
Old-Time Patchwork Potholders — 

On Sale for the Holidays!
Dress up your kitchen country-style with these rugged, pretty potholders in a variety of patchwork designs including log cabin and nine-patch. Heavy denim back, vintage cotton front and thick cotton padding. Also suitable as hot pads to protect your tabletop from hot pans. Matching set. Approx. 9″ squares.
Now in warm fall and old-time Christmas colors. On sale until Dec. 10.  $5 for a set of two.  Save $2.
Colorful Patchwork Place Mats on sale for the holidays!  Our new fall collection will warm your table a delightful mix of fall colors on sale until Dec. 10 — just $14 for a set of two. Save $4. Have a color preference?  Please let us know.
Pocket Meal Prep
 — Ideal placemat for the bug-out bag, camping, glamping or with the lunchbox. Keeps picnic utensils clean and handy. Rolls up to about 2″ in diameter (depending on your silverware size). Made of heavy-duty denim, lined with colorful plaid and lined with cotton for years of rugged use. Two pockets to hold silverware and condiments, plus a loop to hold a 11″ square napkin (included). 12"H by 17"W. Pocket Meal Preps with utensils include one each: napkin, fork, spoon and knife.
Super-Tuff Firewood Carrier — No more bending over to drop a load of firewood next to the stove. This double-layer denim carrier can handle all the wood you can carry — and then some. Keeps bark chips and dirt from scattering. Simply shake off the empty carrier outdoors. You'll wonder how you ever got by without one. Mat size 19"W by 41"L.
Triple-Pocket Apron — 
If you hang clothes on a line, pick tomatoes, fix fence, gather walnuts or prune lilacs, this apron is for you.  It's like a third hand that can hold a multitude of tools, clothespins, or harvested fruit.  Large front pouch, 2 functional pockets and tool tab. 18"H by 13"W with 80" straps.
Hot Mini-Mitts — On Sale for the Holidays! Handy, cute miniature oven mitts to hang by the stove. Slip quickly, one-handed over a hot skillet handle. Thick denim exterior, vintage cotton lining and thick padding. Matching set. 6"L by 3"W. Save $2 per set until Dec. 10.
Love Your Jeans Placemats — Perfect for holidays, romantic dinners or everyday dining.  These one-of-a-kind, triple-layer placemats are machine-washable and get prettier in time.  Available in a variety of colors and styles. 18″L by 13″H.
Please see our gallery of more treadle-sewn items.
 

Please contact us at products@waterbuckpump.com for multiple orders or to specify color or style.  Most orders ship within one business day after payment is received.  Special orders usually ready to ship within one week.
© 2013-2014 Well WaterBoy Products LLC ♦ WaterBuck Pump™ ♦ Pedal Powered PTO™