Washing laundry off-grid is much easier when you have the right equipment.  We are pleased to sell these sturdy wash stands made right here in Missouri, along with quality-made, hand-crank clothes wringers, galvanized steel wash tubs, plunger tool and washboard.  You'll be amazed at how enjoyable it is to do your laundry with this complete set of tools.  Even if you are on the grid or have an off-grid solar or wind-powered system, washing laundry by hand saves water and expense.  If you use rainwater, you will especially love how fresh and clean your laundry is when you take it from the clothesline.  Plus, you'll save even more money and help to preserve another precious resource — water!
The Complete Kit includes everything you need to get your laundry clean (except soap and water!) or the hand-crank wringer can be purchased by itself.
Washing Tools
To wash clothes by hand, they must either be agitated or rubbed to remove dirt. We have the tools you will need for either method.
Agitating clothes is easy and fast with the Plunger Washer Tool. It pushes water through the fabric on the downward stroke and then pulls water up on the upward stroke to dislodge the dirt with its patented vacuum design. The Plunger Tool provides better agitation than top-load washers and the same as most front-loading machines.
A washboard lets you rub the laundry over a surface designed to remove even the worst dirt and grime. The special washboard has a textured glass surface instead of the old-fashioned corrugated metal surface. The glass surface is less abrasive to your fabric, and will never rust. A washboard can be used by rubbing bar soap onto the surface before scrubbing the dirty laundry over it, or by pre-soaking the clothes in water and detergent, and then rubbing the fabric over the washboard.
$539 Complete Off-Grid Laundry Kit — Our prices include free FedEx shipping* in the continental U.S.!
Includes:
• 1 Steel Wringer Stand (Custom built in Missouri)
• 1 Hand Wringer with 12″ rubber rollers
• 2 Square 15-Gallon Heavy Plastic Washtubs
• 1 Plunger Tool — 8″ Diameter, 30″ Tall
• 1 Glass Washboard
*Call for shipping to Alaska or Hawaii
Hand-Crank Wringer
The hand-crank wringer simplifies things even more.  Just feed the laundry into the wringer and turn the crank.  If you've ever tried to twist the water from sopping-wet towels, blankets or jeans, you will appreciate how easy it is to use this wringer and how much water is expelled.
This is the ONLY manual laundry wringer still made in the USA. Others, used for wringing chamois towels at car washes, are not really made for heavy clothes like jeans. Nor do they have the tiltable drip tray that lets you direct the water back to the washtub.
These wringers are made of rustproof plated steel with an adjustable pressure control knob on top. The 12″ long rollers have a white rubber coating to protect buttons and zippers, and are replaceable (if you ever manage to wear them out). Classic maple bearings never need oil. Two clamps hold the unit securely to the washtub stand or your sink.
$182 USA-Made Laundry Wringer — Our prices include free FedEx shipping* in the continental U.S.!
*Call for shipping to Alaska or Hawaii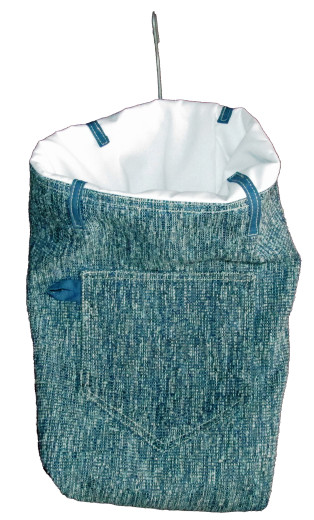 Granny's Clothespin Bags — Now ship free in U.S.  Our heavy-duty Granny's Clothespin Bags stay open for easy access to clothespins — a real plus on those windy days when you just don't have enough hands! The sturdy wire holder slides along easily as you hang out your clothes to dry on the line. Tough denim exterior, reinforced along top with extra layer of denim and belt loops, lined with country calico or gingham fabric and padded with jersey (3 layers of fabric and a 4th layer around the opening!). On laundry day, the handy front pocket can hold your cellphone, iPad, stray buttons or coins.  Our clothespin bags are pre-washed and line-dried, and like all of our products, are made to last for generations.
Available in recycled material and new heavy-duty fabrics with the same sturdy construction.  We also love special orders. Just tell us what colors and patterns you like, and we'll design a clothespin bag just for you.  Holds more than 200 large wooden or plastic clothespins. The cloth bag is 17" tall by 6" in diameter.