$14.95 – Solar Buck Plans
Mailed to your door at no charge. Order your Solar Buck plans today.
We now offer easy-to-follow plans for you to build your own Solar Buck —  our handy, portable, adjustable and compact solar generator cart.
Our comprehensive book with photos, drawings, measurements and parts list is ready to ship.
Only basic building skills and tools required.
There is no need to cut down any trees to have solar power. Simply move the cart to a sunny spot and adjust for every season. Plus, the cart and panels are easily moved into various positions to absorb the sun's rays from morning to evening.
Our Solar Buck generator includes a 12-volt, 160-watt system with shunt, amp and volt meter, 30-amp voltage regulator, PV disconnect switch, 12-volt fuse block, headlight with switch and a battery disconnect for an inverter..
The Solar Buck is designed with a cabinet with two separate compartments, one for two 6-volt golf cart batteries and the other for controls, gadgets and inverter and more. It can quickly be maneuvered inside a garage or porch ahead of snow, ice or wind storms. At the end of the day, roll the Solar Buck into the porch and plug it in for use in the evenings. The unit can be plugged into a 12-volt main or a 120-volt main.
Read about our solar cart in Mother Earth News.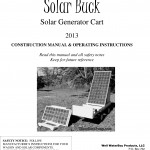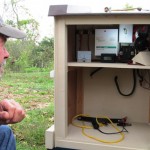 Highlights
Easy to follow with photos and drawings. Only basic skills needed.
A complete step-by-step plan 
Parts list
Technical Tips
Easily moved to follow the sun daily and the seasons. Quickly moved inside before storms.
No need to cut down any trees
Design can be modified to accommodate additional solar panels
Generate electricity for lights, radios, electronics and tools. Add an inverter to power 110-volt devices.
Includes basic wiring diagrams for power supply options
Build in one weekend
Sturdy and attractive
Remove unit from the cart to load into a truck to take to the campsite, deer camp or building site.
Materials readily available at home improvement stores or the scrap lumber pile. Solar gadgets readily available online or at alternative energy stores.
See our Blog… Something New Under the Sun and a video demonstration here.