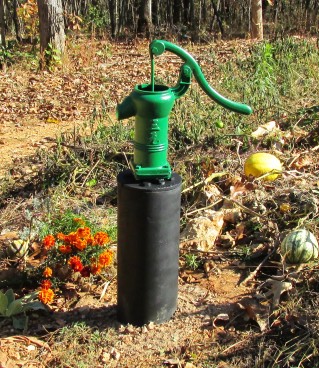 Today, a water well hand pump can be as useful as it was before electric pumps were invented, especially when the power grid fails.  Water can be pumped to the surface under human power for cooking, cleaning, bathing, drinking and gardening.  The cost of manual water pumps depends on how much water is desired and how far the static water level is from the surface.
The price of a basic hand pump system for rural homeowners with a well that has a static water level of 25' or less is relatively inexpensive if a lot of water is not needed.  A simple pitcher pump system can provide water needs for a small garden or for the family during short-term power failures. A simple DIY installation can cost as little as $150 including parts. A pitcher pump with 30' of 1 1/4" PVC drop pipe, 3 couplings (mounted on an existing well cap) is all that is needed. In most cases, the hand pump can be used with an existing electric pump system.  It is best to install a good quality, heavy-duty pitcher pump for long life and durability.  A pitcher pump can also be used on a driven sand point well.
If your water needs are much greater and you don't want to spend all day pumping, then you might consider a WaterBuck Pump system. This unique human-powered water well machine used with shallow wells can easily provide enormous amounts of water for fires, large communities, farms, ranches, emergency shelters and off-grid sustainability.
Be prepared and have the water you need when you need it.