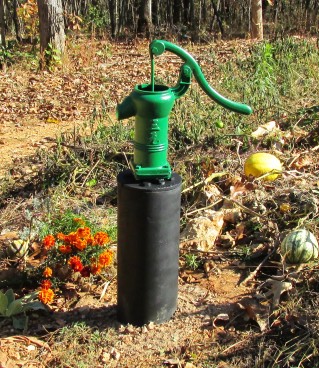 $ 98 – Heavy Duty Pitcher Pump
Includes *free UPS Ground shipping.
• Heavy-duty cast iron pump with one year warranty
• Easy maintenance
• Shallow well application – Maximum lift 25 feet
• Beautifully constructed and is both functional and decorative
• Great for a 1-1/4″ sand point well.
Open spout, base tapped for 1-1/4″ FIP, 3″ cylinder, 3″ x 13/16″ valve leather, 17-1/2″ tall and weighs 16.4 pounds
*Free shipping only within contiguous United States. Please contact us if shipping to Alaska, Hawaii or Internationally or to upgrade shipping class.
Installation Instructions for Drive Well Points.  Also please see this informative document by Wisconsin Department Of Natural Resources to learn more about installing and using sand point wells.