Sometimes a big, old snowstorm can really get the creative juices flowing. Last weekend was like that here.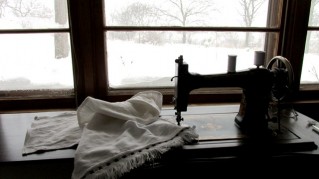 We already had a mass of good oak firewood on the porch when the sleet started coming down Friday afternoon. By Saturday morning, the roads were blocked with a foot of snow, so even if we wanted to go anywhere, which we didn't, we couldn't.
With outside temperatures in the teens, it was perfect weather for putting a few hundred miles on my antique White rotary treadle sewing machine. I was sewing up a storm, first restocking dishtowels and washcloths by cutting up an old blanket. Next, I finished a quilt and made placemats and potholders with the extra fabric squares.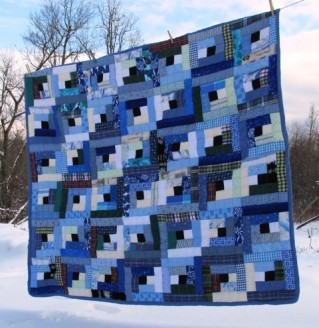 Then it was time for new ideas for my Jeans OVERhauled business. We call our new merchandise line "Pocket Preps," concentrating on practical, durable products for everyday use. Just like my other products, we use 100-percent cotton recycled fabric whenever possible.
The first Pocket Prep item, which, incidentally, Darren sketched for me, is a denim placemat with pockets and a napkin that rolls into a compact bundle, keeping silverware clean and organized. No more will we discover, 100 miles from home, that we've forgotten our salad forks or soup spoons. We call this handy accessory our Pocket Meal Prep. It is ideal for the bug-out bag, camping, glamping and with your lunchbox.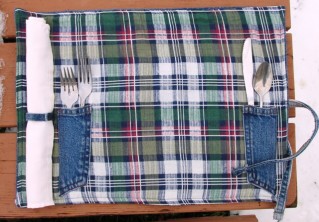 The Pocket Meal Prep mat exterior is made of upcycled jeans, lined with colorful plaid fabric and padded with 100-percent cotton jersey material.
I also make the napkins of cotton so they actually absorb moisture, unlike polyester napkins that look pretty, but are basically useless.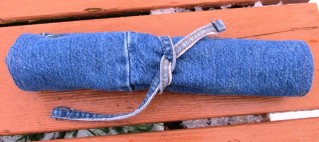 When you're on the go or camping, simply untie the mat, spread it on your lap, table or the ground, and you're ready to be served. The pockets hold silverware, toothpicks and even small condiment packets so they are always at hand. One mat (with the silverware and napkin inside) rolls up to about 12″ by 2″, depending on your utensil sizes .
Like all of my Jeans OVERhauled products, I double- and triple-stitch seams wherever stress may be applied. I guarantee my products, including my Super-Tuff firewood carriers, to hold up to the everyday rigors of life. Everything is machine washable.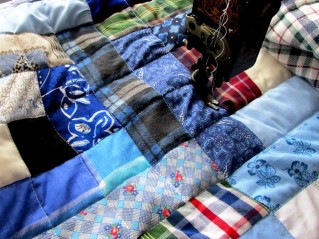 As snow continued to pile up outside, I also spent many hour restocking my other products for the homestead and garden – clothespin bags, kitchen and fireplace mitts, aprons and placemats.
You can see photos and learn more about our products here. I also love special orders. Perhaps you have an old shirt you'ld like to see in a quilt — or how about lining a Pocket Meal Prep? Send it to me. I can give it new life as a useful item for your home.
What do people without a treadle sewing machine do when it's snowing outside? I shudder to think of it.
© 2013 Well WaterBoy Products LLC ♦ WaterBuck Pump™ ♦ Pedal Powered PTO™ ♦ Pocket Preps™