A pitcher pump used with a sand point (also known as drive well points) can provide water without electricity from a shallow well of 25' or less with a yield up to 3 GPM.  It's a good quality, yet inexpensive, alternative for getting water for the family during a short-term emergency. Installing a sand point well with a pitcher pump is easier than you might think. Please see Installation Instructions for Drive Well Points.  Also please see this informative document by Wisconsin Department Of Natural Resources to learn more about installing and using sand point wells.
Quality products by Merrill Manufacturing™ of Storm Lake, Iowa.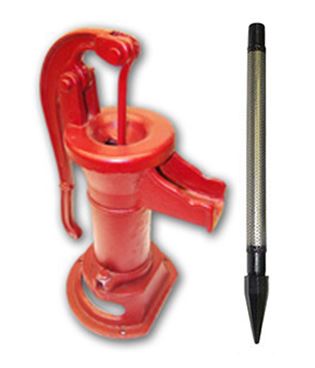 All pump kits included *free UPS ground shipping. OUT OF STOCK UNTIL END OF NOVEMBER
$228– wpepsc name='1 1/4 inch Sand Point Pump Kit with 80 Gauze' price='228′]
Kit includes 1 1/4″ x 24″ sand point with stainless steel jacket and 80 gauze for medium sand, heavy duty pitcher pump, 6 – 1 1/4″ drive couplings and 1 – 1 1/4″ drive cap for a 30′ water well. Six lengths of 1 1/4″x 5′ galvanized pipe are purchased locally. Drive sand points can be driven into all types of soil.
• Cast iron pump with one year warranty
• Cap adjustable for wide range of handle positions
• Shallow well application – Maximum lift 25 feet
• Great for a 1-1/4″ sand point well
Beautifully constructed and is both functional and decorative. Open spout, base tapped for 1-1/4″ female internal pipe threads, 3″ cylinder, 3″ x 13/16″ valve leather, 17 1/2″ tall and weighs 16.4 lbs.
Sand Point
NOTE: Approximate water yield is 3 gallons per minute/per square inch of screen area.
Can be driven into all types of soil
For areas where the water table is shallow. Not intended for installation in areas of large or solid rock.
Stainless steel jacket over stainless steel gauze, welded to a perforated steel pipe
Individually bagged
Comes with No. 80 (for medium sand) gauze
No lead

 Includes – 6 Extra-heavy Drive Couplings for 6 lengths of 1/1/4″ pipe
Extra heavy duty drive couplings designed for driving sand points.

 Includes – 1-1/1/4″ Drive Cap – Malleable alloy for high strength needed to drive well points.  Inside space of cap prevents damage to pipe threads. Small vent hole in top of cap for air flow during driving. Only one is needed.
*Free shipping only within contiguous United States. Please contact us if shipping to Alaska, Hawaii or Internationally or to upgrade shipping class.