Darren and Reba are having an exciting time at the Topeka Mother Earth News Fair weekend, which goes on until 5 p.m. today, by the way. Stop by if you're in the neighborhood, or Kansas, or the Midwest. The Fair is being held at the Kansas Expocentre in downtown Topeka.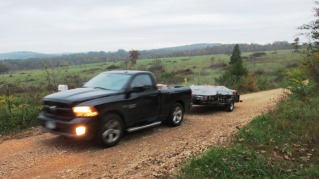 They rolled out of here at 7:30 Friday morning with a packed truck and trailer, ready for our first Mother Earth News Fair. It was a beautiful day for a drive to Kansas.
Reba sent these photos of our Well WaterBoy Products booth before the crowds were let in the door. Our booth, No. 3005, is at the main entrance and will be hard to miss. We even included a pressure tank and one of our WaterBuck Pump cylinders in the display.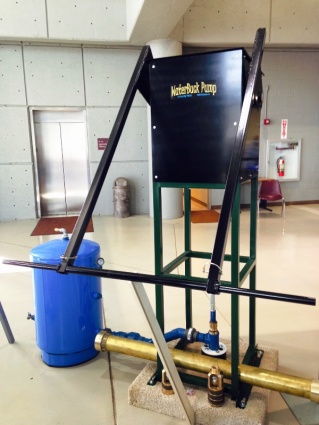 Darren spent all day yesterday talking about the WaterBuck Pump and Pedal-Powered PTO while Reba used the Windlass Hoist and our Tripod to show how to use WaterBoy Well Buckets.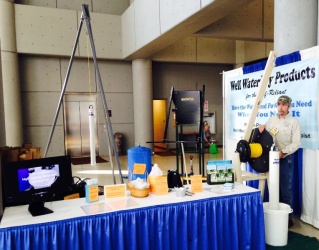 Meanwhile, I am here taking care of animals. The weather is perfect for clearing out the end-of-the-season garden growth to make room for more spinach and lettuce. I got some help and companionship from this cute little kid, Cream.
©2014 Well WaterBoy Products LLC ♦ WaterBuck Pump™ ♦ Pedal Powered PTO™