A water supply system to sustain a family is not going to be inexpensive.  Any electric system (drilling a well, installing an electric pump and pressure tank, running lines, etc.) can cost $6K – $20K depending on application.  These systems, made to allow people to live in the country with a water well, are designed to provide the gallons needed daily for sustainability.
Because the water isn't metered, the pump's labor is often taken for granted. Many people do not place as much importance on water as they should, until the power goes off.
One can buy a deep well hand pump for as little as $500 or a commercial hand pump for as much as $4,500, but will not be getting any more water for the money. These traditional fulcrum and lever hand pumps are not adequate to sustain a family as an electric water supply system can.
The good news is the WaterBuck Pump with it's unique mechanics is sufficient to supply a family with more than enough water for living off grid or when the power goes off.    As with any other water supply system, it is not inexpensive. It is a powerful human-powered, deep-well, water-pumping machine designed and built to meet the demand. Video Demonstration.
Speaking of Dollars Per Gallon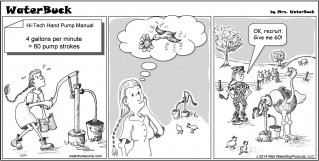 The average cost for a decent noncommercial grade deep well hand pump is about $1,900. The manufacturer claims a maximum of 3-5 gallons per minute for 60 cycles of the handle.
For a 3 gpm deep-well pump with 60 cycles, that's $633 spent for 1 gallon of water.
For a 5 gpm deep-well pump with 60 cycles, that's $380 spent for 1 gallon of water.
At current application (static 80′) the average cost for the heavy-duty commercial grade WaterBuck Pump is $6,695. The maximum gpm is not yet known, but fit young man pumps 22 gallons in one minute with with 20 cycles. A shallow well with a of 20′ static can yield up to 55 gpm.
For a 22 gpm industrial grade deep-well pump with only 25 cycles, that's $304 spent for 1 gallon of water.
A common commercial grade hand pump can range from $3,800 to $4,500 with a maximum of 3-5 gpm.  However, you will not be getting any more water for the money.
A solar pump system that provides pressure for indoor plumbing:   1 solar pump, 1 booster pump, solar panels, charge controller, batteries, battery enclosure, plumbing, wiring, controls, hardware, accessories and pressure tank $8,000 to $10,000, plus installation.
So, in reality, the WaterBuck Pump does not cost any more per gallon than the traditional deep well hand pumps or solar pumps systems. You get a great deal more for your money.  You get a great asset – an easy-to-use, industrial grade water supply system you and your family will be glad to own.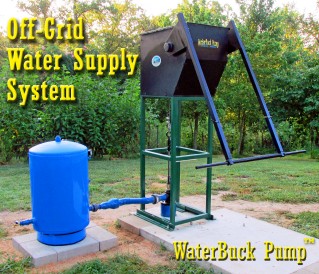 As with any quality-made necessity, the WaterBuck Pump has dependable precision machined American parts specially made to withstand the force of the mechanical advantage and last a long time.
The high-quality windmill cylinder and stuffing box (also American-made) and sucker rod also increase the price.  But, the combination of the pump head with the windmill pump system creates an effective deep-well pumping machine with enormous mechanical advantage that will last for decades with simple maintenance.
The WaterBuck cost less than a complete 10′ windmill system, yet has a greater ability in lift and capacity per minute than a 12′ windmill and has the ability to pressurize a water system for indoor plumbing.
With the WaterBuck Pump you will have a great asset for what is most important – water.