Last week when our daughters, Reba and  Katie, drove down from Minnesota to spend a week here, the two 20-somethings had a huge surprise in mind for us. Perhaps you've already seen it.
Among six days of bonfires, dominoes, Tough Mudder training (an extreme obstacle course event to raise money for the Wounded Warrior project), canoeing and watching "Forrest Gump" for the 100th time, the girls made us a WaterBuck Pump demo video.
With chigger bites, poison ivy and sunburn, the girls spent most of a day working on their film project. First, Katie gathered facts online about worldwide water issues, of which there are many. They whittled the data to a manageable list, printed a script and disappeared to the front yard.
While I was hanging clothes on the line, I spotted Reba and Katie up on the hill, rehearsing on lawn chairs in the shade of some big oak trees. The girls went over and over their lines until they were sure they knew them perfectly, and then summoned me with the camera.
Unfortunately, I am not as adept behind the camera as Reba and Katie are in front of it. As I fumbled with leveling the tripod, focusing the camera and pushing the "record" button at the appropriate times, the girls were sweet and patient – even when one of those tiny bees flew up Katie's dress and stung both her legs. Reba shrieked, Katie screamed and Darren came running, apologizing for the bugs.
Reba scolded me a couple times for "crinkling papers" while they were filming, but no one paid any heed to my incessant gnat-swatting. Sadly, my ponytail-swinging, arm-waving shadow was clearly recorded on a third of the film. Oops. Yet, with a fly perched on her nose, Reba professionally recited, "If you have a power source, you can just flip a switch or turn on a faucet to get water…"
An equally fun part of the video for us was watching the girls (with the aforementioned ailments) use the WaterBuck to fill a 55-gallon barrel, which they did in 5 minutes, 40 seconds. Actually, they would have filled it in something short of 5 minutes, but we had to start over when our dog, now called Poo Bear, wandered into view.
So, we emptied the 40 gallons of water they'd pumped and started again. The girls effortlessly filled the barrel and then cheered, "And that's how it's done!" Darren says he will never forget the sound of those voices.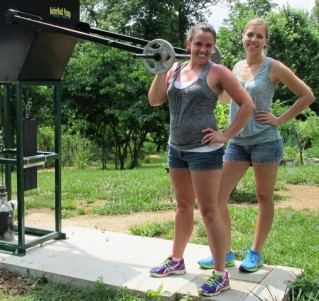 The day before filming, Reba, Katie and I spent the day canoeing and kayaking the beautiful Eleven Point River. We took turns between the one kayak and canoe, switching after every hour or so. This created a better Tough Mudder workout for the girls as they paddled down – and up – the river. I just wanted to stay upright.
As we neared the end of the first hour with Reba in the kayak, I was telling Katie a hilarious story about Reba scaring me silly when she was 3 by hiding a rubber snake in my bed:
"Sometime during the night, I slid my arms under my pillow and touched the snake. Half asleep and without my eyeglasses, I slowly lifted the pillow and backed away from the snake. On the waterbed (hey, it was the early 90s), the snake wriggled with my every movement. Kneeling in the center of the bed, I squinted and inched closer to see what sort of snake had invaded and disrupted my sleep, but whenever I leaned forward, the snake wiggled even more wildly.
"I suppose this went on for 20 minutes before I realized I'd been duped by a prankster. The next morning at breakfast, I interrogated Reba's two older brothers about why they would want to scare their poor, old mama half to death. Bewildered and nearly crying, the boys insisted they didn't do it. I said their darling little sister wouldn't do that. Across the table, Reba just smiled."
To illustrate the story, I set down my oar to use both arms to indicate to Katie how big and realistic that dangerous rubber snake was. Laughing, we didn't notice the car-sized tree trunk straight ahead waiting to topple our canoe. By the time we saw the stump, it was too late.
Katie tumbled in first, followed by me snagging our cooler and the lifejacket I'd been sitting on. As a precaution earlier, I'd tied down our shoes, clothes and extra lifejacket. Still, two granola bars, Katie's sunglasses and four flip-flops escaped. Next, Reba's kayak smashed into the whole mess.
All morning, we had seen no one else on the river. But, right there on the riverbank, witnessing the entire embarrassing crash was my neighbor with his family and friends enjoying a quiet day of fishing. The men quickly rescued the girls, both vessels and all our possessions from the river.
Meanwhile, I tried desperately to swim upriver to everyone, but the cooler of grapes and apples was too buoyant. I feared I would end up in the next county before stopping, so I kept on kicking harder and harder – until Reba walked toward me and said, "Stand up, Ma."
Why is it that such humiliations only happen before an audience?
Except for our pile-up, the trip was scenic, relaxing and amusing. We even retrieved those two granola bars downriver. For miles of lazy waterway, the two songbirds entertained me with delightful renditions of tunes by Patsy Cline, Taylor Swift and Shania Twain. Unfortunately, I have no photos as I forgot my camera (double-bagged, even) in the car. Still, I suspect the retelling of our collision will occur often and will start with, "Did I ever tell you about the snake?"
Our week with Reba and Katie blew by much too quickly. We were pleased to see they both are as obsessive about healthy eating as we are. They even brought along some chia seeds for us to try. Katie took pictures of my garden to share with her friends and commented how she will miss our food. Wow, that is really something, since we ate mostly salad, rice and raw oatmeal.
Whenever we get to missing the girls, we watch their video again, and remember the canoe crash, chigger bites, bee sting, tick bites, Poo Bear, poison ivy, sunburn and Tough Mudder training.
Stay tuned for a followup as Reba and Katie will participate in the Tough Mudder c
ompetition July 21 in Wisconsin.