Patchwork Place Mats – Treadle-sewn and quilted of recycled fabric. 12″ x 18″. Our new fall collection will warm your table with a delightful mix of fall colors. Have a color preference?  Please let us know.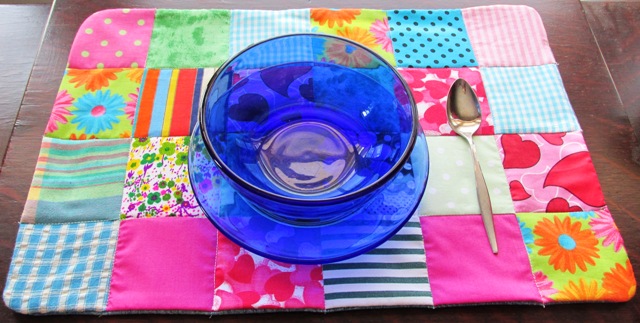 Quilted Patchwork Place Mats (set of two) — $16 with free shipping 2 Quilted Patchwork Place Mats
Pocket Prep Place Mat — Ideal place mat for the bug-out bag, camping, glamping or with the lunchbox. Keeps picnic utensils clean and handy. Rolls up to about 2″ in diameter (depending on your silverware size). Made of heavy-duty denim, lined with colorful print fabric and lined with thick jersey for years of rugged use. Two pockets to hold silverware and condiments, plus a loop to hold a 11″ square napkin (included). 12"H by 17"W. Pocket Meal Preps with utensils include one each: napkin, fork, spoon and knife. $16 each (with free shipping) or $18 each (with free shipping) with utensils.