If, in general, you want to go off-grid to reduce your carbon footprint and electric bill, and don't want to pump your water by hand or can't, then a solar pump system is your best option.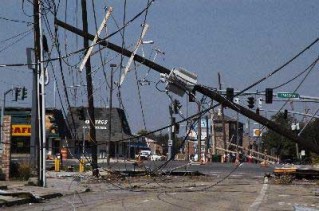 However, if you're going off-grid to be prepared because of the uncertain days we live in (catastrophic storms from climate change, economic collapse, blast from an EMP weapon, etc.), then a solar pump may not be your best option because it could be rendered useless. If you already have a solar pump system in place, you should consider investing in a high-volume hand pump, especially if your only fresh water source is a well.
Here is what Fox News warns about EMP blasts:
"An electro-magnetic pulse attack could destroy America's defenses, leaving the U.S. in a technology world equivalent to the 1800s. We wouldn't even be able to figure out who attacked us……….EMP blasts are a real threat: A nuclear detonation high in the atmosphere above the U.S. could create a pulse across all of North America…."
Even economic collapse could be devastating for people with private wells who are not off the grid. If homeowners can't pay their electric bills, the power company will not care about its customers water needs ― more the reason to invest in a high-volume non-electric water supply system.
WaterBuck Pump vs. Modern Hand Pumps
Many types of hand pumps have been introduced through the years to accommodate the variety of situations and applications encountered when bringing water to the surface. Until now, however, the discharge capacity has been low. If you have ever used a hand pump, you know it can be quite challenging. You can spend a lot of time and effort for so little water. These types of hand pumps are not adequate for household use, but good for emergencies.
A need to pump volumes of fresh water from wells without electricity of any kind, quickly and easily, inspired the invention of the shallow- and deep-well WaterBuck Pump™.
The WaterBuck Pump (aptly named for a water-loving African antelope) has the ability, power and capacity of electric water pumps, yielding as much as 188 gallons in one minute – and pressurizing a tank for indoor plumbing and fire extinguishing. No other hand water pump has this capability.
The WaterBuck Pump is a better option than solar pumps and modern hand pumps for SHTF situations.
The WaterBuck Pump operates the same windmill pump cylinders successfully used by the windmill industry with cylinders sizes from 1 3/8" to 8" – with up to 3.48 gallons per stroke. For deeper well applications, it can also be equipped with two pump levers and twin cylinders that are designed for the ability of two operators per cylinder, yielding four times the capacity of one operator at any depth within the limits of the WaterBuck. We anticipate reaching static depths of more than 700'. Weight: 425 to 700 pounds.
Our products offer a much better quality of life for the self-reliant
© 2014-2015 Well WaterBoy Products LLC ♦ WaterBuck Pump™ (patent pending) ♦ Pedal Powered PTO™