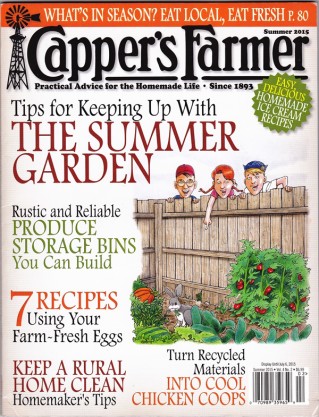 Well WaterBoy Products and the WaterBuck Pump are in the Summer 2015 issue of Capper's Farmer magazine that hit newsstands today.
It's an honor to be featured in a publication that for more than 100 years has been giving practical advice for the homestead life. Besides the DIY plans for garden produce bins and chicken coops made of salvaged materials, this issue has some great articles about livestock, gardening and cooking. We already tried out the recipe for tomato and avocado egg salad on Page 14. Yum.
We're included in a 3-page spread beginning on Page 46 which explains how hand pumps work and why more people are interested in having one on their homesteads. Because there are many types of hand pumps on the market today, and most homesteads haven't had a functional hand pump since the 1950s, this article explains what people should know before purchasing one.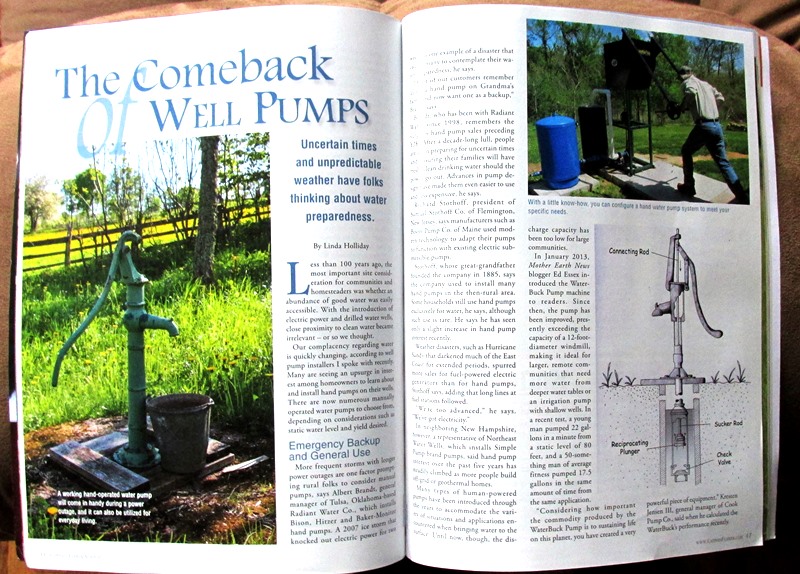 According to the publication's site, "Capper's Farmer is a quarterly magazine distributed throughout the United States and Canada that celebrates the rural lifestyle, with a particular emphasis on the domestic aspects of country living. We cover wholesome, from-scratch cooking; rustic crafting, including sewing and other fabric work, scrapbooking, woodworking, and more; gardening and preserving; nostalgia; and other homestead pursuits popular in rural life. Our constituents are women and men who enjoy doing things the old-fashioned way, whether that's leatherwork, woodwork or milking the goats and later making farm-fresh butter and cheese."
That is exactly what Well WaterBoy Products is all about.
Capper's Farmer is available at retail stores, online and has a terrific Facebook page.
Our products offer a much better quality of life for the self-reliant
© 2014-2015 Well WaterBoy Products LLC ♦ WaterBuck Pump™ (patent pending) ♦ Pedal Powered PTO™