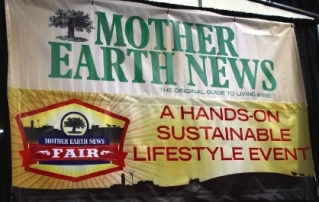 We are excited to announce that, for the first time ever, we will be exhibiting Well WaterBoy Products at a Mother Earth News Fair.  If you've ever wanted to see a WaterBuck Pump or any of our other products up close, now is your chance. The fair will be at the Kansas Expocentre in Topeka. We invite you to join us there Saturday and Sunday, October 25th and 26th.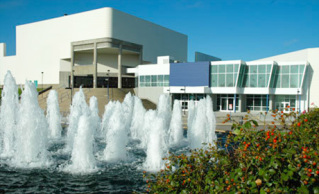 Come say hello at our booth 3005 near the main entrance in the Expo Hall and receive a free packet of our homegrown, organic, heirloom seeds. Also, drop your name in our basket for a chance to win one of three prizes.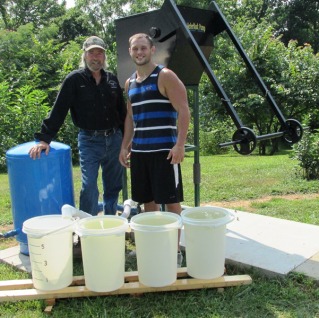 You will be able to see in person many of our top Well WaterBoy Products. Select items will be available for purchase at reduced prices. We are pleased to reveal that a full-scale model of the WaterBuck Pump will be at our booth. The convention center certainly could not allow us to drill a well through the floor, but our replica is just like the real thing – without a gushing water well, of course.
To go along with the mother lode of fascinating programs and exhibits scheduled, we will have ongoing live demonstrations of the WaterBoy Windlass Hoist and Well Buckets throughout the weekend. Fair guests will learn how easy it is to get water from a drilled well without power of any kind (except human muscle). We also will have with us our Pedal-Powered PTO, WaterBoy Tripod Kits, SolarBuck Solar Cart Plans and some of our treadle-sewn products including Granny's Clothespin Bags.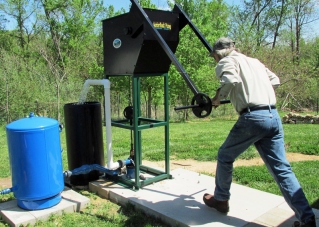 Prices for many of our products will be reduced during the Fair. Stop by early, as we will have limited supplies on hand. If you do not want to tote a 48-inch WaterBoy Well Bucket around the Fair, we will be happy to hold it for you at our booth. Just let us know. Or, pick up one of our handy Mail Order Forms, mention that you saw us at the Fair, and we will honor our event prices. Then head off to hear the numerous speakers on all aspects of sustainable living, and see more hands-on demonstrations outdoors.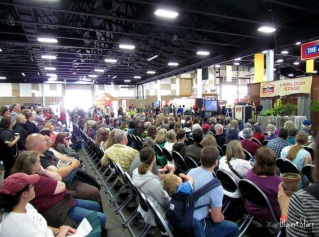 If you have been postponing attending a Mother Earth News Fair, do not miss this one. The list of speakers is too numerous to list here, but is available on the Mother Earth News site. We are thrilled to see that some of our personal favorites are on the list, including organic farmer Joel Salatin, actor/activist Ed Begley, Jr. and organic gardener/real food expert Barbara Pleasant. We have followed their blogs and work for years. Jessi Bloom of Timber Press will give two presentations over the weekend: Easy Peasy Edibles and What the Cluck?! Getting Started on Gardening with Chickens.
Kicking off the weekend, Mother Earth News publisher Bryan Welch, author of Beautiful and Abundant: Building the World We Want, will delve into the power of visualization, offering an engaging and practical method for building a collective vision of human sustainability one person – and one endeavor – at a time.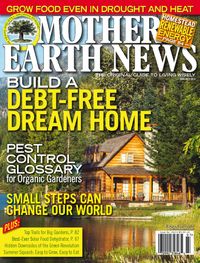 Like most fans of Mother Earth News magazine, we have boxes of back issues dating to the 1980s.  I have been a Mother Earth News blogger since early 2013.  The WaterBuck Pump has even been featured in the June/July 2014 issue of the magazine. So, attending our first fair is exhilarating, to put it mildly. To be among a huge crowd of like-minded, positive, forward-thinking environmentalists is simply something we have never experienced. We hope to see you there.
©2014 Well WaterBoy Products LLC ♦ WaterBuck Pump™ ♦ Pedal Powered PTO™