Stage Boosters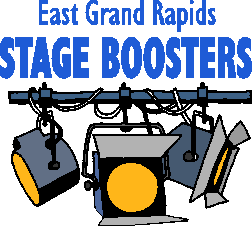 The East Grand Rapids High School Stage Boosters is the parent support group for the High School Drama program. The group meets during the school year at 6:30 p.m. on the 2nd Tuesday of the month in the Cafe Conference room. Everyone is welcome! Stage Booster members receive production information and may purchase tickets in advance of the general public.
To join stage boosters, click here for amembership form.
Click for a copy of theorganization by-laws.
Submit a school required Volunteer Consent form.
The EGR Stage Boosters is Michigan non-profit corporation recognized by the Internal Revenue Service as a 501(c)(3) tax-exempt organization under federal tax law. Donations are fully tax-deductible to the extent allowed by law.