Is it just me, or are there entirely too many T-shirts in the world?
Perhaps I had a few as a youngster, but the first I can truly recall was a white T-shirt with a rubbery photo of a Studebaker on the front. I wore it with stylish orange bell-bottoms embroidered with butterflies. Because I was 14 and bought the shirt with my dish-washing earnings, I wore it until the emblem was gone and the fabric gray.
Now it seems, T-shirts are everywhere and often free, given out at fundraisers, sporting events and as advertising. Our local thrift stores receive so many donated T-shirts, they simply bag them up as shop rags. Trash bags packed full to the top sell for $4. Many of the shirts have never been worn.
Fortunately, there are a gazillion ways to those brightly colored garments. Jersey fabric of 100-percent cotton is so versatile. It can be stretched, sewn flat, weaved, hooked, crocheted, dyed, tied in knots, and, best of all, the ends don't unravel.
Weed-free veggies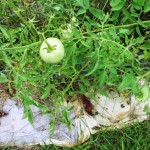 One of my favorite uses for surplus white T-shirts is as garden mulch. Simply cut the side seams and under the arms. Lay it flat with a plant growing up through the neck hole.
Yes, I know, the T-shirt looks funny laying there on the ground for a while. But the fabric quickly fades and does such a wonderful job of controlling weeds that I soon forget it was once a shirt.
Two fun up-cycling uses of T-shirts include weaving strips of jersey fabric into placemats, table runners or rugs.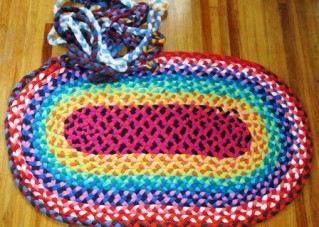 Another is the pioneer-favorite braided rag rug. Both projects are uncomplicated and use materials at hand. You do not need an expensive loom, sewing machine or other gadgets. I'll briefly explain weaving here.
Loom-less weaving
To weave T-shirts into useful household articles, you'll need to assemble a loom – basically a wooden frame, like a large picture frame reinforced at the corners. This frame can be four sticks of wood fastened with screws. For large projects, use 2X4's secured with angle iron.
A good loom size for scatter rugs is about 30 inches by 36 inches. To create larger rugs or table runners, several finished woven pieces can be stitched together (laced, actually).
To begin, tie off the warp (vertical) string to the bottom of the loom. Do not tie it in line with the frame side, but in 4-6 inches to make weaving easier. Wind the string figure-8 fashion to the top and bottom of the frame, pulling tightly and winding about 10 strands per inch. As you run out of one roll of warp string, simply tie on another. The knot will be hidden as you weave. When you have the desired width, tie off the end. For a finished width of 26 inches, that's 260 loops around the loom.
No-fray fabric
Next cut your shirts into strips. Cut off the shirt bottom below any emblems, embroidery or other embellishments. Cut off the hem. If the shirt has side seams, cut those off. If not, just cut one side so that you end up with a large rectangle.
Depending on the fabric weight, cut strips 3/4 inch to 1 1/2 inches wide. You'll want your strips to be a fairly even thickness once rolled. So, cut heavier fabric into thinner strips and lighter fabric wider.
Now, this is one of the really neat aspects of jersey – it rolls into a tube when stretched. When you have a nice stash of strips, begin stretching them to create a yarn-like tube.
So you can weave longer between stops, several strips can be stitched together to create longer strips. To create less bulk in your woven article, stitch the strips together diagonally by placing the end of one strip on top of another, right sides together, forming an "L." Stitch a seam on the bias by hand or machine.  For a more rustic look, simply tie the strips together, giving your placemat unique character.
Ball up your T-shirt yarn until ready to use. Your strips can be sorted according to color to create a pattern, or woven at random.
Begin weaving first with the string you used for the warp. Weave over and under 4 strands of warp at a time, working your way back and forth until you have a band of about 1/2 inch. Weaving can be done by using a shuttle, a sort of long wooden spool, although fingers work just fine.
The fun part
Finally, it is time to weave your old T-shirts into something beautiful. Start weaving the first strip a few inches from the end, threading the strip over and under each warp string. When you reach the end of a row, beat down the yarn with your fingers, a wide-toothed comb or fork to keep the rows tight and straight. Then, come back the other direction with your yard, in the same over-and-under pattern.
When you come to the end of a fabric strip, stitch on another one and keep going. Instead of stitching, you can also knot your strips together for a bumpier, more rustic look. End your strips somewhere within the woven article and not on the end.
At the upper end of the woven article, after weaving the last row of fabric strips, weave another 1/2-inch wide band of warp string again.
To remove the article from the loom, cut the warp string from the frame, 8 strands at a time and tie it into overhand knots. Continue cutting and tying across the top and bottom of the woven article. Finally, lay the finished piece on a flat surface and trim the strands evenly to whatever length you prefer.
Braided rugs
To make a braided rag rug, cut strips at least 2 inches wide, again avoiding any thick emblems or embroidered designs. When you have a worthy pile of strips, begin by pinning together three strips and anchoring them to an immobile object, such as a doorknob or piece of furniture. Keep braiding and attaching more strips until you reach the desired rug size.
After gardening season, I'll share more detailed instructions for braiding, lacing and lining the rug. In the meantime, I'd just like to point out what I've learned about braided rugs made of T-shirt fabric:
Large rugs are heavy and difficult to wash, so plan to use the rug in places without heavy foot traffic.
Line dry the rug in the shade to prevent fading.
Use a heavy cord for lacing the braids together, as thin carpet thread or plastic fishing line will eventually cut through the T-shirt fibers.
Lining the back with an old sheet takes only another hour or so of work, but will lengthen your rug's life considerably.
Now, get busy, have fun and just think of how many Studebaker T-shirts you saved from the landfill.