For many, media day is viewed as the beginning of the season. It is the first chance for the public to gain access to the team as a whole and gain insight and perspective into the upcoming season. It signifies the dawning of a new year in the NBA, and represents the beginning of the circus of practices, games, road trips, and flights that is the NBA season. With a new coach, new uniforms, and new additions, comes new hope for the 2009-2010 Philadelphia 76ers. For a team that has successfully reached the playoffs for the past several seasons, but has not been able to get over the hump and become a serious contender, this is a make or break season. The Sixers were able to find success in an up-tempo style last season, as both Andre Igoudala and Thaddeus Young had stellar seasons. However, the loss of a point guard coupled with the addition of a (hopefully) healthy Elton Brand and other offseason additions presents many unanswered questions for the Sixers squad, who seem eager to answer them. Below are some of the sounds from Sixers Media day:
Elton Brand on his excitement to start the season:
"I'm excited, I'm excited to be healthy, I'm excited to see what I can add to the team. Two first round loses in the last two seasons. I mean, for a young team that's OK, but I was brought in here to get farther than that, and that's my goal."
Elton Brand on how much leadership he needs to provide the team:
"You know, we have a young team, but we have guys that are capable of leading in their own right. Andre Igoudala, you know, he's played amazing and guys look up to him, but we don't have the Theo Ratliffs and guys like that, so I'm definitely going to have to take on some of that role, which I don't mind."
Elton Brand on the transition from Andre Mille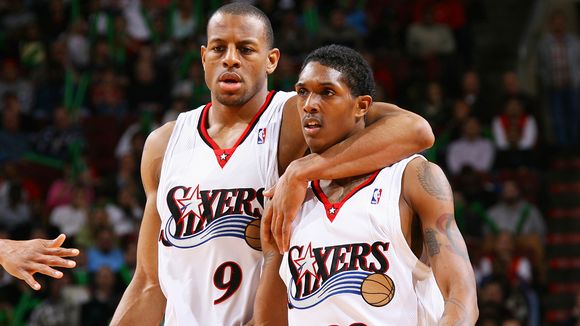 r to new starting point guard, Lou Williams
: "Yeah, I've played with Andre Miller obviously a few times, and I think he's a great player, he's helped to win a lot of ball games for us, but especially in Coach Jordan's system, the spacing, with Lou out there is going to open it up for everybody. He can hit the three pointer, he can drive and no one can stay in front of him. He's less of a post-up player than Andre was."
Elton Brand on this being a "do-over" season for him
: "This is absolutely a do-over year, and I'm excited to get it started, and hopefully everyone accepts that and gets going. I'm healthy and the team's been working hard.
Elton Brand on his stats: "Stats-wise, in this system, I expect to do, you know, what I've done most of my career. So maybe if it's not in the twenties, it's close to it. If it's not ten boards, it's gunna be close to it. But overall, winning is the most important thing to us."
Thaddeus Young on Elton Brand
: "He's looking great. I've been put there with him for the past couple weeks, and you can just tell, you know, he's been going to the gym, every day. He's making all kinds of turn-arounds, he's dunking on people. I mean, we'll have to see how it goes during the season, but right now, he's out there like a monster. He's such a hard worker, everyone knows that. He's going out there just killing everyone in front of him. There's days where I'm like 'Man, I don't even wanna guard him today.' "
Thaddeus Young on his jumper:
"My mid-range game is coming along nice. I've been knocking quite a few of those down lately in pick-up games. And now it's just the three ball I've been working on. I just gotta get it consistent, that's all."
Thaddeus Young on his performance this upcoming season: "Like I said, it's not really about me. It's about our team, and helping us to grow as a team. You know. Whenever my team's doing good, that's our game. And I get better as we go, and like I said it's a team concept."
Jason Smith on upcoming season
: "I'm just excited to be healthy, man. Missing a whole season like that last year was tough, you know, I've never had to overcome anything like that before. So that was tough, but I was proud of the team, and I like the team we have. I'm just excited to be able to be back out there and add my part to the team."