We have been really busy, but finally found some time to remove our drop pipe, sucker rod and cylinder for the enhancements needed for the pump.  We managed to do a short video that might aid others in preparation for their own well pump installation or removal if needed. You never know if you may need to use a well bucket.
In this application the drop pipe is 2″, but in most residential water well applications the drop pipe will be much smaller, therefore lighter. In the following video, we safely remove 140' of 2" drop pipe, sucker rod and a 4" pump cylinder without a boom truck. Part 2 will be an installation of 110' of 2" galvanized pipe, 3/4" fiberglass sucker rod and a 4" windmill cylinder. The old drop pipe and sucker rod is inadequate for the mechanical advantage of the WaterBuck Pump.
Pictured below is the equipment I designed and built so I could work on my own water well system when needed without depending on a boom truck. Being self-sufficient is our goal.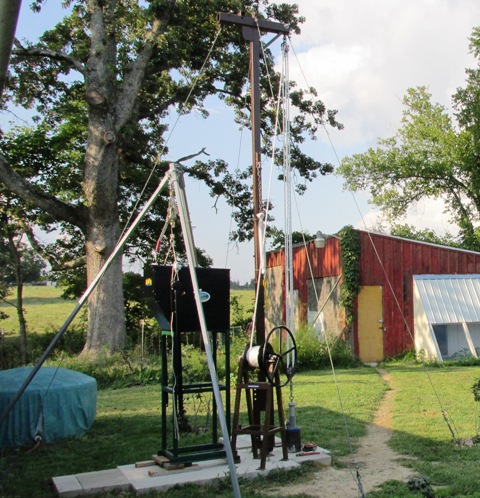 .
.
.
.
.
.
.
.
 .
.
.
.
Are you prepared to remove your own well pump, if you have no other choice? You never know if you will need to use a well buck or install a pump.
If you have fabrication skills and a local machine shop, you can make a windlass and pump column or tripod. The windlass must be anchored to a concrete pad for safe operation. We are making a significant change to the WaterBuck, which will enhance the performance even more and give it a more awesome appearance.  Stay tuned for an even more incredible gallons-per-minute yield under human power from a deep well.